On Jen (left): Pink Coat: Topshop (similar here and here) | Dress: Zara | Boots: Jeffrey Campbell (sold out, similar here | Bag: Staud
On Laura: Pink Blazer: Zara | Trousers: Zara | T-shirt: Zara | Bag: Prada | Shoes: Chanel (last year)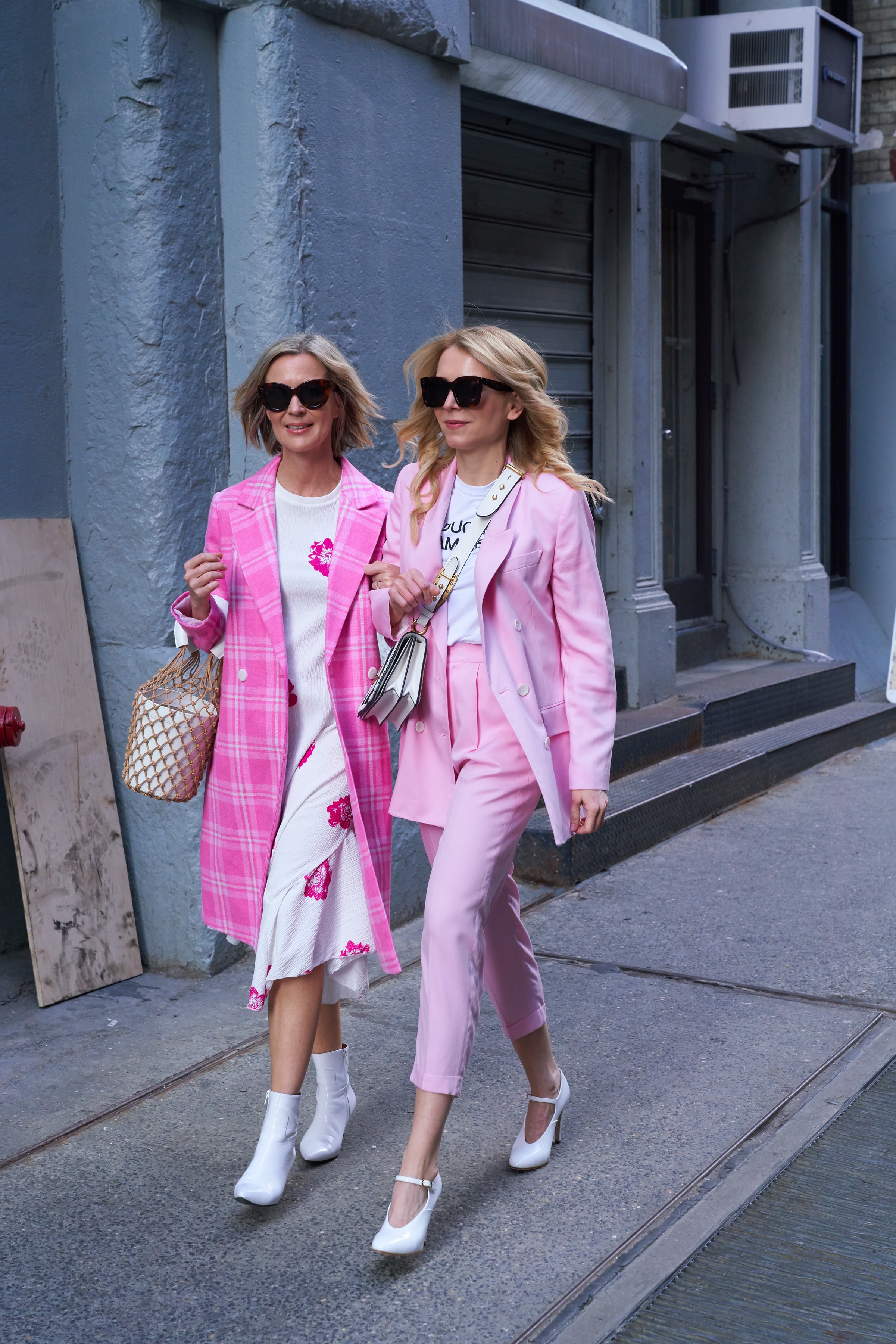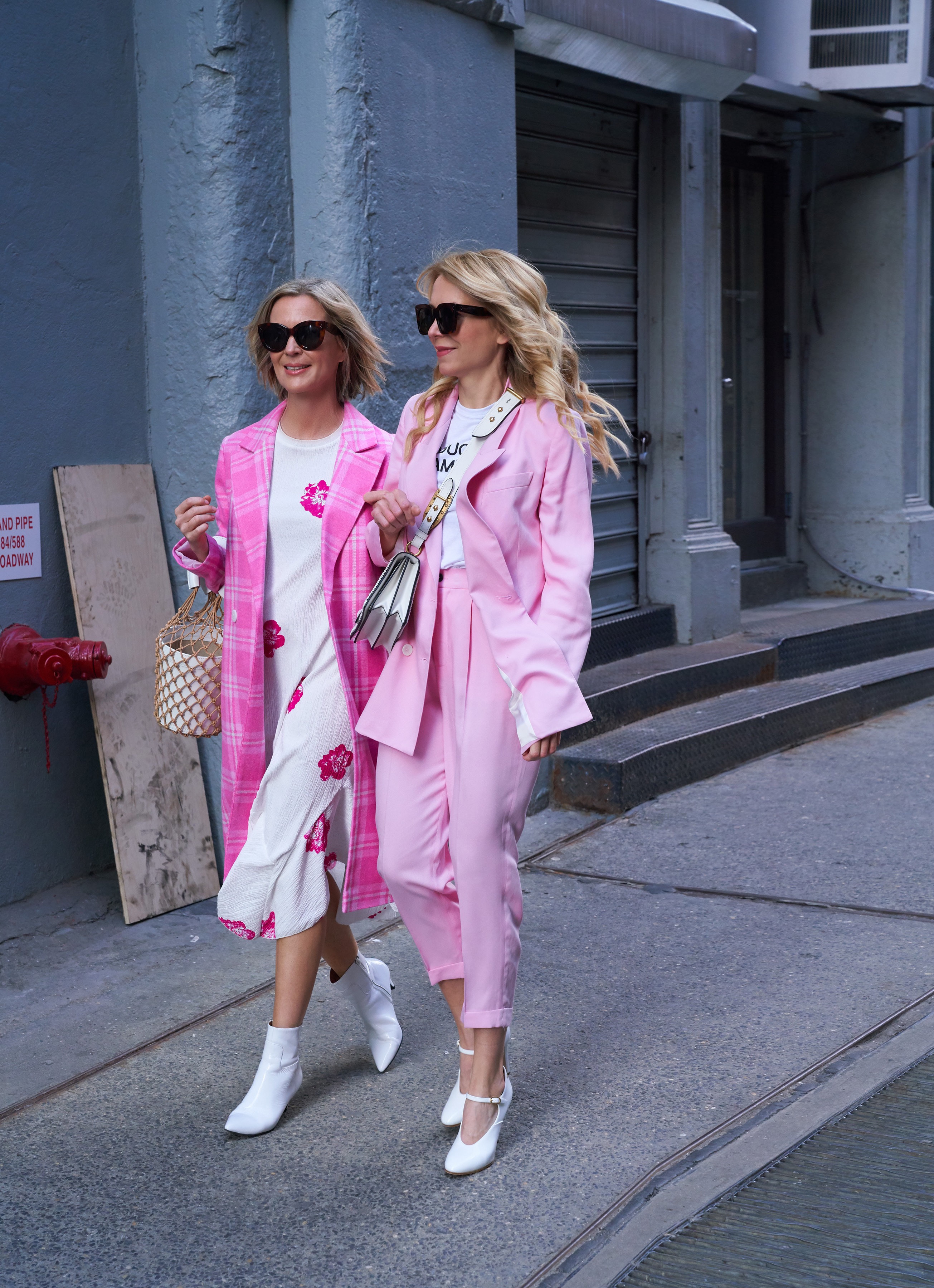 Meet Jen! She's worked at Google's Sunnyvale, California campus for almost 7 years. She has a big job – she manages the team that administers Google's global stock plans. She's smart, beautiful inside and out, kind, and fun. She's one of my best friends! We met when we were young lawyers in San Francisco just out of law school (we worked at the same law firm) and we've remained close ever since. She's kind of embarrassed to talk about herself, but she's sharing a "day in the life" as a Google employee (they call themselves Googlers by the way) for my blog. I thought it might be interesting to hear, straight from the mouth of a Googler, what working at Google is actually like! And what Googlers wear to work! And how she balances life, motherhood and deals with aging (it happens to the best of us!).  So, without further ado, scroll down for a Q&A with Jen!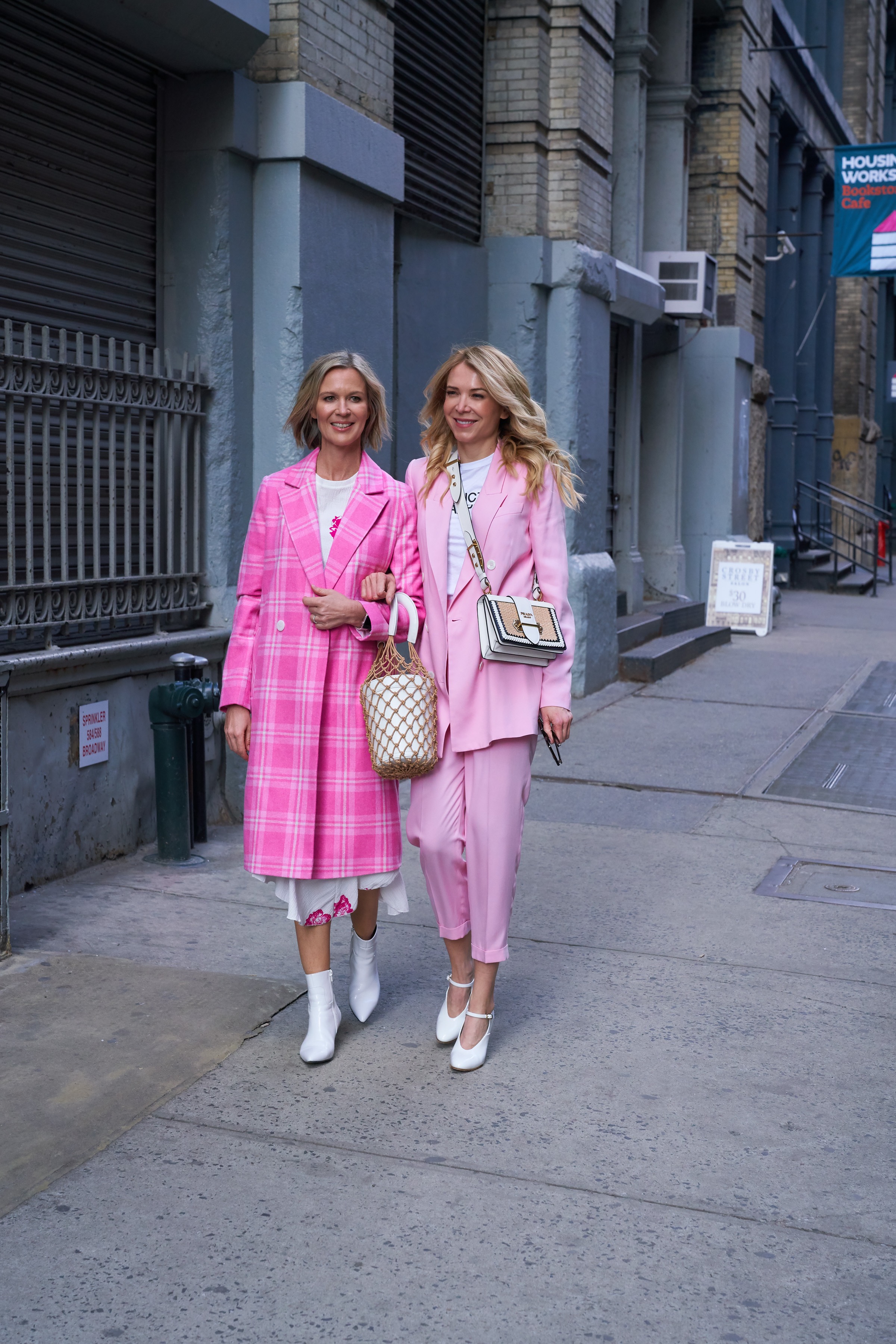 What do you wear to work and what does the typical Googler wear to work?
My typical outfit involves jeans, sweater, flats or boots. Sometimes I even wear Ugg boots to the office when it is chilly.  Anything goes at Google! So many people wear flip flops, shorts and T-shirts when it is warmer, and you see athleisure, polar fleeces, ripped jeans and T-shirts all year round! People wear Google branded T-shirts quite a lot.  It is extremely laid back and not too inspiring fasion-wise. The focus there is definitely not on clothing or what you look like. It is on the ideas you have!
Actually, your blog and Instagram have inspired me to invest in a few fun new pieces lately – more floral and flowing styles. And a fair amount of pink! I love Zara (both my daughter and the store) and Anthropologie.  But if I wore the pink outfit in these photos to work at Google, I actually think people would give me strange looks. Obviously, when I meet with outside business partners I put in more effort, and I do think sartorial style is a bit higher for Googlers in sales, marketing, etc. who regularly meet with clients.
On Jen (left): Blazer: Topshop | Denim: Topshop | Boots: Zara (sold out, similar here)| Bag: Chloe
On Laura:  Blazer: Zara (sold out, similar here and here)| Denim: & Other Stories | Boots: Zara (old, similar here | Bag: Loewe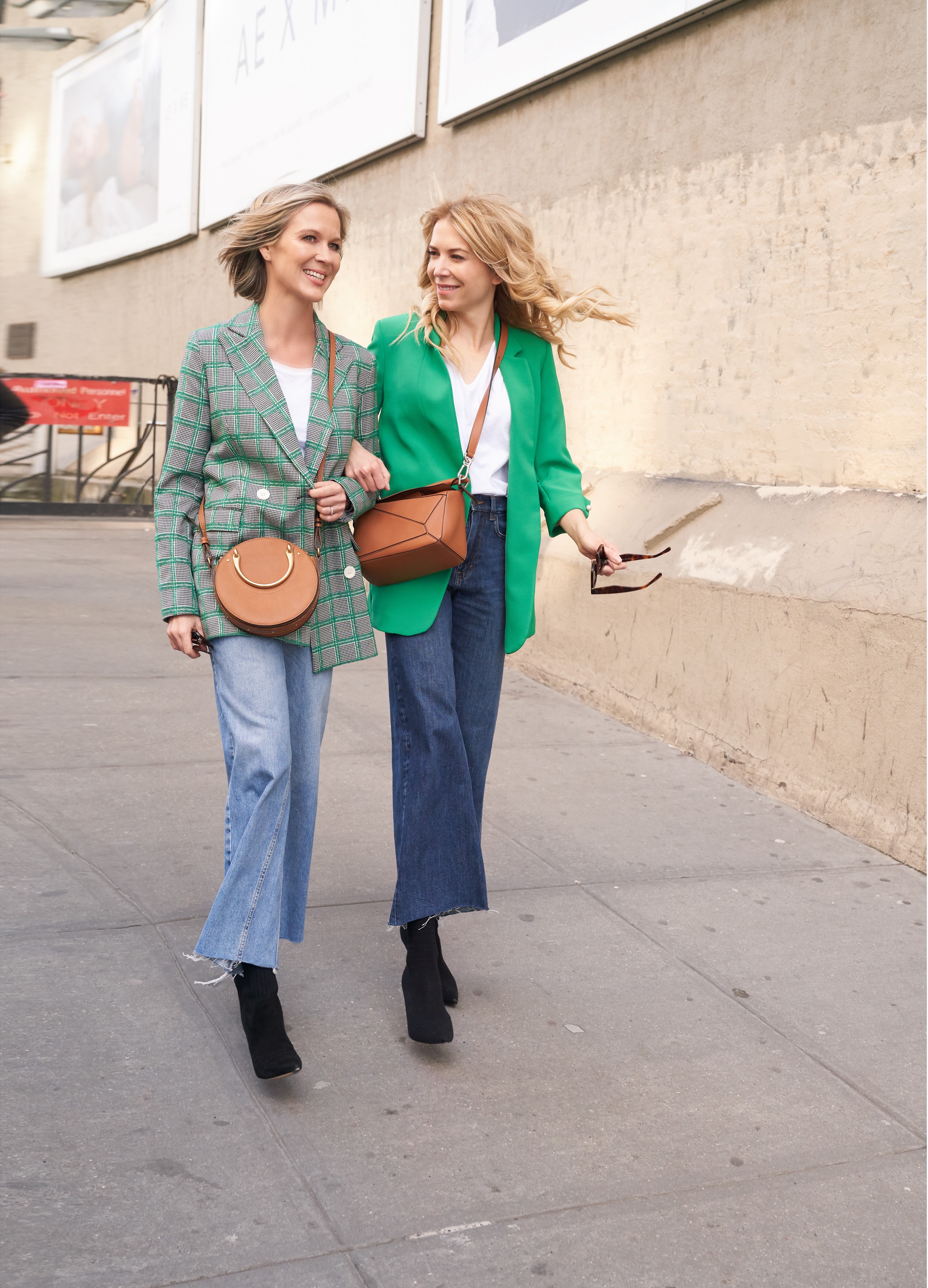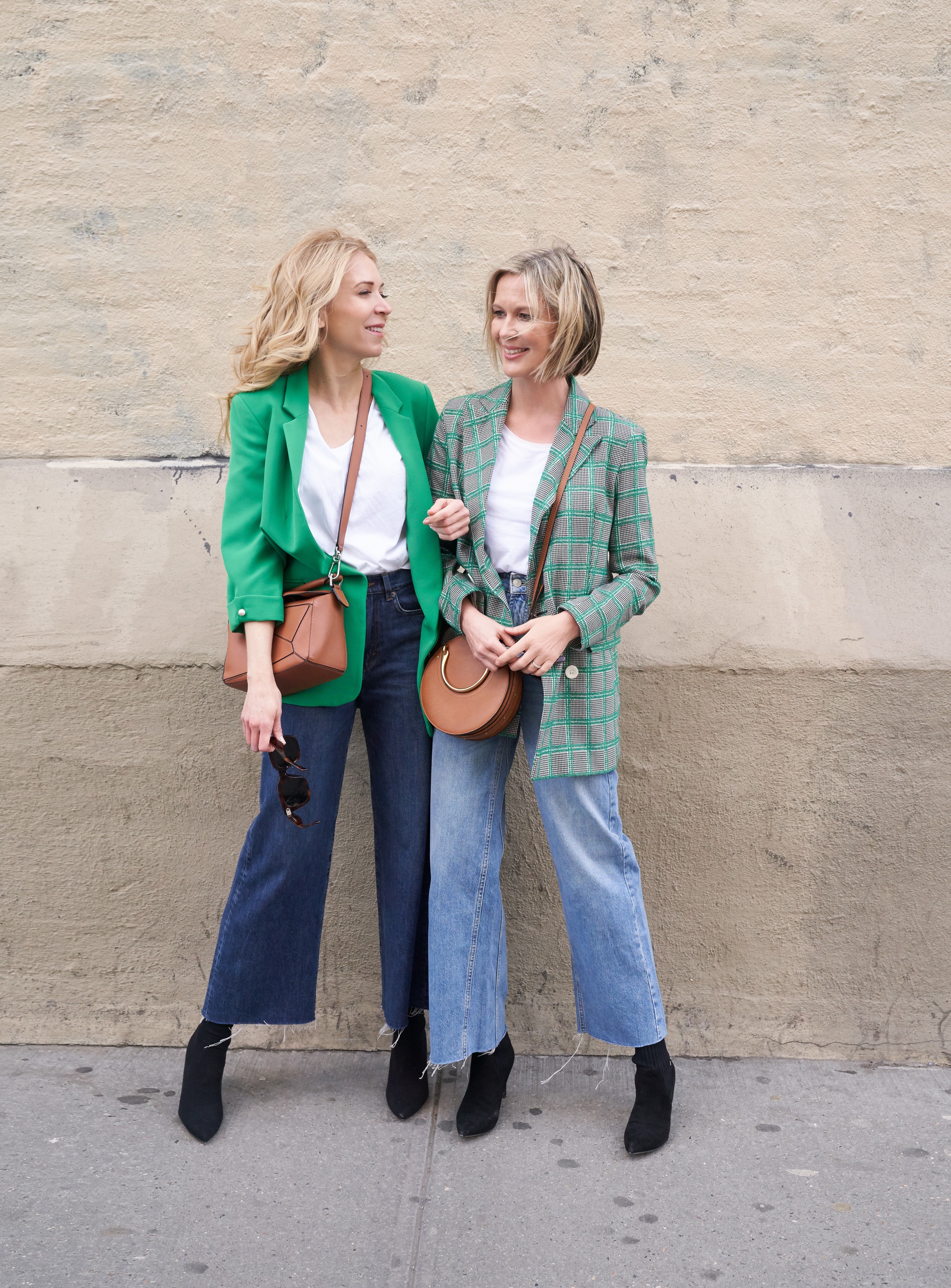 Please can you walk us through a typical work day at Google (and to people really go around on rollerblades)?
5:40am. My day starts pretty early.  We live in San Francisco, but my Google office is located in Sunnyvale, which is about an hour's drive (without traffic).  It's great because Google provides a shuttle to and from San Francisco for employees. The shuttle picks me up right on my street.  So I get up, shower, throw on my clothes, grab my backpack and I'm out the door. I leave my house around 6:15am, and catch the 6:25am shuttle. I almost always use the morning commute to catch up on emails.
7:30am. I arrive to Google.  I order breakfast and an almond-milk latte at the Google cafe.  We can order anything, and yes it is free, and delicious! It is not uncommon for Googlers to gain a few pounds over the first few months on the job.  It's all tempting at first but now I just try to choose the healthier option when possible! I usually get eggs in the morning. I'm not one of those people who can skip breakfast – I have to fuel up because Googlers have so much energy and enthusiasm, it is infectious!  There was an initial shock when I started at Google, seeing people smiling at each other in the corridors, after working in a serious law firm environment for so long.  At Google, we are all just excited to be part of something where we affect the lives of billions of people!
8:00am. The rest of the day tends to be filled with meetings, meetings and more meetings! Everything is open plan at Google so no offices. Fortunately there are plenty of "phone rooms" and conference rooms to schedule when you need some privacy or quiet time to focus. Some engineers are known to move from meeting to meeting on rollerblades, but I don't see rollerblades on a daily basis. Google provides bikes though, and I do ride a Google bike between offices a couple of times a week.  That always puts me in a good mood.
Noon.  I often take an exercise class at lunchtime. Google provides free classes and even massages at hugely discounted rates. I'll grab a kale salad, juice and/or iced tea to have at my desk afterwards.  I like the metabolic class or using the Exos machines.  Google is high energy so working out mid-day helps me reset for the afternoon.
4:45pm. I usually leave work, get on the shuttle and am home around 6;15pm.  I finish emails and some work on my laptop on the return commute. I'm lucky because my husband cooks dinner for my 11-year-old daughter and me almost every night.  Or, we will grab a bite in our neighborhood in San Francisco, Noe Valley. There are so many great restaurants just a stone's throw from our house. We make family dinner a priority every night (except for our Thursday date nights).  I spend time with my daughter in the evenings, helping her with homework if she needs it, or just chatting before she goes to bed.
9 pm. Later in the evening I go back online to address any urgent items that have cropped up.  I try for lights out by 11pm, because I'm always up again at 5:40 the next morning!
(continued, below…)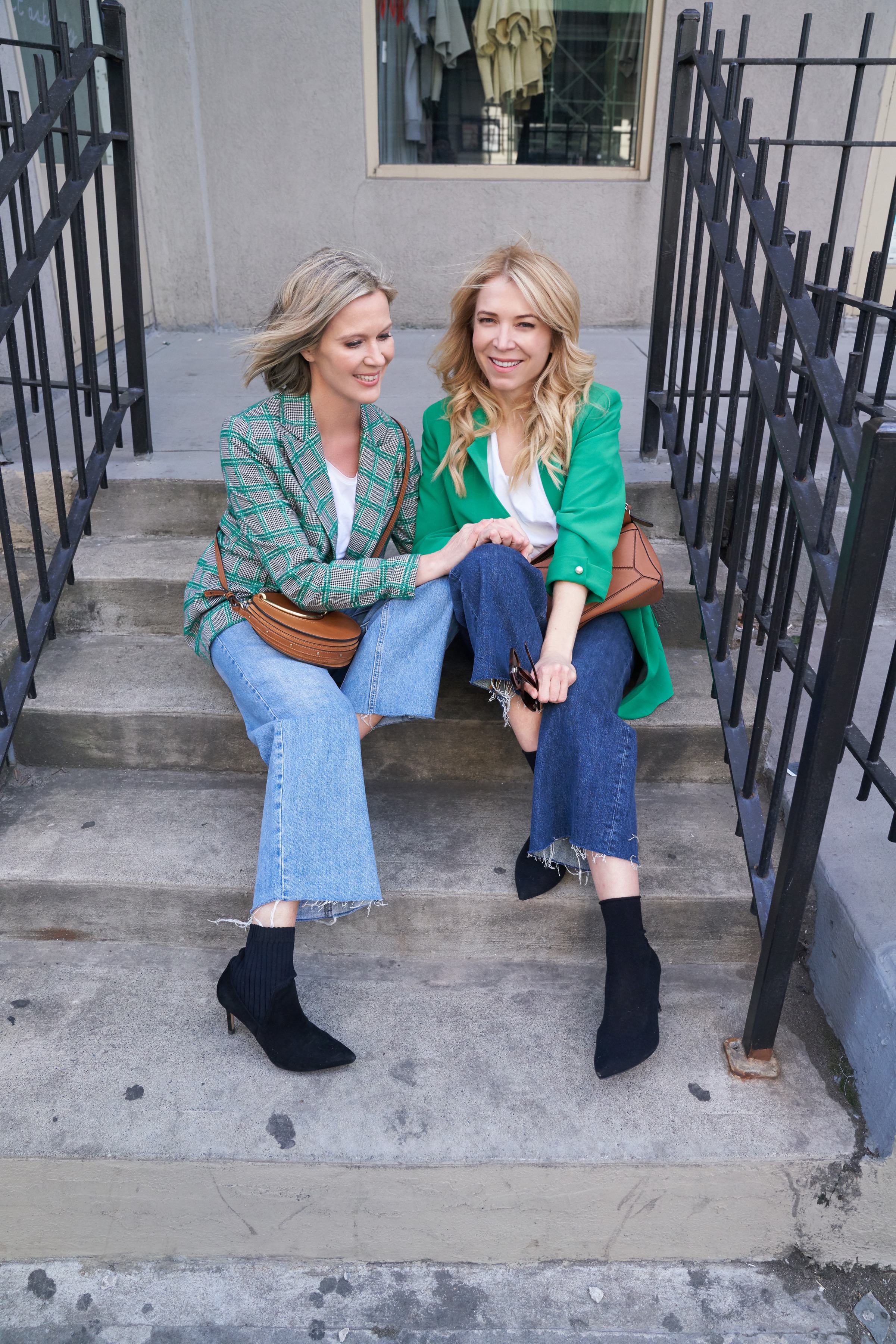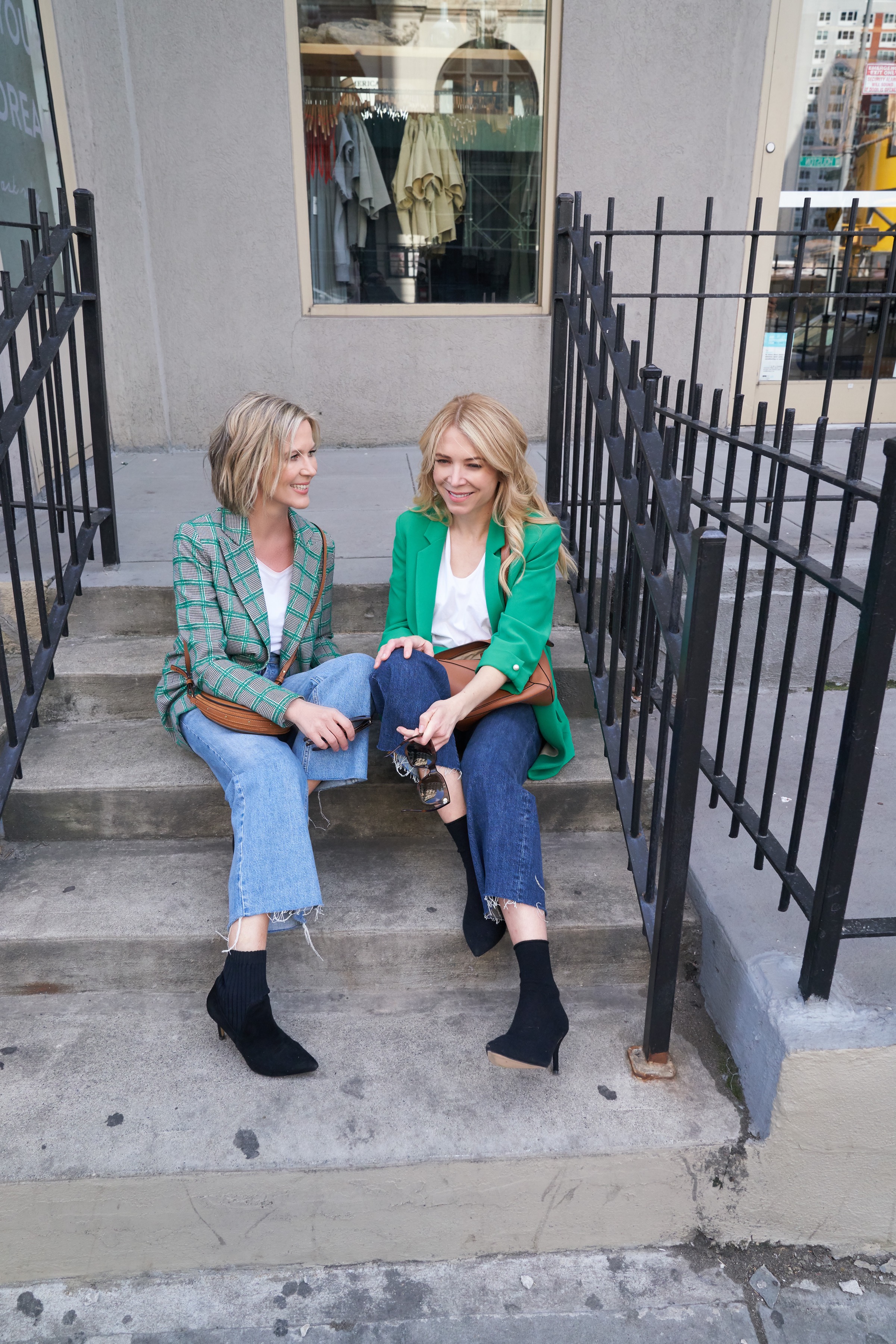 On Laura (left): Top: Rebecca Taylor | Denim: Levi's| Shoes: Tibi
On Jen: Blouse: Yumi Kim | Denim: Levi's | Boots: Jeffrey Campbell (sold out, similar here)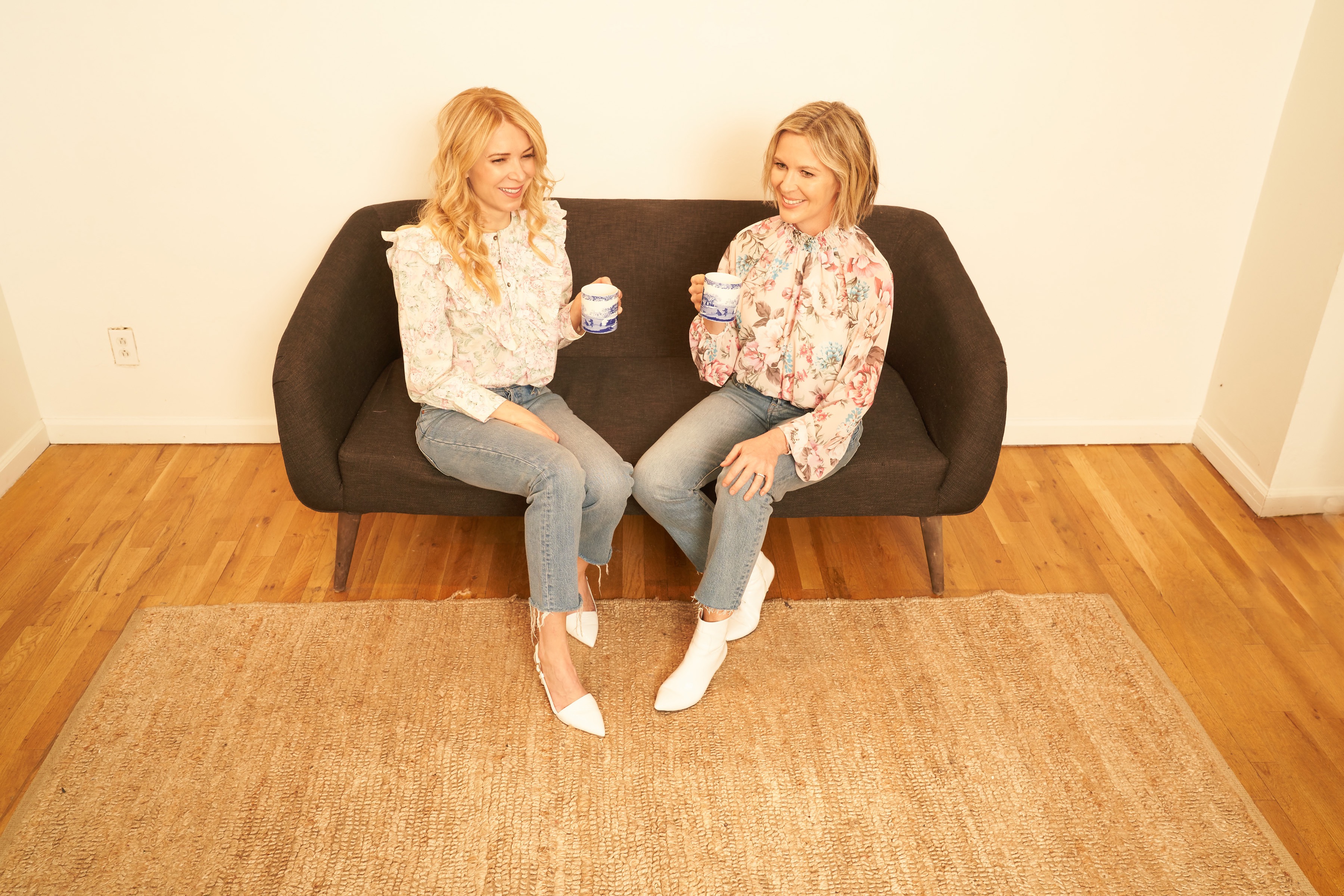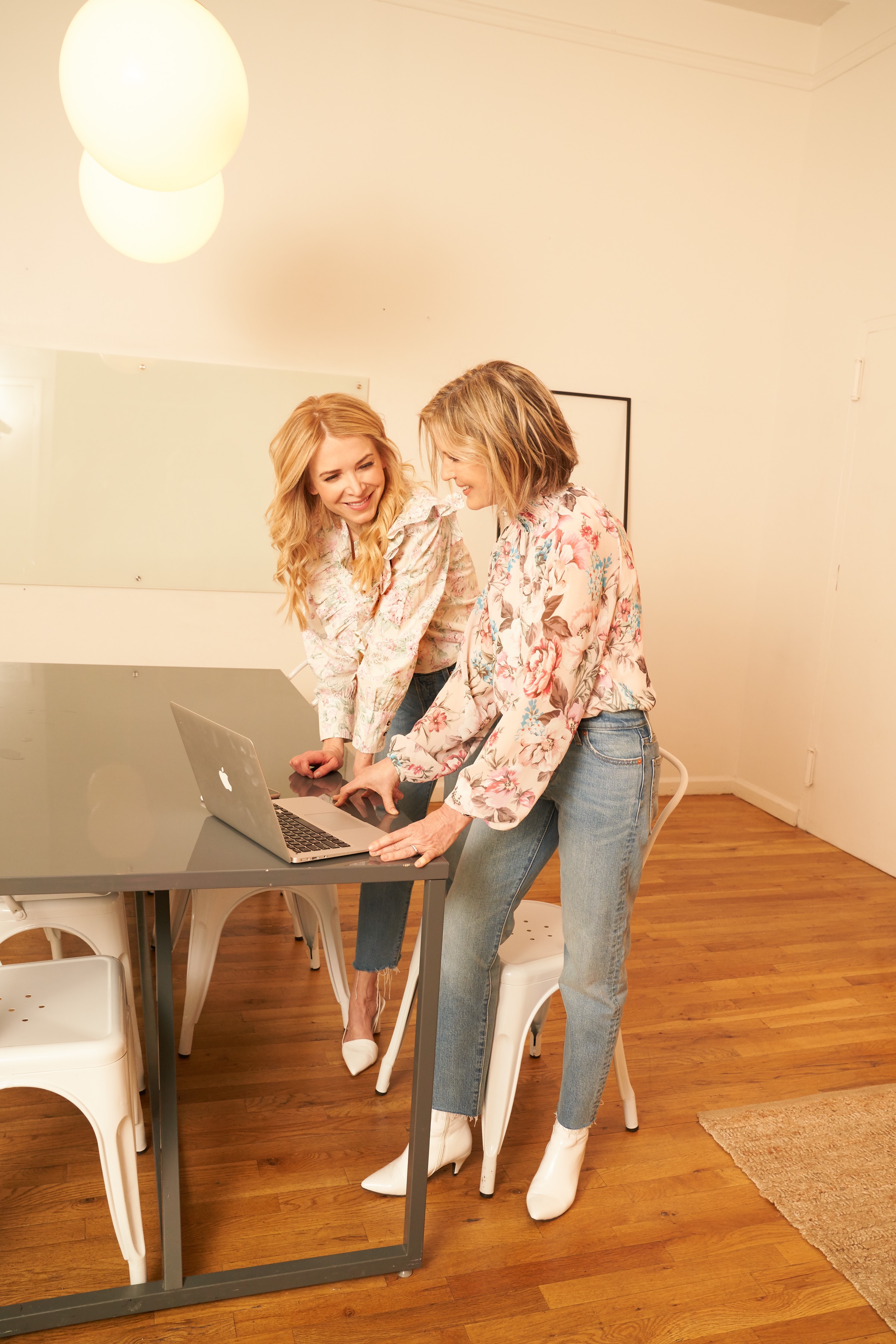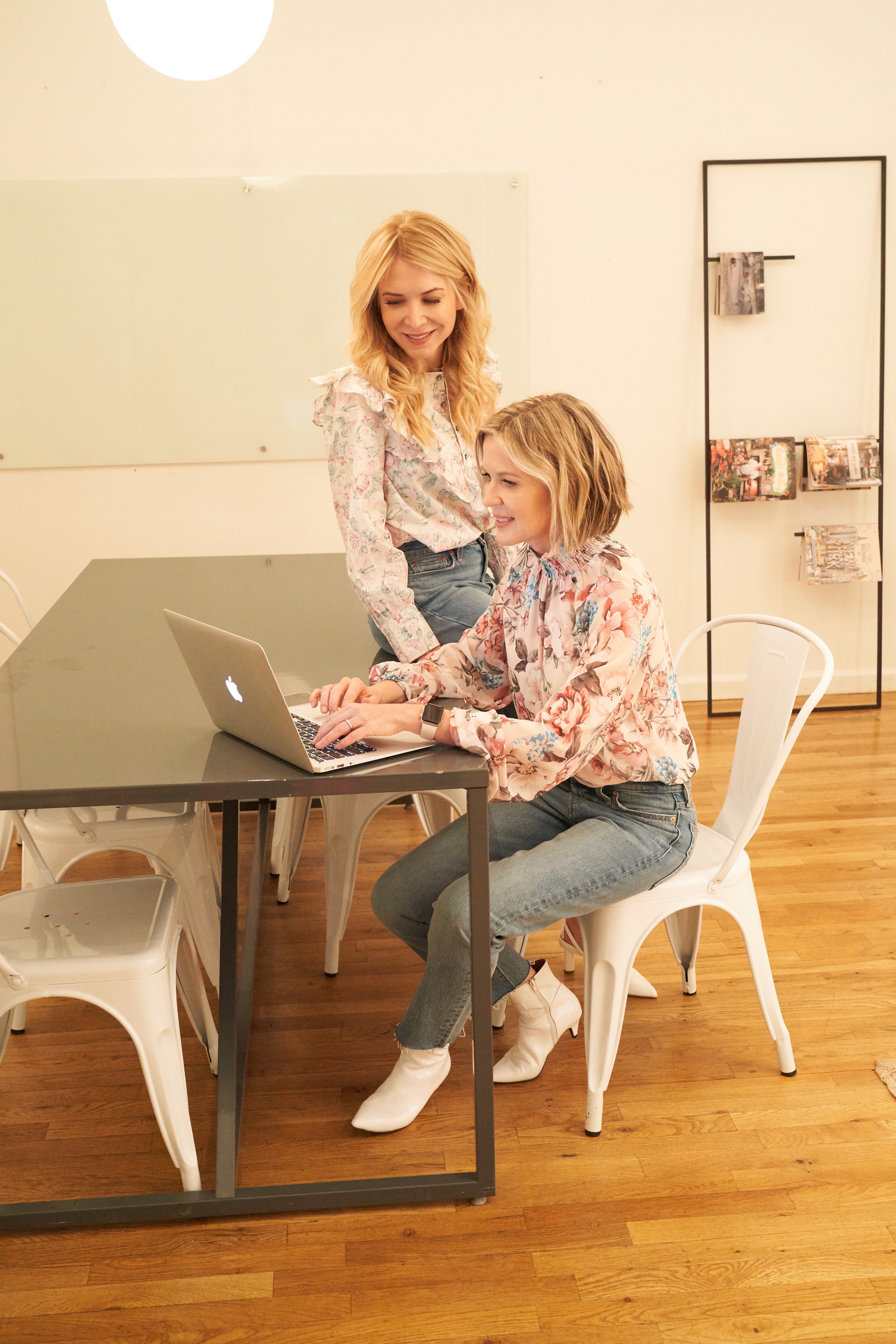 How do you balance motherhood?
My 11-year-old daughter is absolutely my #1 priority, but (most days) I am glad that I work. I think that it makes me less of a neurotic mother than I'd otherwise be and allows my husband and her to form a closer bond than if I was handling the bulk of the kid-related activities. I'm a natural worrier and so it is therapeutic for me to have work stuff to worry about and not just how I may be falling short as a parent. We've also always made family dinners a priority and my husband has turned into an awesome cook so I'm lucky that when I get home I can relax a bit.
How are you personally handling growing older?  You have always been such an attractive girl, as long as I've known you.  Is it hard to age (I know it is for me!)?
I realize that the natural look no longer comes effortlessly. I've never been much into make-up and hair, but I can no longer get away with being so lazy. It is hard to age. Especially when inside you can still feel like a confused 14-year-old and still have to contend with acne (although switching to dairy-free lattes has helped). I think trying to stay in good shape is also critical for embracing aging. As long as I feel that I am as fit as when I was in my 20s and have similar energy levels, I can convince myself that age is only a number (as long as I don't look in the mirror too closely)! Also, my daughter keeps me young, and she is definitely not shy about telling me what is cool or not these days!
Thank you for reading!
xxxx
Laura