Top: Ganni | Skirt: MiH similar here, other budget friendly denim skirts here and here | Mules: Stuart Weitzman | Bag: Staud | Sunglasses: Quay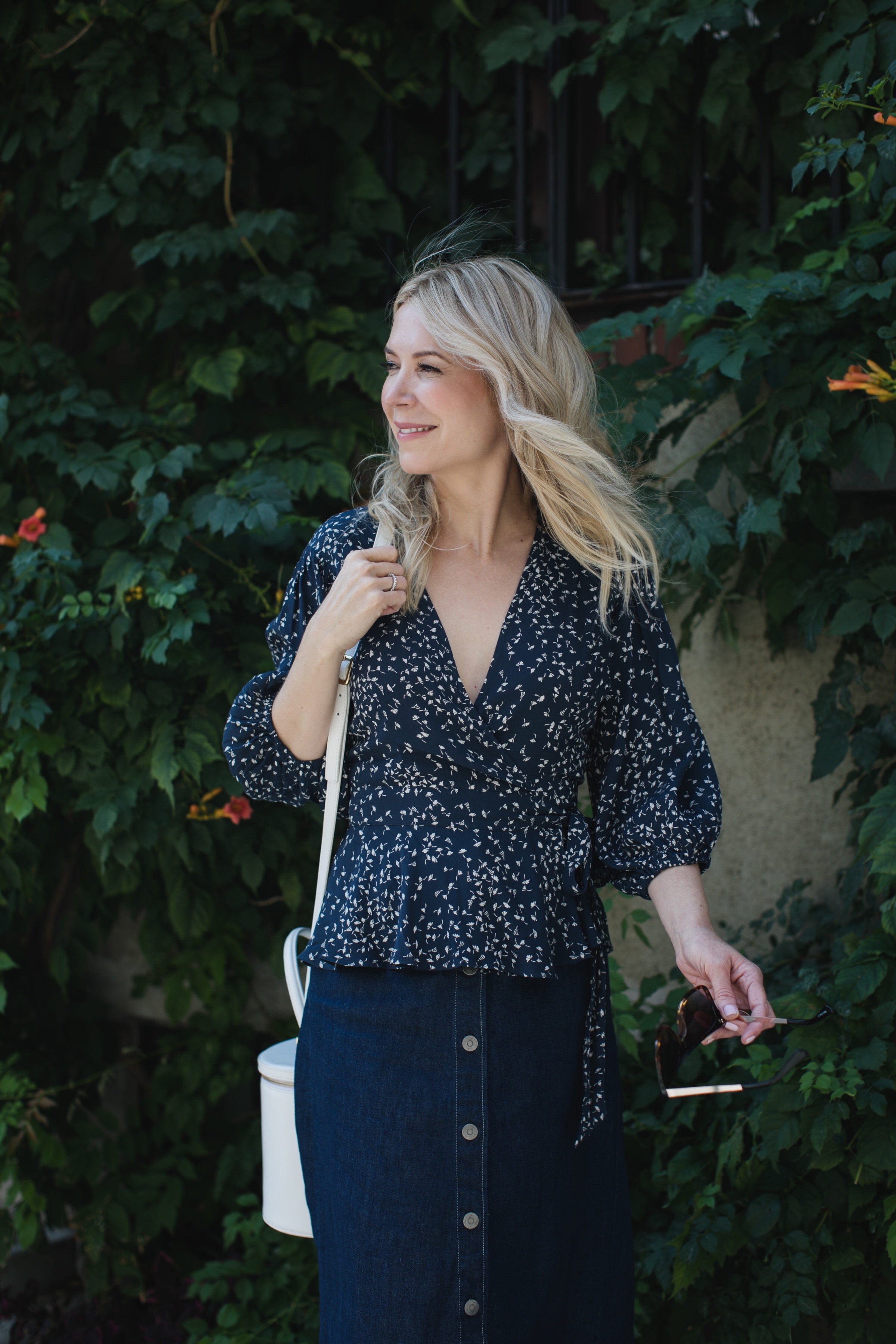 Another Ganni top today!  If you have been following my blog or my Instagram for any length of time, I know you must be thinking: "she shops from Ganni a LOT".  And you would be RIGHT.   Since I discovered Ganni last summer, I have probably bought 20 pieces of their clothing – I have a coat, several dresses, a couple of sweaters, two pairs of boots, some printed pants… but who's counting?
Well, I can report that Ganni is.  Because I use the hashtag #GanniGirls in my Instagram posts, they contacted me recently to have a chat about the brand and what it means to be a "Ganni Girl".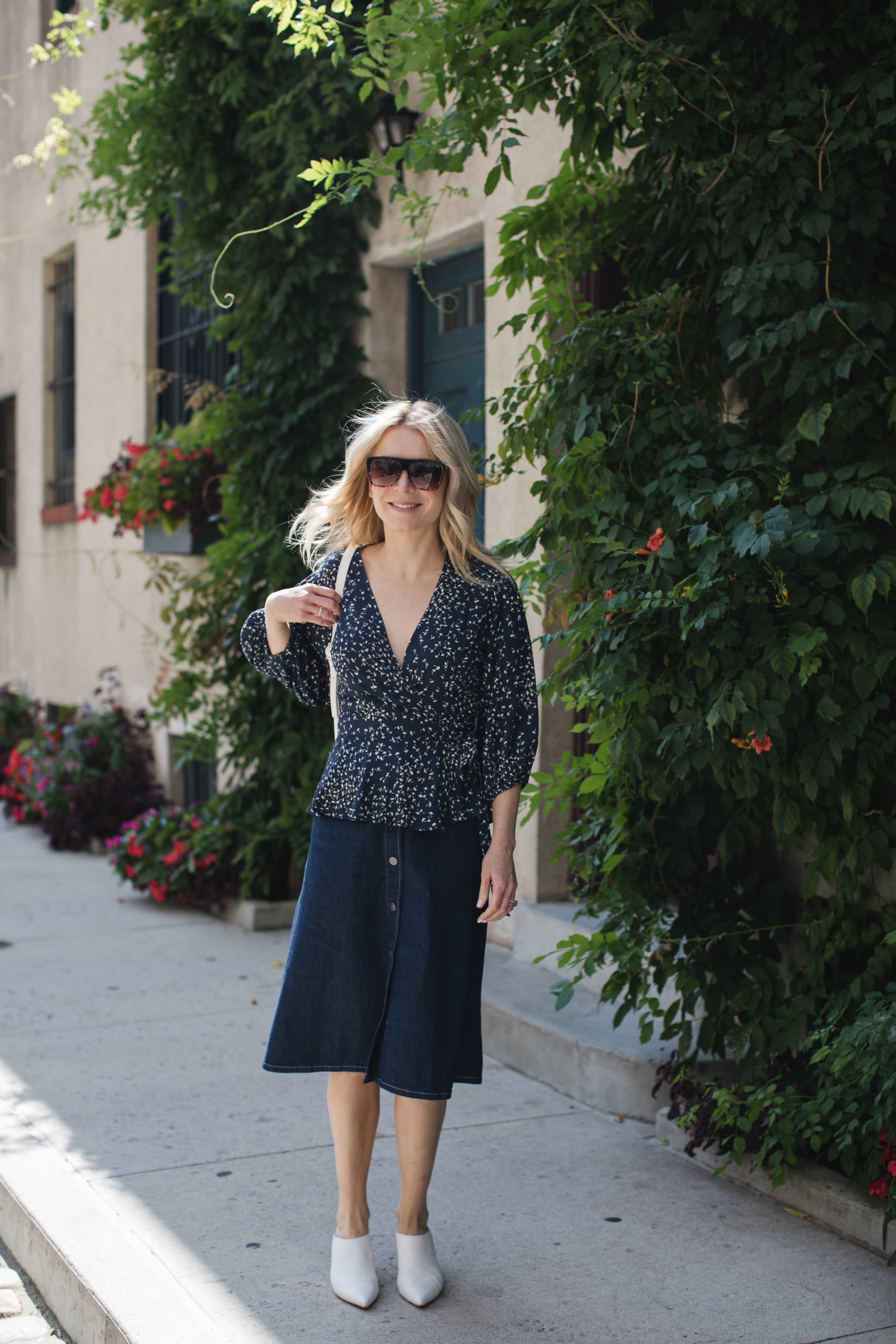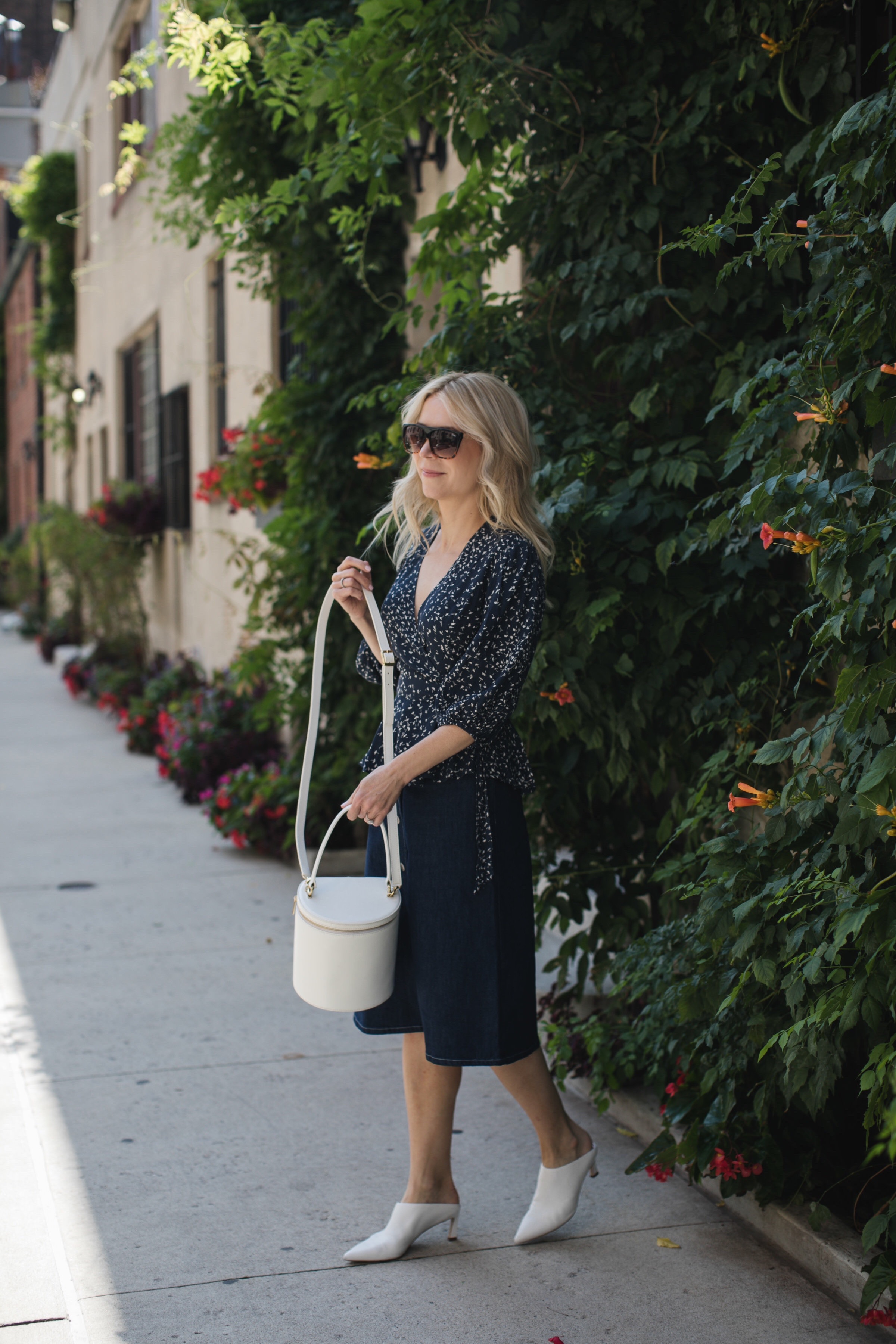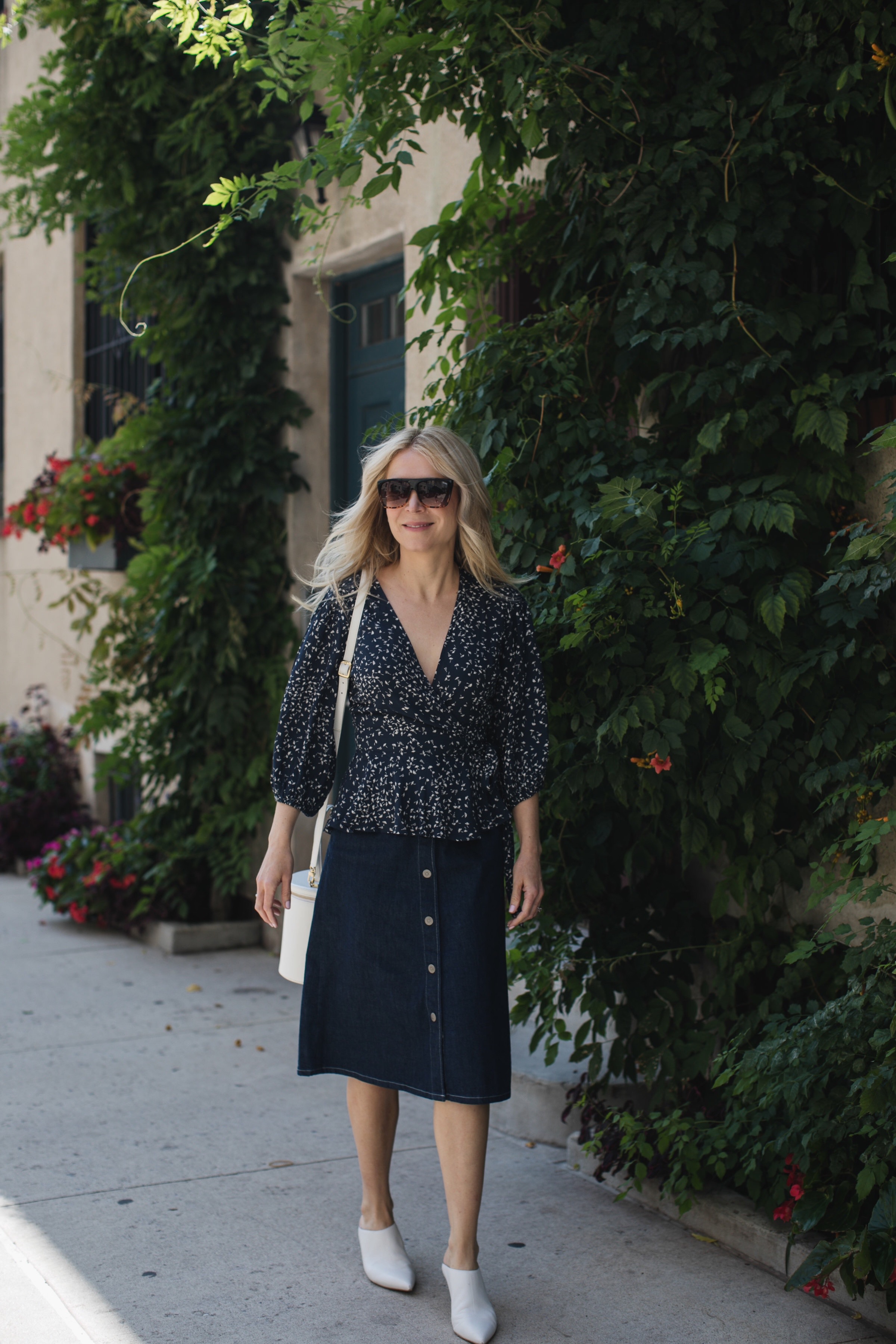 I can tell you right now, I don't think of myself as one of the cooler than cool fashion it girls you see on Instagram hashtagging "#GanniGirls".  I"m a mom in my 40s with a very feminine (and not really very edgy) style.  I was surprised and flattered that they called on me for my opinion.  I spoke for 45 minutes with this very sweet girl who is working on their marketing and strategy.  She asked me tons of questions about why I like the brand, how they could improve, what other brands I like, where, how, and how often I shop, my monthly spend, how I make shopping decisions, whether I care about sustainability in fashion, and on and on!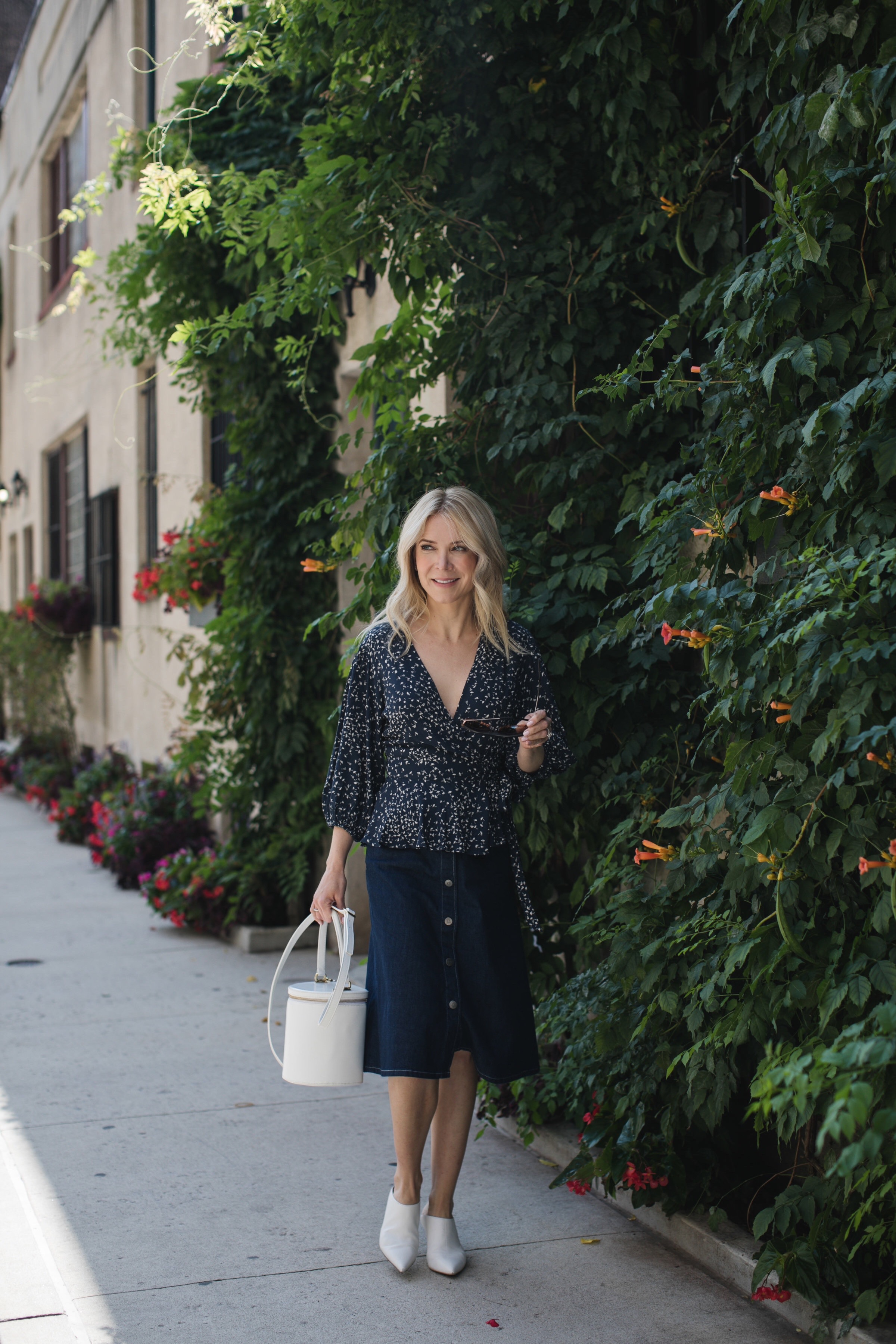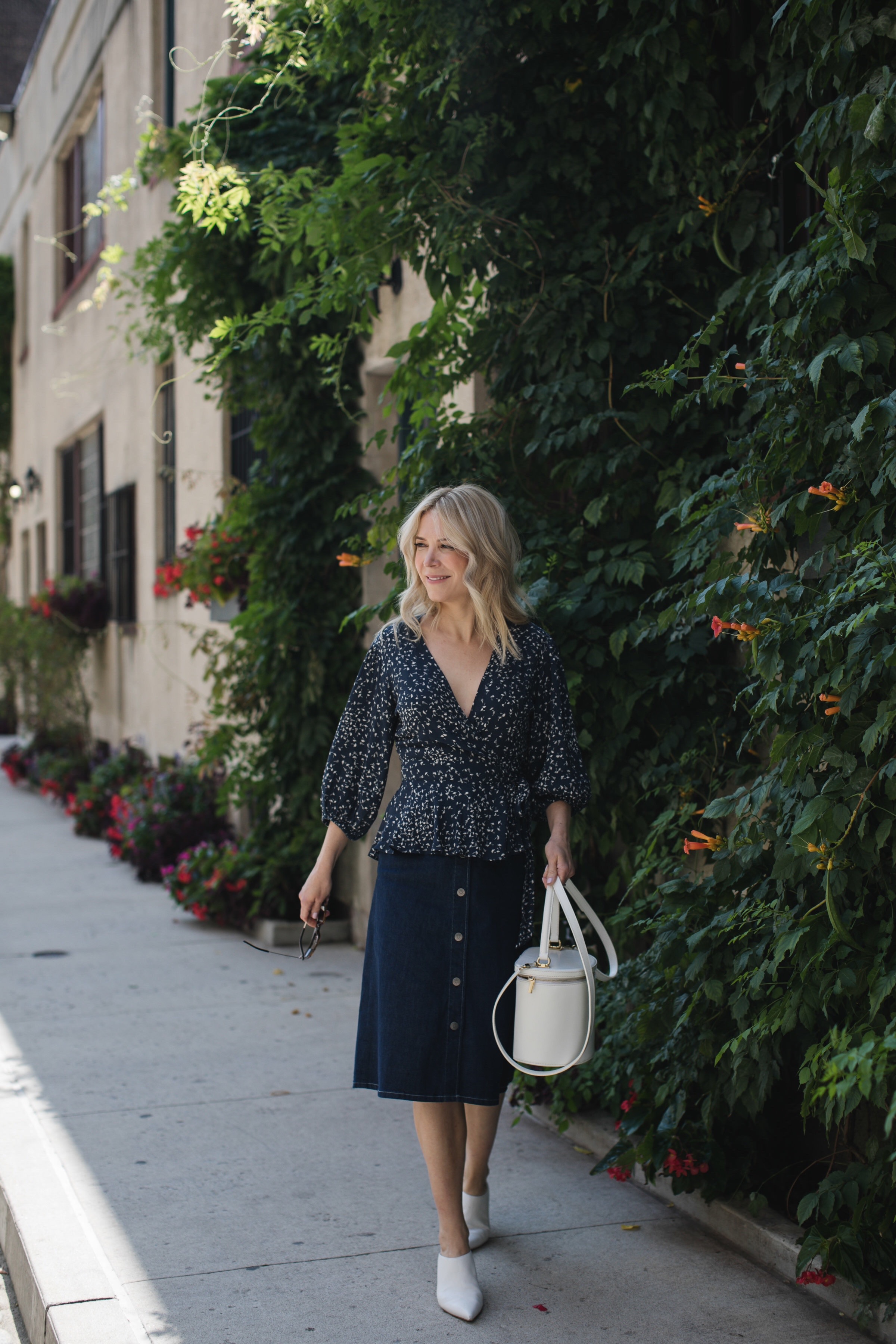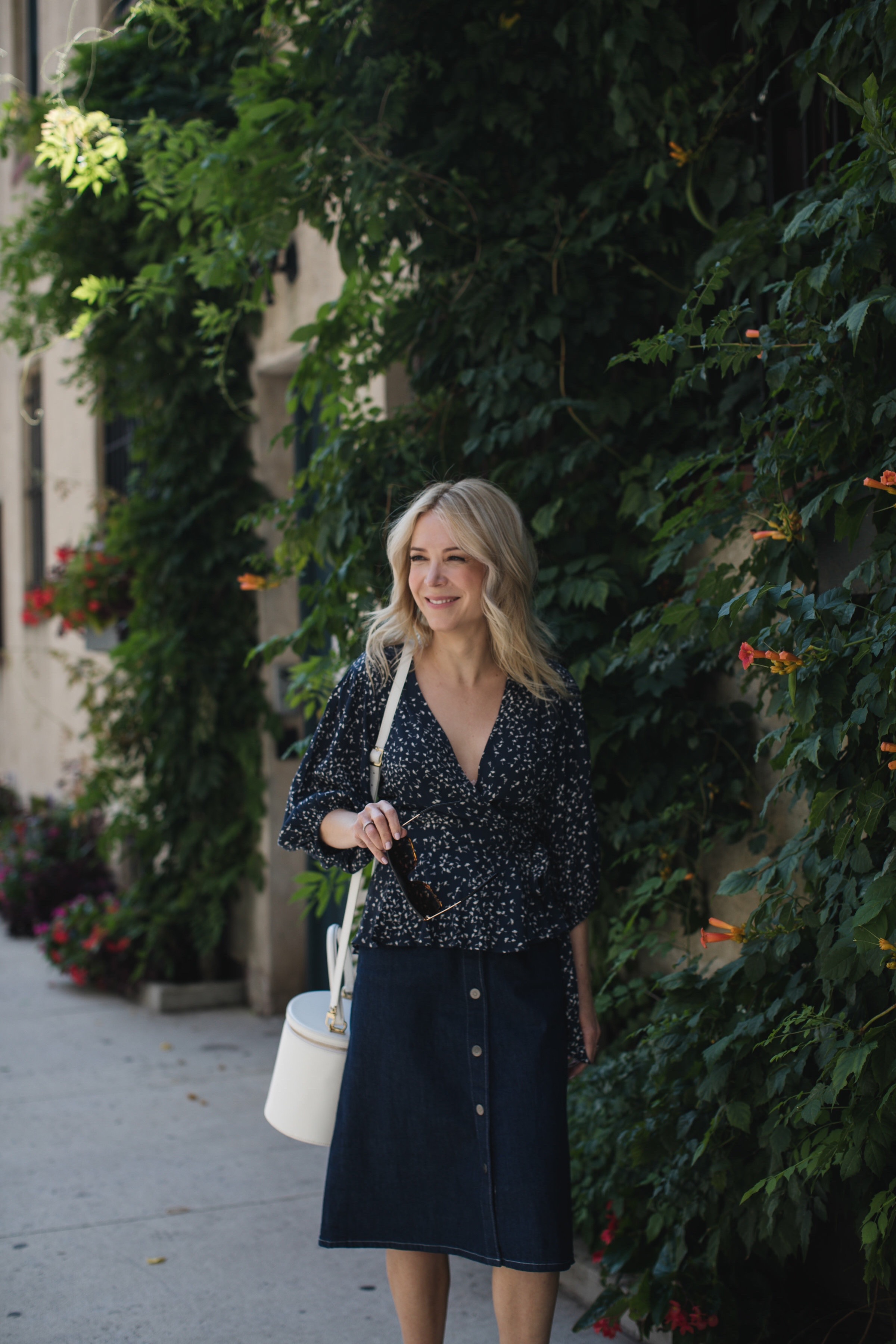 This conversation was interesting to me for two reasons.  First, it made me realize that brands notice when you wear their clothing.  Of course they do – they are interested in who is buying and why!  But I guess, sometimes when I post on Instagram, I feel like I'm sending my pictures out into the ether – and I don't really think about who is seeing them.  I'm now getting to the point with my blog where more and more brands are starting to ask me to send me clothing to wear.  But it is still a new feeling and it really hit home that if you wear a brand over and over, and hashtag it, they will notice!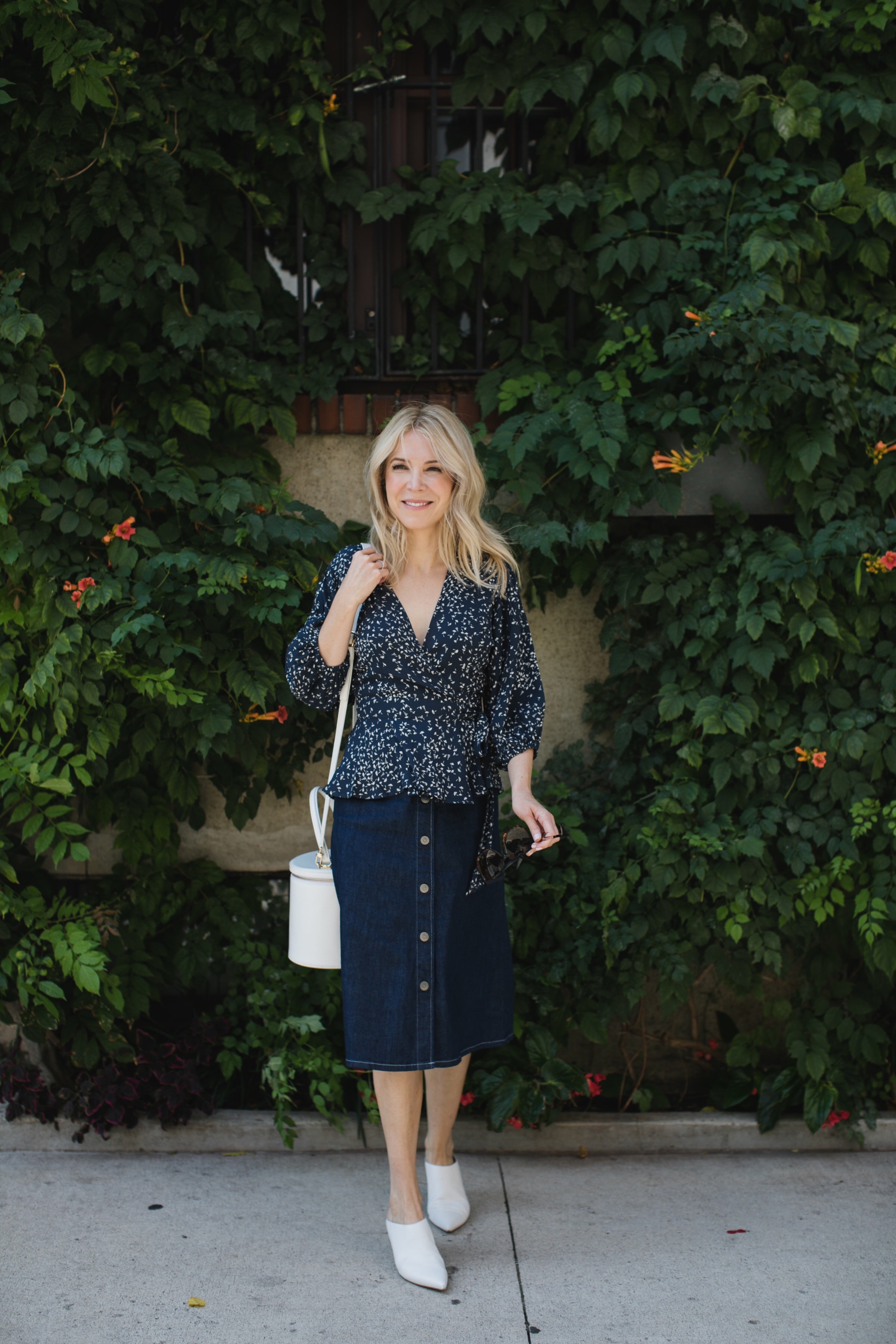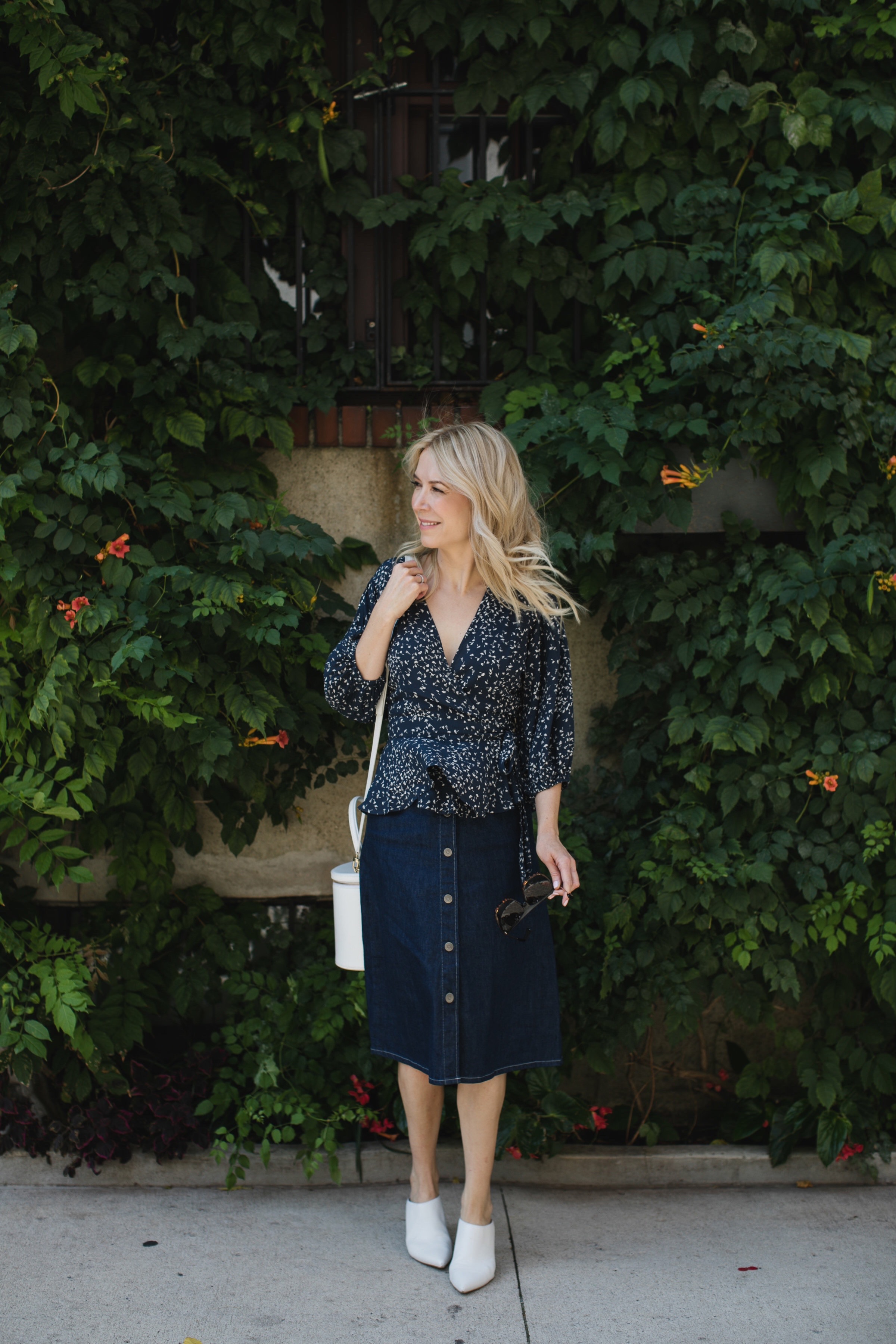 The second reason it was interesting was it made me really THINK about why I shop and why I am loyal to brands like Ganni.  I have never actually had to articulate all these things out loud.  I think shopping for clothing is such a personal decision and it can feel really spontaneous.  But if you really stop to think about your shopping patterns and habits and how YOU PERSONALLY make decisions, it is quite an interesting exercise.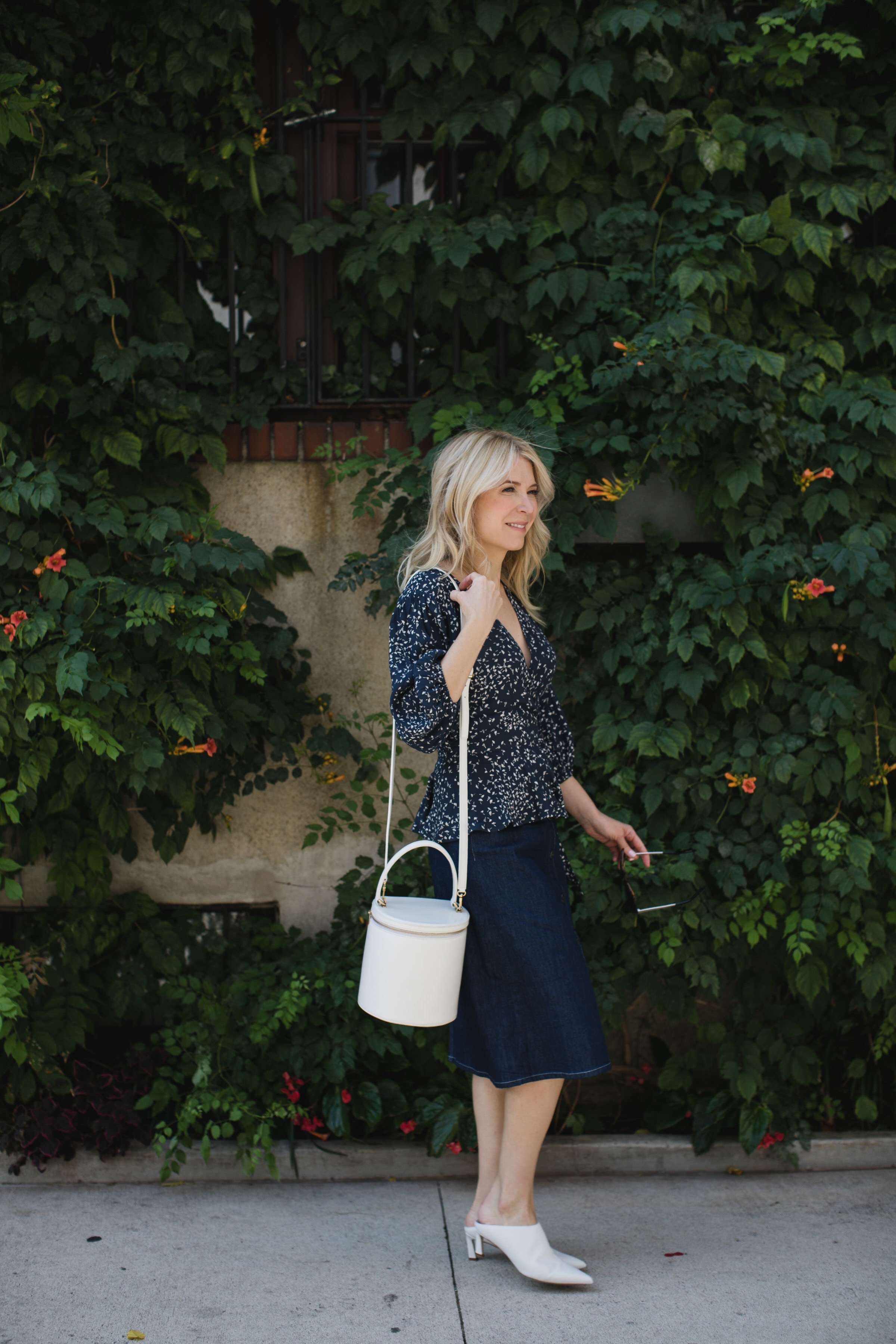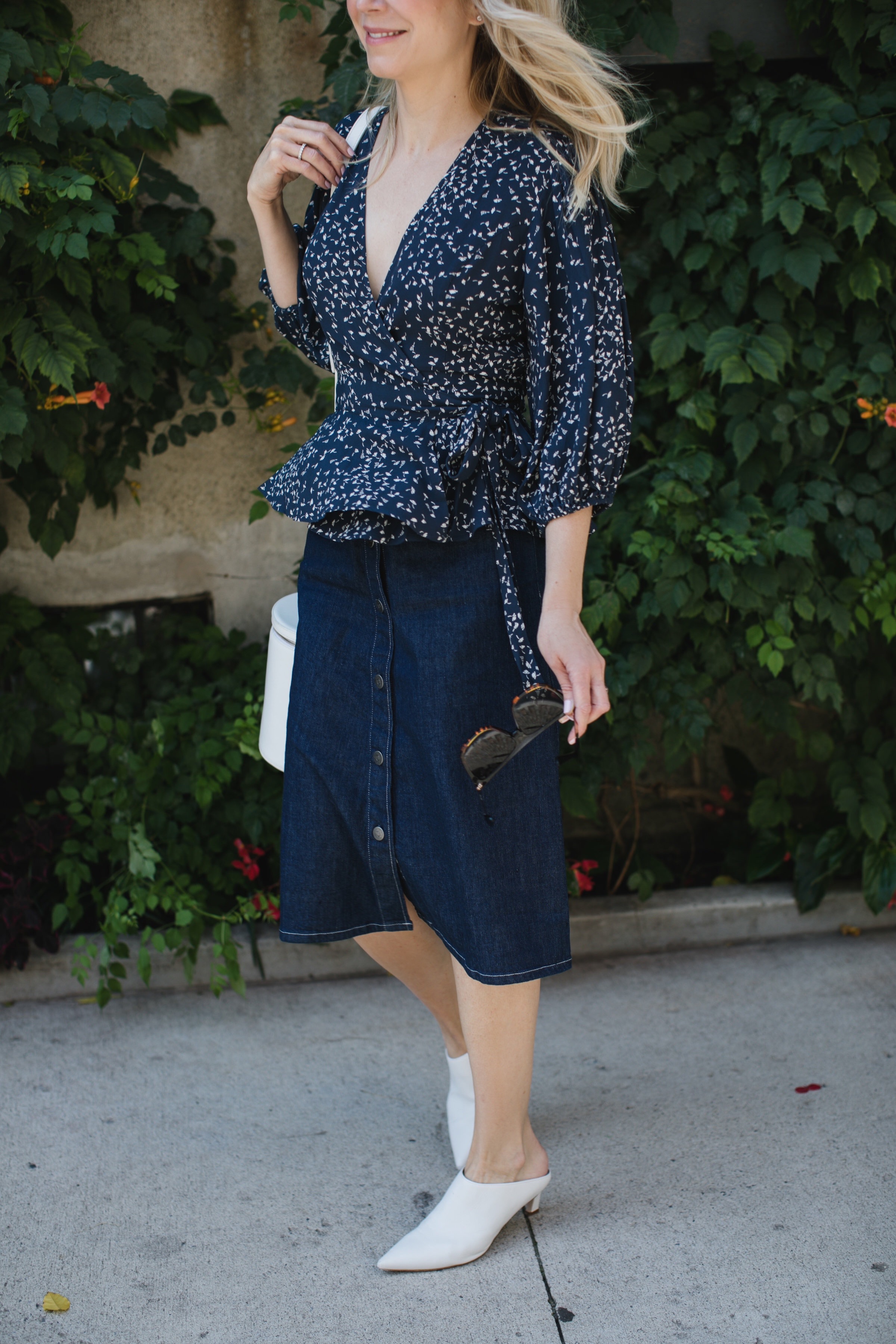 Personally, my shopping pattern always starts with me feeling an immediate visceral pull to the clothing.  If I feel that, then I look at the price.  If it is outrageous, I either right away just rule it out OR I put it on my wishlist and start saving my pennies.  If it is just on the pricier side but doable if I cut other purchases, I will stop and think about it for awhile.  How new and different is it?  Will lots of other women be wearing it, e.g. other moms I know or women on the streets?  How many times will I wear it?
And if it is inexpensive, that doesn't just mean a greenlight – just because it costs barely anything to buy, does not mean it is FREE and does not mean it won't take up valuable space in my wardrobe.  Plus, chances are, if it is Zara, I will see it EVERYWHERE for the next few weeks on the streets of NYC and that is my pet peeve.  So for me, I love Ganni because it is always original, and I feel cheerful and stylish in their clothing.
Anyway I would love to hear what brands YOU are loyal to and how YOU make shopping decisions!  Leave a comment below!
Thanks for reading!
xxxxx
Laura
Photos by Lydia Hudgens