Knit:  Tibi | Skirt:  Tibi | Bag:  JW Anderson | Boots:  Kurt Geiger (also here)
I bought this Tibi outfit in the Shopbop sale.  Even on sale, it was a bit of a splurge.  Mostly, I like to buy on sale or from Zara, Asos and H&M.  If I am going to go all out, it is usually on a new bag or a pair of shoes that I have saved up for!  But this outfit was an exception.  The minute I saw it I loved it and I knew I would never find something as beautiful or well made on the high street.
Also, I could immediately imagine all the times I will be wearing it this spring.  I notice that every year, right after Valentine's Day, I start wanting to wear spring colors even though it is still absolutely freeeeeeezing in NYC.  This outfit is warm, but the color (a minty seafoam green that is brighter than it looks here) definitely gets you in the mood for the changing season.  Plus the skirt (which is all shimmery and pleated) reminds me of a mermaid!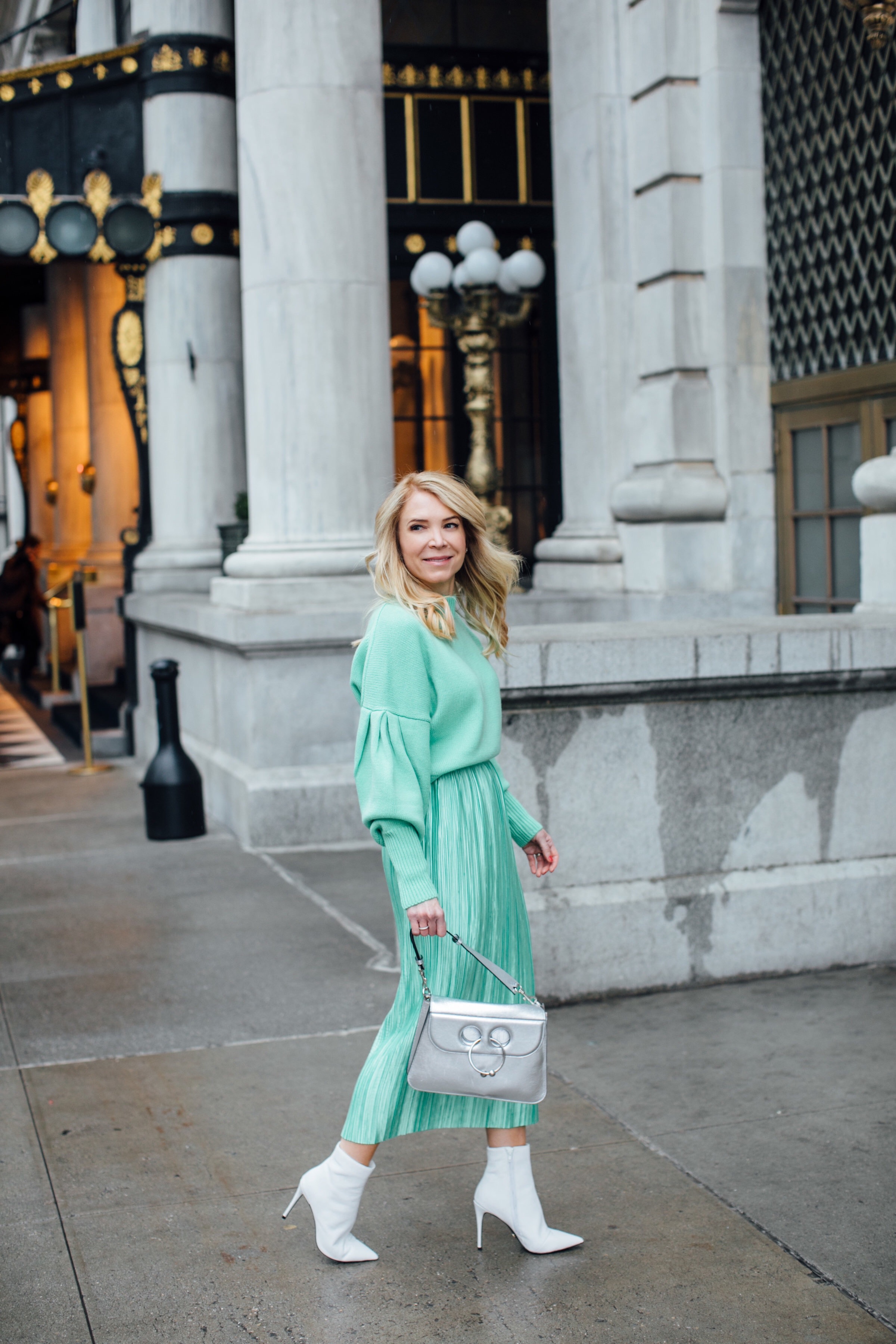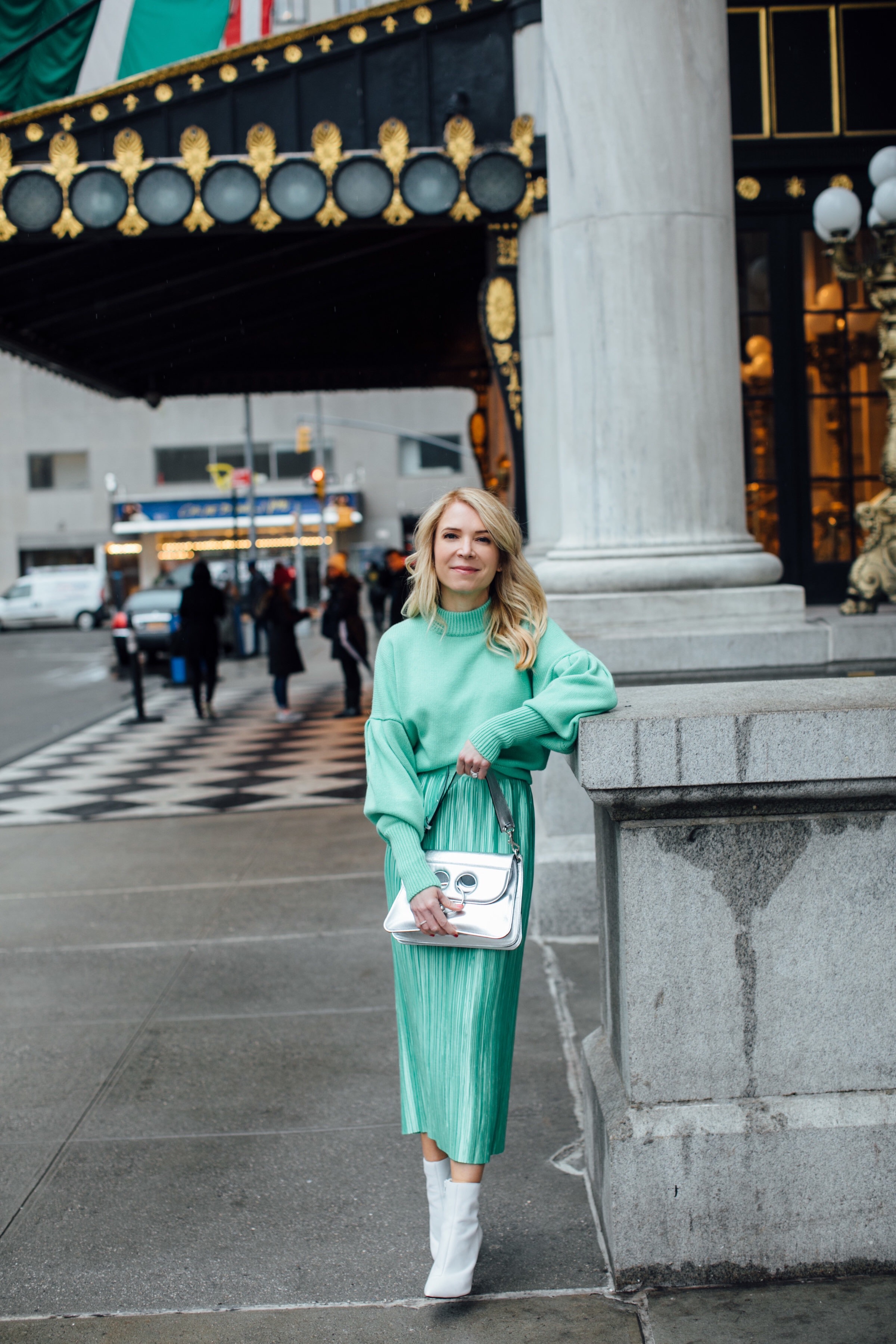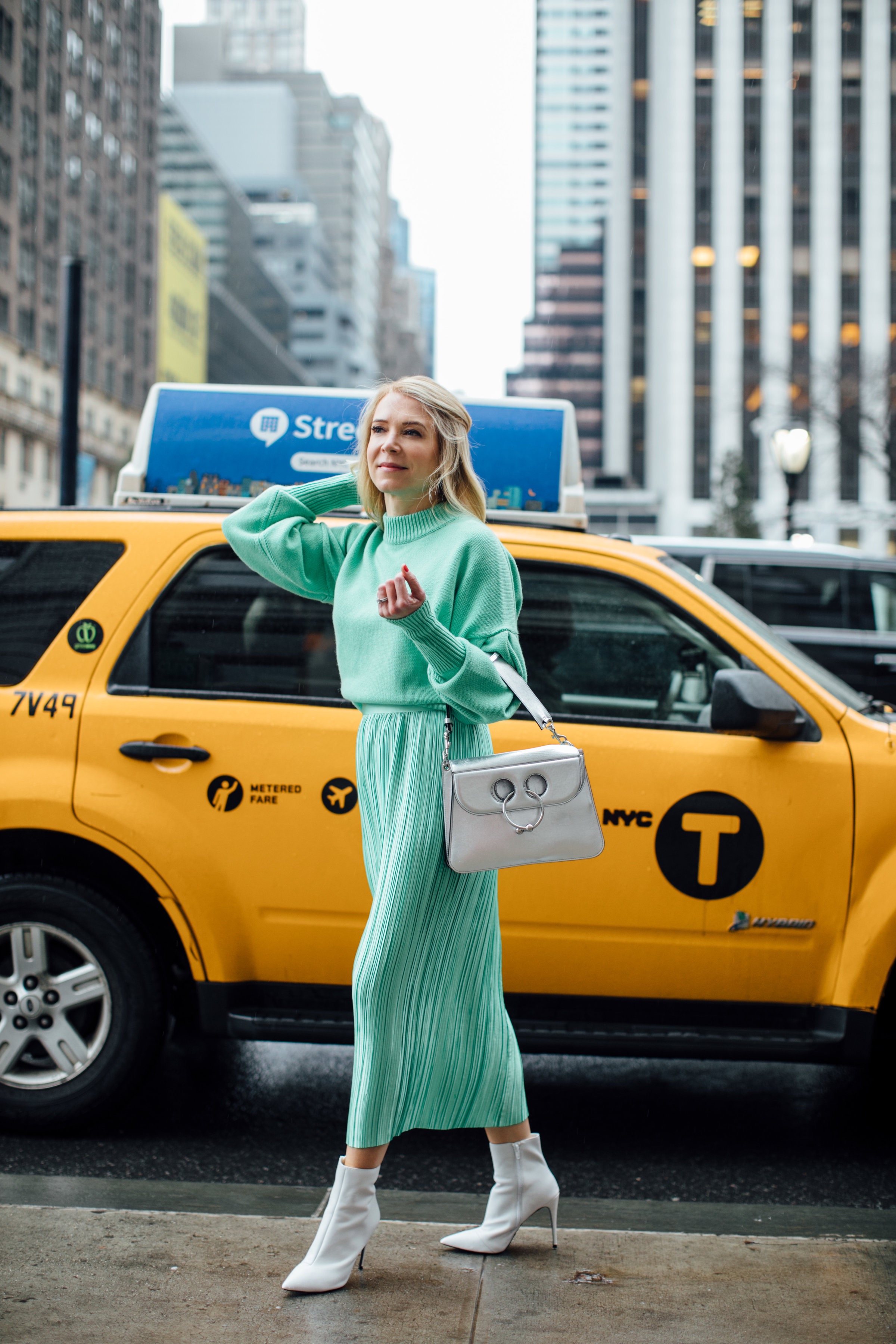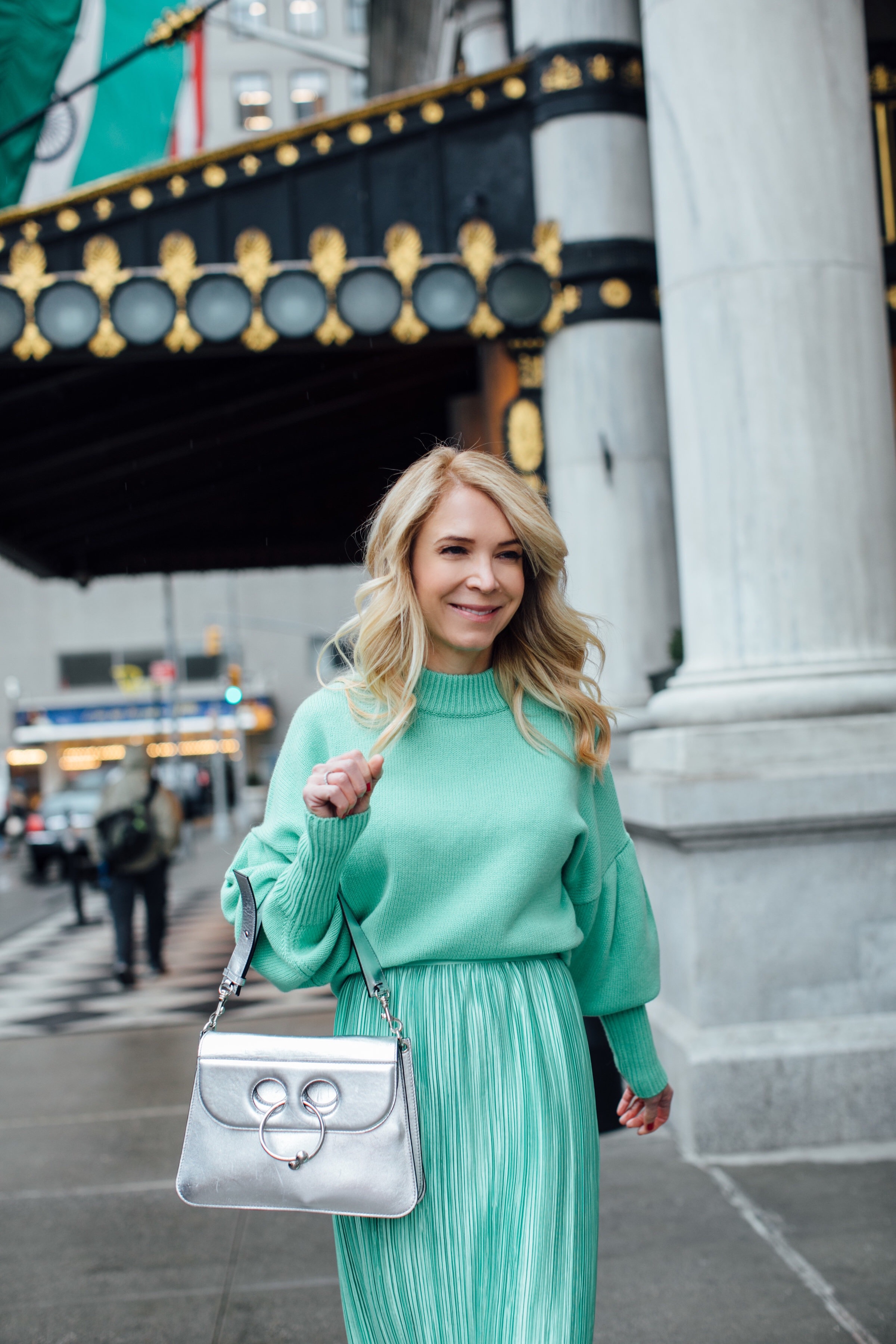 This was the first time I had shot blog photos uptown.  Lydia Hudgens suggested it and I was so glad we did.  These photos are taken in front of the Plaza.
Like many people I know who live downtown, I only go to midtown or uptown on occasion. I love where we live.  In Tribeca and the West Village there are definitely better restaurants, and a more relaxed vibe.  And you can do almost any shopping you need in Soho.
But there is something just so special about heading uptown. The Upper East Side is so manicured and pretty and there is nothing more gorgeous than Central Park!  I love seeing the old ladies in their fur coats and jewels walking their miniature toy dogs (with matching jeweled collars) on Park Avenue.  There is nothing like the bustle of Fifth Avenue.
When I lived in London, I was in Shoreditch for the last couple of years, and sometimes on the weekends my girlfriends and I would decide to have what we called a "posh day" in Mayfair.  We'd get a little bit dressed up and go to Selfridge's for a bit of shopping, then down Bond Street and end the day with a champagne tea at Claridge's, Sketch, or even to the Charlotte Street Hotel (which we loved back in the day).
Now that I live in NYC, going uptown to 5th avenue reminds me of those "posh days" back in London!  Usually once a month I will book an afternoon hair appointment at Rita Hazan on 56th and 5th.  (You will probably think I am a bad mom, but I purposefully time it so I will miss the school pickup, homework, dinner, bath and bedtime routine!  It is just once a month, I think it is important to have a break.)  After the hair I will do some browsing in Bergdorf's and sometimes meet a girlfriend in the Bergdorf's cafe.  Then take a little walk through Central Park and window shop on 57th Street, sometimes go to an exhibit or gallery.  I'll usually meet my husband outside his office (he works across the street from Bloomingdales) and we will go for a date night either at The Mark or we will head back downtown to one of our regular spots.  We are definitely downtown people, but it is nice once in a while, no matter where you live, to have a "posh day".  I think in every city there are special places to go and things you can do to give yourself a break!
Thanks for stopping by!
xxxxx
Laura
Photos by Lydia Hudgens