On Lisa: Top: Clu | Shorts: Zara | Shoes: Tibi | Bag: Staud (sold out in all white, similar here) | Sunglasses: Saint Laurent and here
On Laura: Dress: Clu | Shoes: Tibi | Bag: Prada | Sunglasses: Amazon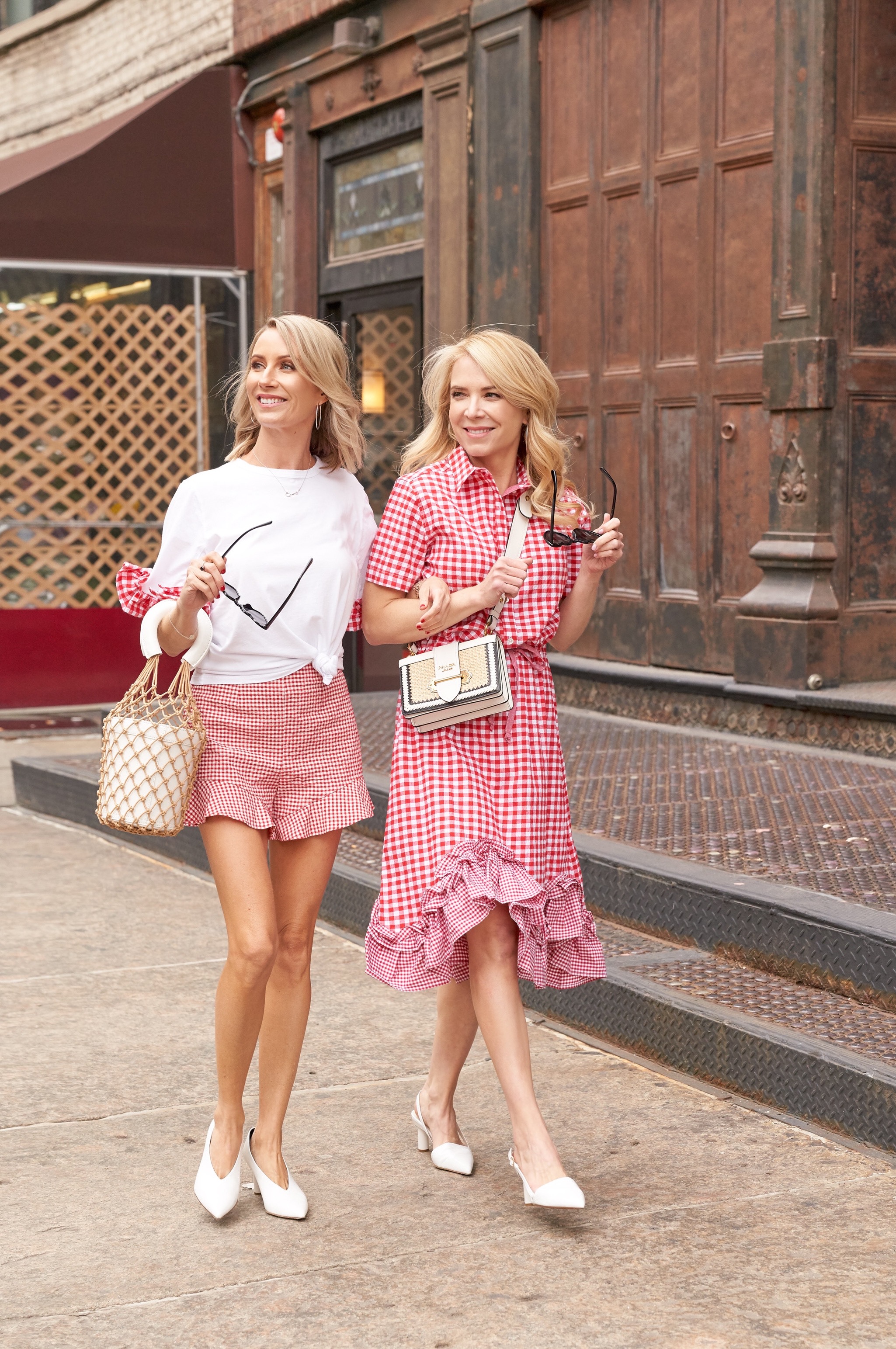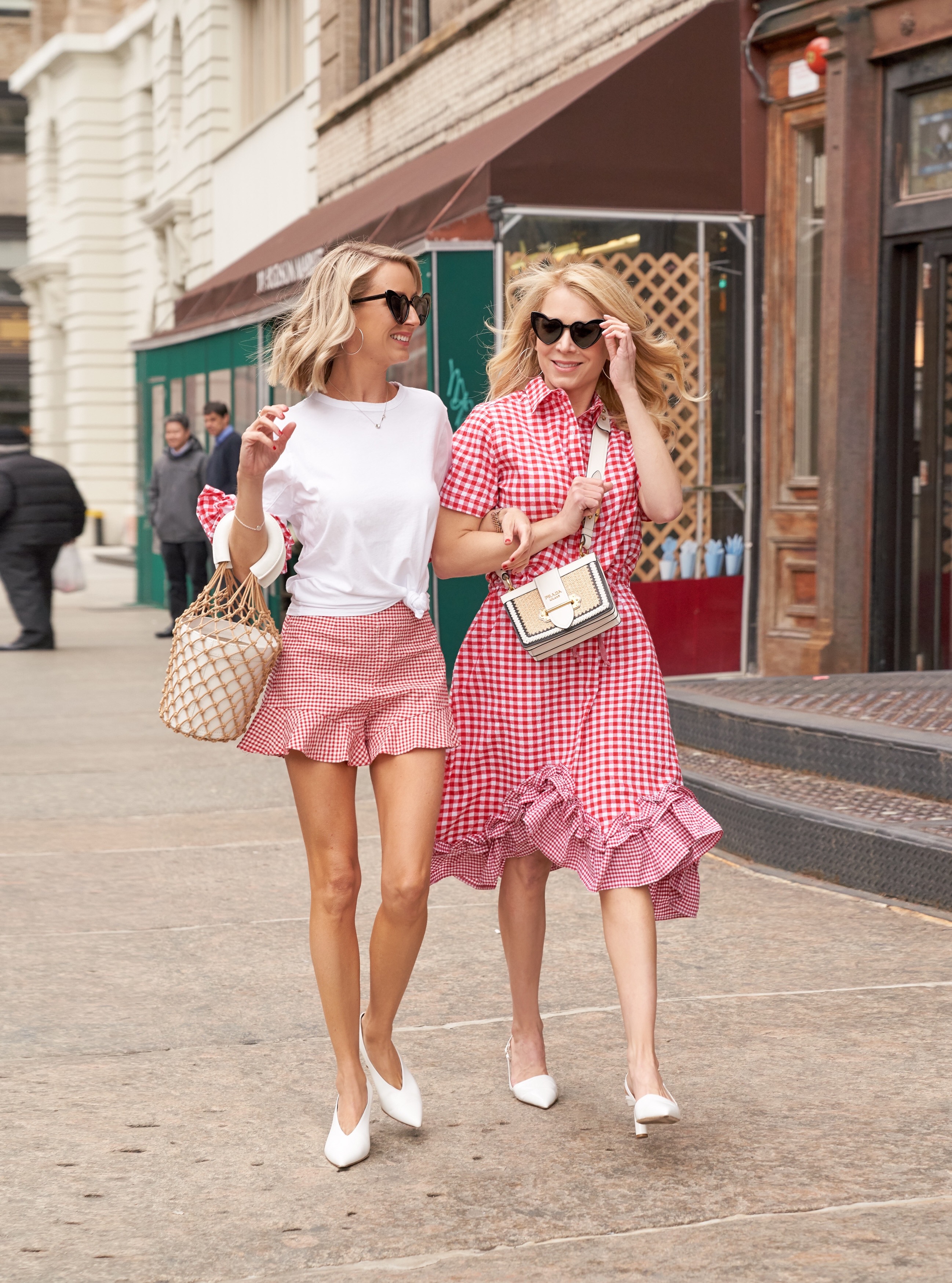 Happy Friday!  Today I'm introducing you all to my good friend Lisa, who lives in Australia.  We met and became close friends when we were both living in London a few years ago.
She visited NYC recently and we decided to shoot photos together in coordinated outfits (as you do, of course!) in Tribeca so I could feature her on my blog.  Lisa is a lawyer, but she loves clothes and has amazing style.  She's Irish (born in Dublin), grew up in Australia, and has lived and worked in both London (for 6 years) and Oslo, Norway (for 4 years).  Now she's back in Australia!
She often visits NYC, and I of course take her to my favorite restaurants around Manhattan!  But Lisa knows the city, and has a lot of other friends here, so SHE is always introducing ME to fun new places in NYC as well!  So I thought it would be fun to do a quick Q&A with Lisa on her favorite things about NYC including her restaurant picks!  And of course, I had to ask her all about her favorite Australian fashion brands, and how she stays in such great shape!
Scroll down for more…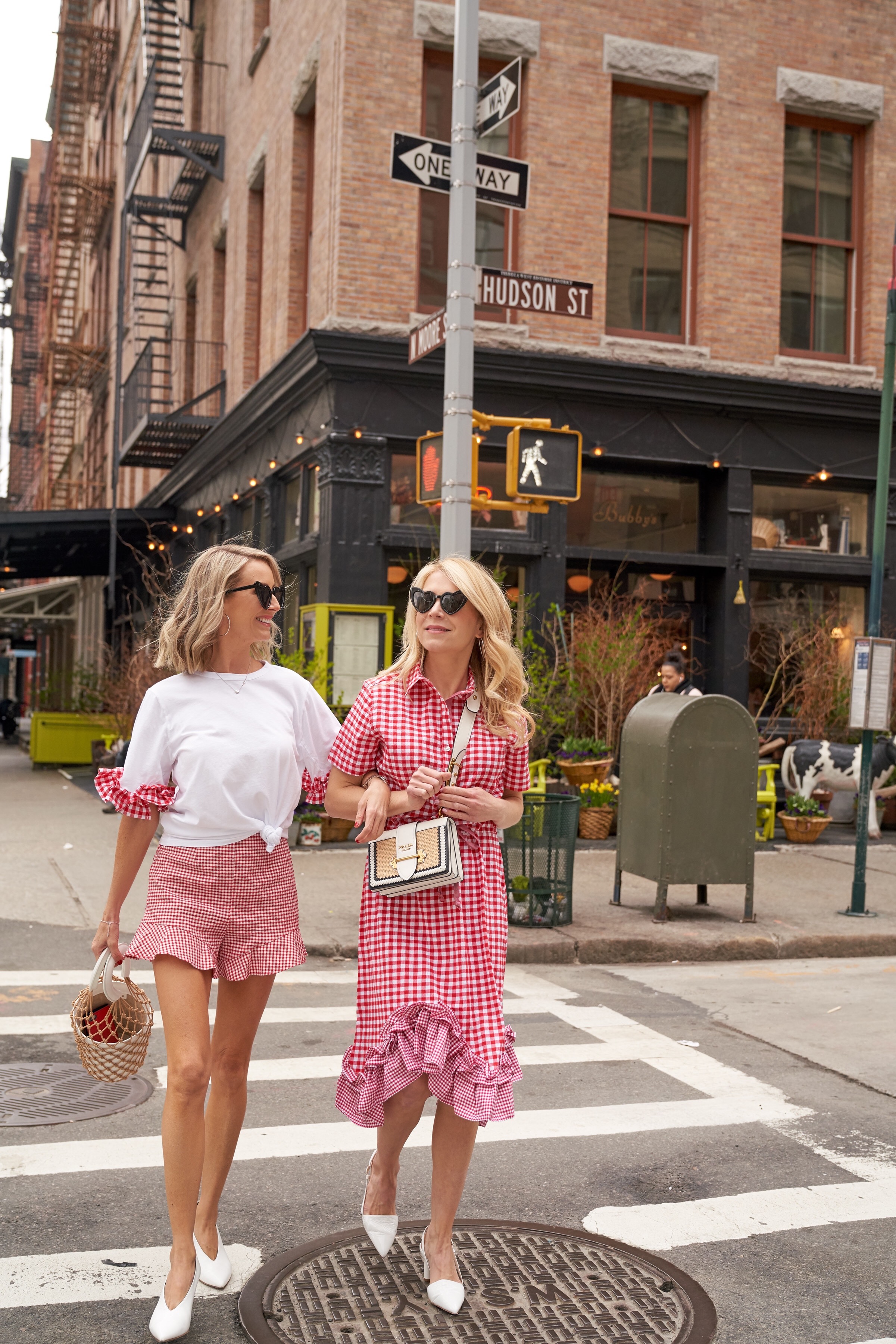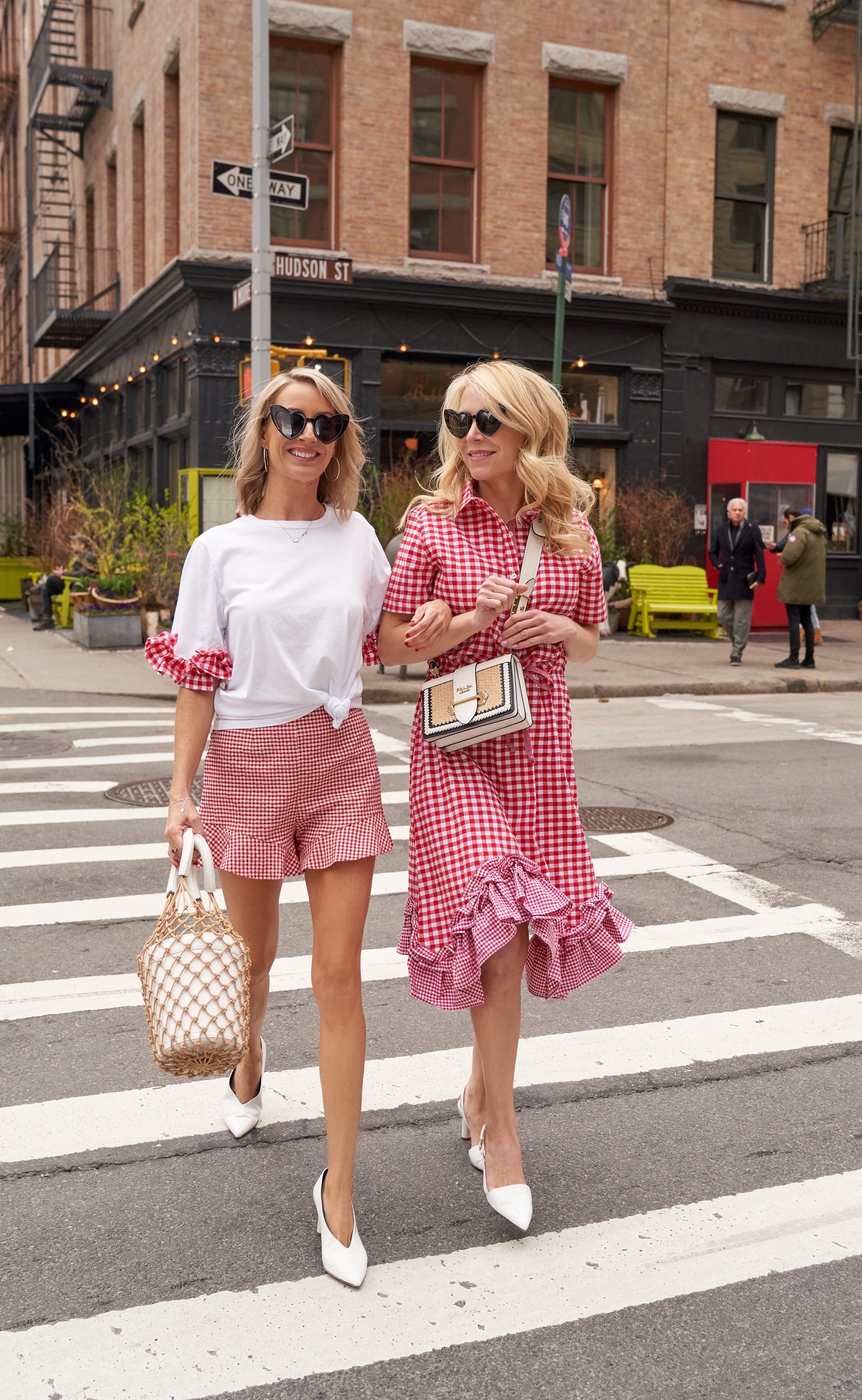 Laura: You have visited NYC a lot. What do you like about it the most?
Lisa: I love New York!  I can still remember my first visit in 2006 when I went to stay with an Aussie friend who was living there. We spent the most fabulous New Year's Eve at Public in Nolita!
New York is such a fantastic city.  I love the energy of the city and I feel alive when I am here.  Although some people say that New Yorkers are intimidating and rude, I find them to be really friendly and open!  I love that there is always something to do, and whatever it is you decide on, you get the best version of it – karaoke, live music, the food scene, fashion, art galleries the list goes on!!   It is choose your own adventure – at any time of the day or night!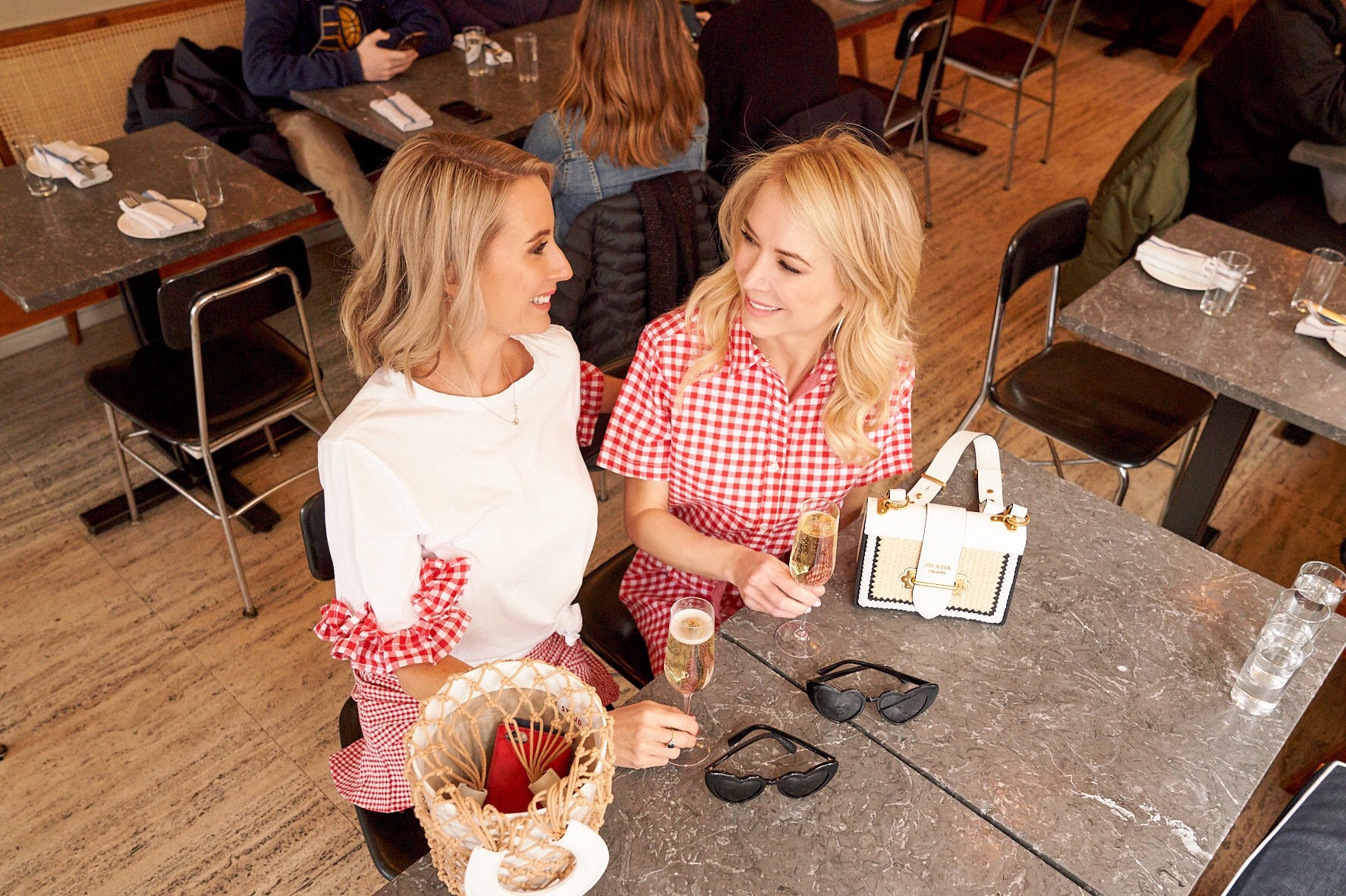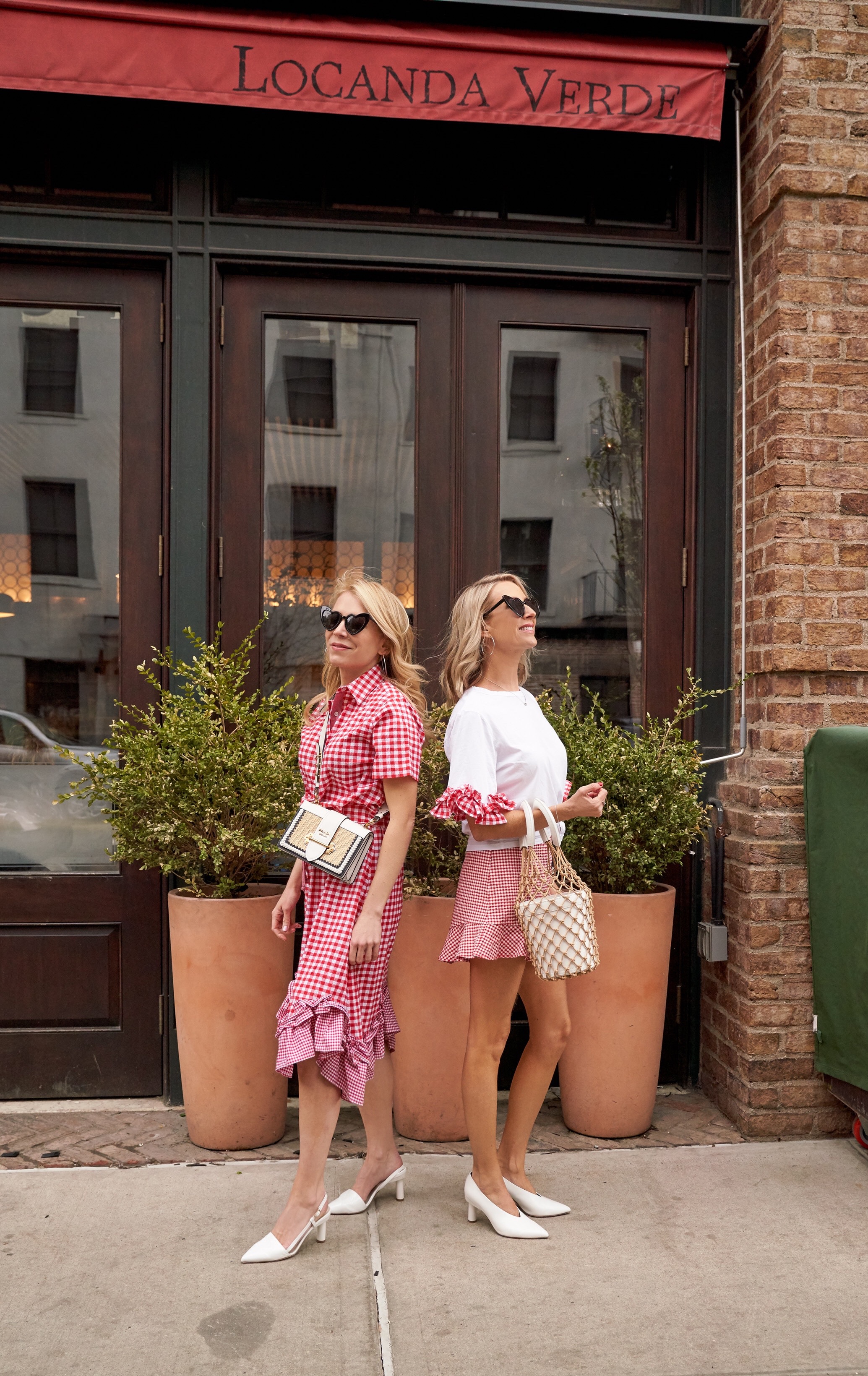 Laura:  What are some of your favorite restaurants in NYC?
Lisa:  It is so hard to choose a favourite restaurant in New York.  I guess my go-to, which I have to thank you for introducing me to, is Locanda Verde in Tribeca (pictured above). Brunch, lunch or dinner, I love sitting up at the bar. The food is always amazing, the ambience is cosy and there`s always a great buzz about the place!
I also love the Beatrice Inn, Charlie Bird and Shuko which I visited on my last trip. Shuko is very expensive but an experience!
My favourite drink is a spicy margarita. I got right into these on my last trip. The best I tasted were at the Nomad Hotel and De Maria in Soho. I have made it my mission to find a decent one in Brisbane. I love a challenge…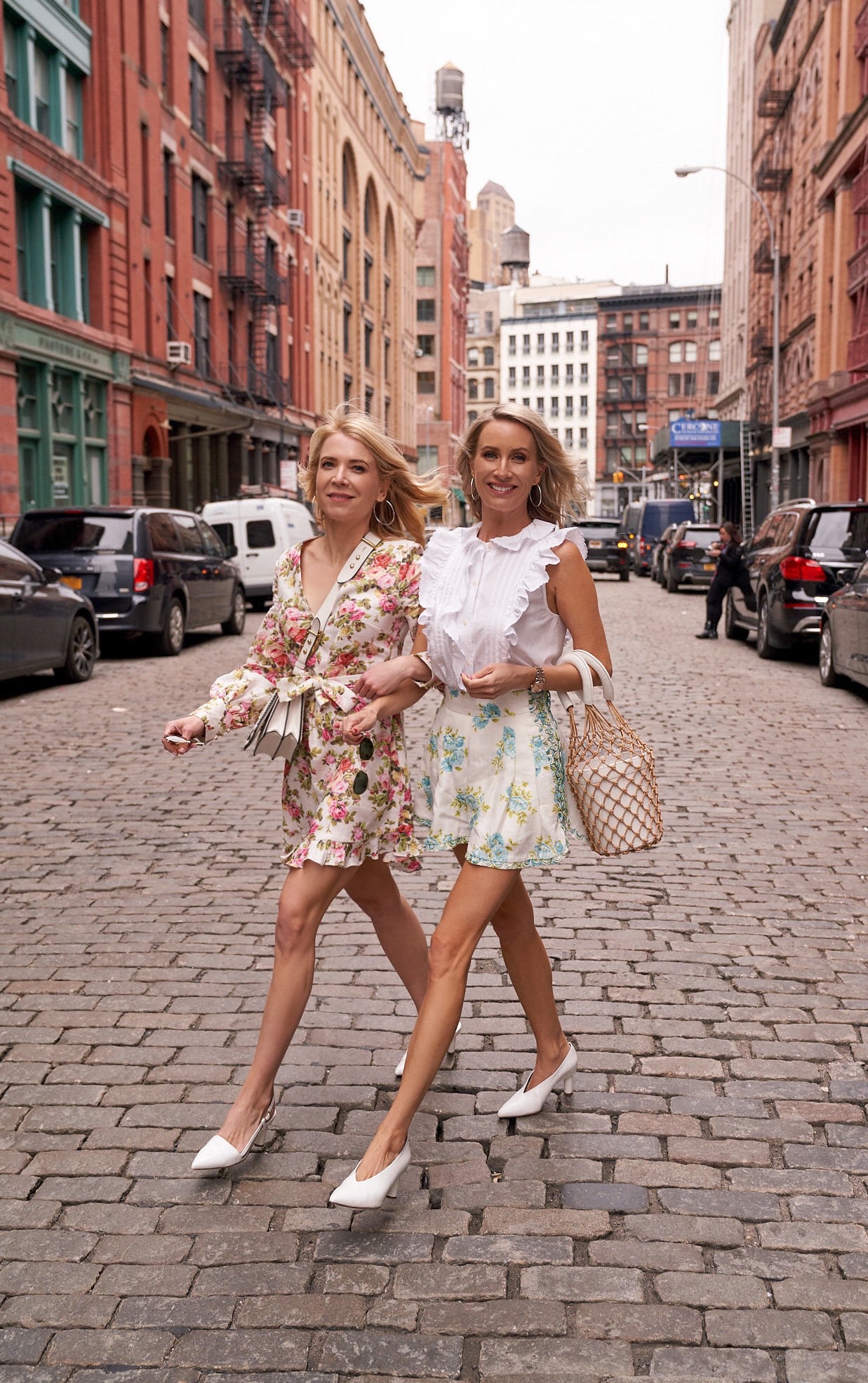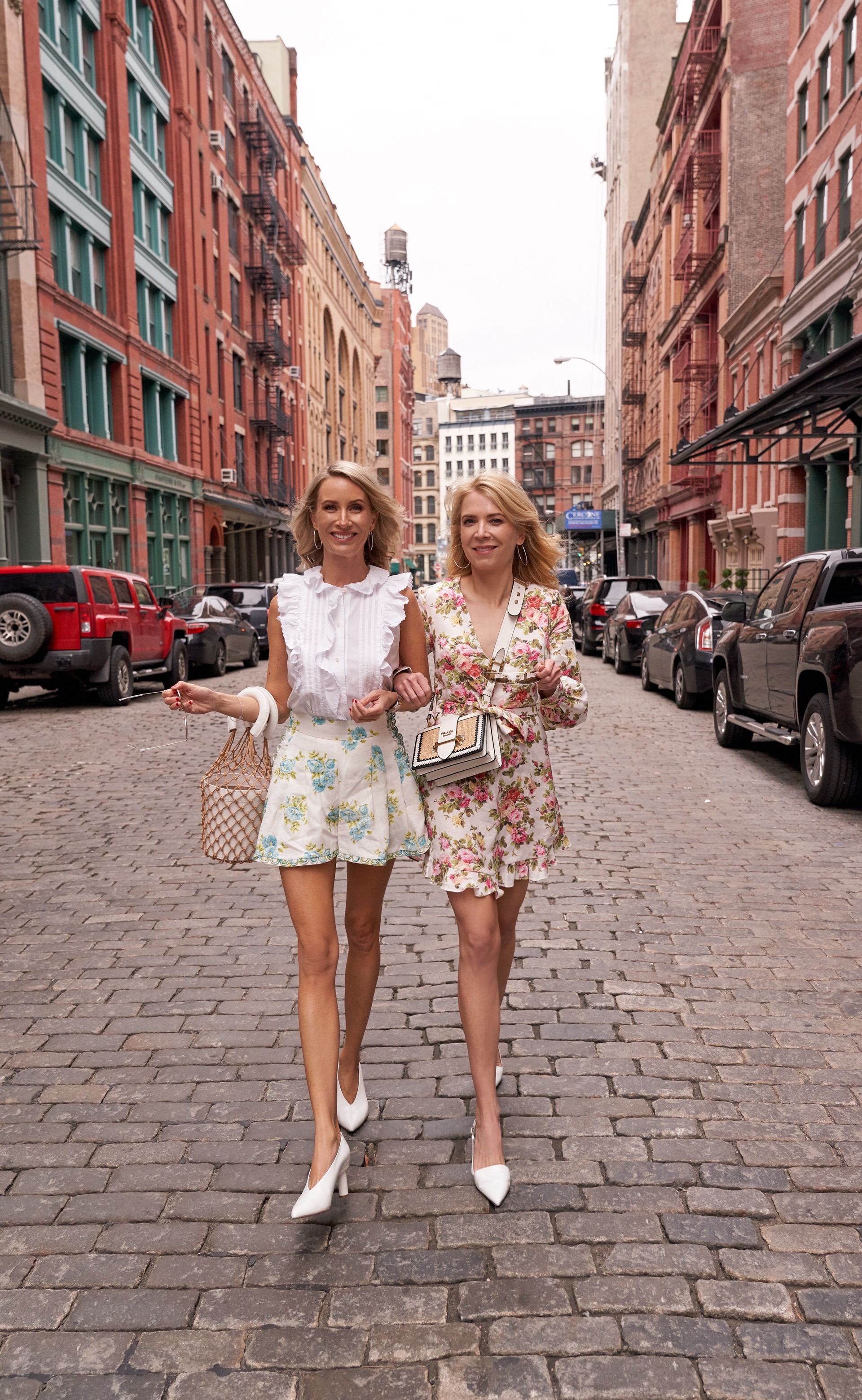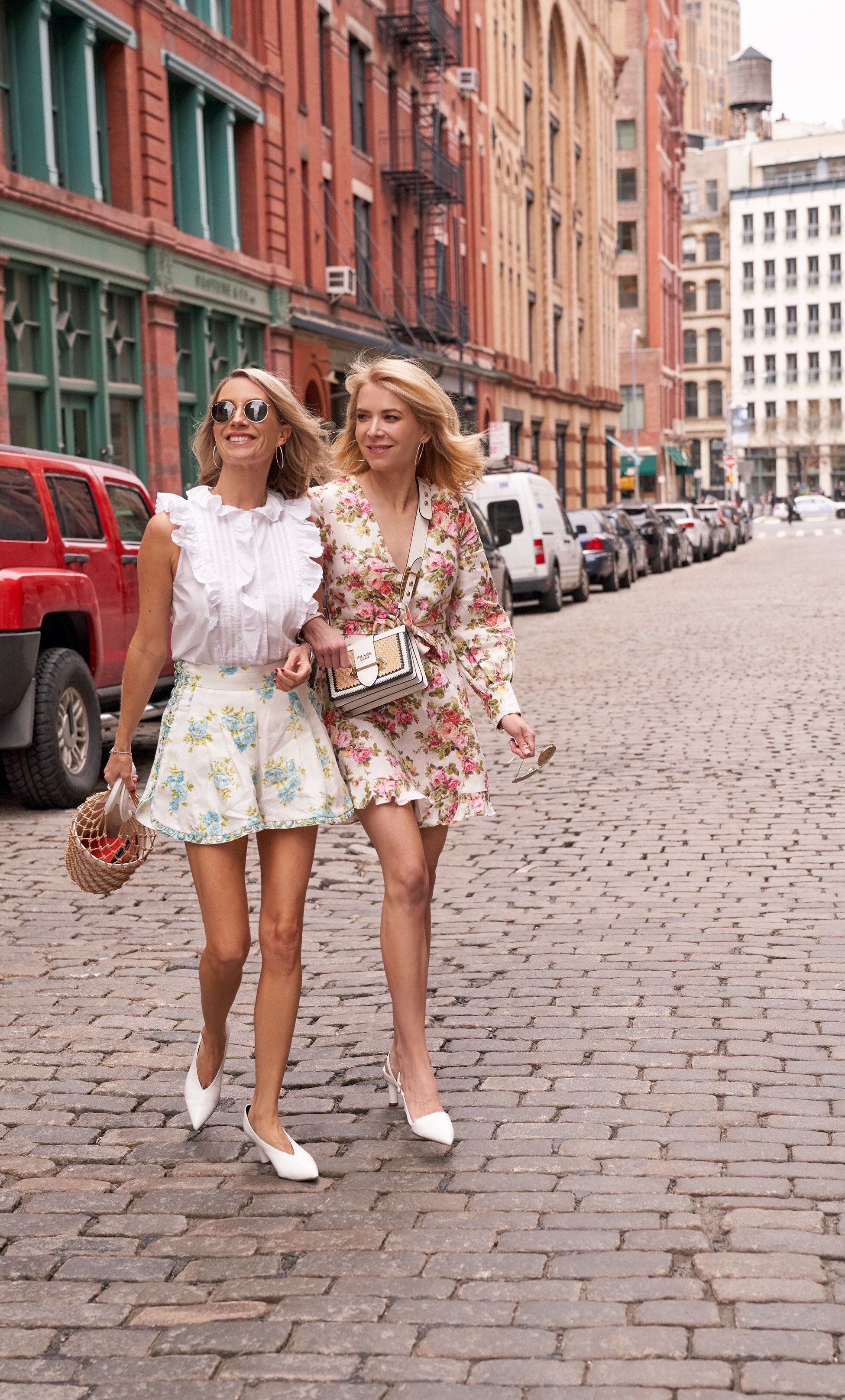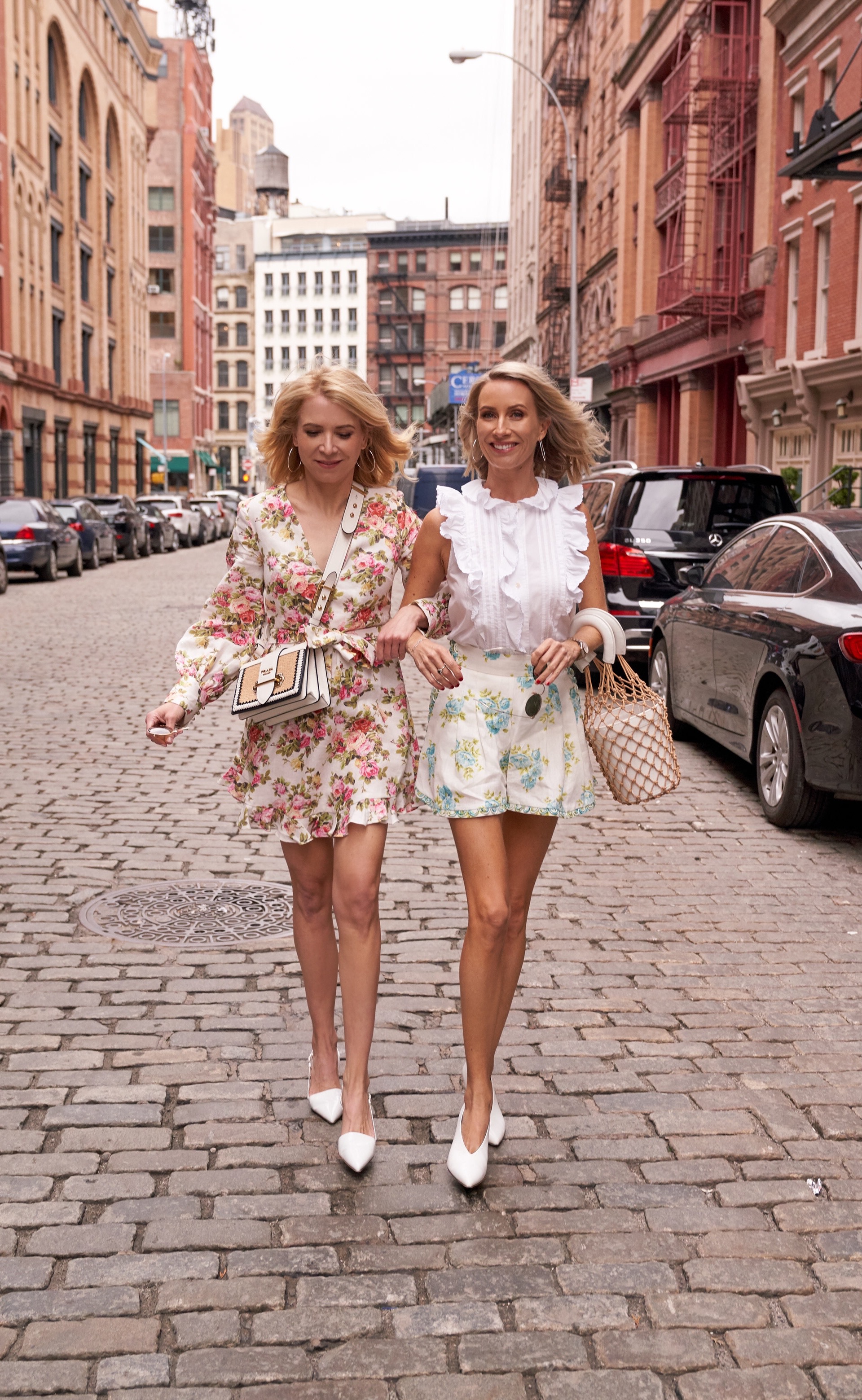 On Lisa:  Shorts: Zimmermann | Top: Rebecca Taylor (old, similar here)
On Laura: Dress: Zimmermann 
Laura:  What are your favorite Australian fashion labels?
Lisa:  Zimmermann is hands down my favourite Aussie label.  I love the shorts I'm wearing in our shoot!  I have been wearing Zimmermann for over 10 years and still have some of my original pieces.  I also love Scanlan Theodore which just opened in Flatiron!  My friend Nat is managing the boutique – stop by and say hi and check out Scanlan`s collection online.  It originated in Melbourne and I think it will be a great hit in New York. Perfect for the climate.  Classic, good quality clothes that transcend fashion fads.  The Scanlan leather biker jacket is a must have.
Kacey Devlin is a very talented young Aussie designer. I love her pieces, especially her signature Kasey Devlin collapse back camis and dresses!!
Laura: What about US and European brands?
Lisa: For the US, I always shop basics.  It's the best place to buy jeans.  My go-to brands are AG, JBrand and Frame. I also love J Crew, Club Monaco, Theory and Bandier for workout gear.
I love Scandinavian designers, Designers Remix, Day Birger et Mikkelsen, Samsoe & Samsoe and Missoni, Maje, Sandro, The Kooples and of course Zara, & other stories and H&M.
Laura:  You are so slender and in such great shape and I noticed that a lot of my Australian girlfriends are. What do you, and they eat, that allows you guys to have such great figures? Do you exercise?
Lisa:  I am lucky I have my mum`s genes and have always been slim. I am a high energy person. I love walking, yoga and reformer pilates. I love swimming at the beach. I loathe running and NEVER do it!!
Laura: What do you normally wear on a normal day in Australia? Jeans, dresses, sandals, bathing suit, what?
Lisa:  Where I live it is super warm so if I am kicking around– shorts, cute skirts, dress, jeans and a cool T-shirt. Sandals are a must – I live in my tan K-Jaques. So are Havaianas. I recently bought a pair of Saltwater sandals that are completely water proof – great for the beach and a bit nicer than your basic pluggers (Aussie slang for thongs). At the beach you will find me in bathers. I have over 100 pairs. My recent favourites are an Australia brand Matteau – amazing both in comfort and style!!
Thank you for reading!
xxxx
Laura
Photos by Mike Kobal (@globalshutter)