This year I feel so fortunate to have been selected as an #AnthroAmbassador, one of 30 women influencers to work with Anthropologie for a period of six months.  I always have loved and worn Anthropologie, but working with the brand I've 100% deepened my knowledge of their range of products!  They have so many great gifts for the holidays this year for all the women in your life, from young to old (I've already got my daughters these earmuffs and this throw blanket, I got my mom this candle and for my 95 year old grandmother these slippers make the perfect gift)!  So this year I've pulled together a gift guide highlighting some of my current favorites both for gifts and things on my own wishlist!  I highly recommend checking out Anthropologie for your holiday shopping – so many fun and unique items and you can get everything online.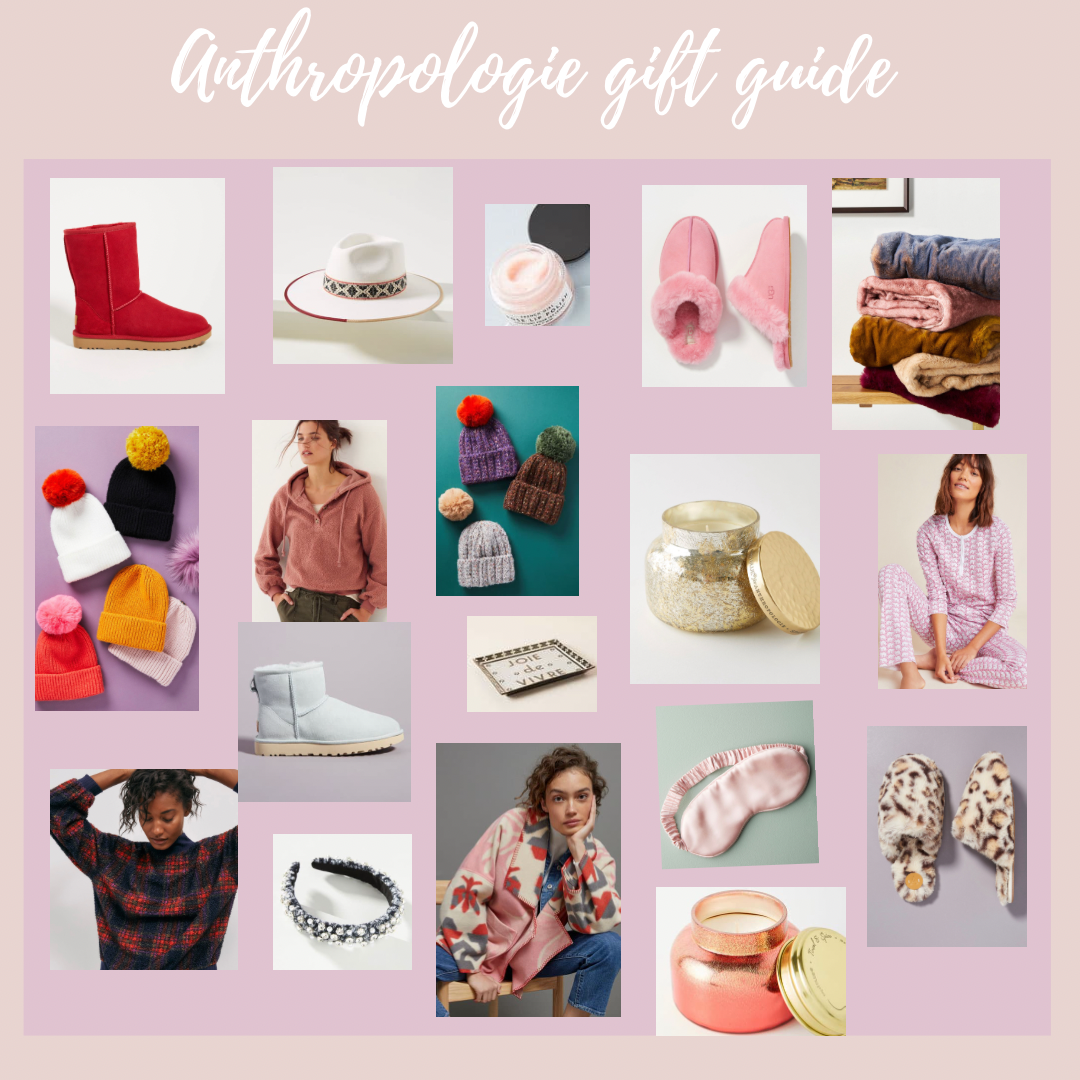 1. Red Ugg Classic Short II Boots – I can't imagine anything more cozy on my feet walking the dog at 6:30 AM, and how cute is the red color?  These are on my holiday wish list for sure ($170).
2. Nadine Trimmed Rancher hat – I actually got myself this hat ($78) in the 30% off sale.  I can tell you it is FABULOUS!  I copied the model in the photo and wear it with this Heidi Kimono Jacket, which is gorgeous in person.  Would be a great gift for your mom or sister, or even for yourself!
3. French Girl Organics Rose Lip Polish – My lips get so dry in winter, and this is the most beautiful smelling lip polish and it gets rave reviews. The perfect small gift or stocking stuffer at $18!
4.  Ugg Scufette Slippers in Pink – I just got these ($90) in tan, and I can confidently tell you there is nothing better to wear at home than Ugg slippers.  The sheepskin feels so luxe.  The sole is substantial and supports your foot.  Now I see they come in pink, so I definitely need another pair!
5. Aleksi Faux Fur Throw Blanket – I was gifted this, in Oatmeal, and I ADORE it.  It is the best throw blanket we have ever owned.  My 10-year-old daughter Chloe has claimed it as her own.  I really want to get another one, and I am eyeing the Mauve ($128).
6.  Pick a Pom Beanie Bases and Mix and Match Poms – I was gifted these as part of the November Anthro campaign, and OMG they are the cutest.  You can change the look of your beanie completely by changing up the poms.  The beanie bases come in ribbed, marled, and standard.  And you get get faux fur, fluffy or classic poms.  They snap on and off and the snaps are very sturdy!
7.  Callan Sherpa Hoodie – I have this in the ivory color ($88) and I love it.  It is so soft and cosy. The online reviews are not great but I ADORE this hoodie.  I am thinking of getting it in the rose color for my mom.
8.  Anthropologie candles – I have this one, and I am obsessed.  This is my first Anthro candle and I am hooked.  The jars are so beautiful.  They smell incredible, I've already burned mine for hours and it still hasn't turned black inside (my pet peeve with Diptyque candles).  Reasonably priced at under $35 – a perfect gift.
9.  Flavia Embellished Headband – My daughters and I have this jeweled headband in every color (Rose, Gold and Slate) and we wear them all the time!  They just make your outfit pop.  At $24, great gift for a daughter, sister or girlfriend.
10.  Roller Rabbit Hathi Sleep Set – so beautiful!  I used to visit the Roberta Roller Rabbit store in Tribeca, loving their fabrics and prints.  This pair especially calls to me, I love how the top is roomy and longer over the fitted bottoms.  I'm putting these on my holiday wish list.
11. Joie de Vivre Bistro Tile Vanity Tray – what a great reminder for everyday (especially in these dark times), and at $18 it is very reasonable!
12. Ugg Classic Mini II Boots – I love the grey color but to be honest I would take these in any color ($150).  I think they are especially stylish and would look cute with skinny jeans, joggers or even a long skirt.
13.  Sadie Slippers in Leopard – I got these ($38) in the Medium Pink color for my daughters and they are truly gorgeous- so soft and fluffy. But, if you wear anything over a women's 6, I would say definitely order the M/L.  The S/M is so tiny it fits my 7-year-old!  So if you do get these, order the M/L for sure!
Happy shopping, and happy holidays!
xxxxx
Laura
SHOP THE POST