Blouse: H&M | Pants: Rebecca Taylor and here | Bag: Chloé | Shoes: Chanel (fantastic dupes here)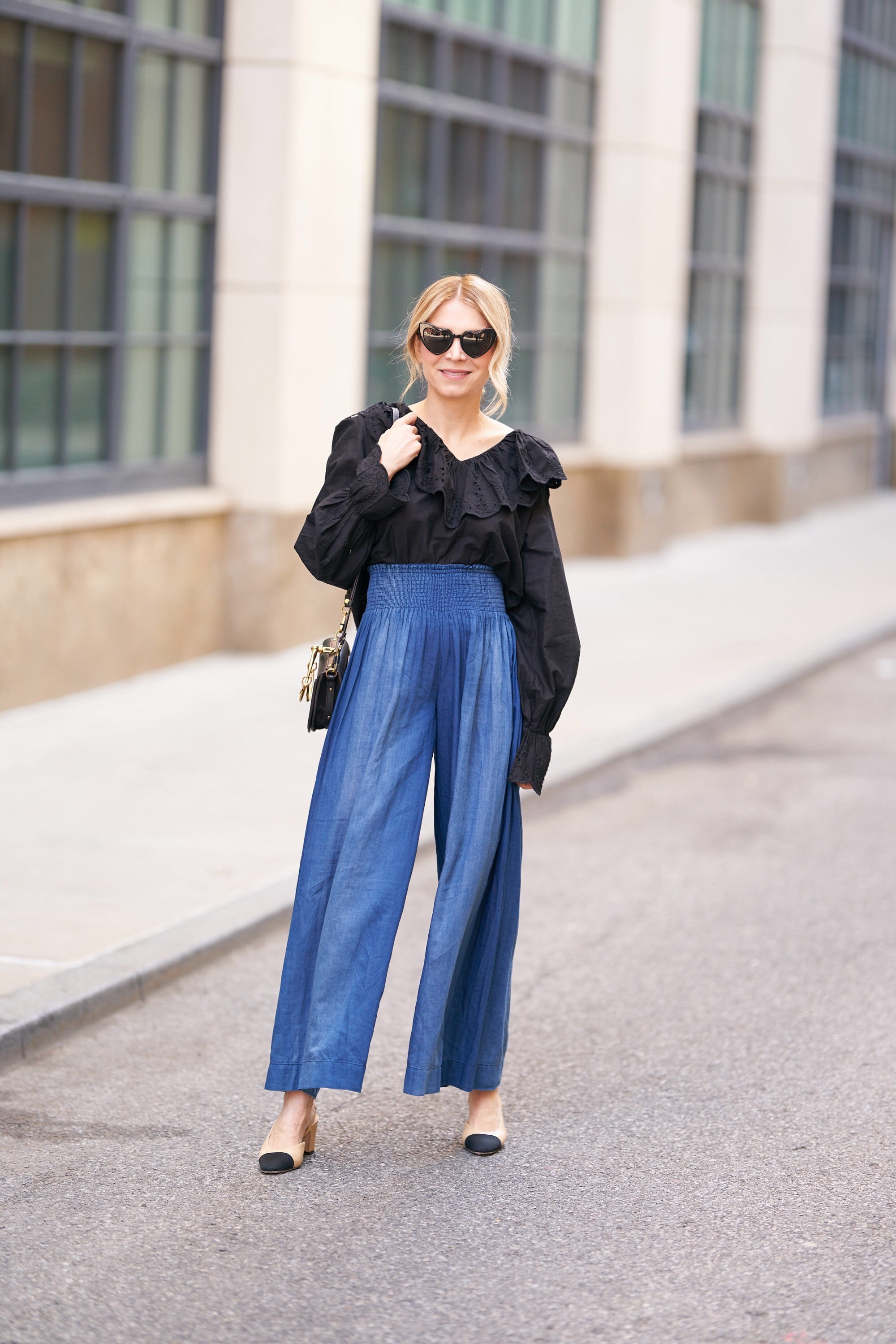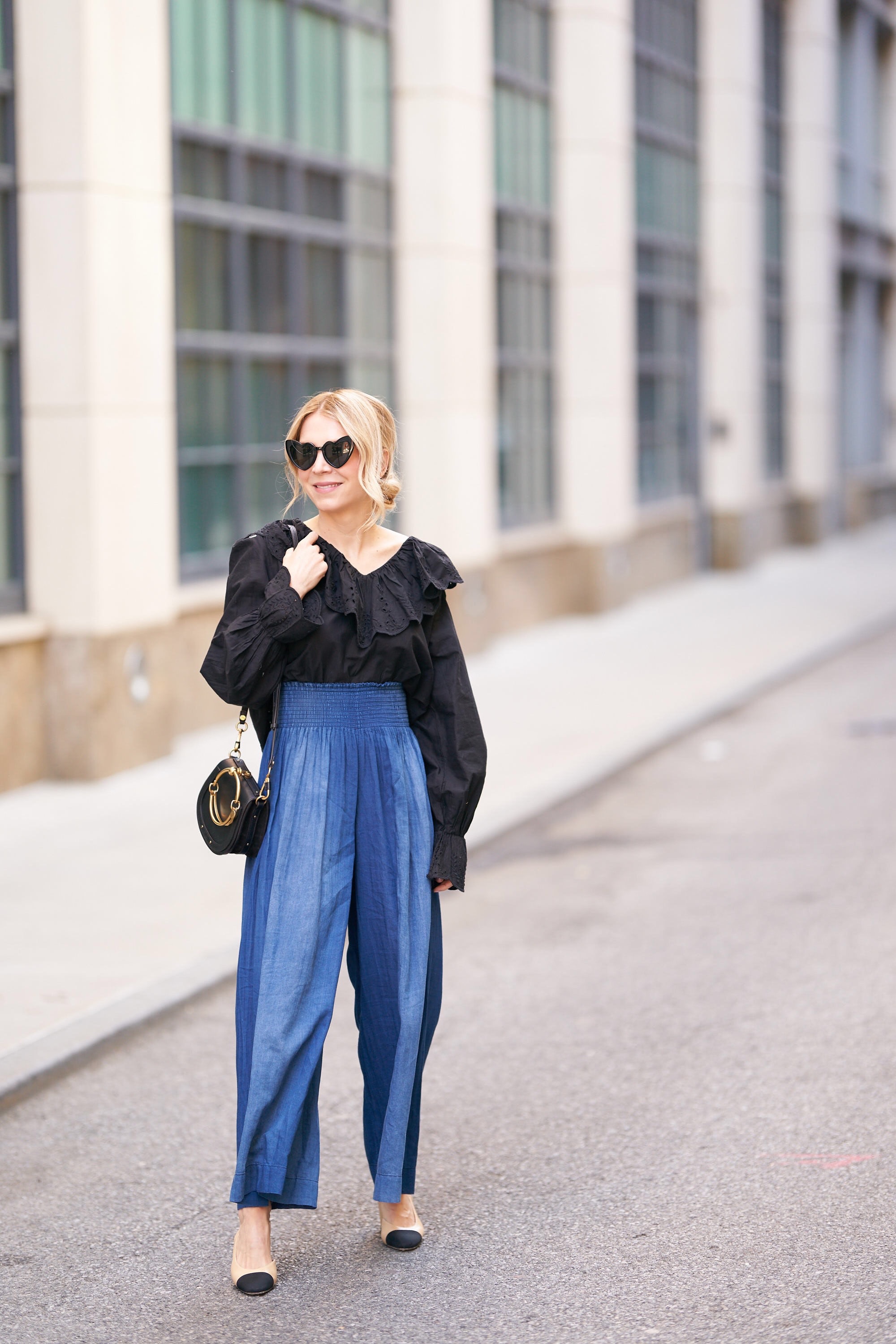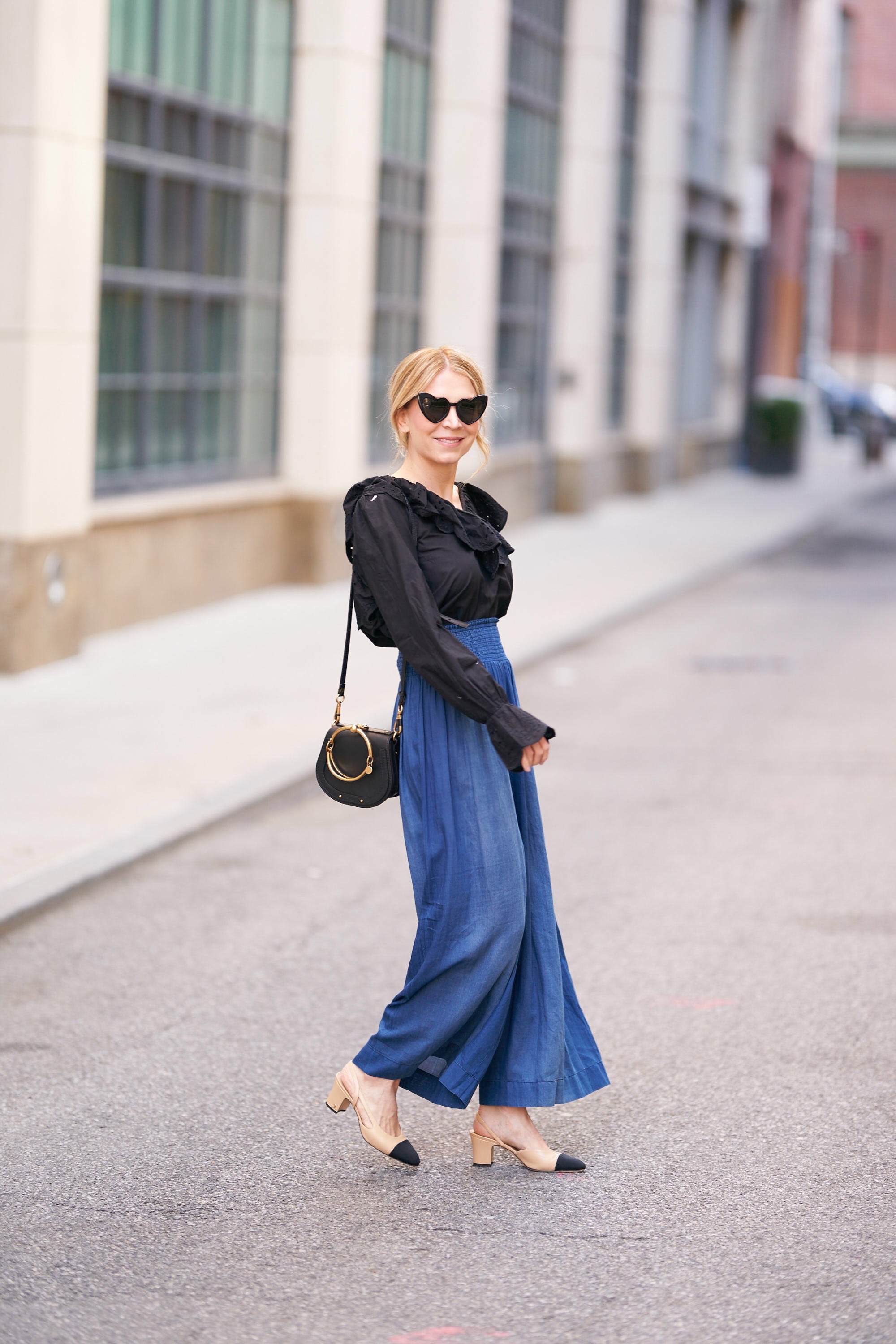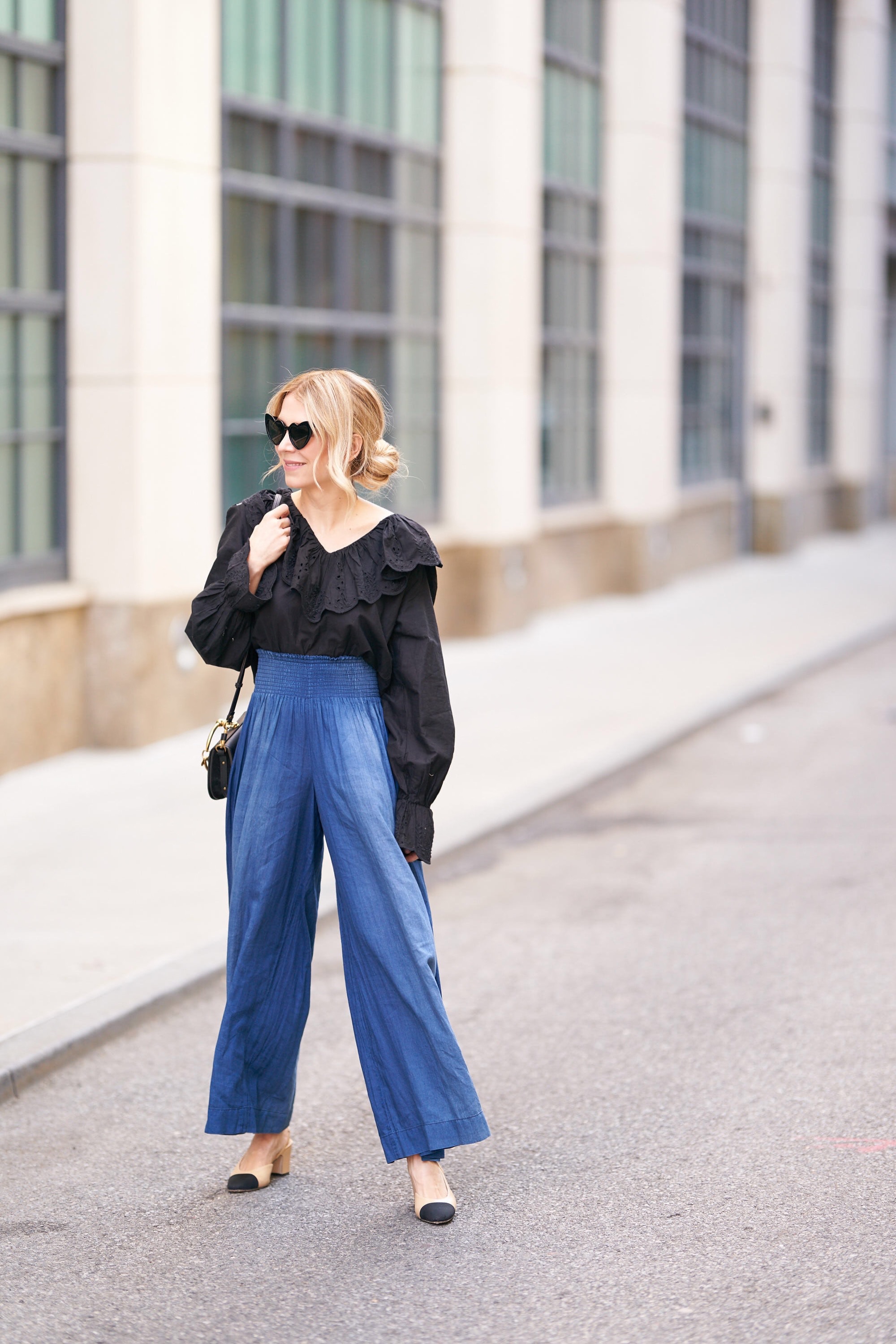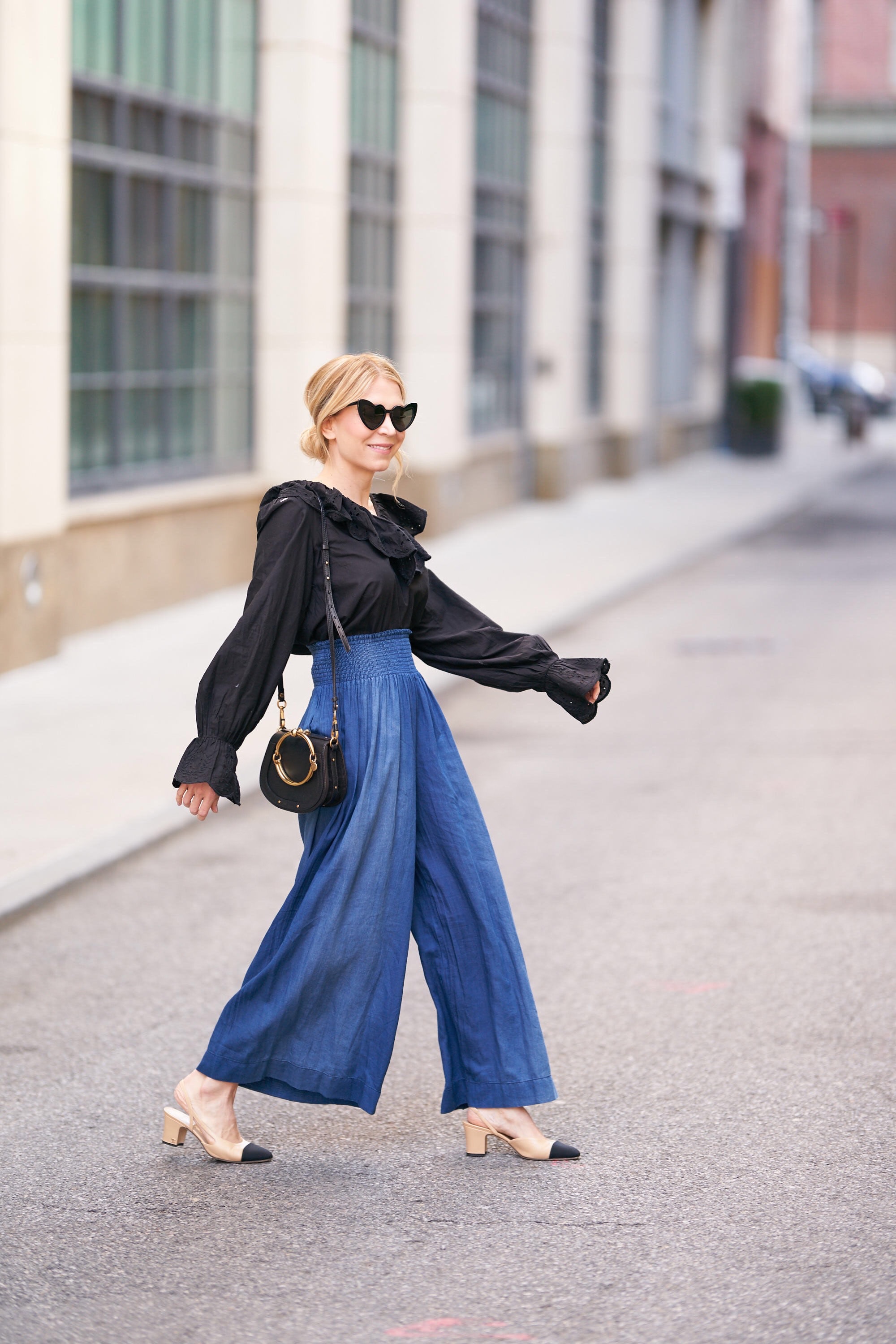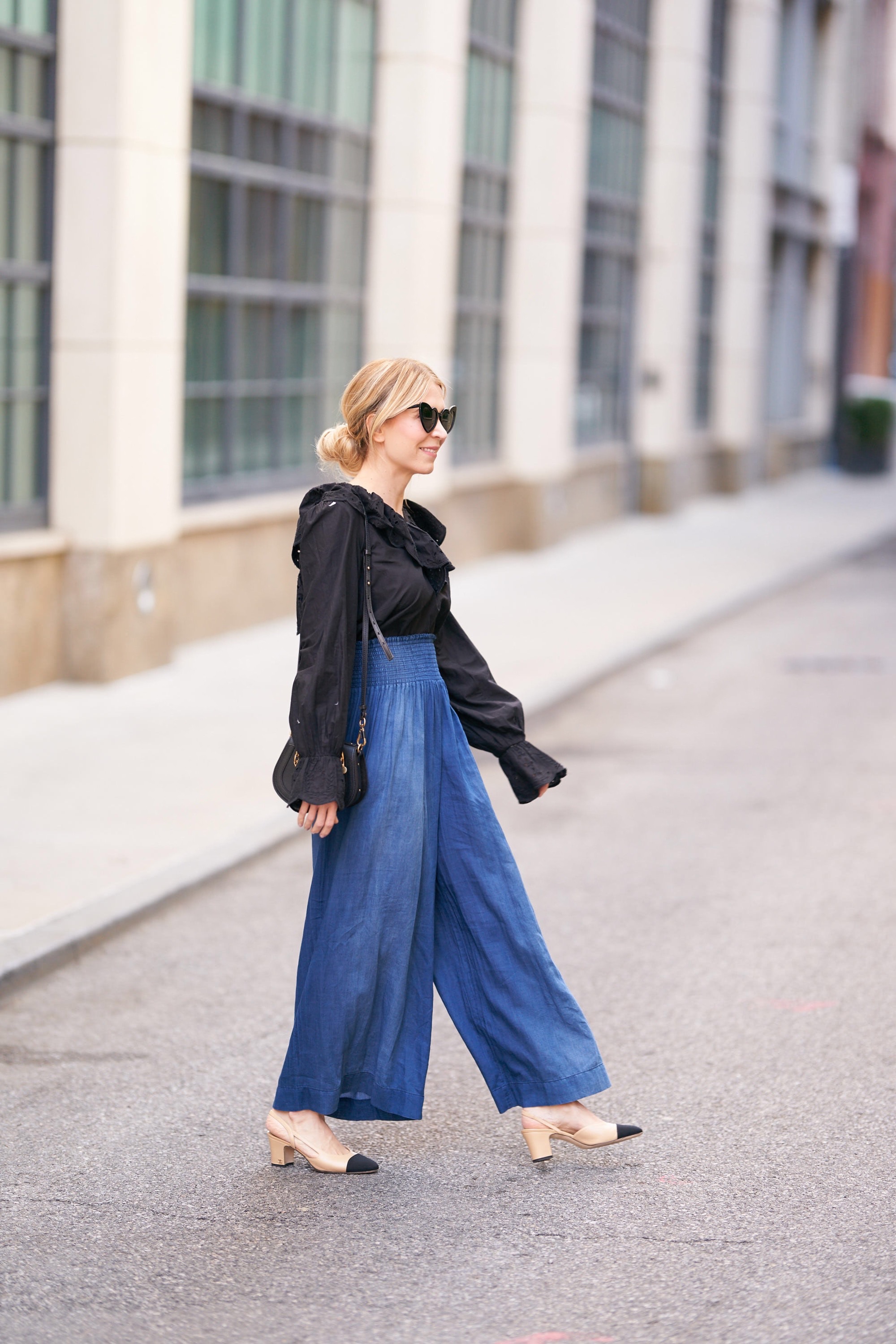 Meet my perfect mom outfit!
This ruffled black blouse and these smocked tissue denim pants together is the easiest and comfiest weekend or mom outfit!  This exact outfit has been on repeat for me.  It makes me feel great even on blah errand days!  I rarely wear black, as I find it a bit depressing, but this top just called to me when I saw it in H&M.  It comes in three colors – white, pistachio green, and black – can you believe I went back to H&M today to get the green one too.  What do they say? When you find a great item of clothing, buy it in three colors?  Well so far I have two of the three.  I don't know if I need another white blouse though… sheesh.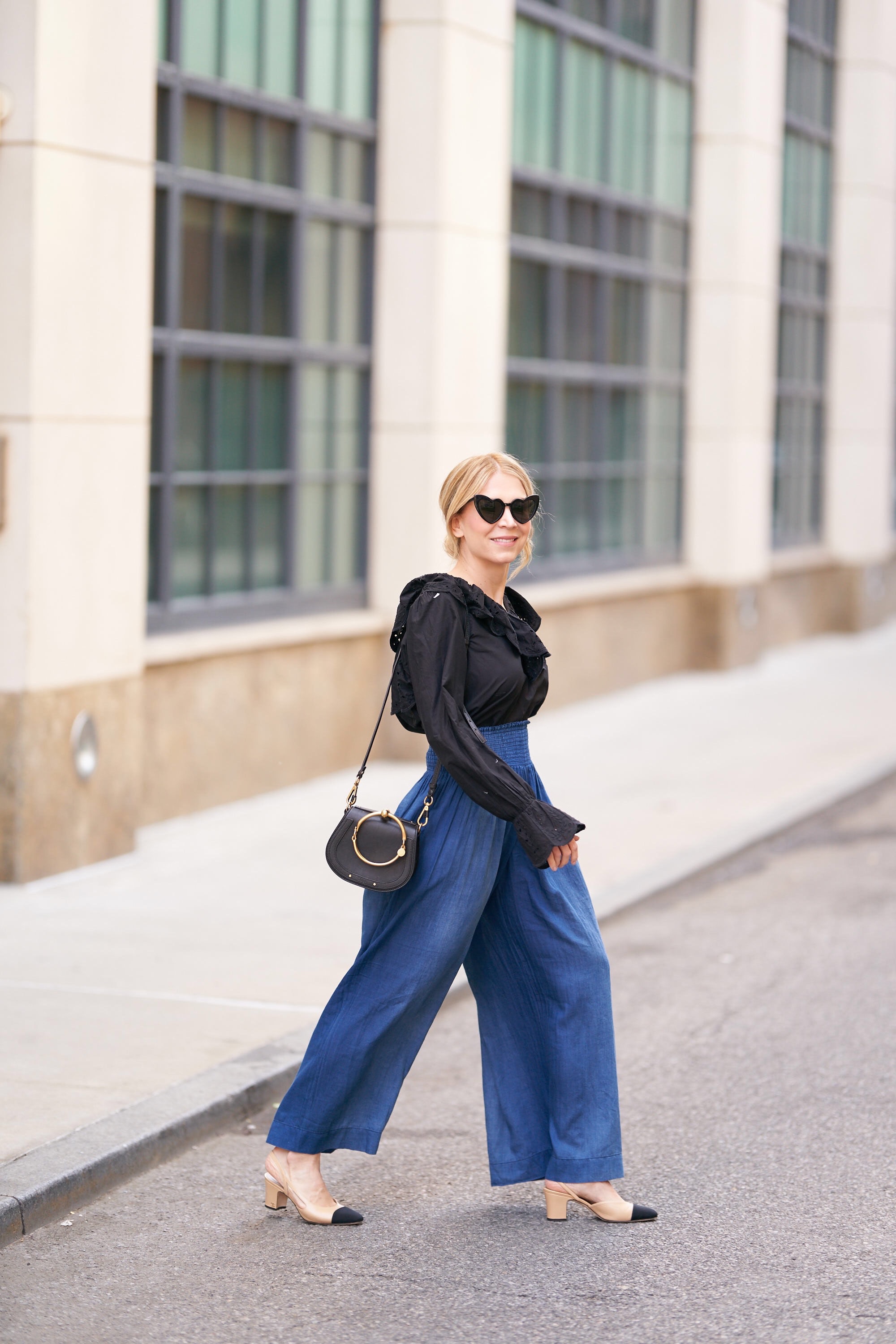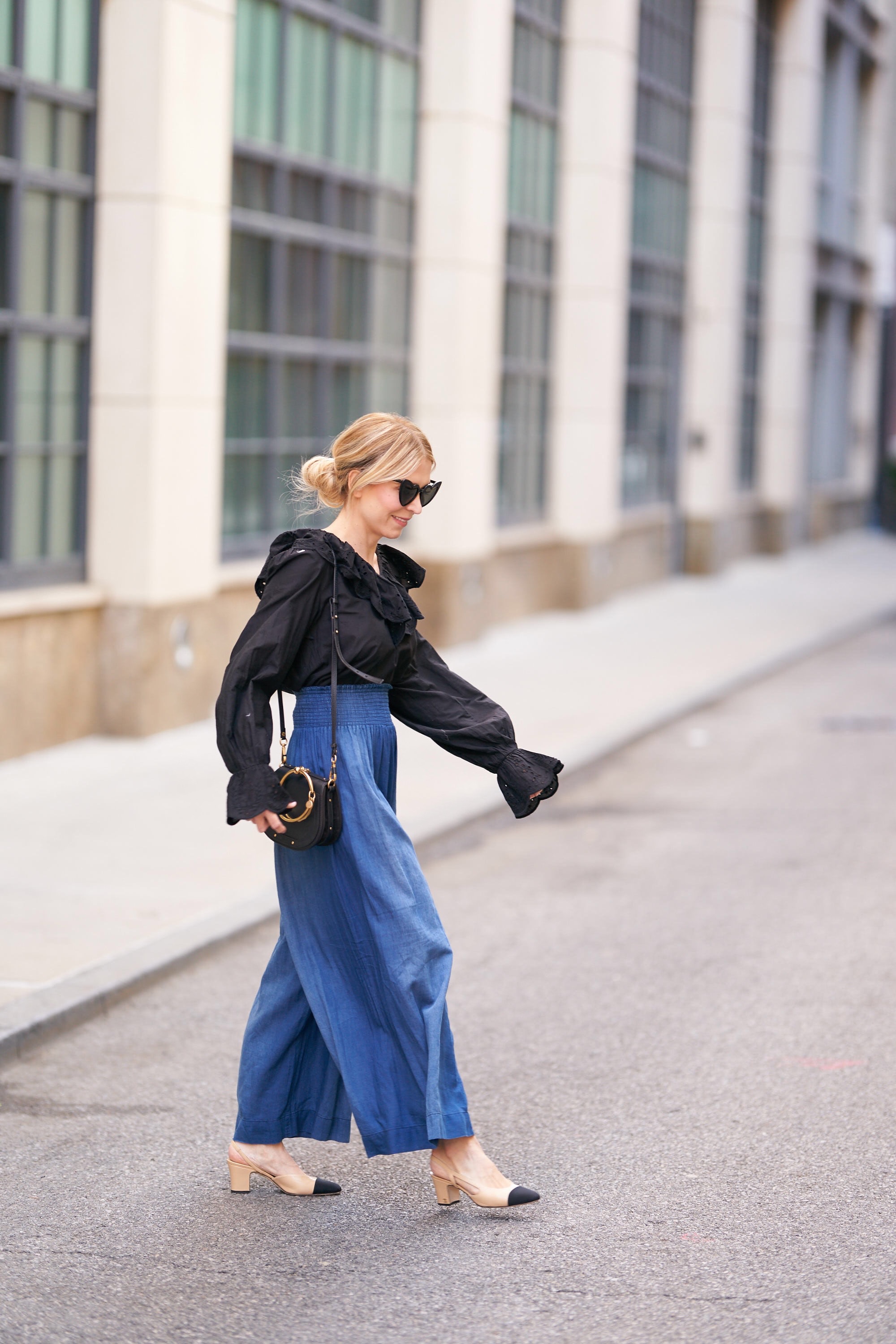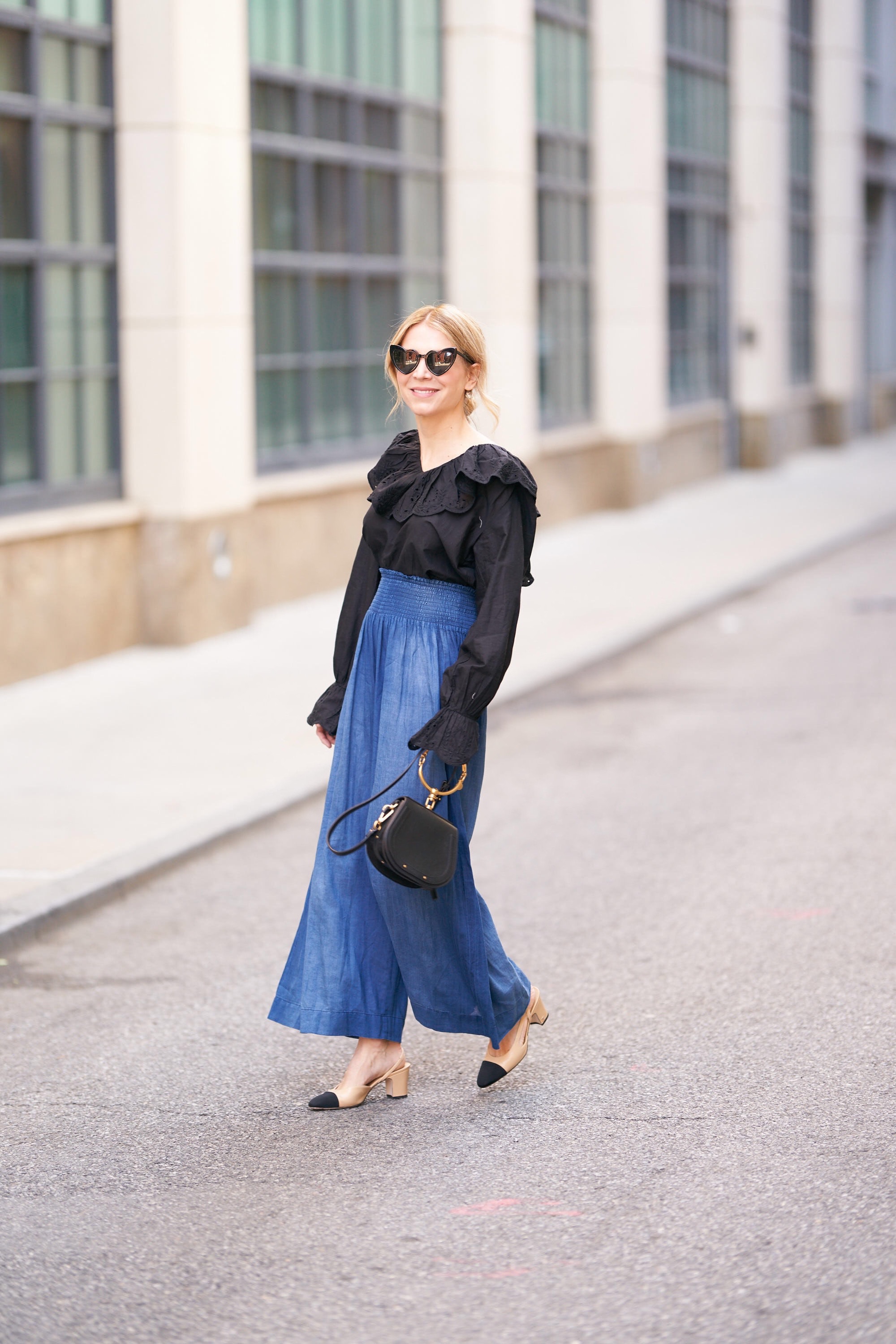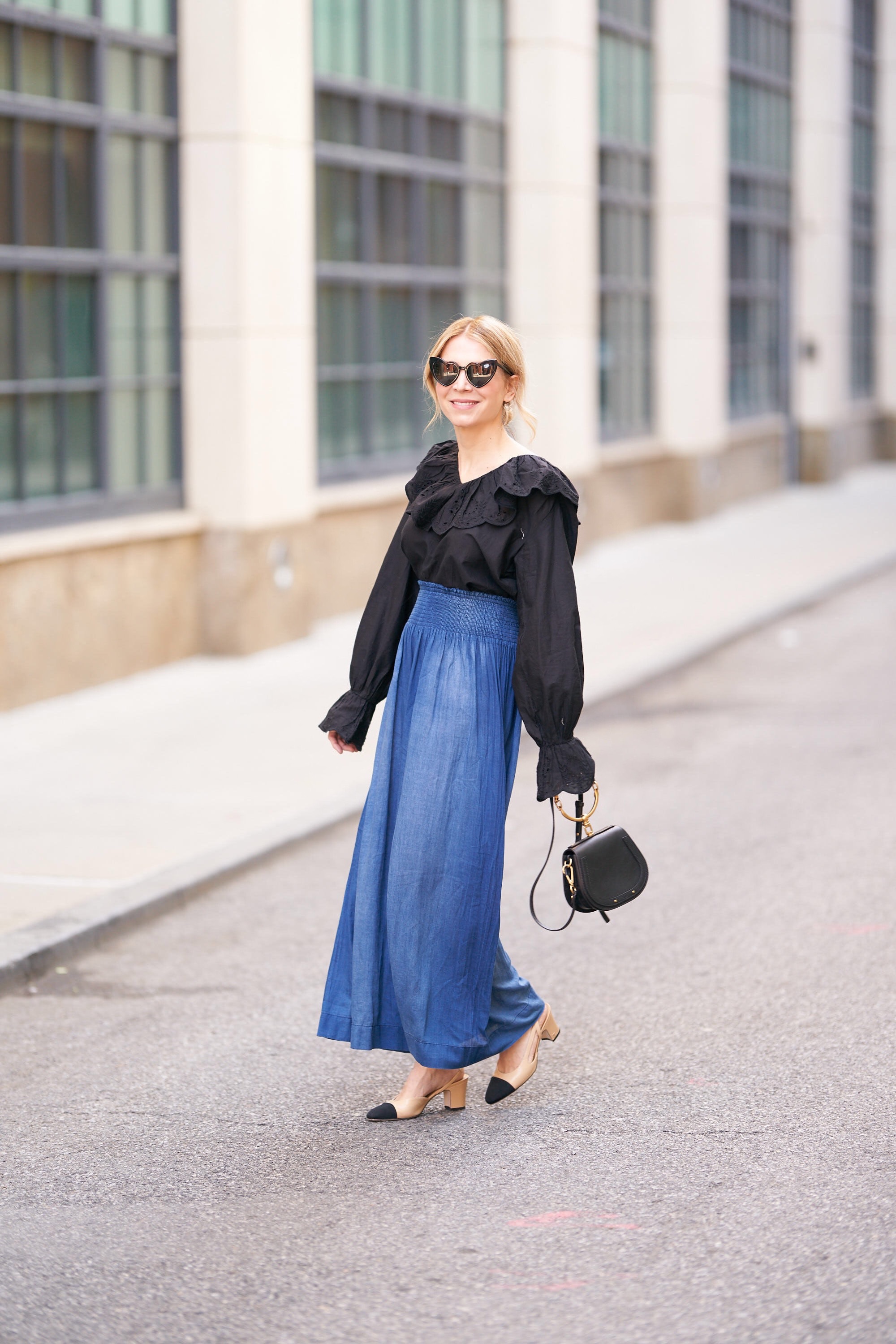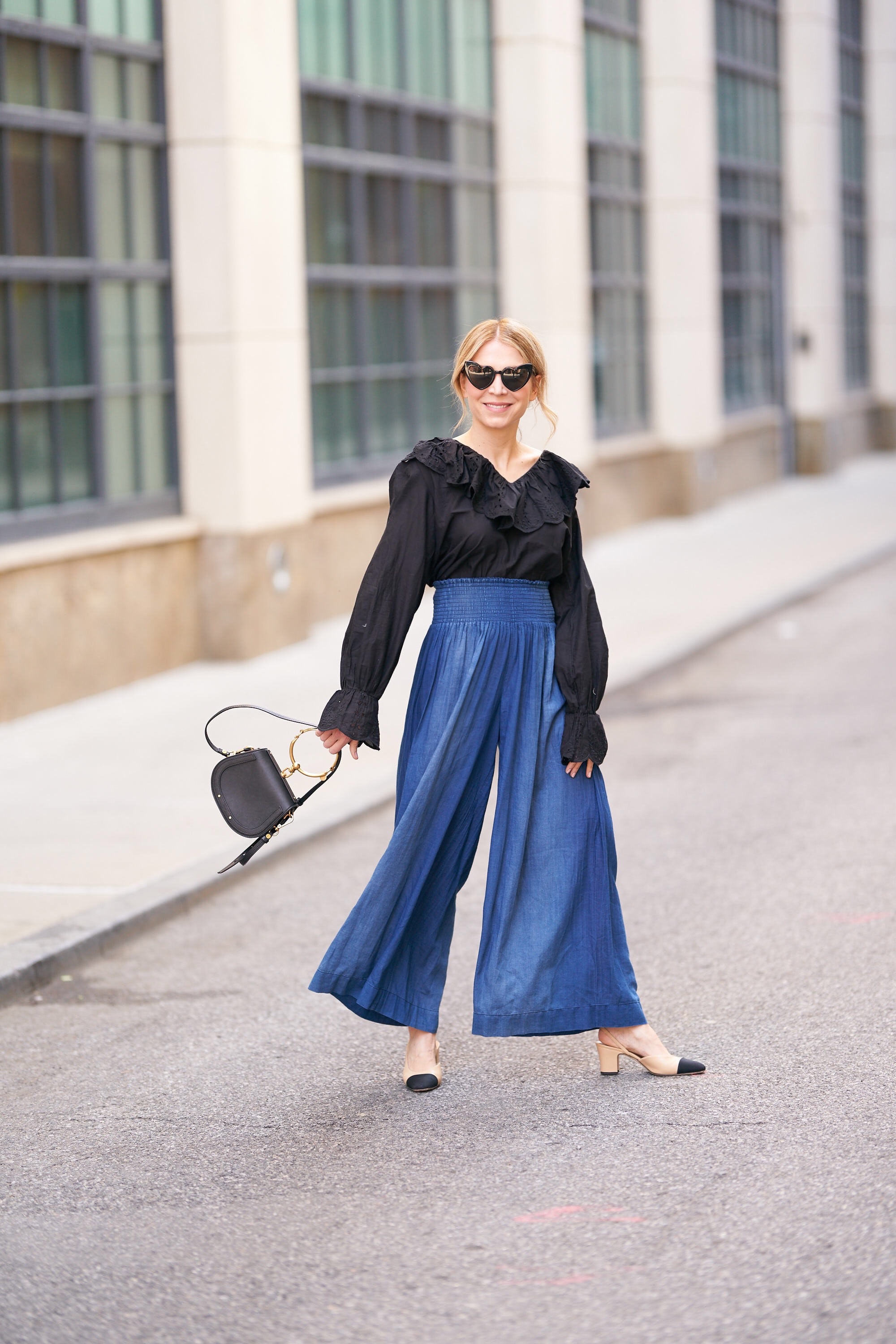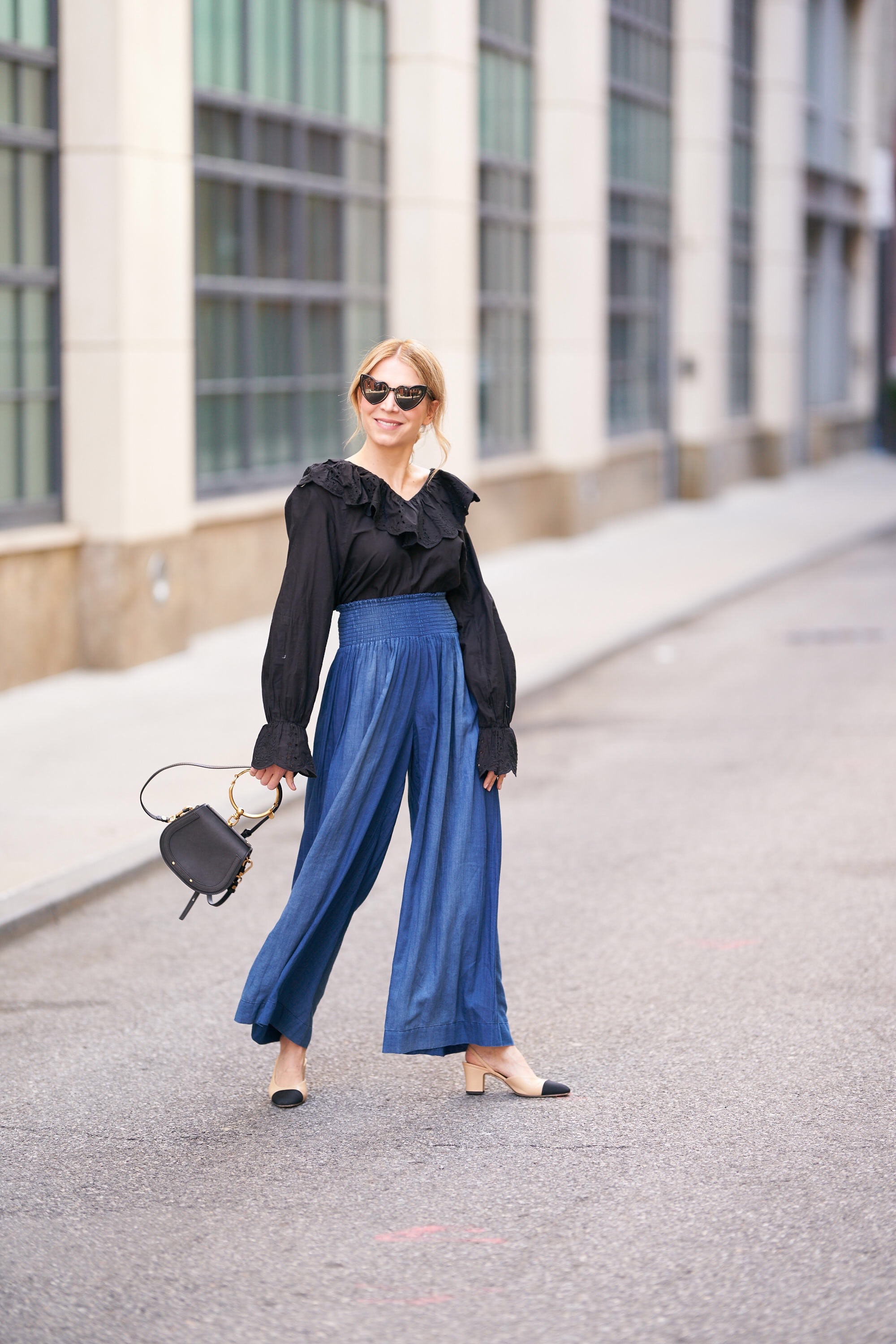 And I'm having a mom mid-life crisis…
I have been delinquent on posting on my blog lately!  I have been having an internal struggle and I feel a bit paralyzed.  I am wondering whether all this fashion stuff is actually a worthwhile effort.  I mean really:  are clothes and outfits really worth my devoting all this time?  I spend hours shopping and styling outfits, doing the photos, editing, and posting on this blog and on Instagram.  HOURS.  And sometimes I don't even pay attention to my girls when I am absorbed in Instagram or my blog.  It can be all consuming.
I guess I started to question it all because of a new show we've been watching on Netflix called Broadchurch.  It is a 3-season series from the UK and is a mystery surrounding the disappearance and death of an 11-year-old boy.  It is hard to watch at first (I mean, a child DIES).  But it is really just SO GOOD.  I mean, really good.  One of the best shows I have watched in my entire life.  And it has really made me step back and think, what do I want to do with my life?  What is important?  In season three (spoiler alert) the mother of the boy who dies ends up going to work as a rape crisis counselor, and it is just so incredible to watch her use what she has learned from her own tragedy to help other victims of violent crime.  The people in the show are not glamorous, in fact most are pretty unattractive, not in shape, overweight and wrinkly (they look like real people) – and they are blue collar working class. There is absolutely no fluff, no fashion, nor sparkle to this show – but the show is all heart and so gripping and meaningful.  It has made me question EVERYTHING.  Like whether I want to go back to work, or get a more substantive job that would actually help people.  My husband says, "you didn't really help people when you worked at Deutsche Bank either".  I guess he is right, LOL.  And I am happier now doing this than I was working at my old job.  I get to see my kids more!  It is a fun hobby!  But really, I think I might need to start volunteering or figuring out another thing to do as well.  I have always been interested in family law and criminal law.  So who knows?
Lots of women my age who have quit their jobs to stay home with their kids have the same issue.  What is coming next?  What do we do with the rest of our lives?  We are not over the hill yet, in fact we feel more capable and competent than ever!  And pretty soon the littles will be big and independent.  We will need something else!  Anyway, this show has made me think a lot about what can be done in a second career to actually help others, especially if you are willing to start out as a volunteer or for lower pay than you had in the corporate world.  Plus the show is super thrilling and entertaining – so go and watch it!
So that is it for me today.  I hope everyone is having a lovely week and is looking forward to the weekend!
Thanks for reading!
xxx
Laura
Photos by Mike Kobal