On Laura: Jacket: ASOS | Sweater: Ganni and here | Skirt: Free People | Socks: & Other Stories | Shoes: Roger Vivier (old, similar here) | Earrings:  Mignonne Gavigan and here | Bag: Shrimps
On Tara: Jacket: ASOS | Sweater: Ted Baker | Skirt: Reiss | Socks: ASOS (sold out, similar here | Shoes: Manolo Blahnik | Bag: Shrimps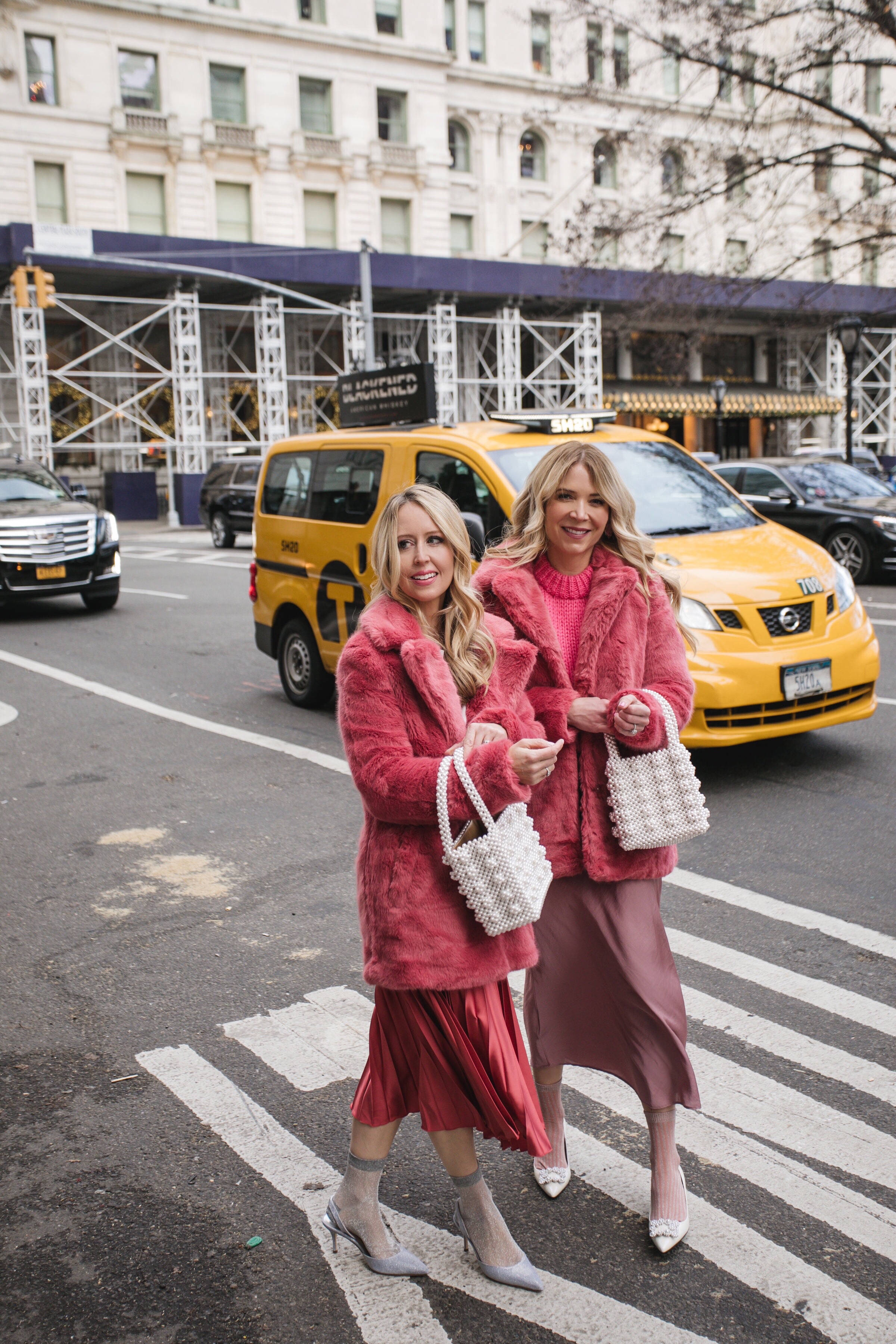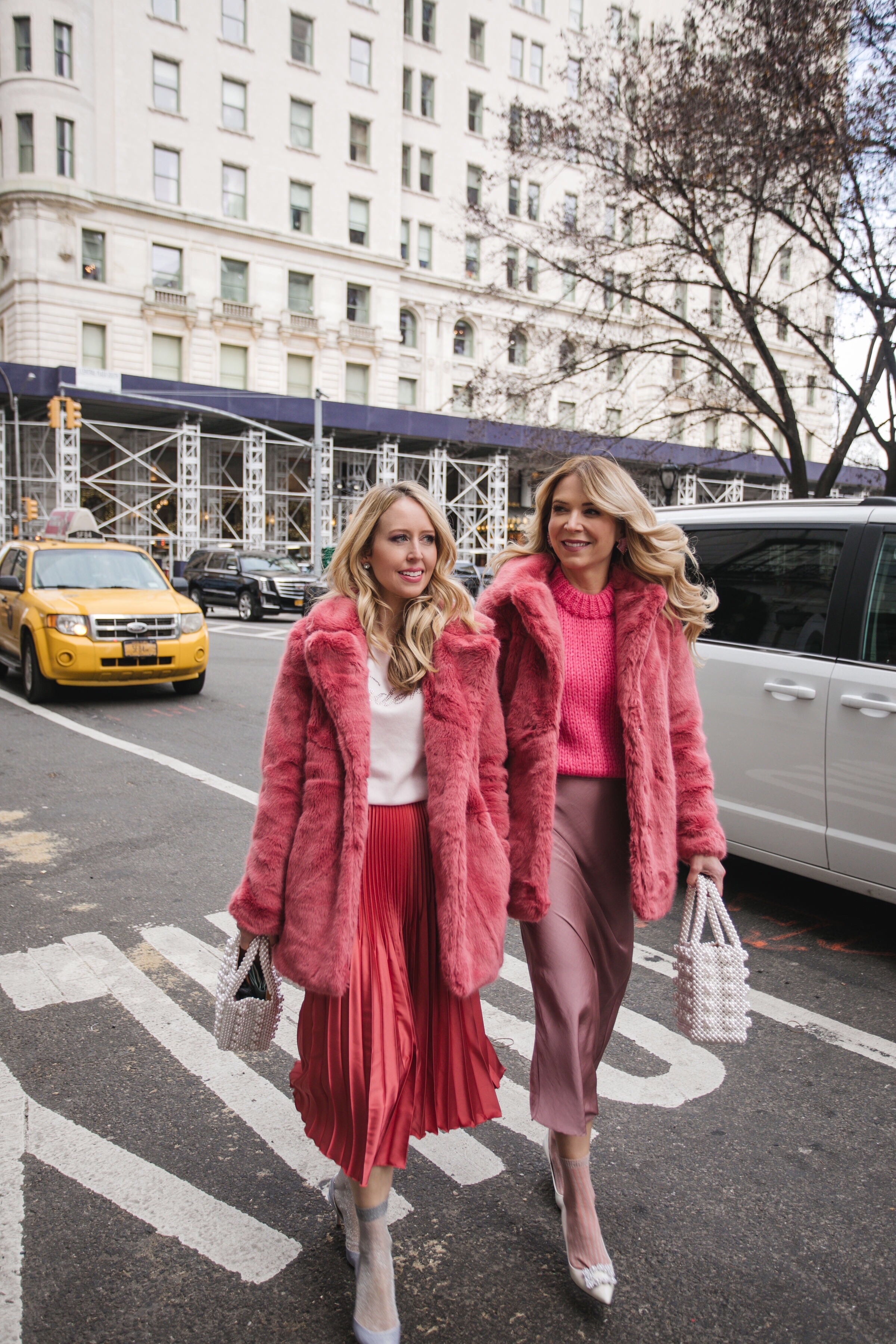 I've always wondered what it would be like to be a "Bergdorf Blonde"!  LOL!  (Have you read Bergdorf Blondes by Plum Sykes?  It is one of my favorite girly reads!)  Anyway, one of the best things about having a fashion blog is that you get to play dress up.  Every week I'm thinking about new outfits I can put together, scenes to create, trends to try:  one day you can be in edgy track pants and sneakers standing in front of graffiti, and the very next day you can be at Bergdorf's in head to toe pink fur, satin and sparkles!  Why not!  This is what fashion is all about.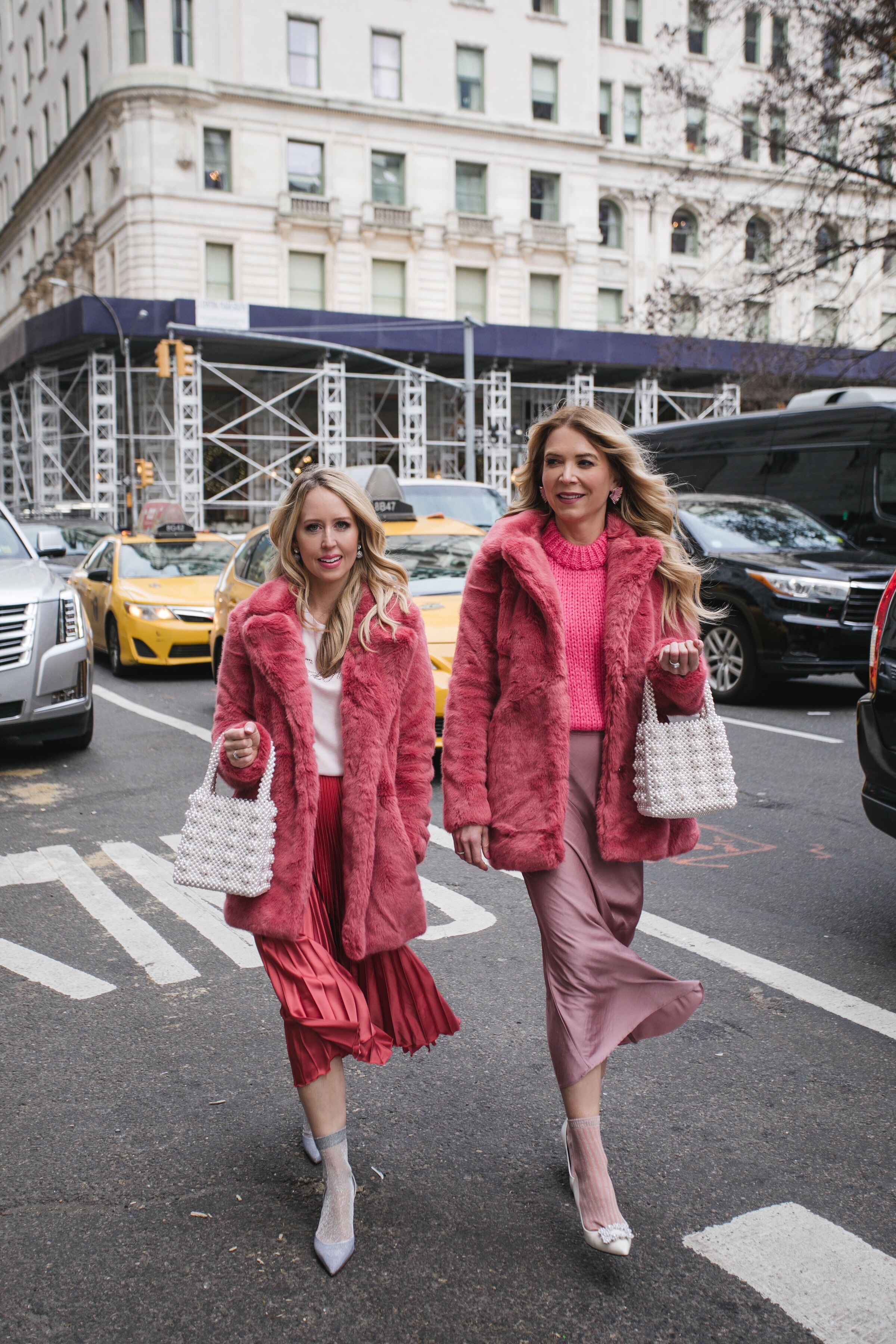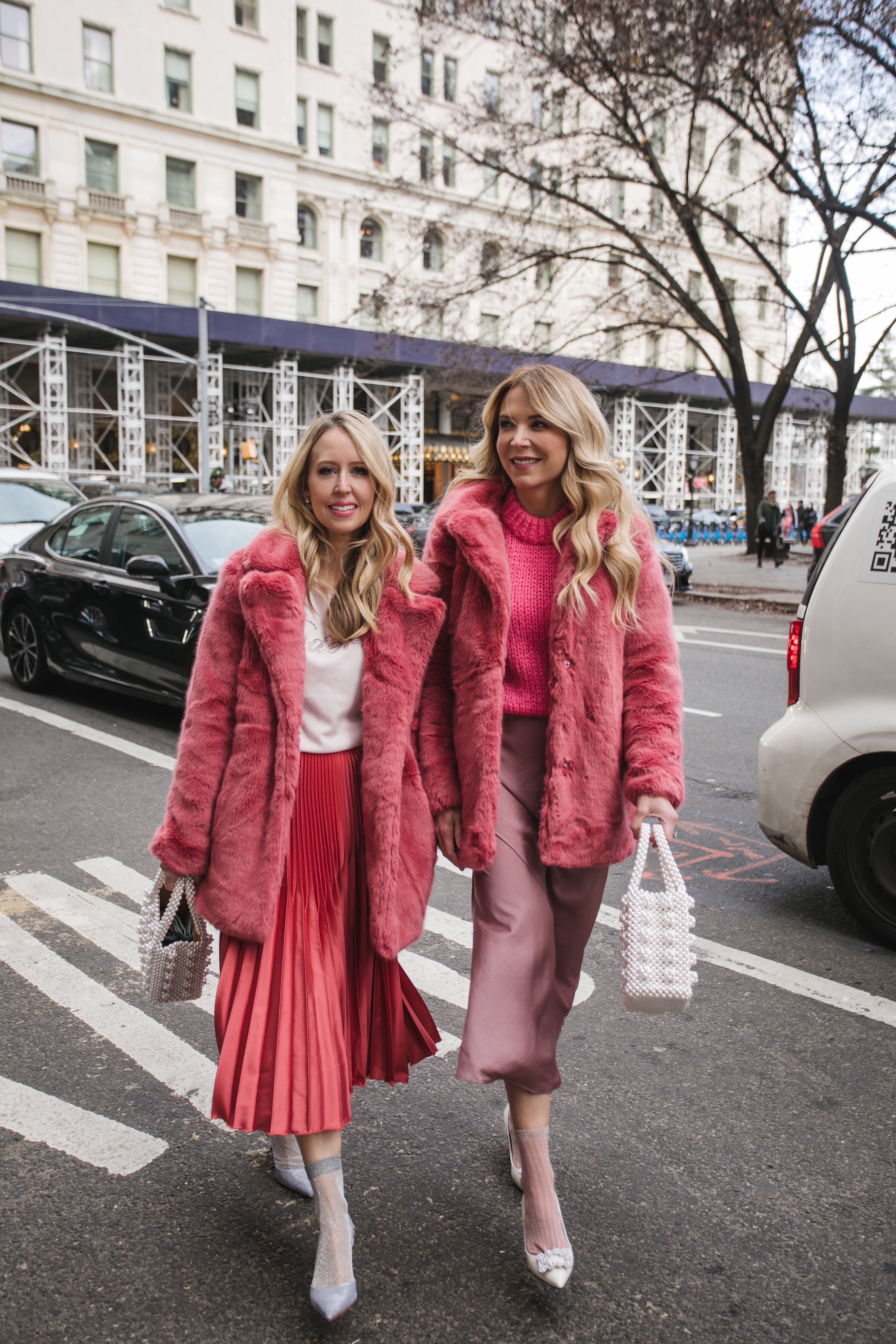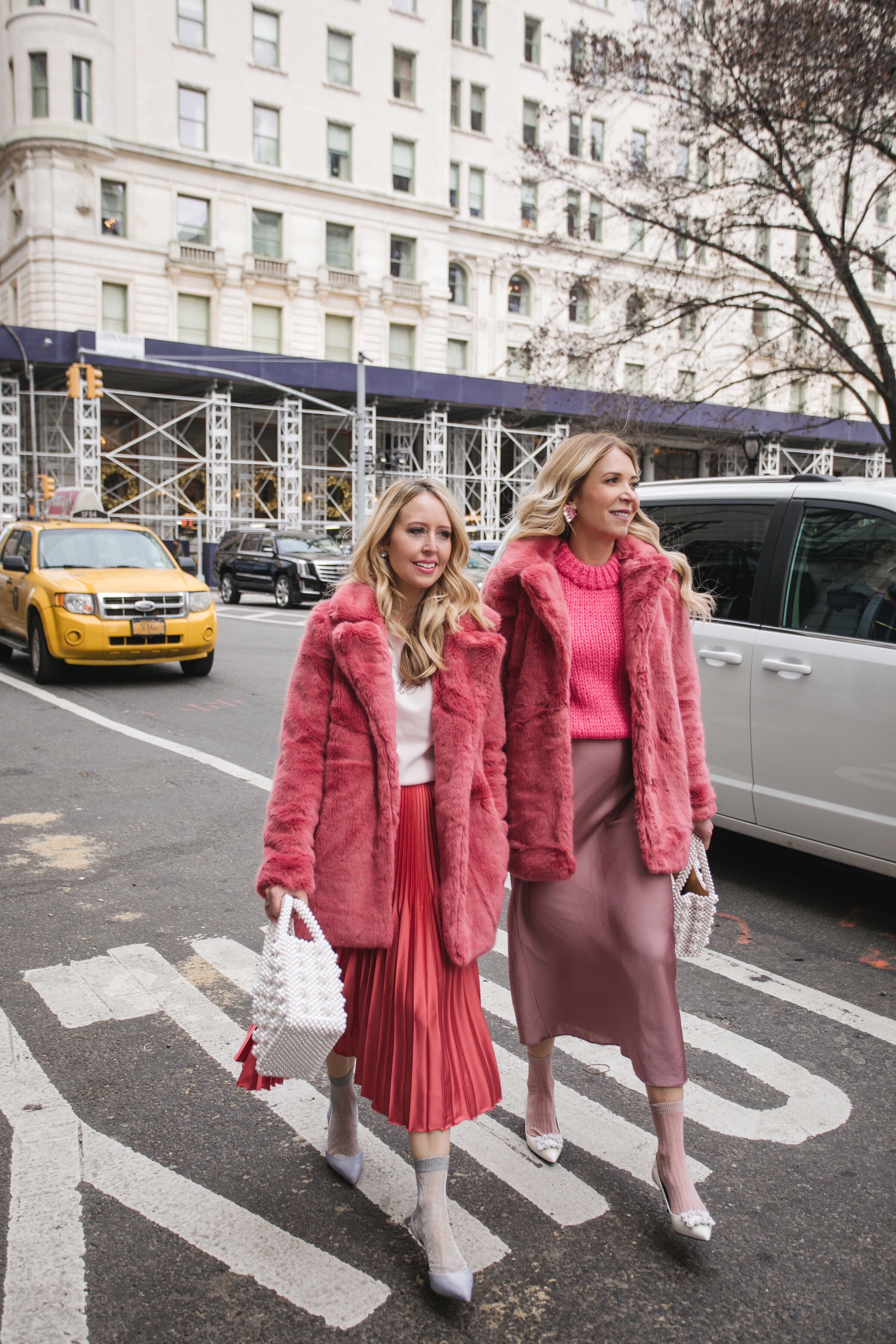 The other great thing about starting this blog is that I've met other women who love all this dressing up as much as I do.  Tara of @thefashionhousemom is one of them!  We met on Instagram, messaged back and forth, becoming fast "insta-friends".  Tara lives in New Jersey and I live in New York City, so we actually are not very far away from each other. We decided to pull together pink and white glam holiday looks complete with matching faux furs, satin skirts, and sparkly shoes with ankle stockings – and meet up for a festive holiday lunch at Bergdorf Goodman.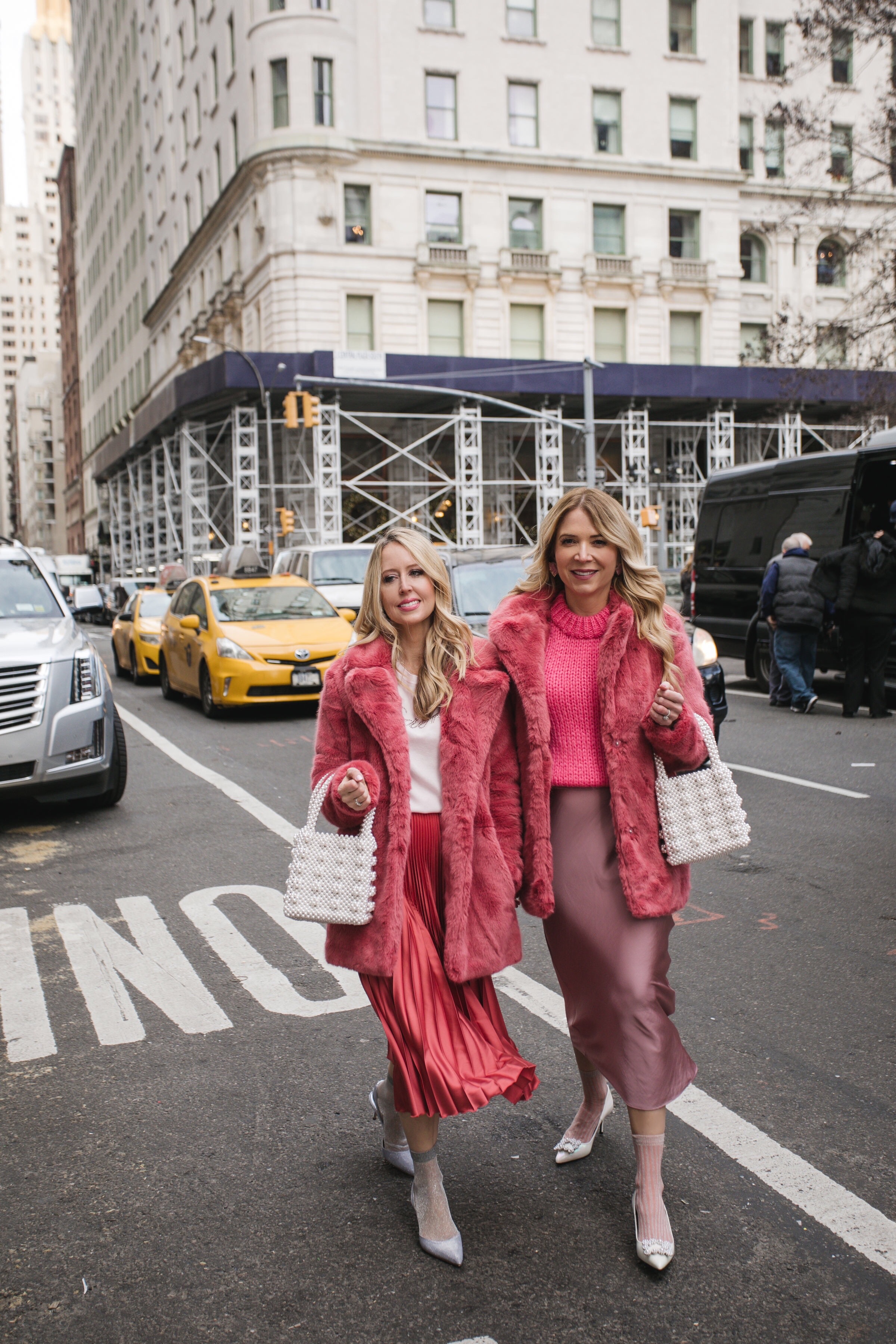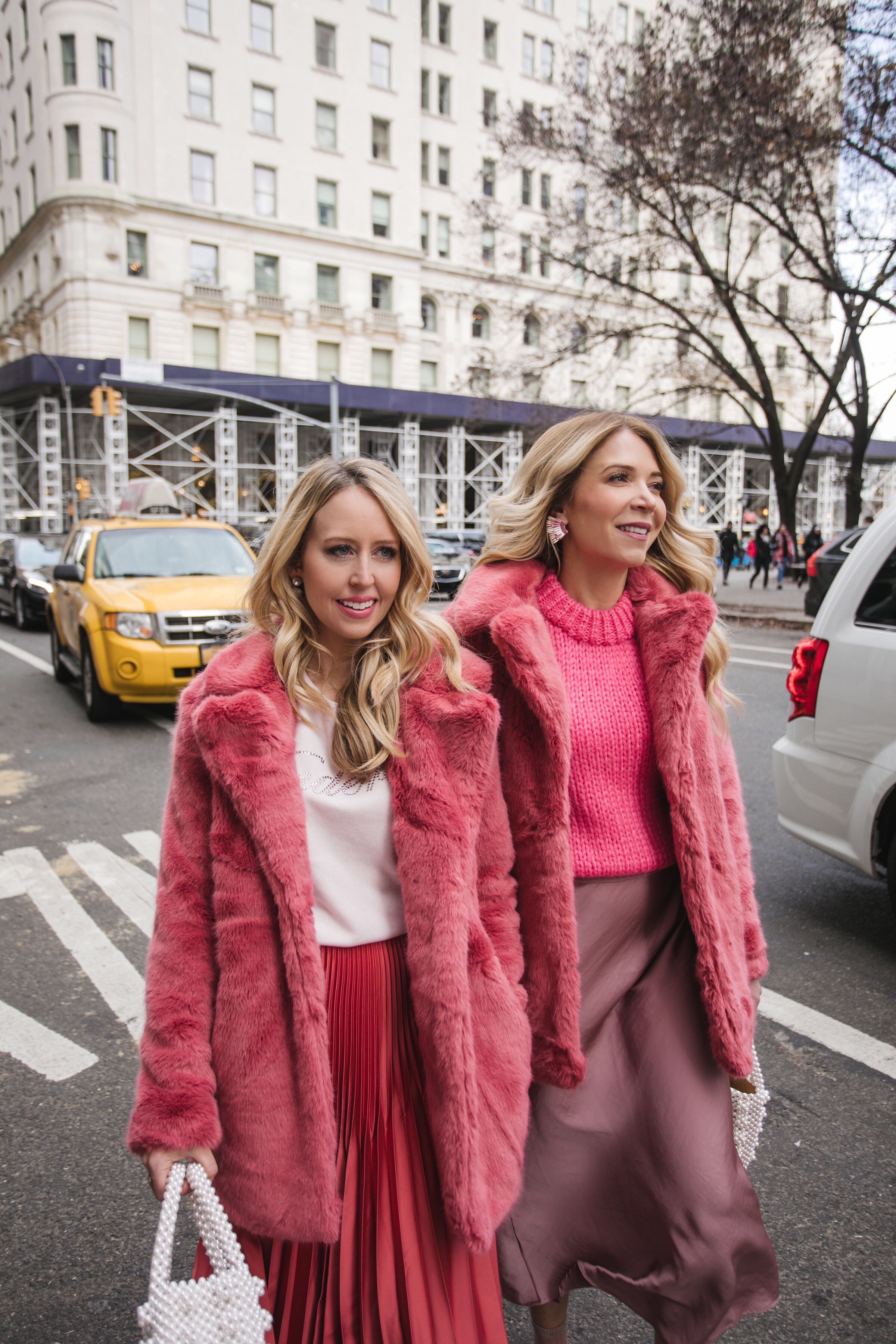 This is the second blog post Tara and I have done together!  A couple of months ago we met at the popular store Sézane on Elizabeth Street – we brought Lydia, our photographer, to the boutique, tried on lots of outfits together and cemented our friendship.  You can read the post here!  We had so much fun doing the Sézane shoot that we've decided to try to make our joint posts a fairly regular thing – at stores, restaurants or locations both in NYC and in New Jersey, of course with coordinated outfits.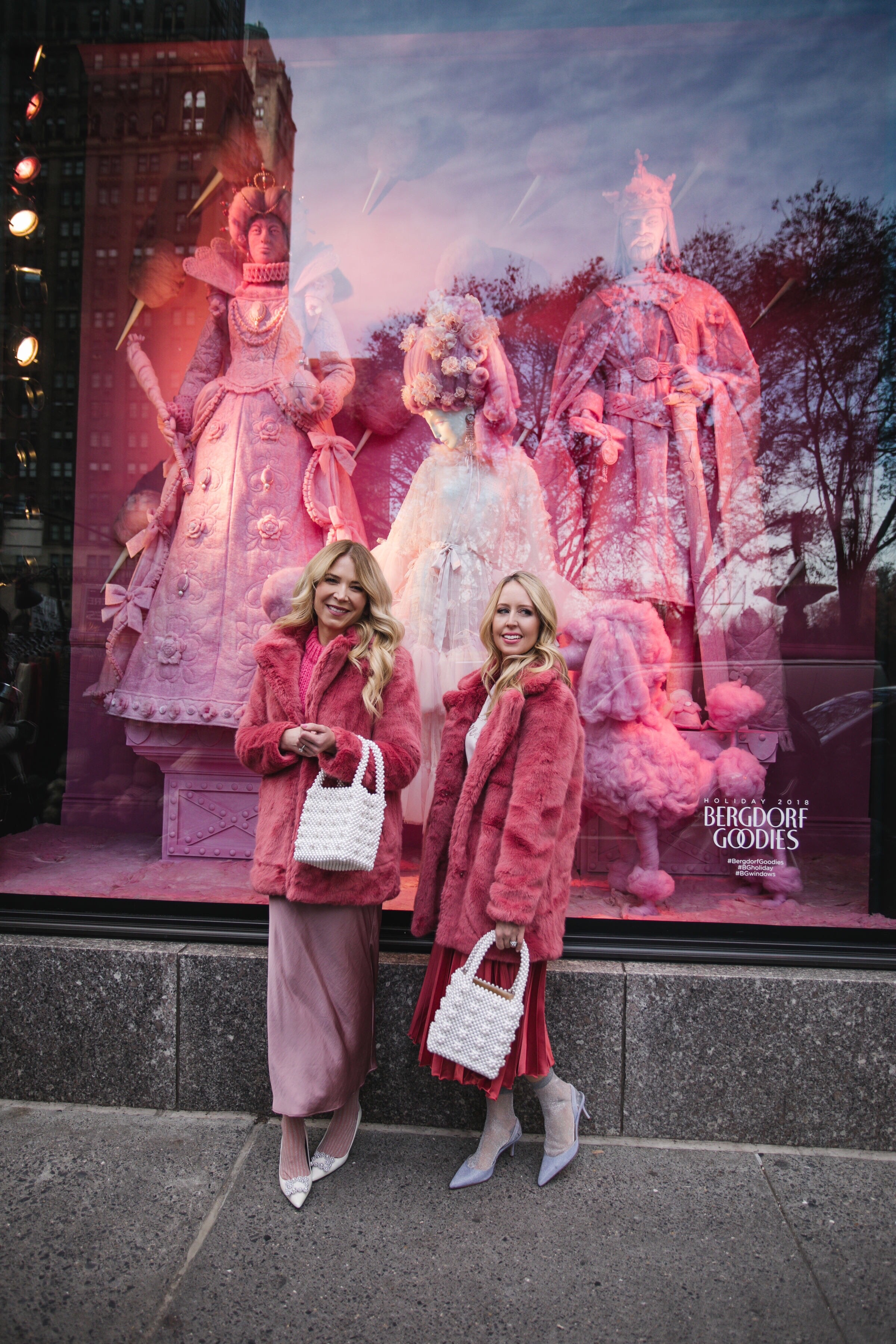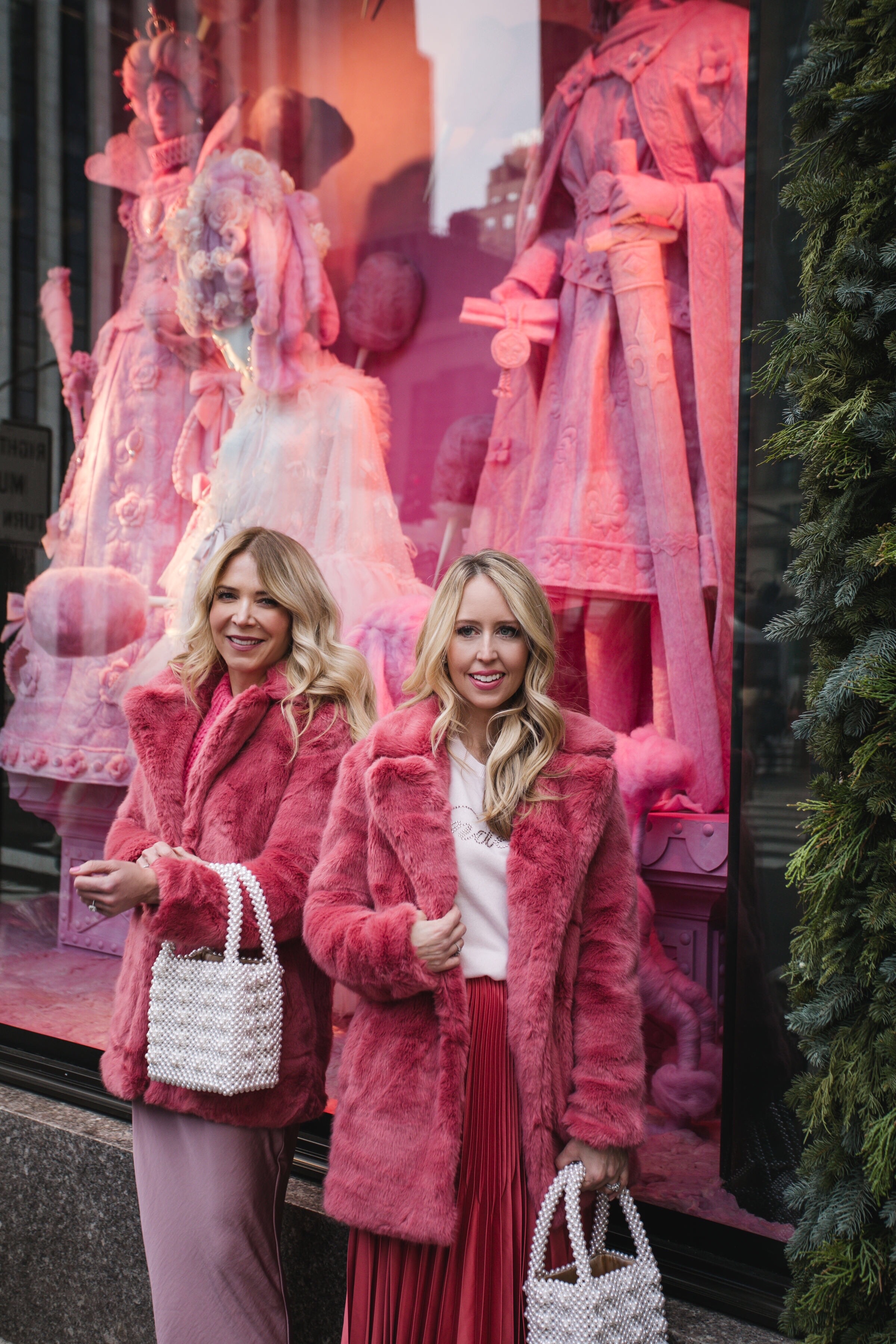 Coincidentally, we totally matched one of the holiday windows at Bergdorf's (the one in these photos).  This was a complete accident!  We'd planned these outfits over text message weeks before we did this shoot!  But it was perfect!  It was crazy though because as we were standing in front of the windows posing for Lydia, tourists started stopping, pointing at us, and snapping our picture.  I think they thought we were somehow related to the store.  Especially since Lydia looks very professional taking pictures with her camera.  It was very funny, we were giggling (because in reality we are just two moms with blogs).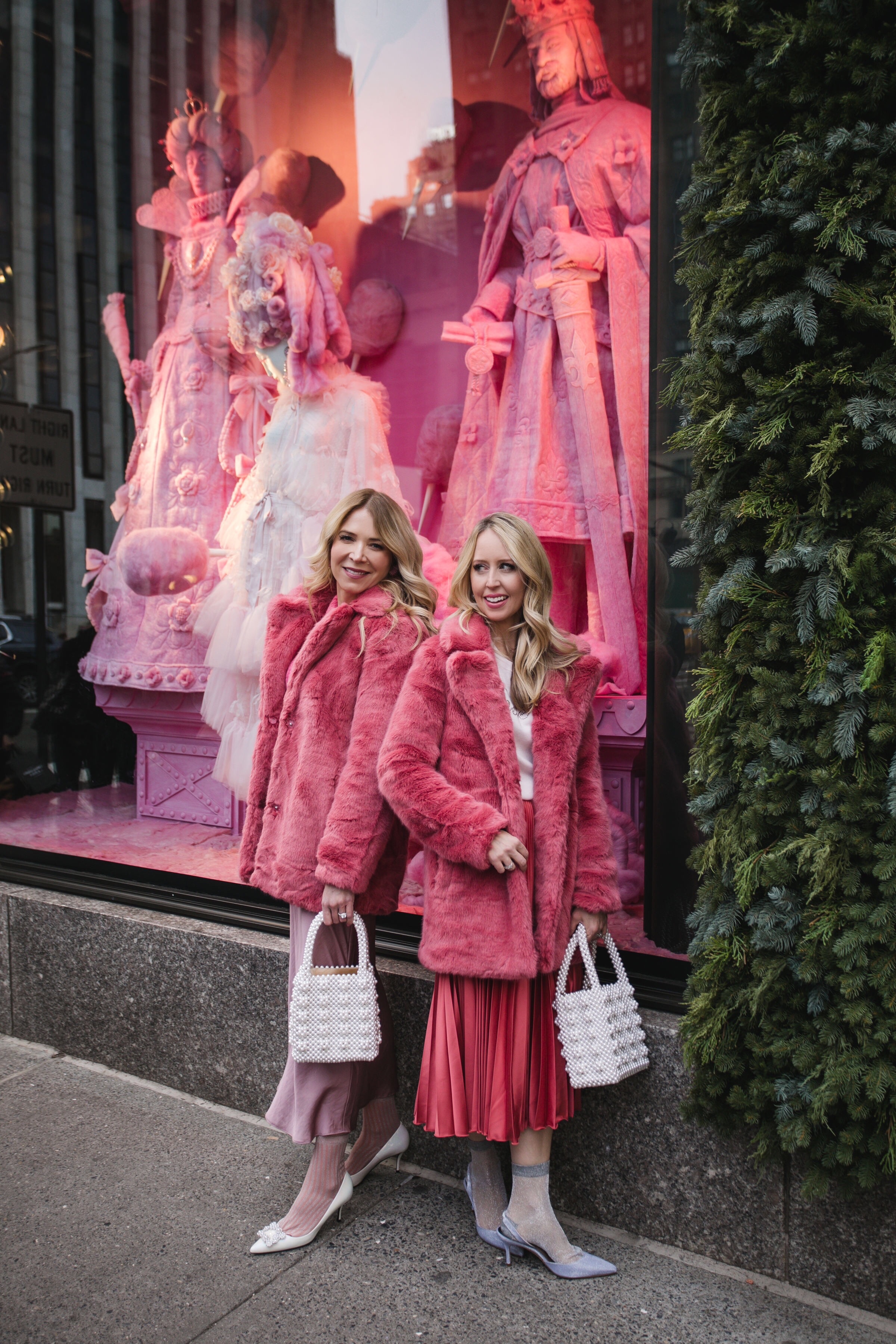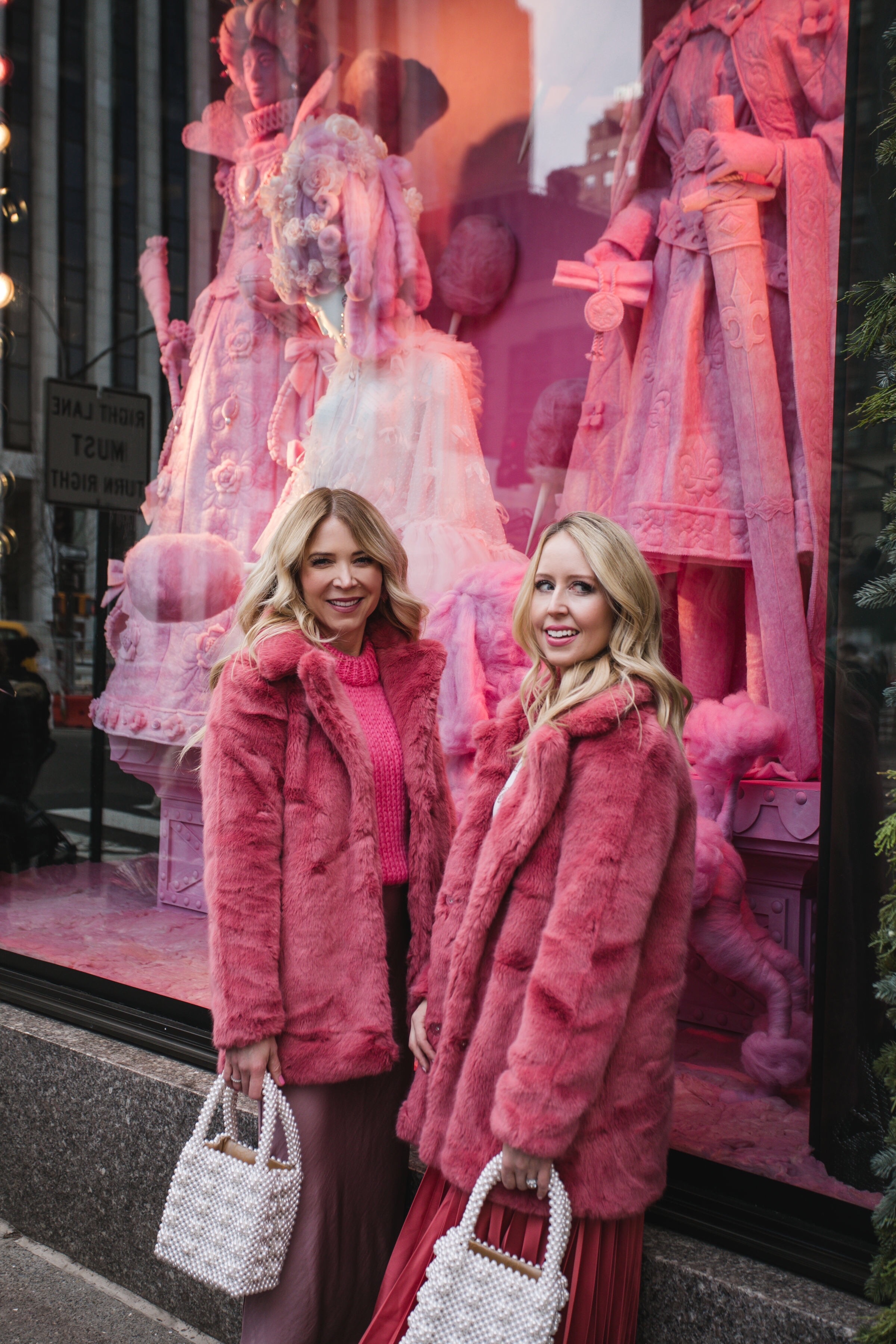 After we finished with the photos, we headed into the BG Restaurant at Bergdorf's (a very fun place if you are near Central Park) for lunch and a glass of champagne.  It is located on the 7th floor of Bergdorf's and has beautiful views of Central Park.  It's open for lunch, tea, cocktails and dinner – and it has fabulous decor by Kelly Wearstler.  We actually didn't have a reservation so ended up at this rather tucked away restaurant downstairs near the makeup department – which neither of us even knew about – and it was just as fun!  It's a good one to keep in mind if you end up at Bergdorf's starving and without a reservation, and the upstairs is fully booked!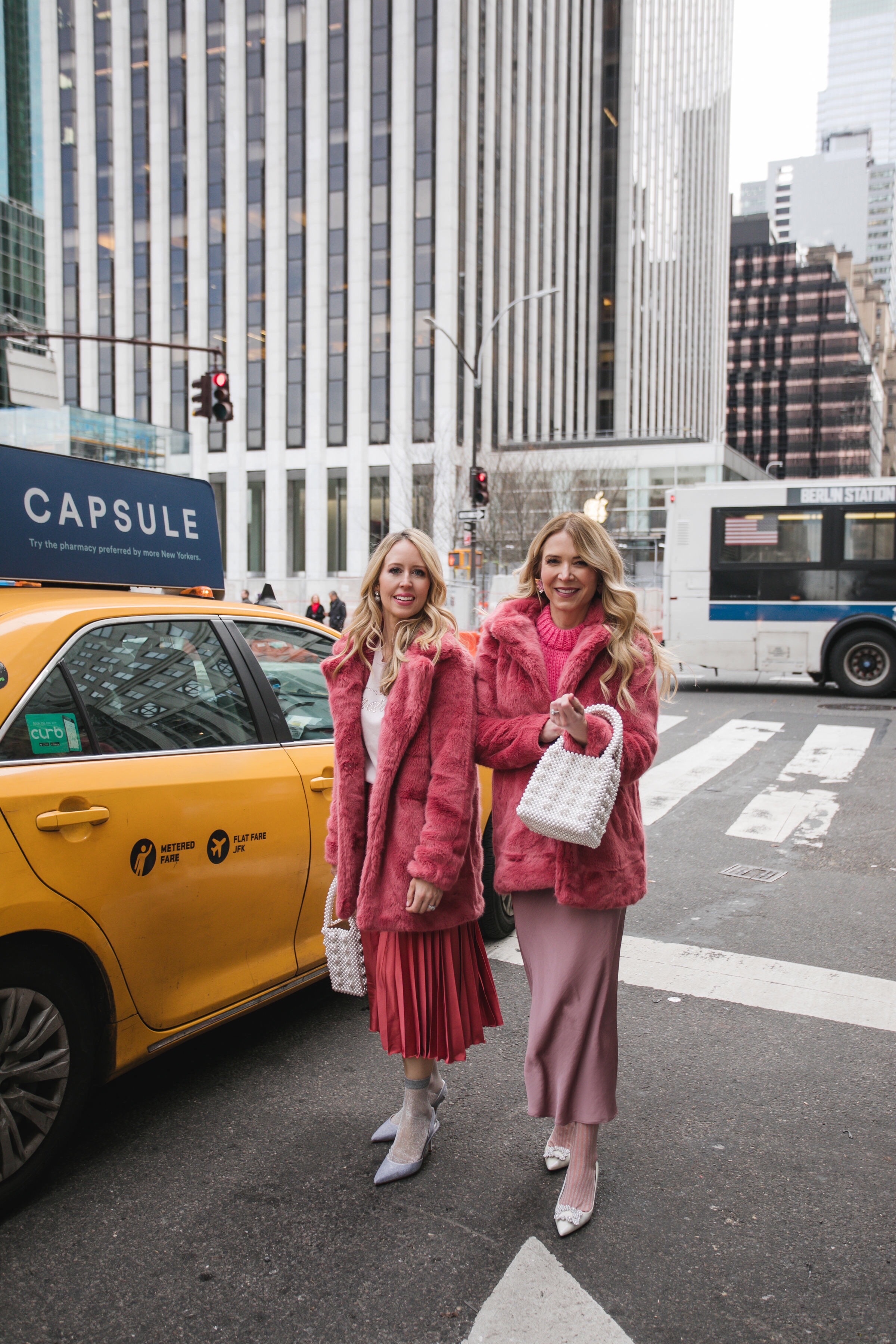 It really was so much fun being Bergdorf Blondes for a day!
Thanks for reading!
xxxx
Laura
Photos by Lydia Hudgens
SHOP THE POST