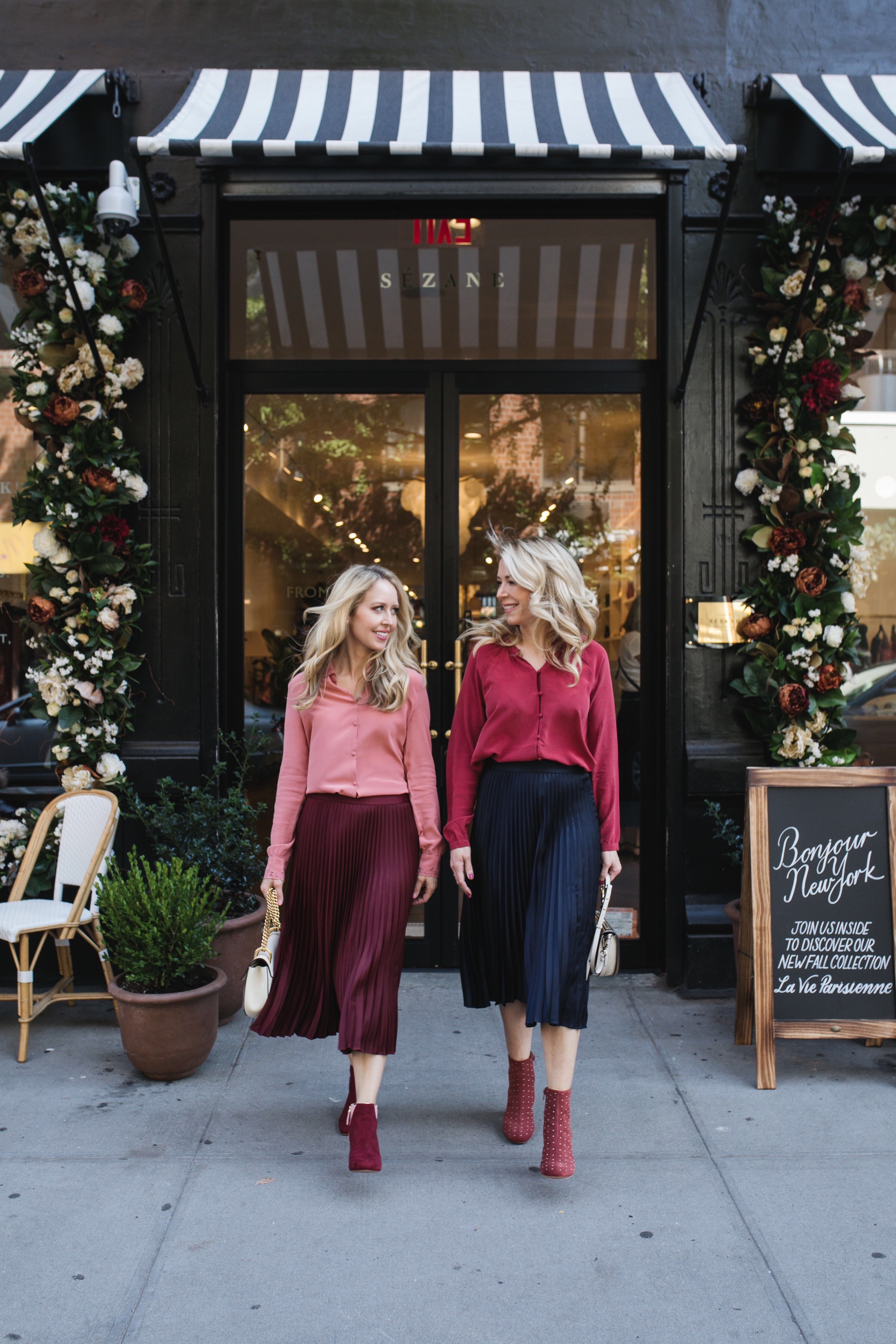 I have been wanting to visit the New York L'Appartement Sézane since it opened just about one year ago in Nolita, on Elizabeth Street!  So many girls have posted photos on Instagram standing out in front of the store, because the storefront is so beautiful!  The striped awnings!  The floral garlands!  The flowers change with the seasons and right now they are very autumnal! The café tables!  It is all completely charming.  So last week, my friend and fellow mom-fashion blogger Tara (@thefashionhousemom) and I decided to visit the boutique and take some pictures (shot by Lydia Hudgens) both outside and inside of the store!  We wanted to go beyond the pretty storefront and actually explore this boutique – and the clothing – for ourselves!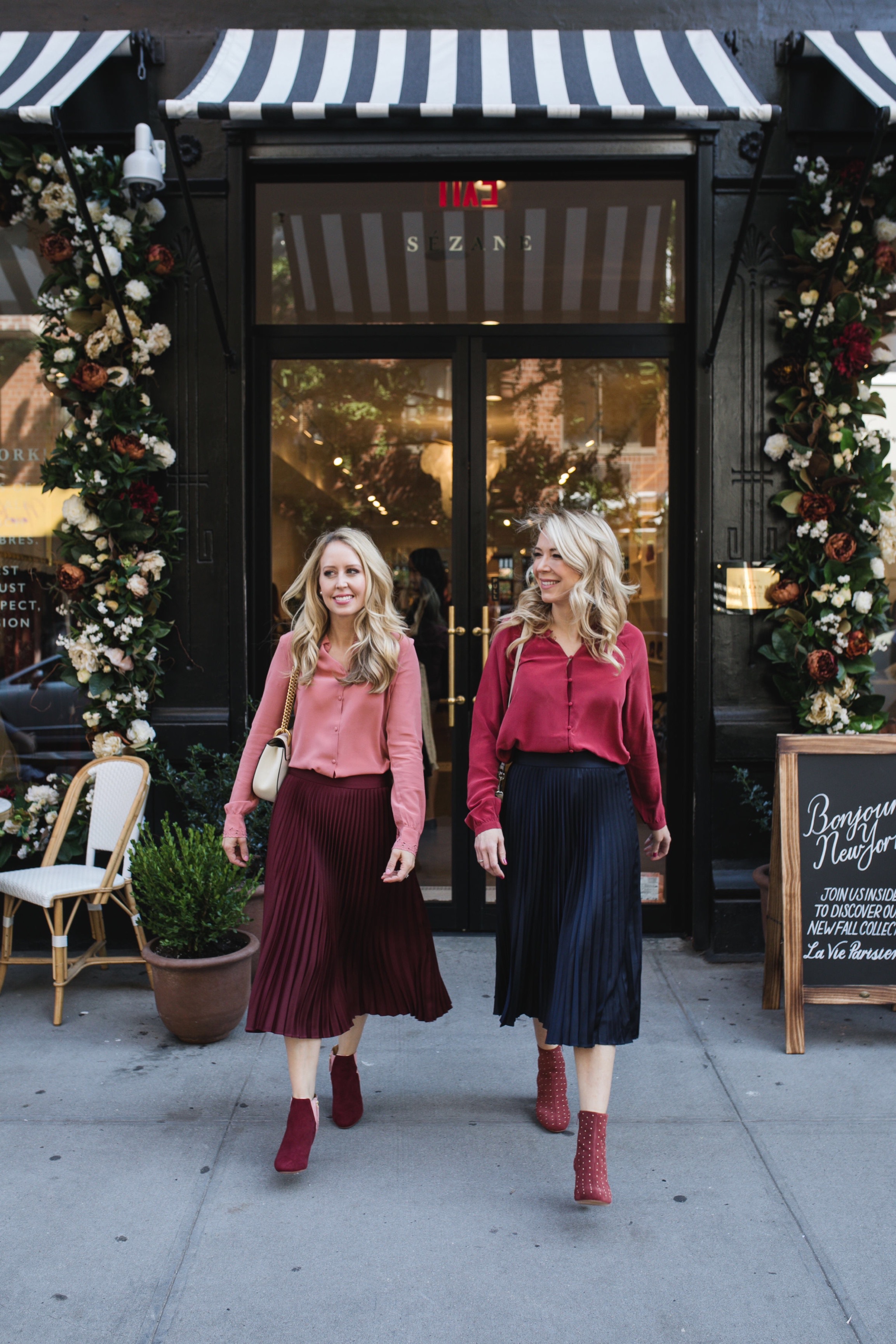 Of course, we had to wear Sézane outfits head to toe for these photos!  Both of our outfits (silk blouses, pleated skirts and ankle boots) are from this Nolita location.  We spotted the skirts at the same time and had to have them – and they are perfect with silk blouses.  We found the clothing all very reasonably priced, and classic – most of the pieces will never go out of style.  It is not too trendy, just trés chic!  Very French.  Some of the items we are wearing in these photos are available online in Sézane's e-shop, as well!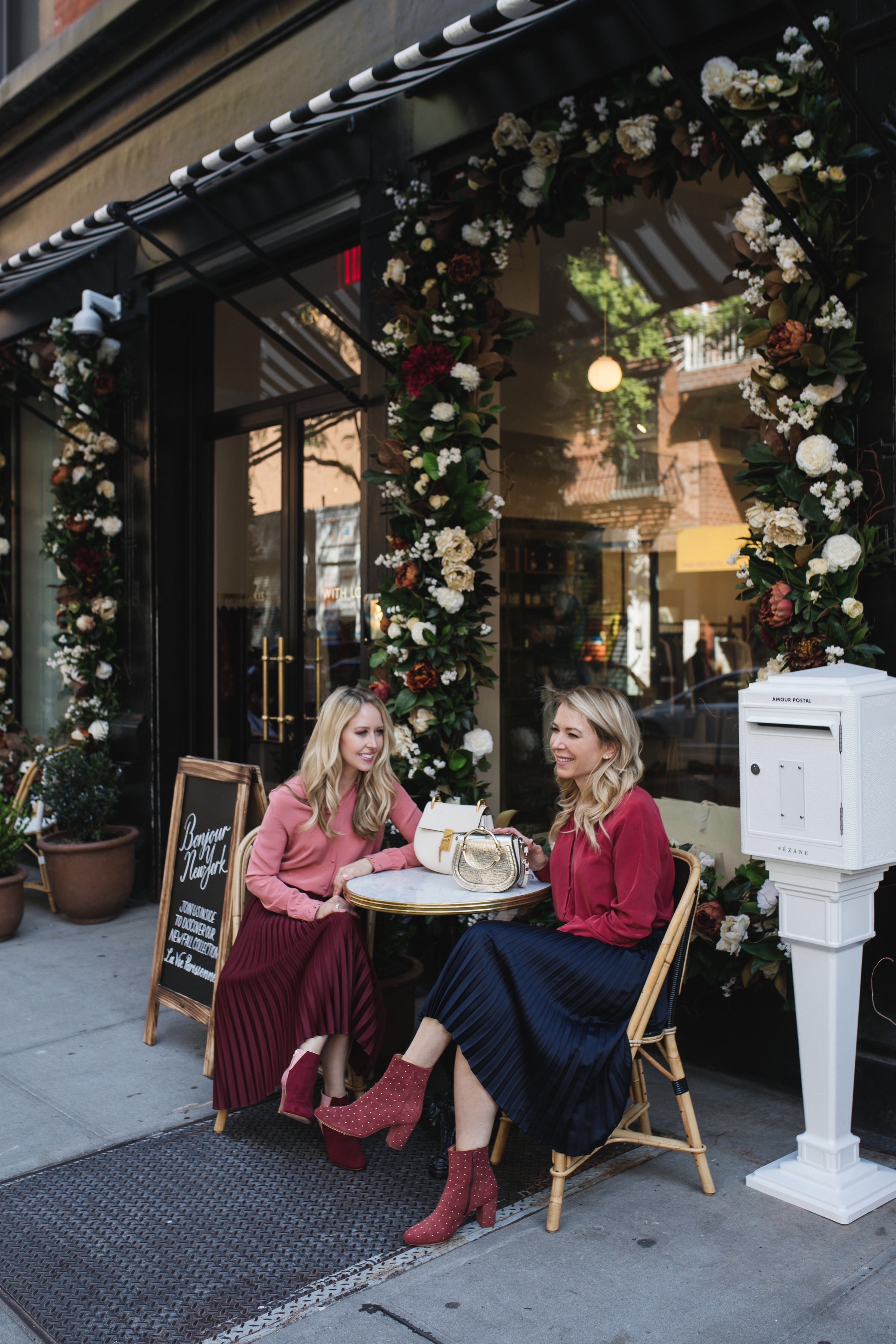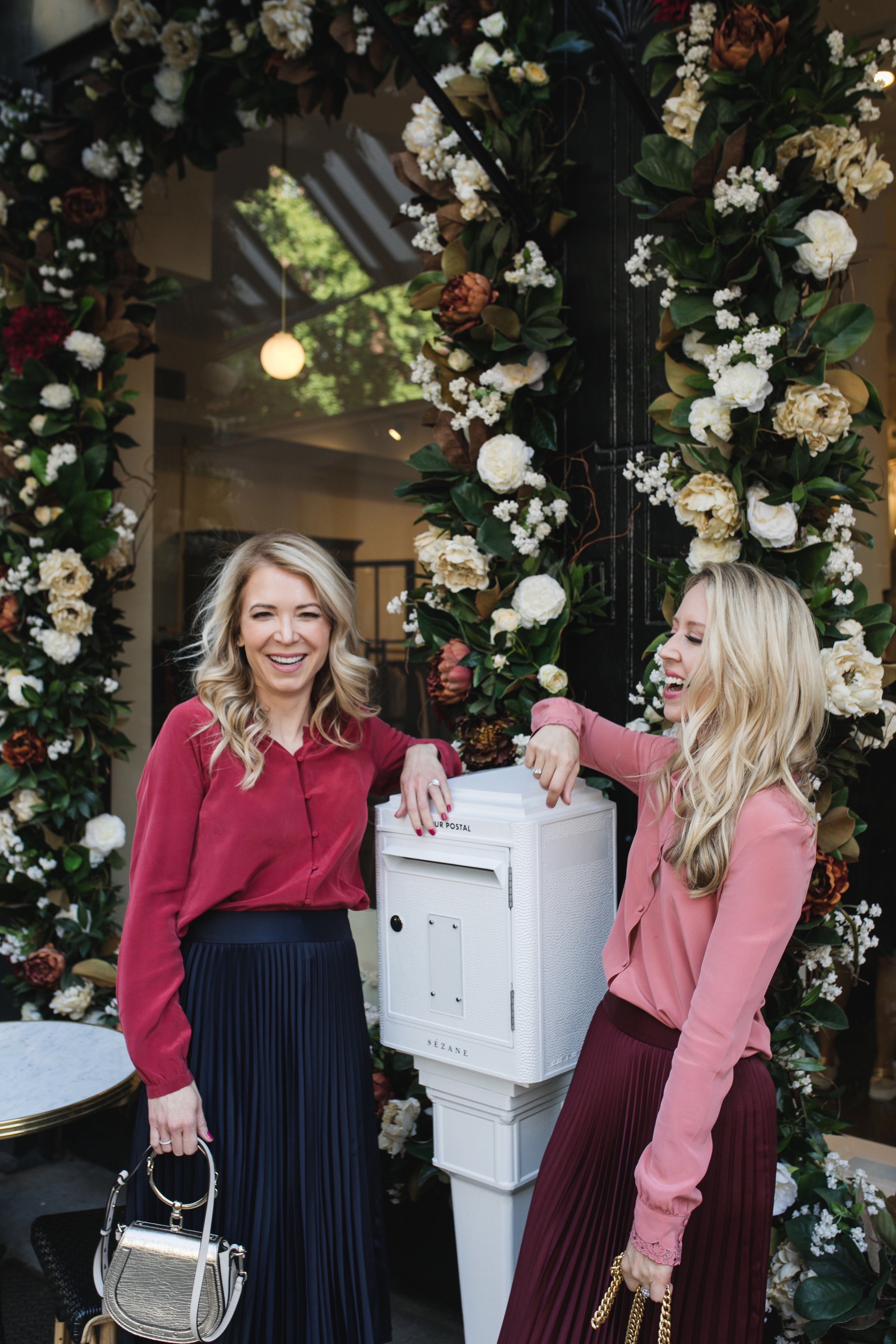 We had some giggles posing outside in front of the French post box. Lydia kept telling us to look at each other and smile, and we felt silly so could not stop laughing!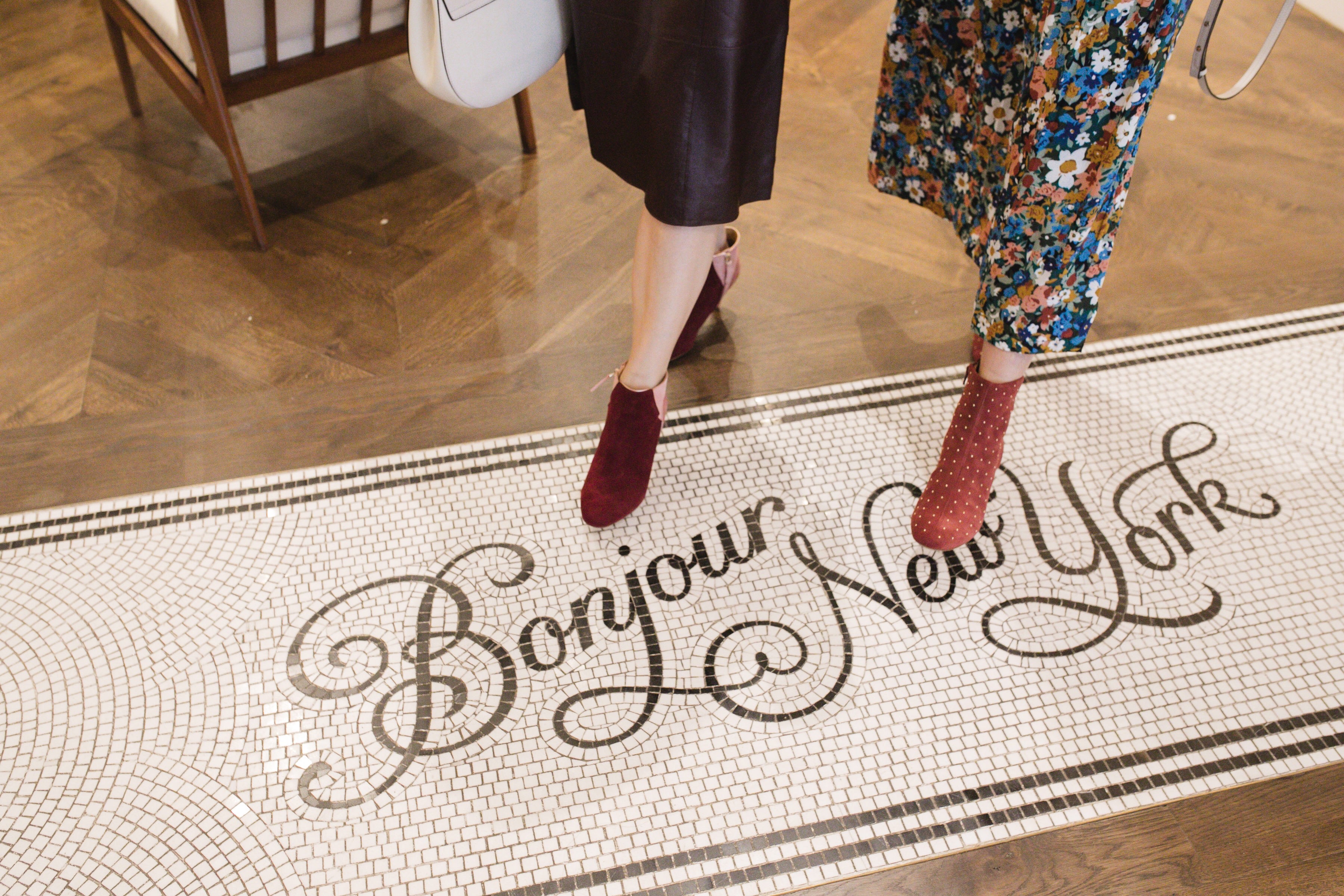 Then we headed inside. We loved the floor tiles in the entrance of the store – "Bonjour New York".  We also loved the bookshelves lining the walls where they displayed beautiful bags and sweaters (and books too of course!)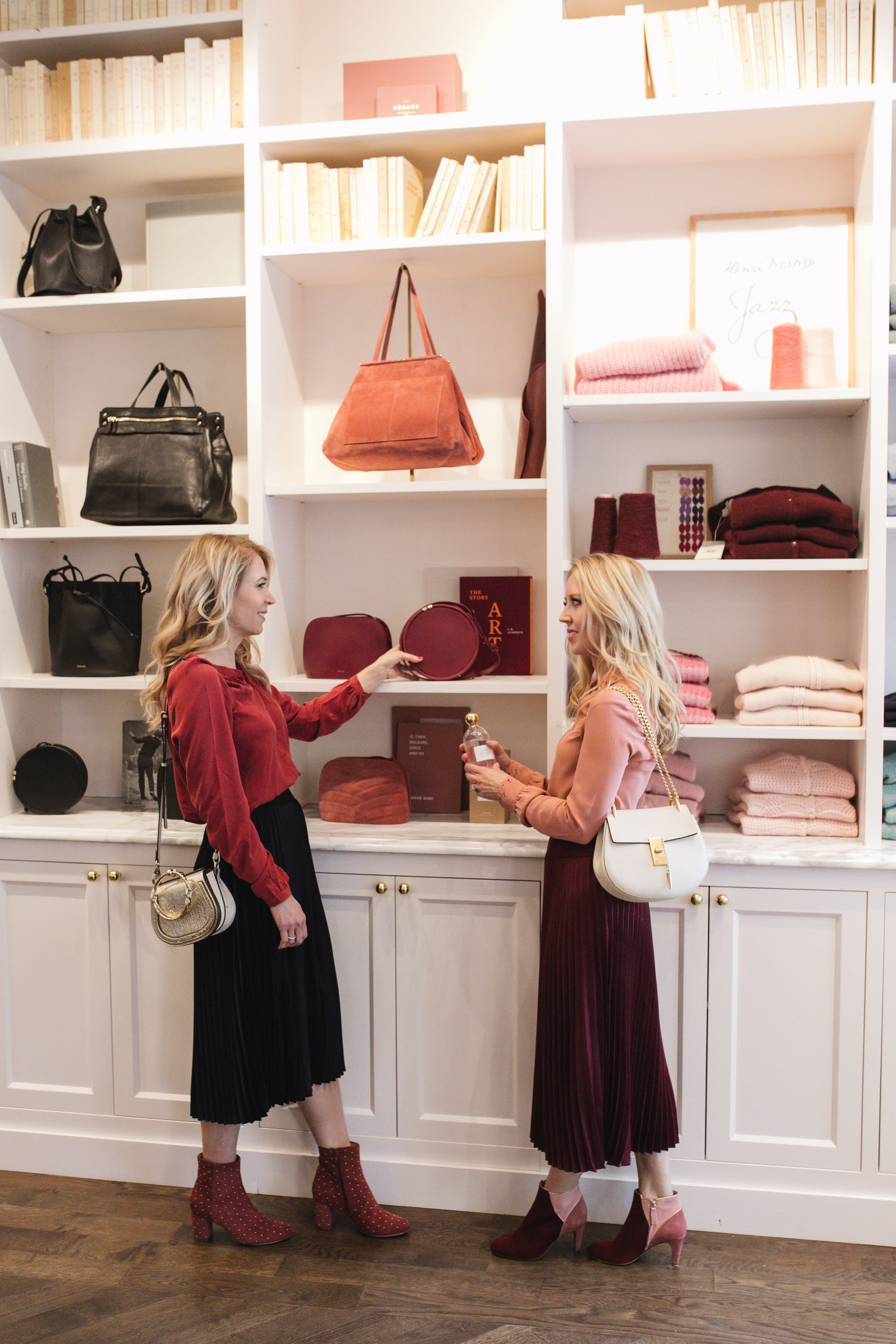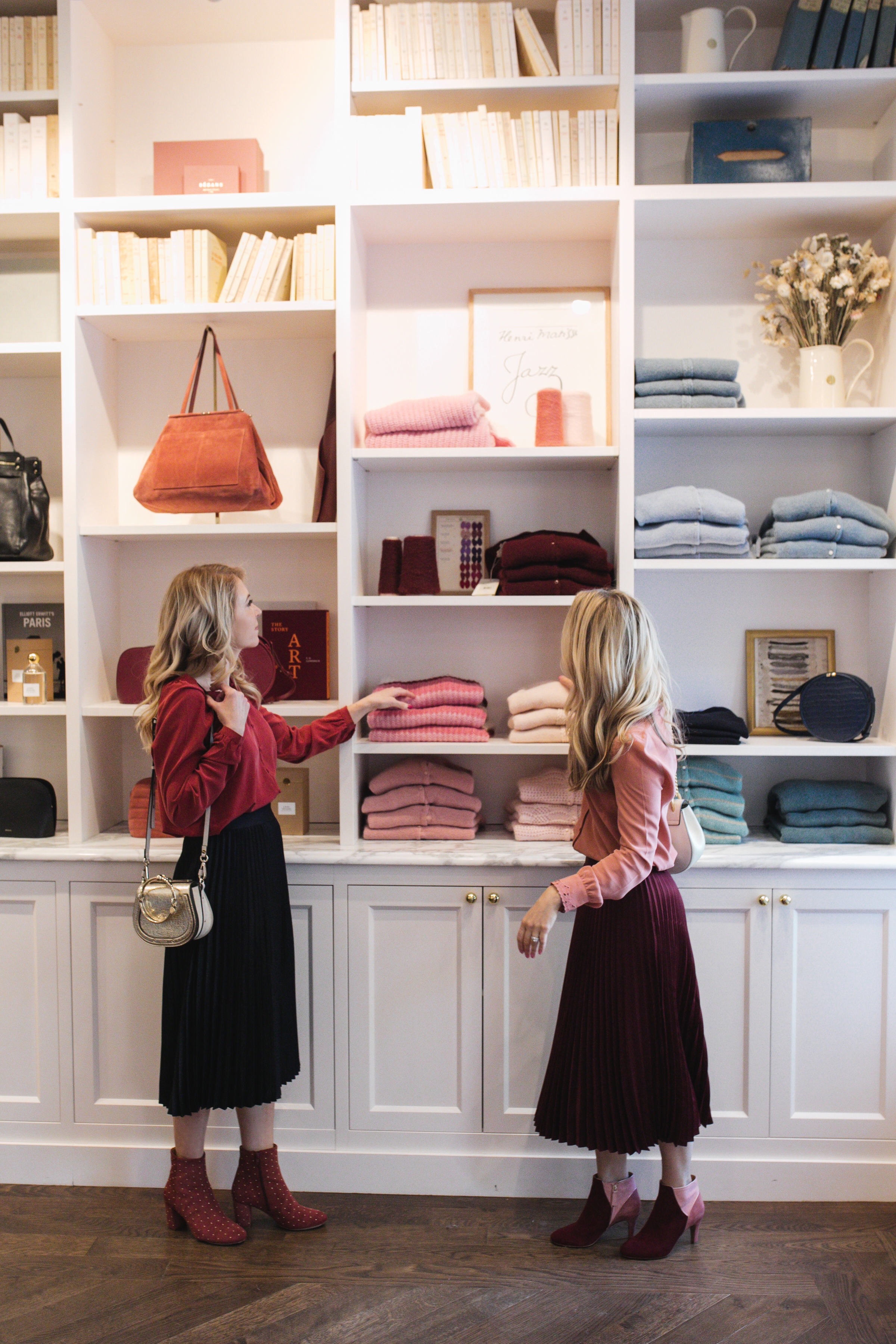 The interior of Sézane is designed to look like a French woman's home – in fact the decor is said to be inspired by Sézane founder's Morgane Sezalory's Paris apartment.  There is lots of plush seating, houseplants, rotating artwork, and in the very gorgeous dressing room area in the rear of the shop there is beautiful wallpaper, a fireplace, and chandeliers (like you would love to have in your own dressing room!).  They also have a little café in the store serving coffee from Maman, a popular coffee shop in Tribeca that is also very Instagram photo friendly!
Once inside, we tried on some outfits!  For one outfit (below), we decided on the same black floral skirt – called the Bettina skirt which is available online here) – I chose a green blouse and Tara chose a white blouse.  Sézane is known for its lace blouses so if you visit the store you must try one on!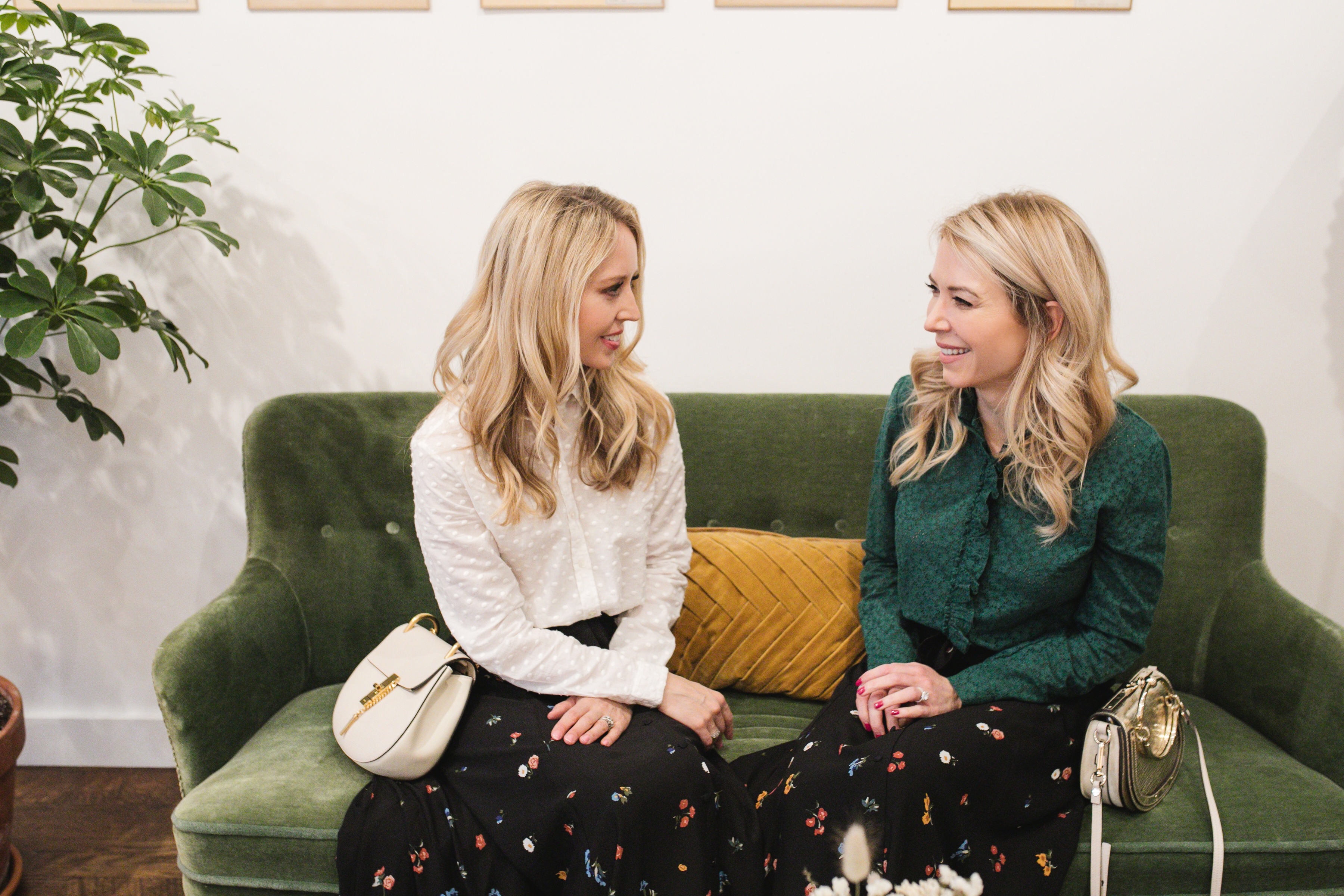 Chatting on the sofa – Tara and I have so much in common.  She lives in the suburbs in New Jersey and I live in New York City, so we really are not far from each other.  It has been so great to make a new friend through Instagram and fashion blogging – and we get along so well!  We obviously both love fashion, and seem to have a very similar style!  And we bonded over how much fun it has been to start our blogs as creative outlets after both having worked in "serious" careers our whole adult lives.  Plus we each have two young children of similar ages.  We plan to do more collaborations and photo shoots together because we had so much fun on this one!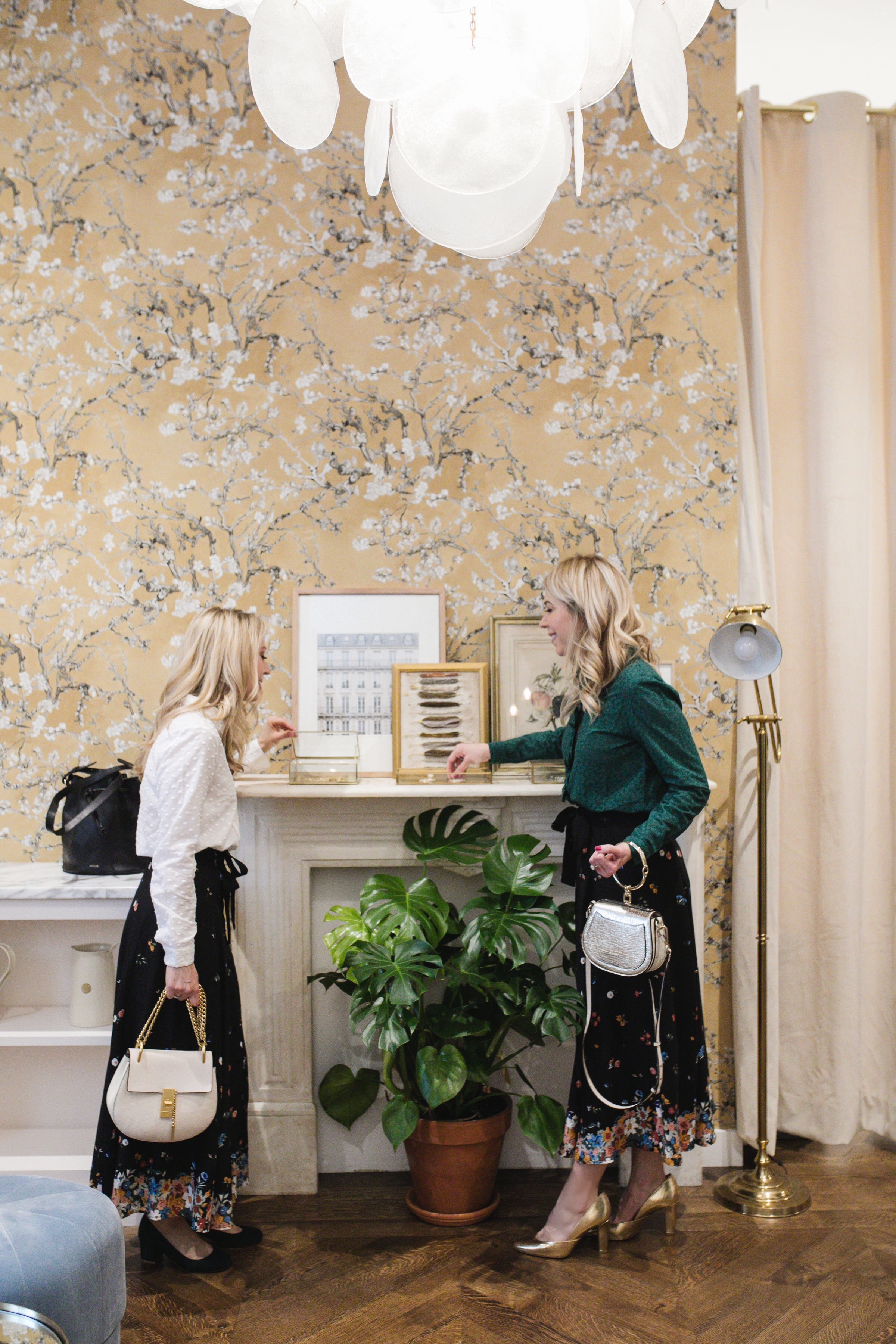 Here is the dressing room area in the back – so pretty!  Look at that wallpaper!  And the fireplace and hardwood floors.  I want to move in to this store.  It is the prettiest L'Appartement ever I think!  We had fun trying on the earrings and jewelry!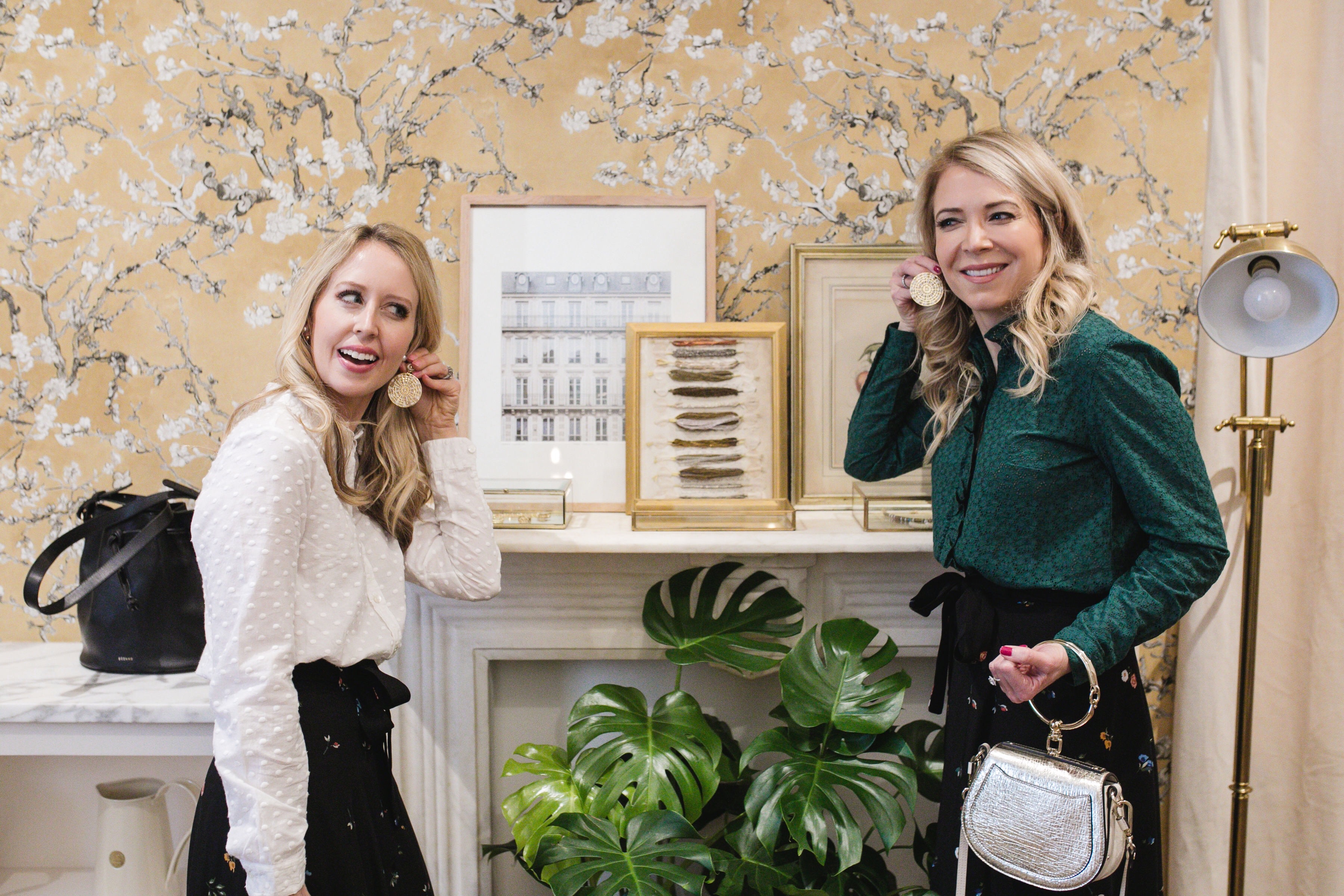 They even have a photo booth in the store!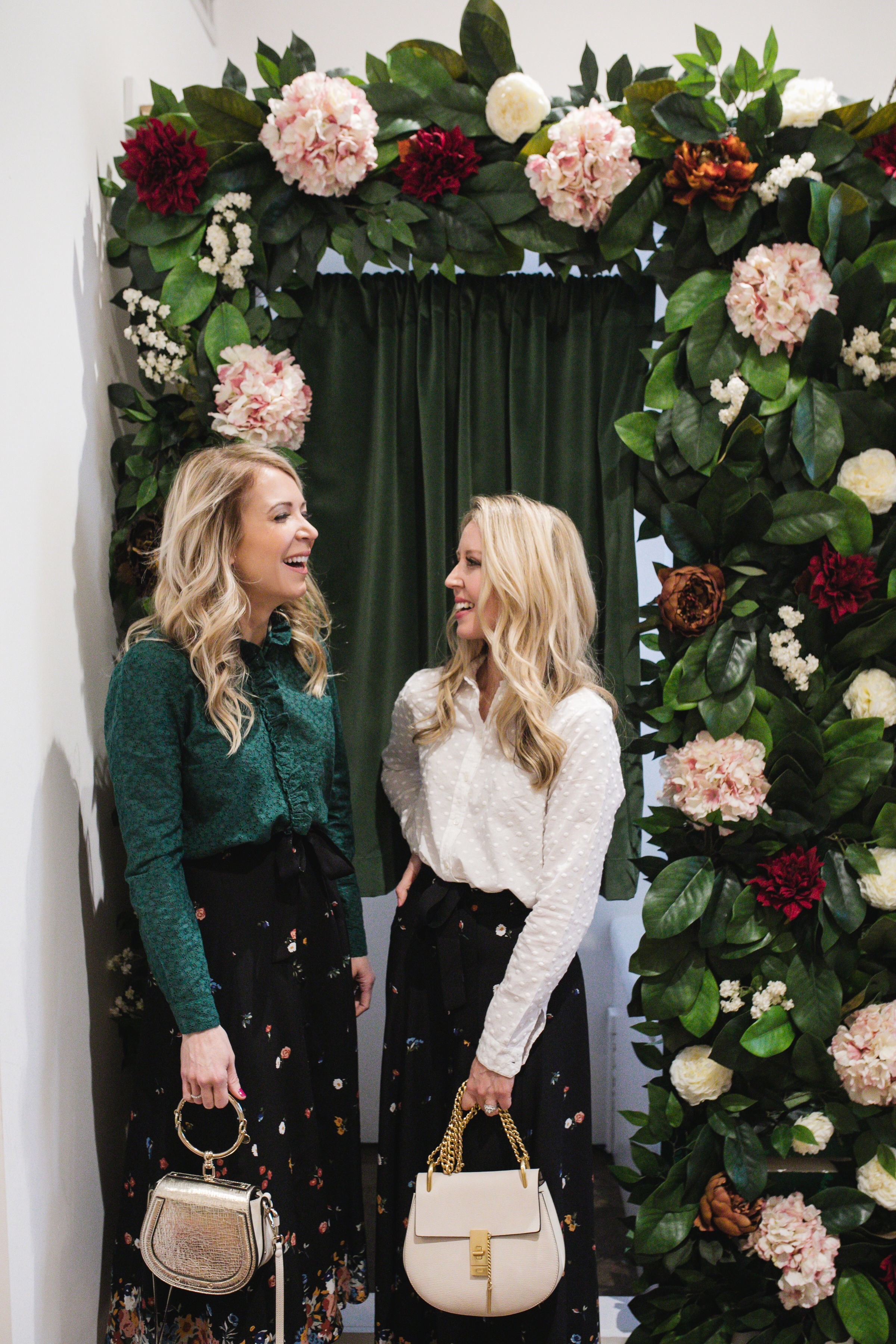 Again, we got the giggles.  We were laughing the entire time taking these photos!
After this, we decided to try on yet another outfit (see below)!  I went for a pink blouse and floral skirt, and Tara chose the floral blouse in the same print and a beautiful burgundy leather skirt that I was coveting!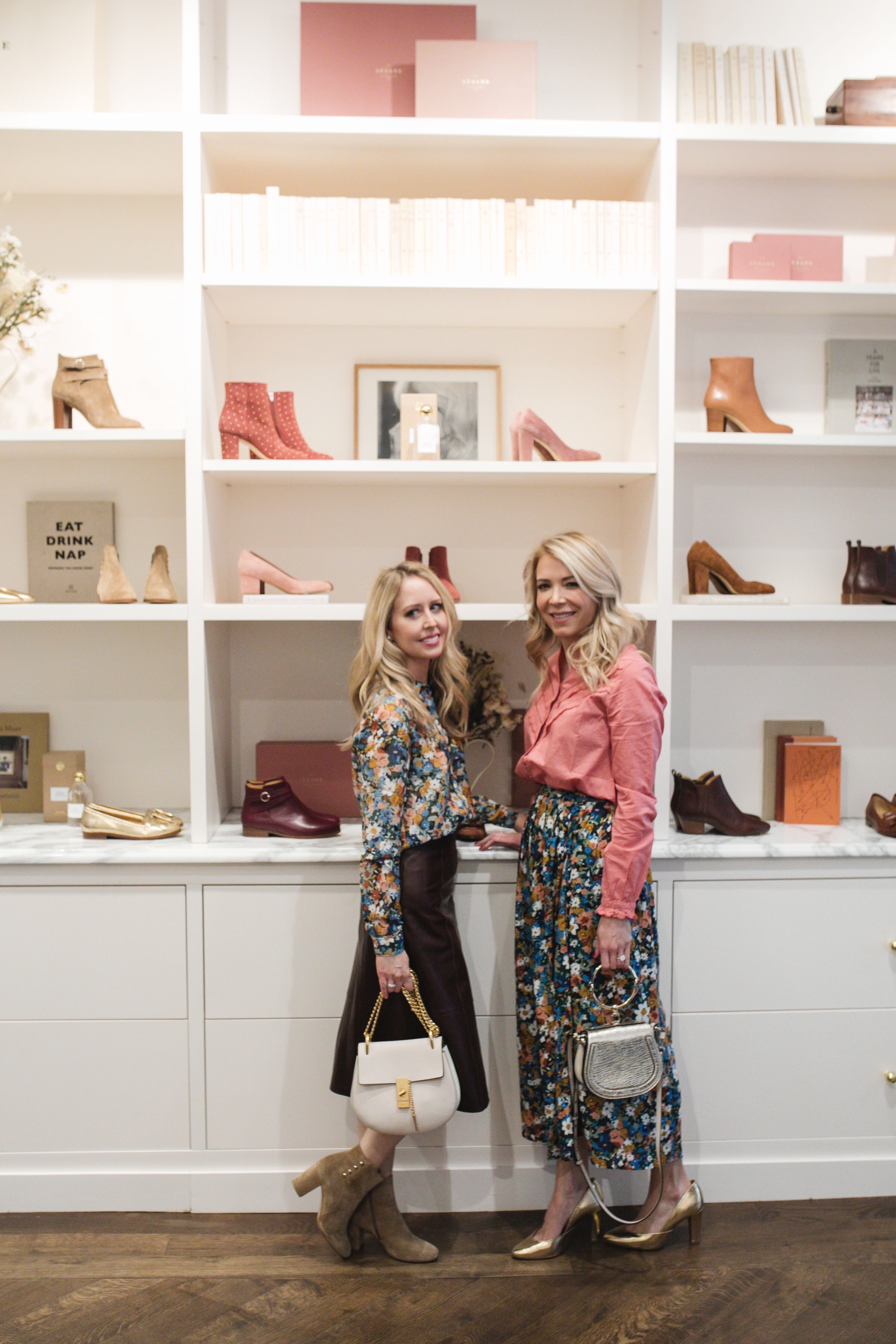 I was obsessed with the gold heels.  I nearly bought them!  And we both loved the gold boot that Tara is showing me in the photo below.  They have really beautiful shoes at Sézane!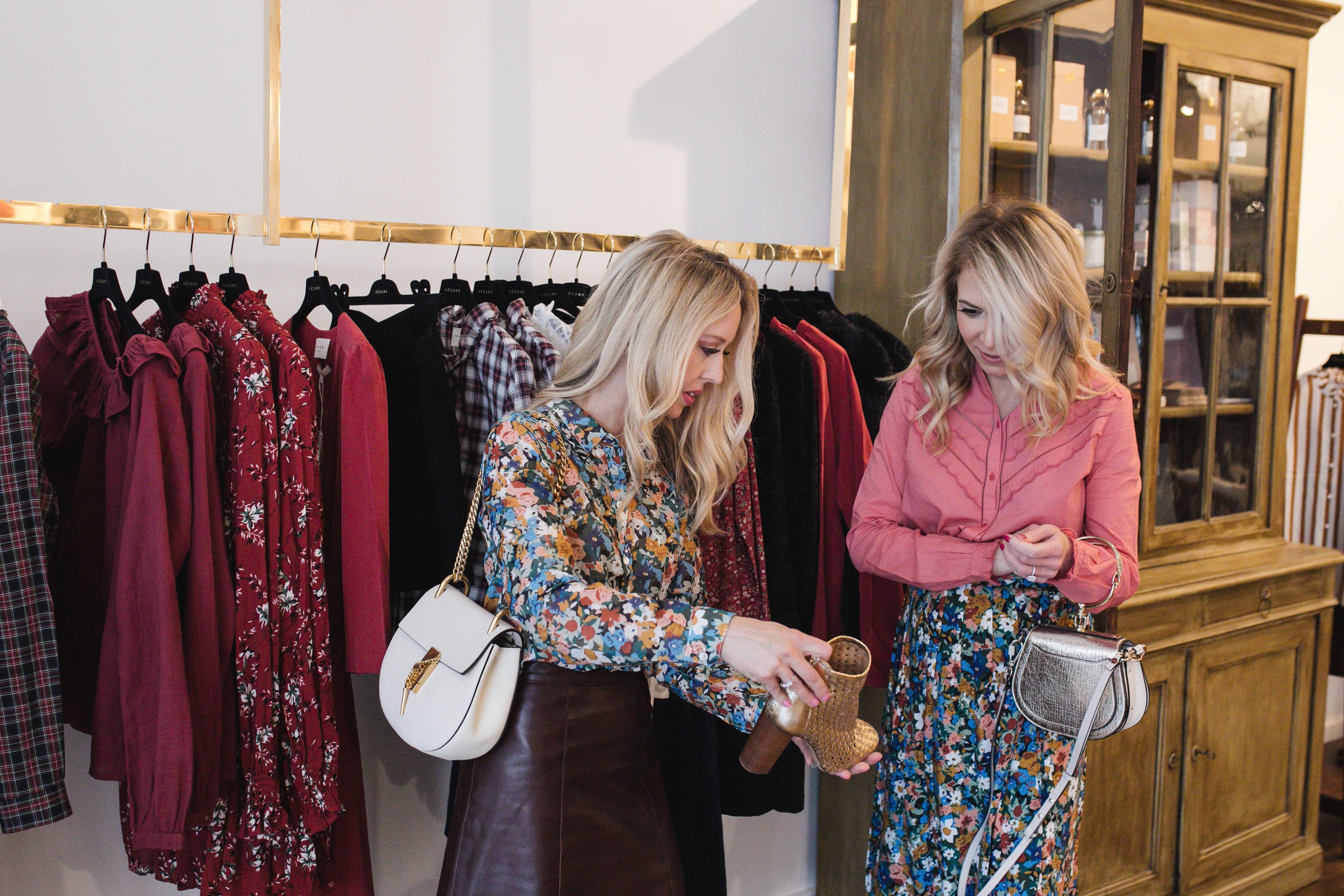 More beautiful blouses….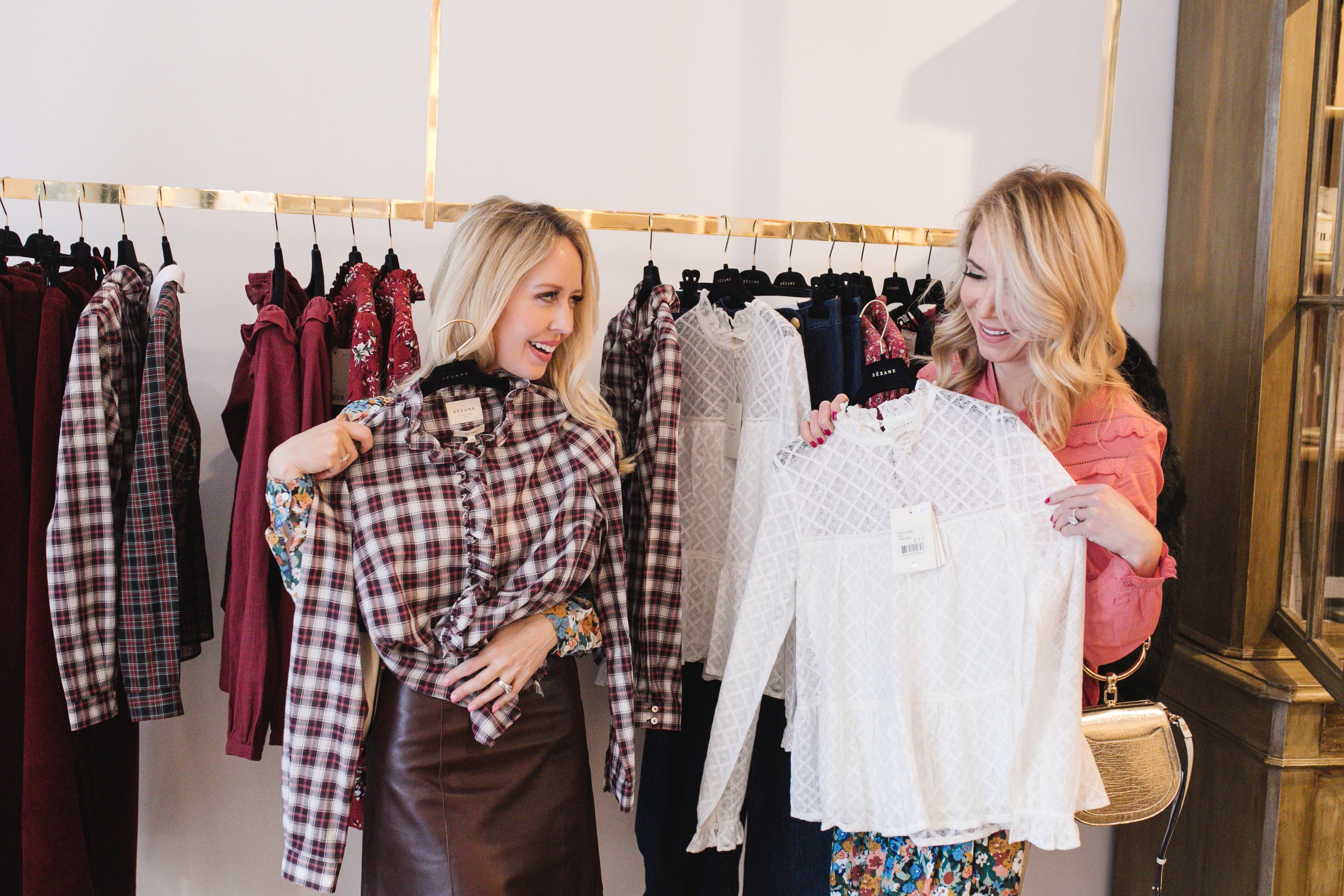 And look at those jeans!  I am obsessed with jeans with gold sailor buttons.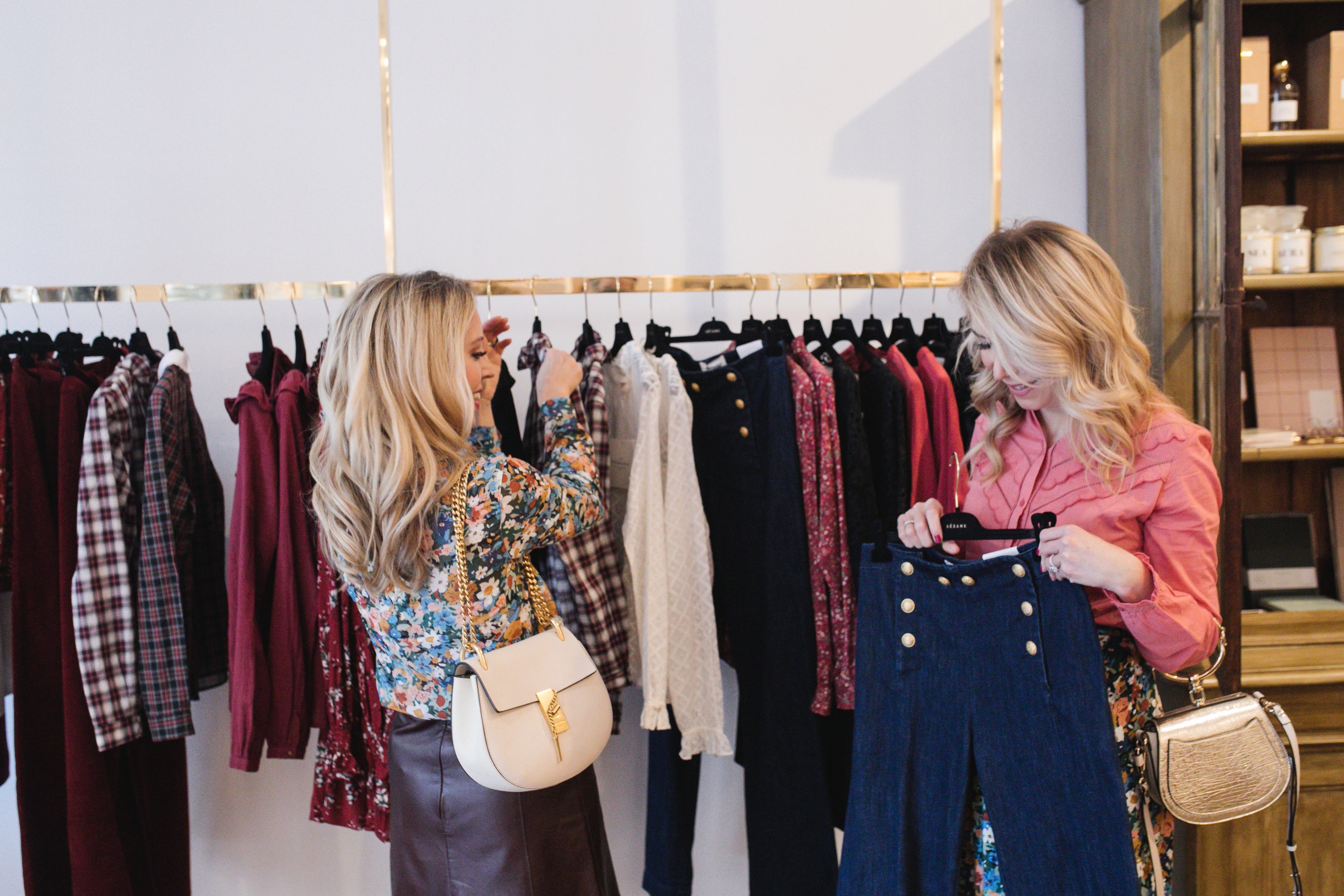 We could have looked at the clothing all day!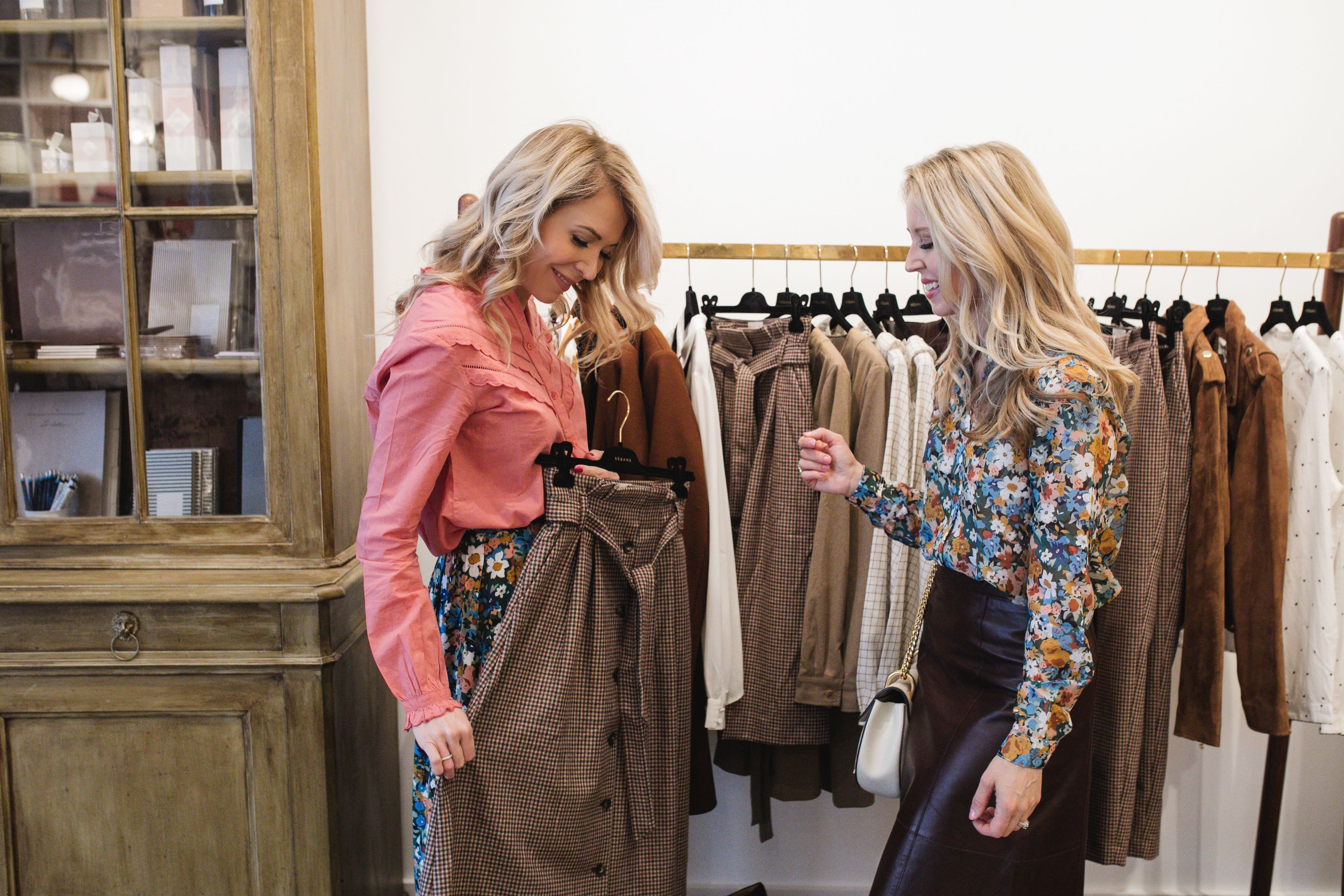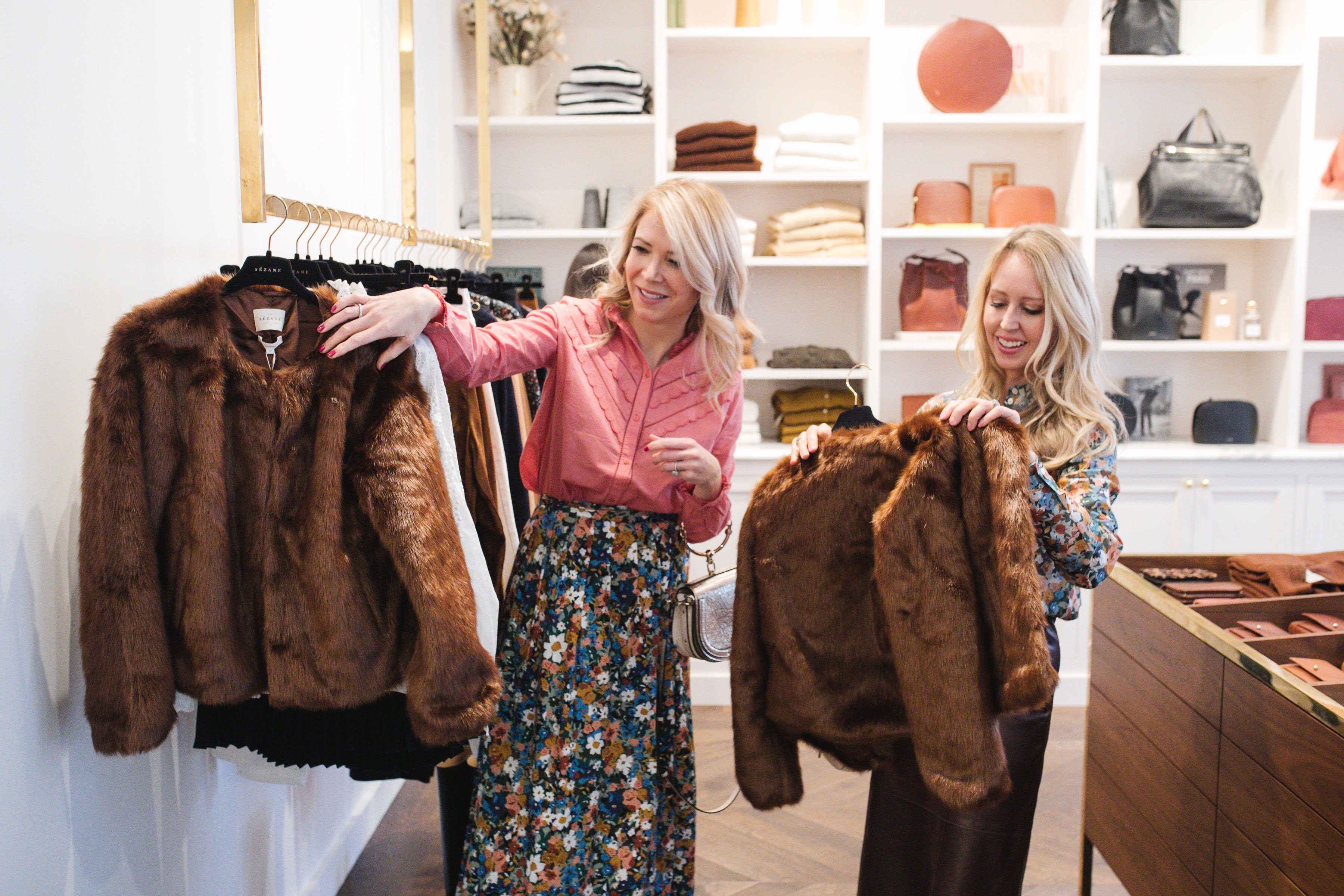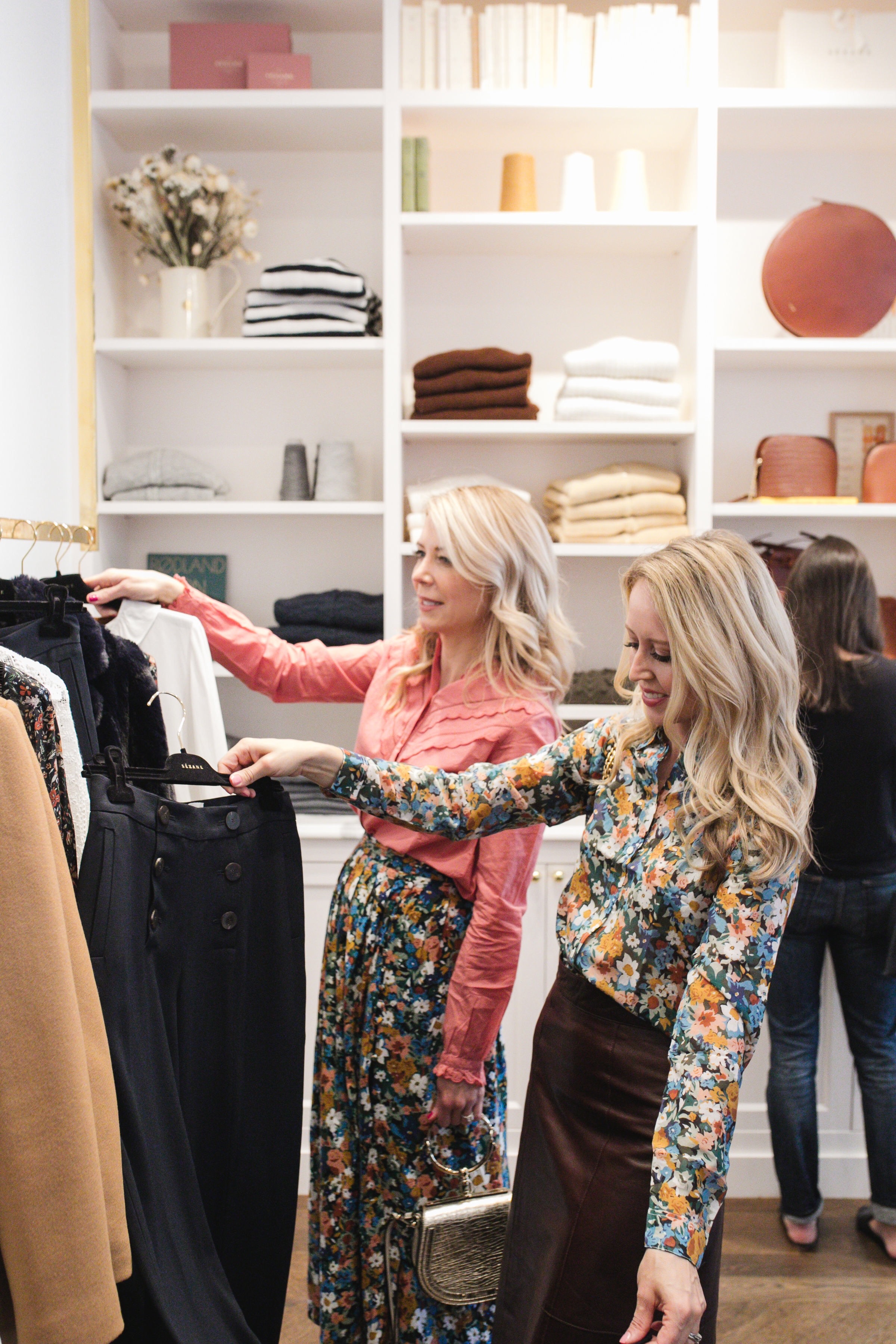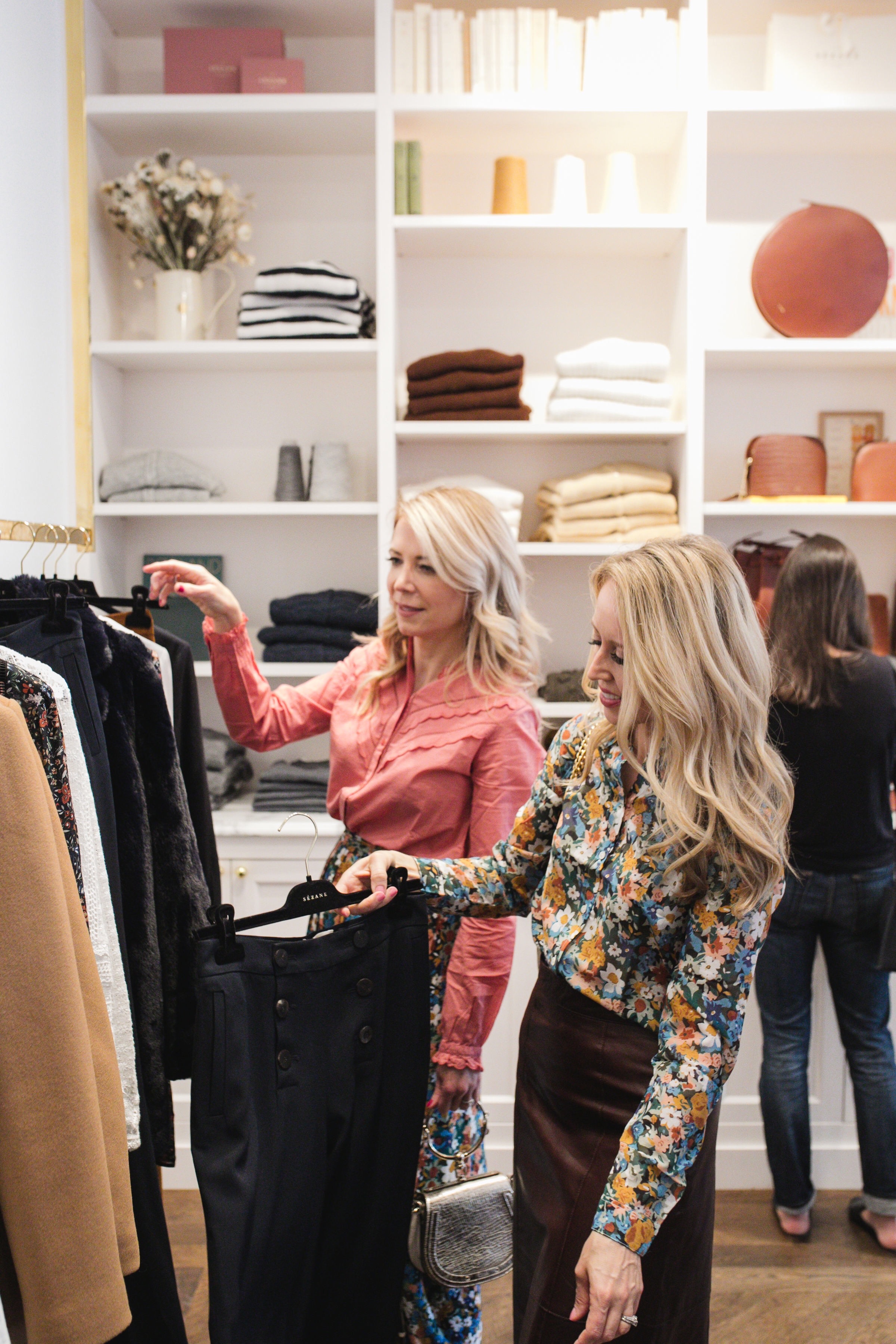 We wanted to walk out with these outfits as well, but we put them back.  We both kept the first outfit (the pleated skirts and silk blouses and suede ankle boots) but decided to hold off on buying too much on the first visit!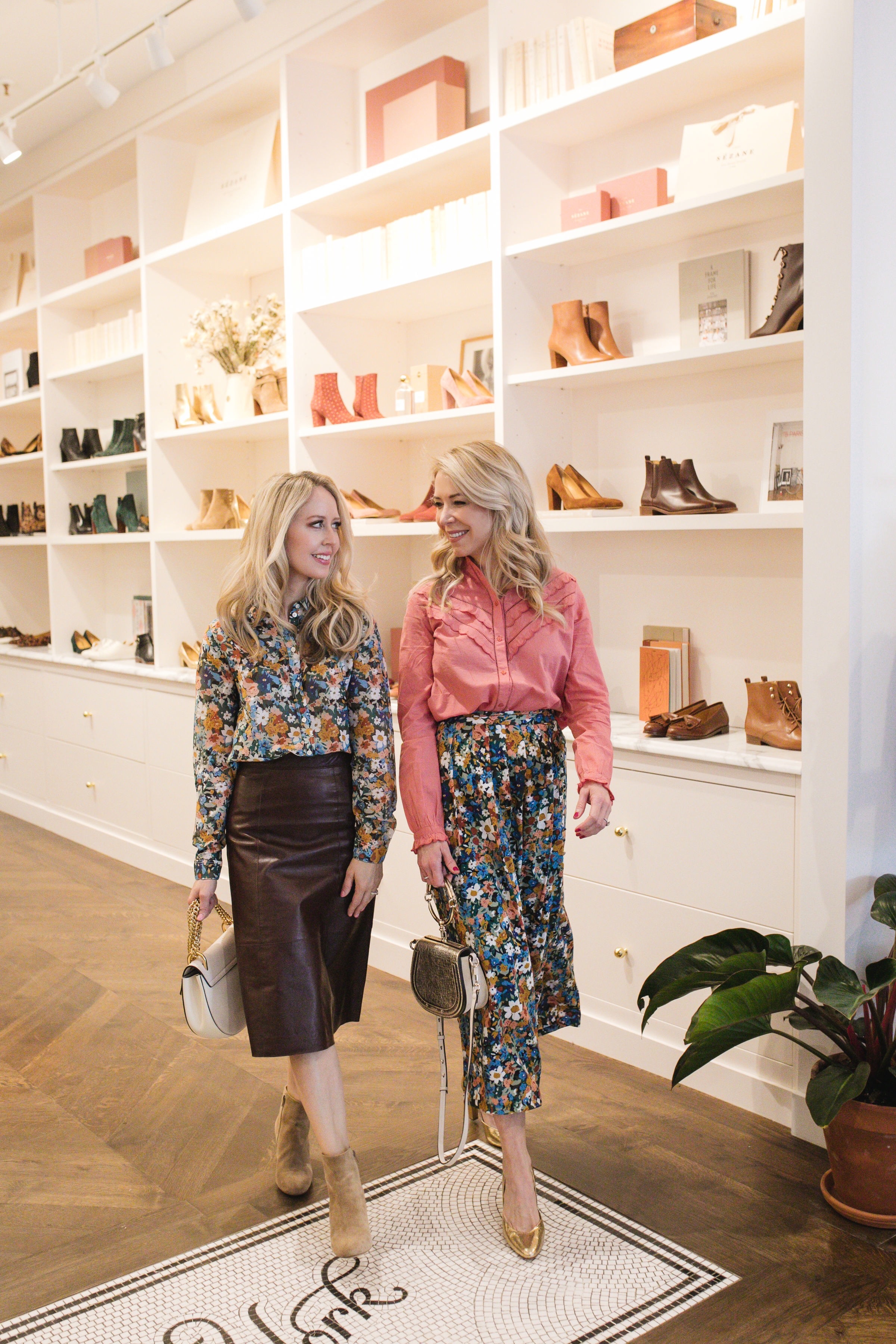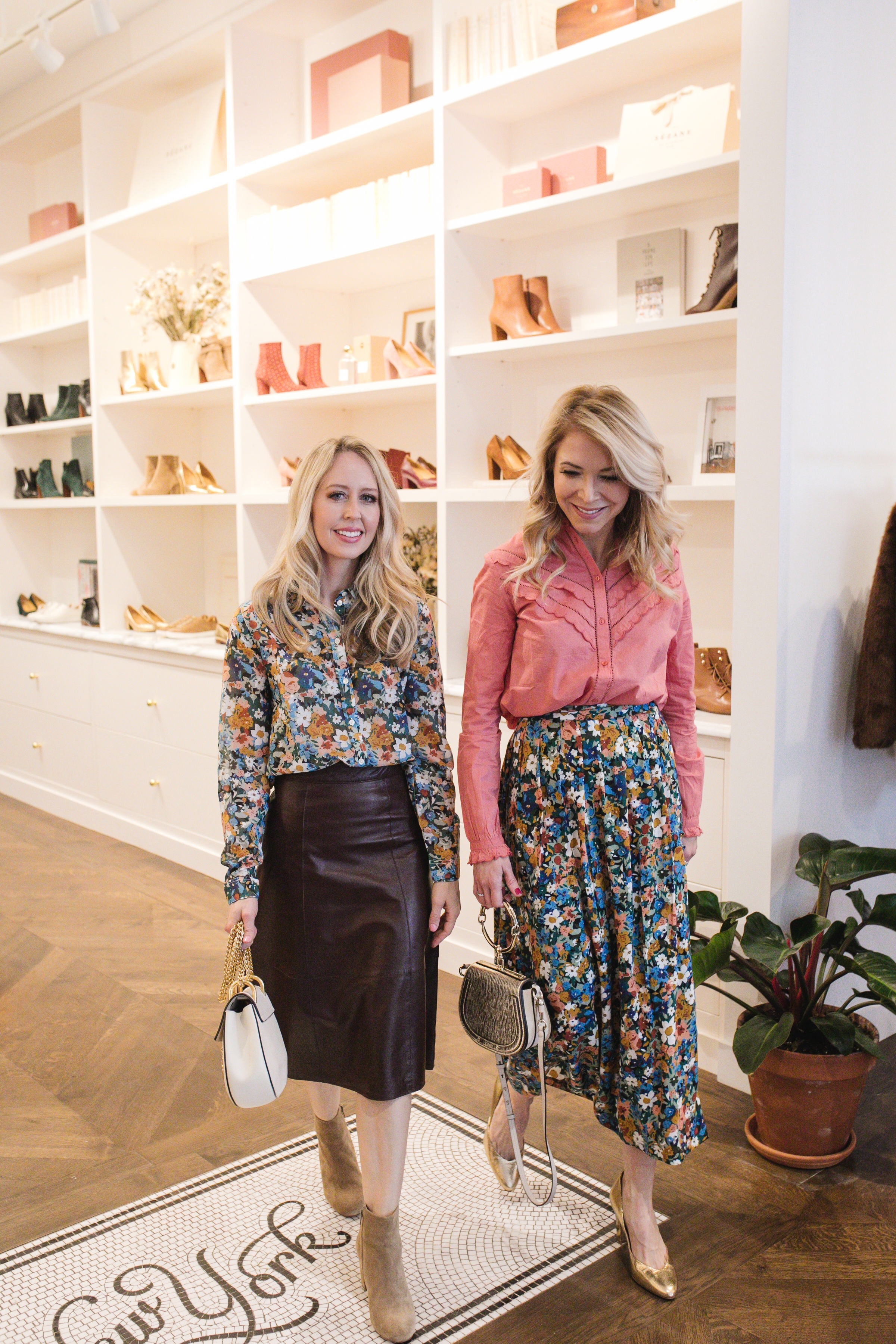 But I can guarantee you, I will be back!  I loved the store and want to go back for the gold shoes and a lace blouse!  And the sailor button denim!  But more importantly I really enjoyed doing this shoot with Tara!
Thanks for reading!
xxxxx
Laura
Photos by Lydia Hudgens