On Laura:  Top: H&M | Skirt: H&M | Belt: Amazon | Sunglasses: Chloé | Bag: Chloé | Shoes: Chloé
On Tara: Blouse: Mango (sold out, similar here and here) | Pants: Veronica Beard | Belt: Amazon | Shoes: Zara | Bag: Chloé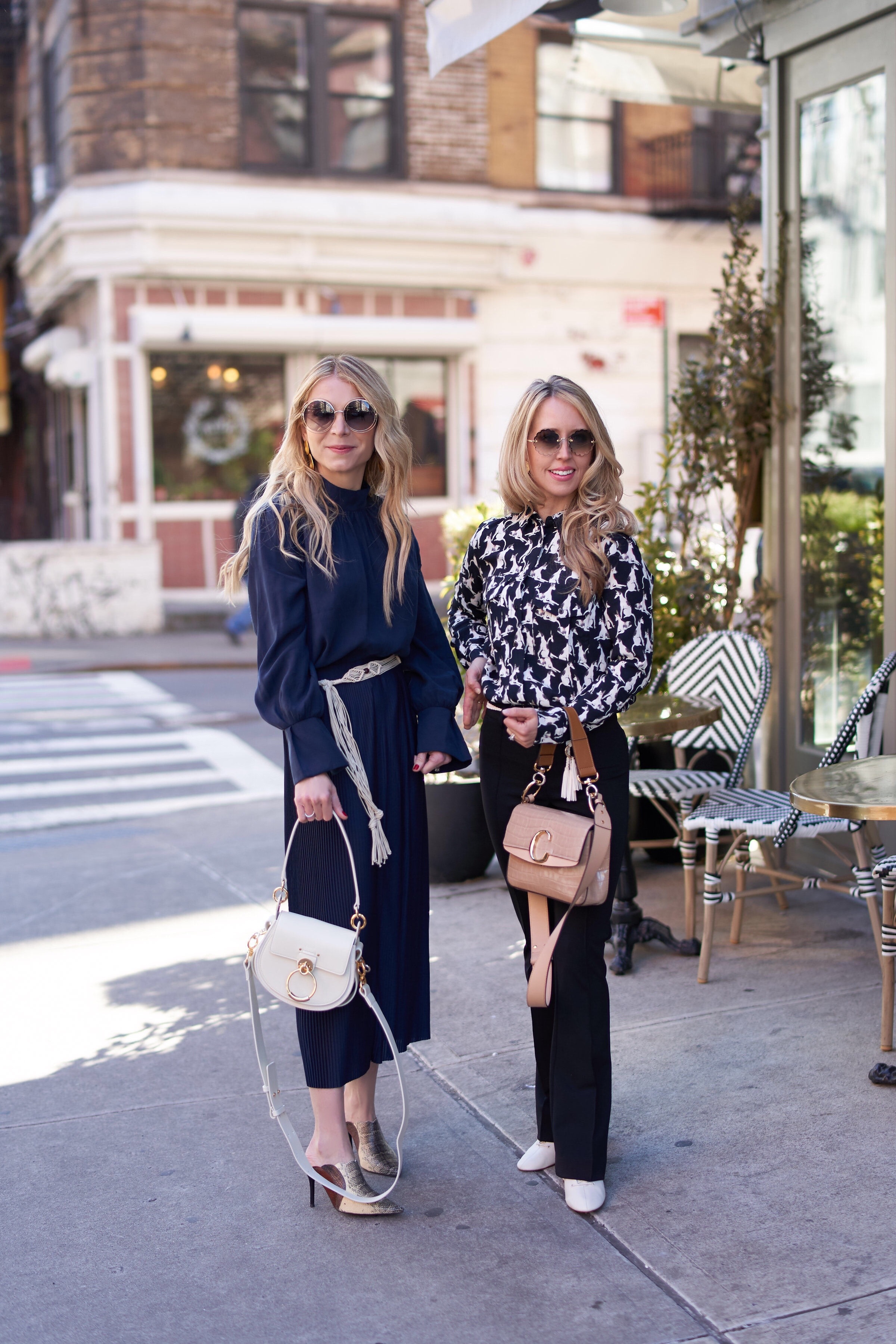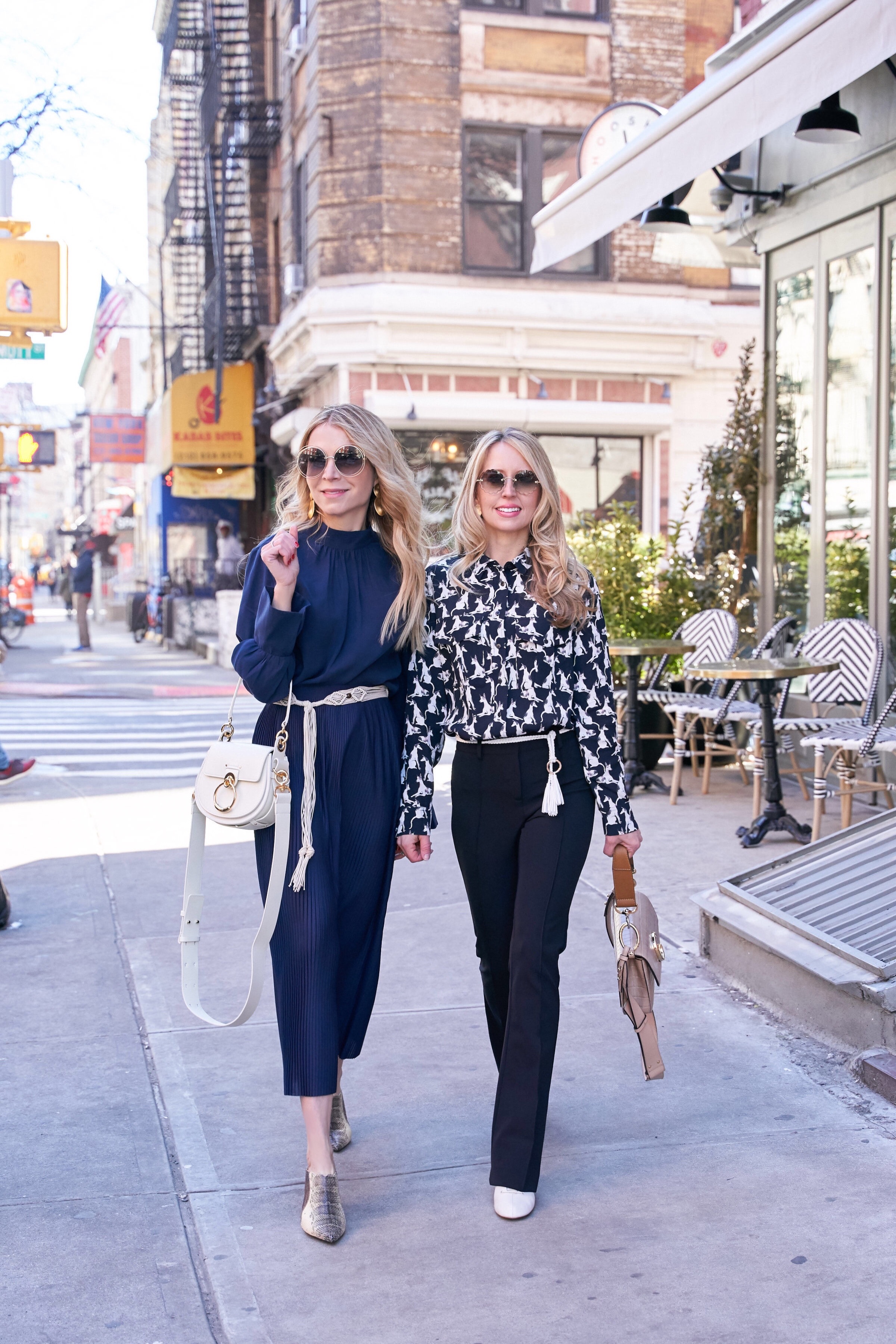 Up until now, the Chloé ready to wear collections have been just a dream…
I don't know about you, but every season I look at the Chloé ready to wear collections and I just swoon!  I gaze longingly at the fashionistas on Instagram wearing head to toe Chloé with the hashtag #ChloeGIRLS…!  The clothing is so beautiful… but… it is simply not affordable (for me at least), end of story!  I just cannot even think of spending $1900 for a blouse or $2000 for one skirt.  Saving up and buying a handbag or a pair of shoes by Chloé is one thing – because you will wear a bag or shoes so many times with so many outfits – but to have a wardrobe filled with Chloé clothing, well, a girl can only dream!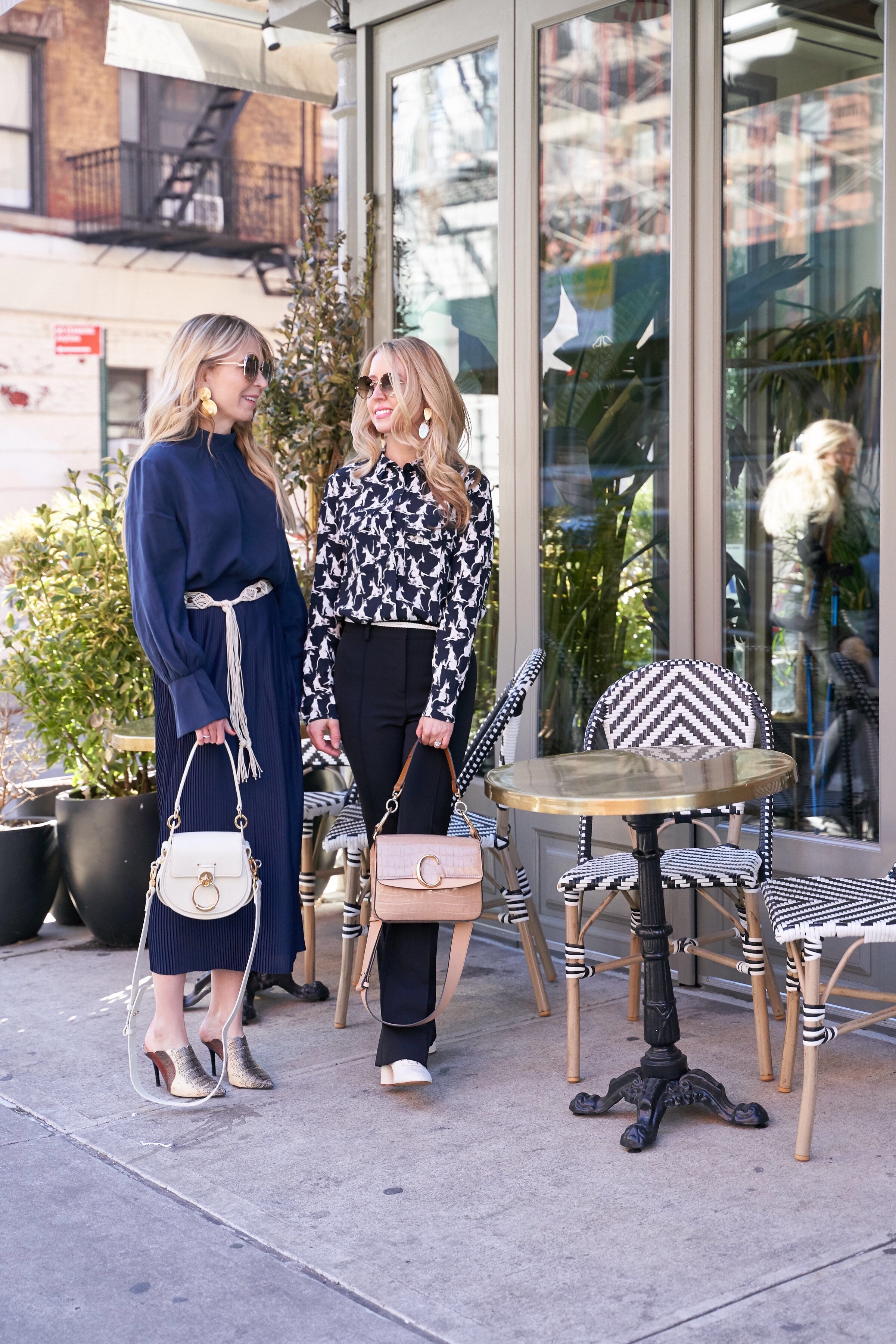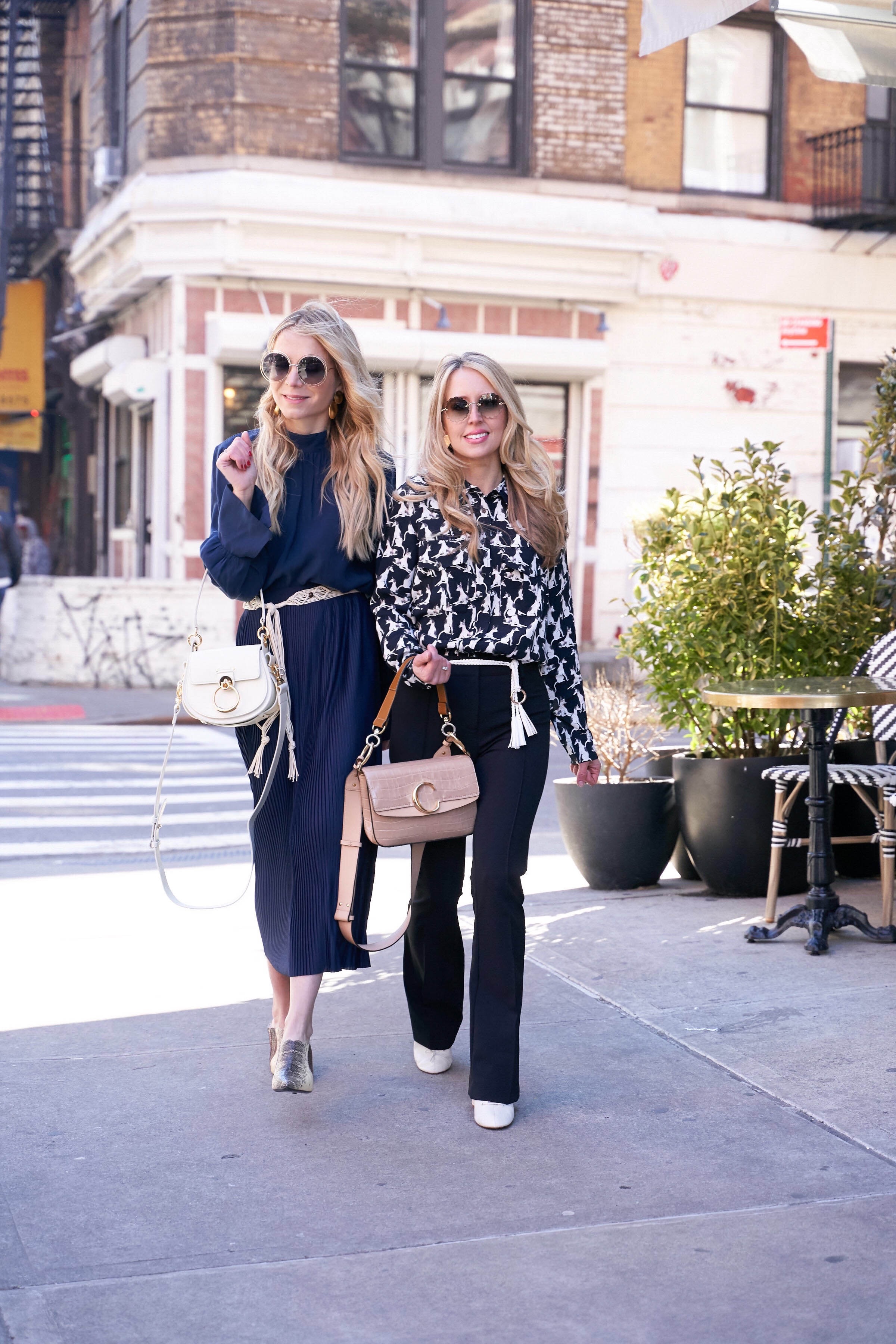 So we decided to make becoming a "Chloé girl" a reality!
So this season, instead of feeling depressed, my friend Tara (www.thefashionhousemom.com) and I got together to take matters into our own hands, to recreate the Chloé spring summer 2019 runway looks for less!  We chose some of our favorite Chloé looks from the runway and mimicked them using high street pieces (teaming the looks with our best Chloé accessories of course!).  And we are proud to say we achieved the look of Chloé for a much lower price point.
The inspiration…
This look below from the Chloé Spring/Summer 2019 Collection, to me is the epitome of Chloé chic.  I love the ruffled blouse, and the pleated skirt.  The jewelry and the accessories.  And the colors!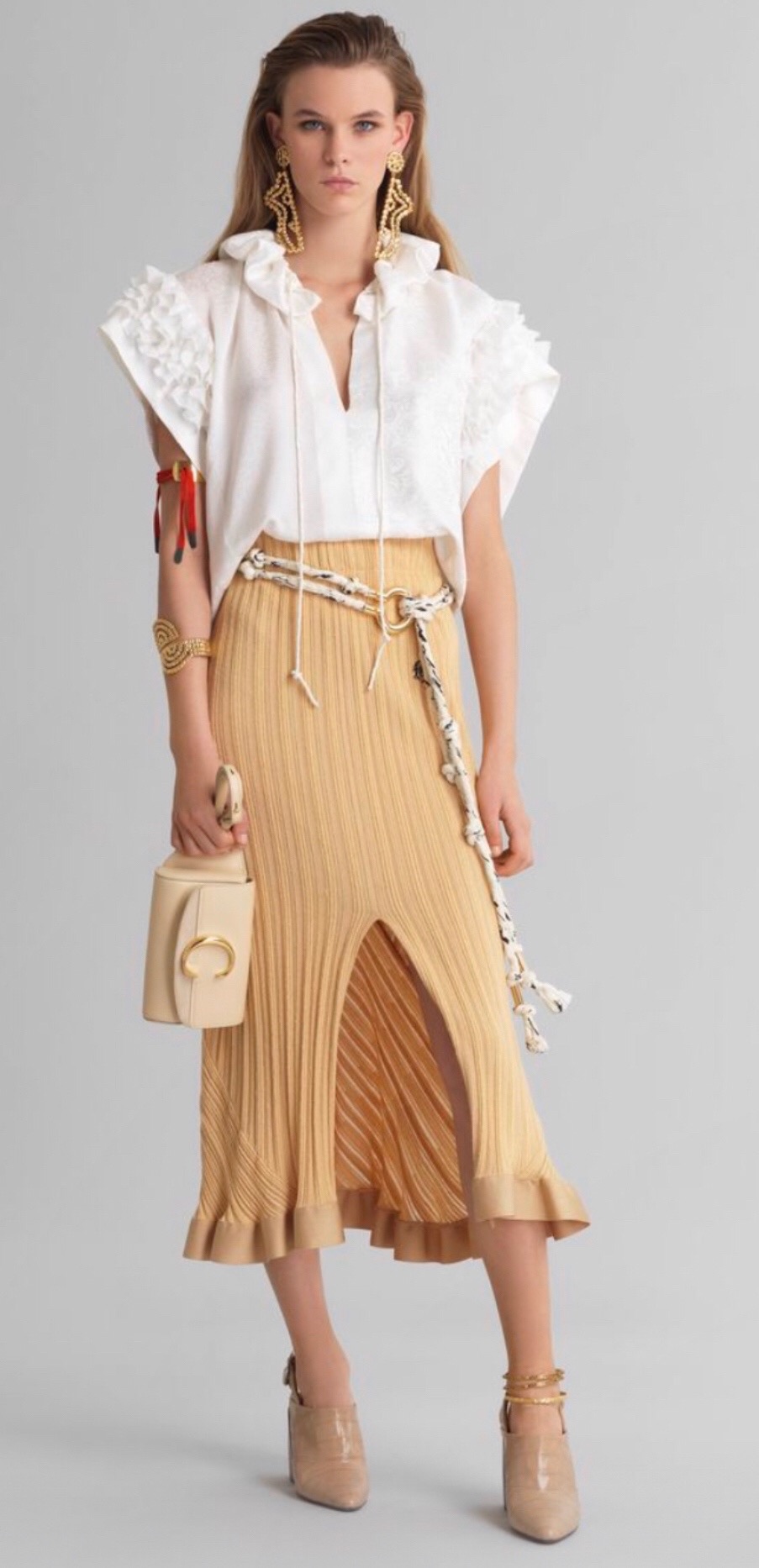 One of the first things I noticed about the Chloé Spring/Summer 2019 collection are the rope belts (or "scarf" belts according to their website)!  When I first saw them, I was kind of surprised and definitely intrigued!  I was shocked to learn that one of these belts costs $815!  Goodness!  So I thought, could we maybe make one?  Or what about Amazon?  And sure enough, we found rope/chain belts on Amazon, for about $10.  Of course they are nowhere near as nice, but you get a similar effect for just a teeny fraction of the price!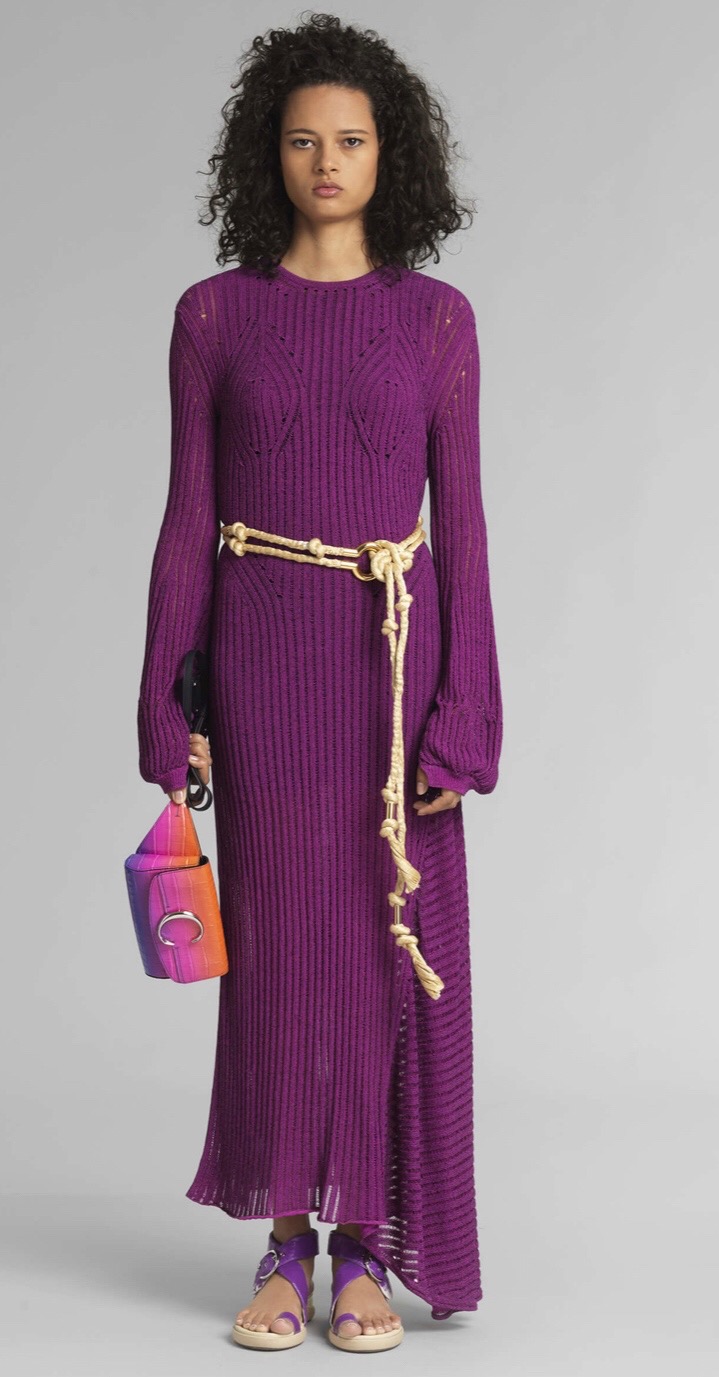 I also noticed the long pleated skirts – monochromatic looks broken up by the rope belts.  I was in H&M and spotted the navy blue pleated skirt and the blouse with the flowy cuffs and I thought, this would be perfect!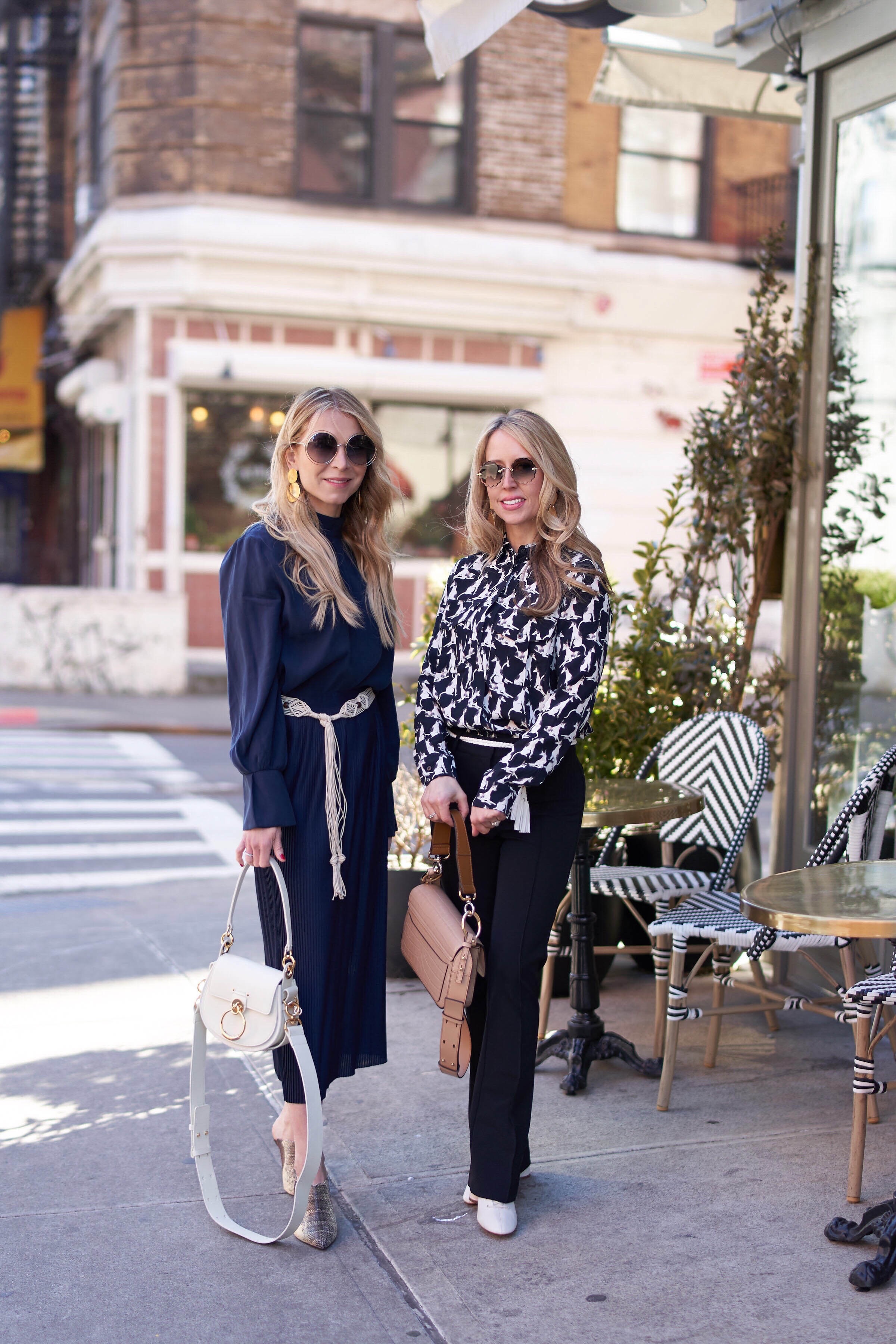 Tara was inspired by the fitted flared black trousers and the printed blouses (see photos below).  She found her blouse at Mango and her pants from Veronica Beard.  Her rope belt is also from Amazon.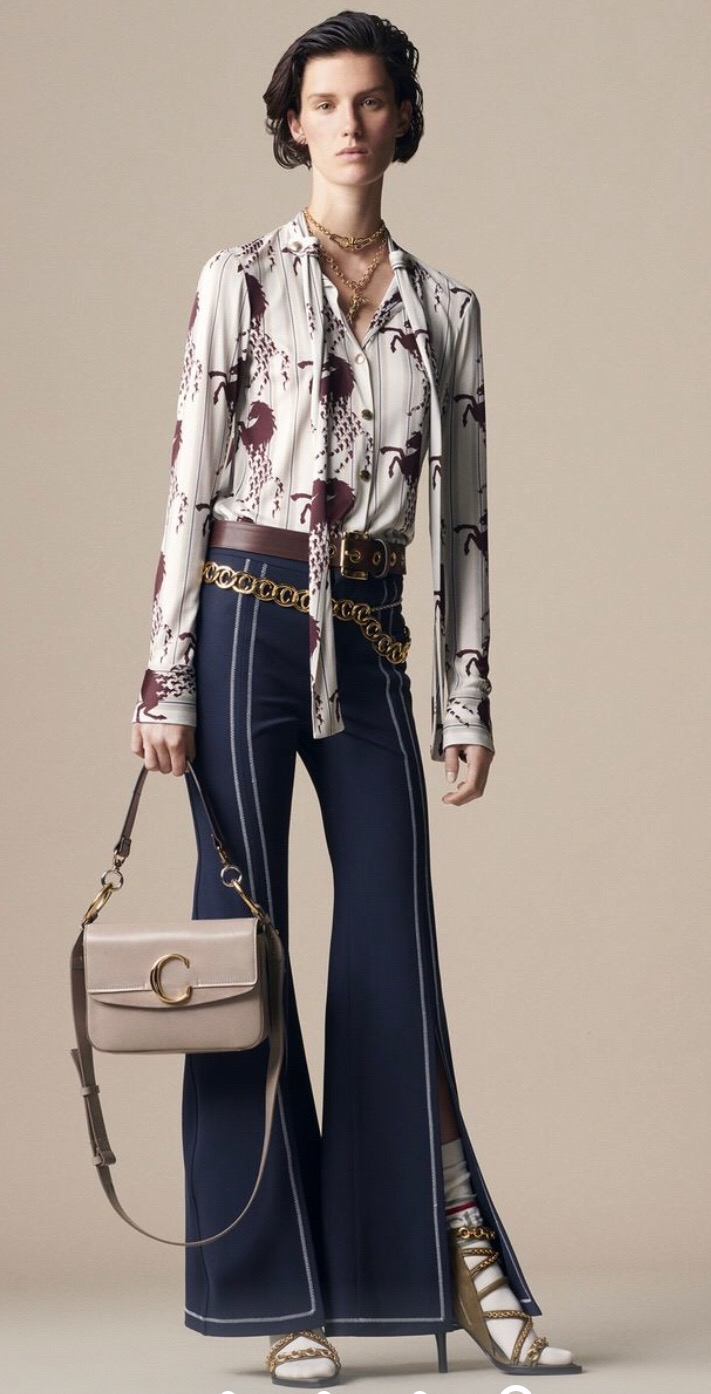 The accessories:
We both have Chloé bags already.  I had purchased my Chloé mules for spring so thought they would be perfect with the navy H&M outfit.  Tara got her amazing lace up Chloé-esque boots from Zara.  We each pulled out our biggest gold earrings and our Chloé sunglasses, and voila!  We are Chloé girls now!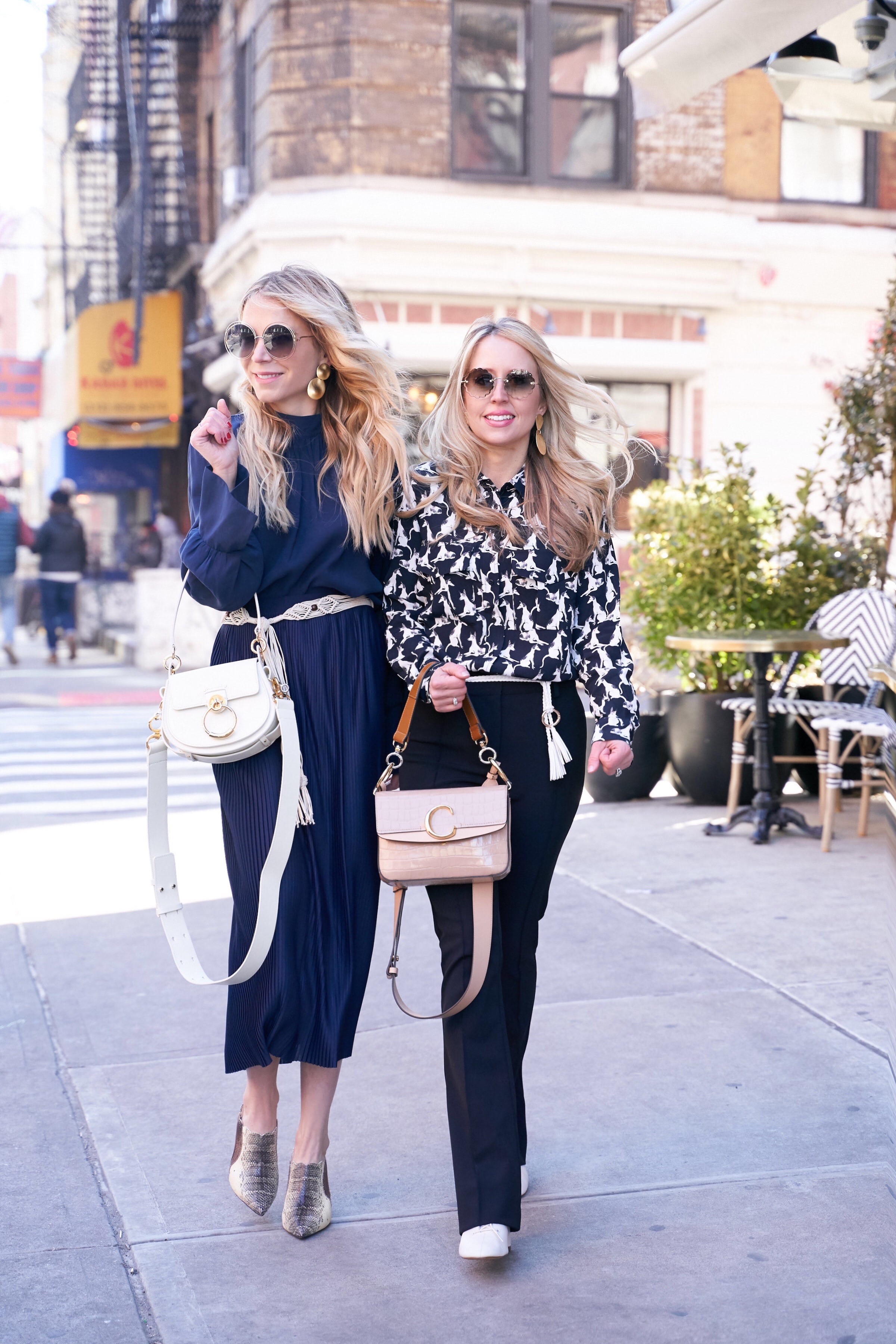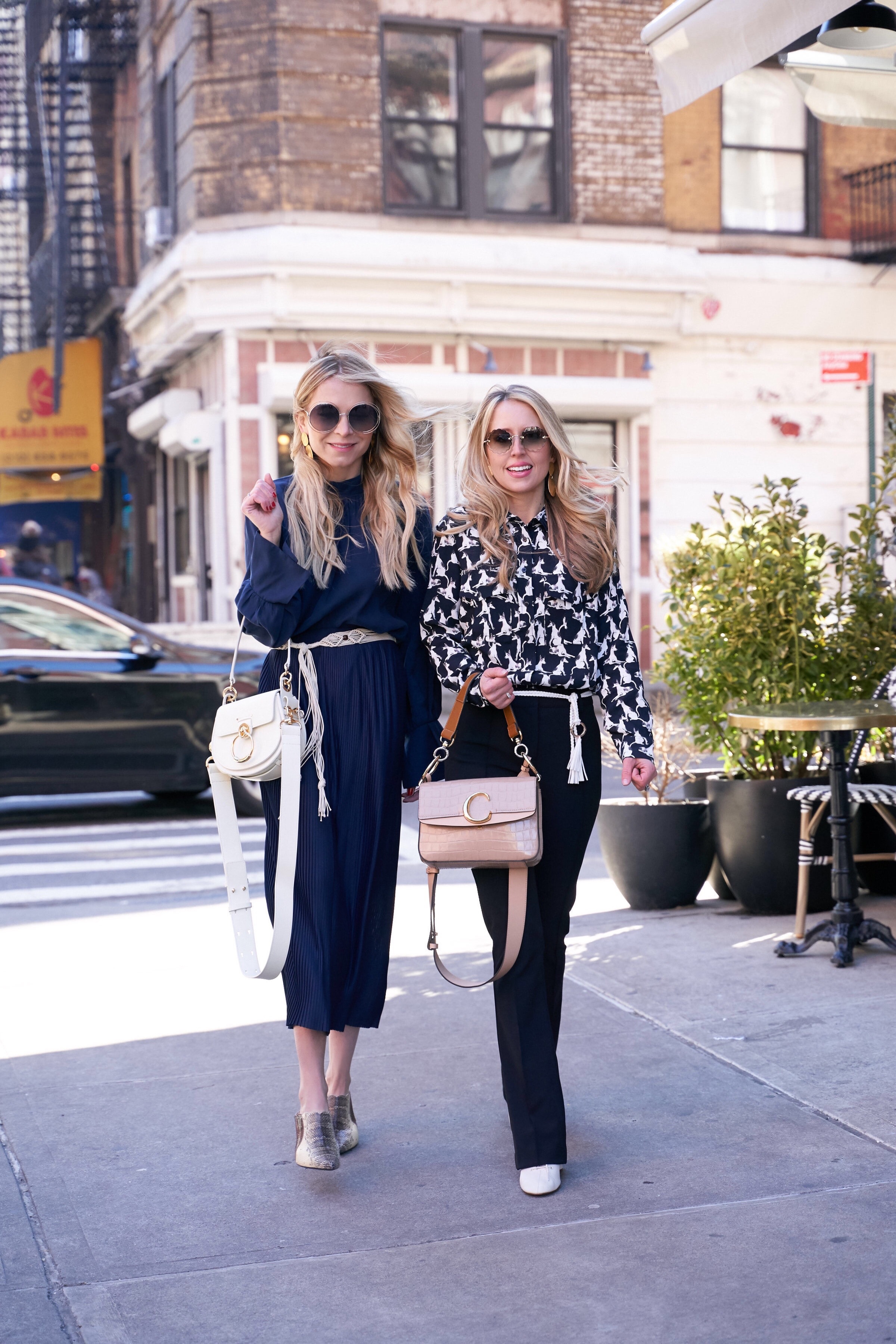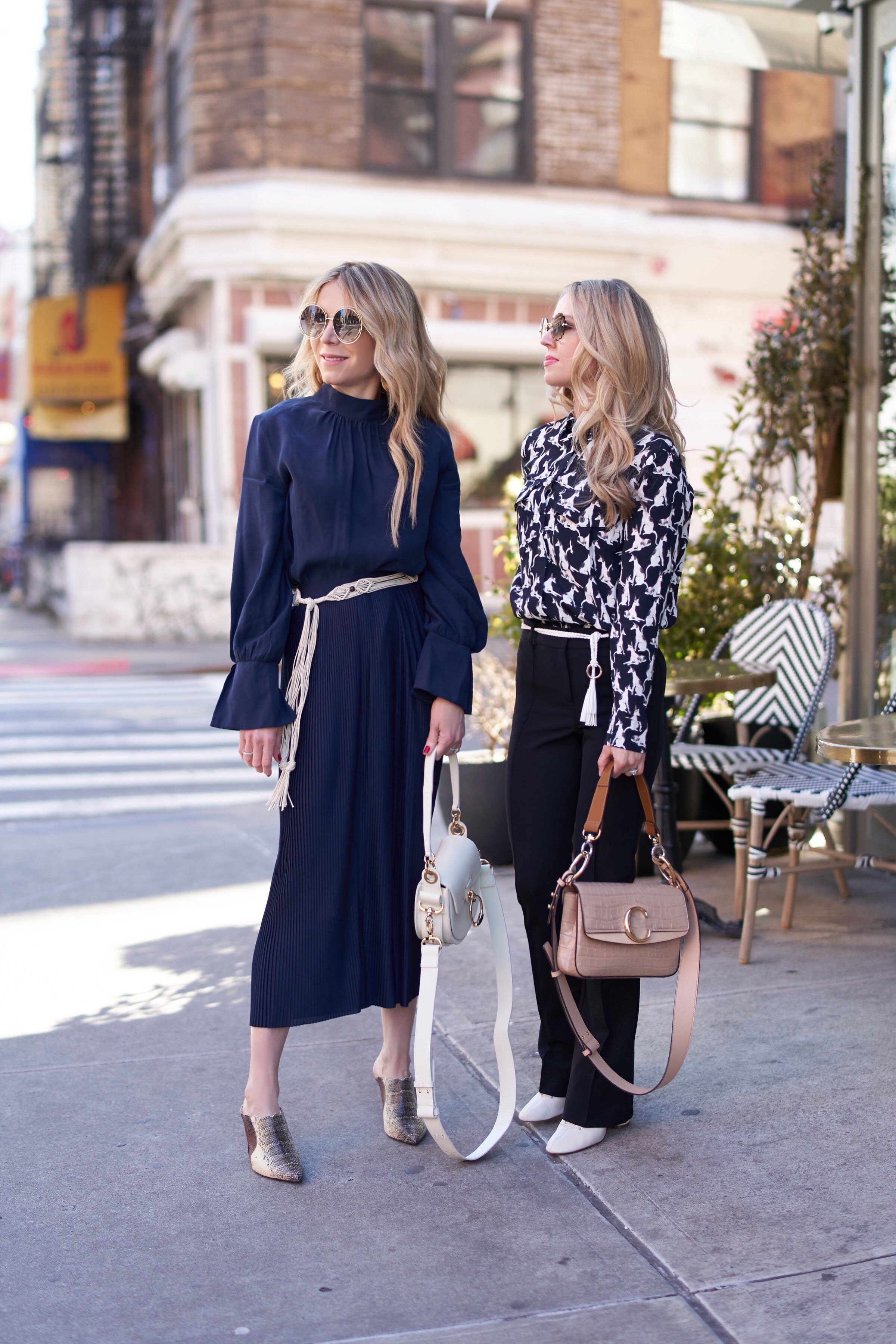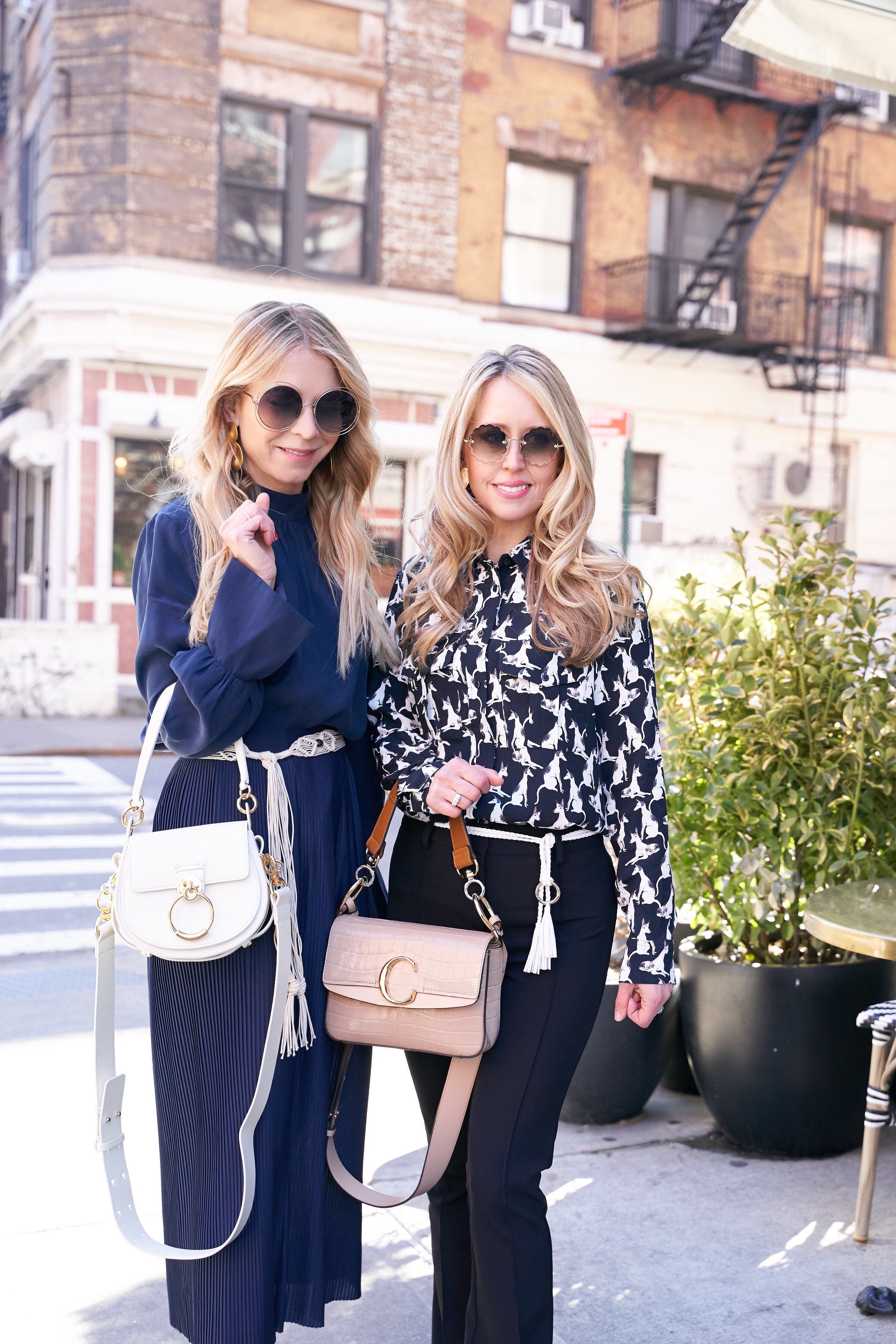 We had the best time recreating these runway looks for less!
Thanks for reading!
xxxxx
Laura
Photography by Mike Kobal
SHOP THE POST