Top: Zara | Skirt: Zara | Belt: Gucci | Boots: Kurt Geiger | Bag: Chloe | Sunglasses: Chloe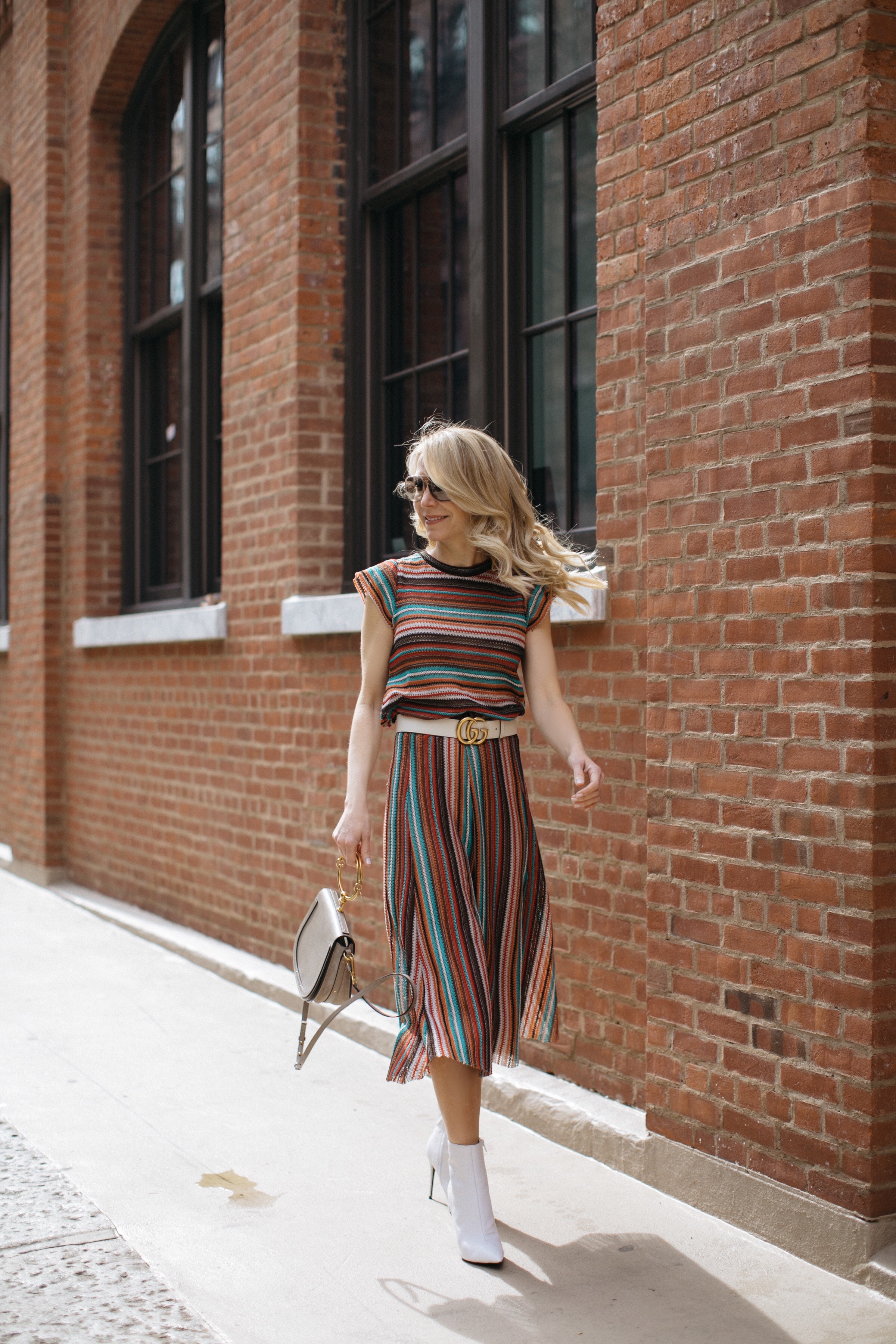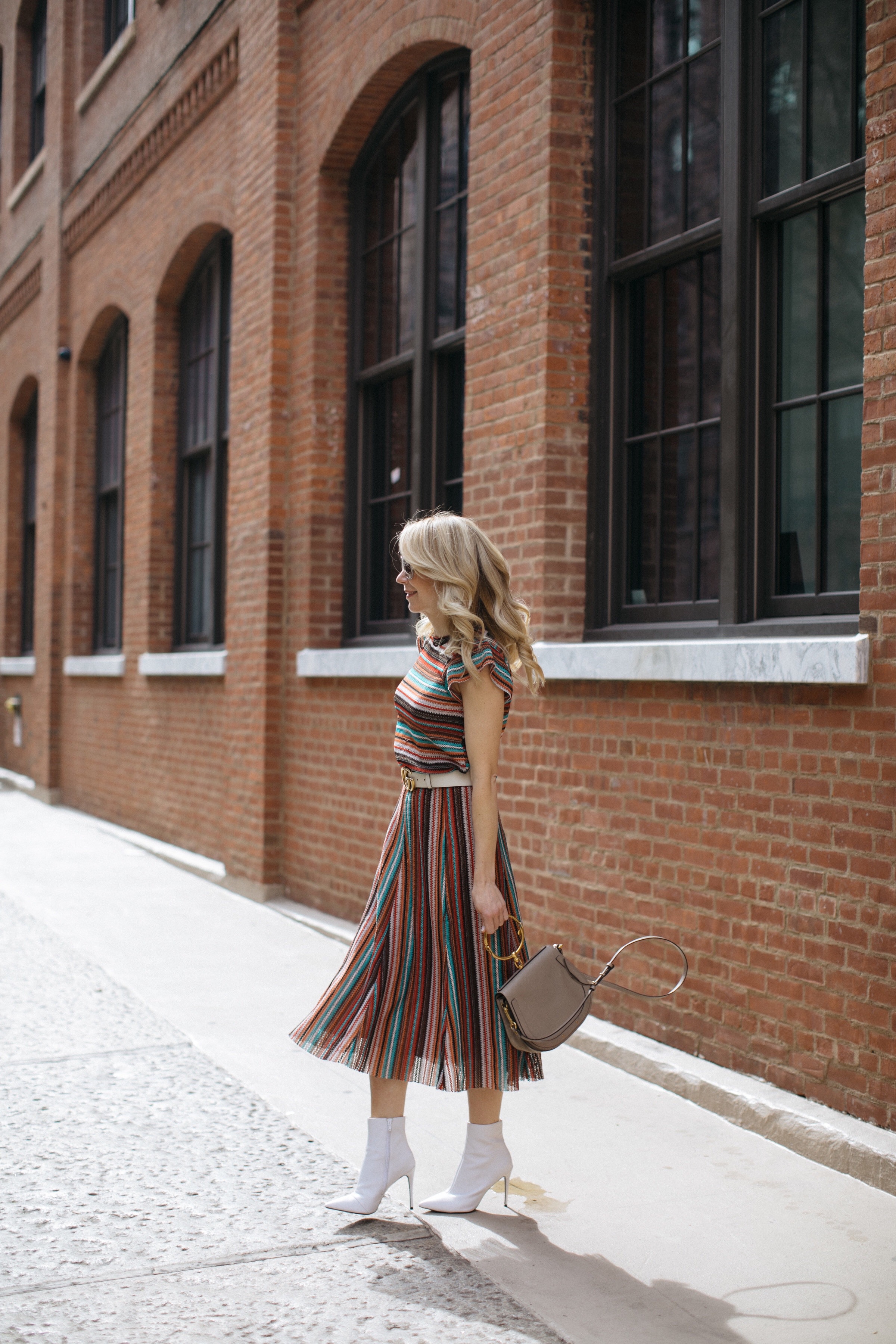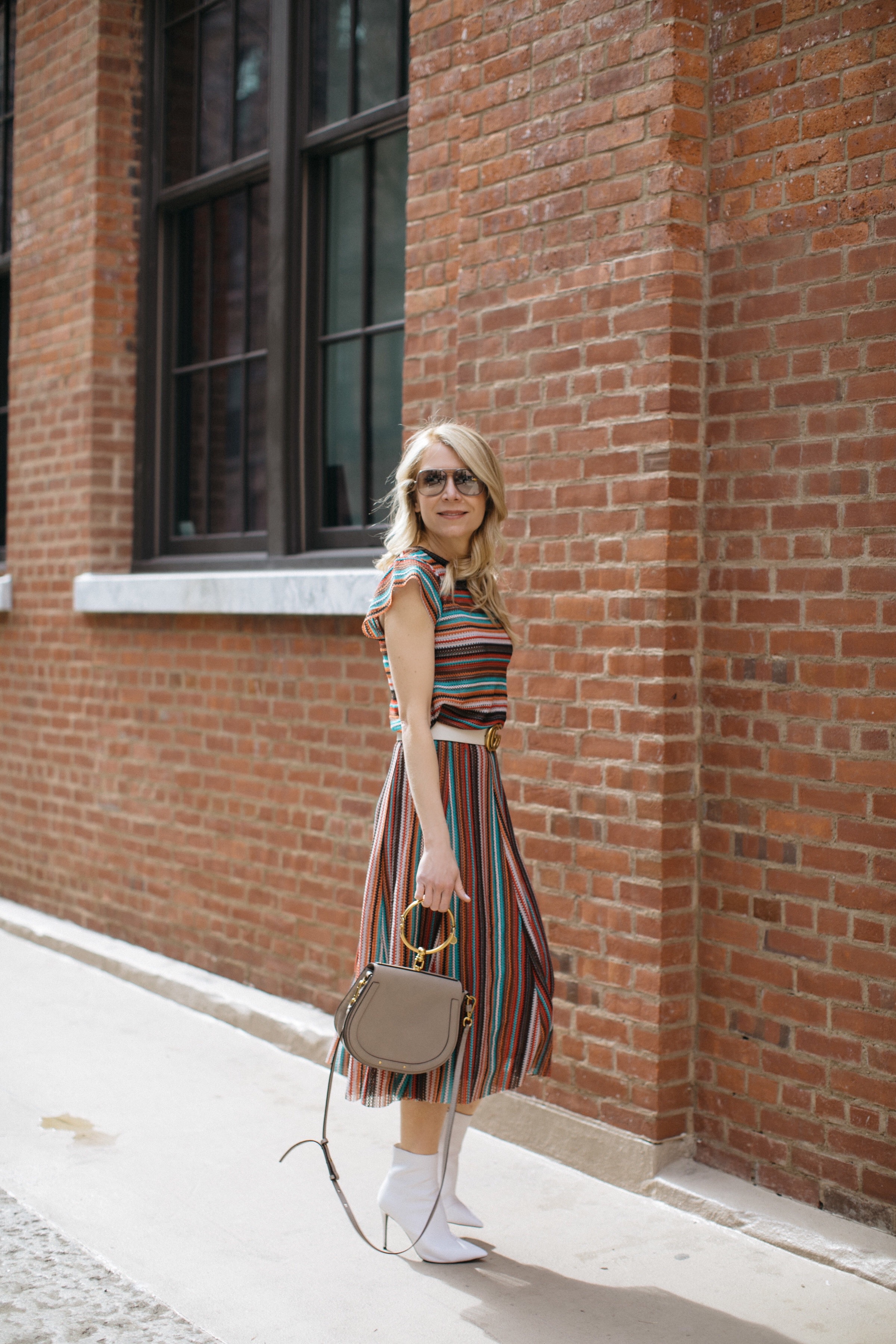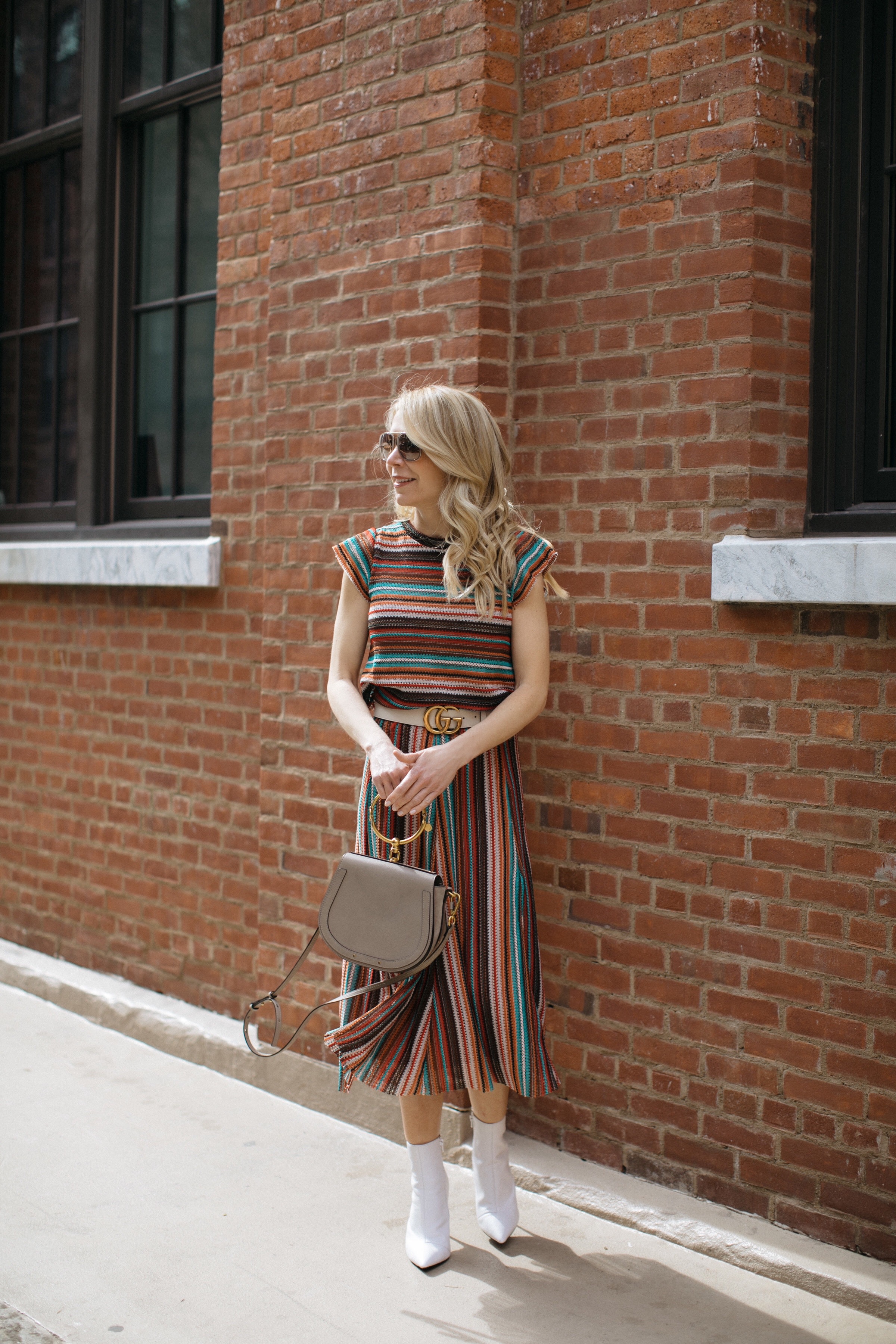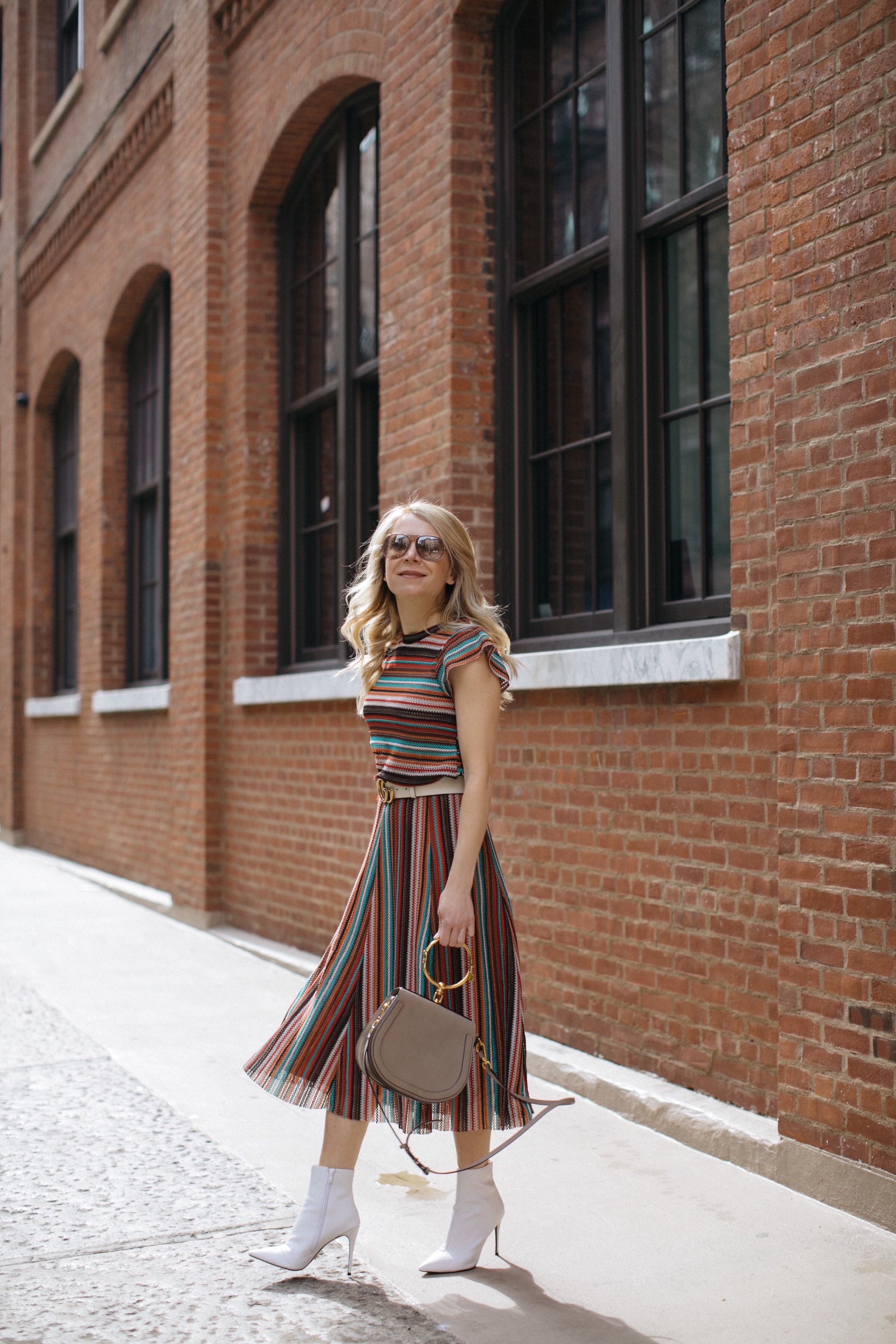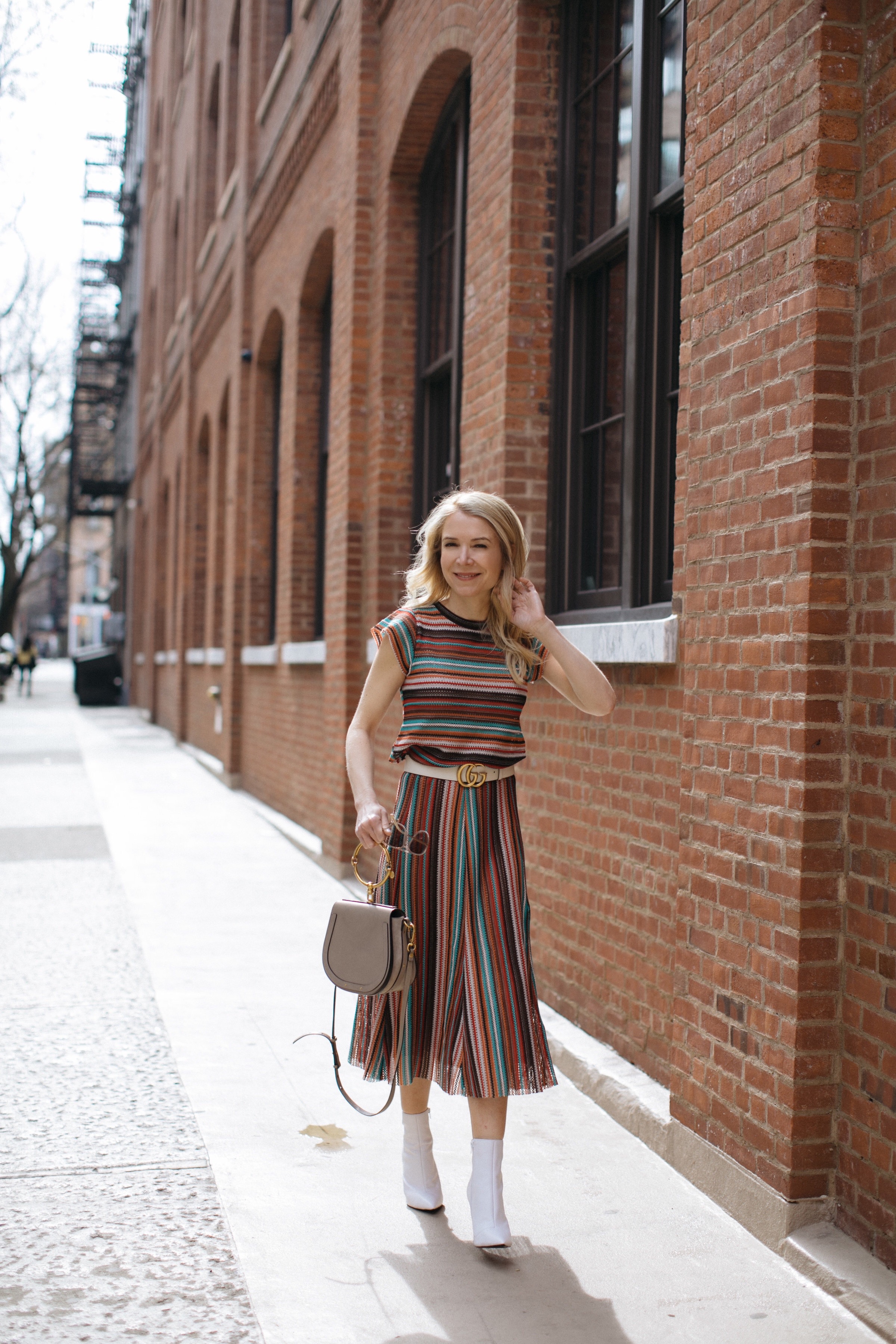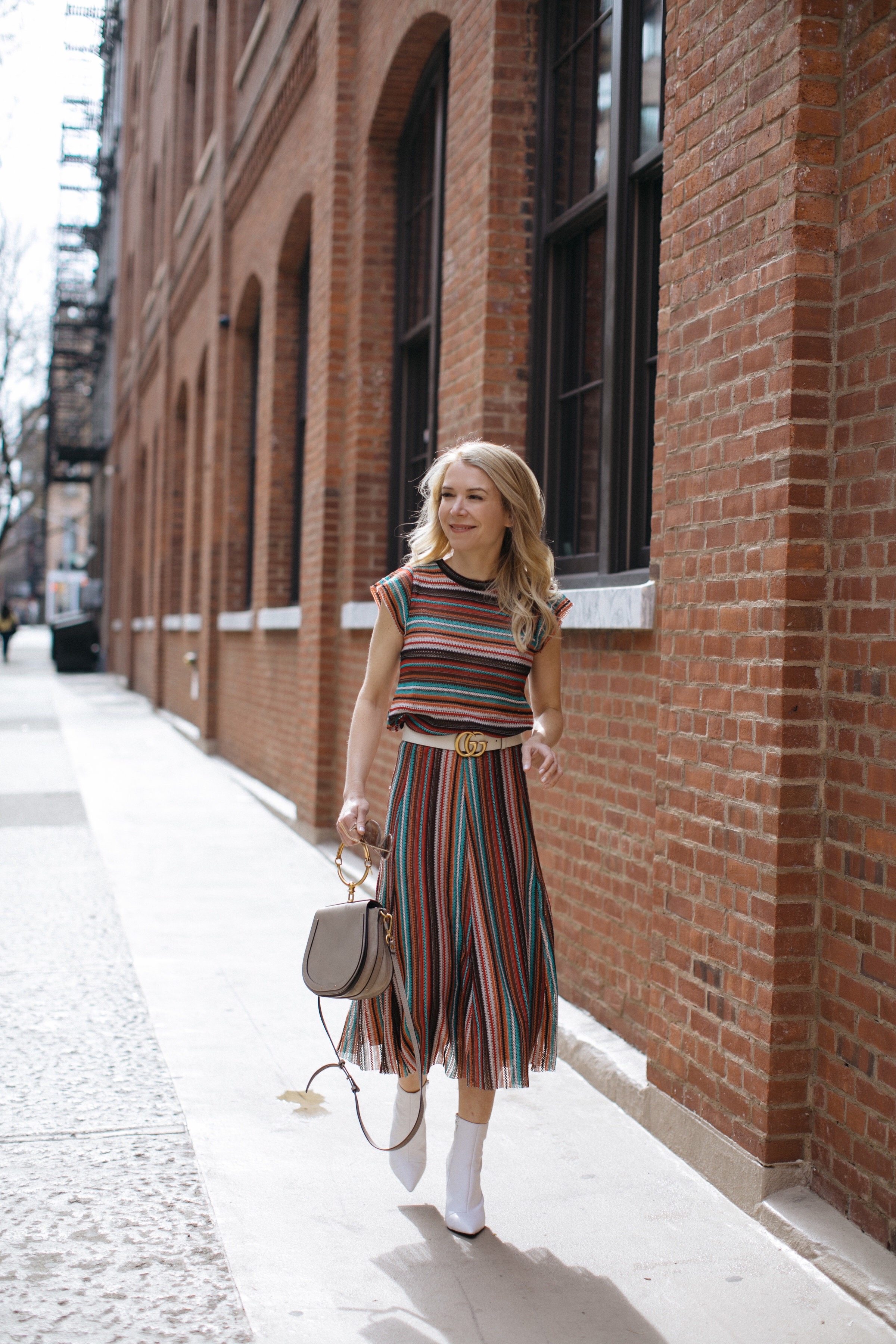 This matching set!  It looks so much like Missoni!  When I lived in London I bought a Missoni matching set that I still have, that is quite similar to this Zara matching set!  It is very intricately woven and very light and airy.  I have to say I am impressed with Zara sometimes.  I would think this outfit would be expensive to make, yet they charge so little for it.  I guess that is fast fashion for you!
I already posted this outfit on Instagram a few weeks ago but had not linked to it on my blog, and I got a lot of questions from readers for where to find it!  I also recently have been getting more questions about how I take photos for the blog, so I thought I would do a whole post on what I have learned so far about fashion blogging and posting on Instagram!
Tip #1:  having fun is the most important thing:
On Instagram, it is SO EASY to get obsessed about how many followers you have.  And to compare yourself to other people.  It can be a real downer sometimes if you photo does not get as many "likes" as you expected.  For a long, long time (months) I was stuck at 300 followers.  Then I learned that there are some best practices you can adopt to grow your following.  I have grown a lot since I started using some of these strategies, but even so, I try not to worry too much about my follower count (it is still pretty low in the scheme of things!) and instead focus on my content (e.g. wearing fun outfits and achieving great pictures!).  After all, that is the reason I started this – it is meant to be fun, not demoralizing.
Tip #2: connecting with other new bloggers is REALLY important:
The most important thing I have discovered to date is that I really, really love connecting with other up-and-coming bloggers.  I never realized how fulfilling that part of it would be!  When I first started posting, I would only follow the huge accounts like Something Navy, Gal Meets Glam, and Pink Peonies (they each have about 1 million followers) and I kind of resisted following smaller accounts.  Then it hit me – what am I trying to get out of this?  As some newer, smaller bloggers started following me, I gradually started following them back, and I realized just how wonderful these relationships are, and what they can develop into!  I now make sure that every single day I like and comment on as many different posts of these newer bloggers that I can,   You really build up your network this way.
Tip #3: keep searching for new inspiration & new accounts:
Every week or so, I scroll through the comments of bloggers I already follow, to find new accounts.  I then try to follow 5-10 new accounts of aspiring bloggers.  Even if they are not wearing clothing always to my exact taste at first glance, I follow them anyway – and I ALWAYS end up getting some amazing inspiration from their accounts.  It is important to constantly expose yourself to different styles and looks (even if it isn't your exact taste) to make sure you, yourself, don't get stuck in a rut – and you stay up to date with current trends this way!
I actually PREFER the smaller/newer bloggers now.  They are super creative, they often have really unique style to get ideas from, and they are not yet under the influence or control of brands paying them to wear certain things, so you know that what they are wearing is what they absolutely love.
Tip #4: follow accounts of people who are different from yourself:
I also look for a wide range of accounts, for example I just discovered a 66 year-old fashion blogger (@oldfashionguru) and I am so inspired by her style.  Similarly, I follow a 22 year-old (@mclovinit77) and she is so carefree and has such fresh energy – and she keeps me up to date with new makeup and even with music!  Every week I post my Friday Five Fashionistas to Follow where I highlight 5 fashion bloggers of different ages, looks, backgrounds, cultures and places.
I'm meeting so many people (virtually of course) that I would never get to meet otherwise. There are so many diverse people from around the globe who are interested in fashion and love posting their outfits and seeing others' posts too.  Fashion is universal! I love that there seems to be room for us all on Instagram, no matter where we are from, how much money we have, whether we are old or young, heavy or slim, tall or short (or somewhere in between all of these things!).
Why I started posting photos on Instagram:
When I first started doing this, I kept it a secret from even my closest friends.  I did not link up my Facebook and I did not publicize it.  I was kind of embarrassed.  I worried that people would think I was vain for posting photos of myself all over the internet. I think for younger people it feels more natural to put yourself out there on social media, but people my age did not grow up with it so it is definitely something to get used to.
But, I had stopped working as a lawyer and I felt a little empty.  I was home with my two daughters but I didn't really have any hobbies.  Up until that point, work had always taken up so much of my headspace!  Also, I didn't really find too many friends in the other stay-at-home-moms in NYC (except for a select few, you know who you are if you are reading this).  I felt a little lost and adrift.
So I tried to think about what I liked most and what I was good at, and what I would do if I could do absolutely anything.  The answer always came back to fashion.  I have always loved it.  I avidly read tons of fashion blogs and follow tons of fashion girls on Instagram.  I spend a lot of time choosing my outfits and coordinating them, even for every day.  I would get compliments from strangers around NYC – in Starbucks or wherever – usually a few times every day, on my outfit or something I was wearing.  So I thought, maybe I could do a fashion blog and Instagram too!  And at my age, either I start it now, or probably it will never happen.
How I got started:
Once I decided to take the plunge, I moved fast.  I looked on Instagram at the accounts of some fashion bloggers I like to try to figure out how it all works.  I noticed that a few of them who are based in NYC were working with the photographer Lydia Hudgens.  So I emailed her.  We met for coffee, then shot some test photos.  Lydia did such an amazing job – I was pleasantly surprised that the first outfit photos turned out as well as they did.  I set up my Instagram handle and posted my first photos.  I think if I hadn't hired Lydia for those first "test" photos and/or I had gotten bad or unflattering pictures back, I may never have decided to pursue this!
At first it did feel weird and self-obsessed to post pictures of myself on the internet, but now it feels completely normal.  It is just what I do.  I love the challenge of finding the right outfit and then getting the right photo!  It is trial and error – you really see what looks good and what doesn't when you get the photos back.  I have learned so much more about styling clothing.
More about the photographer I work with for almost all my Instagram posts, Lydia Hudgens:
I am always impressed with Lydia's work.  She started taking blog photos when fashion blogging first became a "thing" back around 2007-2008. Many of her clients are all now really established bloggers. She is very experienced and tells me what to do, to walk or stand still, how to move around and gives me tips on posing.  She knows exactly where we can change outfits during our shoots all around NYC (usually bathrooms in hotel lobbies and sometimes coffee shop bathrooms).  And Lydia always chooses the background. She looks at what I'm wearing and takes me to the exact wall or street she thinks will set it off best.
So if my photos are good it is totally down to Lydia. I just pick the clothes. She herself is an influencer and she has the most striking and inspiring page. I have learned a lot from her, and I really appreciate how she continuously reinforces that fashion is for everyone, all body types, ages, cultures, races and genders. It really has affected my view – I didn't even realize it but I think I did hold an insidious, subconscious bias that fashion only looks good if its worn by a tall, skinny, and generically pretty model. Going on Instagram and seeing so many diverse people wear clothes and look fabulous in them has been a huge eye opener for me and it is what I absolutely love the most about it!
Anyway!  I will stop here.  This post is already so long! I will continue to post about the ins and outs of starting a fashion blog, as I go!  Thank you so much for reading!
xxxxx
Laura
Photos by Lydia Hudgens