Coat: Chicwish | Blouse: Chicwish (similar here) | Skirt: Chicwish (also love this one | Socks: & Other Stories | Shoes: Gucci | Bag: Chloé | Glasses: Forever 21 (similar here)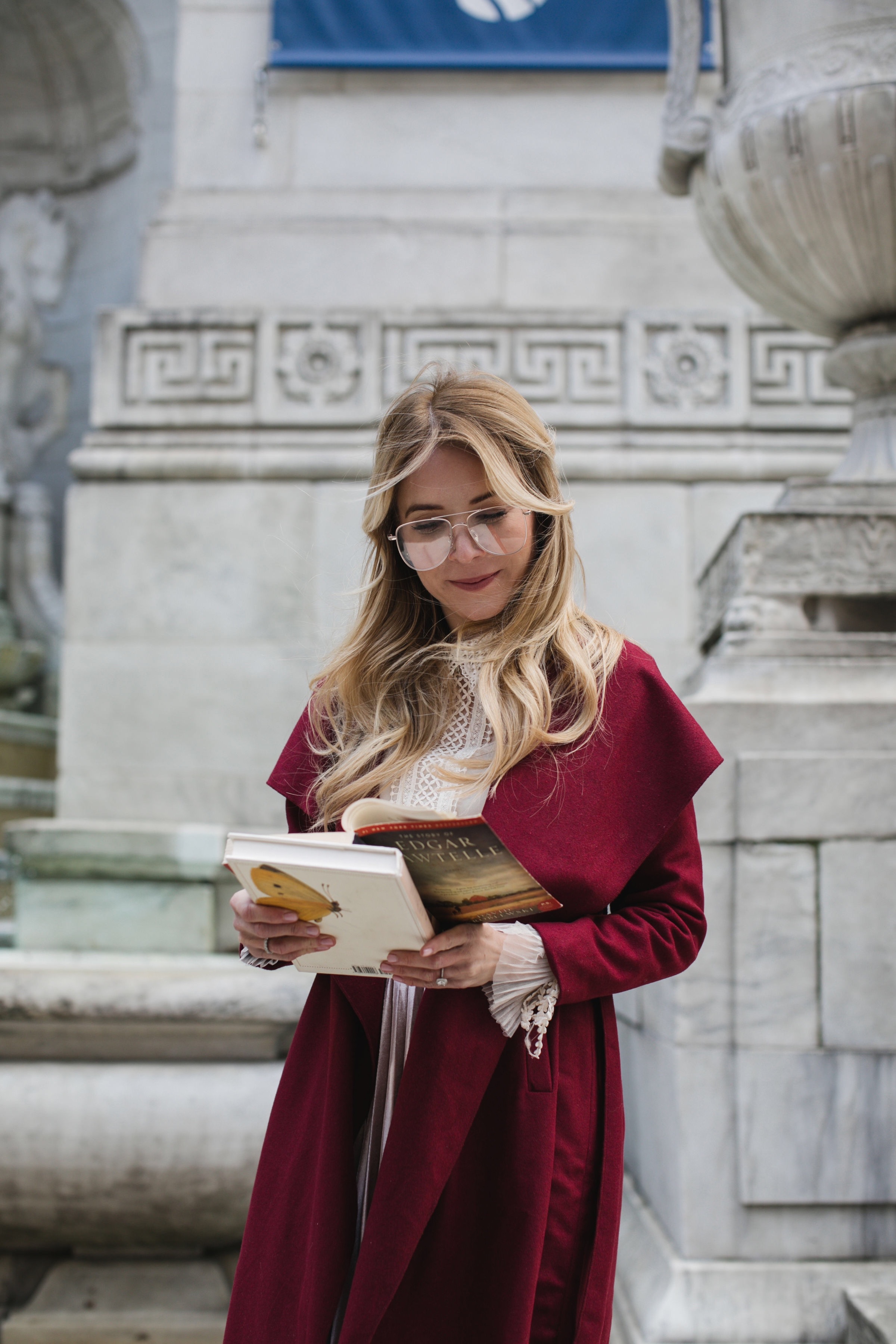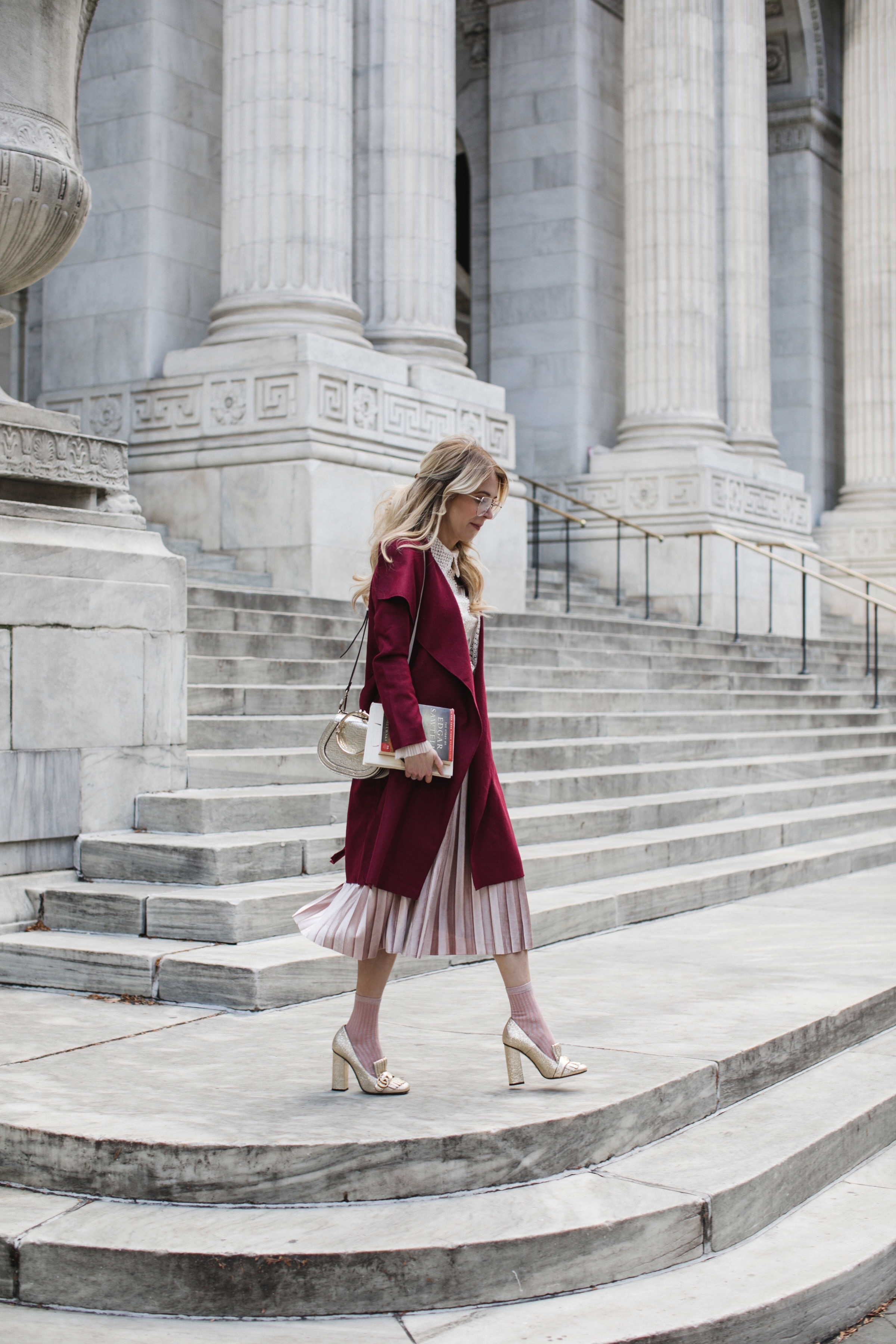 It is no secret that I love to read!  I am a voracious reader and probably read a new book every 2-3 days depending on its length.  The reason I am able to get through so many books is that I read every single night on my Kindle without fail before I go to sleep.  I love the Kindle because you don't need to have your bedside lamp on.  The Kindle has gentle backlighting, having the lights out in my room when I get into bed really helps me wind down towards sleep.  Sometimes I read for only 30 minutes, other times I will read for 2 hours if I have a page turner.  Also I read bits throughout the day – from the Kindle app on my iphone I will read a few pages in line at the post office, on the subway, and sometimes even when I am stirring something on the stove.
I always say that my absolute favorite thing to do is to read.  If I were stranded on a desert island and only could do one activity for the rest of my life, that would be it.  I am not too picky about what books I read either.  I read trashy fiction, as well as the classics.  I sometimes read current bestsellers and sometimes I pull up books that were written a long time ago.  I just love getting lost in a good story – for me, reading is an escape like no other!
I thought I would share five standout books I have read recently, in December and January!  So without further ado, scroll down below to see my list!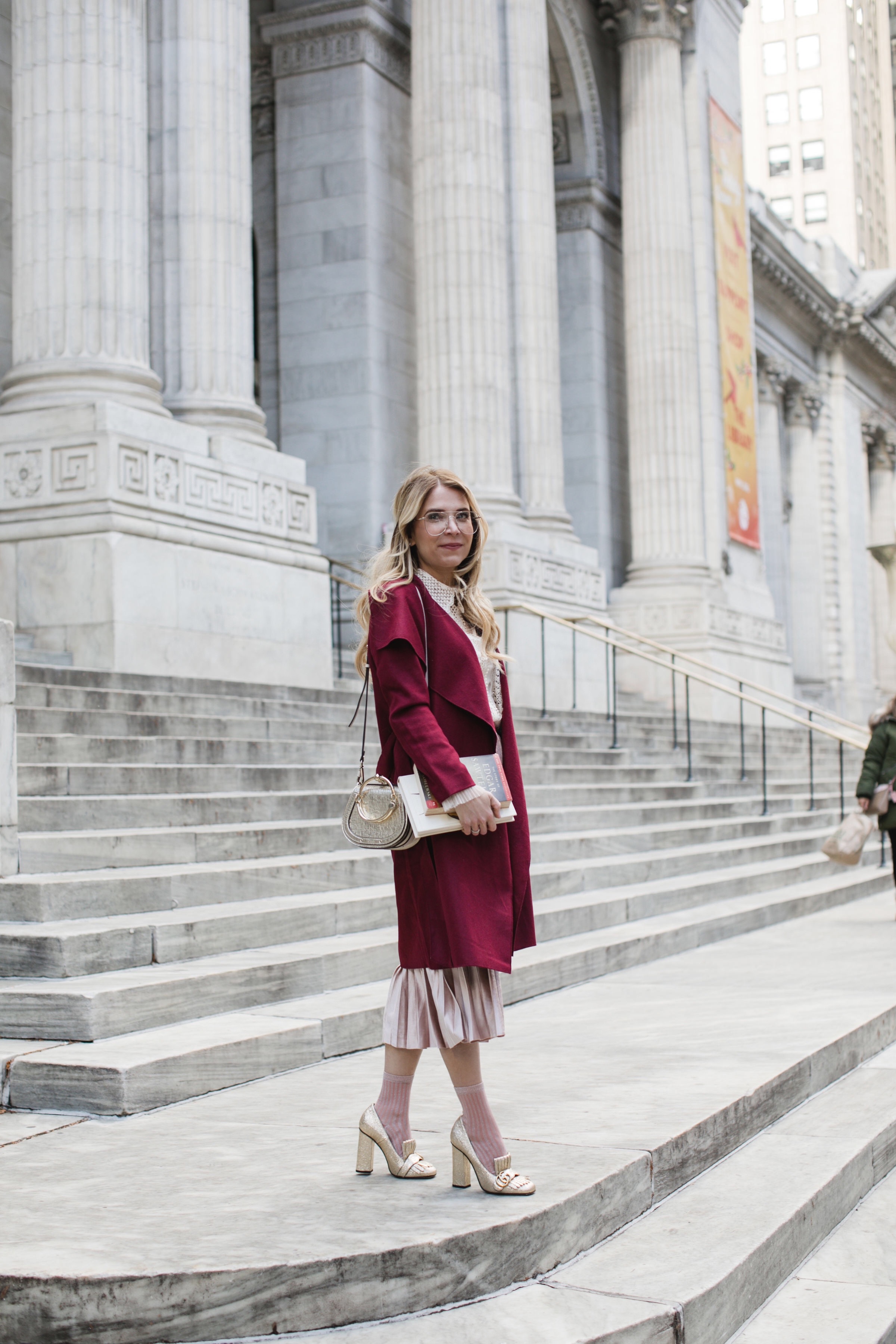 Educated by Tara Westover.  I cannot say enough good things about this book, I finished it only two days ago and cannot stop thinking about it.  It is a memoir of 32-year-old Tara Westover, who grew up in Idaho in a fundamentalist survivalist Mormon family.  She lived on a farm near Clifton, Idaho with her dad, mom, and 6 siblings.  Her dad ran a junkyard on their property, and her mom was a midwife and herbalist.  Her parents refused to allow any of their seven children to attend school and barely taught them even to read, instead they are forced to work in the junkyard handling dangerous scrap metal without hard hats, and help their mother concoct homeopathic medicines.  The only books in the house were the Book of Mormon and some religious texts.  The family stockpiled food and weapons for the "end of days" and Y2K.  The parents also did not believe in doctors and would not take their kids for treatment even when they sustained serious injuries.  Tara never received her vaccinations and she did not get a birth certificate until she was nine years old.  The beginning of the book is all about her childhood and what it was like to grow up in this kind of family.  It is absolutely shocking, especially since it is all pretty recent (the author is only 32 now).  The later part of the book is even more amazing – encouraged by her older brother she gets a math book and teaches herself enough to take the ACT and get into BYU.  Never having even gone to school she starts BYU at 17 and ends up with a PhD from Cambridge University in England at age 27.  It is truly an unbelievable story and I recommend it to everyone especially women.  It shows that you can do anything if you put your mind to it, teach yourself anything and how important it is to take agency to shape your own mind and your own curriculum.  No one else can do it for you!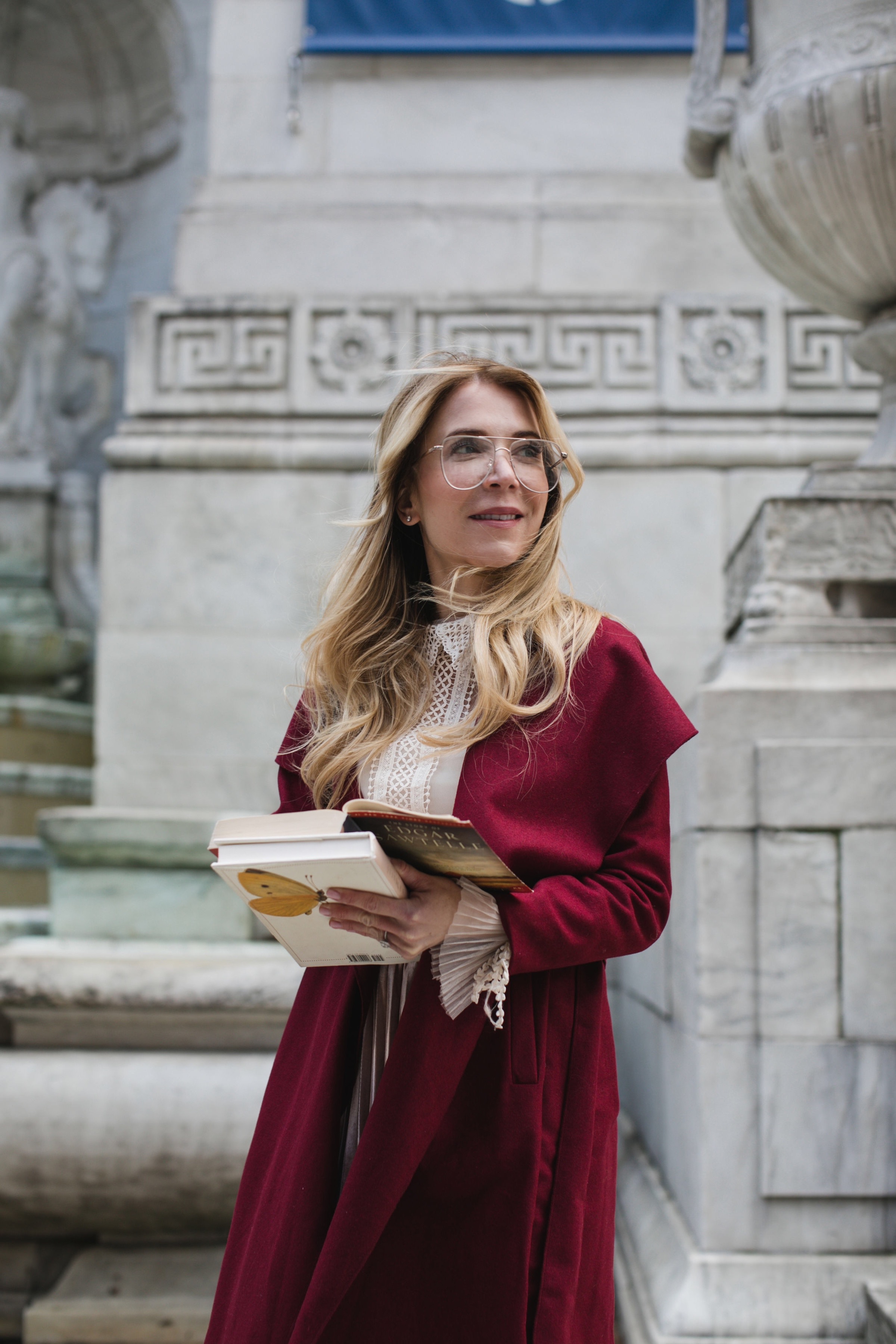 Pachinko by Min Jin Lee.  A standout multigenerational novel starting in the 1900s about a Korean family that ends up in Japan.  Until I read this novel I had no idea what it was like for Koreans in Japan and the racism and oppression Koreans faced in the twentieth century and how hard they had to work.  This book is so good, you cannot put it down.  It is a true page turner.  It is not at all boring even though it is a historical novel; the characters are so wonderful.  It is colorfully written and one of the best books I have read in the last year.
Free Food for Millionaires by Min Jin Lee.  I read this other novel by Min Jin Lee as soon as I finished Pachinko because I liked Pachinko so much.  This book is good, but maybe not quite as good as Pachinko.  It takes place in the 1980's and 1990's.  Its heroine/main character is Casey, a young Korean American girl trying to find her way in New York City after college.  She grew up in Queens very poor – her dad and mom ran a dry cleaner – and she went to Ivy League schools on scholarship.  The book focuses on her struggle to fit in with her upper class white school friends at university and wealthy society in New York and to figure out her career path.  It was a really interesting book and I loved it!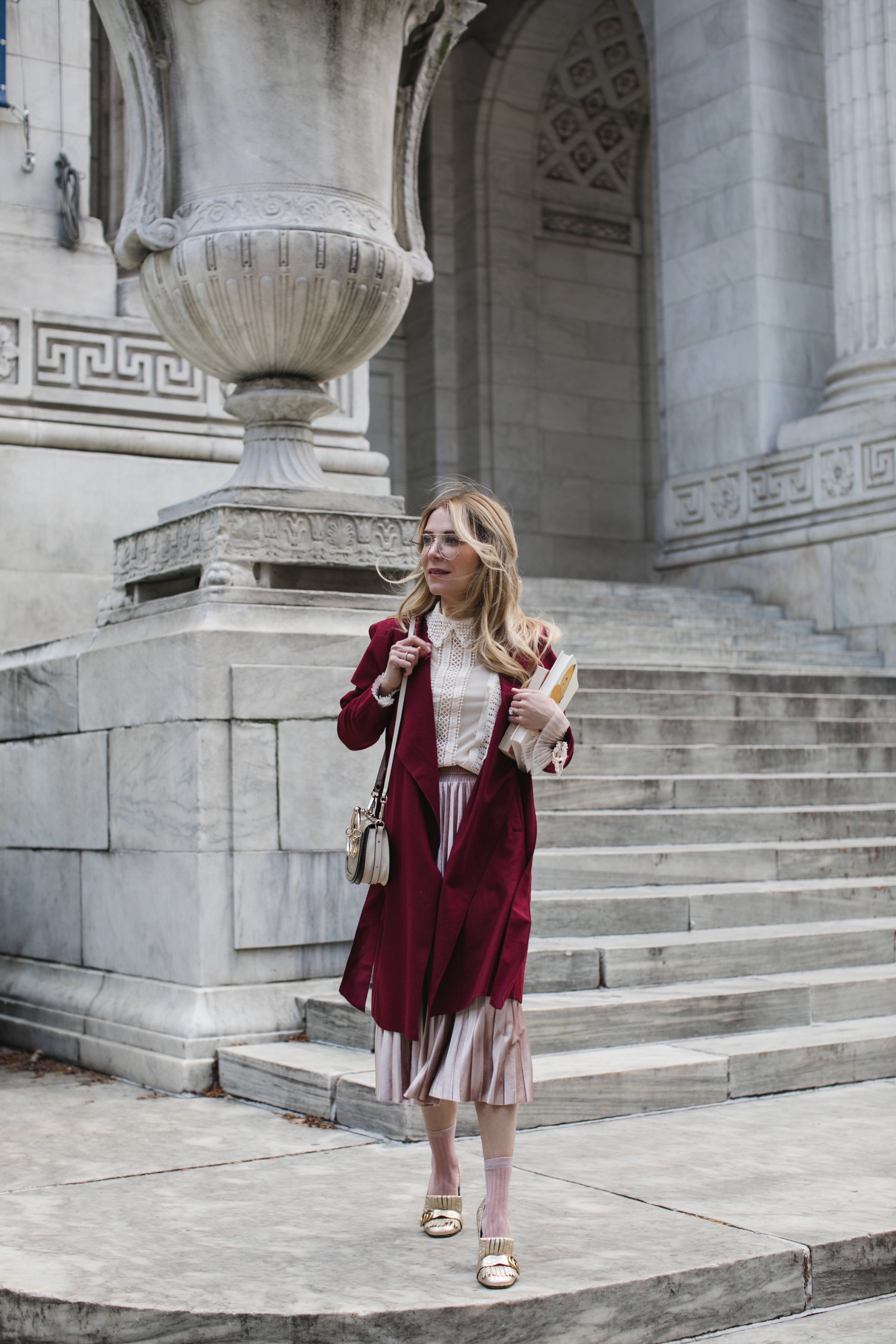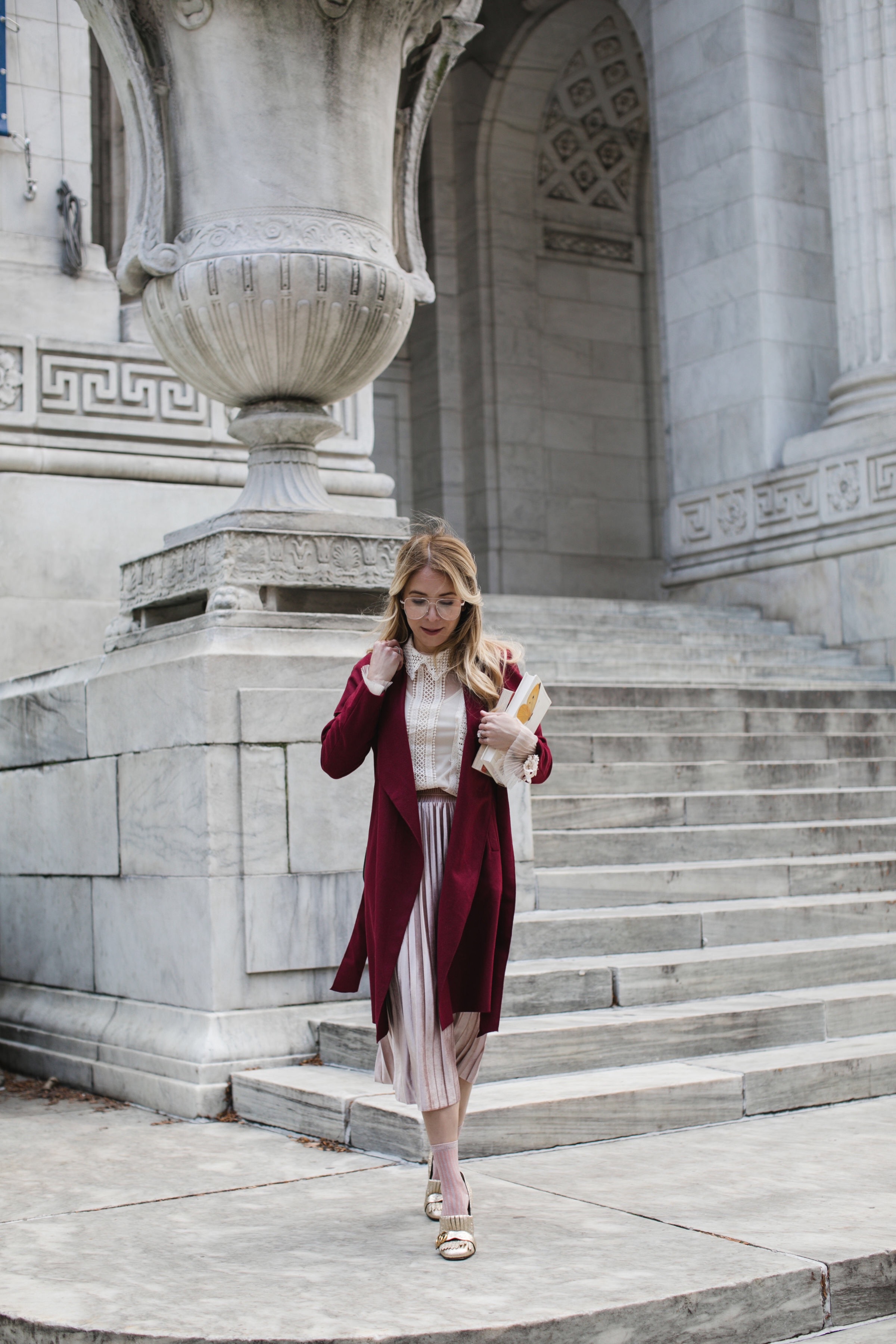 The Witch Elm by Tana French.  Tana French is a great crime novelist, the author of the famous Dublin murder squad series.  This is her first standalone novel and is a murder mystery set in Dublin.  I highly recommend all the books by Tana French.  The Dublin murder squad series is wonderful.  I stumbled upon one of the books in the series late last year and loved it so much I went back and read every single one of her books, in order, over November and December.  I was sad when I finished all of them.  Especially if you have any interest in Ireland and what life is like there, I highly recommend her books.  I can't wait for her to come out with another one.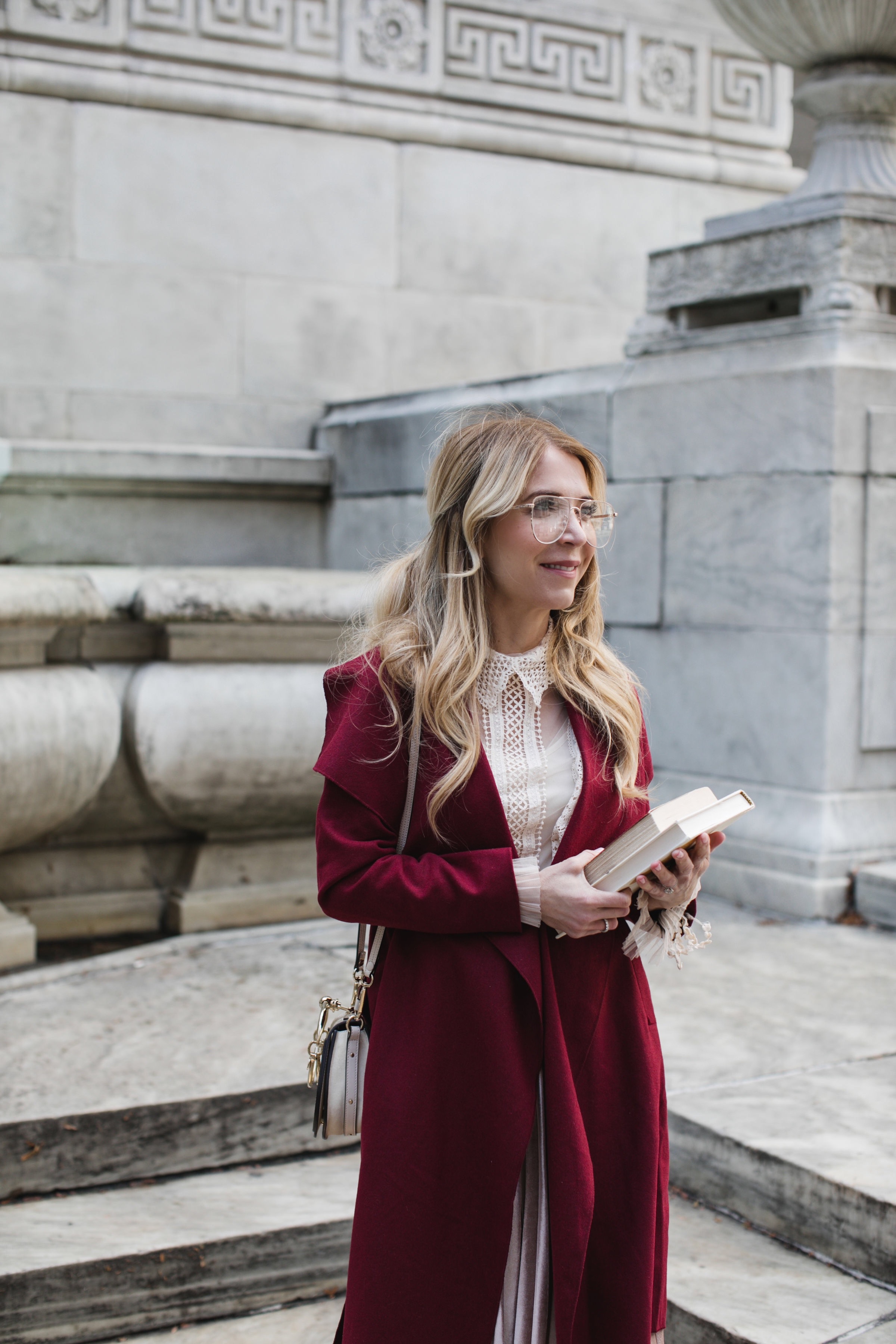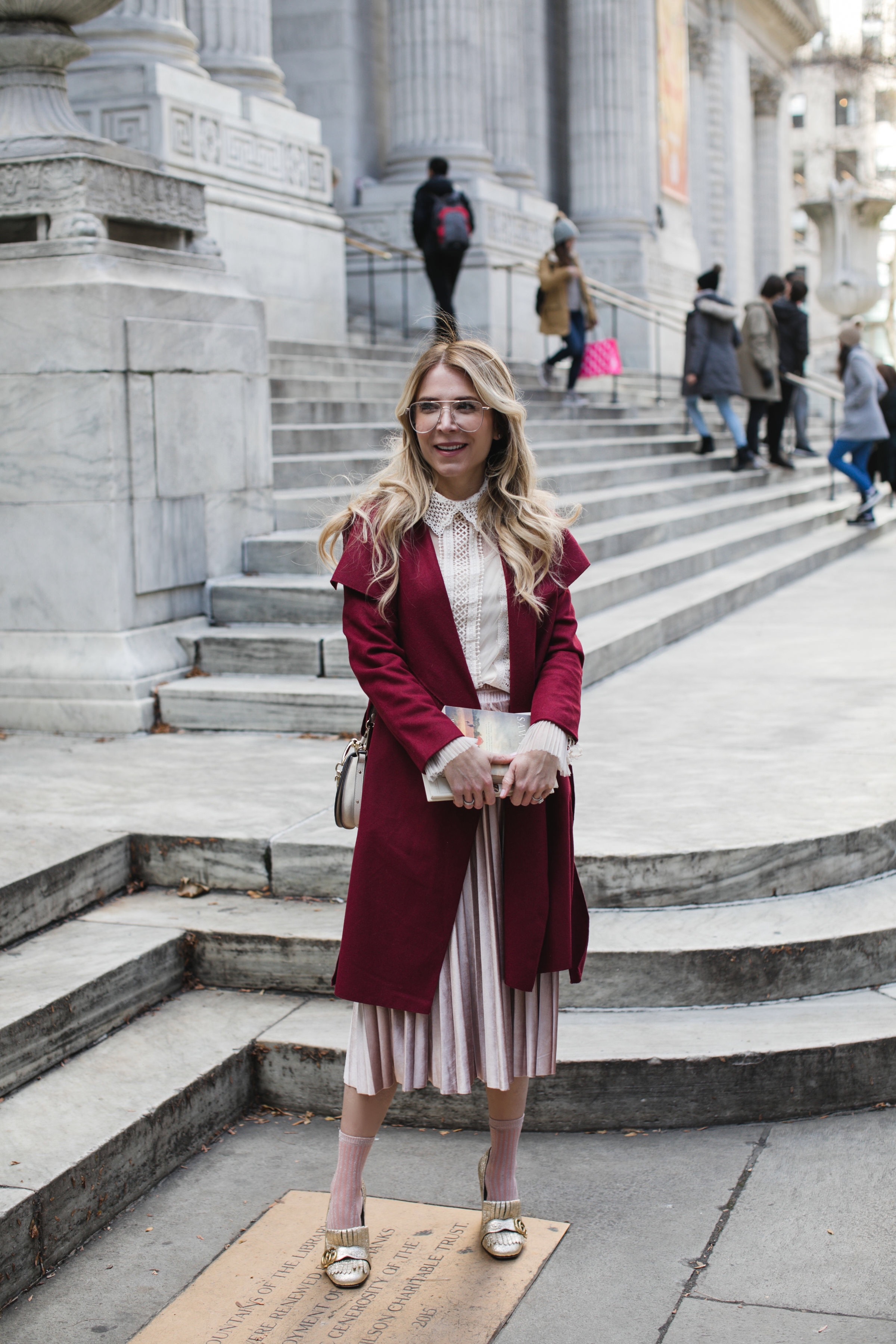 Kingdom of the Blind by Louise Penny. This is the most recent book in the Chief Inspector Armand Gamache series.  If you have not read any Louise Penny books, I recommend starting with the first one in this series called Still Life.  I have read every single one of her books – I love her writing and the characters – by now I feel like they are old friends.  They take place in a rural village south of Montreal, Québec and since I started reading her series I have become fascinated by Canada and we have been three times to Québec City to visit.  They are truly wonderful books if you love mysteries like I do.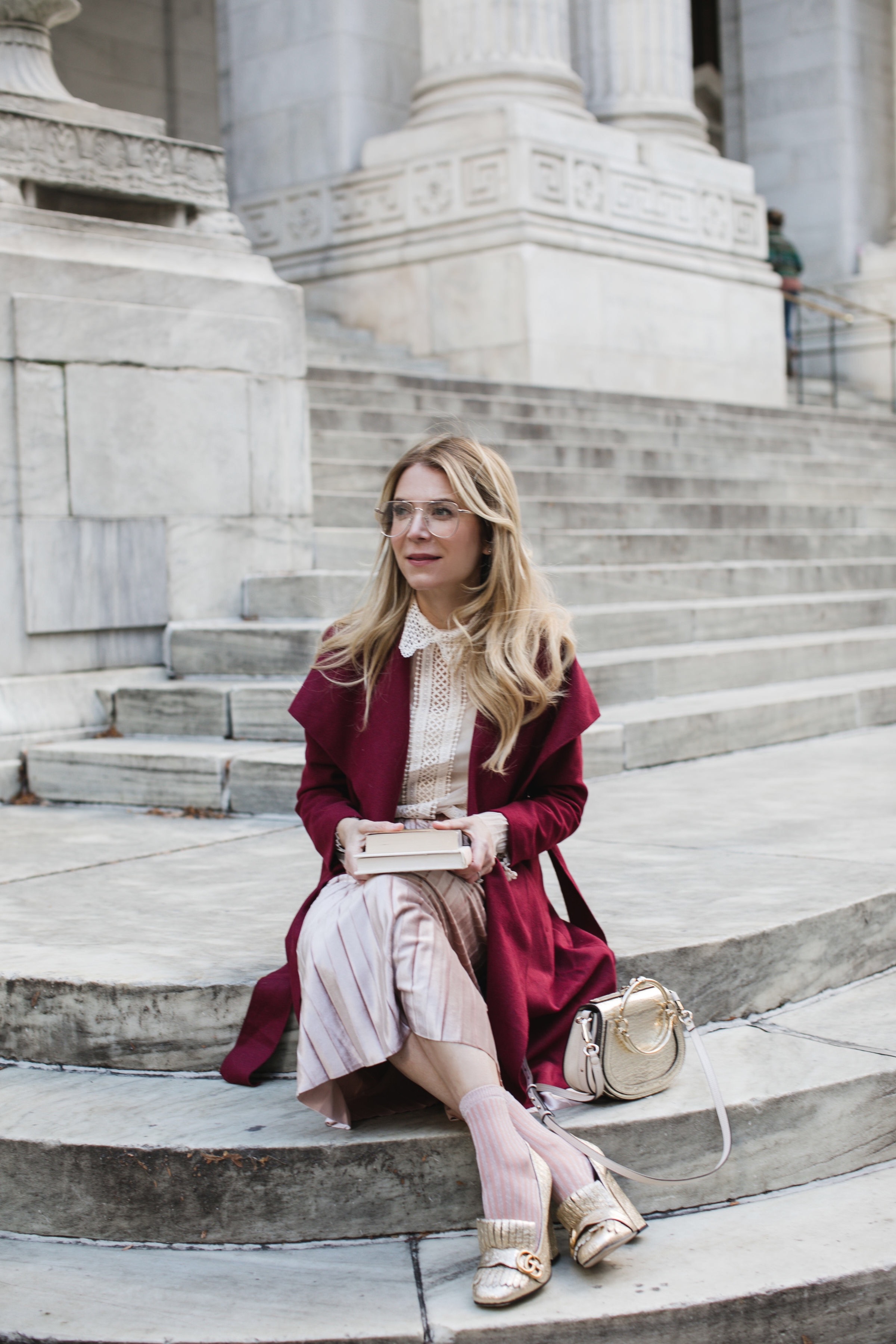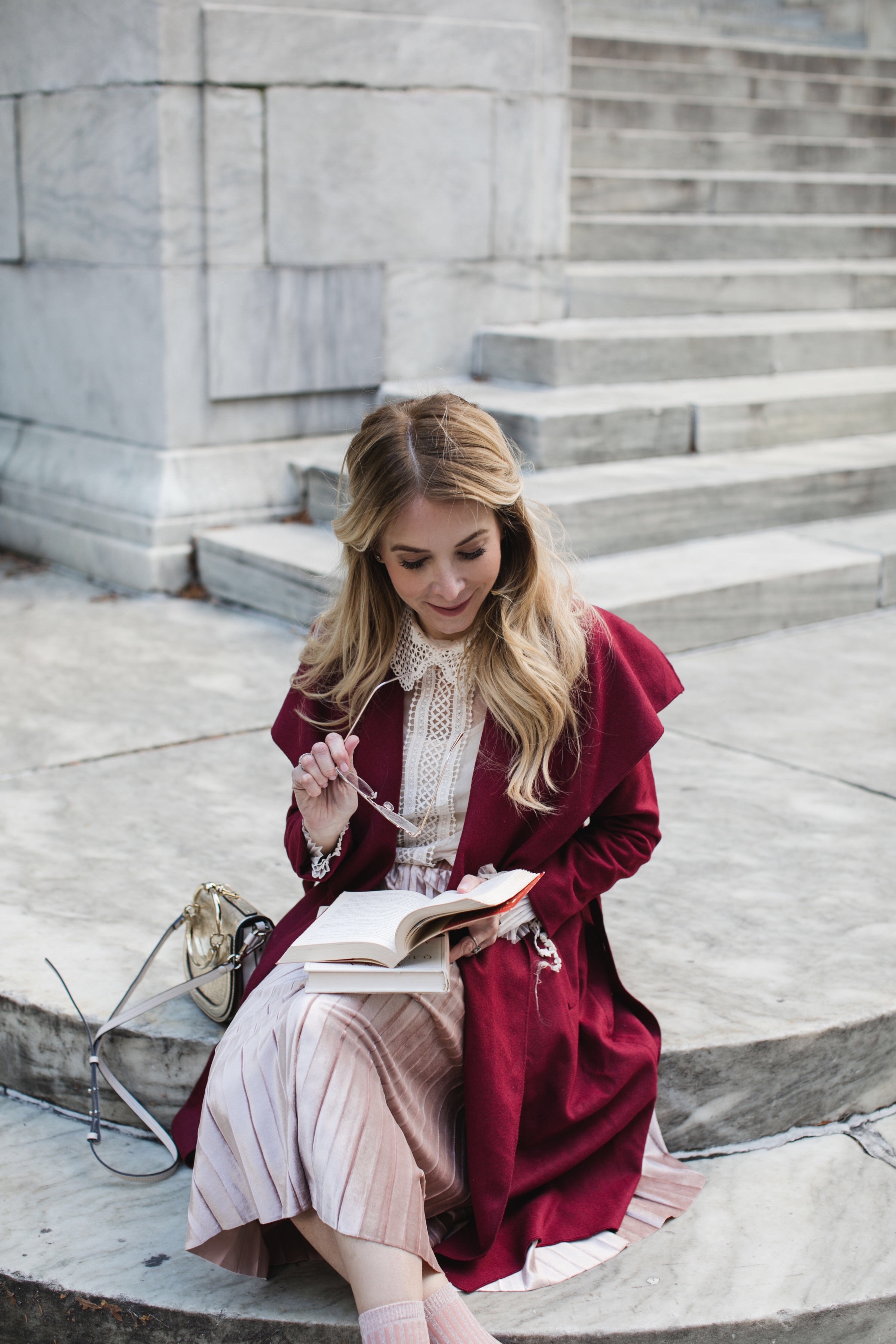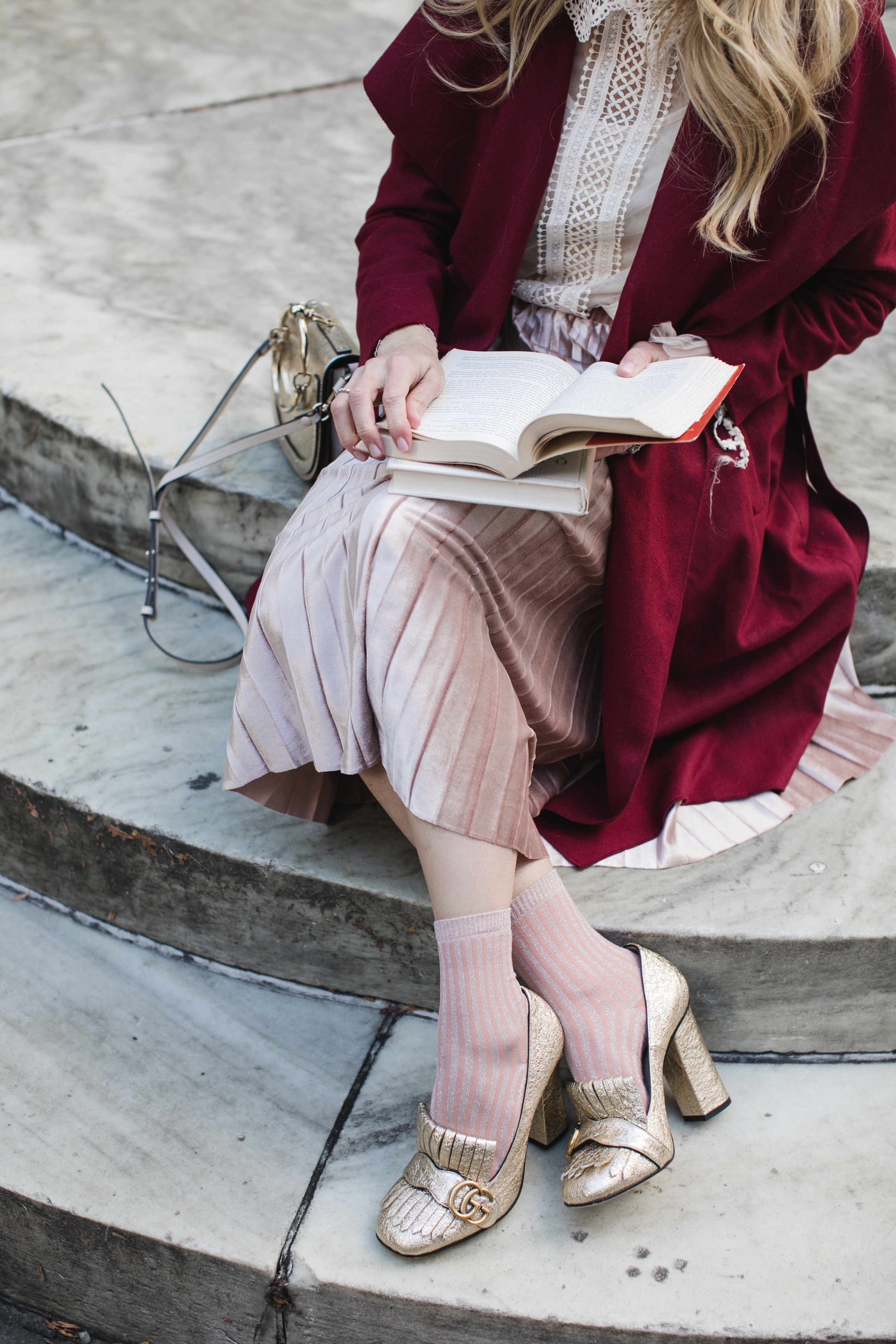 So happy reading!  I will try to make these book posts a recurring feature on here from now on.
And finally, this beautiful outfit was gifted to me by Chicwish.  I always love their clothes and how romantic and feminine they are!
xxxx
Laura
Photos by Lydia Hudgens
BOOK LIST

SHOP THE POST