Dress: Ulla Johnson (sold out, similar here and here) | Girls' Dresses: Zara | PVC Mules: Jeffrey Campbell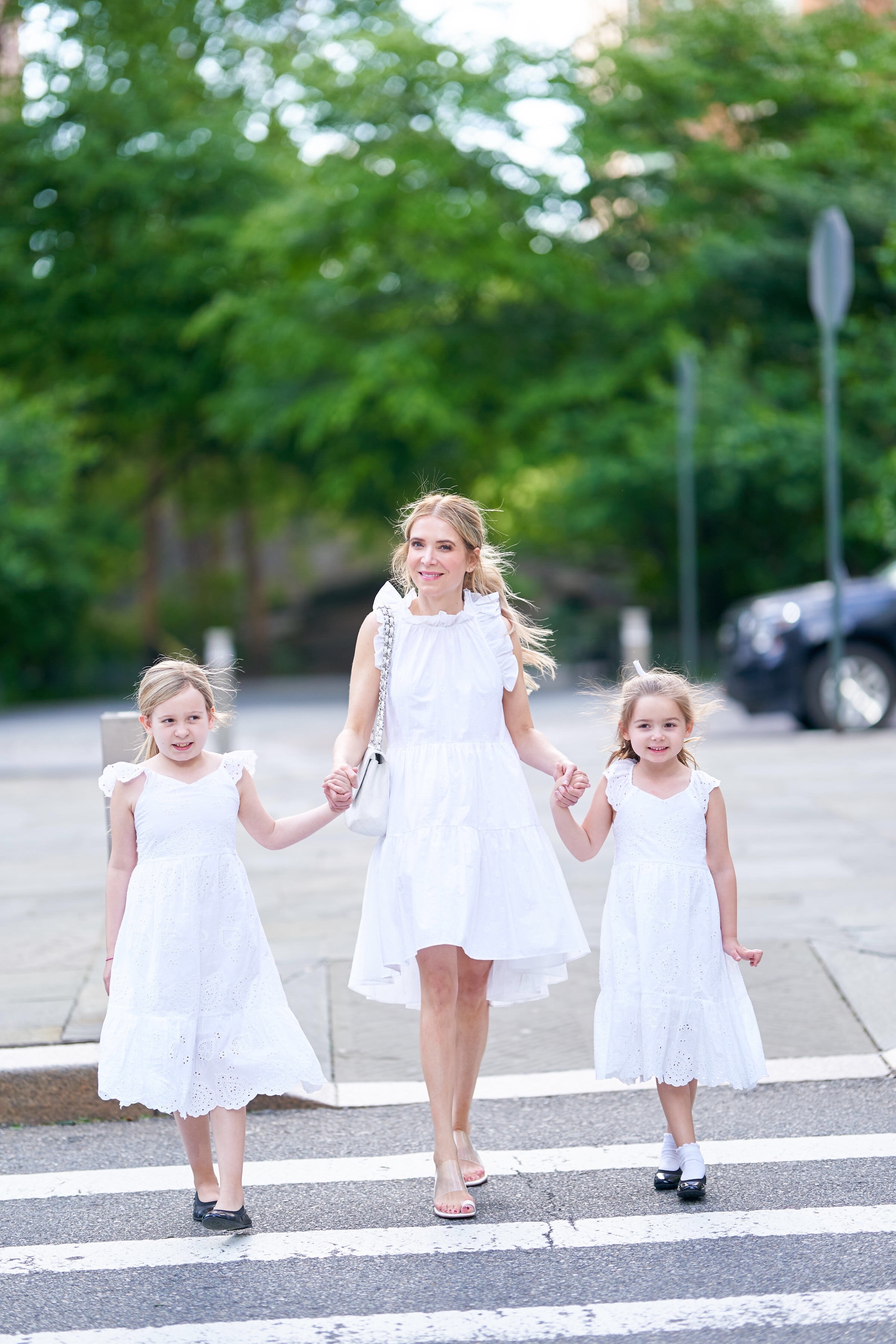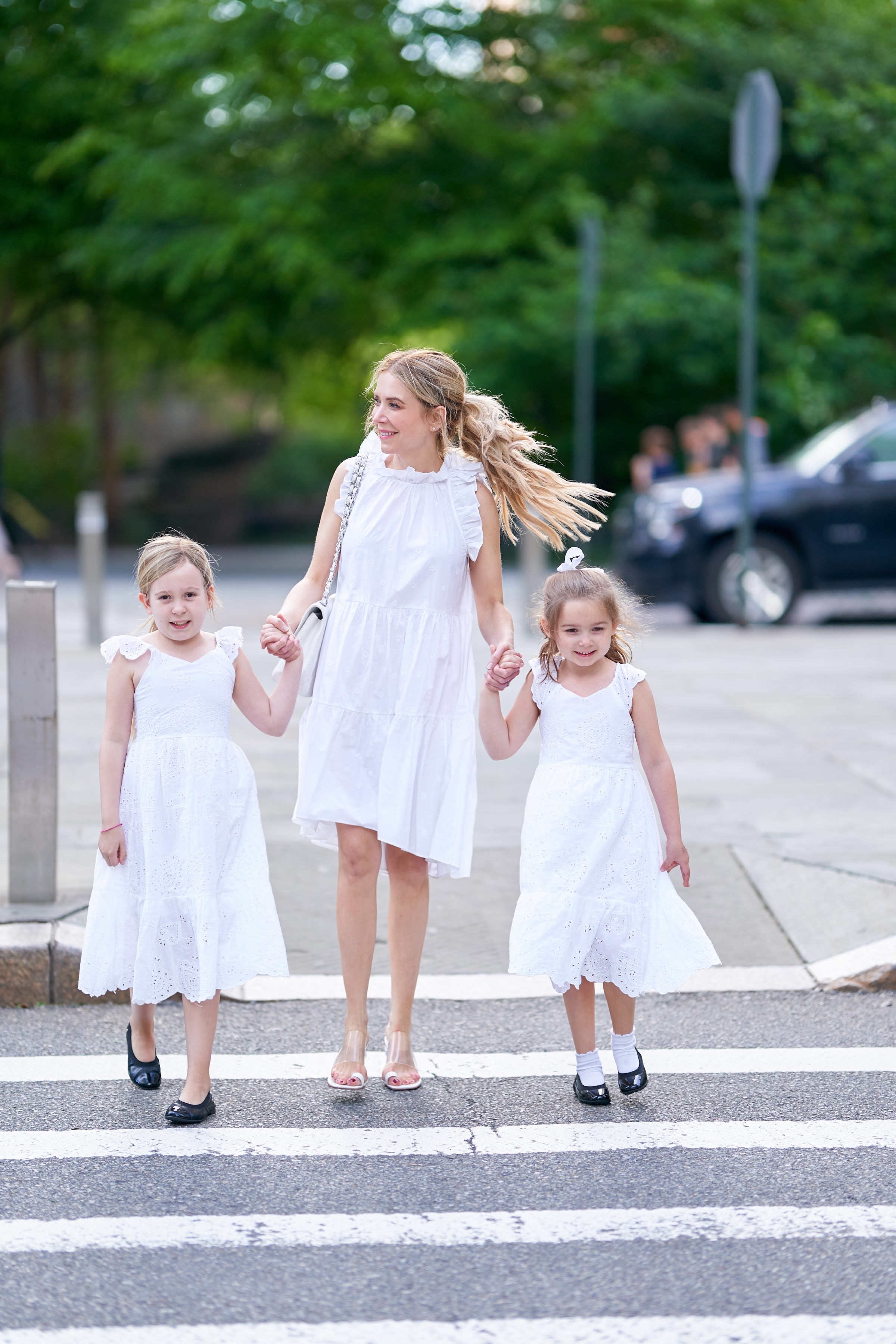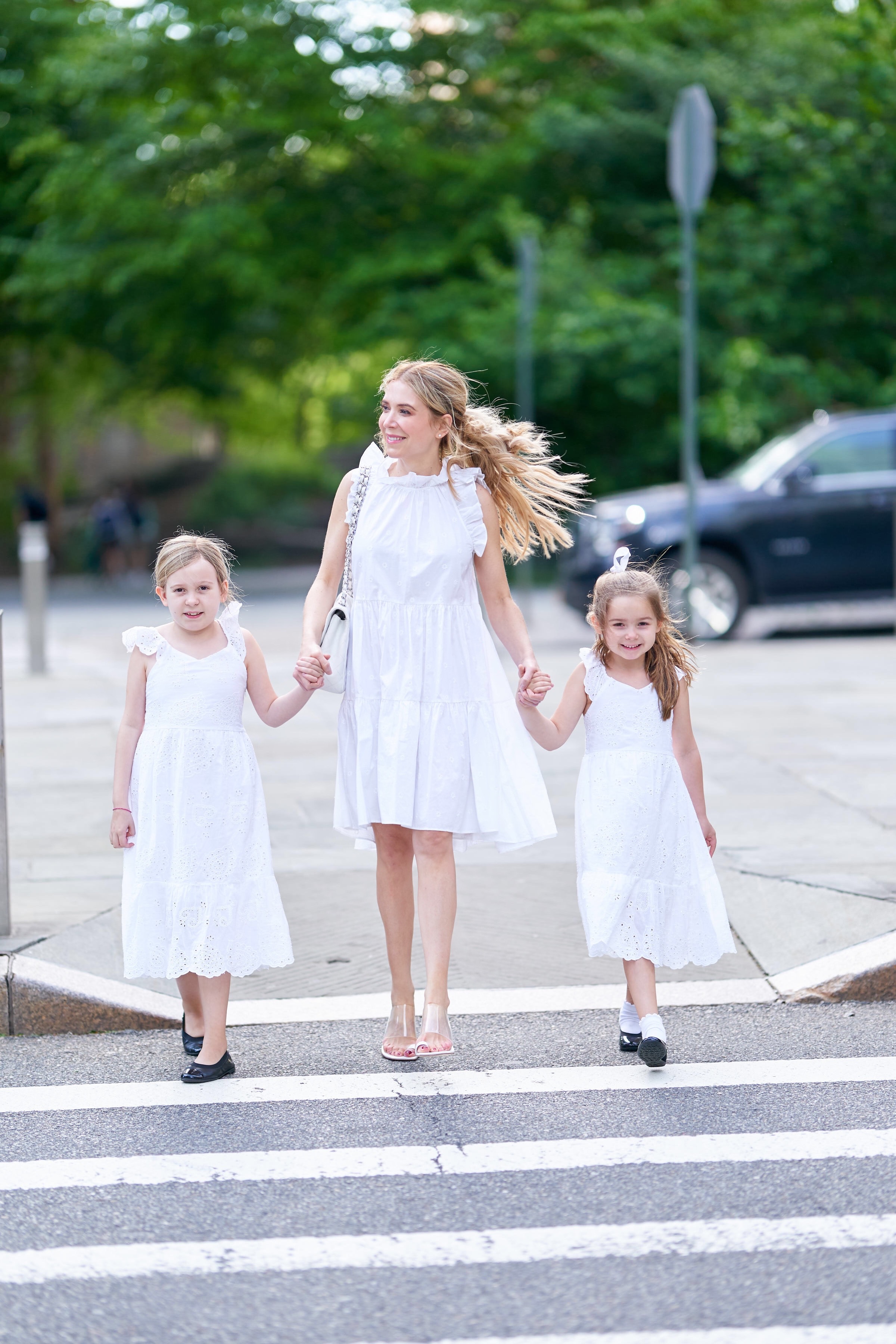 The season for white dresses has officially kicked off!
Happy Memorial Day!  I have never, ever bought into the antiquated rule that we aren't supposed to wear white before Memorial Day and after Labor Day, but there is something about Memorial Day that does unofficially kick off the season of crisp white dresses.  And every girl needs a crisp white dress for summer, whether she's 8 or 80, in my opinion!
Every year I get one or two white dresses for each of my daughters for summer.  I usually get them matching longer length dresses in broderie anglaise, it's always so pretty and fresh.  The girls wear them to dinners or barbecues all summer long!    I usually buy their white dresses at Zara (eg the ones they are wearing in the photos are from Zara) but I have linked a few cute ones above from Nordstrom and J.Crew as well.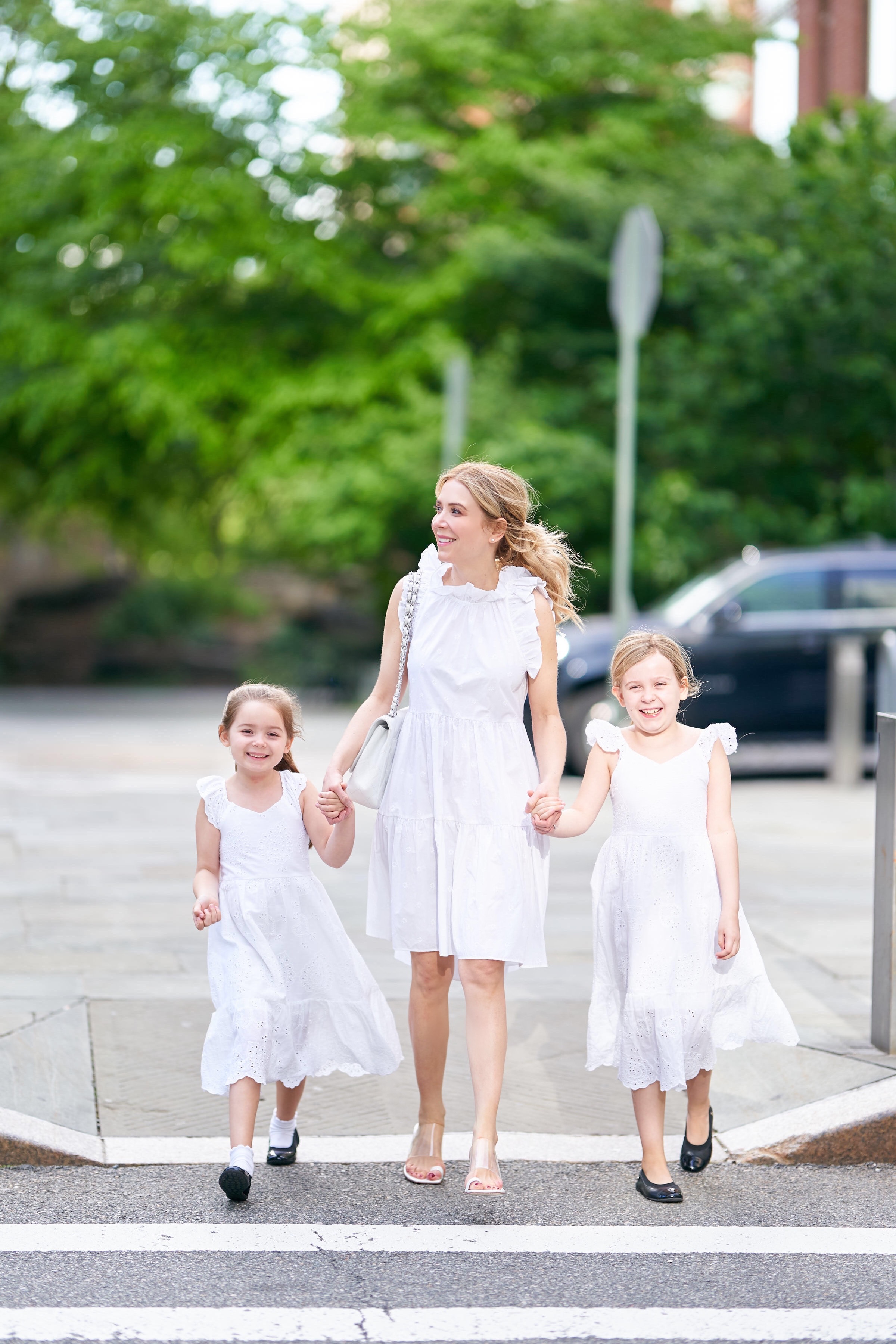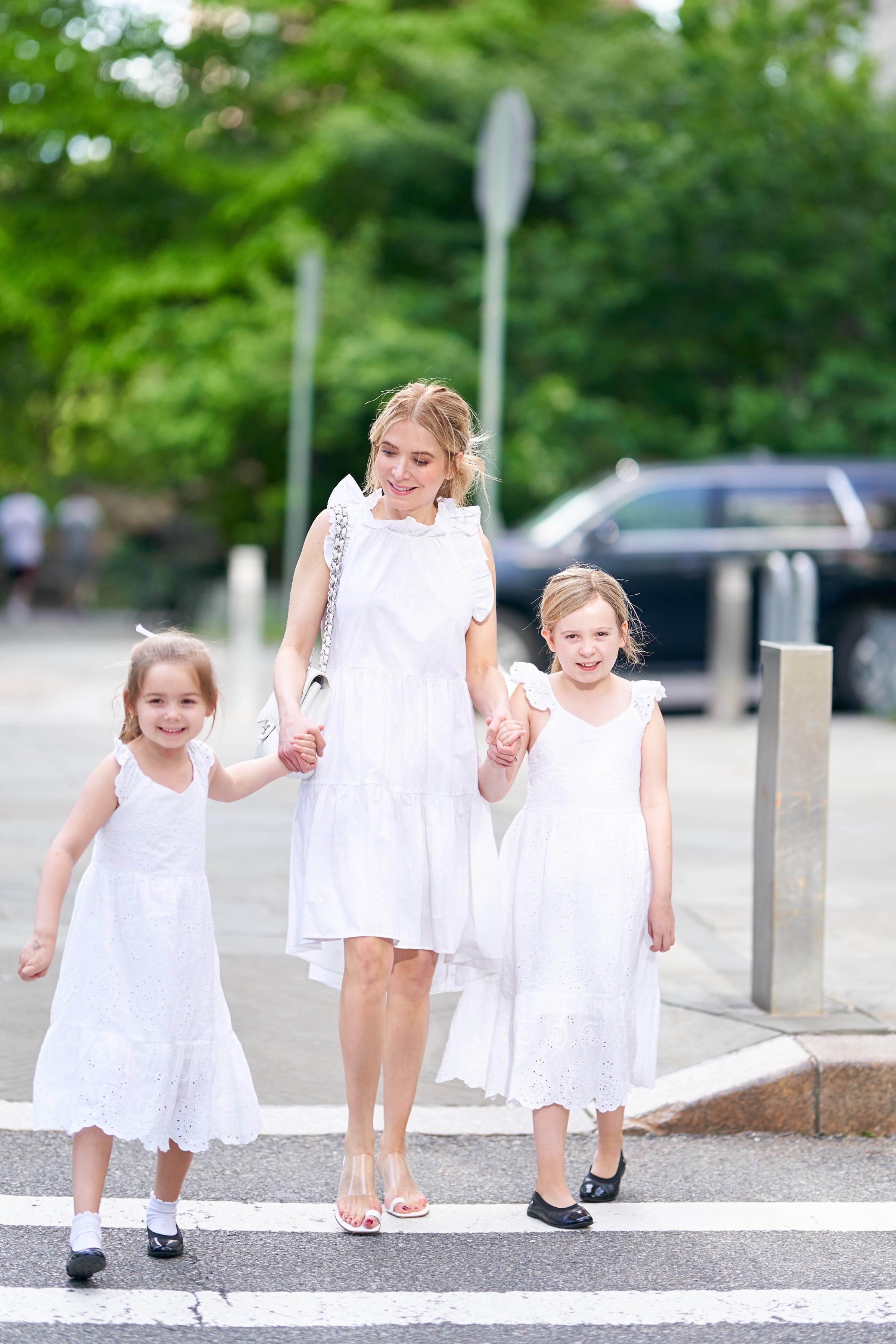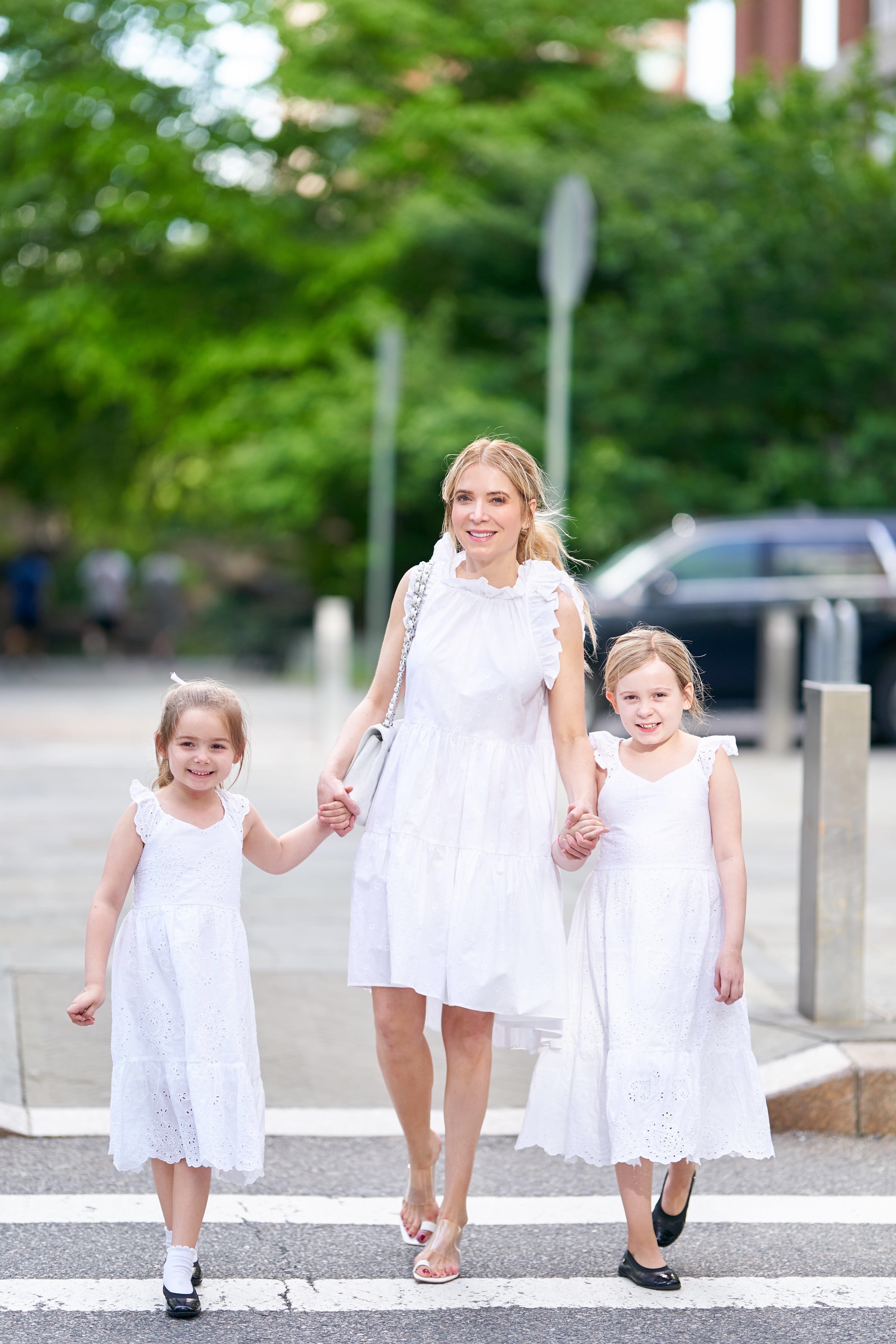 And let me just talk for a minute about Ulla Johnson….
And this year, for me, I have found a few white dresses from Ulla Johnson that I am crazy about.  I do think her clothing is pricey but I have actually found that she is one of the few designers whose pieces actually last and are re-wearable year after year.  (Plus I try really, really hard to only buy Ulla Johnson on sale…)  Ulla Johnson doesn't really go out of style and still looks fresh and up to date even several seasons later.  For some reason her pieces universally are comfortable, the fabric feels good, and nothing is too tight – as a brand it is just user friendly, if that makes sense, and it is SO wearable for everyday.
I have really started to try to buy fewer pieces and keep them for longer.  I try to buy from designers I can re-sell  – my representative from the Real Real, Christopher, has told me that Ulla Johnson is one of the most sought after brands on their site- if you consign a piece by her, it will usually sell really fast for a decent price.  So I'm all for buying a few Ulla Johnson pieces every year.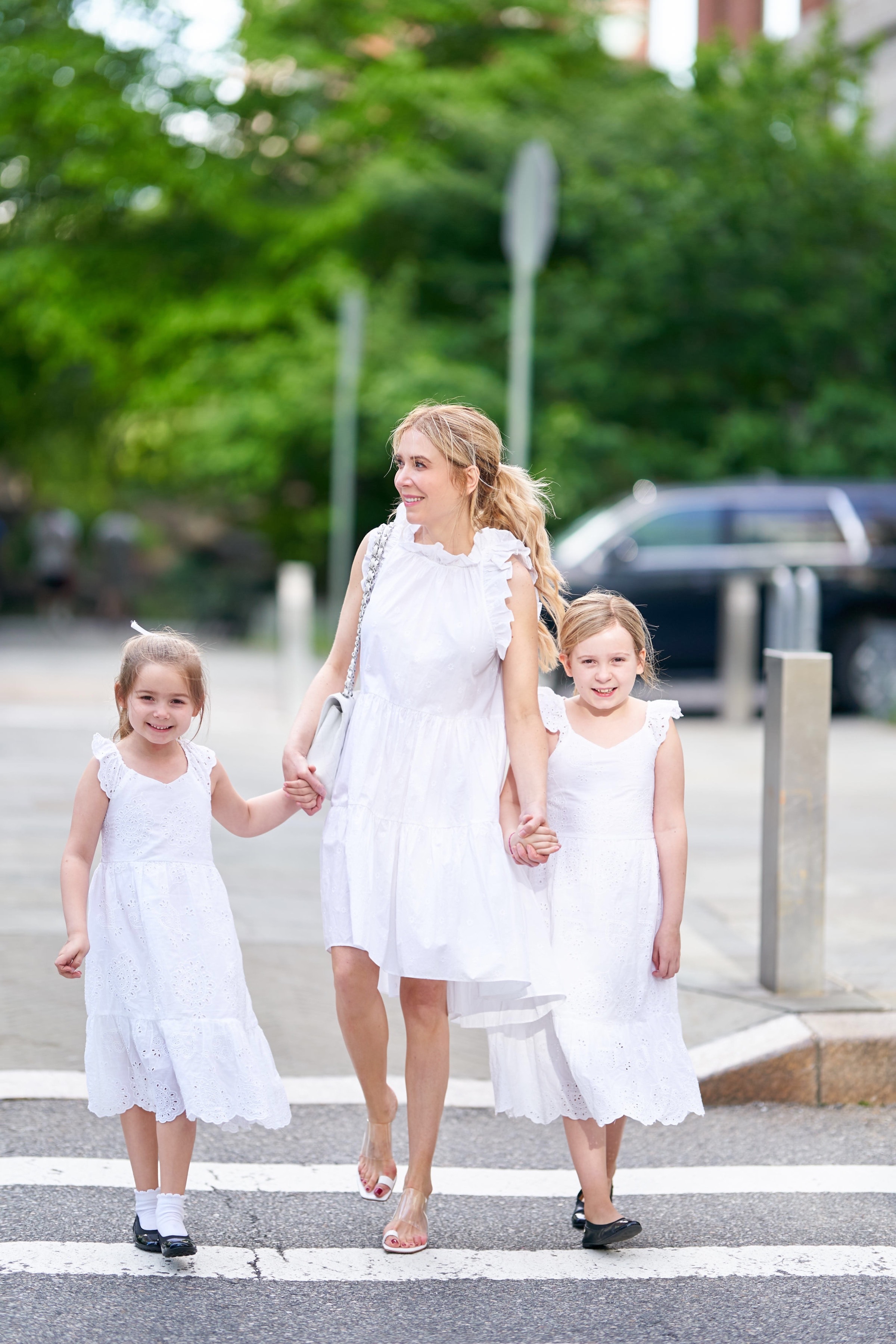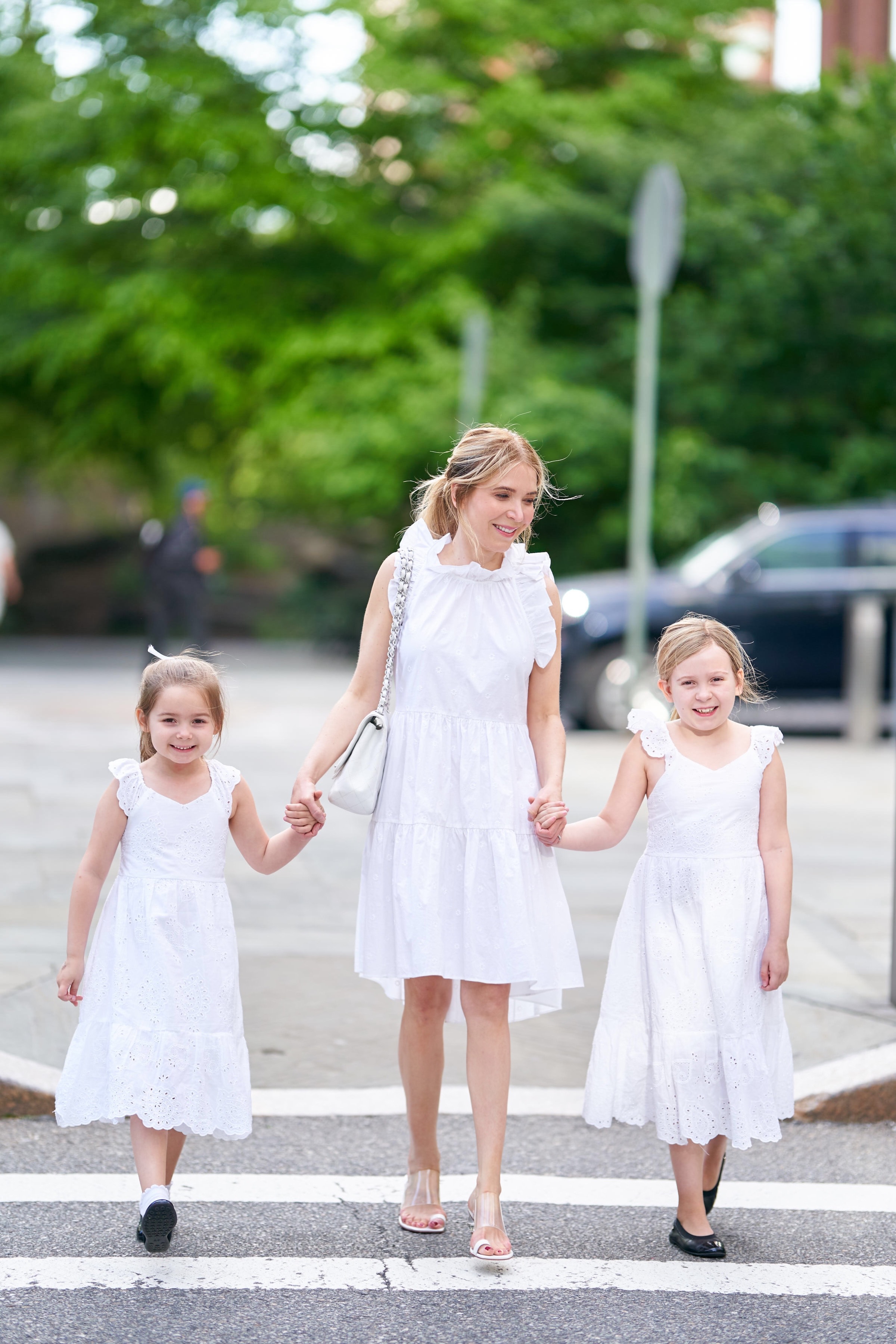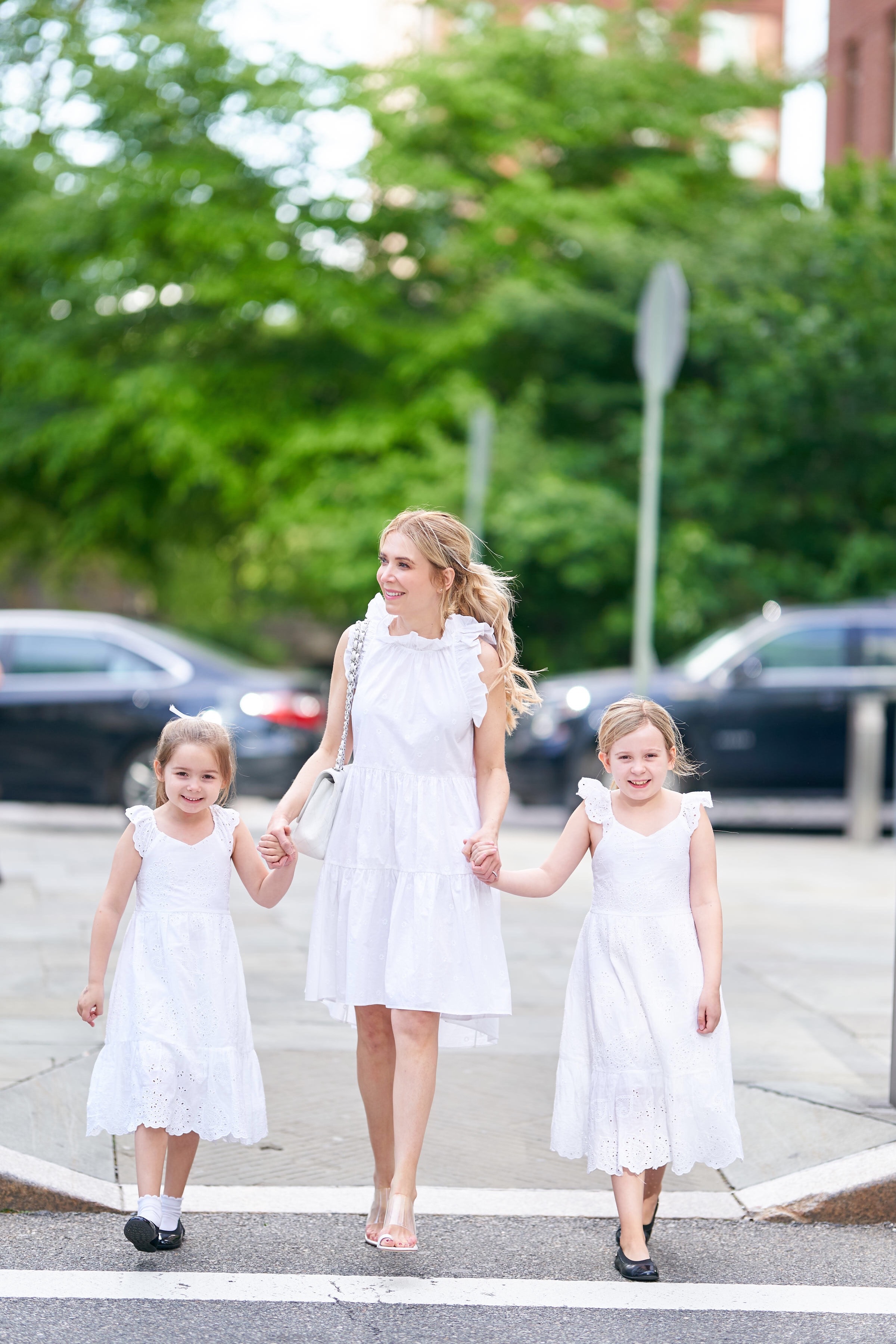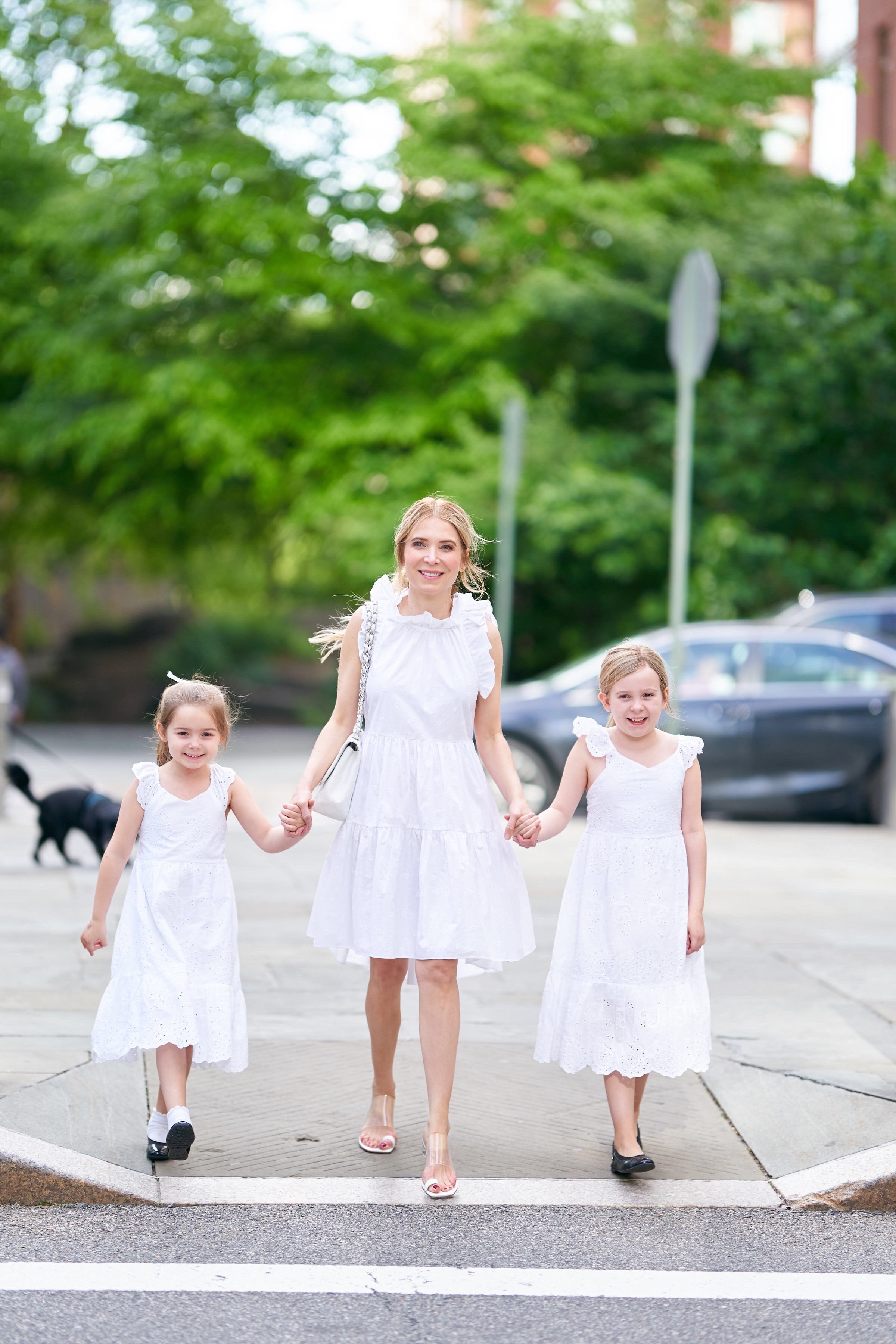 Memorial Day Weekend plans…
I hope everyone has had a great Memorial Day!  We just got back from visiting our good friends who live in Baltimore!  They have a beautiful large house with a heated pool and going to stay with them feels like being at a resort.  Plus they are two of our best friends.  They are a two-dad couple with two children exactly our girls' ages.  We met them when they lived in New York City, the year when our eldest daughter was in Kindergarten.  They went to our school.  We were devastated when one year later they moved away!  But we've done a great job keeping in touch, and we have just made plans to go away with them and rent a house in Martha's Vineyard for a week in July this summer.  It is so nice when you make friends like this as adults, when everyone in both families likes to hang out with each other. It is more rare and unusual than you might think!
Happy long weekend and thank you for reading!
xxxxx
Laura
Photos by Mike Kobal