Dress:  & Other Stories | Boots: Tibi | Bag: Avery Verse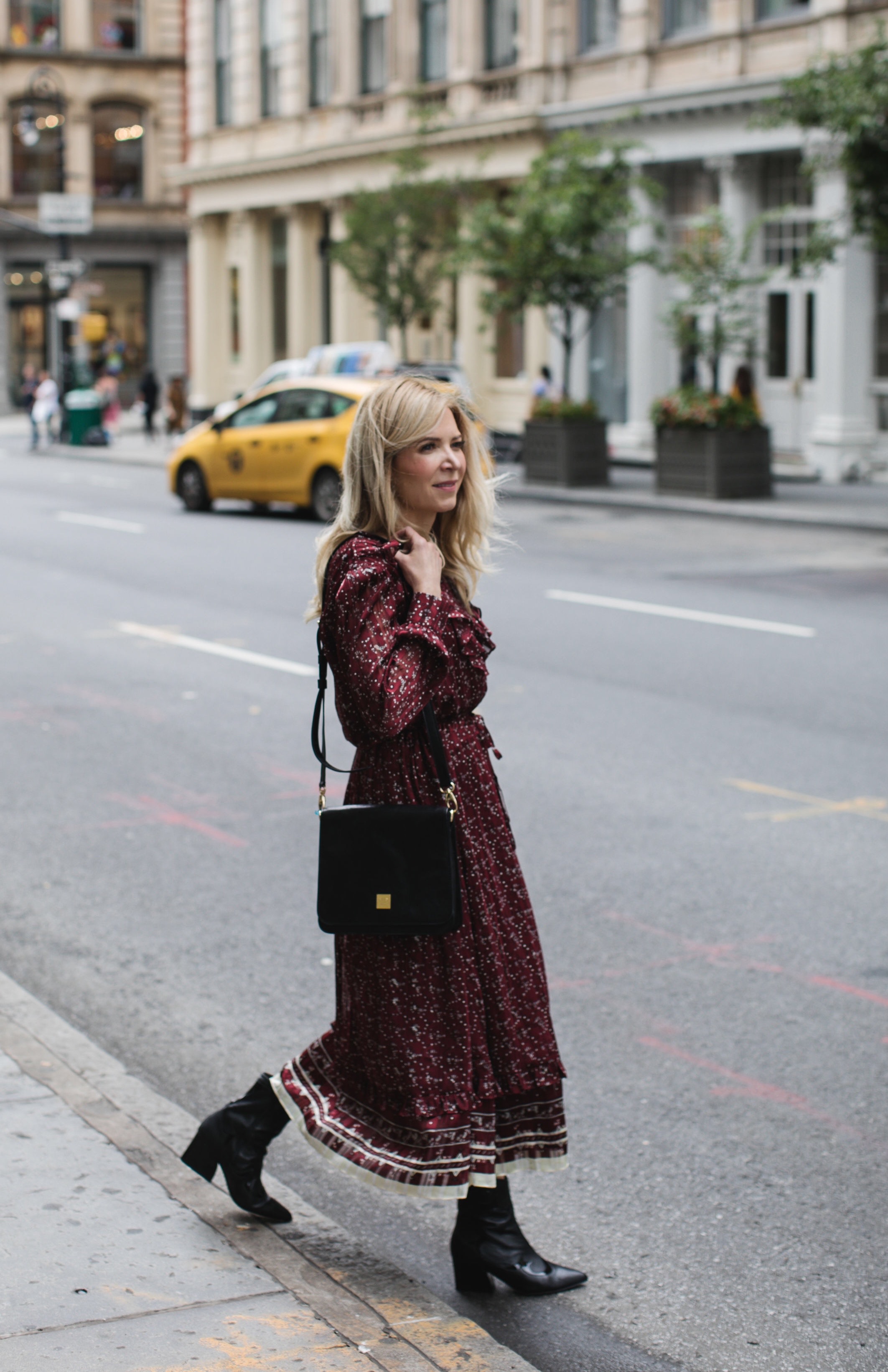 This post is devoted to my most beloved trend of this season, the "prairie dress".  You must be seeing them everywhere in the stores right now.  In a nutshell their name describes them perfectly.  Think Laura Ingalls, think Little House on the Prairie.  They are usually high necked dresses with just a ruffle or two, some smocking even, and tiny buttons running down the front or the back.  They are usually midi length (hitting between knee and ankle) or they can even be a full, maxi length dress.  I wore my favorite prairie dress of all time, by Zimmermann, last summer in this post.  So anyway on to the good stuff: I am going to tell you (1) WHY I LOVE PRAIRIE DRESSES and (2) HOW AND WHERE TO WEAR THEM!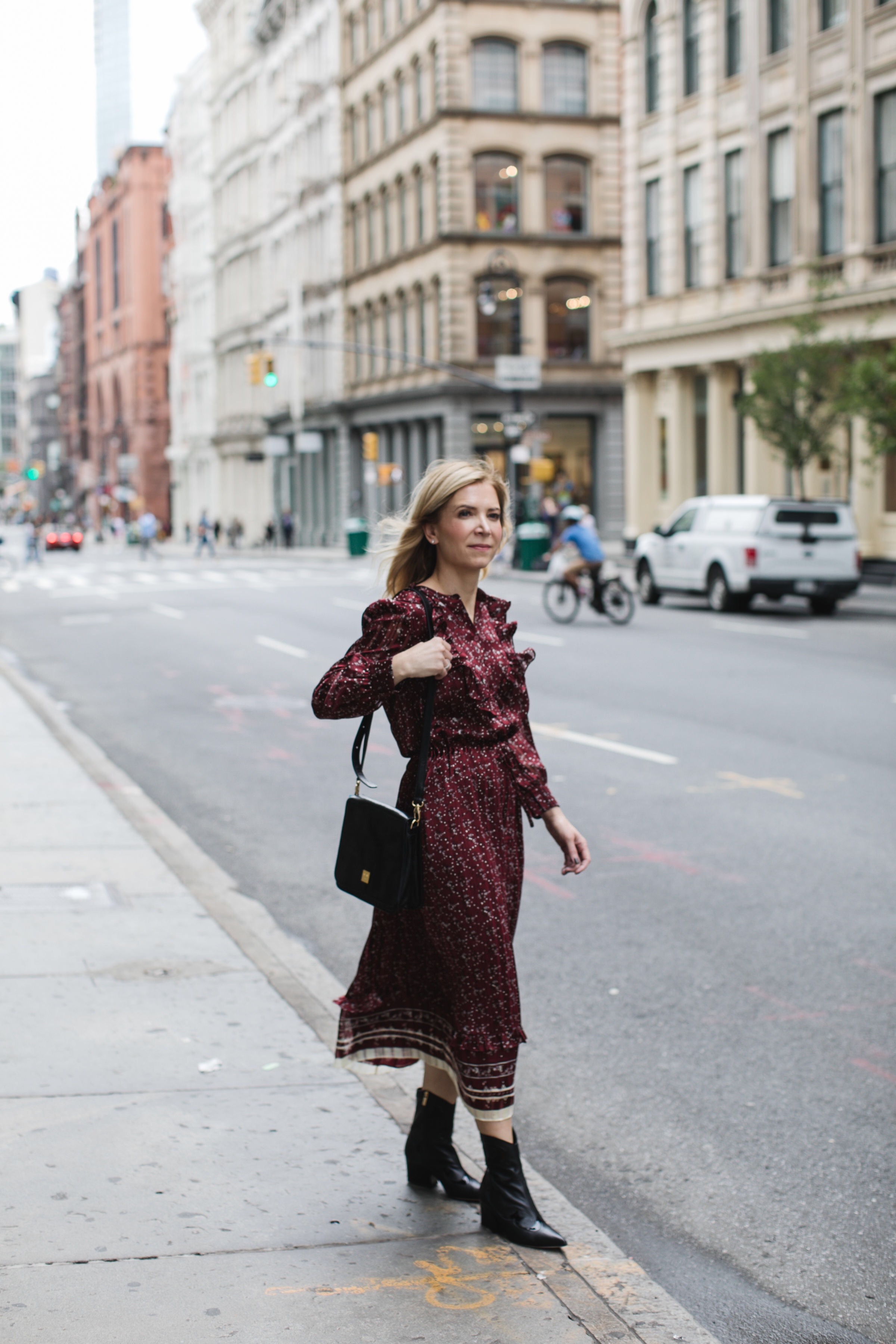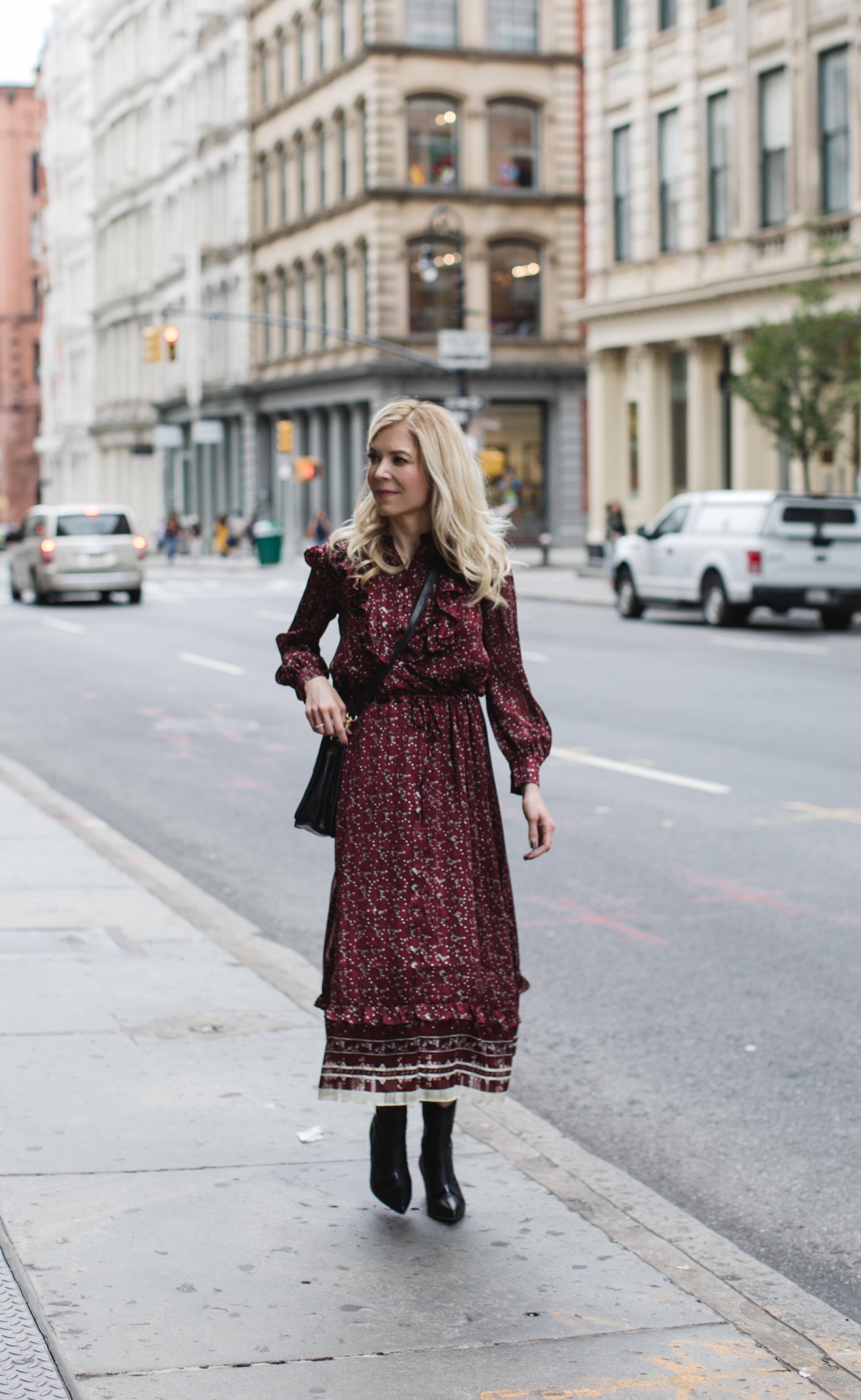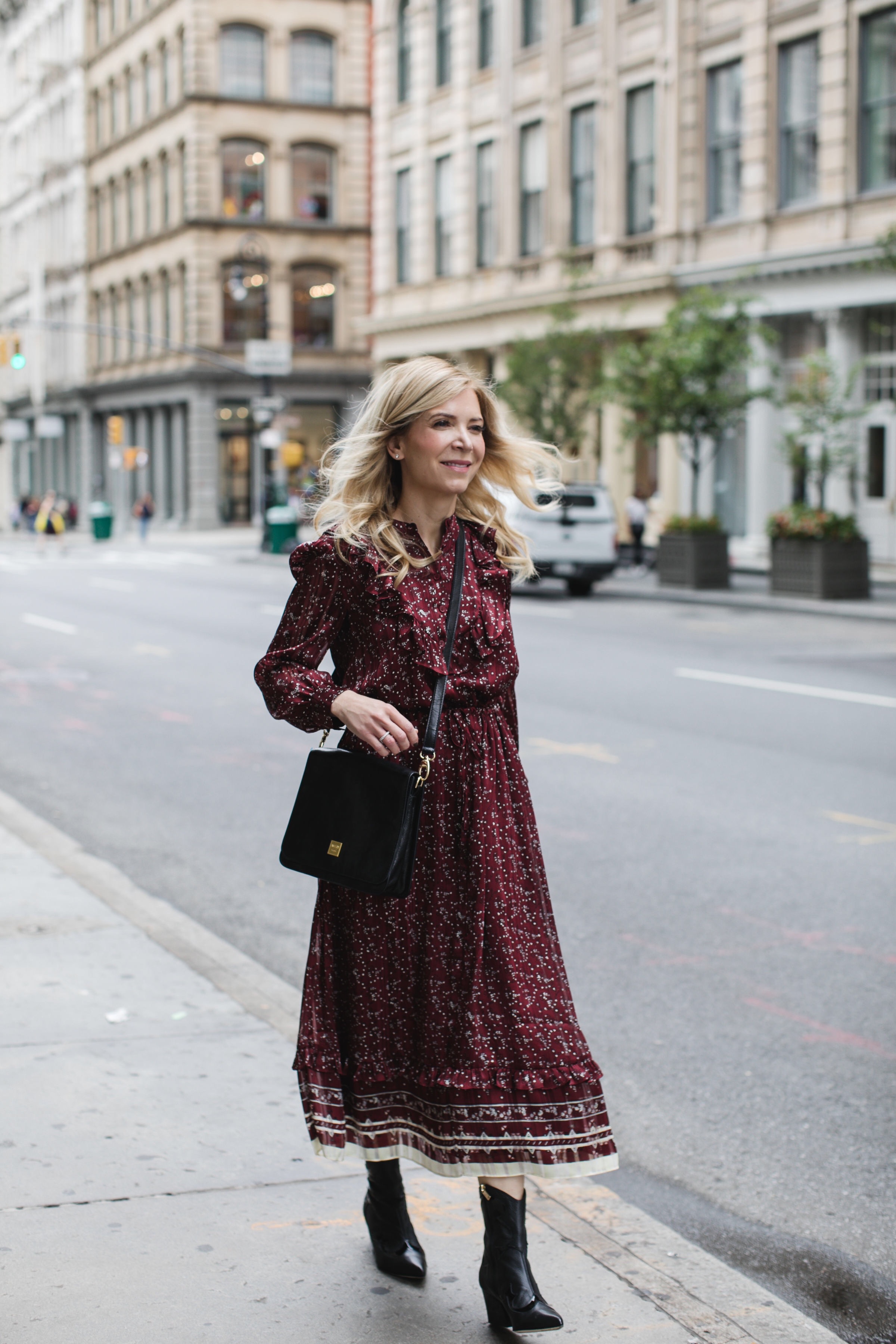 1.  WHY I LOVE PRAIRIE DRESSES:
–Prairie dresses are the PERFECT DAY DRESS.  They are not too dressy yet have a shape so they are not too casual.  Usually they are loose fitting (I hate wearing tight things during the day (actually I hate wearing tight things any time!)).
–They look cute with sneakers or boots.  Or mules.  Keep the shoes simple.  Western boots are very in right now and prairie dresses look FANTASTIC with western boots (Duh! think Little House on the Prairie!).
–Their longer length means that with boots in the winter you don't have to worry about whether if you wear tights, it will ruin the look of the dress.  Just put tights on and some calf length or knee length boots and you will be warm.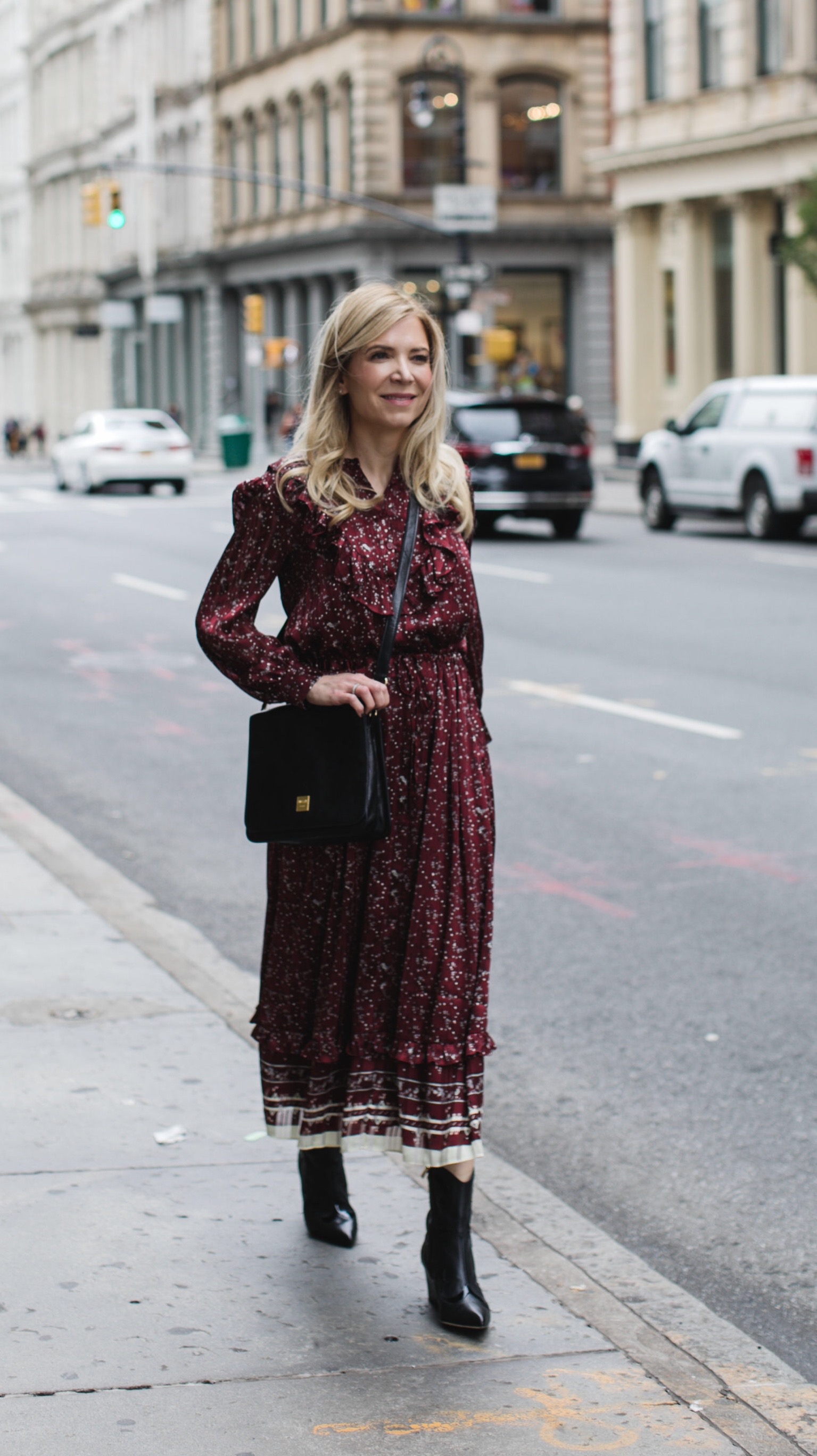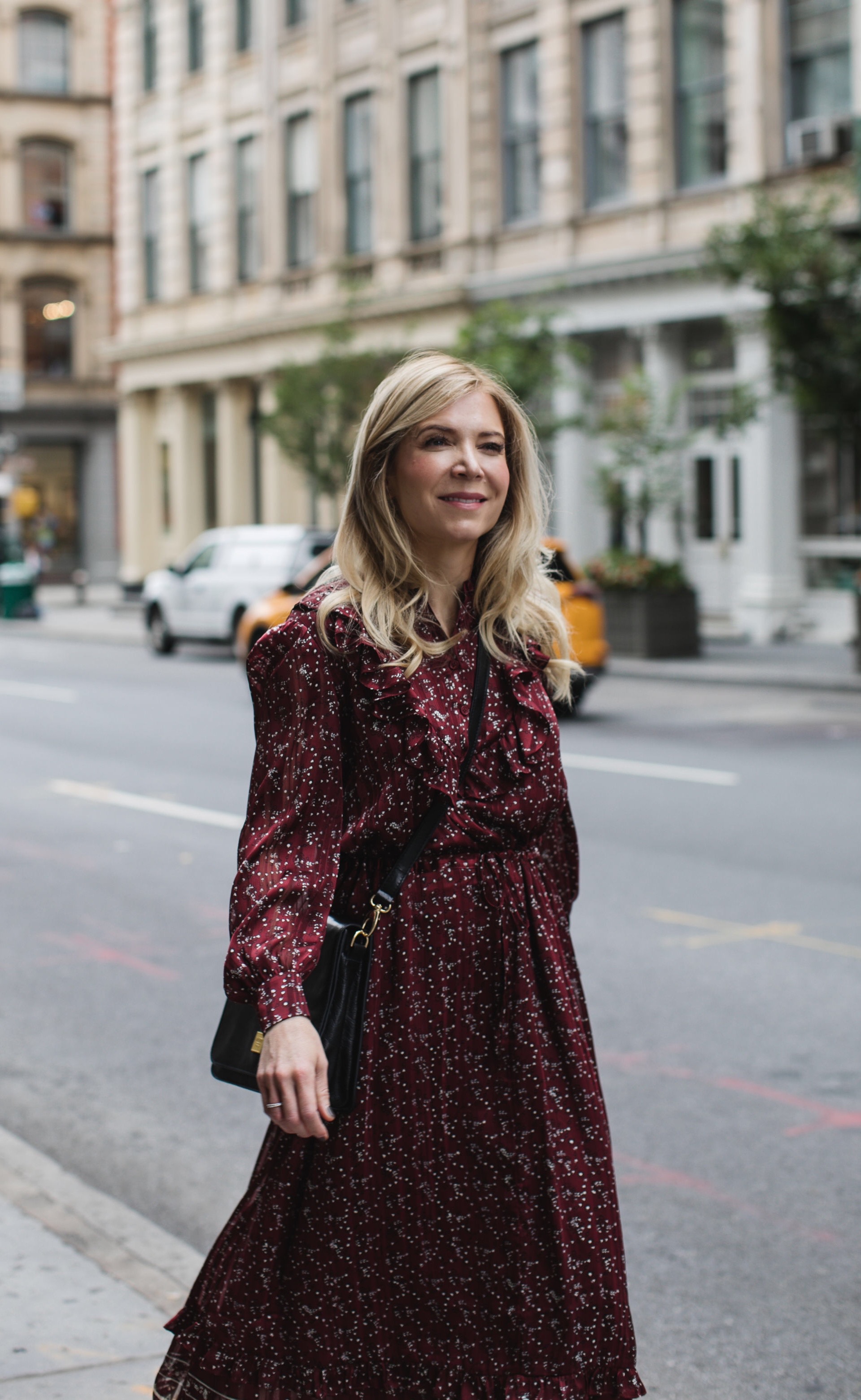 2.  HOW AND WHERE TO WEAR A PRAIRIE DRESS
–You can wear them to KINDERGARTEN OR SCHOOL INTERVIEWS.  This is HUGE right now in NYC.  All the moms with kids who will be in preschool or kindergarten (or whose kids are changing schools) are going to these interviews the entire fall season.  These moms are all stressing out about what to wear (trust me I am good friends with many of them).  Well, if this is like you, a prairie dress is your answer.  It looks stylish (it is trendy right now after all) yet modest and tasteful. But somehow it is fun and feminine.
–You can wear them to WORK.  Especially if they are in a dark color like this burgundy one I'm wearing.  Throw a blazer on over the top of the dress and some black sock boots and you will look great for any meeting and you will be comfortable.  When I was working I always preferred dresses to suits anyway!
–You can wear them to LUNCH WITH THE GIRLS (you will look cute and stylish at any ladies' lunch in one of these dresses.  I personally would also wear a prairie dress to cocktails and dinner with my husband but this may not be what everyone would do, as some women prefer to look more sexy on their date nights (I am not really one of them LOL).
–You can wear prairie dresses with SNEAKERS AND A CROSS BODY BAG to run errands or shop on a Saturday.  You could even throw a slouchy denim jacket or a faux fur coat on with it.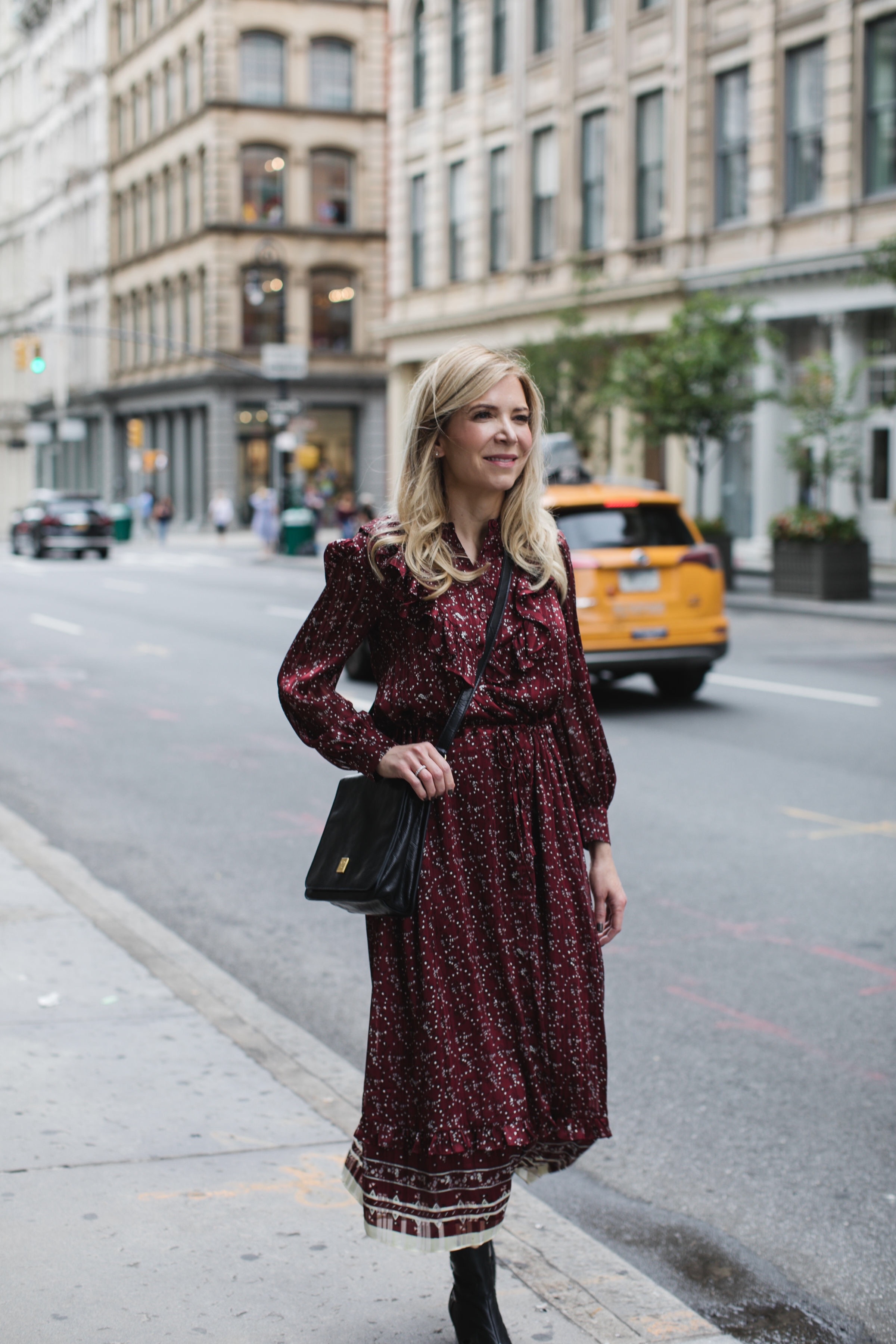 So that is my take on how and where to wear the prairie dress, in my opinion one of the most fabulous, must-have trends this season.  I hope they NEVER go out of style because if I could continue to wear these dresses for years and years I would.  Maybe you should just call me Laura Ingalls instead of Laura Bonner.
Thanks for reading! xxxxxx
Laura
Photos by Lydia Hudgens