Dress: Zara | Coat: Zara | Heels: Zara | Bag: Loewe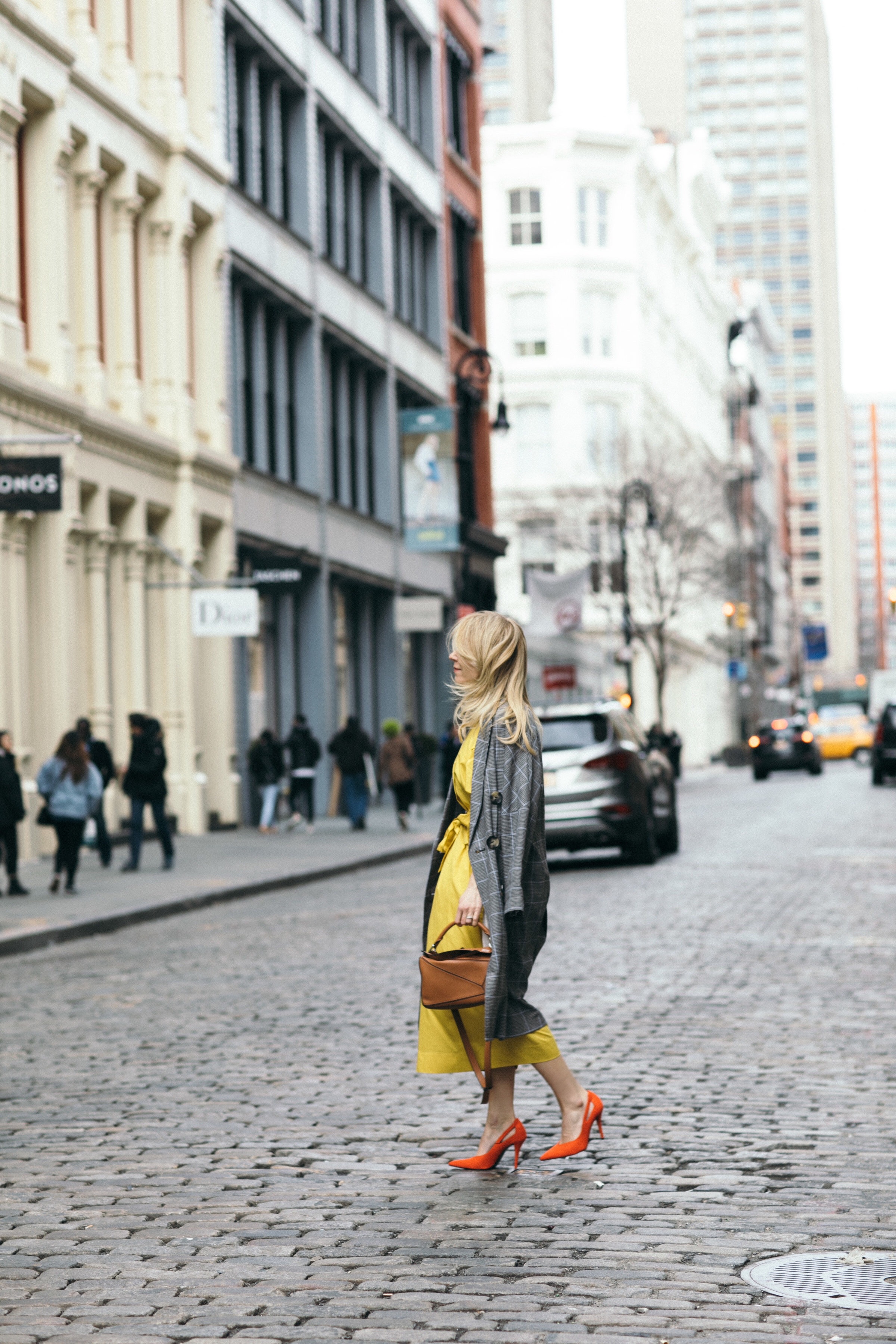 How to dress for work!  What a dilemma!  In the first photo in this post I look like I'm seriously stressed about it, but I'm just squinting because I forgot my sunglasses.
Anyway, I got this dress and coat in Zara a few weeks ago when I was trying to style a photo shoot I was planning with my friend Jen.  She works at Google and has a big job, so I interviewed her for my blog, we talked about her typical day, and what people wear to work.  We shot some fun looks together.  The post is going to be up Thursday and I am very excited!  Anyway I didn't end up using this outfit in the shoot with Jen, but I thought it would be fun to do a workwear post, since I worked as a lawyer in a big law firm for seven years and then at Deutsche Bank for seven years, both in London and on Wall Street.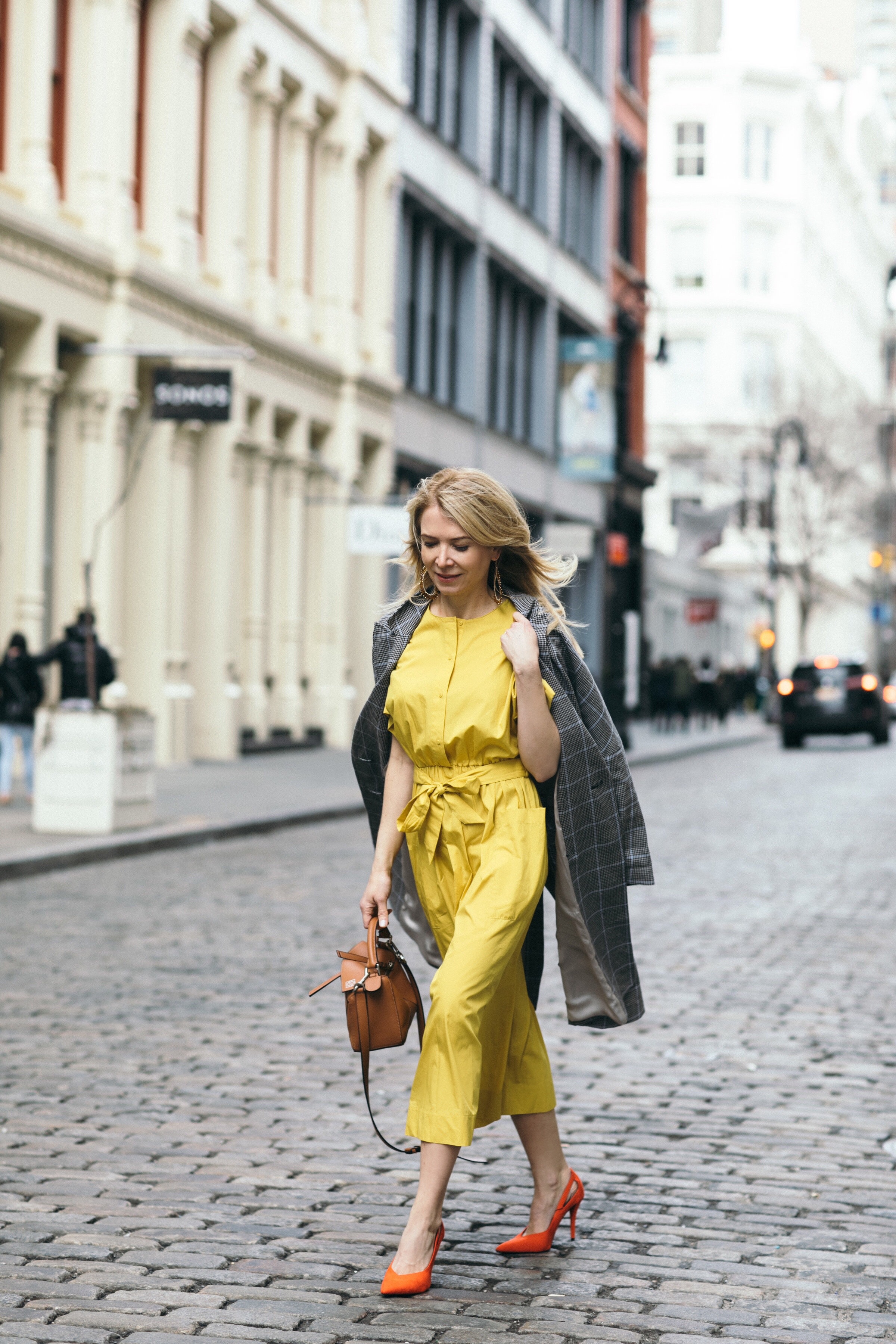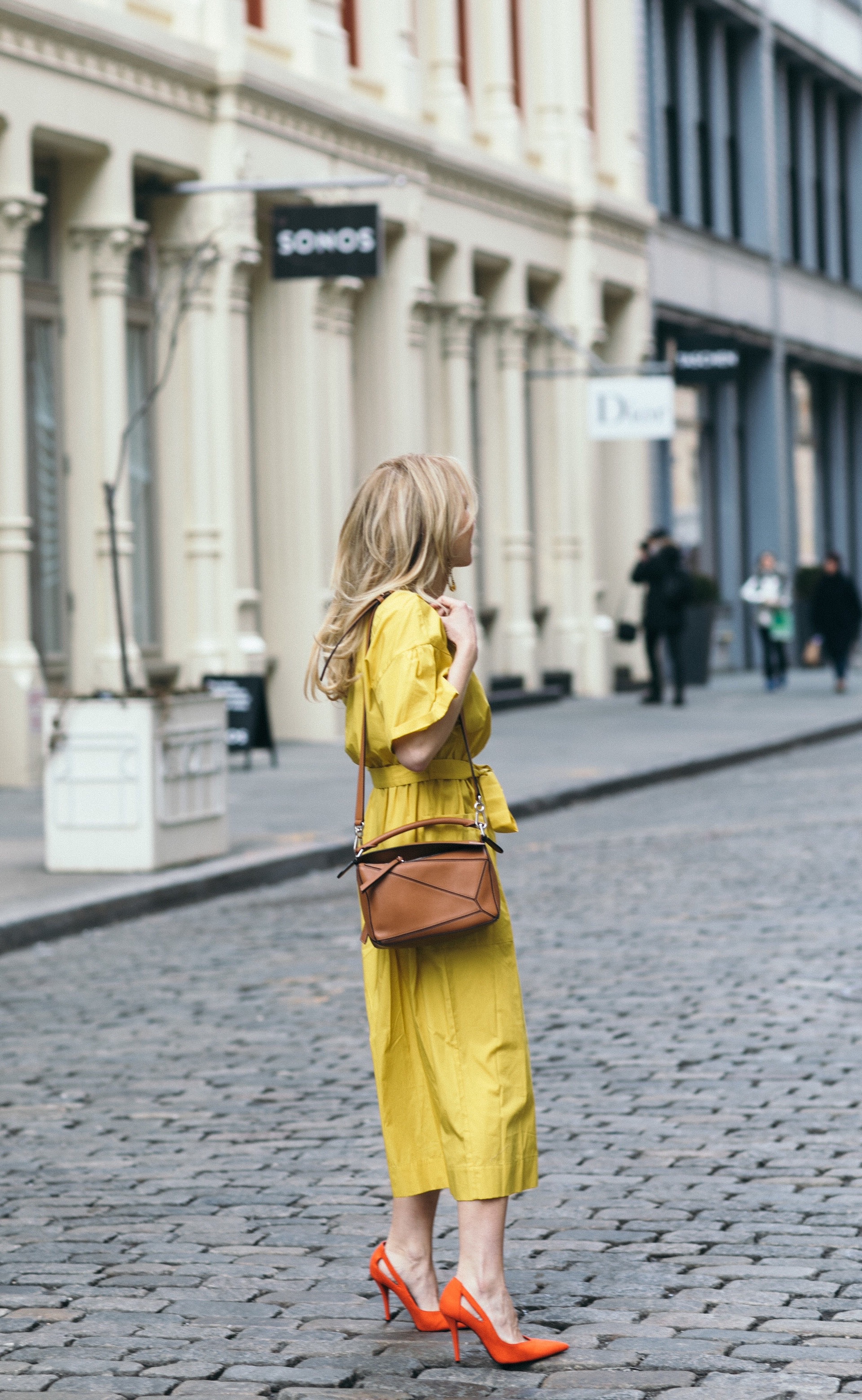 This dress is exactly something I would have worn to work.  Even though it is bright yellow, it has a minimalistic look and goes below the knee.  The only thing daring about it is the color.  When I used to dress for work, I had an unwritten rule in my head – always make one aspect of your outfit stand out, but never more than one. If you are wearing a bright color or colors (like here), the cut of the clothing should be pretty conservative.
Conversely, if you are wearing a black dress, make your shoes fun or wear a scarf or necklace or something.  Do your hair in a ponytail and tie it with a velvet ribbon.  Anything to liven up that all black.  If you are going to wear a ruffled blouse, or a deep V neckline, most likely you should pair it with tailored trousers or a below-the-knee skirt, never a shorter skirt.  I desperately hated wearing boring suits to work so I always tried to have fun with my work clothes.  I usually wore dresses – shirt dresses were some of my favorite options.  Or, a skirt and blouse.  I'd bring a blazer or tailored coat to wear if I had a meeting.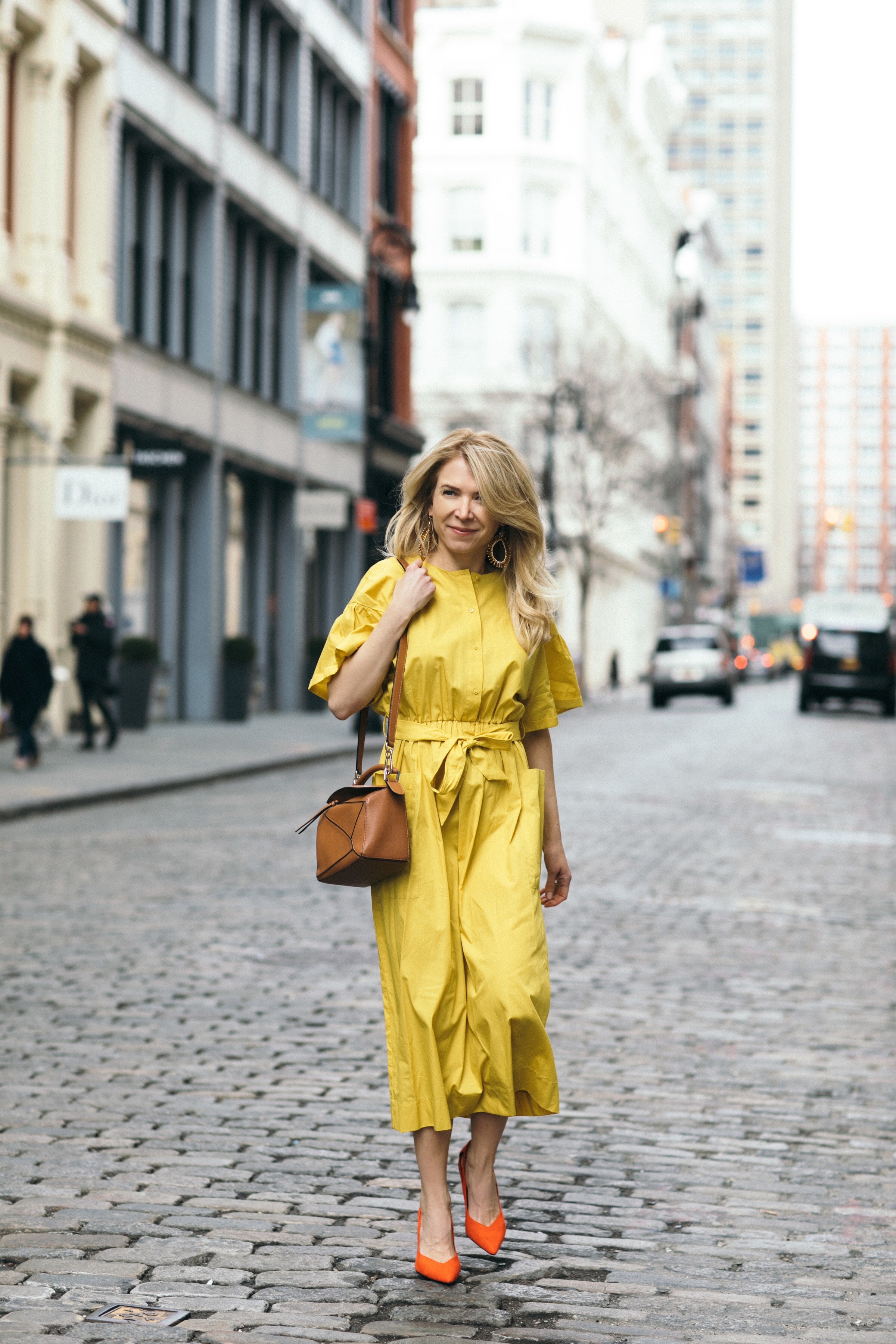 And I always, always, always had a fun pair of (low) heels.  Towards the end, when I got a bit older, was promoted and became more serious, I would usually try to limit the height to two inches.  This is the perfect heel height for working in a corporate environment. You can walk in them all day, they look dressy enough. Plus I started to realize, that four inch heels in the office usually look completely and utterly ridiculous.  If you are going on a business trip and meet a CEO, if they see you teetering in on four inch heels you can barely walk in, your credibility is shot right then and there.  Two inches are perfect because you can wear them through the airport, on the plane, to business lunches, to dinners, anywhere.
Not to mention, the New York City streets (and the London ones for that matter) both have cobblestones, which are no joke.  They will tear up your shoes before you have made it even one block!  In Sex & the City, the girls teetering on spike heels all day, all around the city, is a total and complete myth.  Girls wear sneakers here, or boots or low heels when they walk anywhere.  New Yorkers walk very fast, and you don't want to be the slow one that everyone has to pass on the sidewalk because you are crippled by 4 inch stilettos.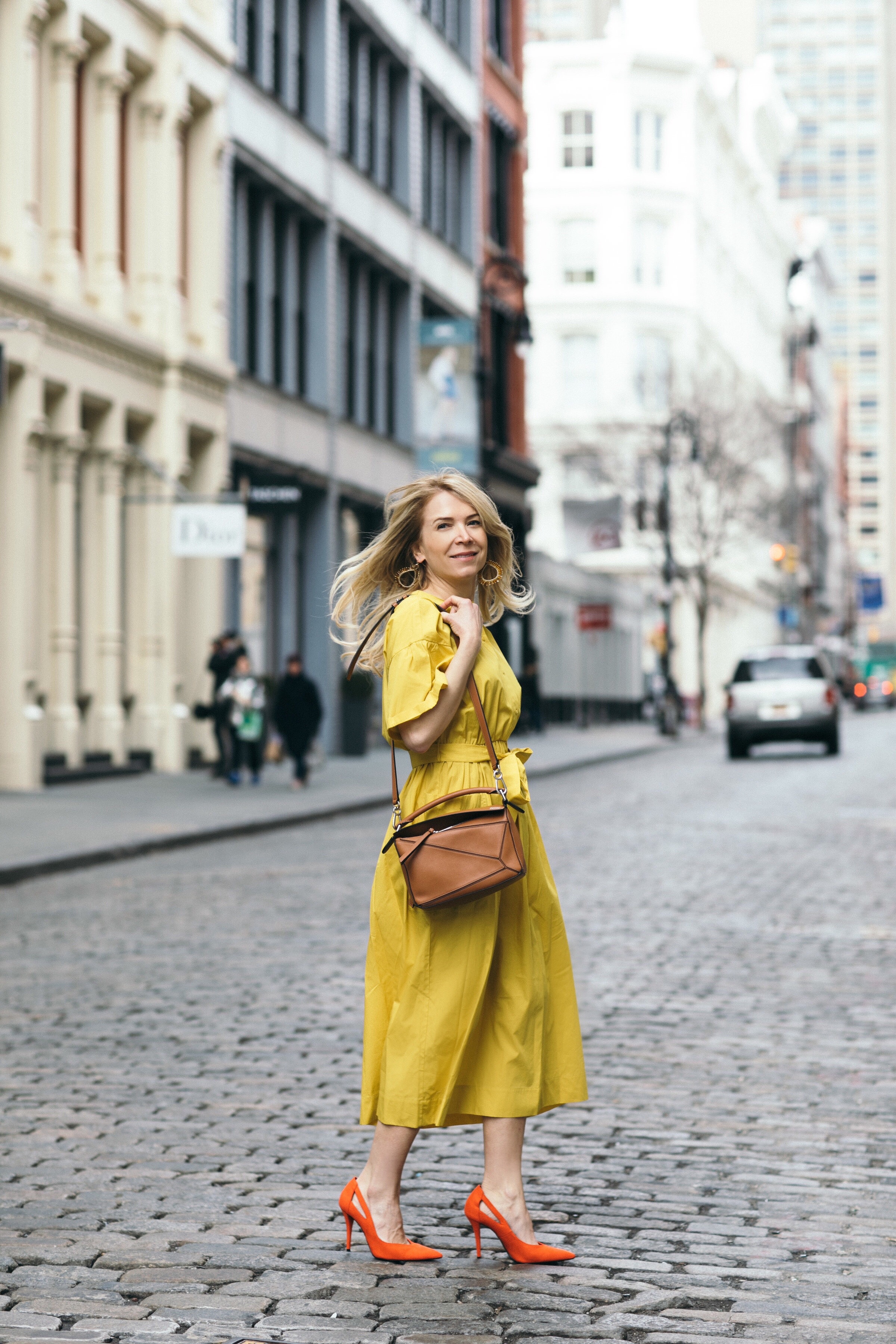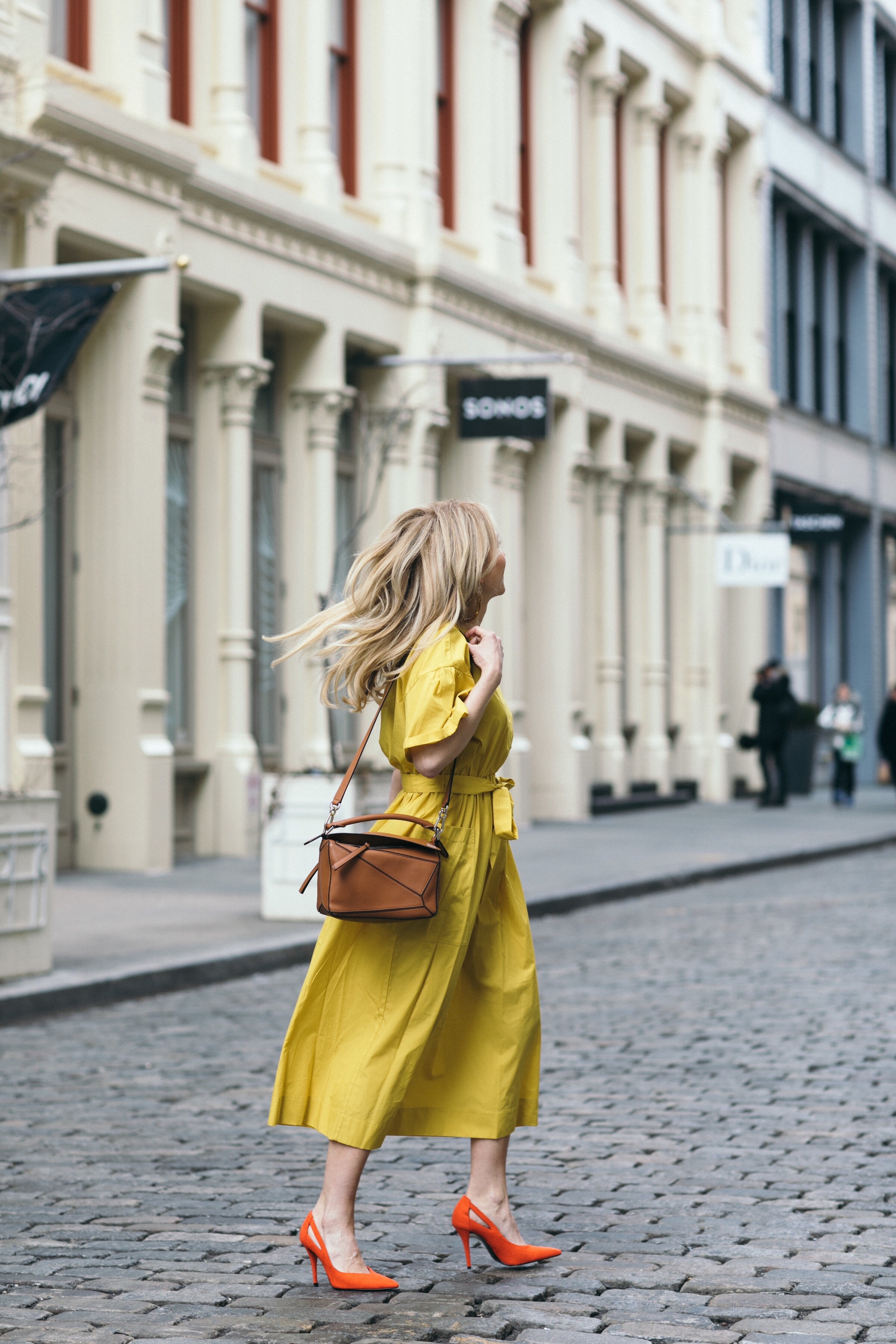 Anyway, that is my take on dressing for work in the corporate world, after doing it for about 20 years!  To me the number one thing to remember is to always keep your outfit fun, but not too fun, haha!  Work is hard so at least your outfit you can control!  And wear shoes you can walk in!  Have a great day everyone!
xxxx
Laura