Shirt: JAG Jewelry and Goods | Locket: JAG Jewelry and Goods | Jeans: Madewell | Boots: Kurt Geiger (old, similar here and here) | Bag: Chloe
So excited to share with you all this gold vintage locket and beautiful new "George" shirt by JAG Jewelry and Goods. Ann Jeffries and her daughters Annabelle and Jewel started their brand out of of Fort Worth, Texas for beautiful and unique handmade jewelry and gorgeous shirts and blouses from sustainable fabrics for women.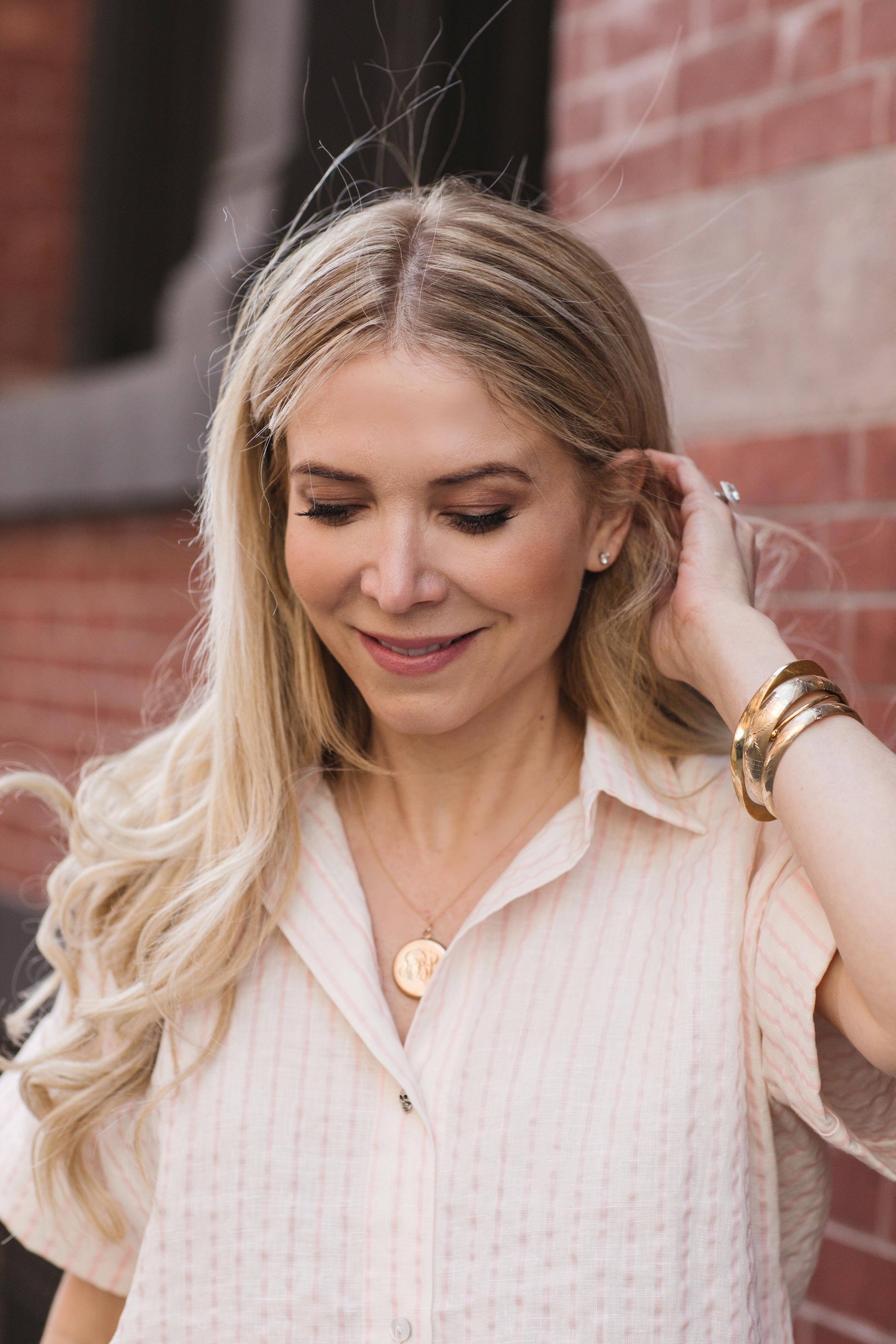 The jewelry…
All of their jewelry is handmade from local materials in Texas, and designed by Ann, Annabelle and Jewel.  The gold locket is so delicate and pretty, it has initials on one side and a flower engraved on the other.  It is "gold-filled" which means it has a solid layer of gold bonded to a base metal.  The gold will not wear off even with daily wear, as the gold layer is much thicker than that of gold-plated jewelry which you see so often these days.   It does not look like costume jewelry at all, in fact it looks like a real gold locket that was passed down from your grandmother!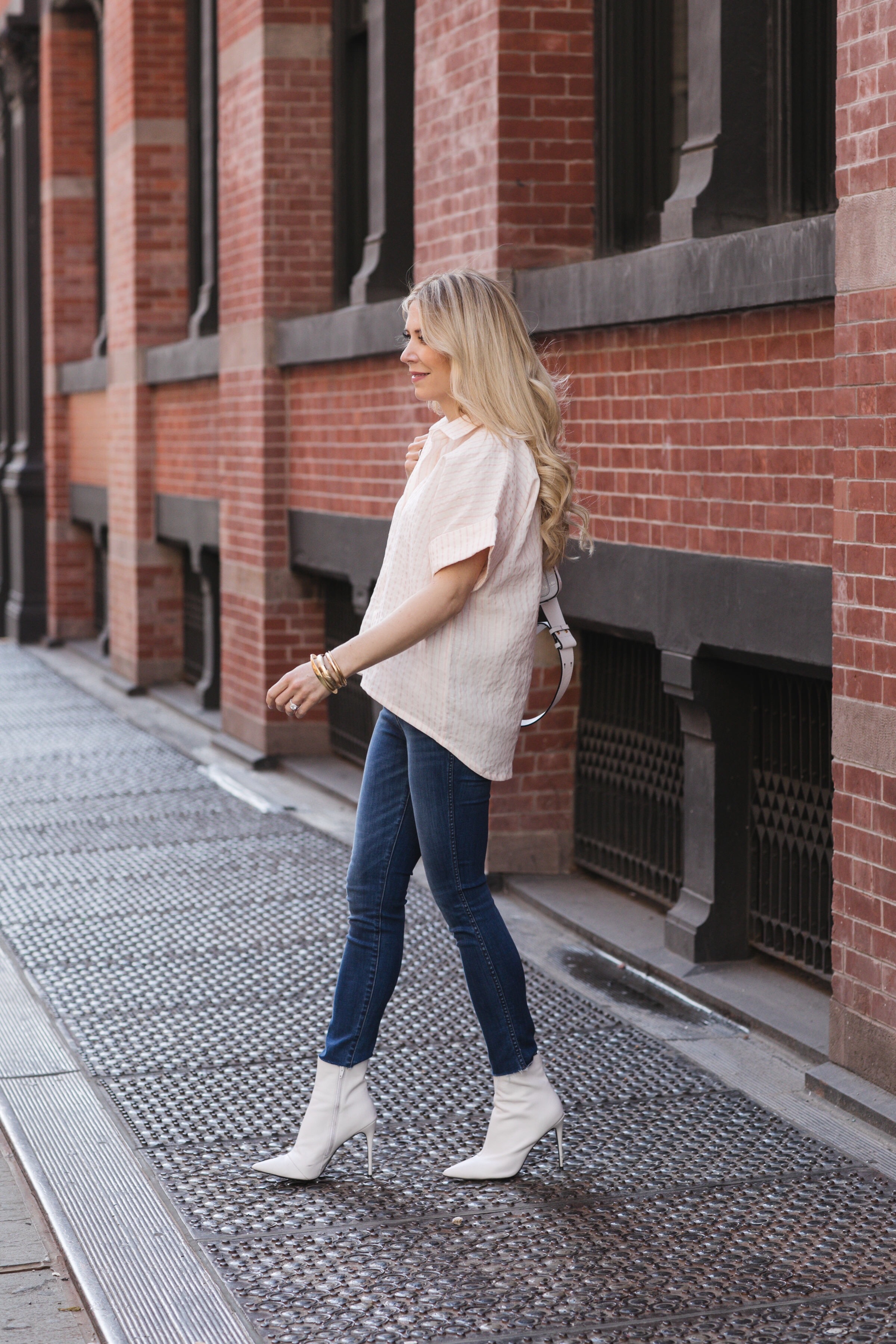 The shirts…
JAG Jewelry & Goods also produces beautiful shirts.  I am wearing the George shirt in pink and white stripe. George is a boyfriend-style collared shirt that can be tucked in, tied up or worn out with your favorite jeans or shorts. The top button on the shirt is a skull – I absolutely love that detail!  Ann, Annabelle and Jewel source the sustainable fabric for their pieces from Los Angeles – and I can tell you the fabric of this shirt is just beautiful – lightweight and floaty.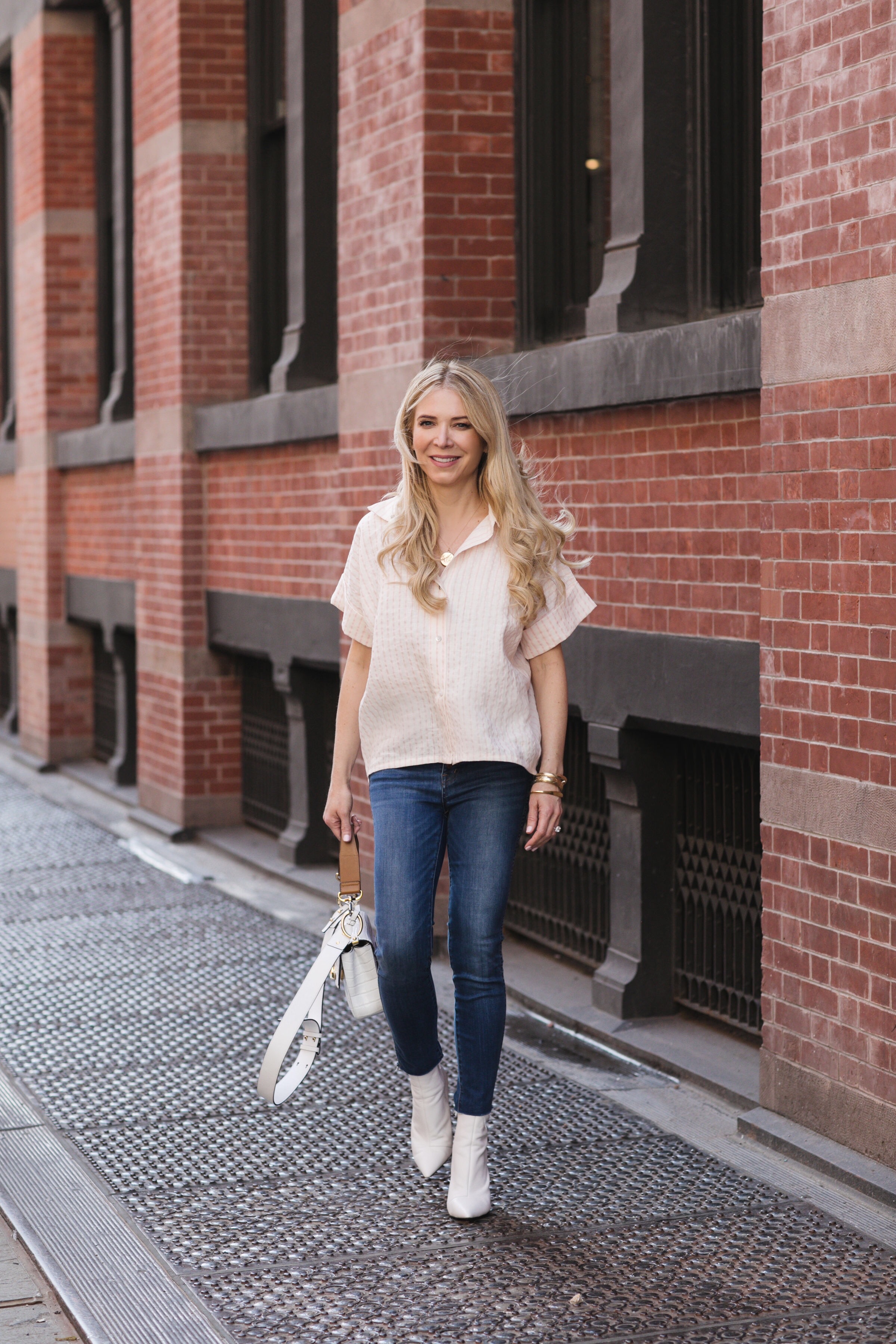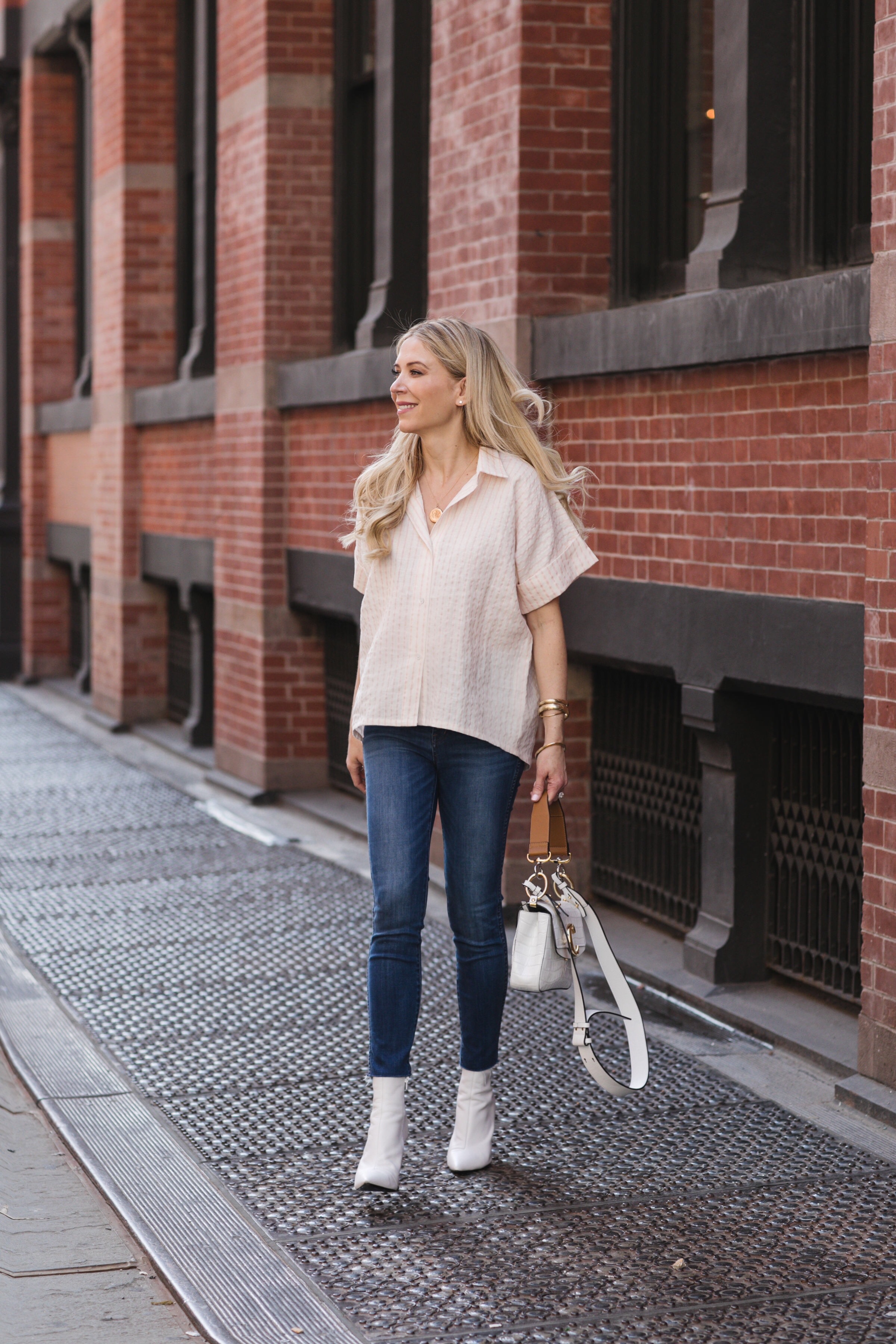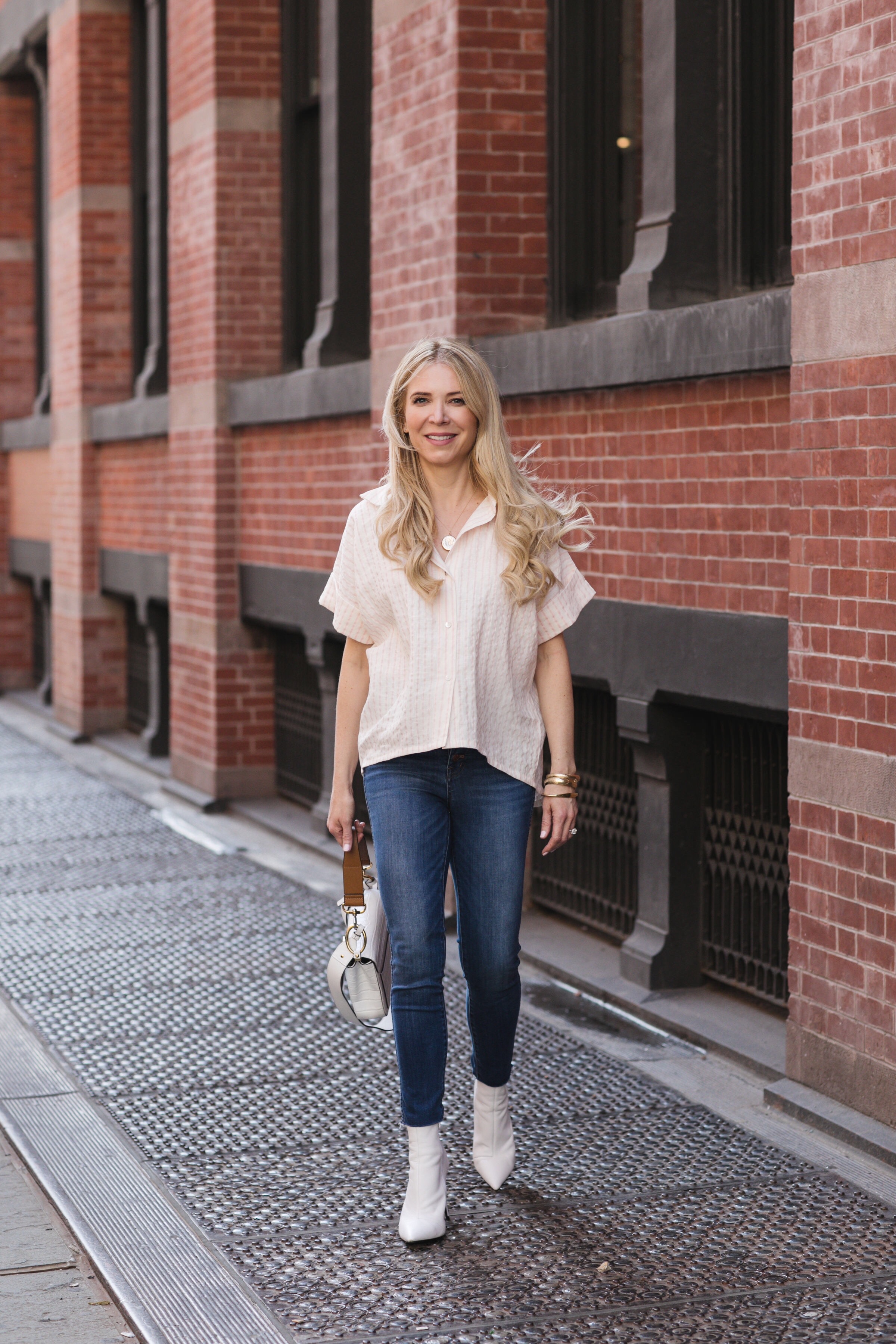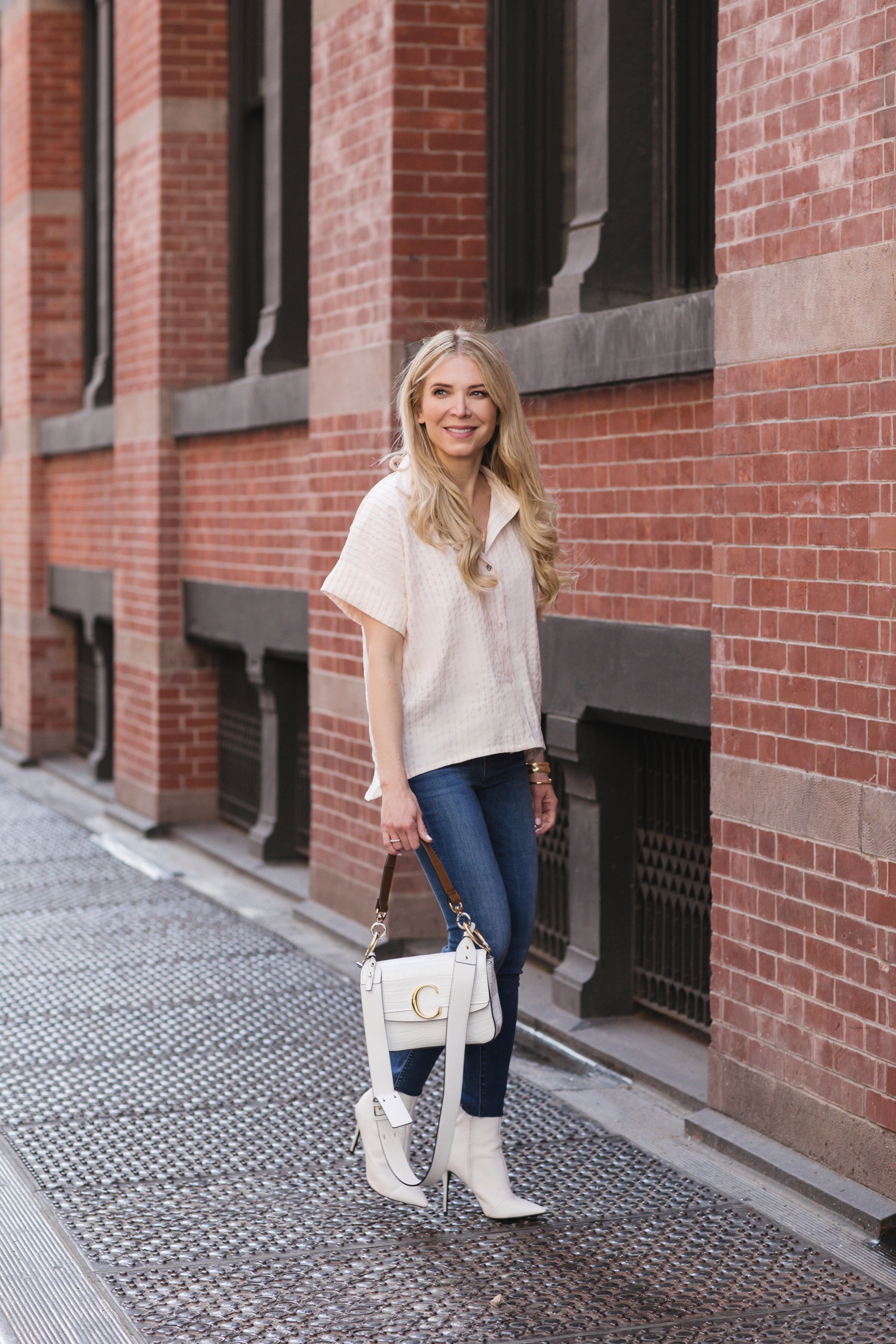 Unique handmade designs perfect for Mother's Day…
So many unique beautiful jewelry pieces on their site in a range of price points, that would actually make great Mother's Day gifts.  Or, birthday gifts for the women in your life!  I am obsessed with the gold filled stacking rings at $28 each.  They also make 14K gold ones at a higher price point, how gorgeous are these?  Have a look on their site to see more of their unique designs.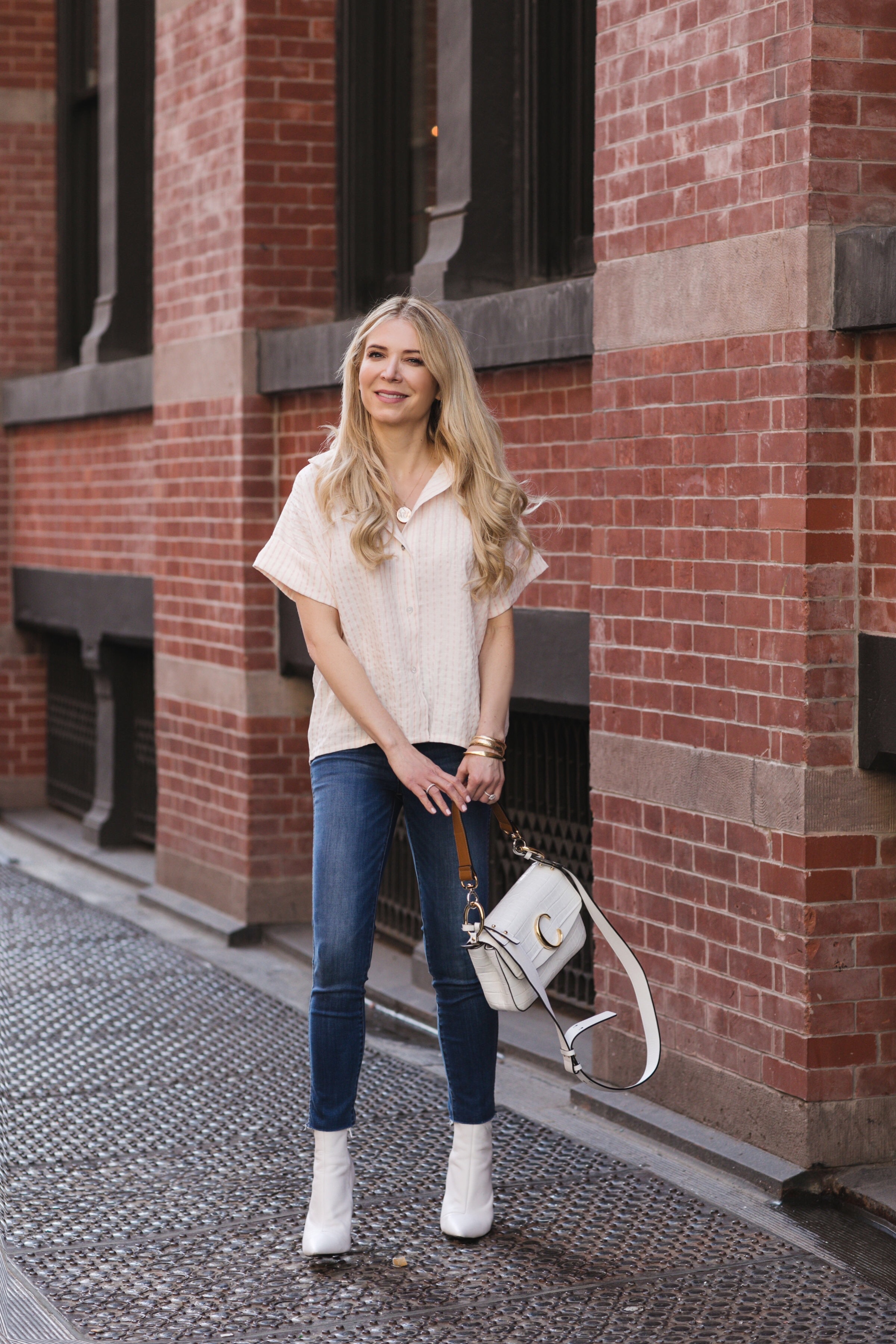 A portion of every sale goes to a good cause…
Also, JAG Jewelry & Goods are also proud supporters of Justin's Place. a haven who's mission is to enhance the life of a child by empowering mothers to grow spiritually, mentally and physically to live a life free of crisis and walk out of generational poverty. They give a portion of their proceeds to support this non-profit in Fort Worth, Texas.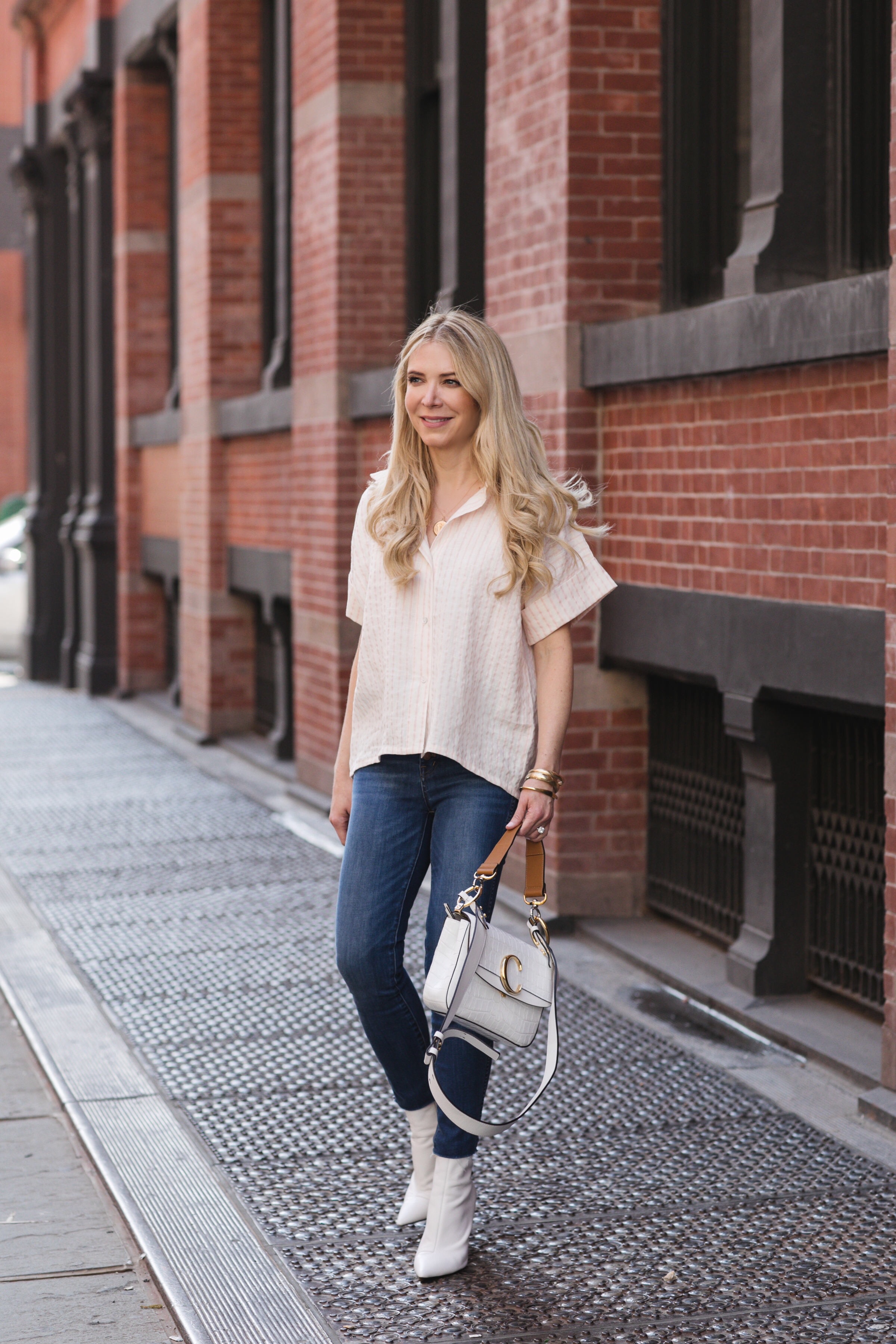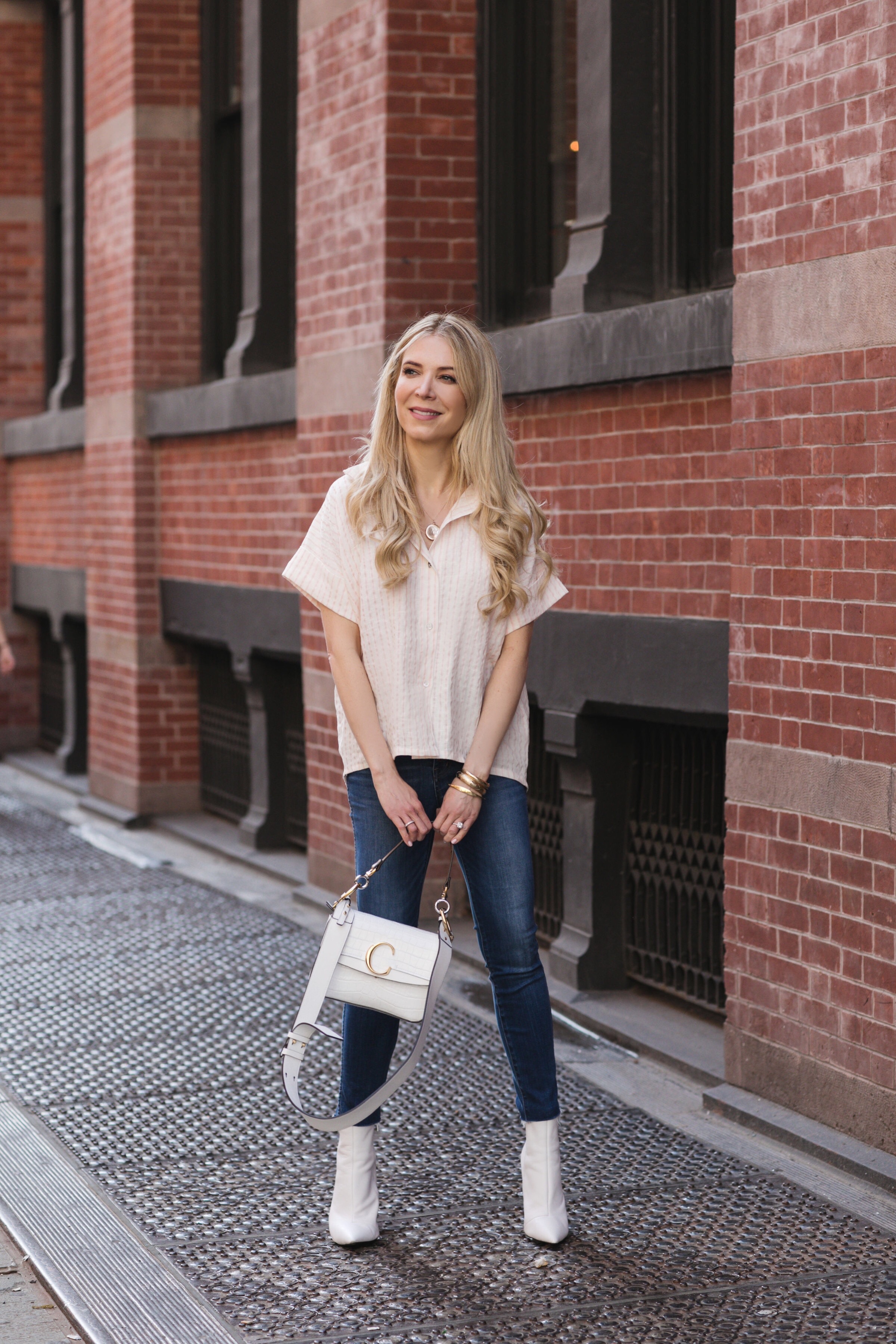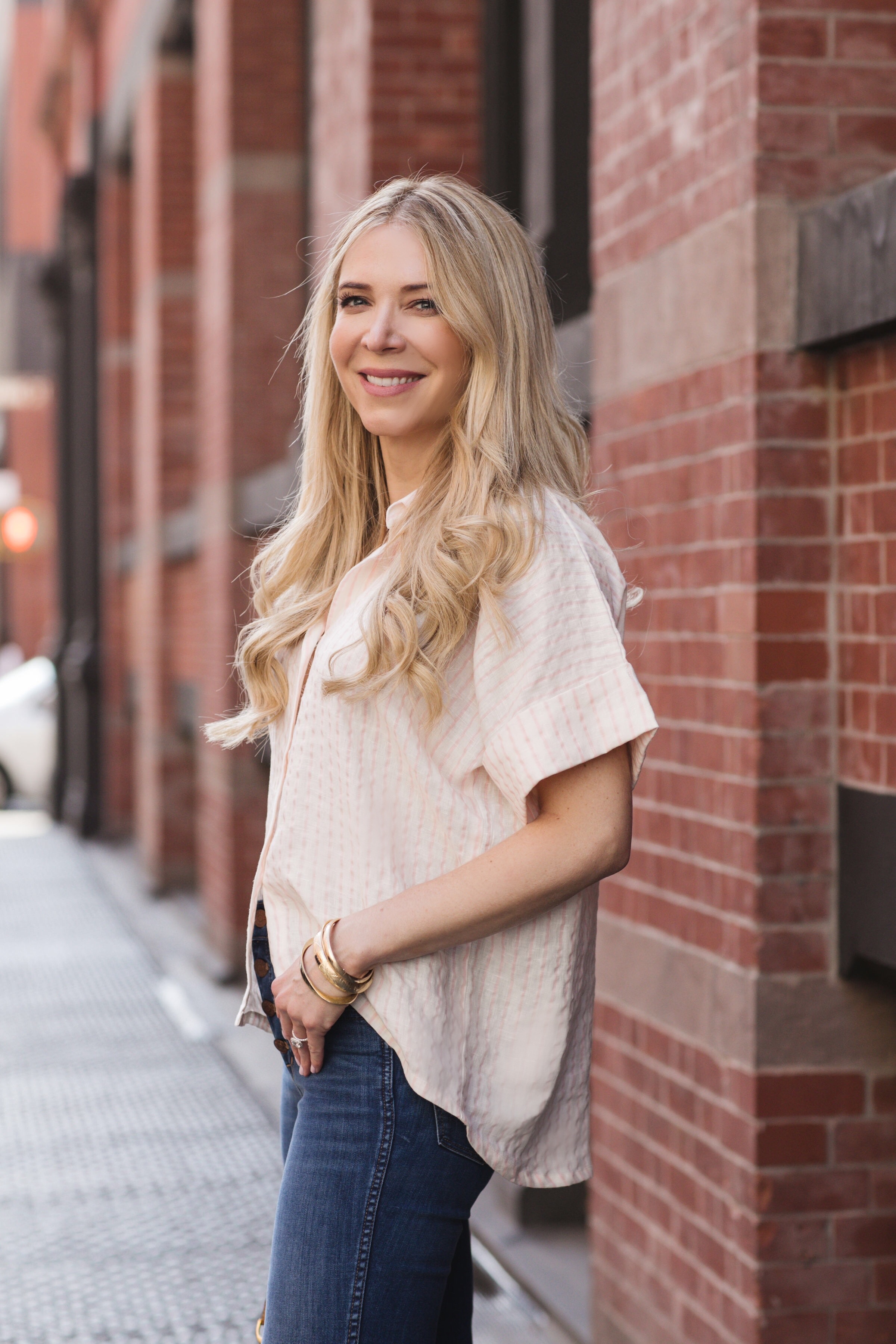 It's the opposite of fast fashion…
I love when I find a brand that gives so much thought and care to what they are creating and selling.  Each piece from JAG Jewelry & Goods is unique and produced in limited quantities, and is made from sustainable materials.  It's the opposite of fast fashion and it is so important to support companies like this!  I can tell you that from now on JAG Jewelry & Goods is going to be one of my first go-tos for birthday presents for my mom, my best girlfriends, and my sisters-in-law!
Thanks for reading!
xxxxxx
Laura
Photos by Lydia Hudgens