Dress: J.Crew | Shoes: Loeffler Randall | Bag: Loewe | Earrings: Bibi Marini | Scrunchie: Deepa Gurnani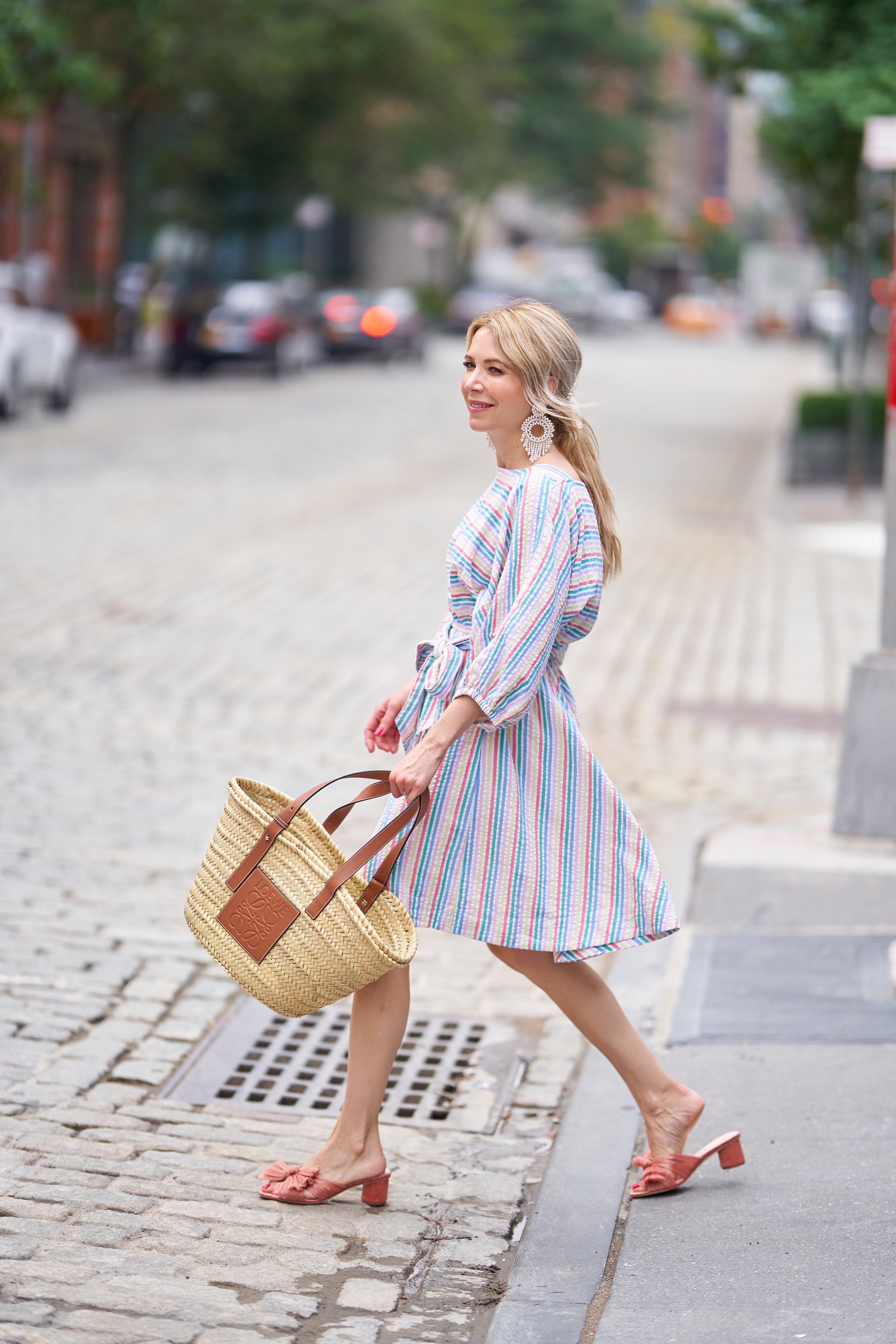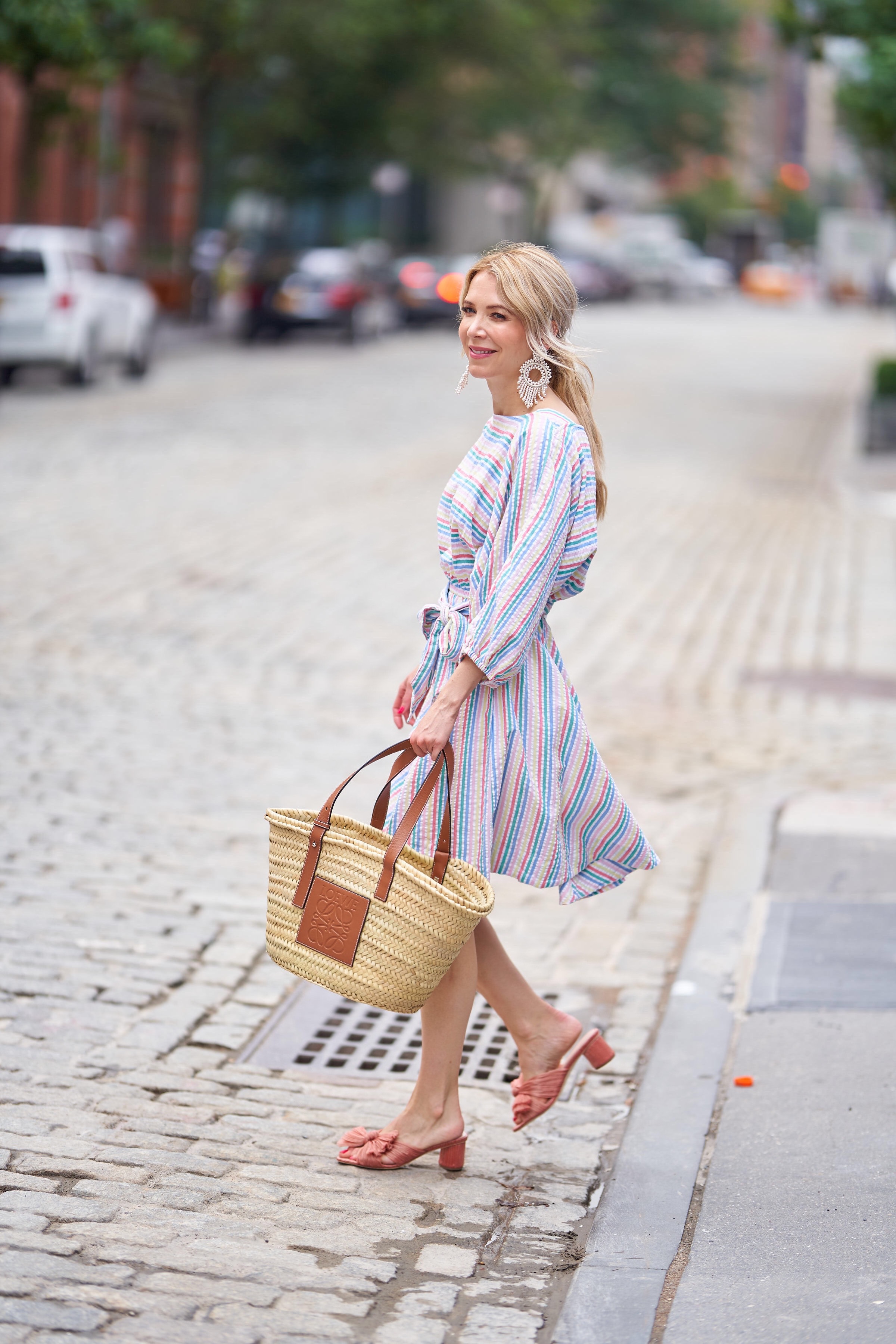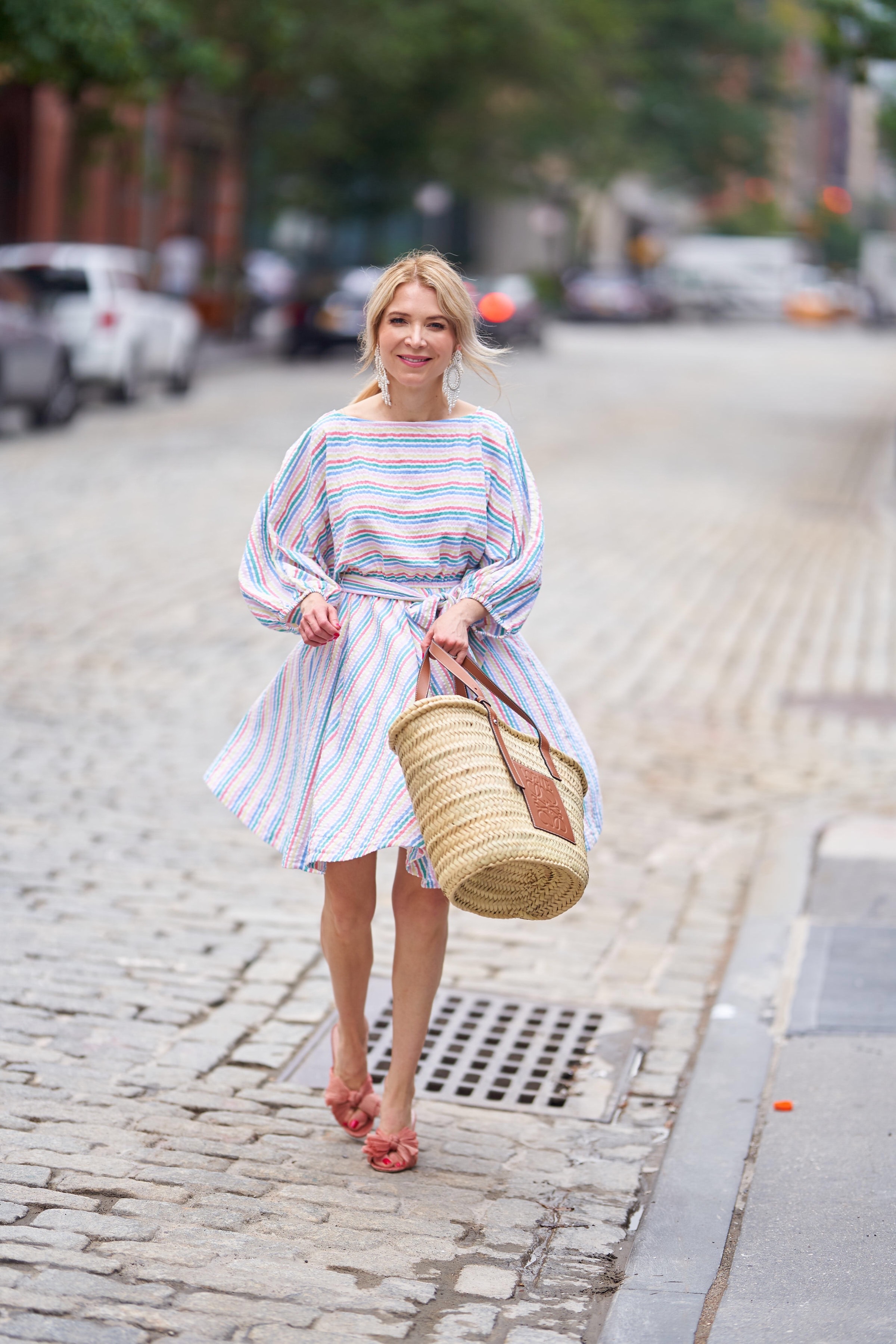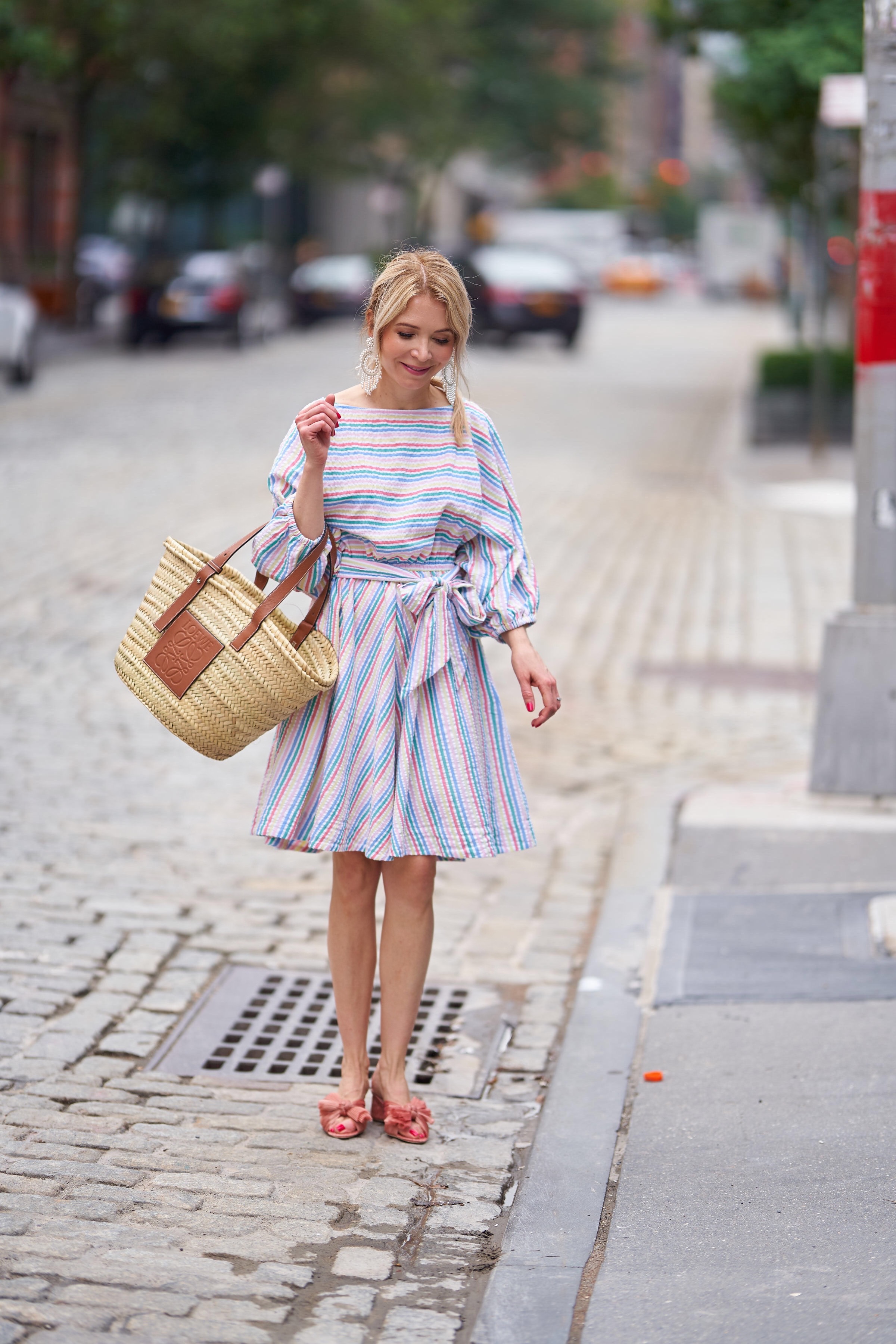 I can't believe I've been shopping at J.Crew for 25 years….
I just did the math, and I have been shopping at J.Crew for at least 25 years!  How scary is that?  But also fantastic!  I love that J.Crew is such a longstanding beloved brand to many Americans.  Although I go through phases with their clothes (more on that below), I do have a great deal of brand loyalty to J.Crew.
My history with J.Crew…
I remember when I was in high school in California, and J.Crew was just starting out – they only sold through catalogs by mail (as did LL Bean, Land's End, etc.).  They had a very limited range of clothing – Bermuda shorts, button downs, pullovers and polo shirts.  They were one of the first brands to use the tactic of getting really good looking models to wear their clothes in the catalogs (kind of how Abercrombie does it).  They made these basic preppy pieces look absolutely smashing!
So when I was 16 or 17, I would pore over the J.Crew catalogs sent to my parents' home with longing and excitement – all the preppy great-looking models posing as East Coast teens and 20-somethings wearing madras plaid Bermuda shorts, and polo shirts.   It gave me that glimpse into that Cape Cod, Nantucket, Hamptons lifestyle – in California we weren't really preppy, people were more into the surfer/skater aesthetic.  It was thrilling!  I don't think my mom every ordered me a single thing from the catalog though.
However, later, in college at Berkeley I finally got to buy my first pieces from J.Crew  (I had a job in the student bookstore for spending money).  I had several of their sweaters- the roll neck knit sweaters and the shaker knits were my favorites!  Then, on to law school at UCLA in 1998 and 1999:  I would go to the J.Crew store in Century City at least once or twice a month (the shopping bug had hit me by then).  I bought their peacoats, their woolen trousers, and sweaters in winter, and their shorts and tops in summer.  When I started working as a lawyer in San Francisco, J.Crew was my favorite place to get suits and workwear!  And now that I am an adult, most of my J.Crew purchases are for my girls – I love their Crewcuts line – but every once in awhile I go in to the women's section and come out with some fabulous pieces!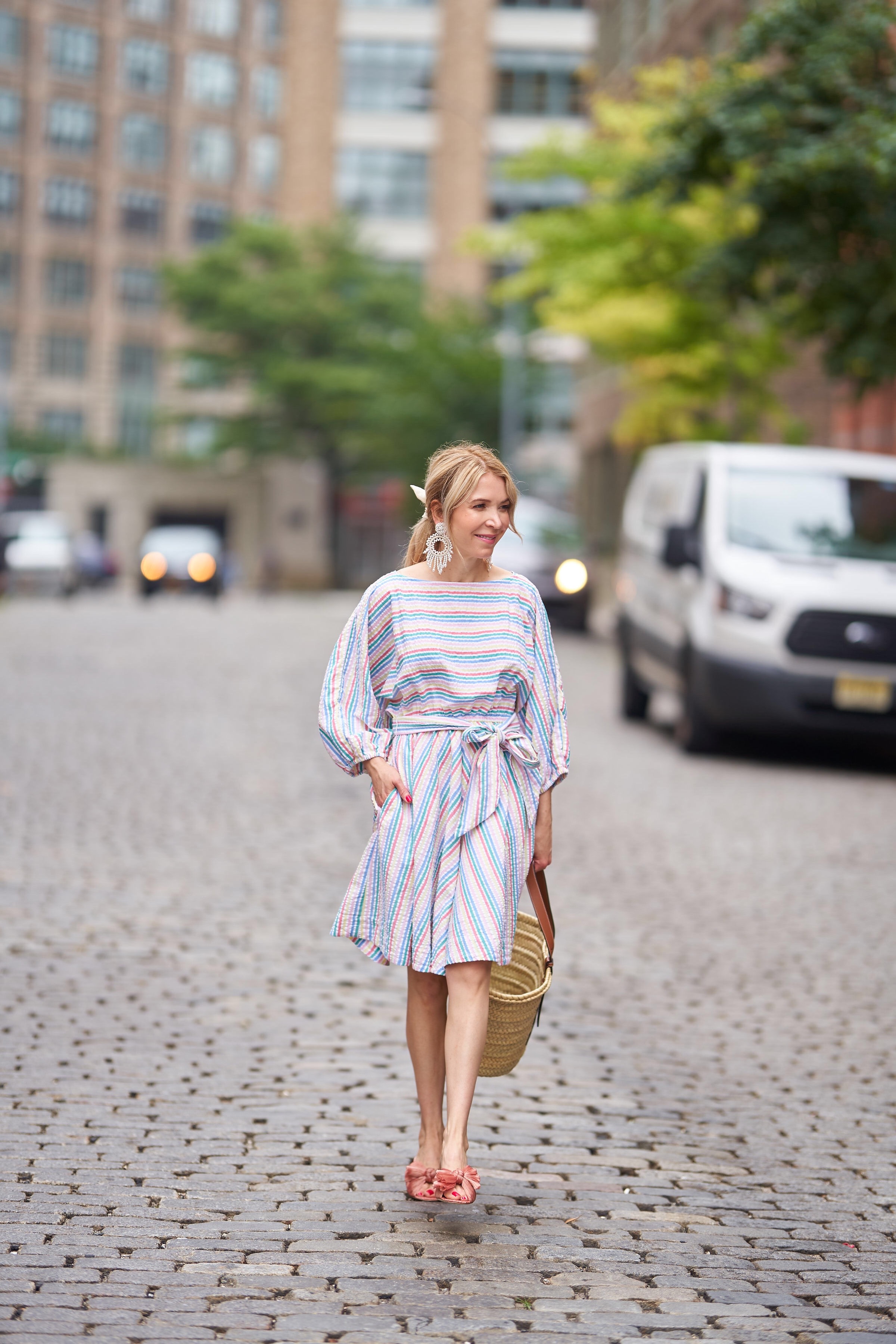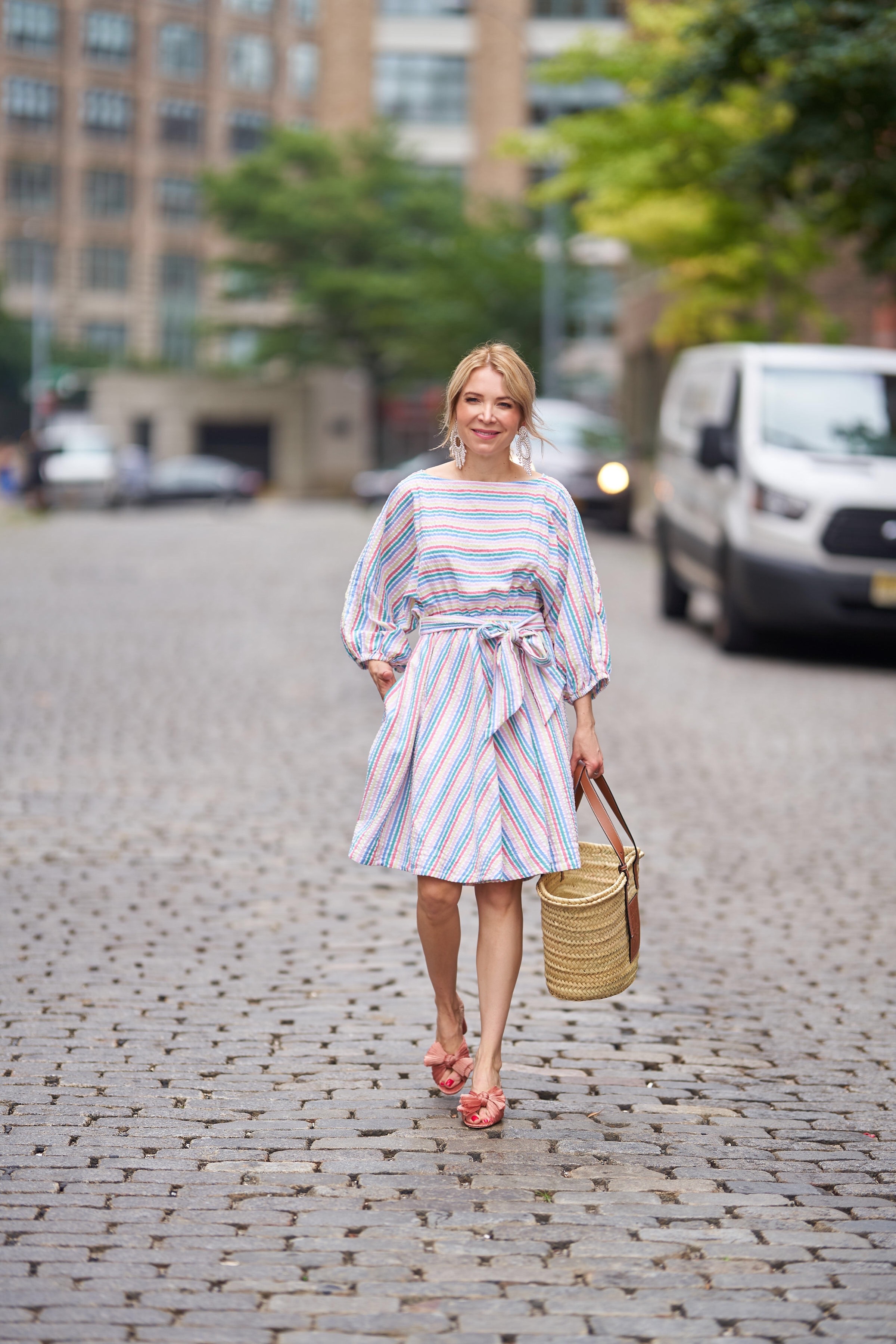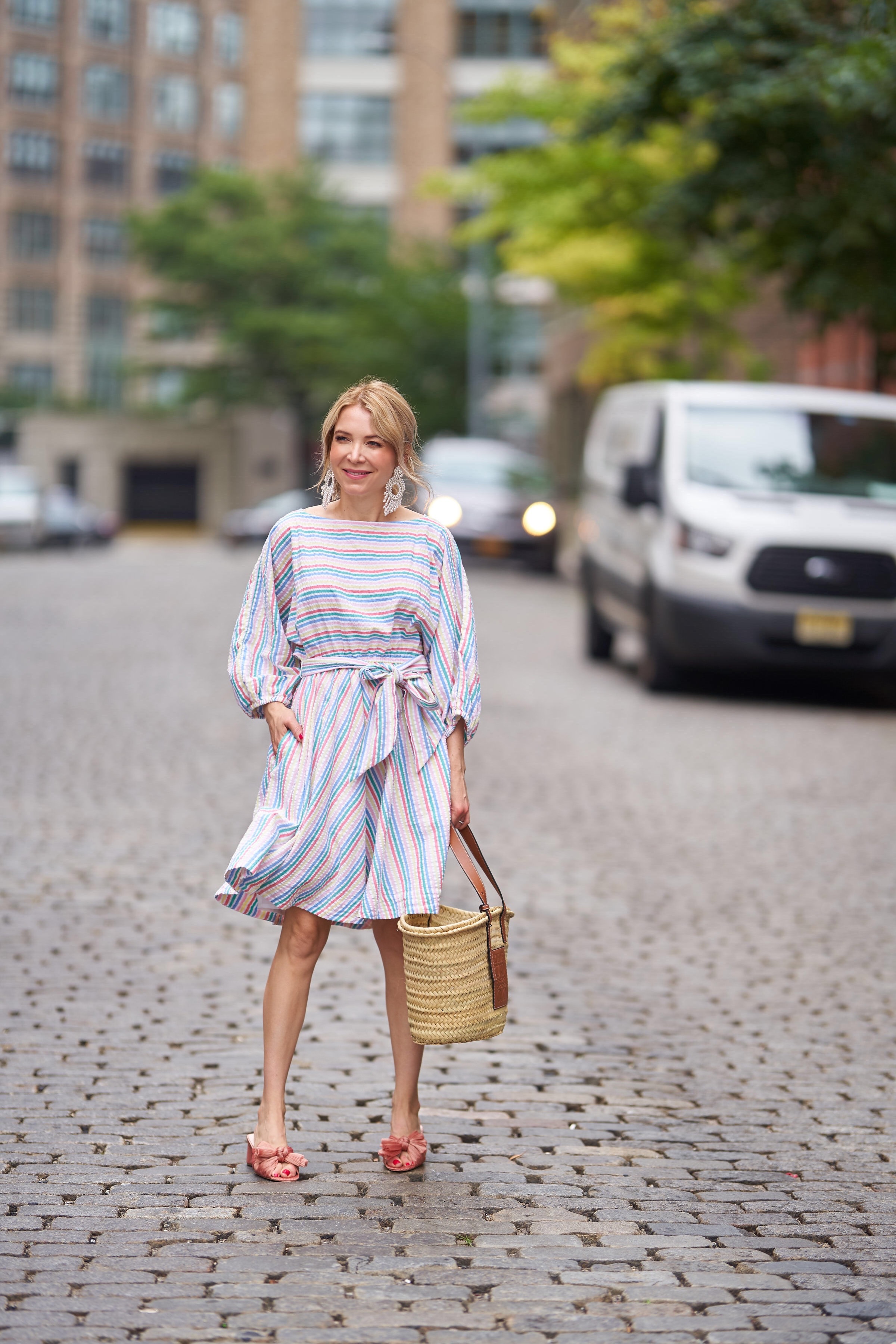 J.Crew styles can be hit or miss for me…
Lately, I actually am not always a huge fan of J.Crew clothing – for myself that is – many of their dresses are the fit and flare, A-line style that I just don't find flattering on my figure.  Also –  J.Crew are pretty conservative in their designs – I do think at heart they have the preppy Southern or Midwestern girl in mind with their more traditional dresses, skirts, blouses and basics.  I'm not really preppy or conservative in my clothing so sometimes I don't really gravitate toward J.Crew.  Sometimes I go in and find tons of things, other times I just don't feel it.  However, right now, I think they have so many cute things!  Like this seersucker striped dress!  I love that it is blousy on top and has a full skirt that catches in the breeze.  I love the pockets!  I purchased this dress just before our vacation to Martha's Vineyard a few weeks ago, and have been wearing it all summer.  Such an easy day dress.  I have linked a lot of things I love in the scrollbar at the top of this post!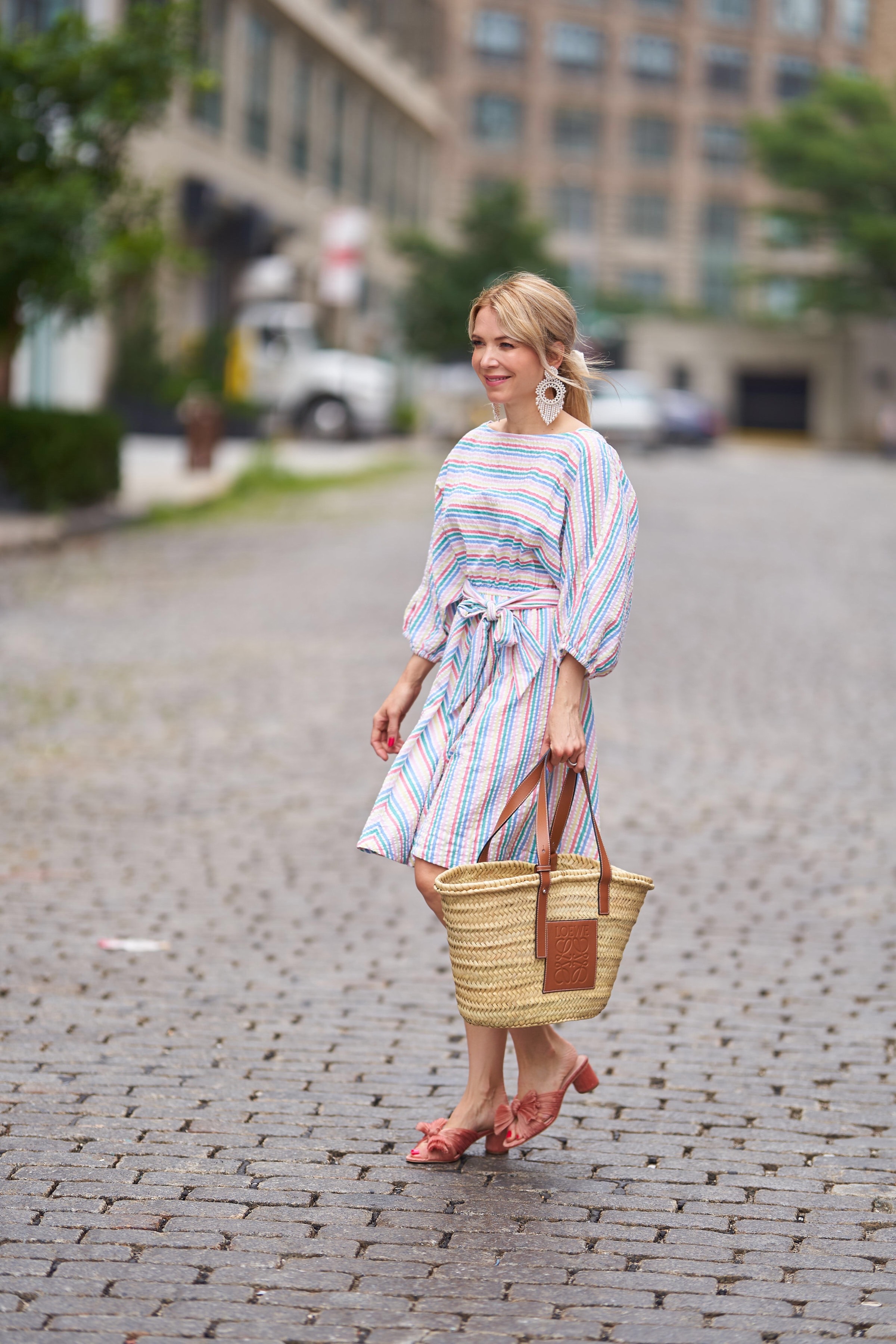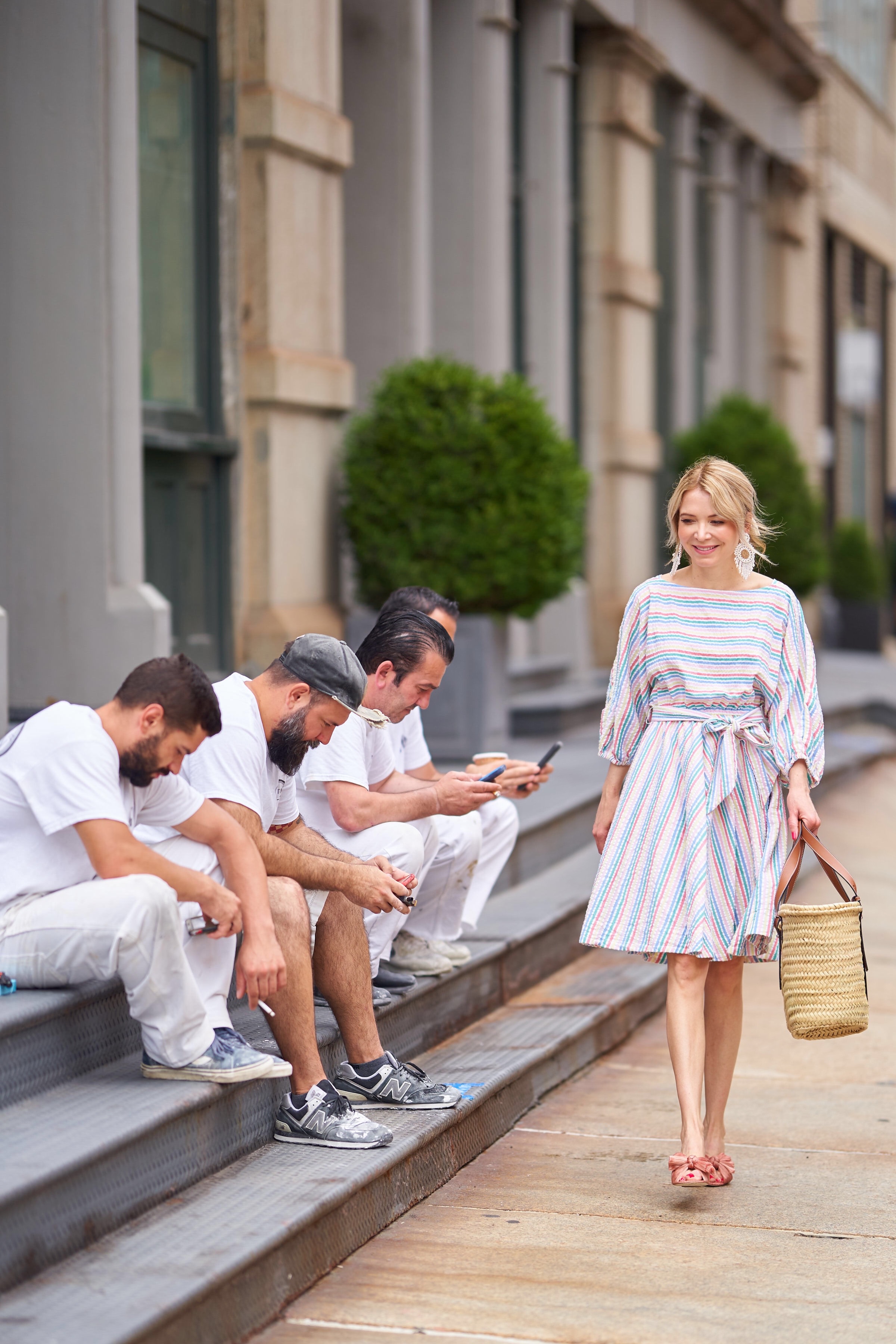 The perfect bow mules…
And these Loeffler Randall "Emilia" mules are like my perfect shoe!  I can't say enough good things about them. They are comfortable with the stretchy plisse fabric, the heel height is perfect and what can I say – I love bows! They also come in a higher heel height (called the "Penny"). They are almost sold out though, so if you like them you need to scoop up a pair!  I know bows and ruffles are not everyone's taste but to me, these shoes are perfection!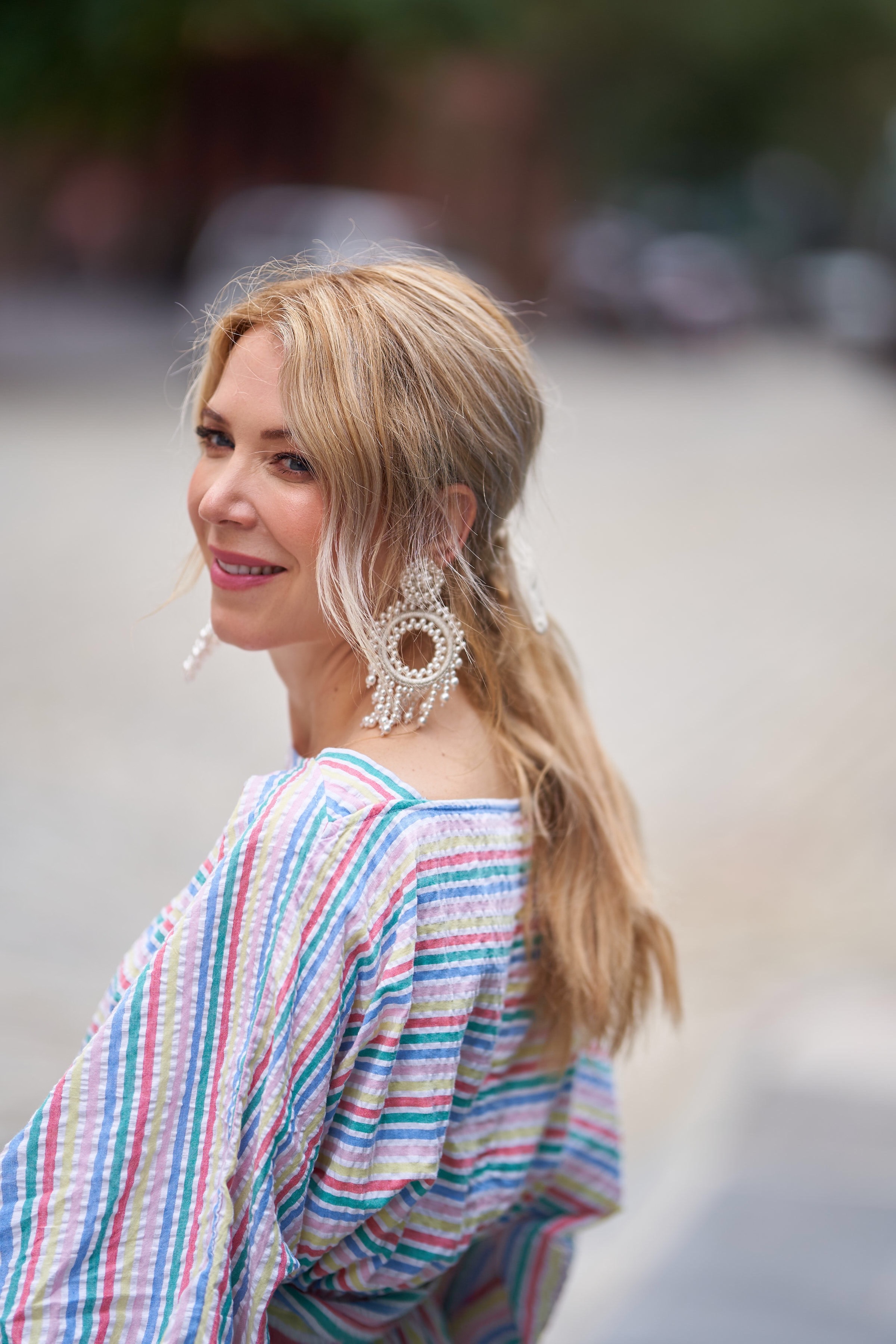 Statement earrings on sale….
Finally, these wear with anything statement earrings by Bibi Marini are on major sale.  I got them at Net-a-Porter earlier in the summer.  I love that they are pearls – they go with everything! I've linked them in the scroll bar at the bottom of this post.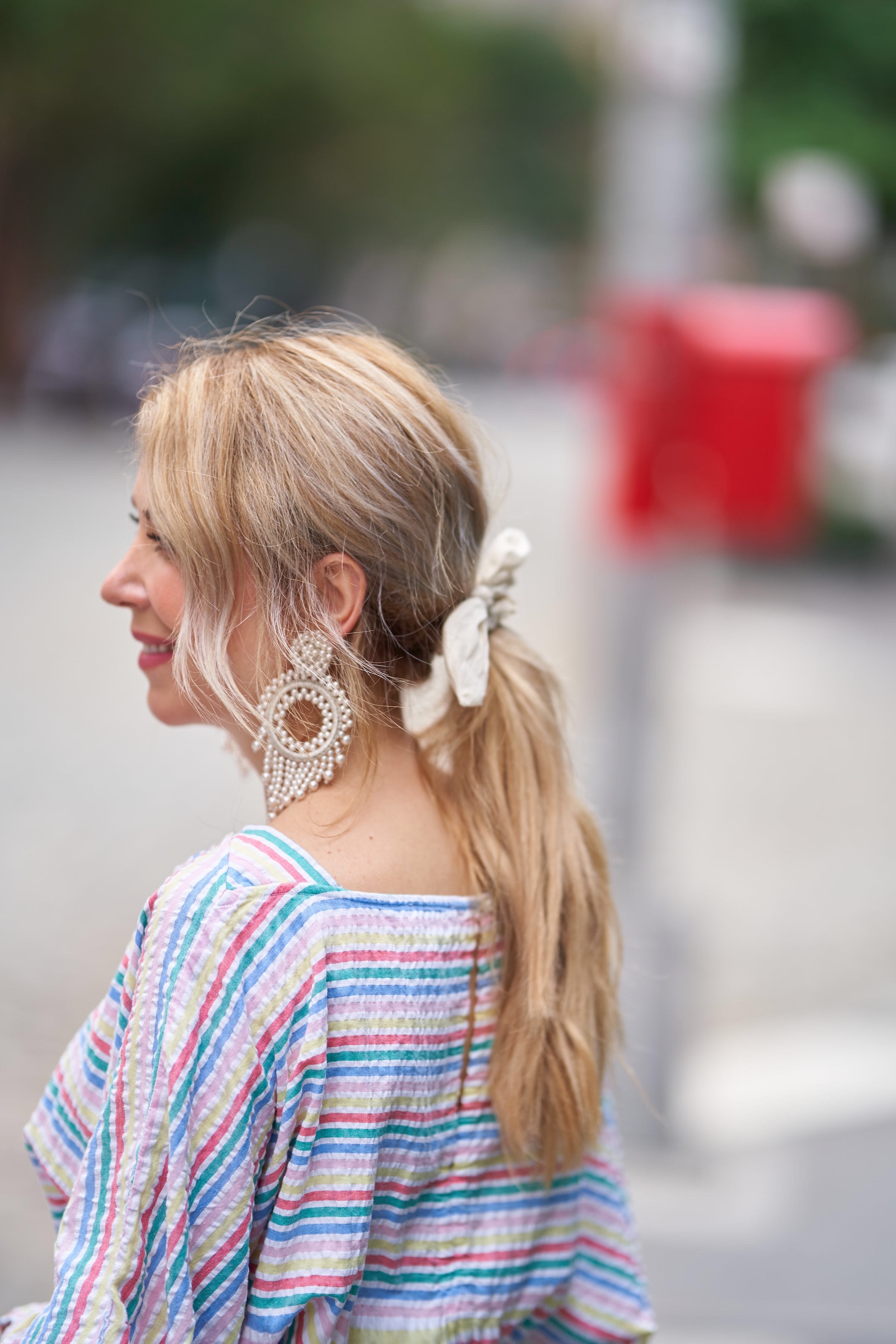 Thanks for reading!
xxxxxx
Laura
Photos by Mike Kobal
SHOP THE POST