It is safe to say that most American women are enamored of French women and their style.  French women just have that "je ne sais quois" especially in the fashion department.  They all seem to able to dress with the epitome of understated yet distinctive style at every age, very rarely getting it wrong with a fashion faux pas!  One of my favorite style books is Parisian Chic – A Style Guide by Ines de la Fressange – the illustrations and photos, as well as they style tips for women over 40 and 50 – I just love it!  And don't forget how obsessed we all were with the book French Women Don't Get Fat by Mireille Guiliano – which was a number 1 national bestseller!  Yes, the persona of the French woman definitely holds allure for the average American woman wearing her sweatpants and athleisure all day.
So when I became friends on Instagram with Raphaelle Paolini (on Instagram she is @raphpao, a young Parisienne, who recently moved from Paris to Miami to live with her boyfriend and start her career as a stylist, I was thrilled.  First of all, I love her style.  She definitely has that mysterious "je ne sais quois".  Second, I love that our 15 year age difference just didn't seem to matter.  Instagram is wonderful for this!  Two of my closest friends on Instagram are Raphaelle, in her 20s, and Sunny from @oldfashionguru, in her 60s, two ladies I probably never would have been able to meet otherwise.
Raphaelle recently came to visit New York City for a weekend and we got to know each other in real life!  We went to dinner at Cecconi's in Brooklyn, Tetsu in Tribeca, and to the RH Rooftop at Restoration Hardware in the Meatpacking! We also took my daughters to the Museum of Ice Cream in Soho, which they loved.  And, one afternoon, she came to my apartment, went through my closet, and styled 3 outfits for me.  I had just done a big shop at the Zara sale, and she took some of those new items and mixed and matched them with existing pieces from my closet, and… voilá!
Look 1: Belted Sweater, Skinny Jeans, Cap and Red Bag
This first look we had discussed in advance, to be coordinated. Raphaelle was planning to wear the belted jacket, and so I decided on the belted Zara sweater.  I thought the outfit was all set – however, when she got to my apartment and went through my closet, Raphaelle insisted on the red Saint Laurent bag.  She almost had to force me to wear it!  I was convinced that it would look strange with the neutral outfit – but it totally works!
 Sweater: Zara | Belt: Zara | Jeans: Madewell | Bag: Saint Laurent | Boots: Prada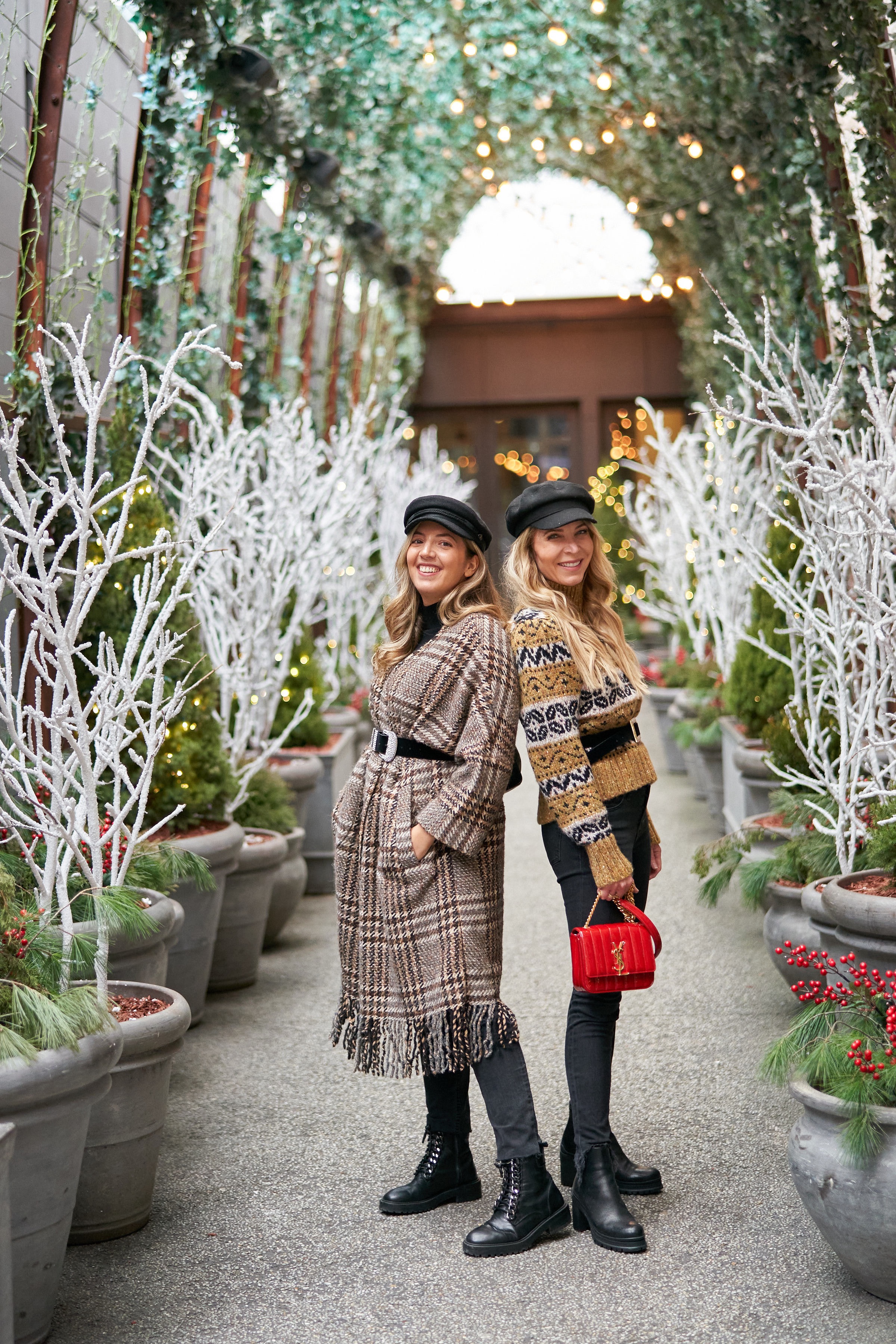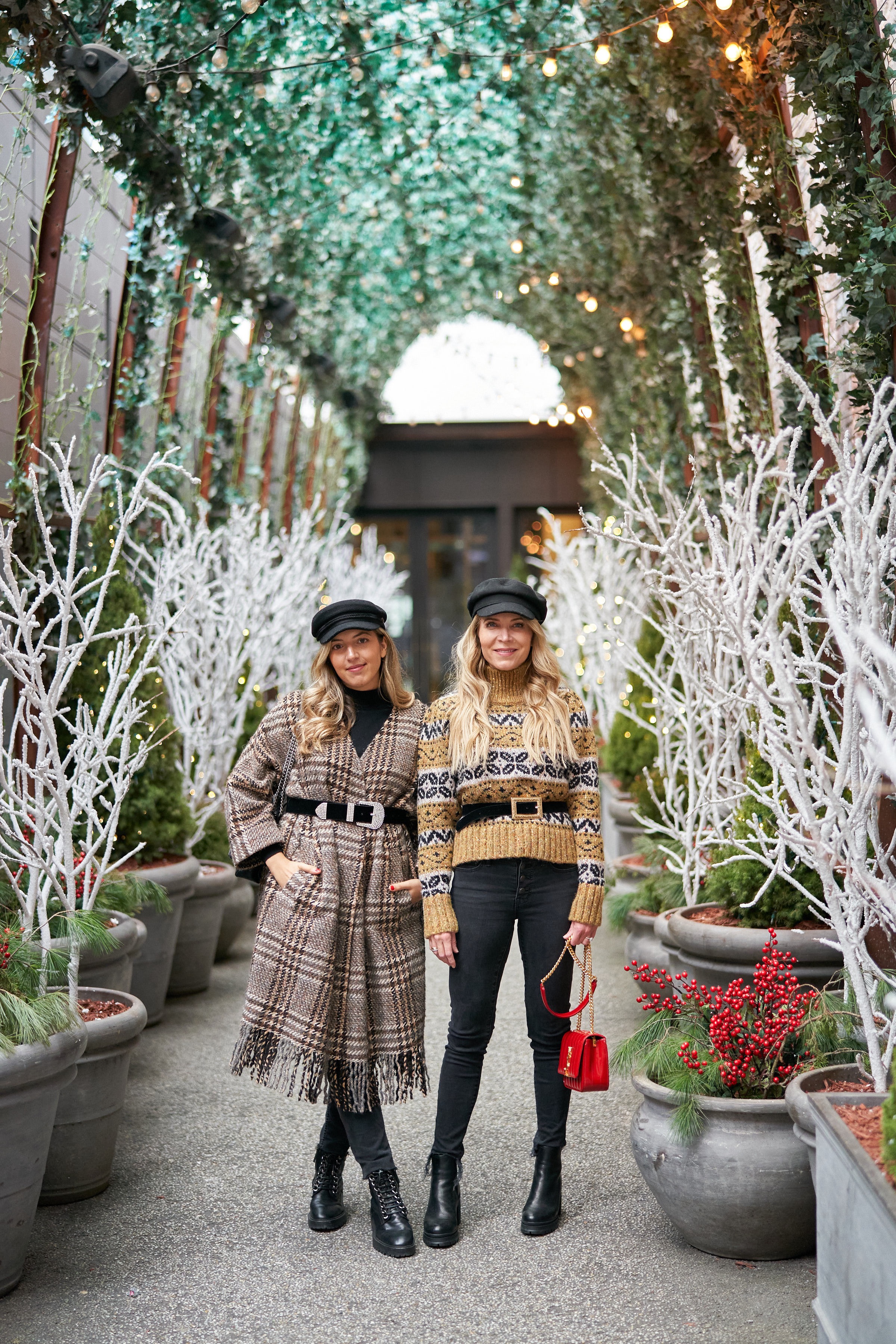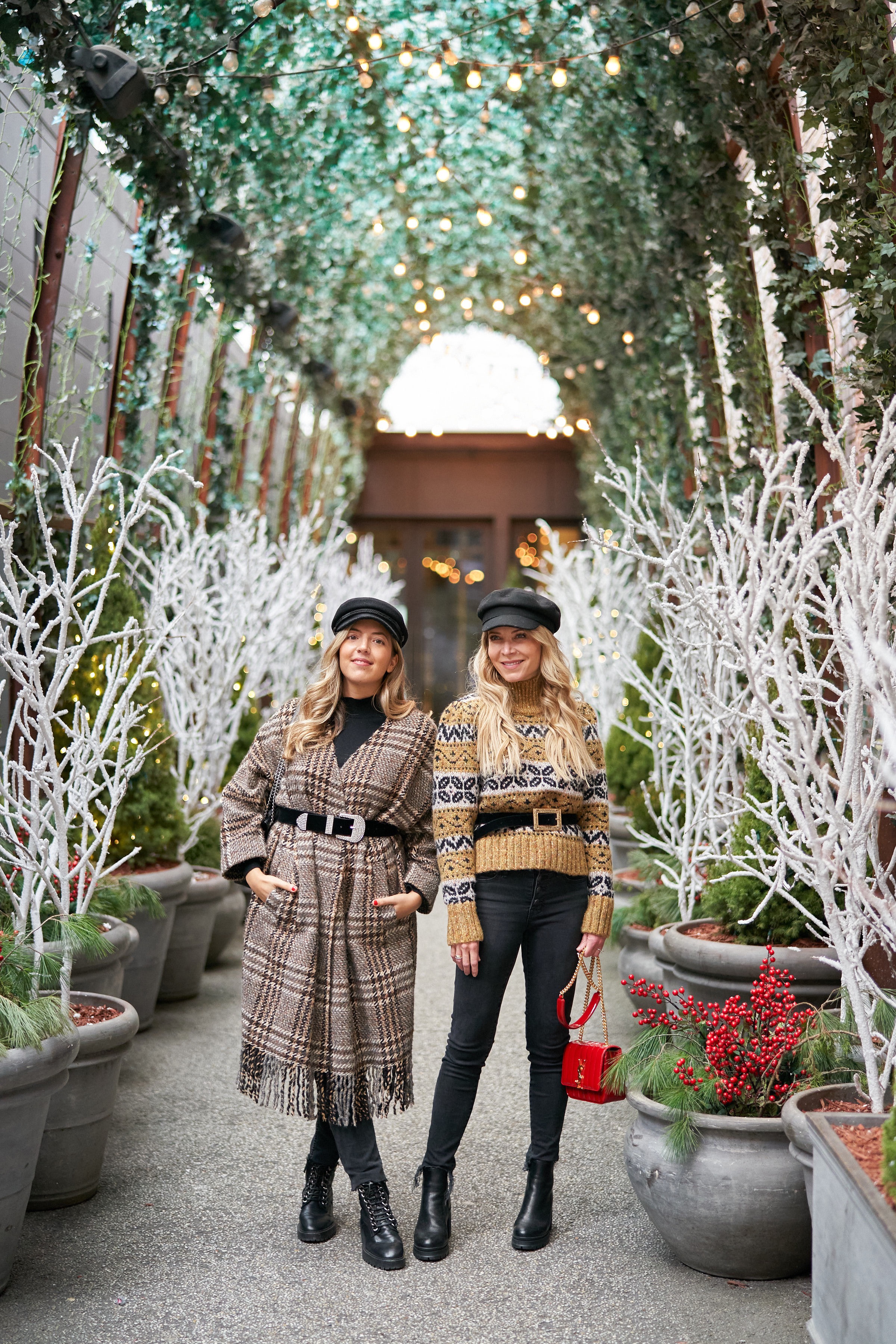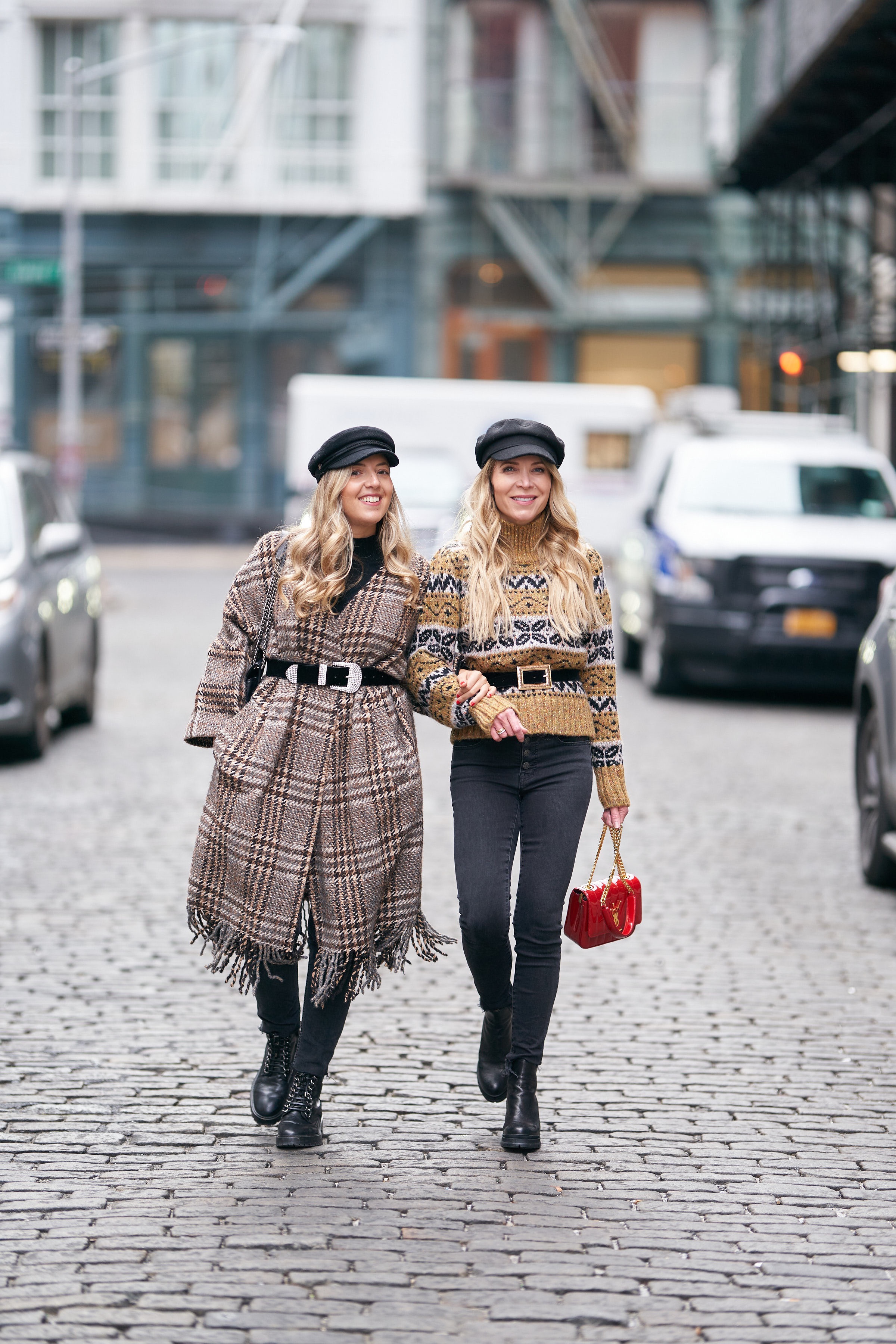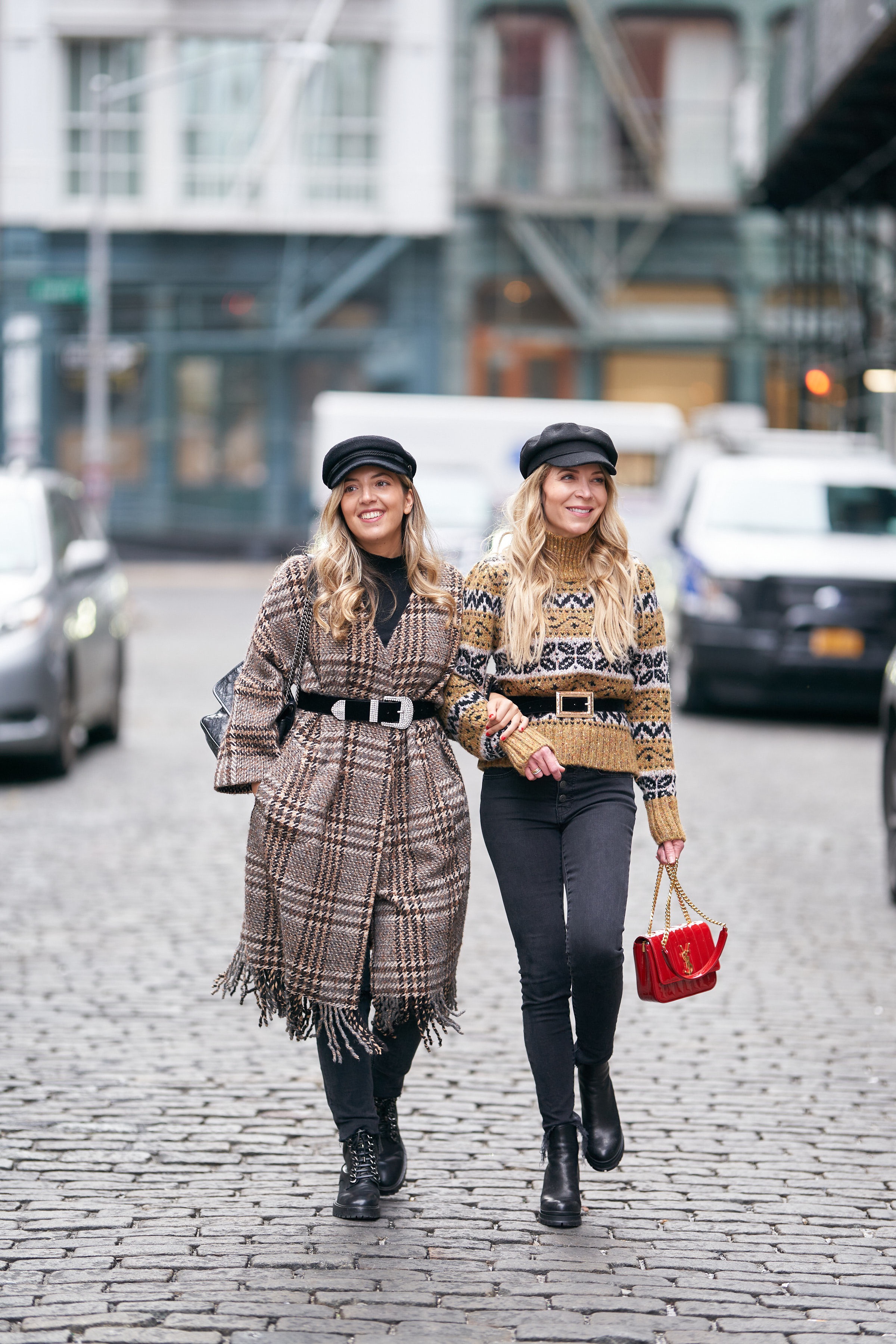 Look 2: Belted Green Sweater, Leather Pants and Pink Mules
For the second look, Raphaelle did another belted sweater (I love this studded rhinestone stretchy belt from the Zara sale) and chose the old season green Ba&sh sweater out of my drawer.  The big surprise for me was adding the pink shoes.  I would have added silver heels with this, but Raphaelle insisted on the pop of color pink!  And she was totally right – they look perfect and they lift the whole look!
Sweater: Ba&sh | Belt: Zara | Pants: Zara | Shoes: Zara | Bag: Bottega Veneta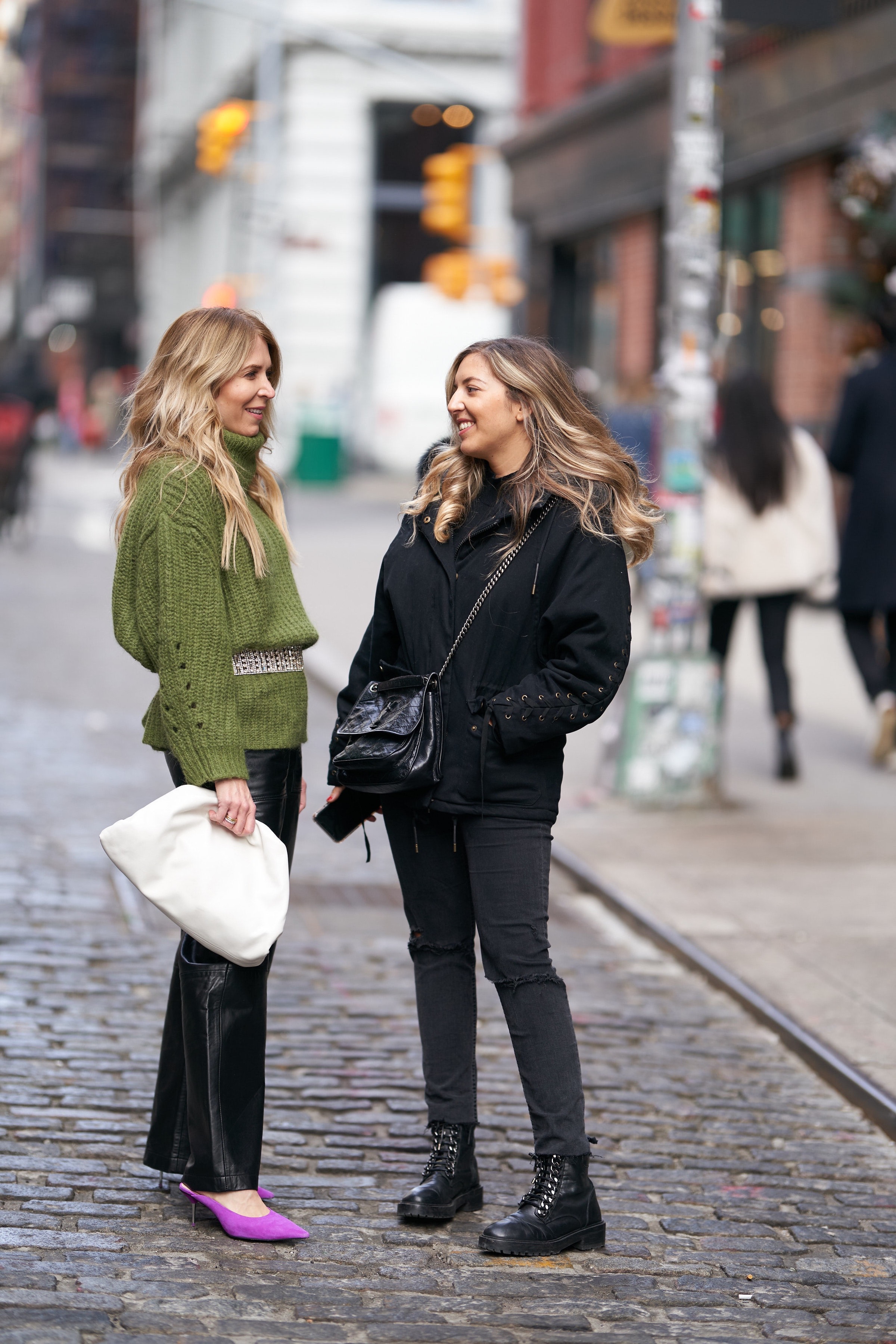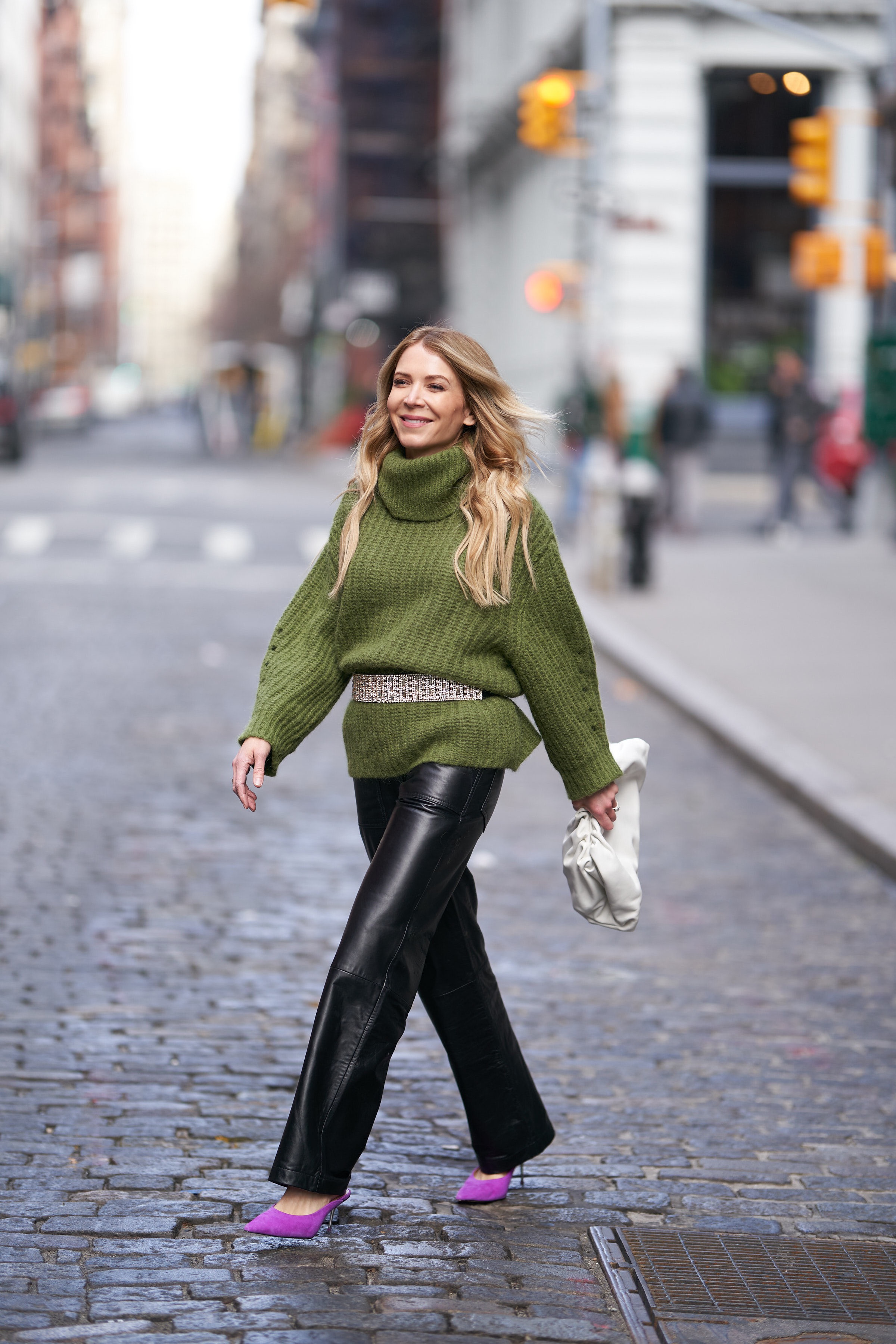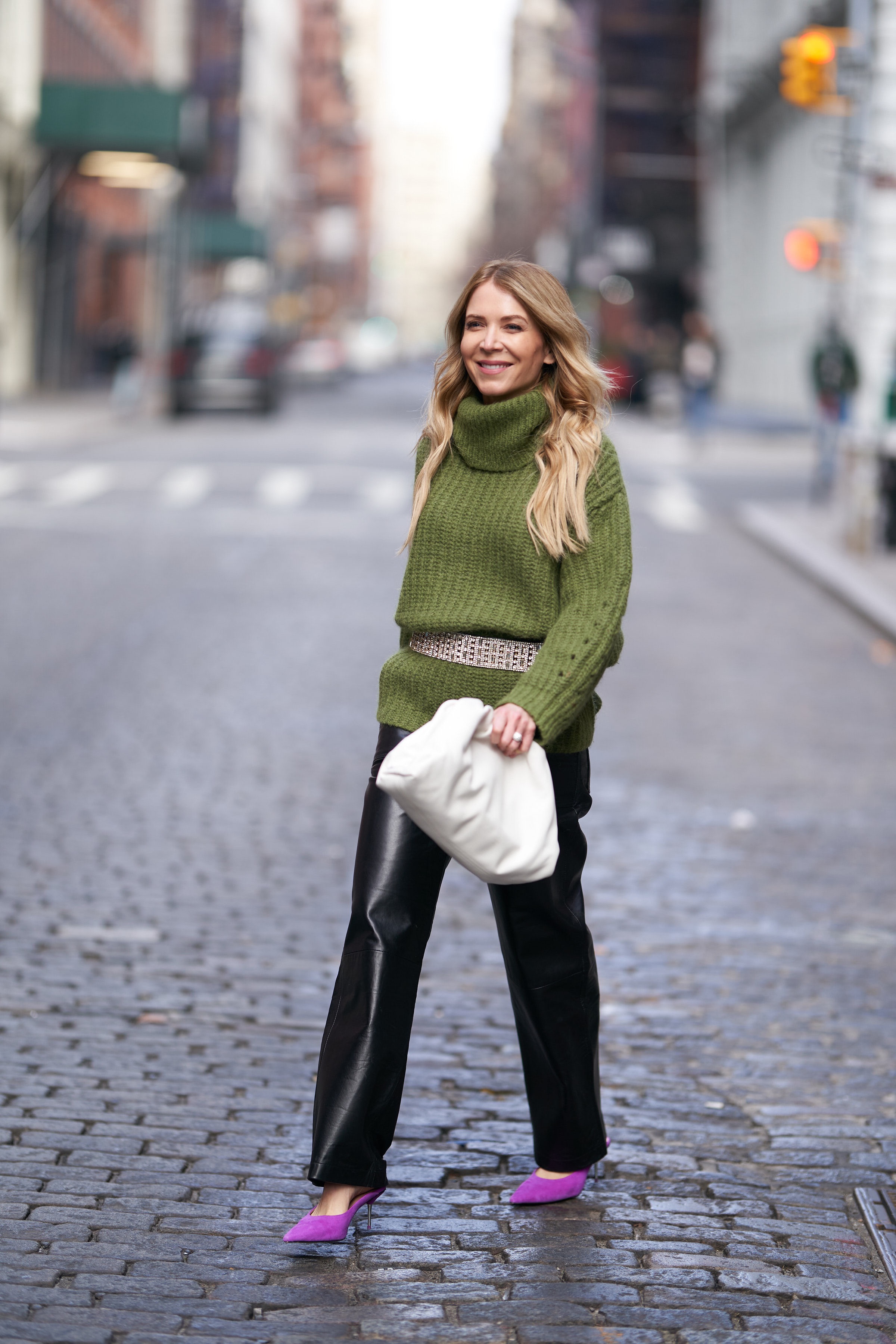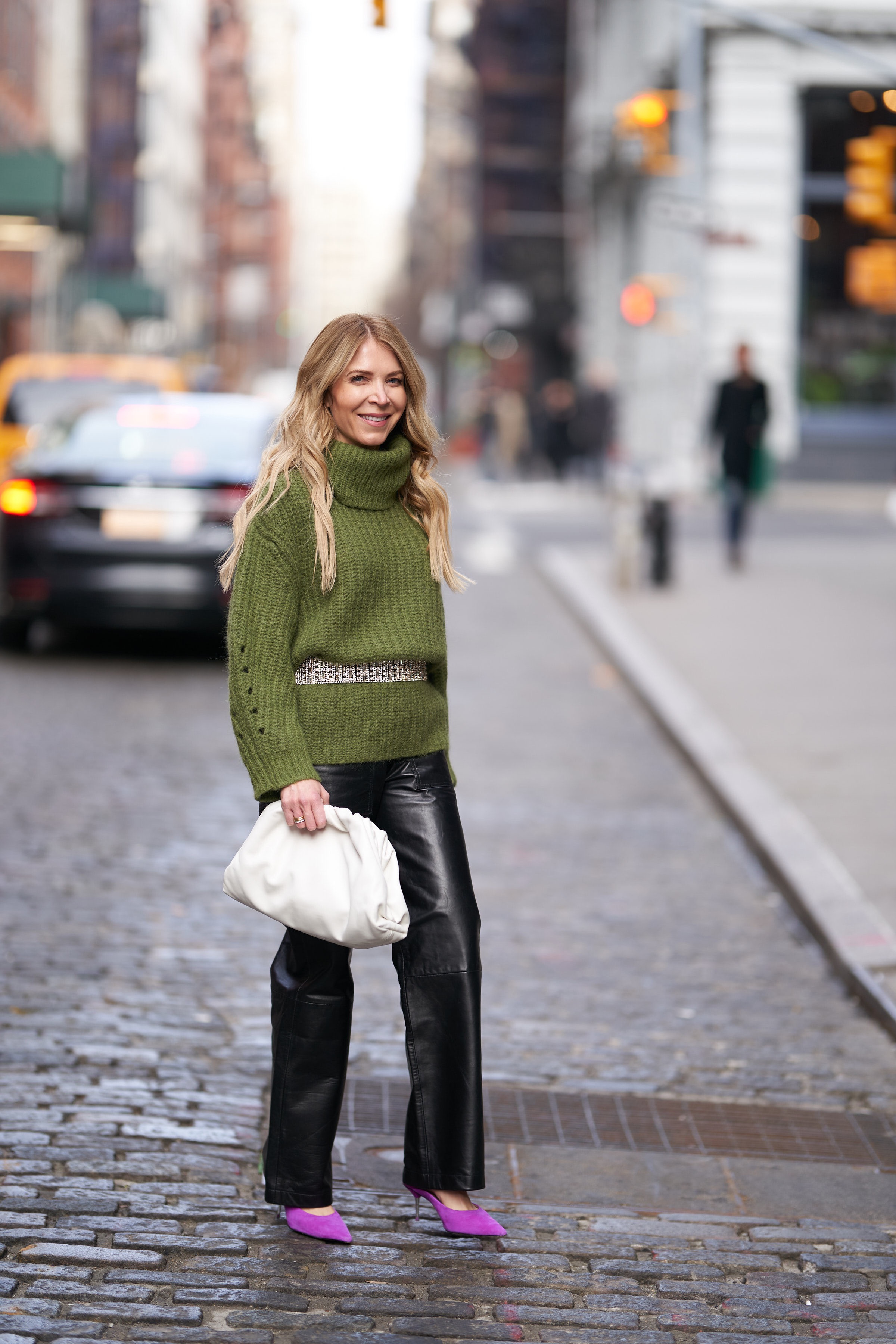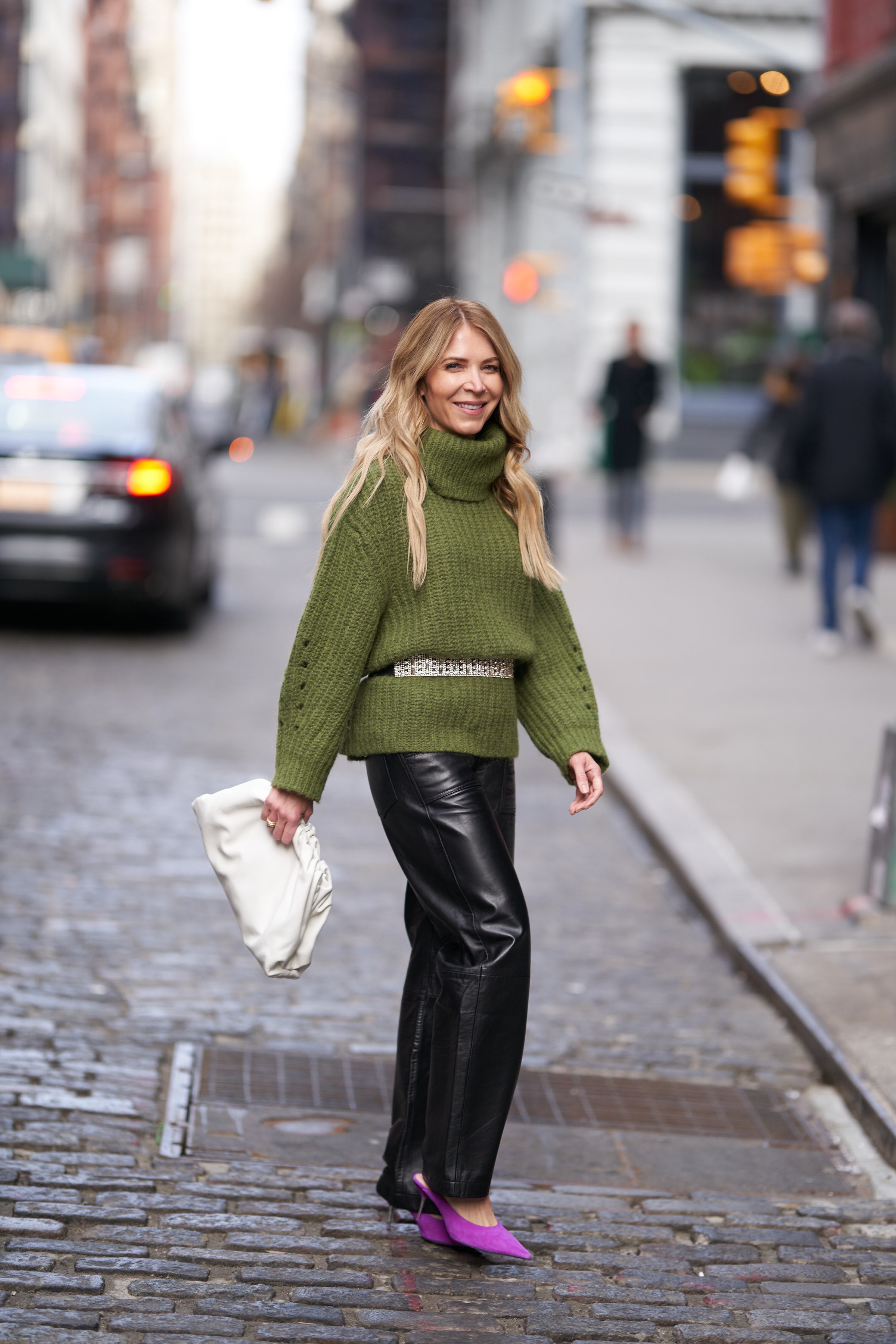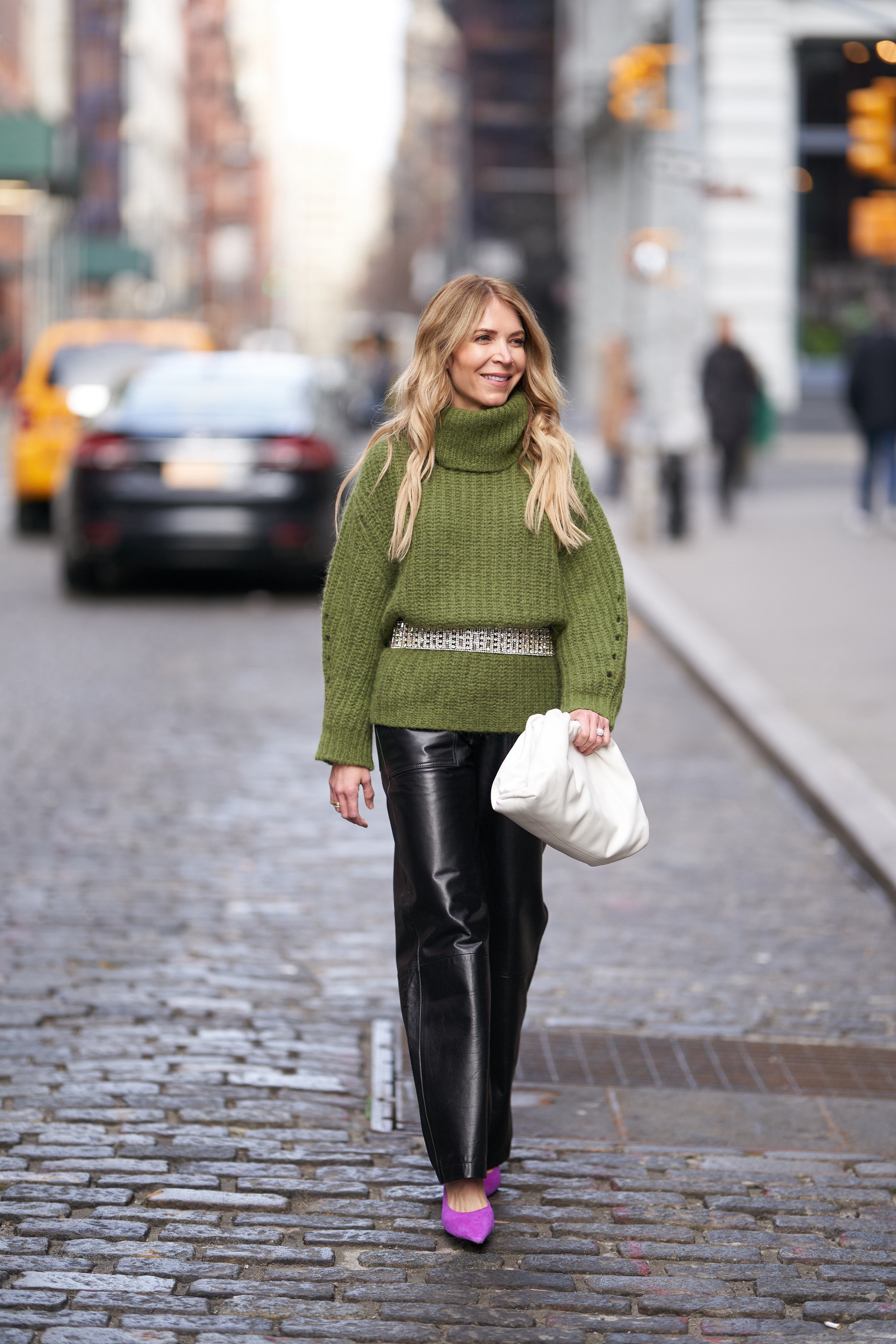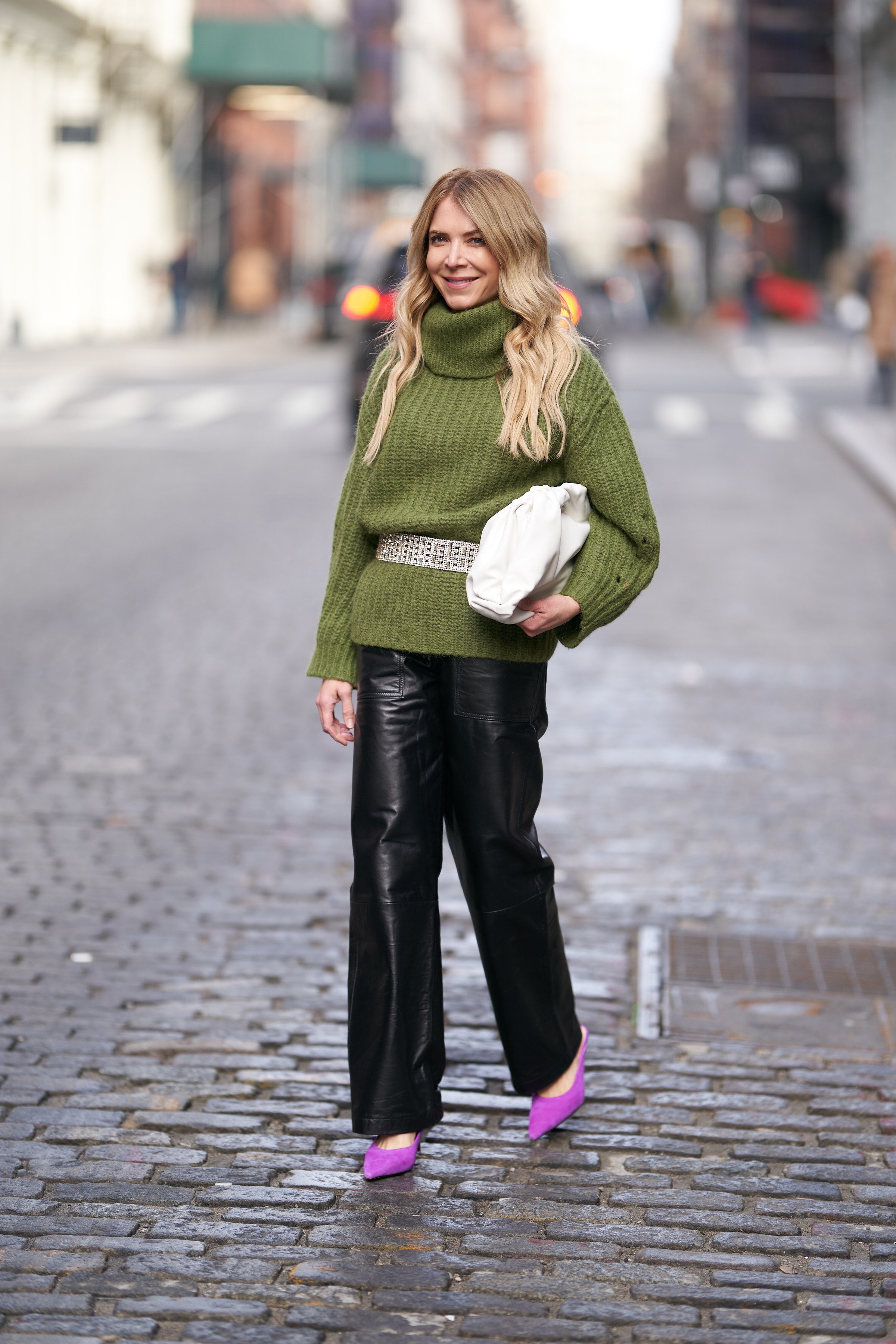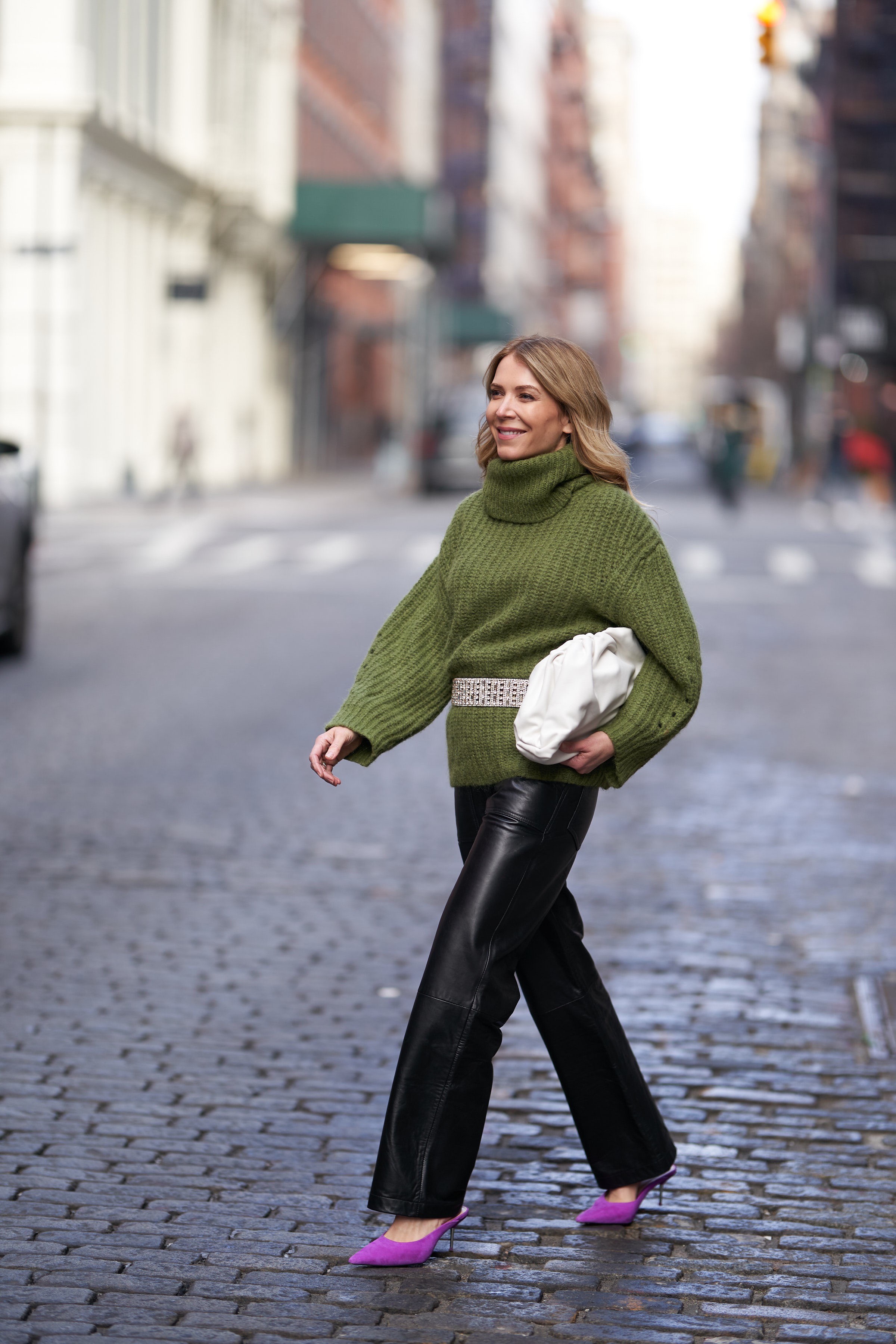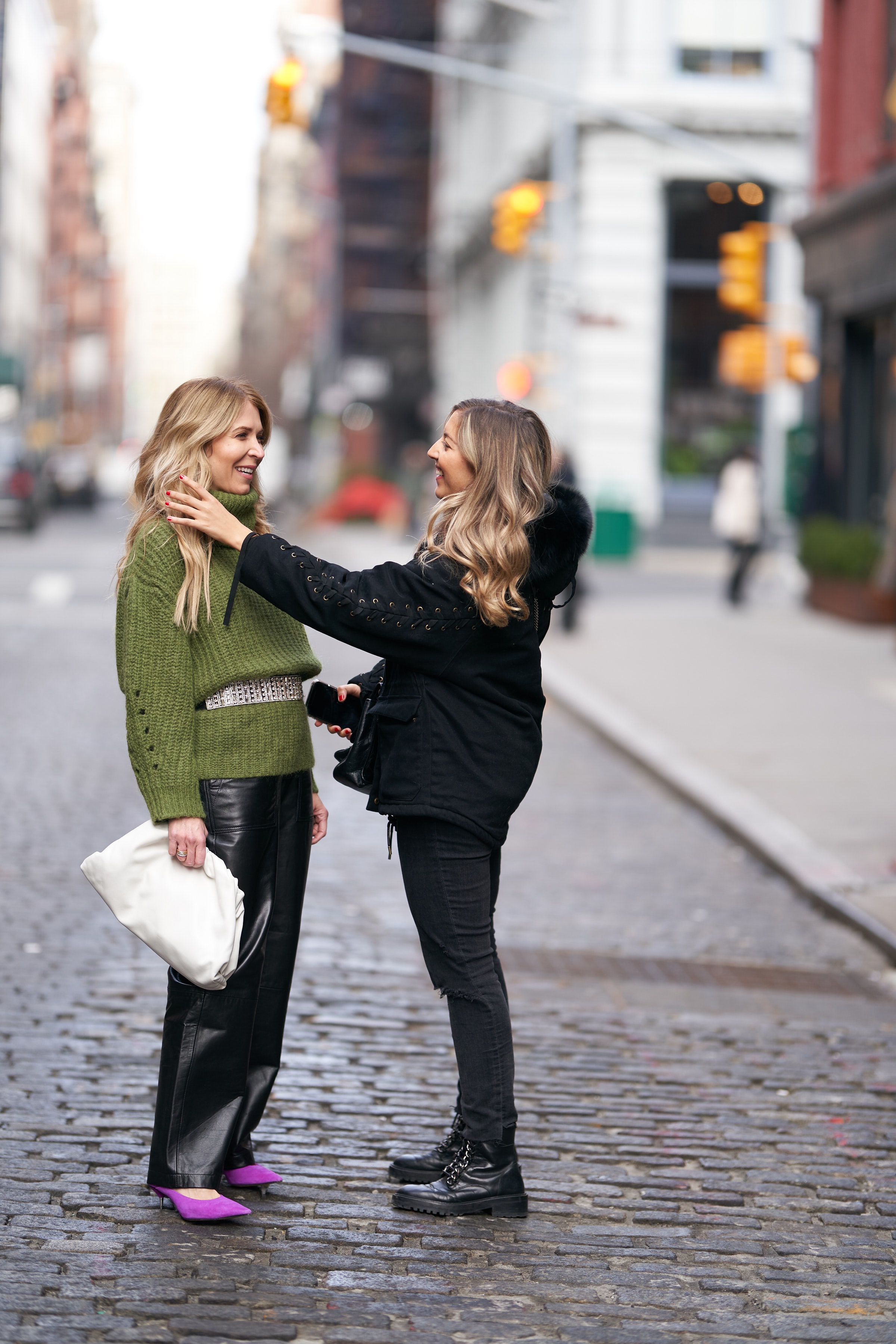 Look 3:  Multicolored Puffed Sleeve Sweater, Jeans, Loafers and Simple Bag
For the third look, Raphaelle kept it very casual.  The bright sweater with some straight leg denim (both Zara sale finds) and my white Gucci loafers.  I would have thought this outfit was too simple, and would have probably worn heeled shoes or tighter pants, but really I can see this on a Parisian.  It is simple, chic and elegant with the flats and the slimline bag.
Sweater: Zara | Bag: Saint Laurent | Jeans: Zara | Loafers: Gucci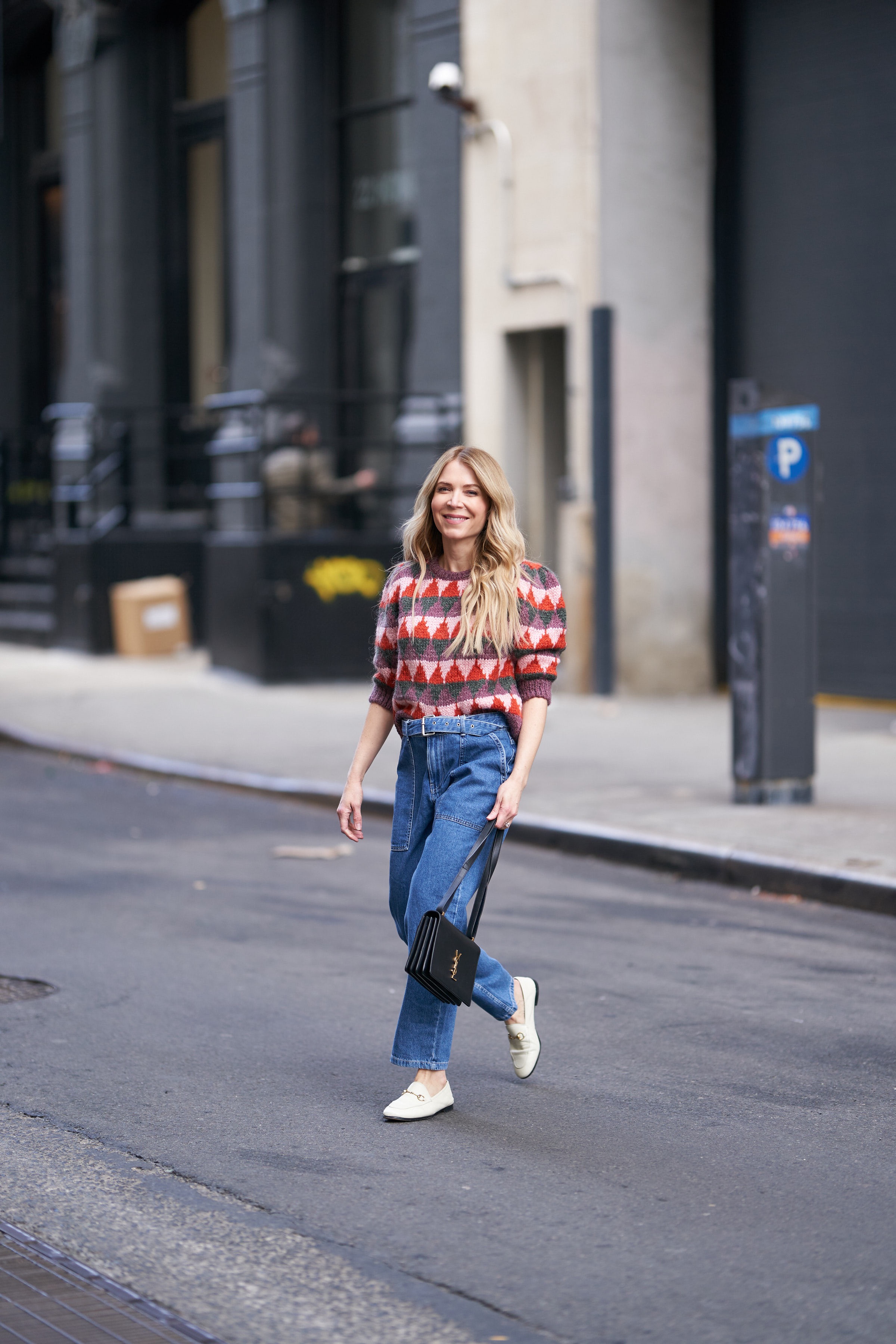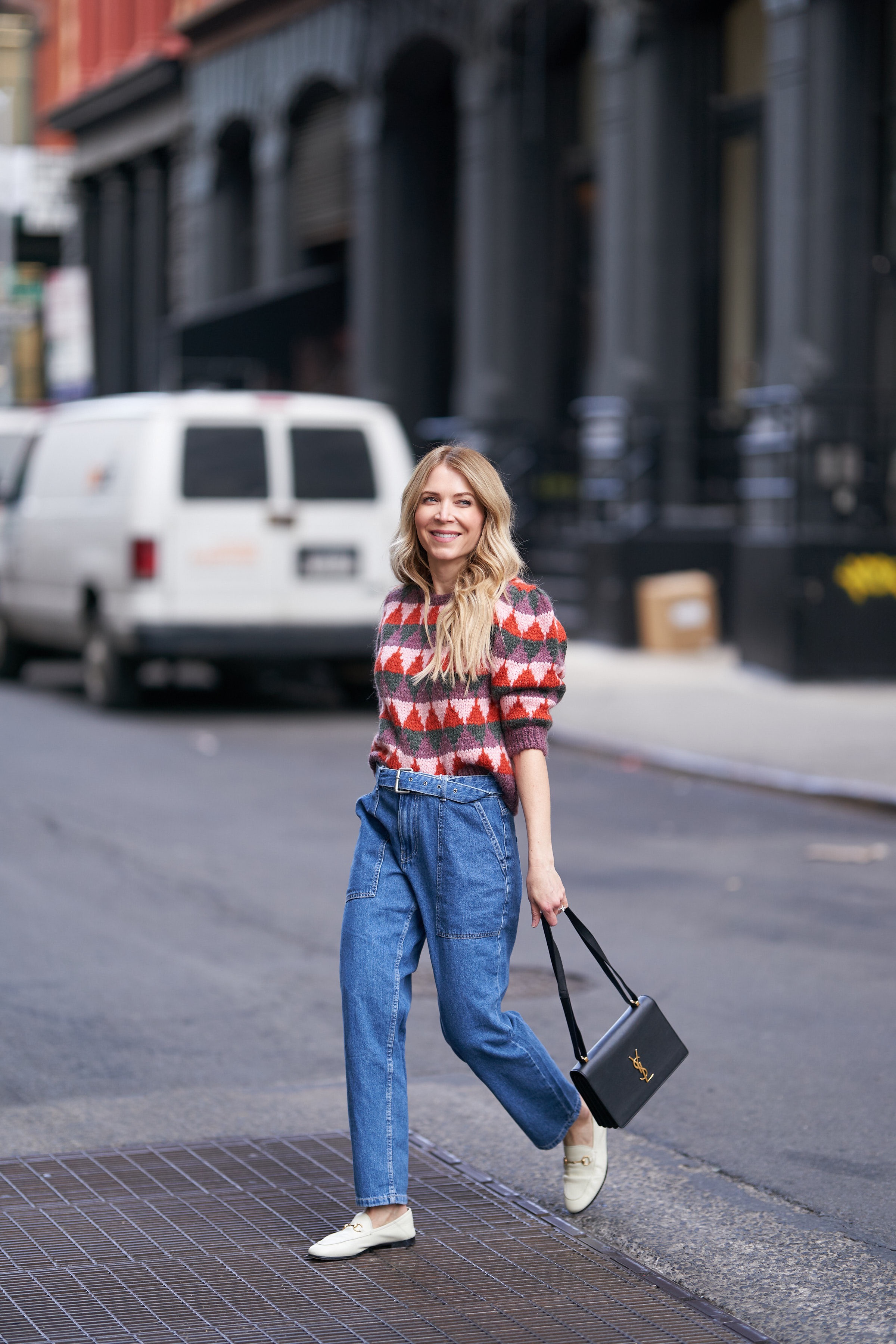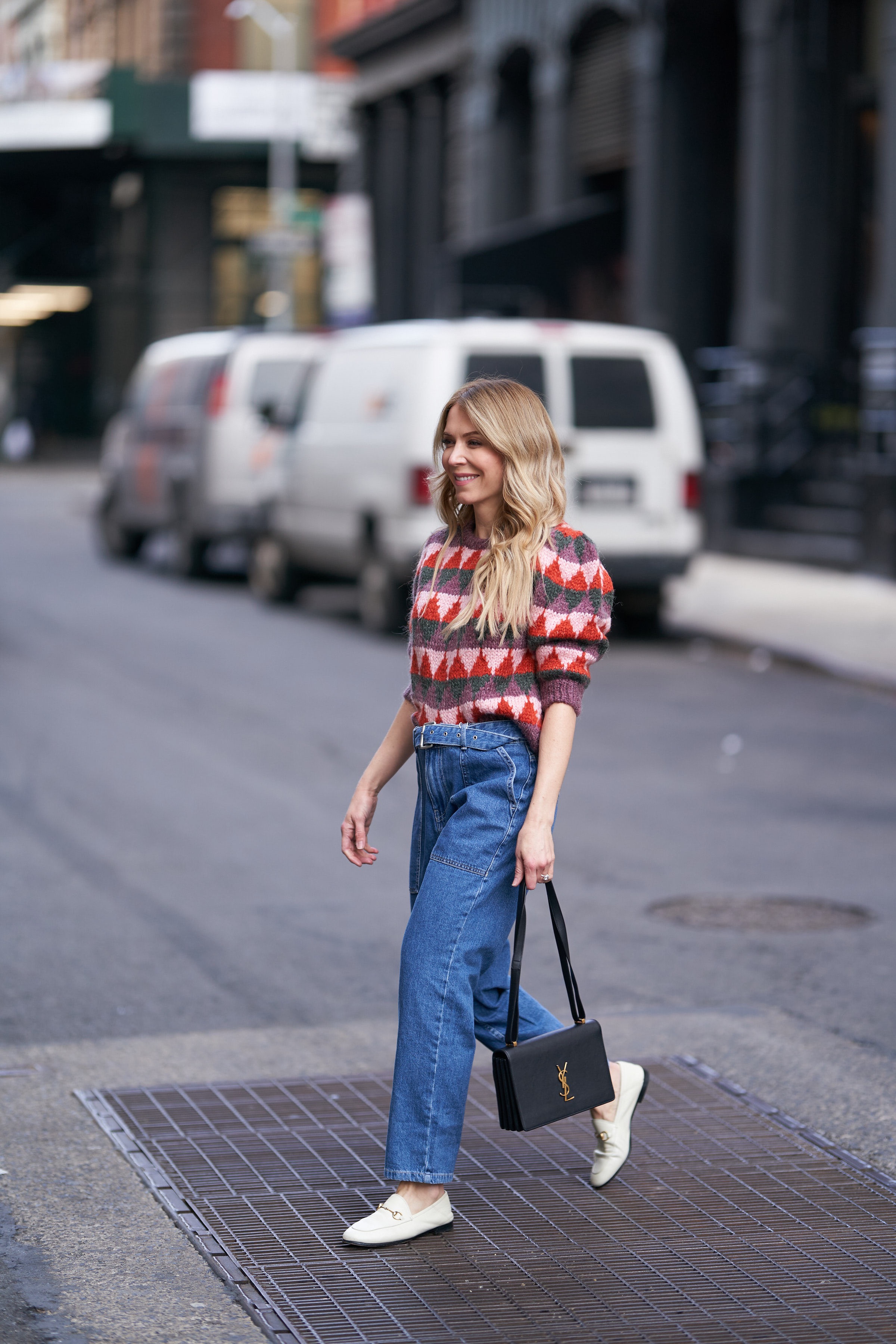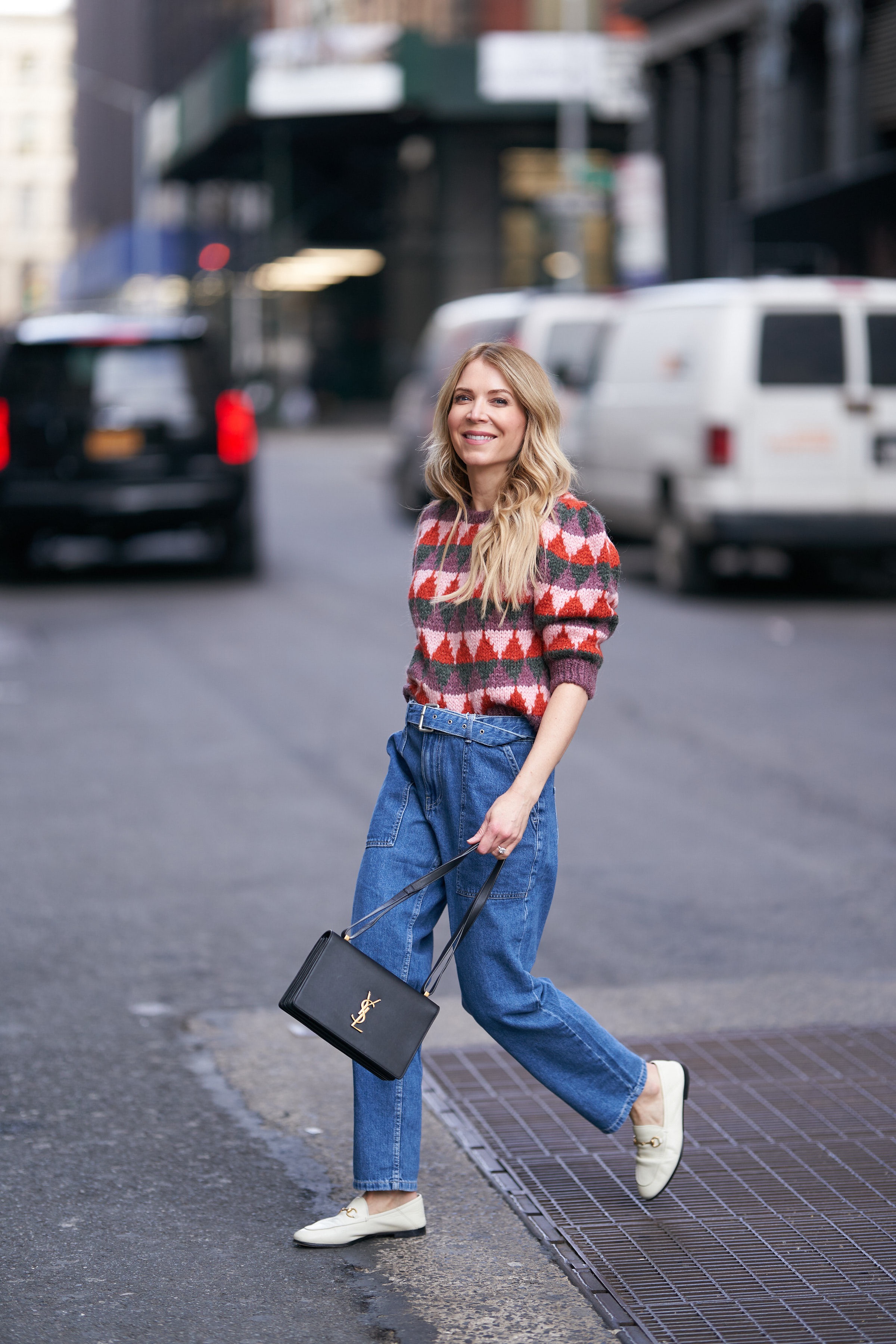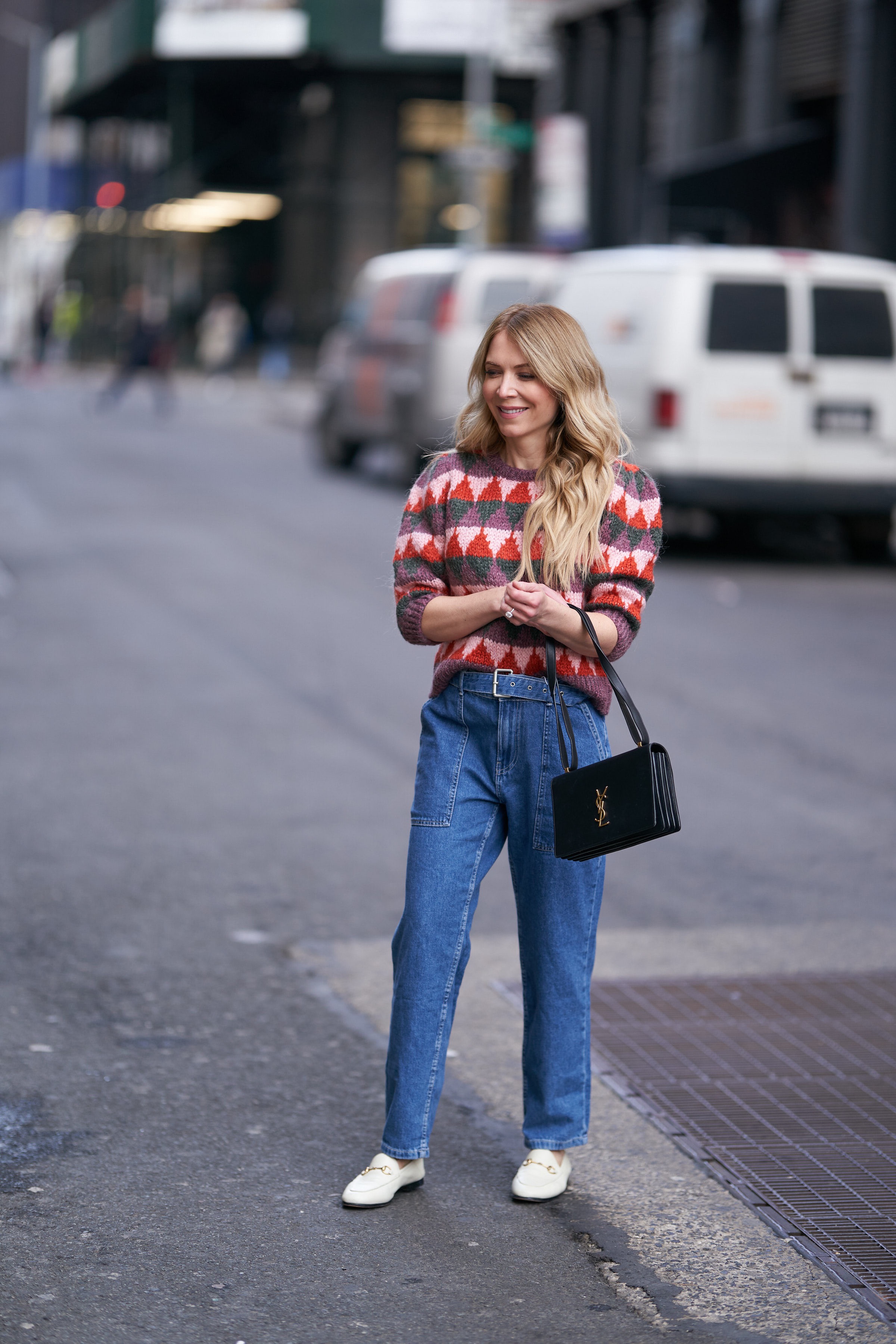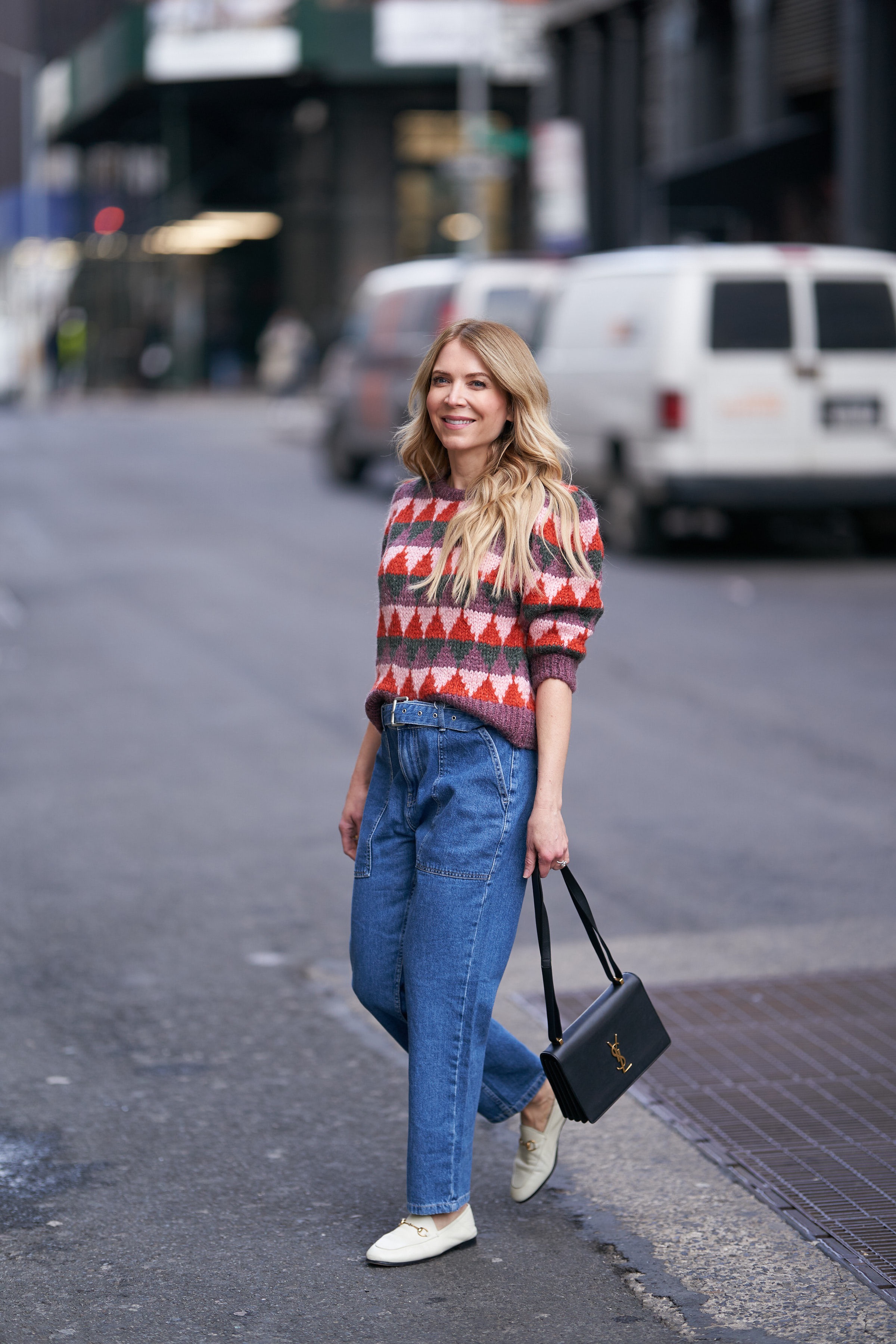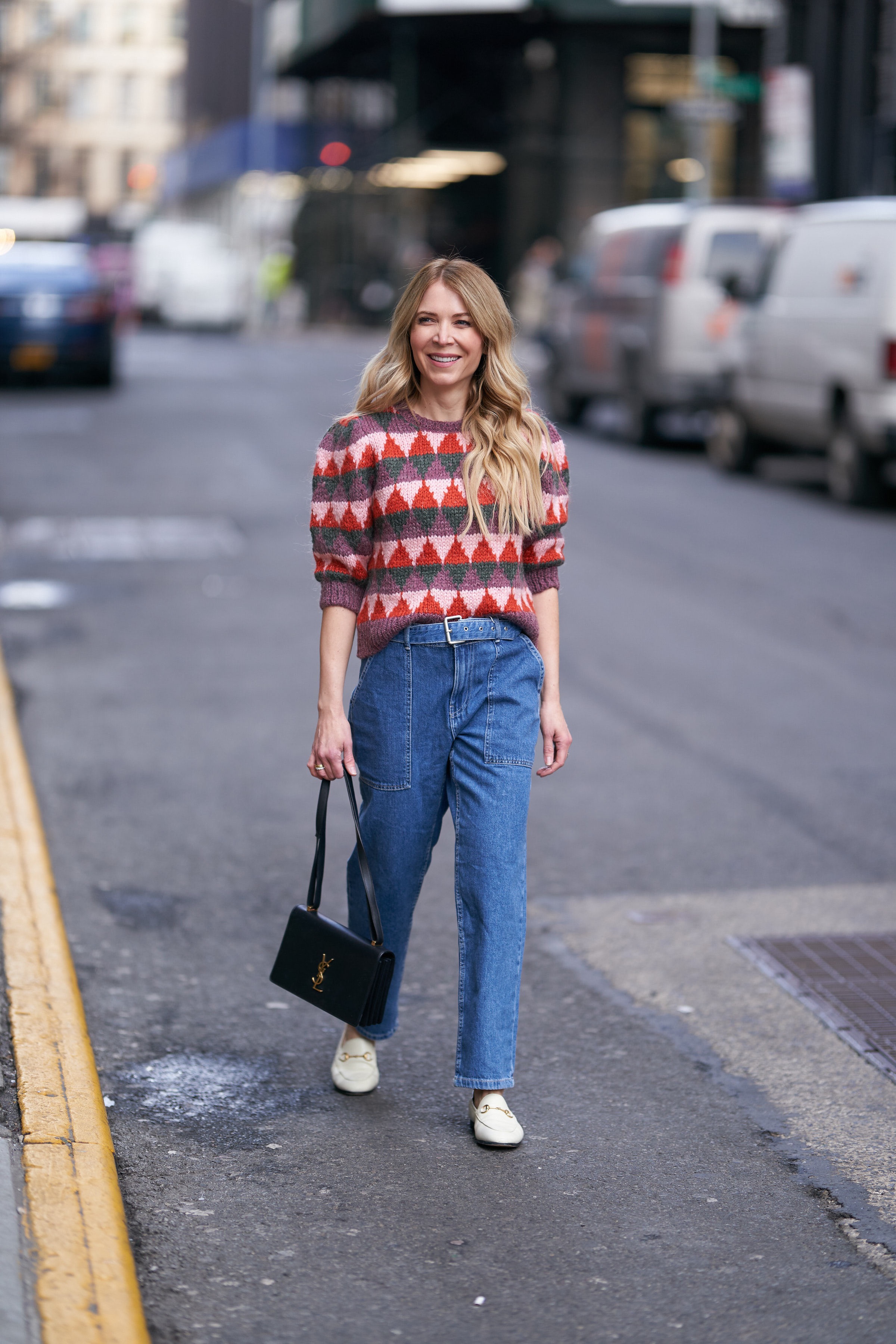 Raphaelle has an inherent ability to put different looks together in a very unusual and very chic way.  I enjoyed my time getting to know her so much, and taking some of her style tips on board.  And most of all, I love having a new friend from a totally different world to mine, but yet with whom I feel like I have so much in common!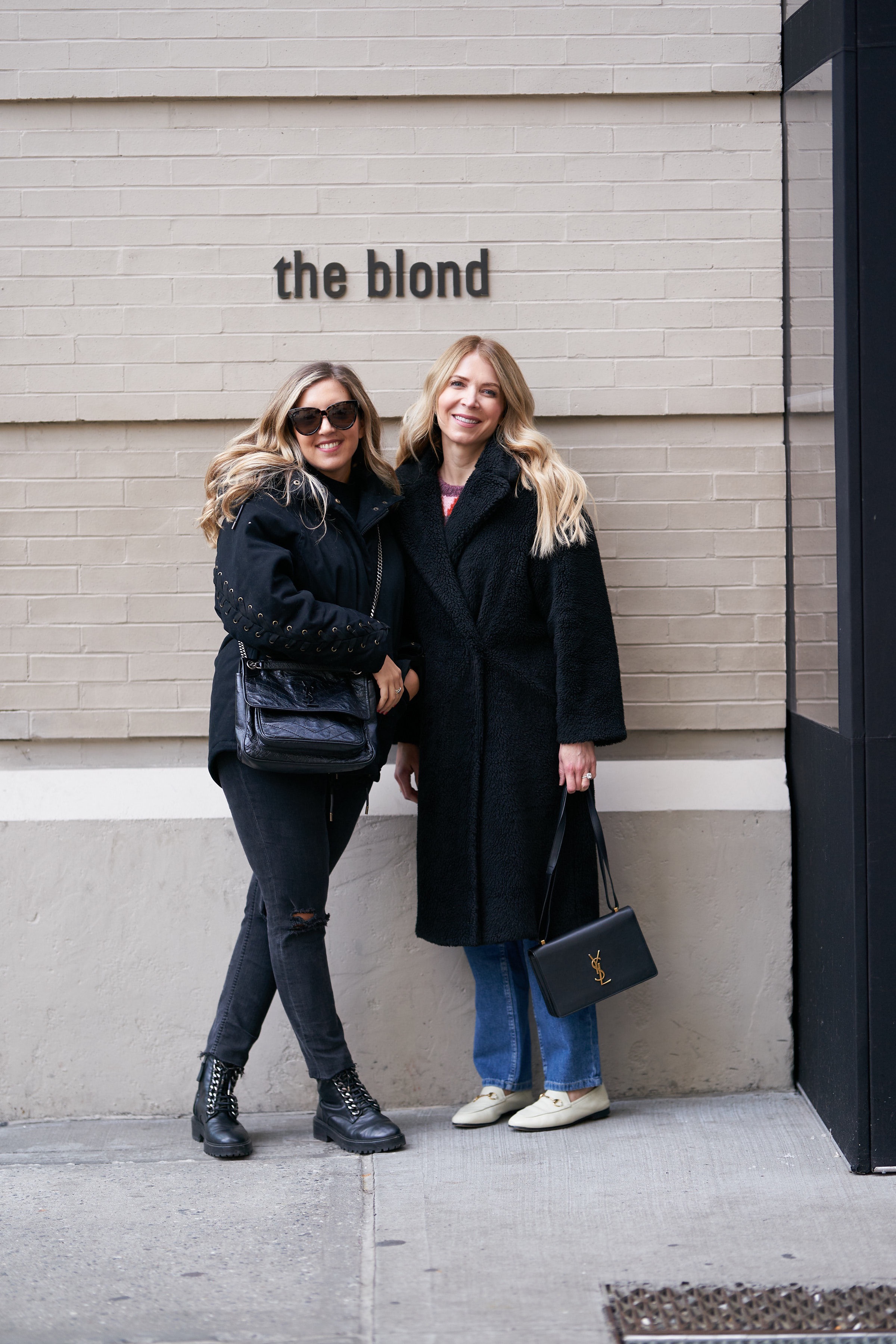 Thanks for reading!
xxxxxx
Laura
Photos by Mike Kobal