Top:  & Other Stories | Denim:  & Other Stories | Boots: Balenciaga | Bag: Chloé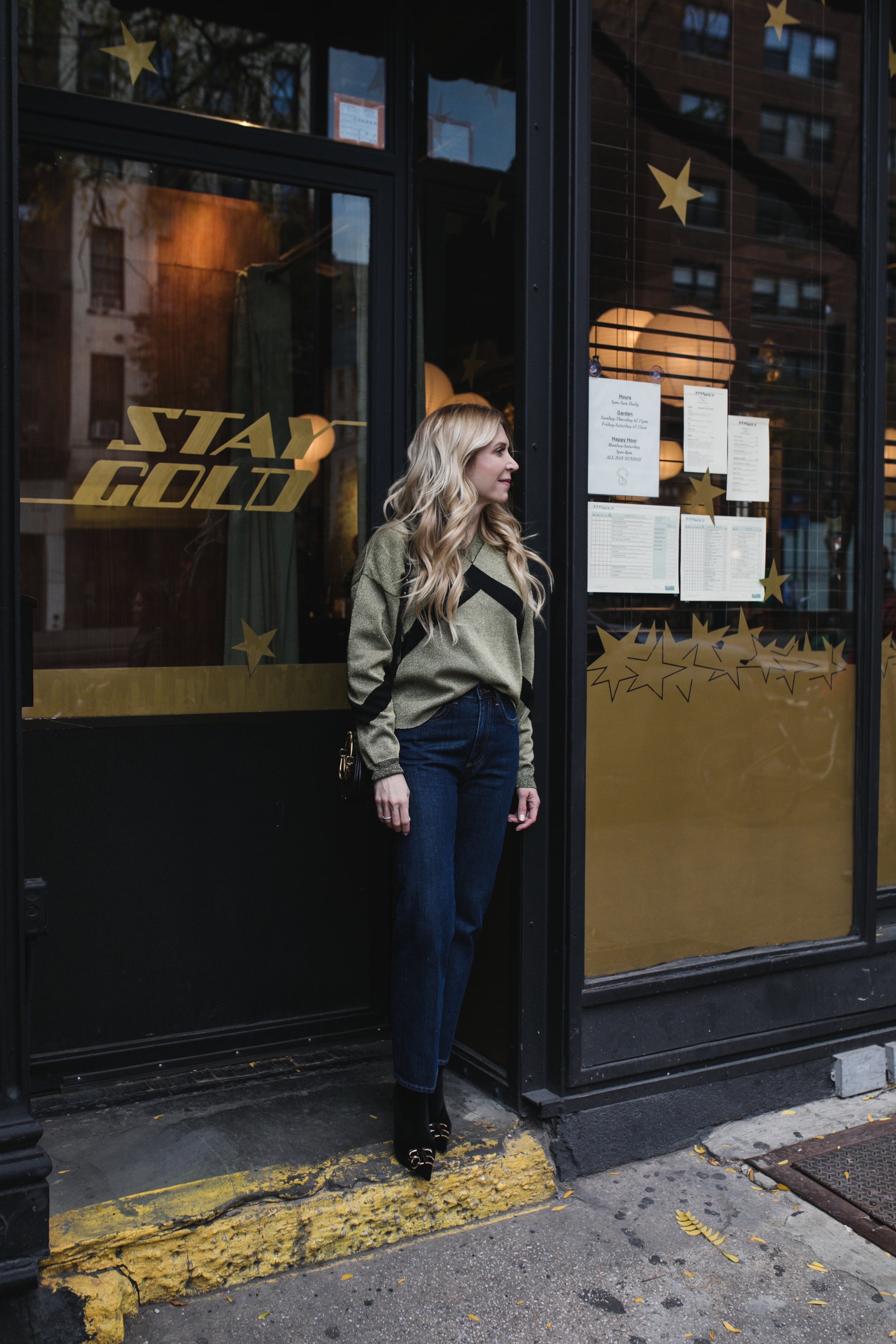 We took these photos outside a really fun new cocktail bar that I love called Stay Gold.  It recently opened up in the Rose Hill/Gramercy area of Manhattan from the owners of the Up & Up in Greenwich Village, another favorite cocktail bar of mine.   Taking these photos got me thinking, where do I love to go for drinks in Manhattan?  Now that I have been a local in Manhattan for seven years, I have so many go-to spots for a glass of champagne or a cocktail and thought it would be the perfect time to share a few them with you all!  Personally, I have never been into the idea of a dry January haha!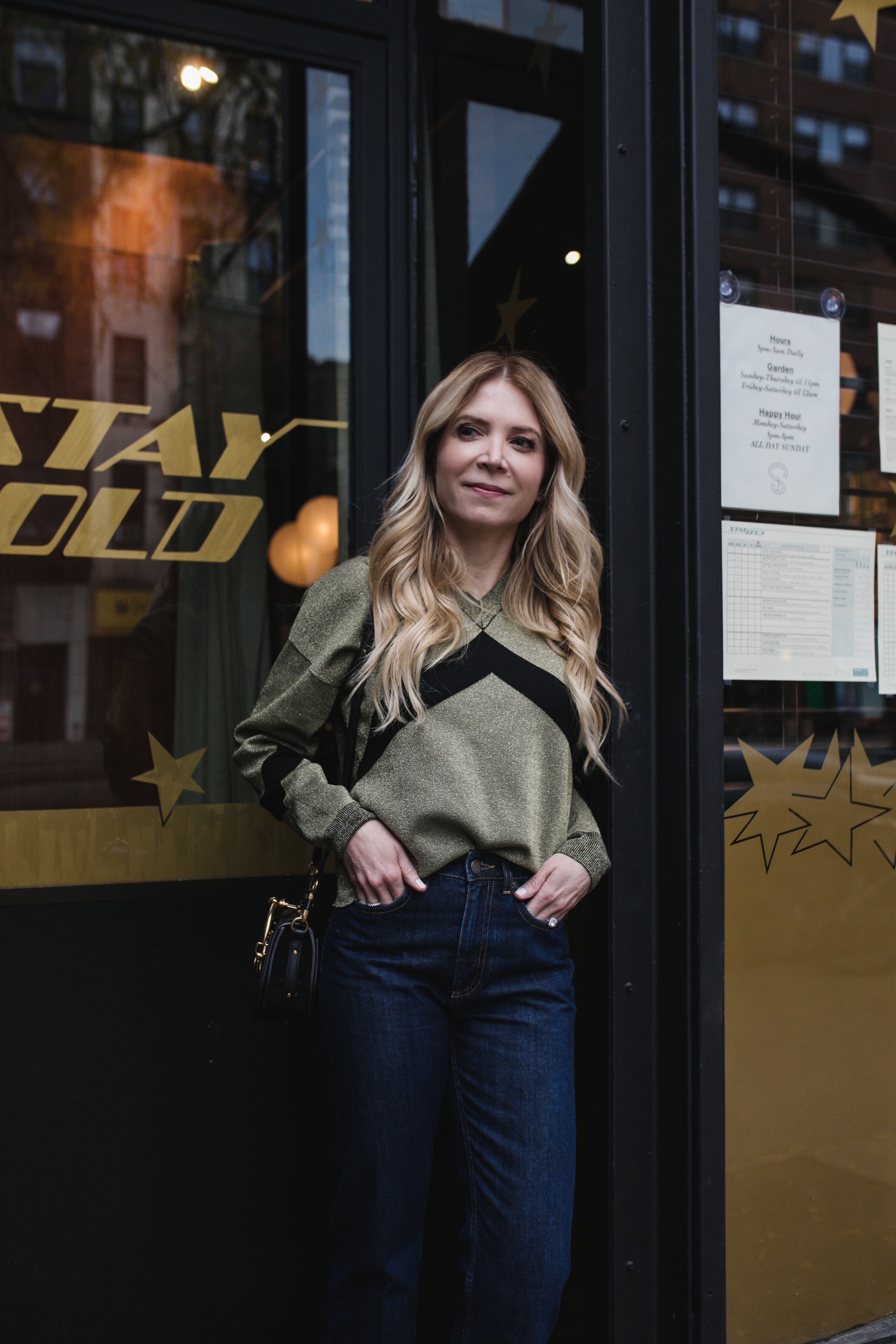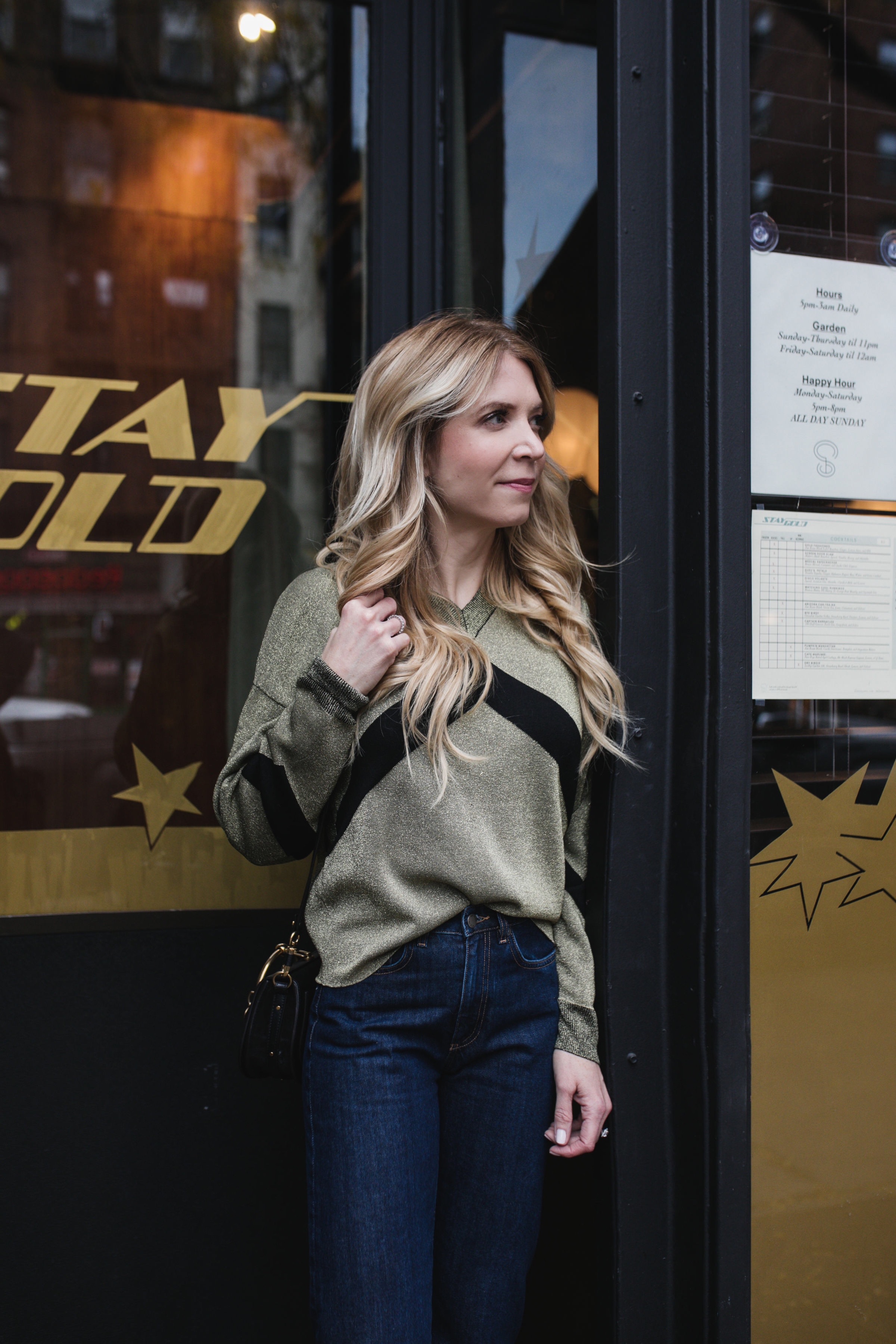 So, without further ado, here are a few of my favorite places for drinks starting with uptown!
Uptown
The Mark Bar
Probably my favorite place to go for a pre-dinner drink in New York City is the bar in the Mark Hotel.  It is uptown, on 78th and Madison.  The interior of this hotel is so fabulous with the black and white striped floors and  in the bar, there are low sofas and cozy corners making conversation with your husband or group of girlfriends so pleasant. They have the best selection of champagne and wine, and the waitress brings little silver dishes of popcorn, nuts and potato chips.  A posh Upper East Side crowd is always here, so get ready to spot some fabulous outfits and handbags.
Salon de Ning at The Peninsula Hotel
Another of my favorites, especially in warmer months, is Salon de Ning, the rooftop bar at the Peninsula Hotel on 55th and 5th Avenue in midtown.  This bar is a wonderful spot to go with your girlfriends after a day of Fifth Ave shopping or walking in Central Park.  They serve fantastic margaritas and cocktails.  The view is spectacular.  From this rooftop bar you can see all the way uptown up Fifth Ave – all the way up past Central Park into the horizon.  The have a really pretty patio as well as really great indoor seating looking out at this glorious view.
BG Café at Bergdorf's
This goes without saying, if you have been shopping on Fifth Avenue in midtown you need to stop in for a drink at the BG Café on the 7th floor of the iconic department store.  They have fabulous champagne and light bites. The decor is so girly and fun.  I just love it there, such a treat!
Tavern on the Green and the Boathouse in Central Park
I love to stop in both of these spots whenever we are walking in Central Park either for coffee, breakfast or lunch or sometimes a drink in the afternoon.  Touristy but SO FUN and so yummy!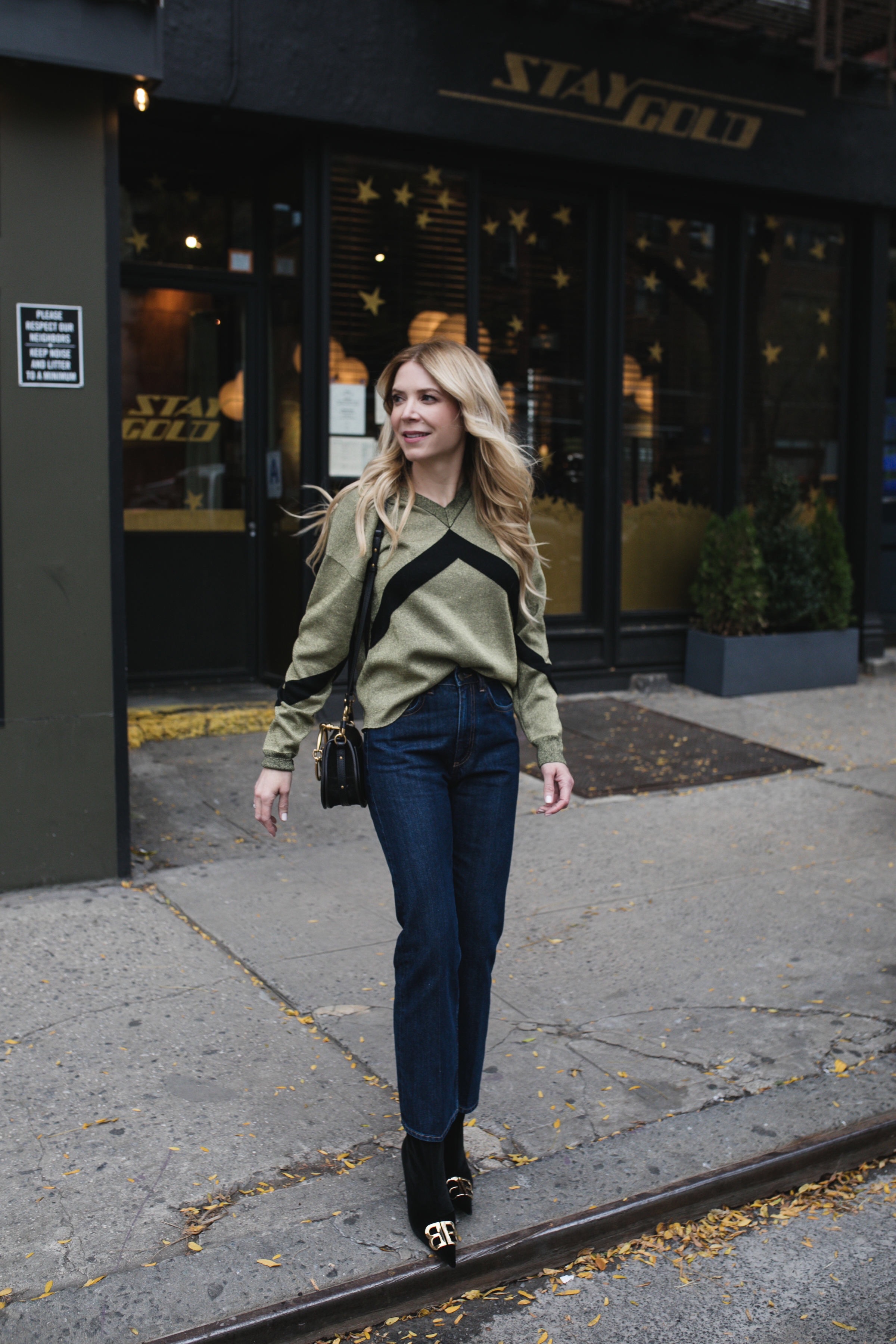 Downtown
Crosby Bar
Now let's head downtown, to Soho.  To be honest I am most often downtown because that is where we live. And one of my favorite place in lower Manhattan to get a drink is the Crosby Bar.  It is just fabulous. It is in the Crosby Street Hotel, which is a sister hotel to the Charlotte Street Hotel and the Haymarket Hotel in London (they are all part of the Firmdale Hotel Group).  Trust me, you will love it, you have to go the next time you are in Soho.  They have a full list of champagnes by the glass and the most beautiful interior.  I almost always take out of town visitors there, and my husband likes it too.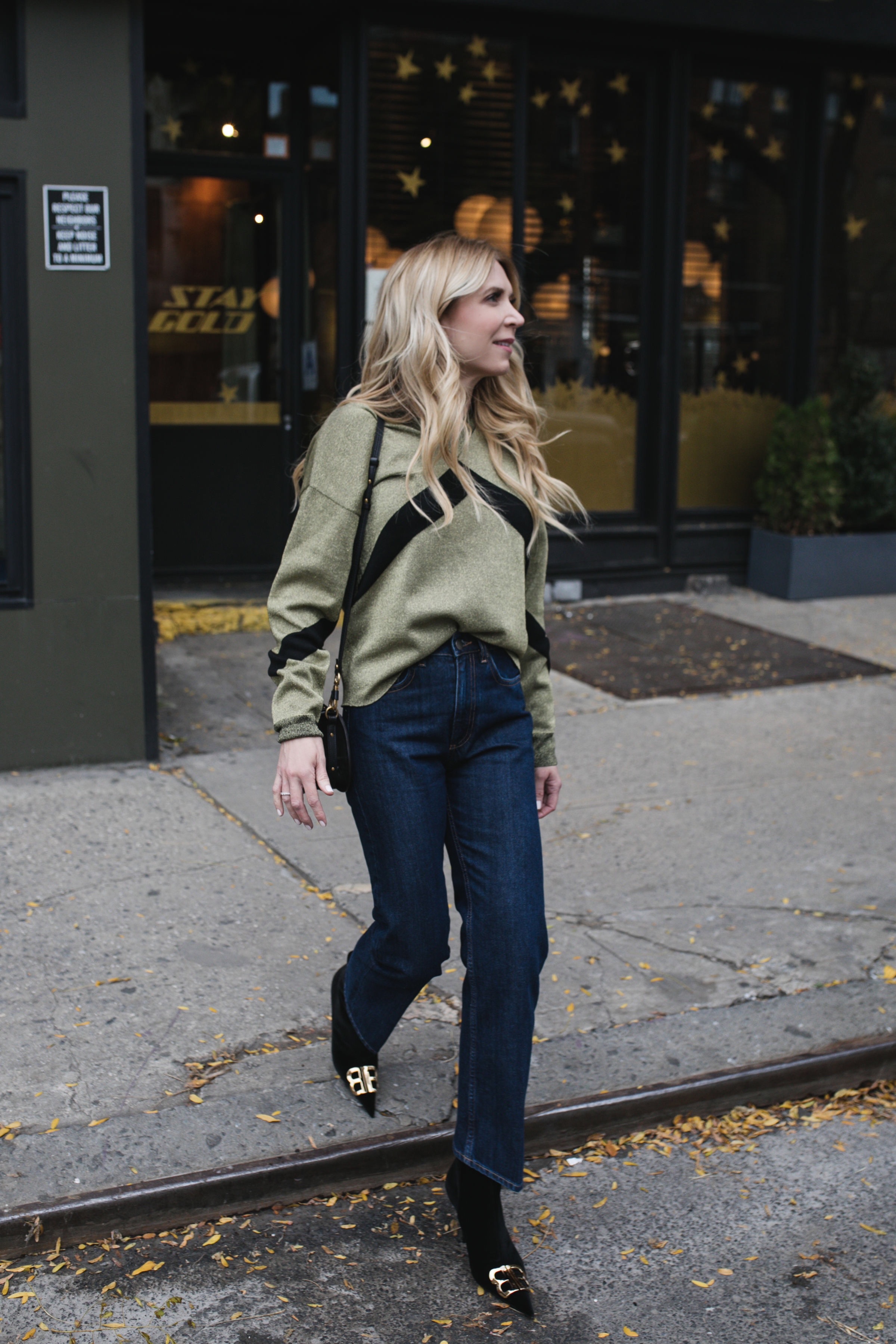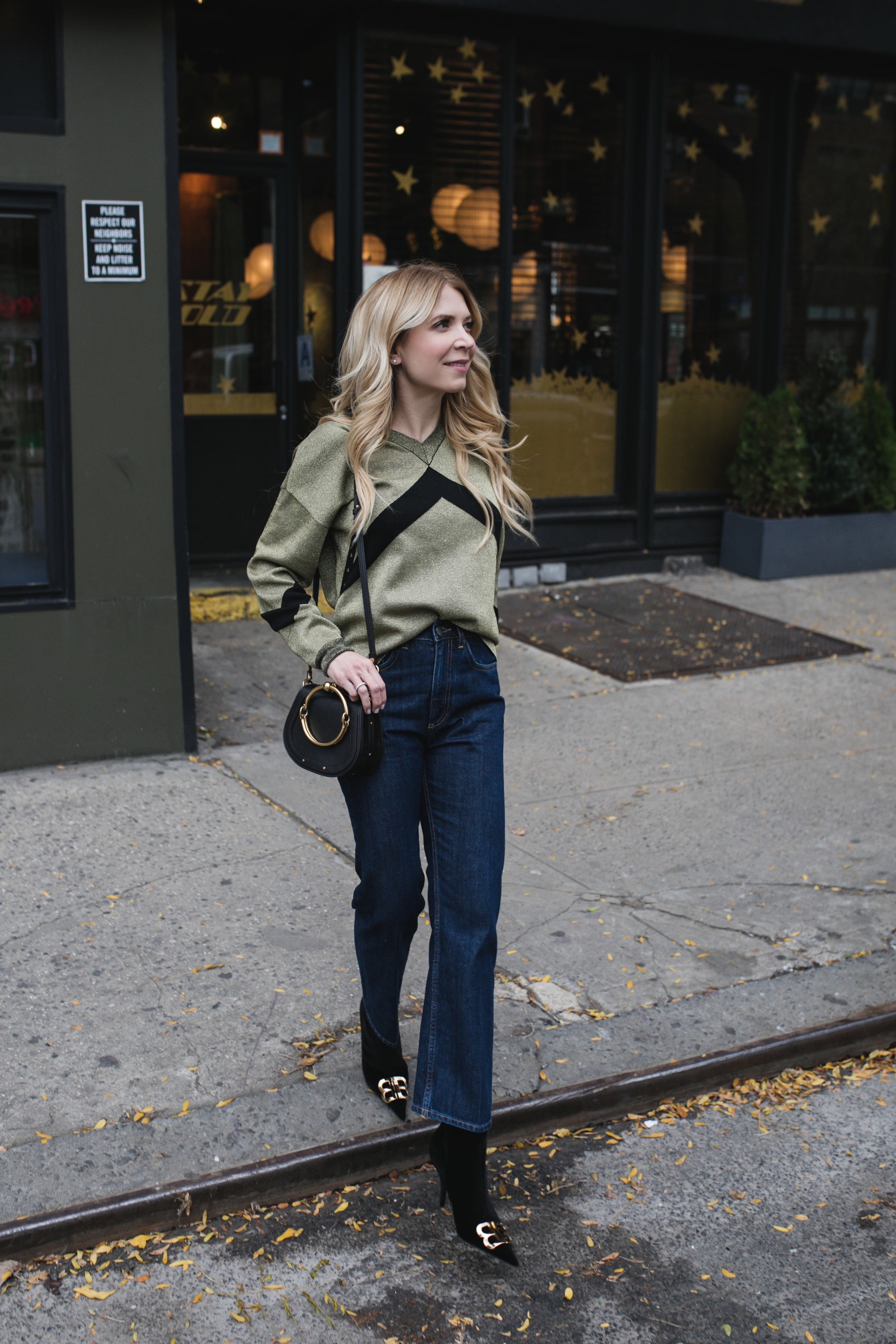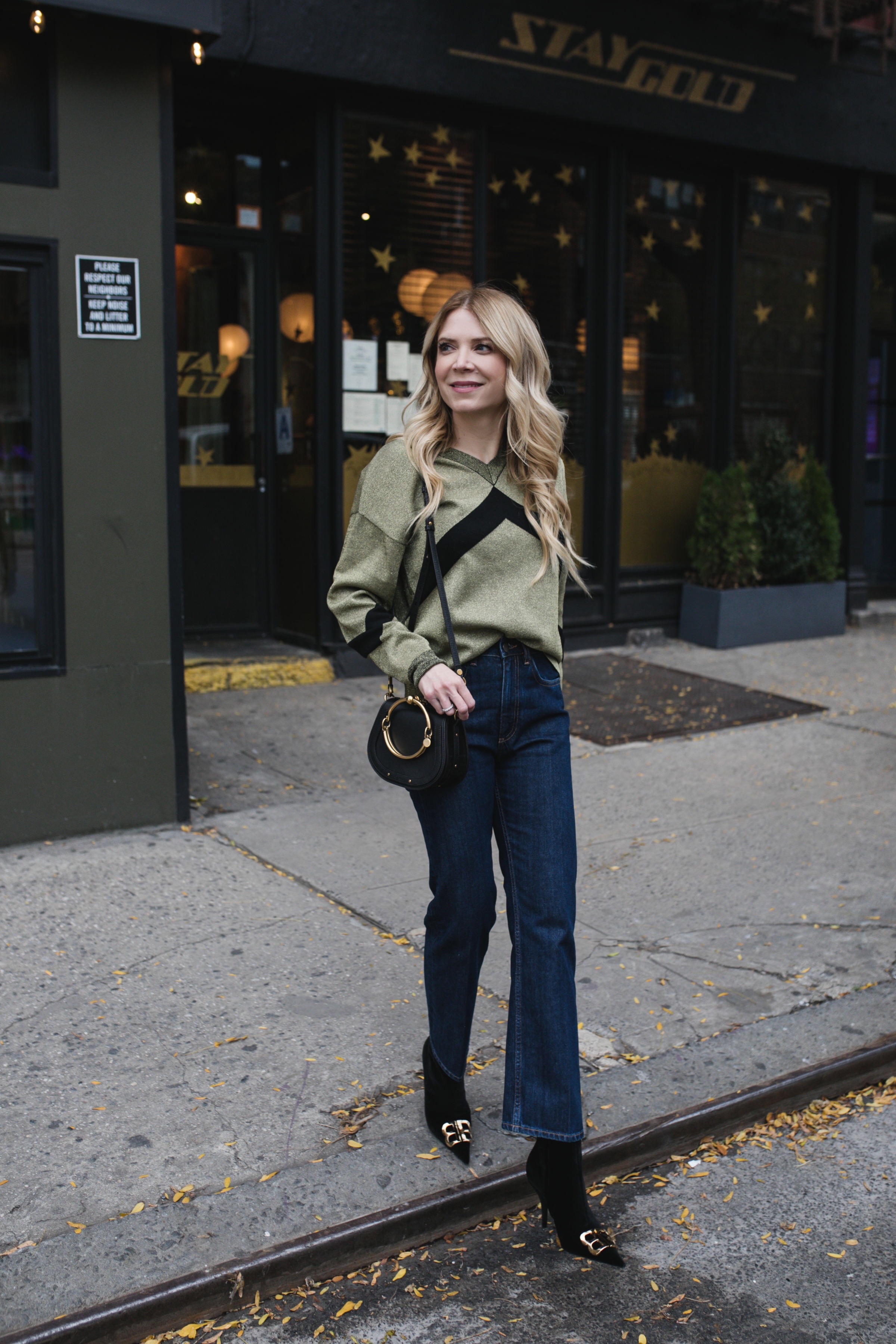 Other downtown spots for drinks that I love:
—The Odeon restaurant's bar in Tribeca:  this is a popular spot for locals to eat and has a really nice bar as well!
—Terroir in Tribeca:  a fabulous wine bar.  The owner, Paul, is renowned in the city for his knowledge of wines but he is very friendly and funny, this is a very fun spot to grab a glass of wine if you are in the neighborhood.
—Bar Beauborg in Le District in Brookfield Place:  this opened up a few years ago and is part of this really big French market and restaurant / shopping section of Brookfield Place.  Such a fun spot.  It is so worth a visit if you are downtown.  It is right on the Hudson River with incredible views.
–The bar at the Beekman Hotel in the Financial District:  this hotel was opened in 2016 in a beautiful historical building called Temple Court that was built the same year as the Brooklyn Bridge.  It is an official New York City landmark and the interior and exterior of this hotel is absolutely something to see, you will feel like you went back in time.  The bar is just gorgeous with lots of seating,  If you are there don't forget to look up!  You will be impressed!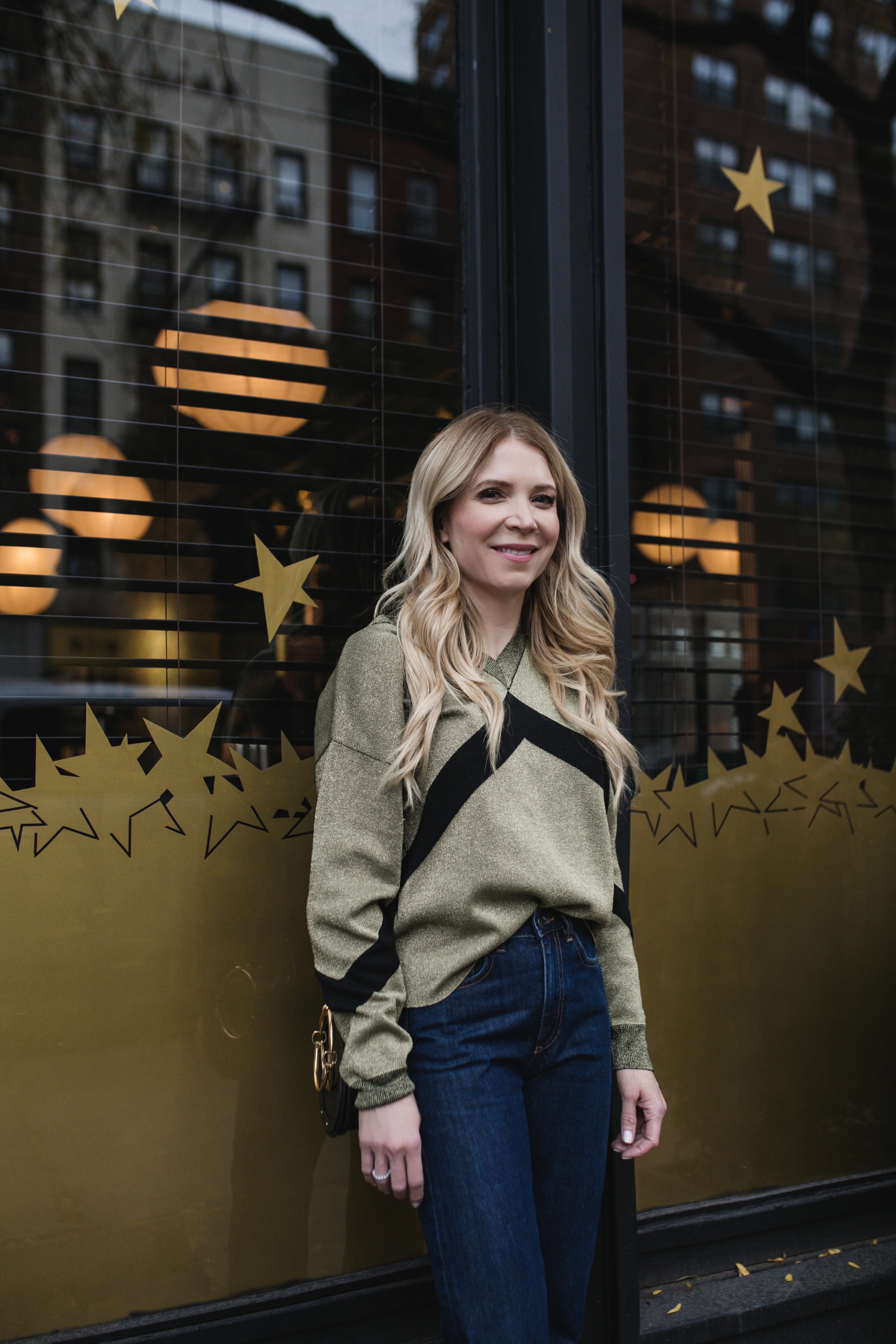 I hope this list is useful, and that if you visit these spots you will love them as much as I do!
Thank you for reading!  Have a great weekend!
xxxx
Laura
Photos by Lydia Hudgens