Dress: & Other Stories | Bag: JW Anderson (sold out, similar silver bags here and here and JW Anderson bag in white here) | Boots: Ganni (on sale!) (almost sold out, in white here and other silver boots here)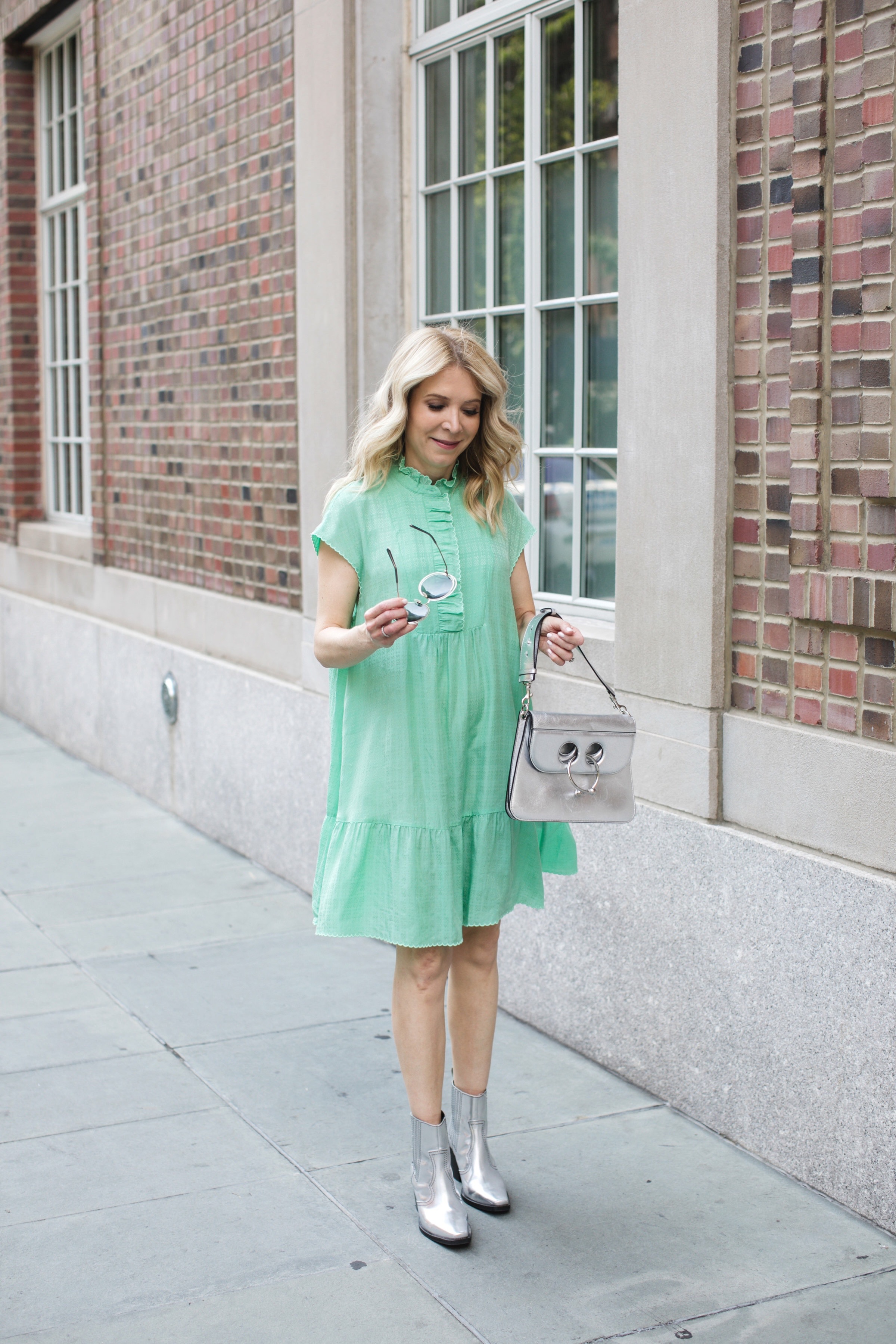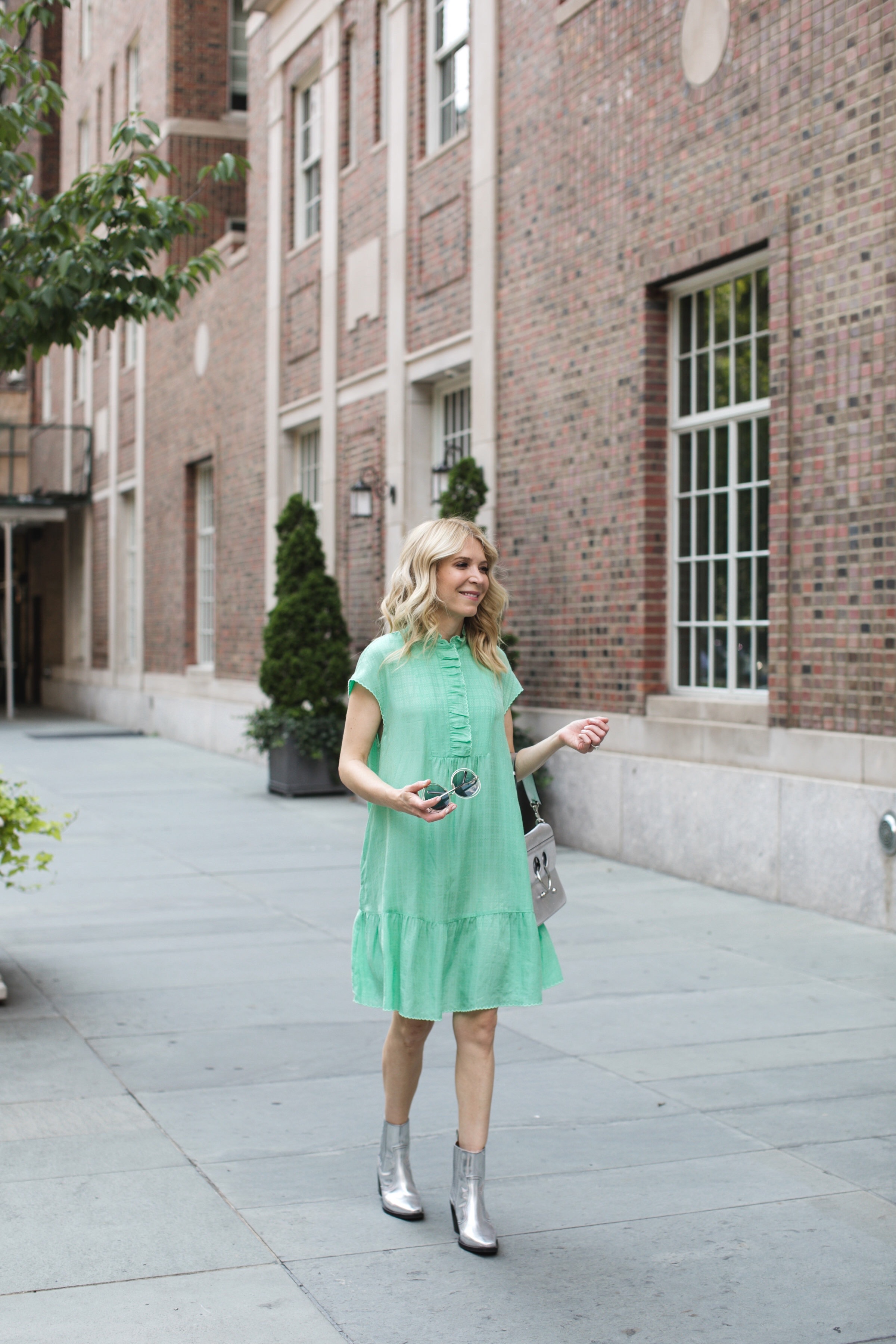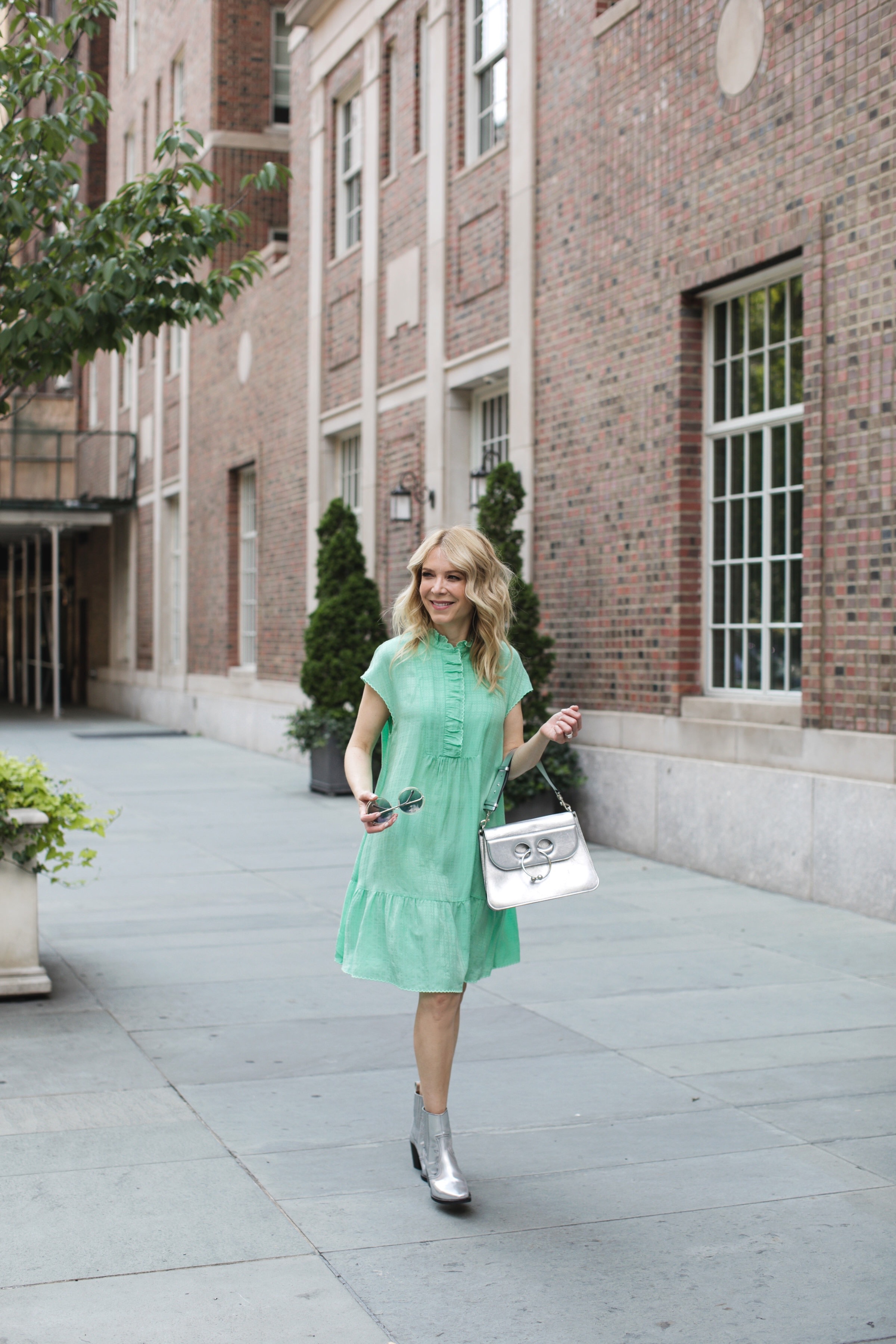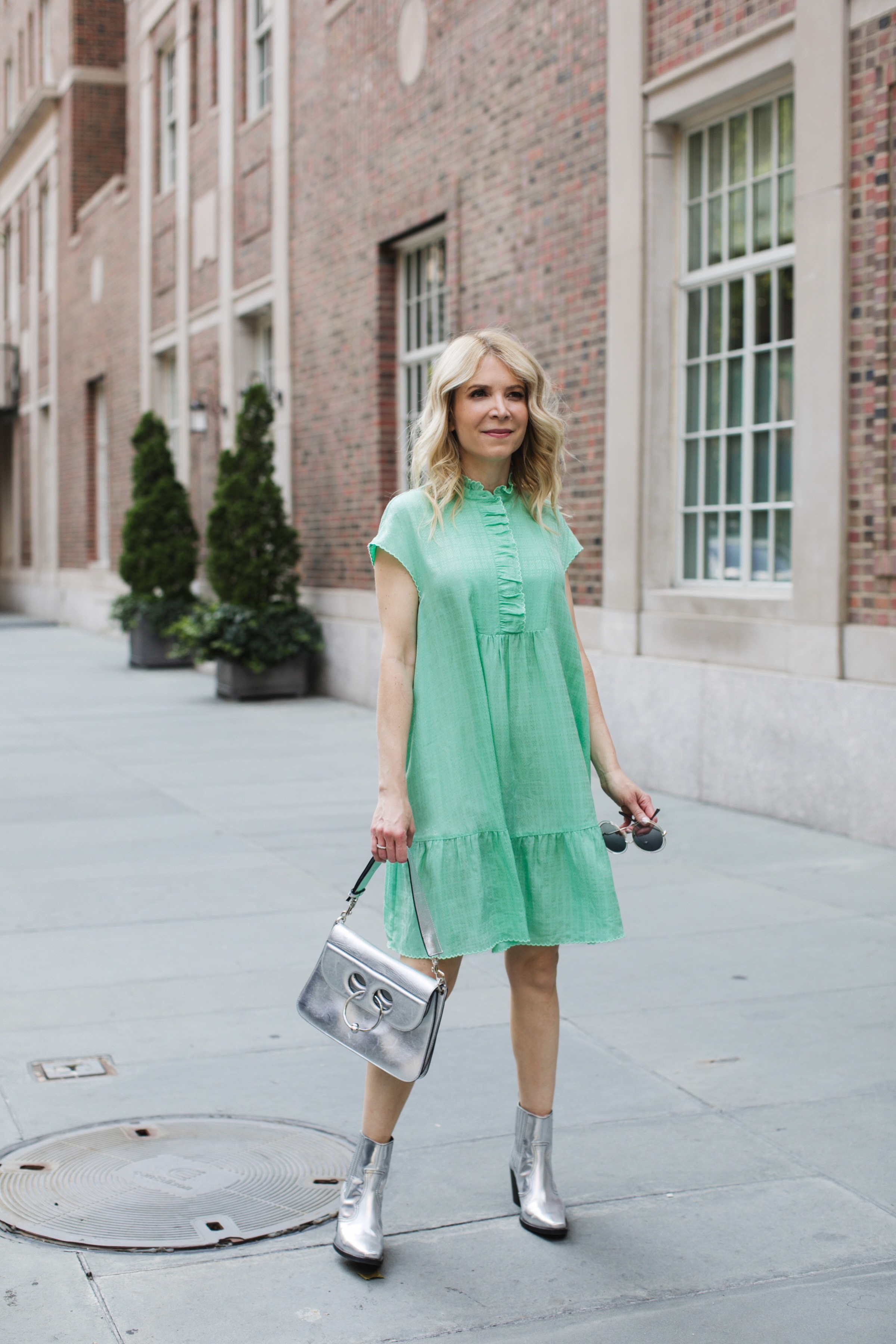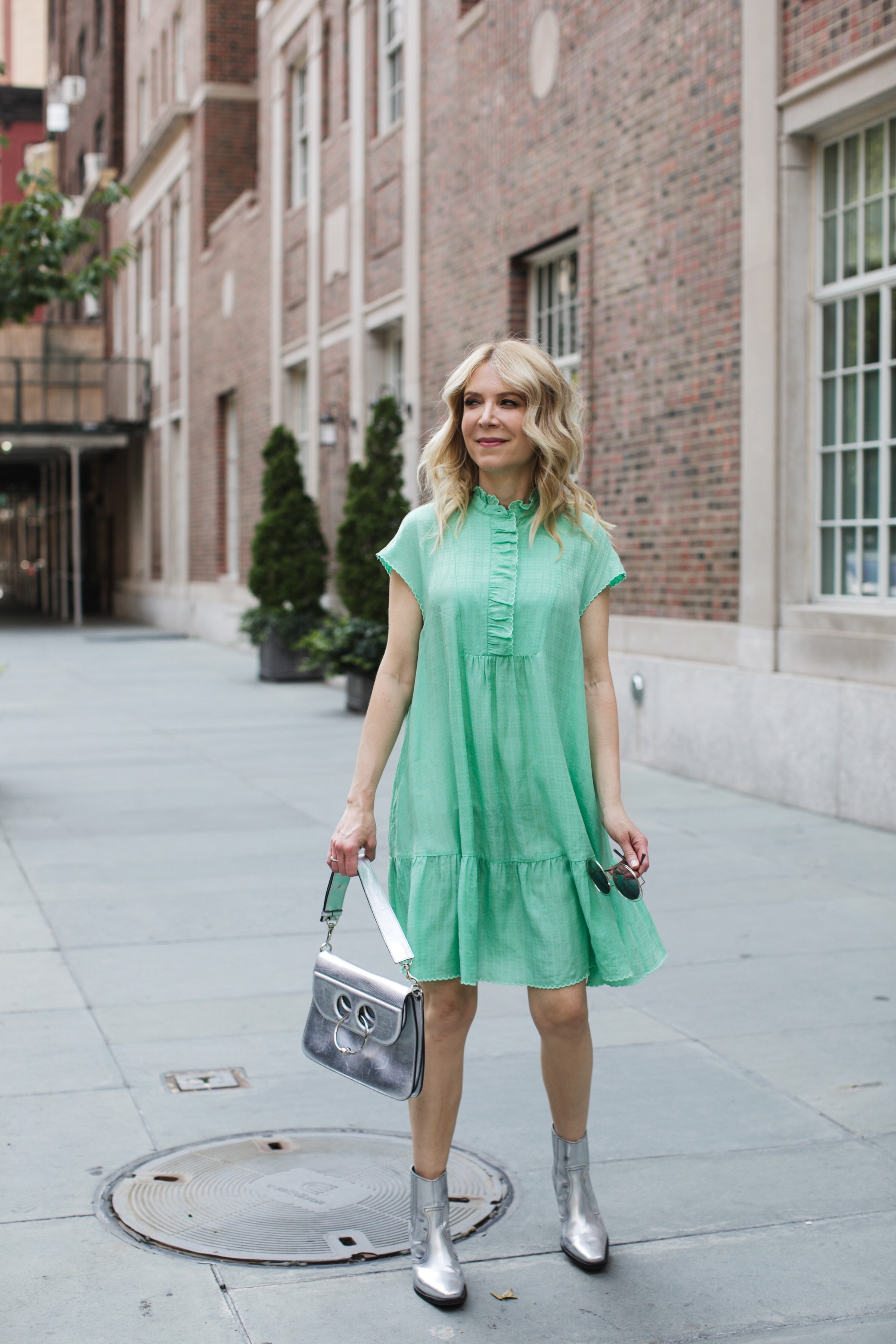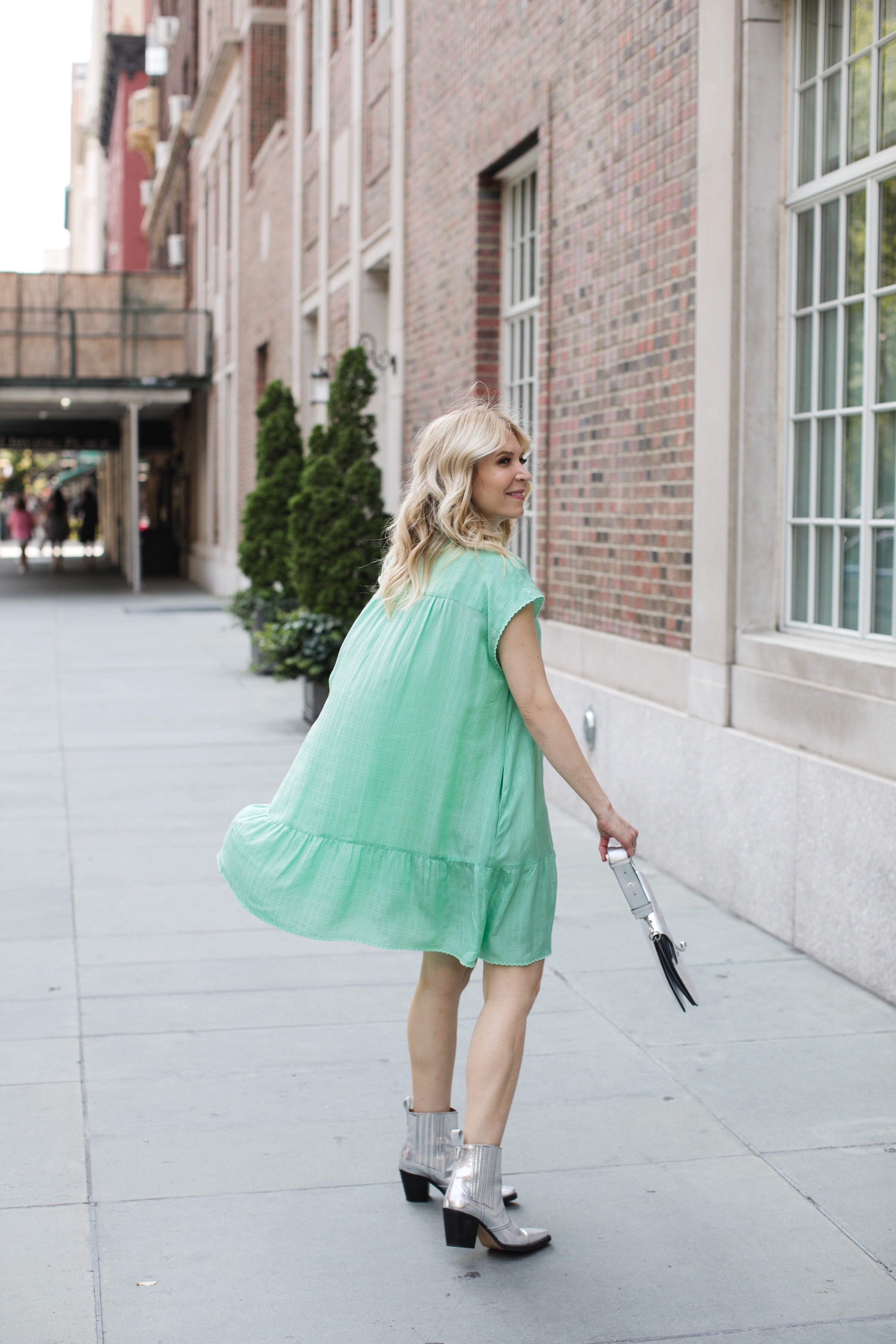 I am so into this dress by & Other Stories.  It is a summery color but when you wear it with the silver boots and bag it makes it more transitional. I wear these silver pieces so much with everything all year round, so I've linked to several cute silver boots and bags of different price points in this post.  Silver accessories are a great way to liven up an outfit.  Also, these Ganni Callie boots are some of my favorites I've owned.  They are almost sold out in silver but they come in white.  Their Western style is going to be big this fall.
But the real topic of today's post is the how to shop in chain stores and not see yourself coming and going on the streets.  & Other Stories is one of my favorite brands for this – their clothing is unique (yet totally reasonably priced) and you don't see lots of people wearing it all over the place.  I don't know if people in NYC have just not caught on to it yet, but it doesn't seem to be very mainstream in the US and I rarely if ever see girls walking around NYC wearing & Other Stories.  Zara, on the other hand… it's everywhere.   This is why buying Zara clothing can be an issue for me.  If you buy a Zara dress, especially a popular of-the-moment one, it will be recognizable on the streets and you will see other girls wearing it everywhere you look (at least in NYC you will).  One of my good friends, Verena, who lives in Germany, told me her trick for shopping at Zara.  She buys things she loves, but that are less recognizable (not their dresses) and the key is to NOT WEAR THEM IMMEDIATELY.  She sits on the item for a few months or until it is gone from the stores, and people have already moved on to the next batch of new Zara clothing.  Often I will see her wearing something that is SO CUTE and she says she got it from Zara a couple seasons ago, yet it looks brand new and fresh on her.  She has amazing classic style and I love how she taught me this tip, so I thought I would pass it on to you!
I hope everyone is having a great weekend! I have been terrible at posting lately (this entire summer) but I plan to get back on track with new posts and daily outfits this week!
xxxxxx
Laura
Photos by Lydia Hudgens