Coat: Zara | Dress: Topshop (sold out, but this one is THE dress from Topshop right now, and I'm obsessed with this one and this one is a statement dress for sure!) | Bag: Gucci | Shoes: The Row |  Sunglasses: Amazon (only $10.99)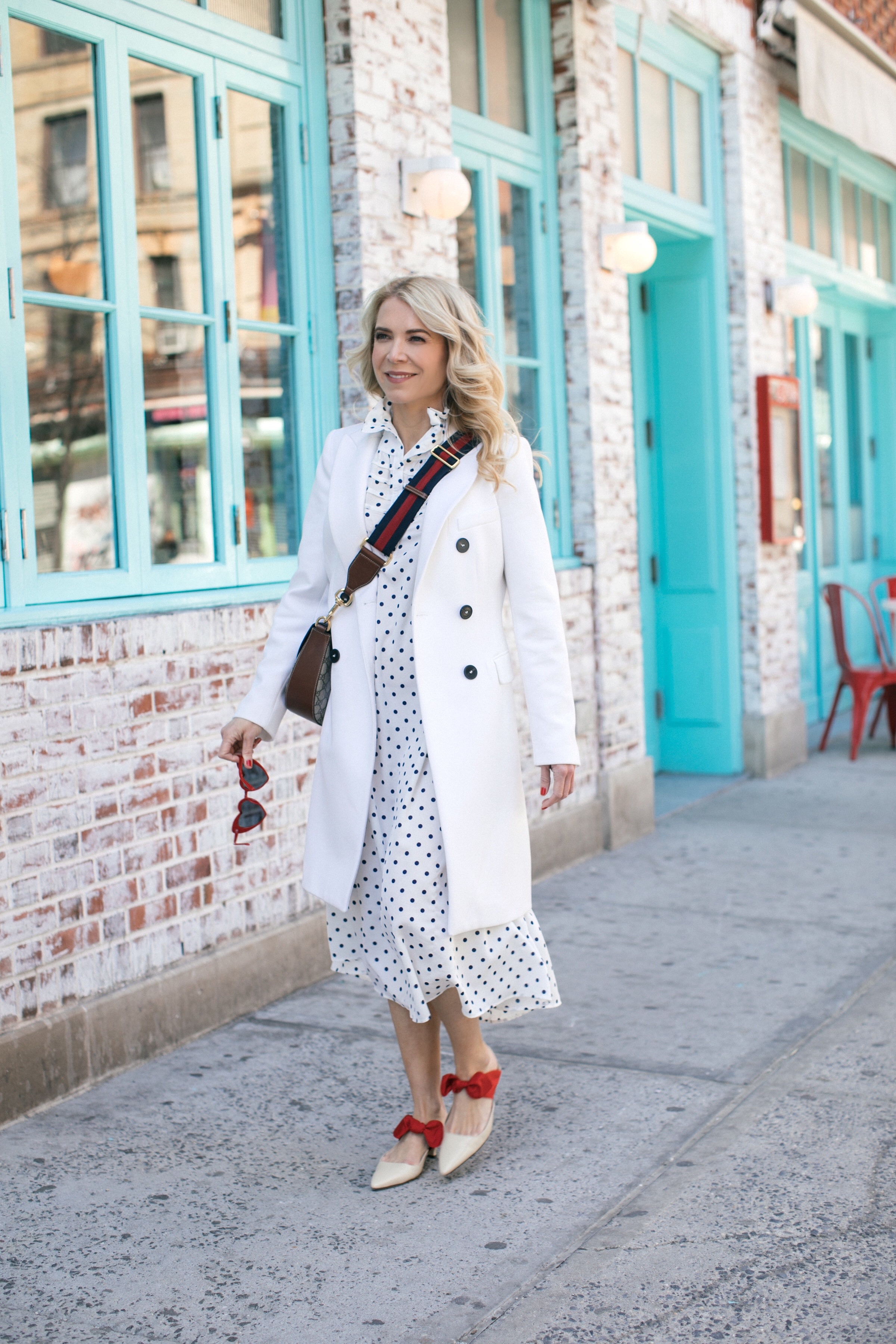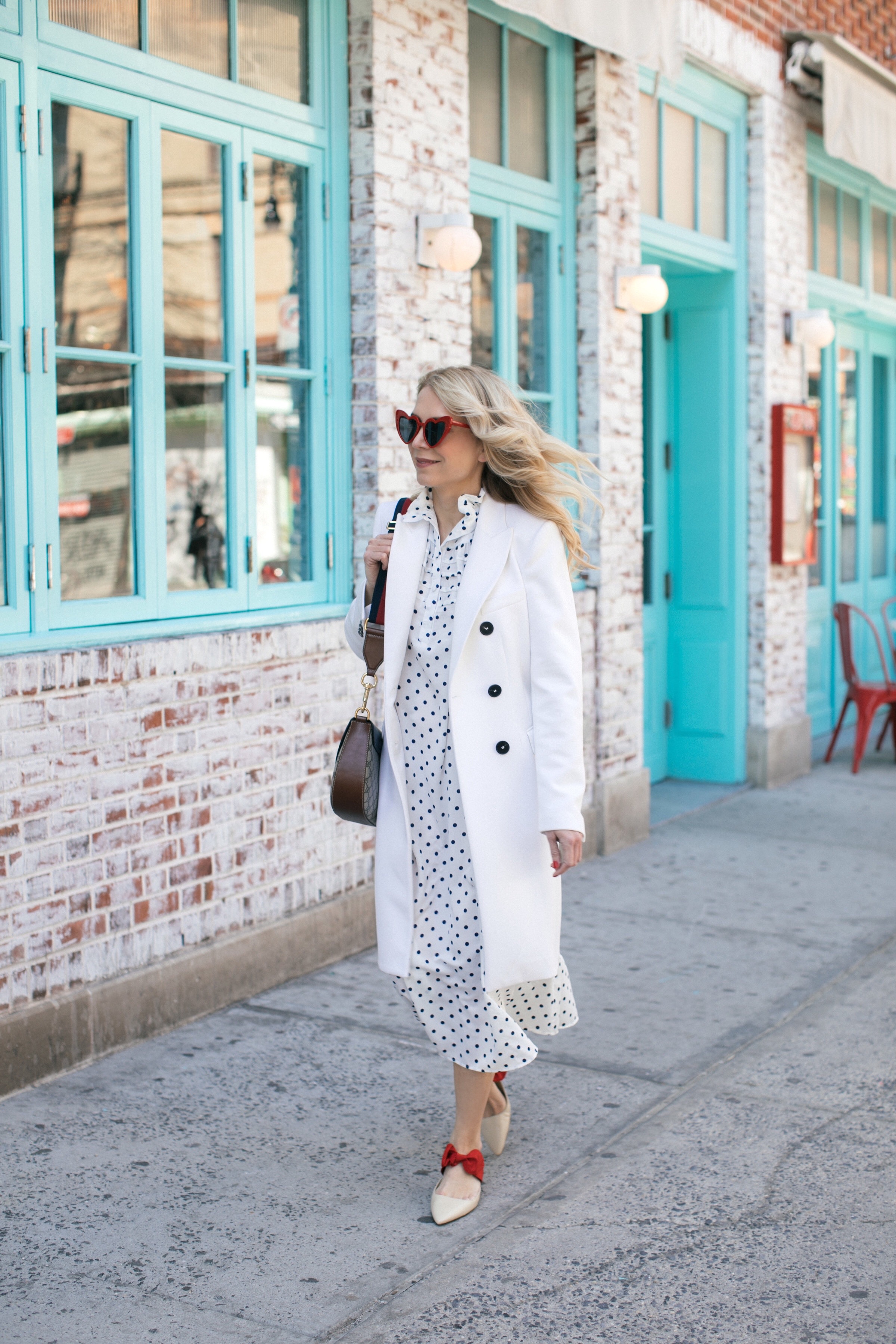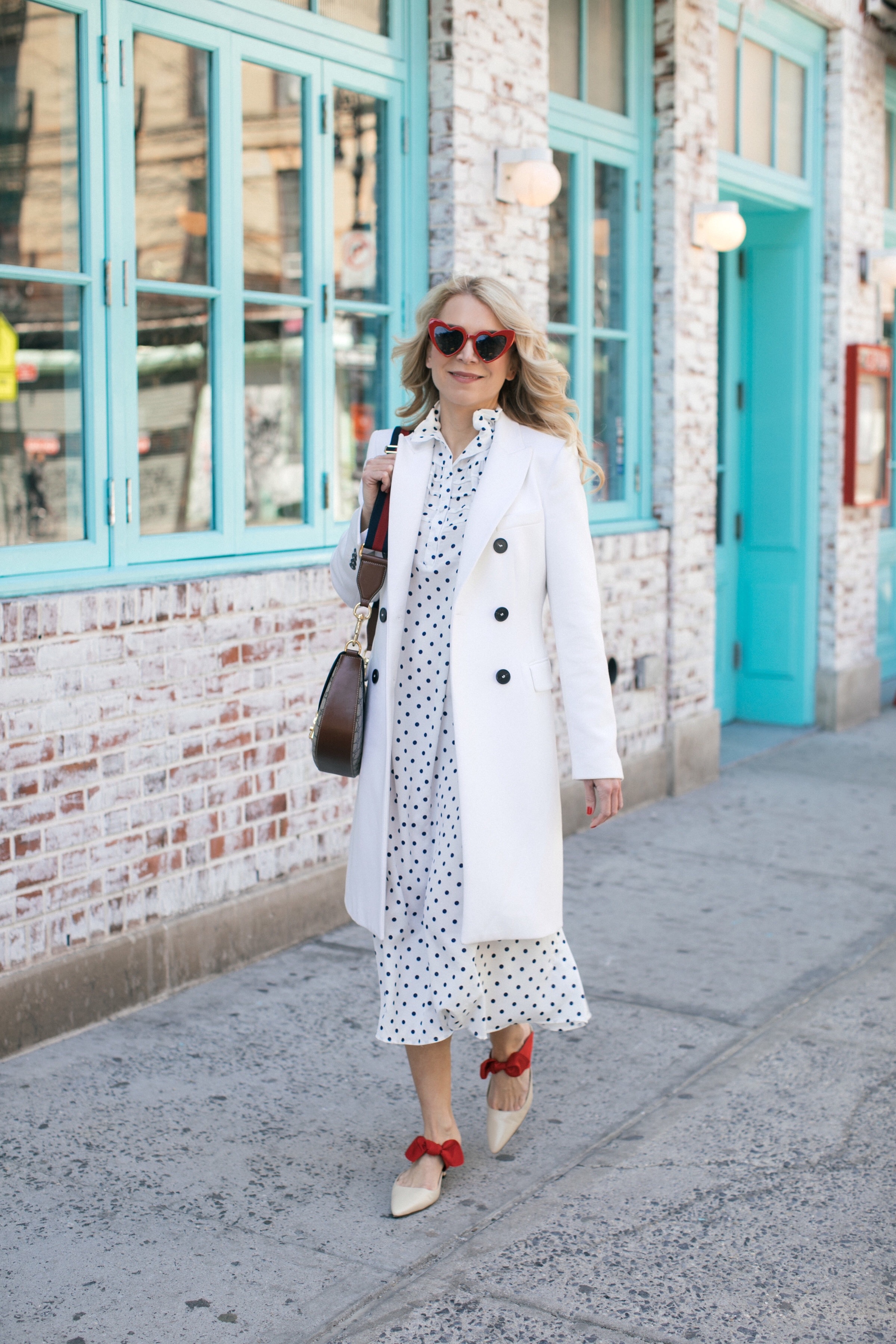 I follow a lot of British bloggers, and I think I saw this dress first on The Fashion Bug Blog.  Love her.  She has such feminine style! If you don't follow her, you should.  Talk about glam.  I lived in London for a long time and I think so many British women have such a great sense of style.  They add unexpected twists to their outfits and love color and prints, and can be kind of quirky. Whenever I am in London, I always marvel at how the average person dresses.
Even your very normal person (man or woman) on the street in London has some fashion flair.  The men wear skinny jeans tapered at the ankle or for work they wear skinny pinstriped pants and fitted shirts, and they often have their hair a little longer sticking up all over in this very stylish way, and the women wear really fun skirts, skinny high waisted jeans, and tie their hair up in very cool ways, sometimes you see red lipstick during the day – they don't worry about "matching" or being really subtle, they seem comfortable in their own skin, and confident with their sense of style, and I just love it!
Anyway, back to the dress- I didn't rush to order it or anything because I don't usually shop at Topshop, but I was in the store on Fifth Ave and I saw it hanging up – it is SO cute and I decided to buy it without trying it on.  It gapped a bit between the buttons so I had the drycleaner in my building put a stitch in it so it stays closed.  And now, this spring, I wear it all the time. I love dresses like this, that you can literally just put on, they are comfortable and you can belt them, or just wear them loose with sneakers or cute flats. You look like you made an effort with your outfit, but in fact just the opposite!  This dress is long sold out (with Topshop you have to move quickly) but I have linked to a few other Topshop dresses that are great this season.  I am really into their clothing now.  And their jeans are great too!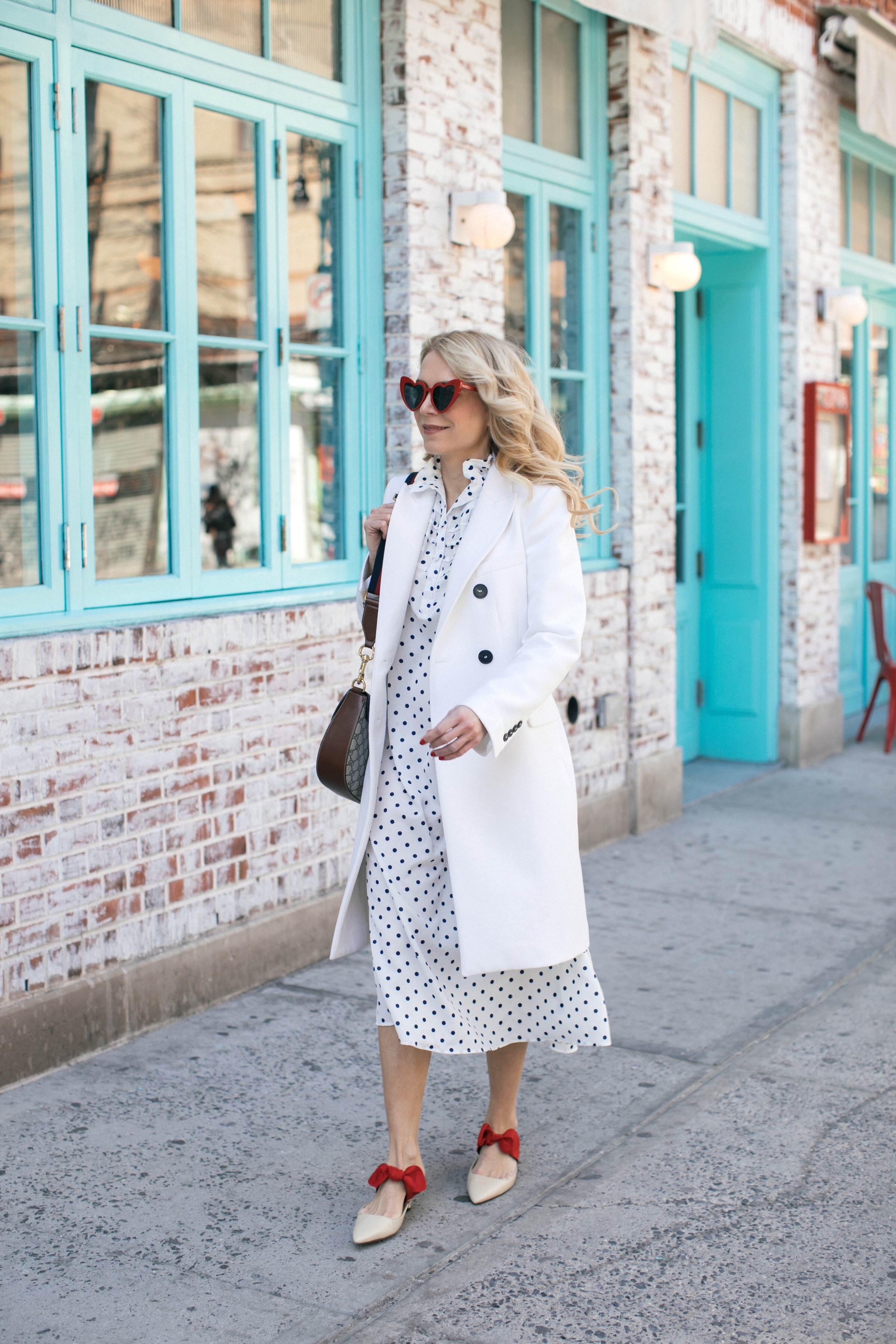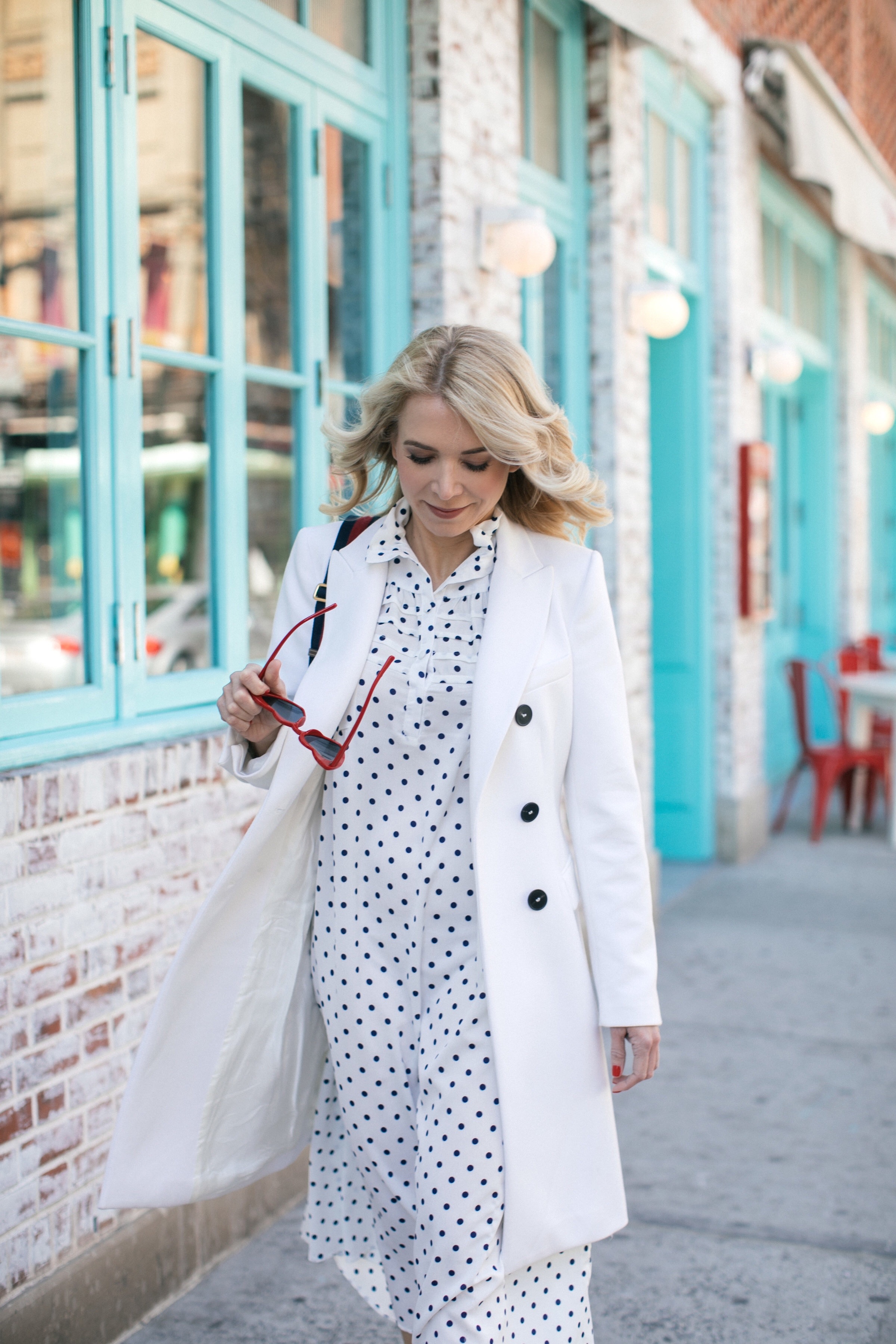 We shot this at this famous restaurant/cafe on the Lower East Side called Pizza Beach.  Lydia always knows where to get the best pictures.  She tells me where to stand, and basically structures the whole shoot.  I love her.  If you are a fashion blogger and are ever in NYC and need a photographer you should call her!
Thanks for reading!
Laura
xxxx