Look 1 – The Frankie Shop Eva Padded Shoulder Tank + Agolde shorts
The Frankie Shop was the first to do this padded shoulder tank last summer!  It's 80's retro feel resonated and quickly took the fashion set by storm – and it's definitely the t-shirt silhouette of the moment this summer too!  Priced at $75, it is a no brainer update for your usual jeans and t-shirt look!  Wear it with pleated pants or shorts, high waisted denim, or bermuda shorts.
Shoulder Pad Muscle Tee: The Frankie Shop | Jean Shorts: Agolde | Thong Sandals: Zara (sold out, similar here and here, and love black ones here)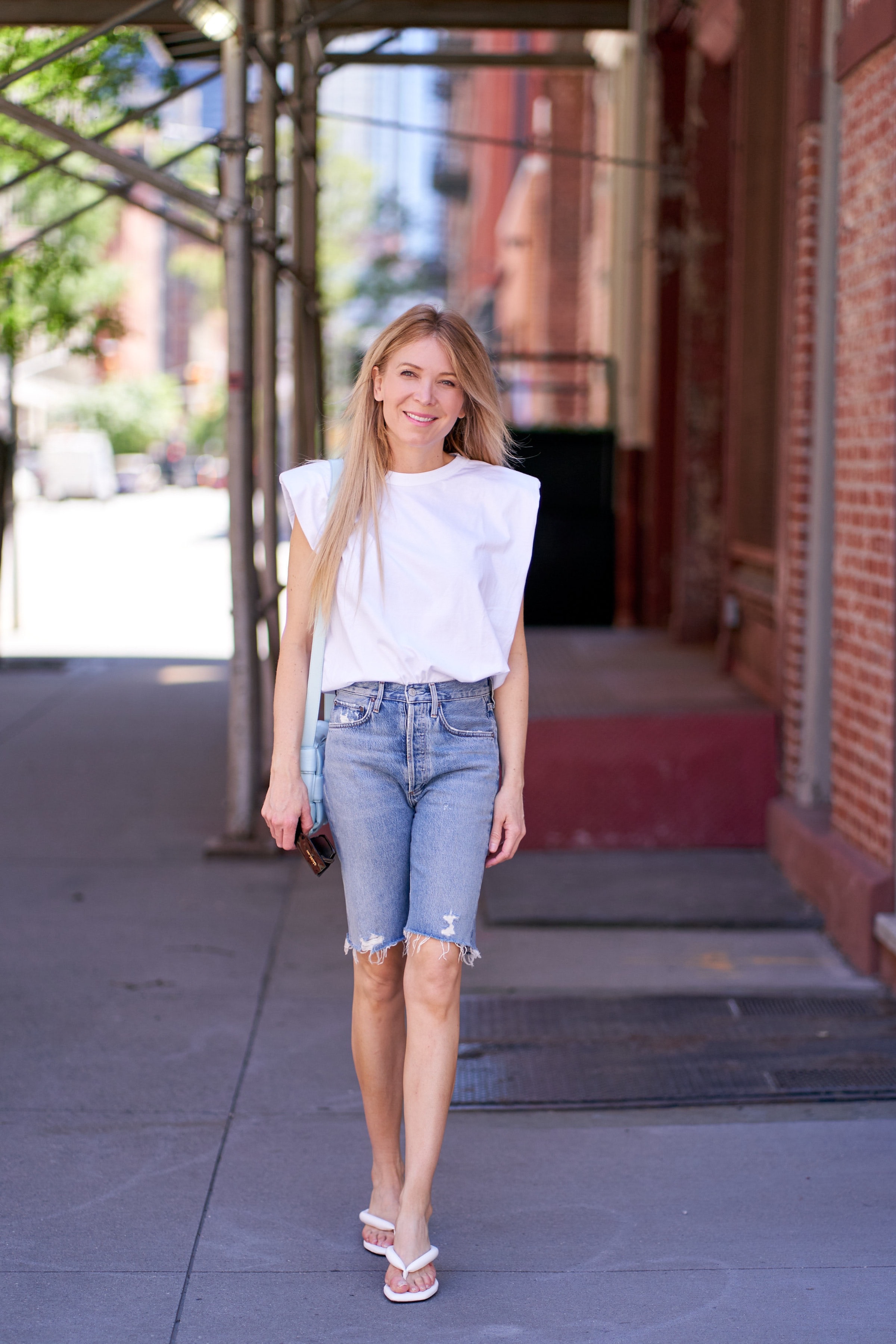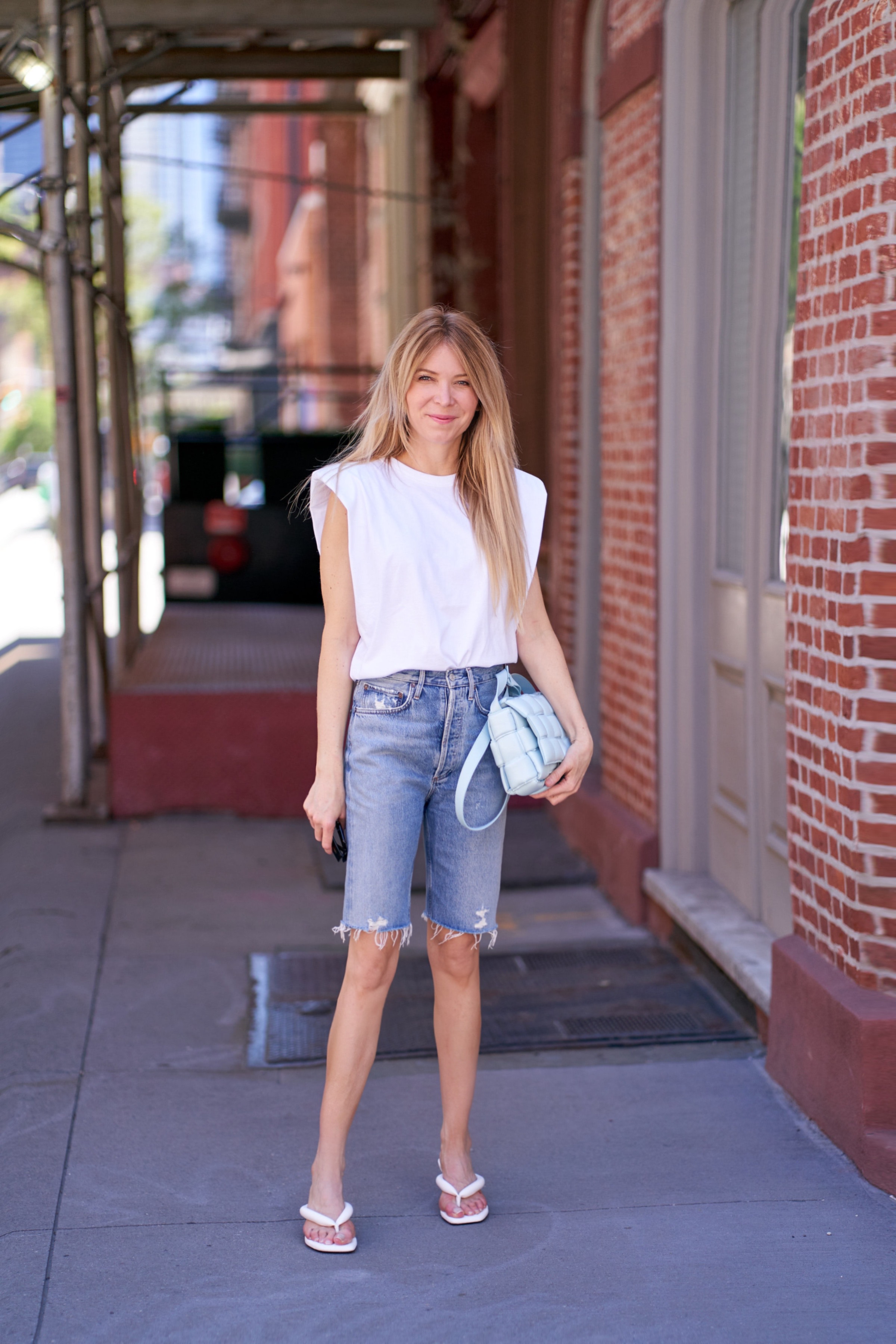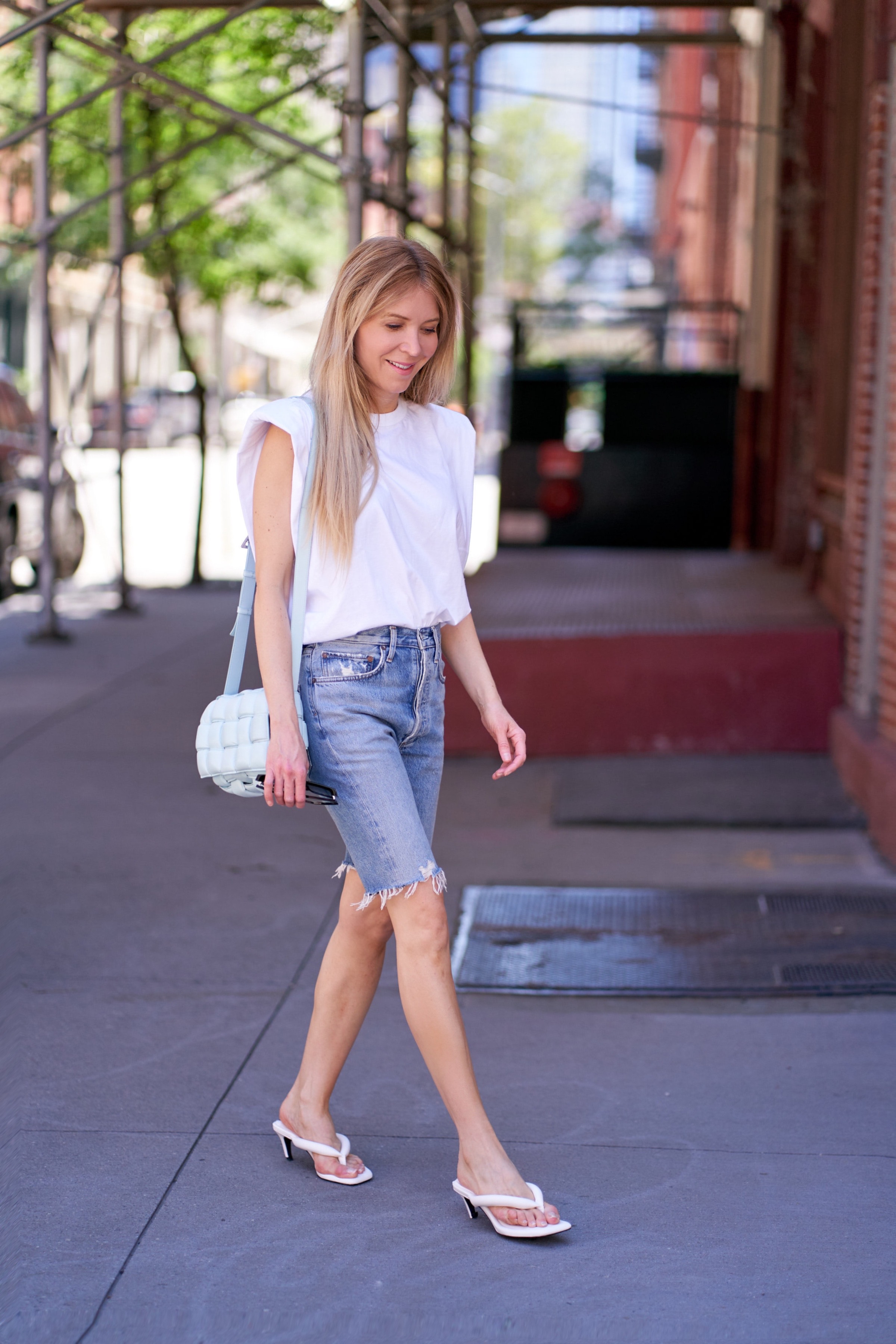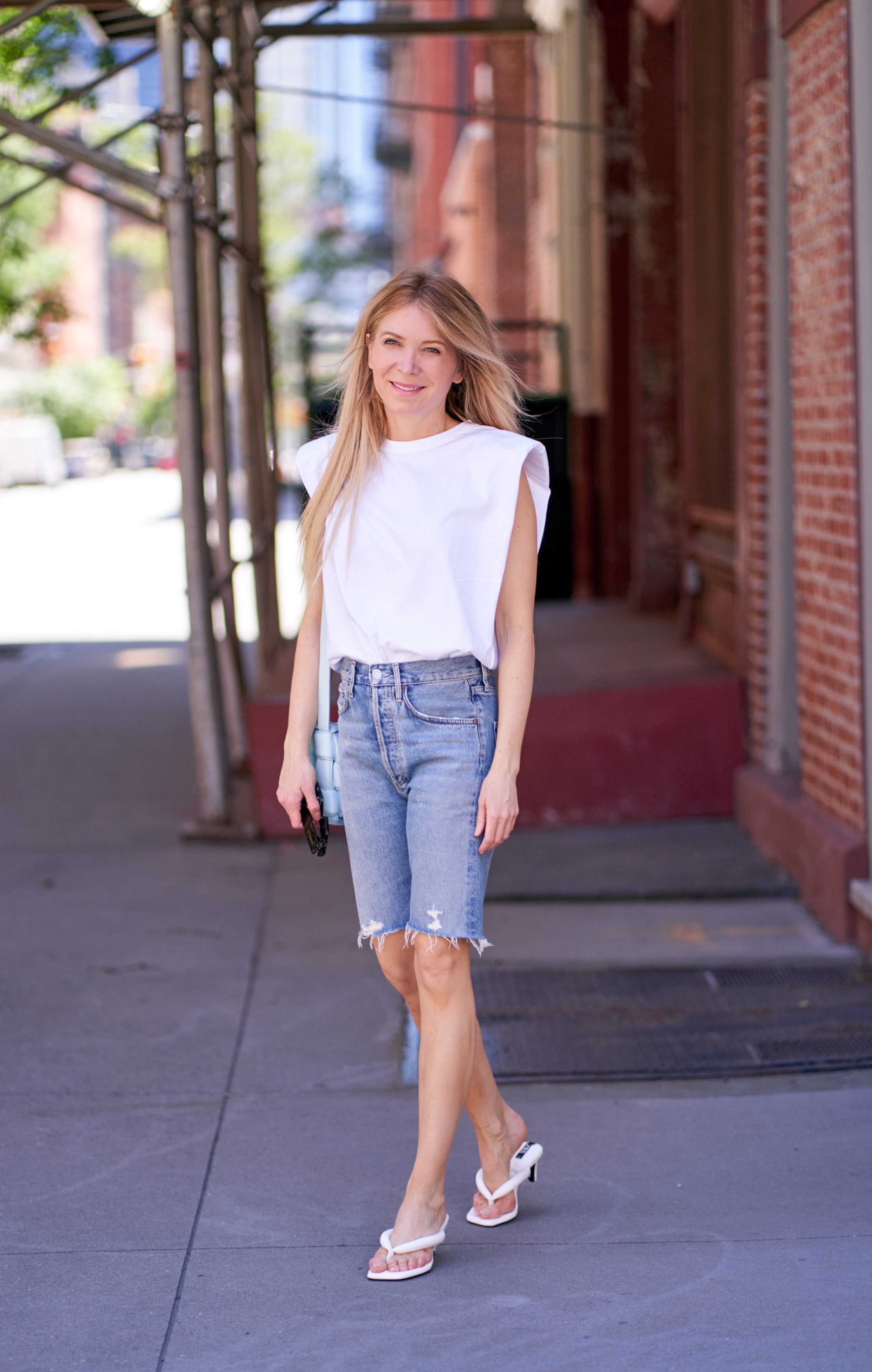 Look 2 – Nasty Gal dupe + slouchy Zara jeans
This has been one of my most liked looks on Instagram!  I got this shoulder padded tank before I bought The Frankie Shop one, because at the time The Frankie Shop one was sold out.  This one is much more cropped than The Frankie Shop one, but it is super cute and much less pricey.  The white one is now sold out except there are a couple sizes left in black!  Wear it with a gold chain link necklace (all the rage this summer) and you will look like a trendsetter!
Shoulder Pad Muscle Tee: Nasty Gal (sold out in white, black here) | Pleated Jeans: Zara (similar Levis here) | Flats: Salvatore Ferragamo | Chain Necklace: Cult Gaia | Sunglasses: Celine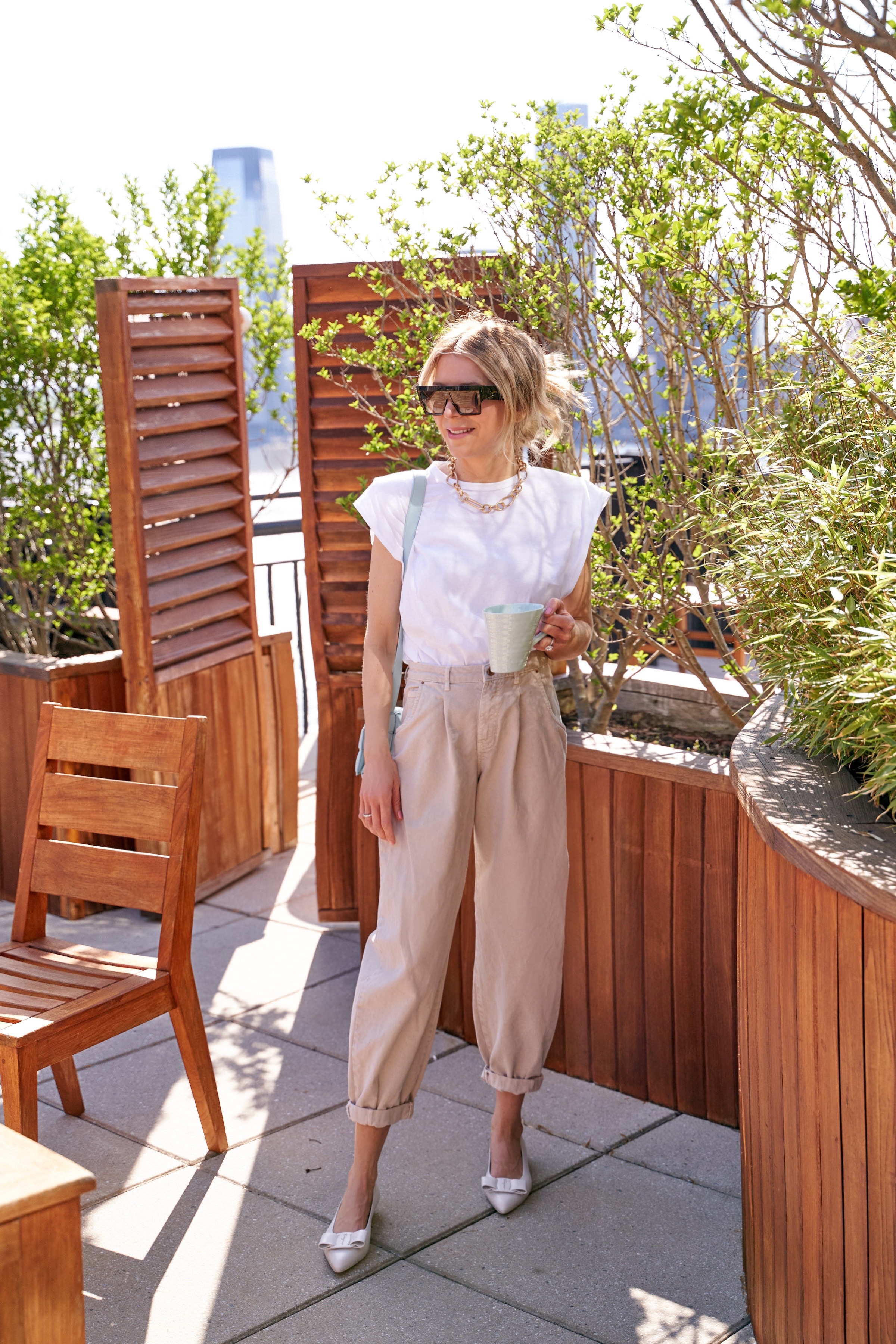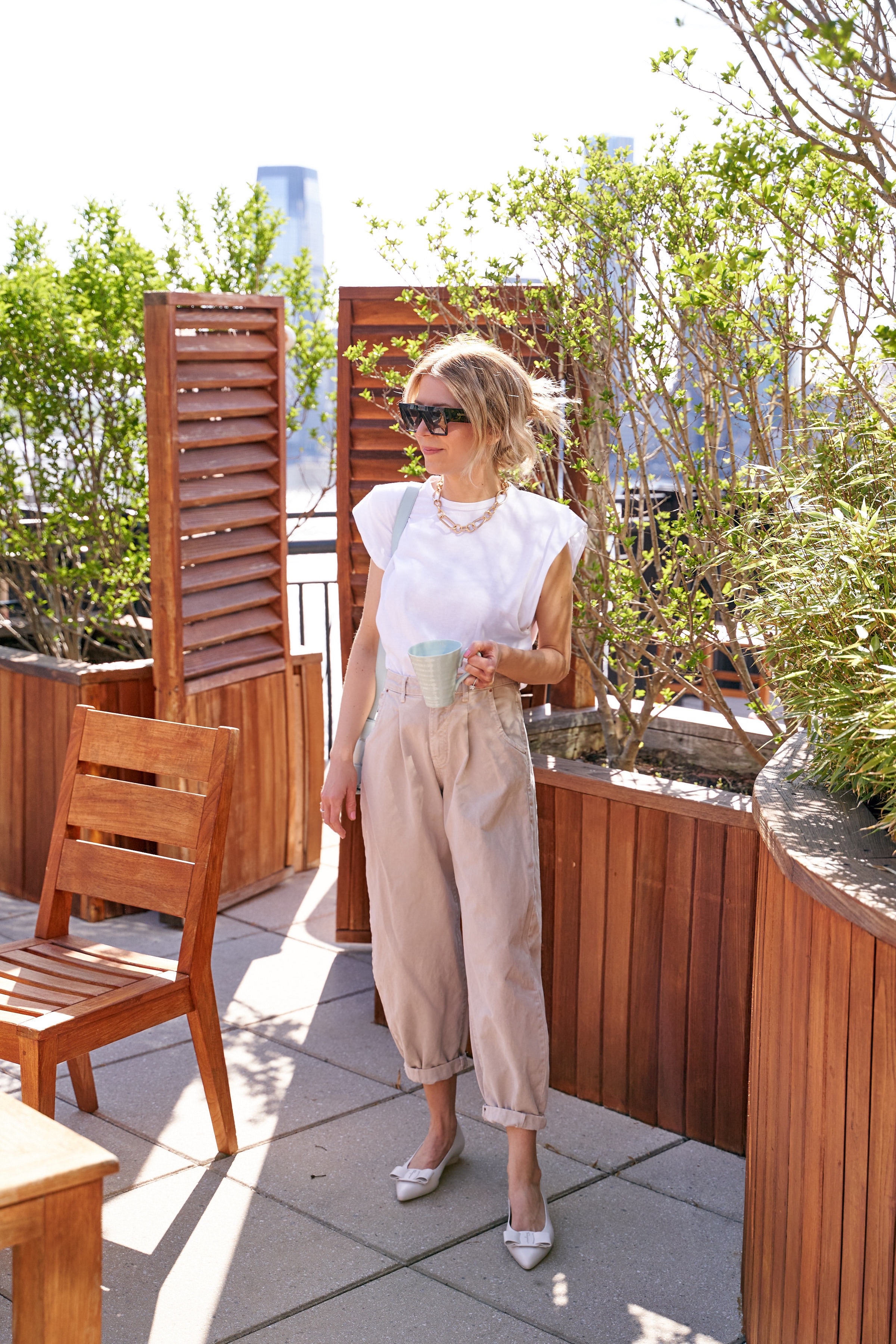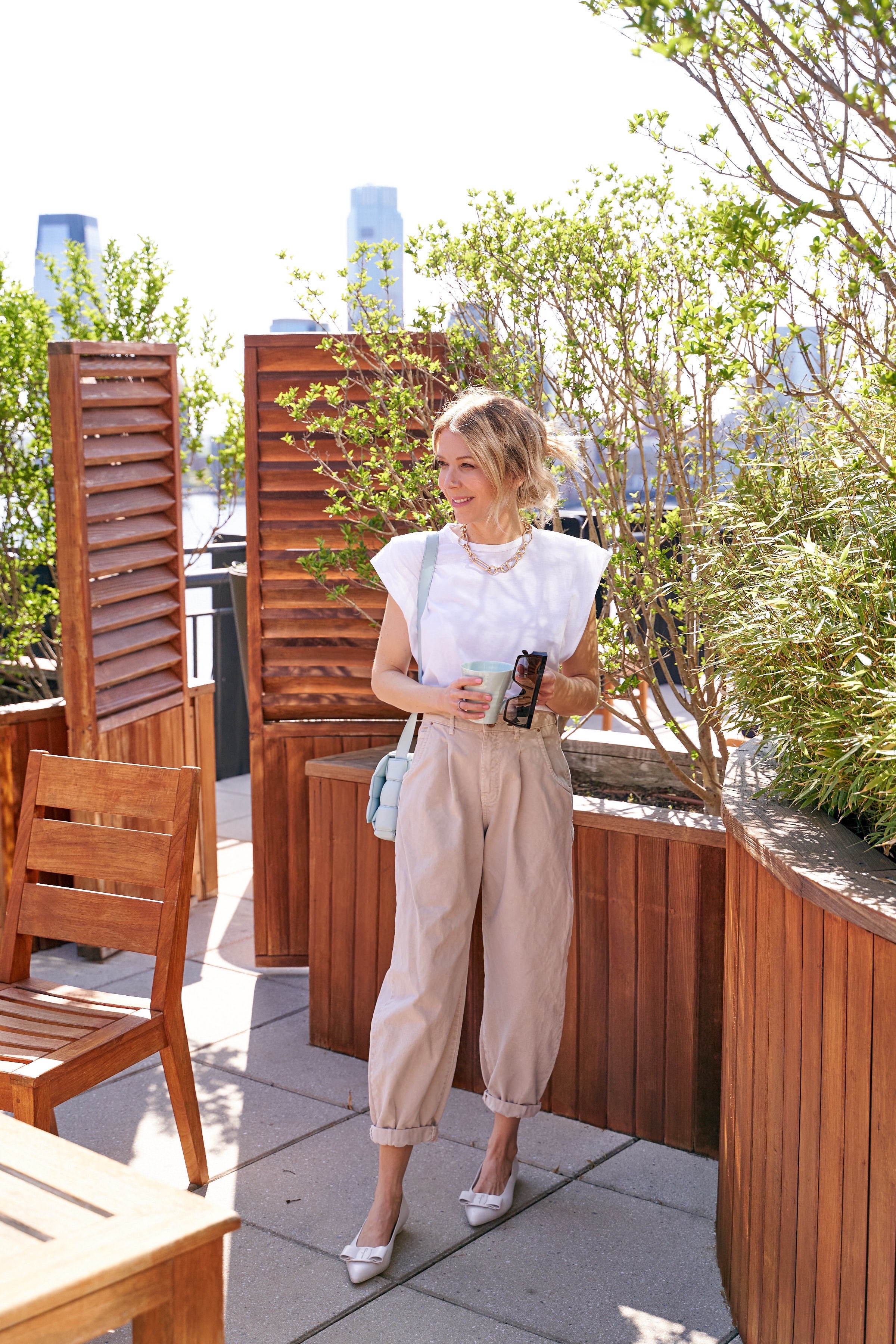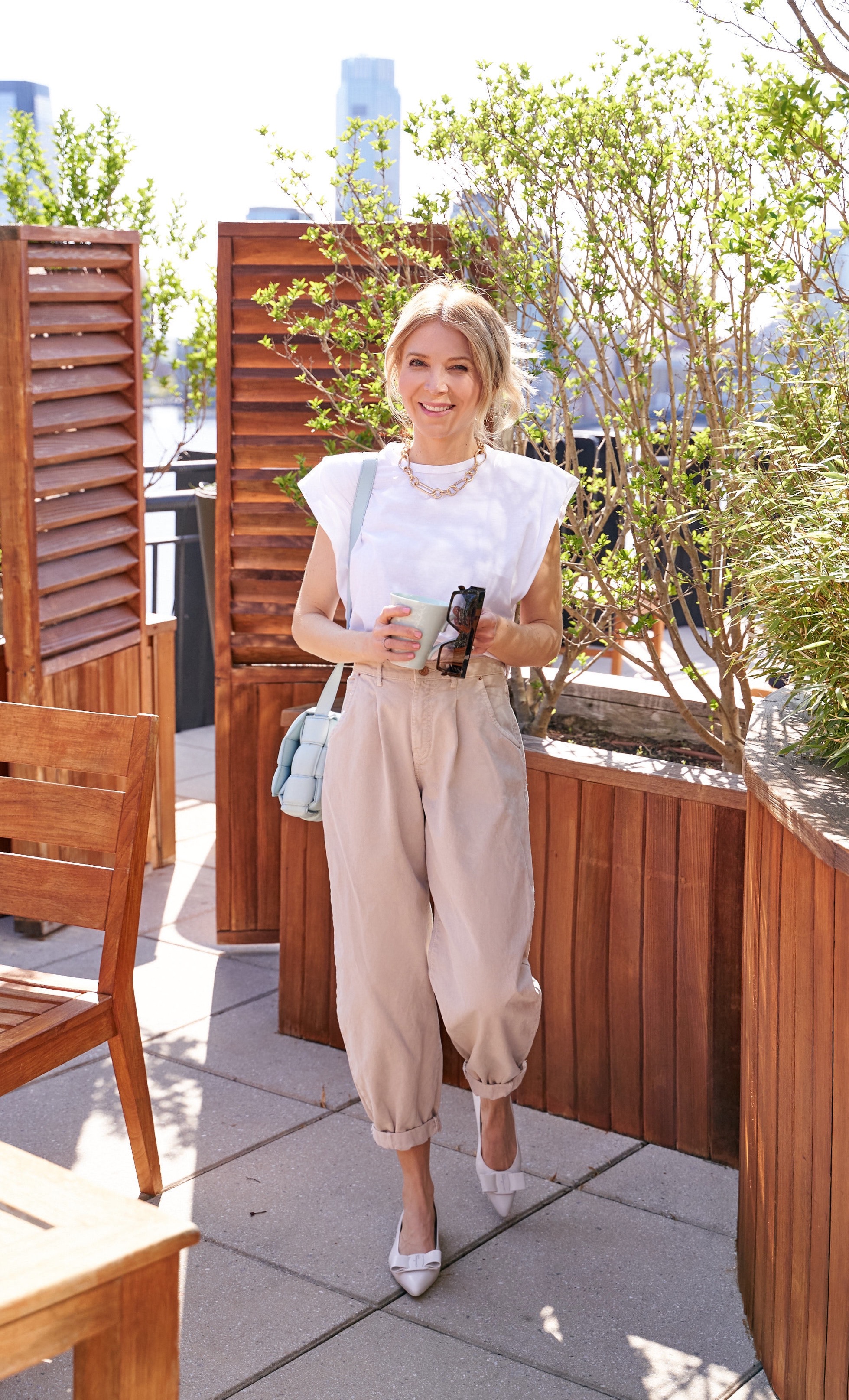 Look 3 – Mango dupe + high waisted denim
Again, I bought the Mango dupe of The Frankie Shop one when I was waiting for The Frankie Shop to restock.  It only comes in grey or black. Of the three padded shoulder tees I own, this one is probably my least favorite – just because I don't love myself in this grey color.  But it still looks cute styled with black denim.  It's well made and also a great price point.  I'm thinking about getting it in black.  Mango sold out of both colors already at least once, and has restocked both.  Also – Zara did a padded shoulder tank in black that sold out so fast.  So if you are in the market for one of these trendy tops this summer, you should grab one!  That said, because they are selling out so fast everywhere I am sure other brands will start to make them and then there will be too many of them and everyone will be wearing them… ahhhh the story of every popular trend!
Shoulder Pad Muscle Tee: Mango (in back here) | Black Jeans: Zara (similar here) | Sneakers: Golden Goose | Face Mask: Alice & Olivia, sold out, similar Amazon one here)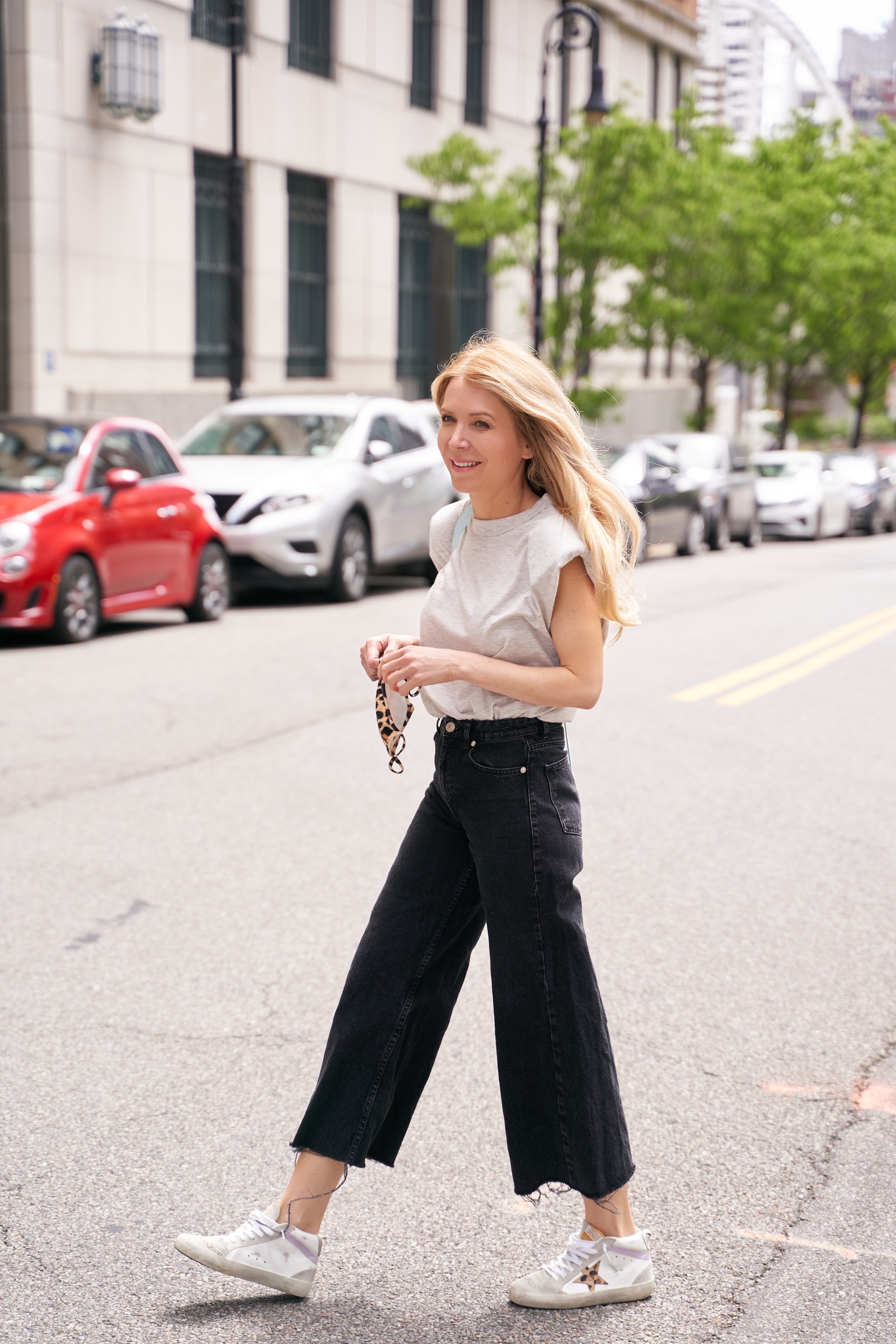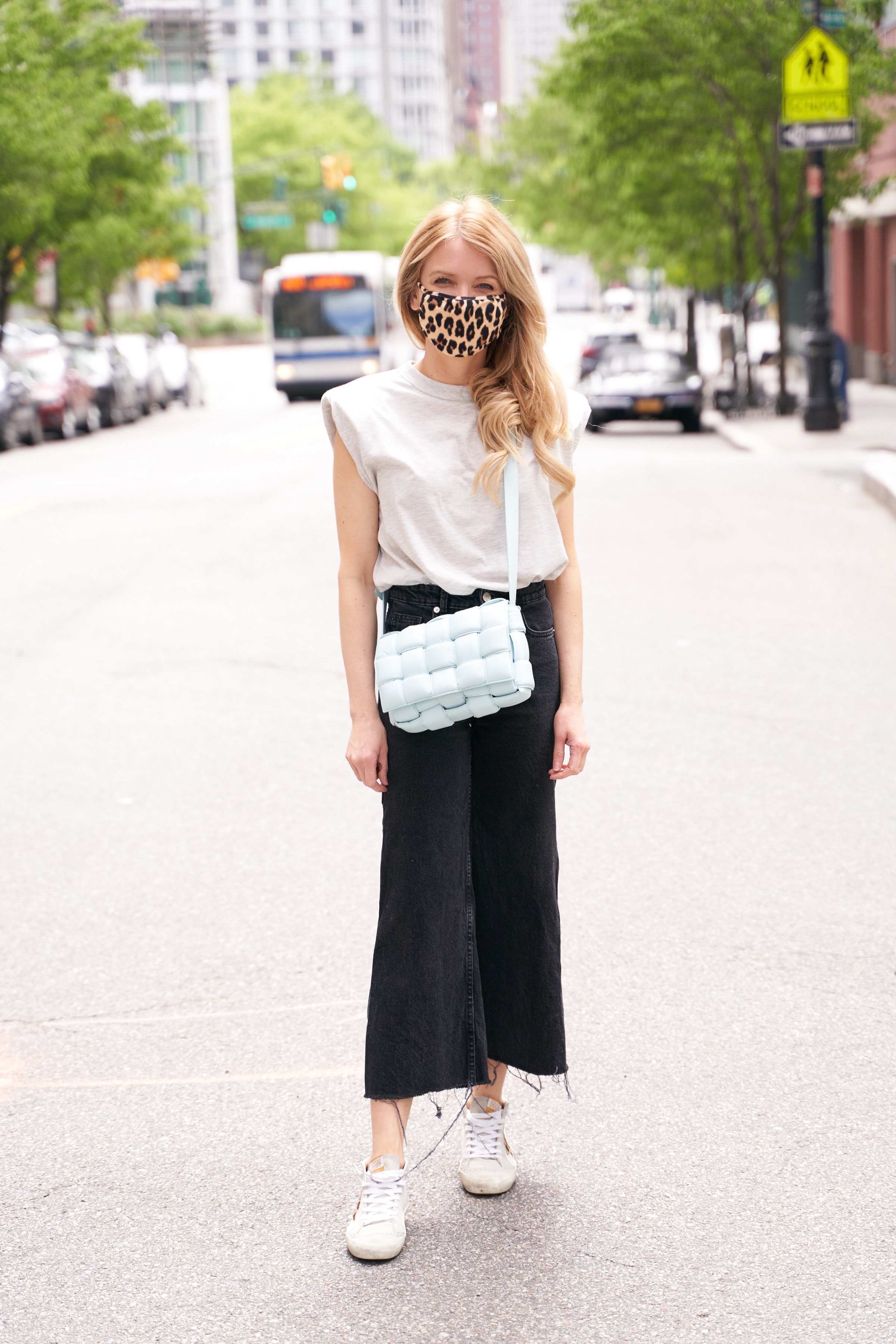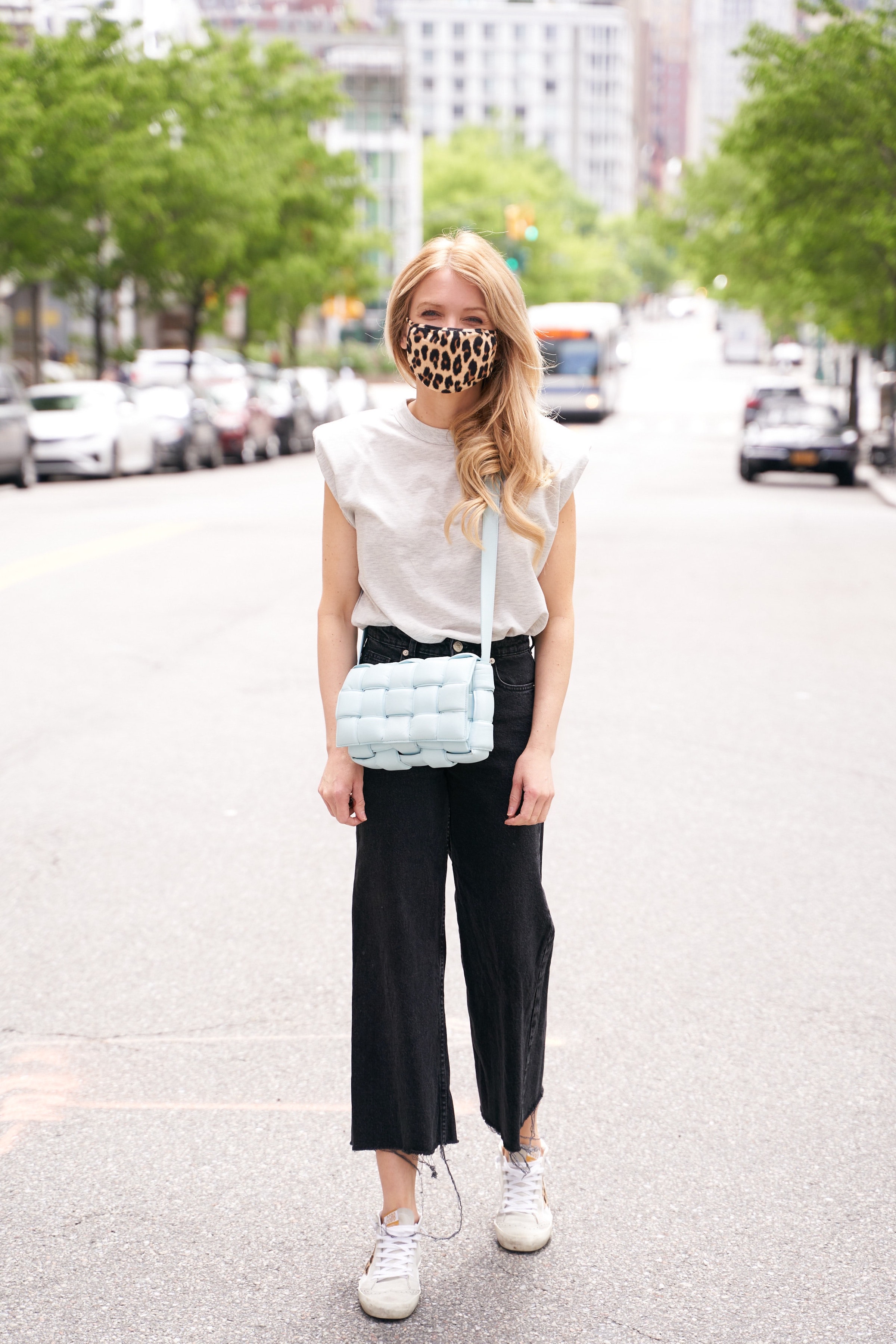 Thanks for stopping by!
xxxxx
Laura
Photos by Mike Kobal