Sweater: Chicwish | Skirt: Chicwish (almost sold out, other swingy Chicwish denim skirts here and here) | Boots: Rag & Bone | Bag: Carolina Santo Domingo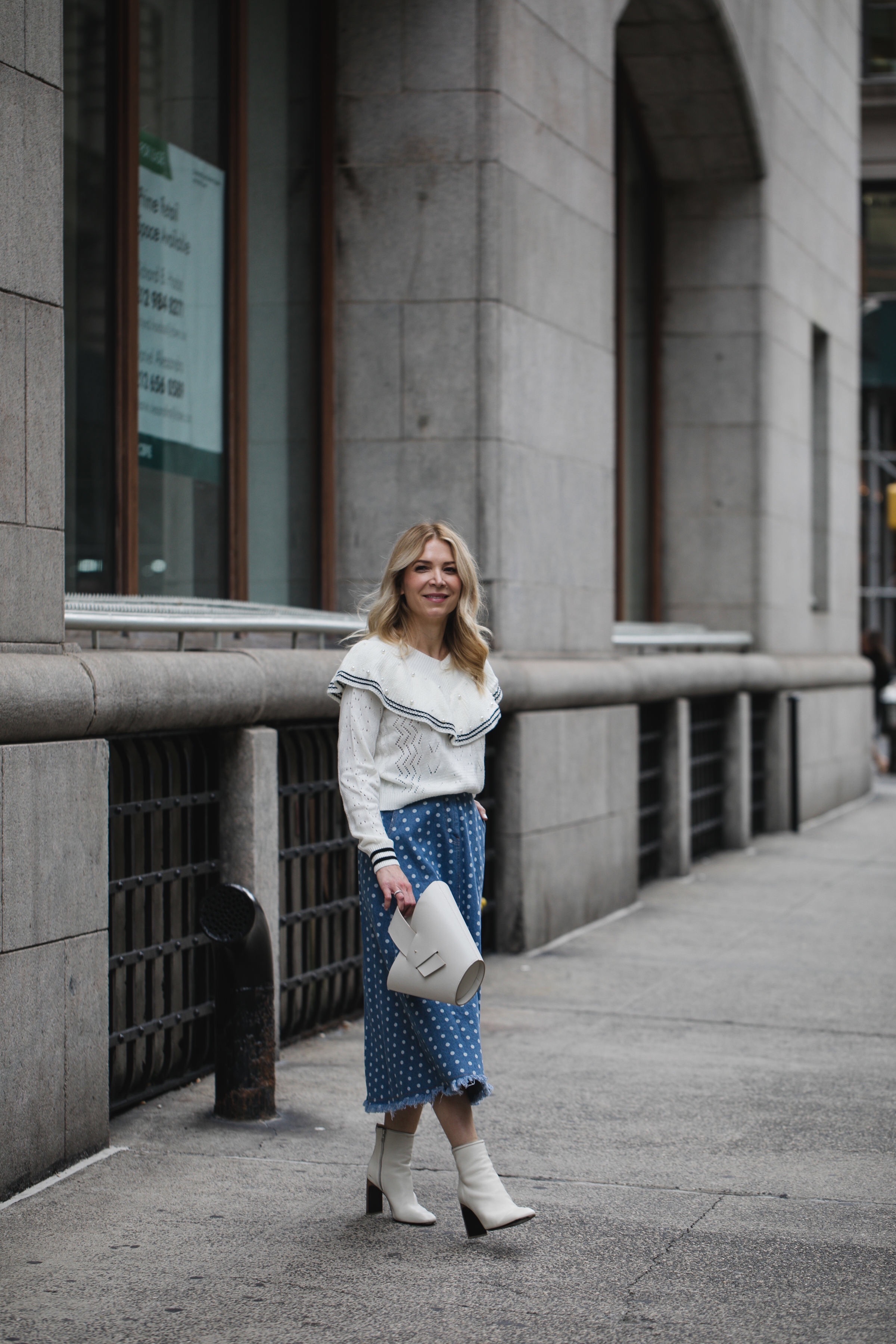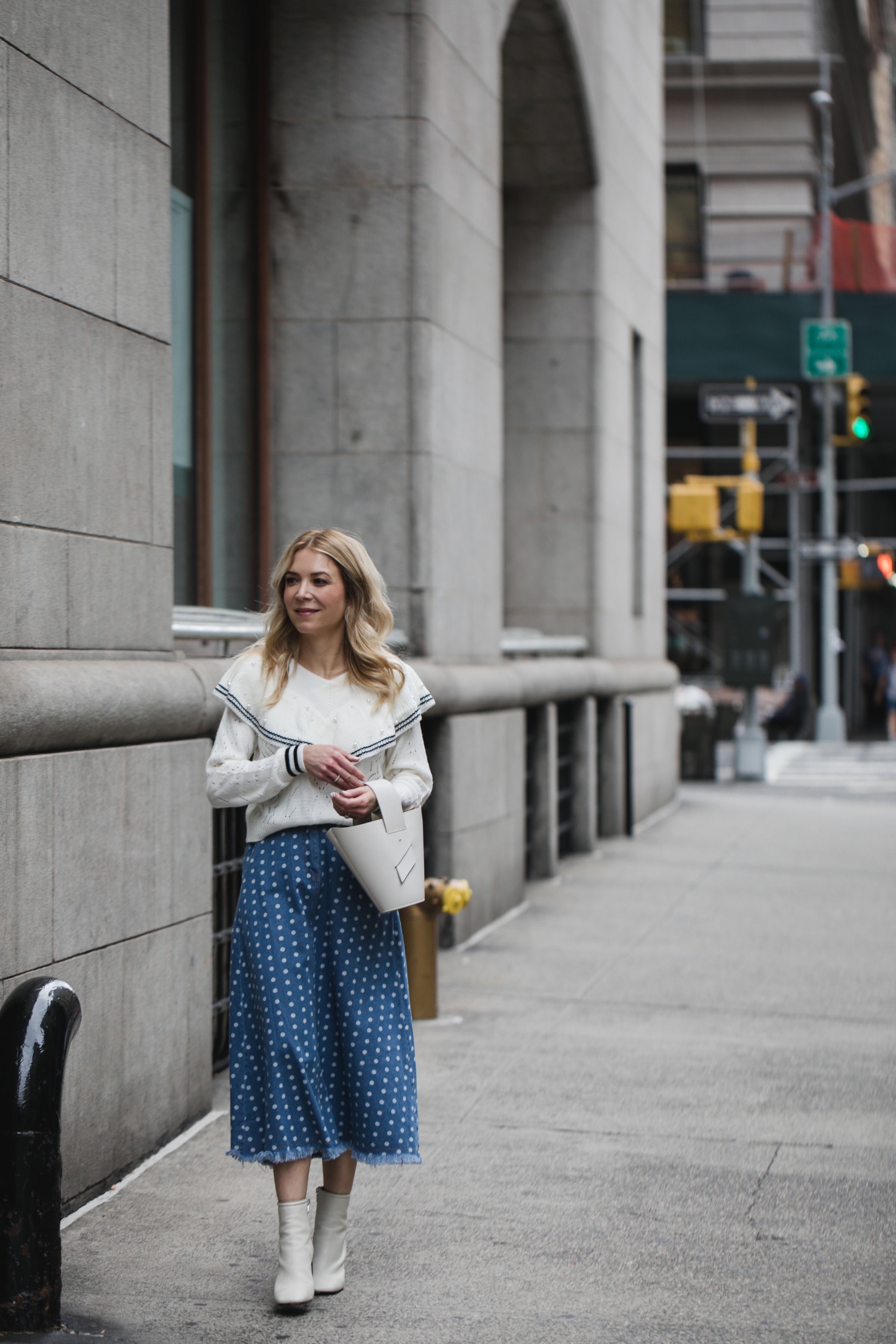 Sweater weather is here!  And if you are in the market for some sweaters for fall, you should check out Chicwish!  They make really fun sweaters of all different styles and the quality is great for the price. This sweater has little pearls sewn on the ruffle.  It has gorgeous navy blue piping trim too.  When I saw it on the Chicwish website, I knew I had to order it.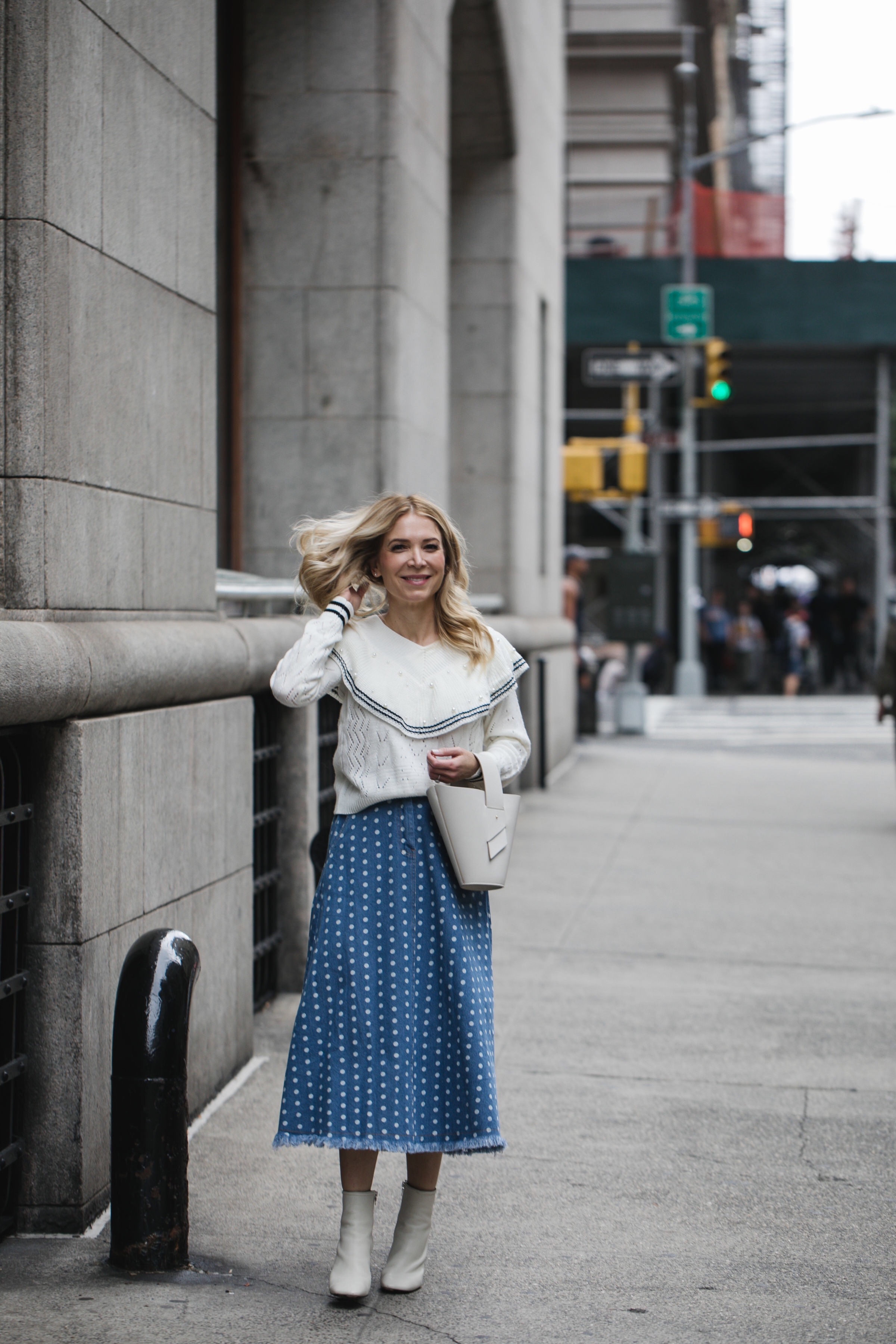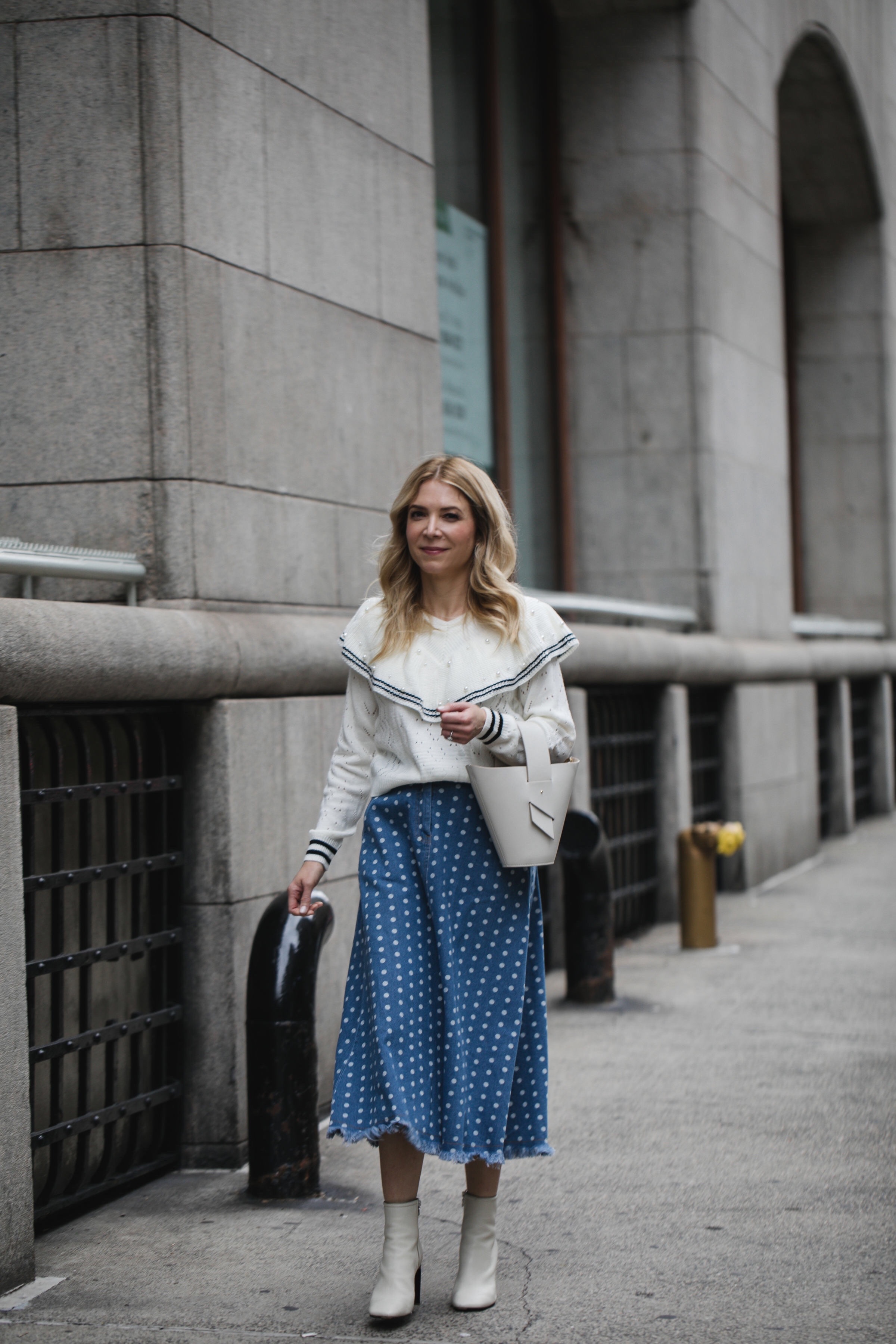 And I bought the skirt that the model on the website was wearing with the sweater – sometimes I do that, I will buy the whole outfit.  But glad I did, because I have worn this skirt a lot – most recently in this post with my Chicwish pink cardigan – and I think it is the best denim skirt I have ever bought.  I really like the length and how much fabric it has because it is swingy and even a bit twirly.  I love Chicwish clothing because it is so feminine.
I plan to wear the skirt with tights and knee high boots once it is too cold for bare legs.  Actually I think it is already too cold for bare legs, who am I kidding.  Is it just me or is winter coming earlier this year?  Anyway, the skirt is almost sold out but there are other swingy denim skirts on the Chicwish website that are equally as cute – this one, and this one!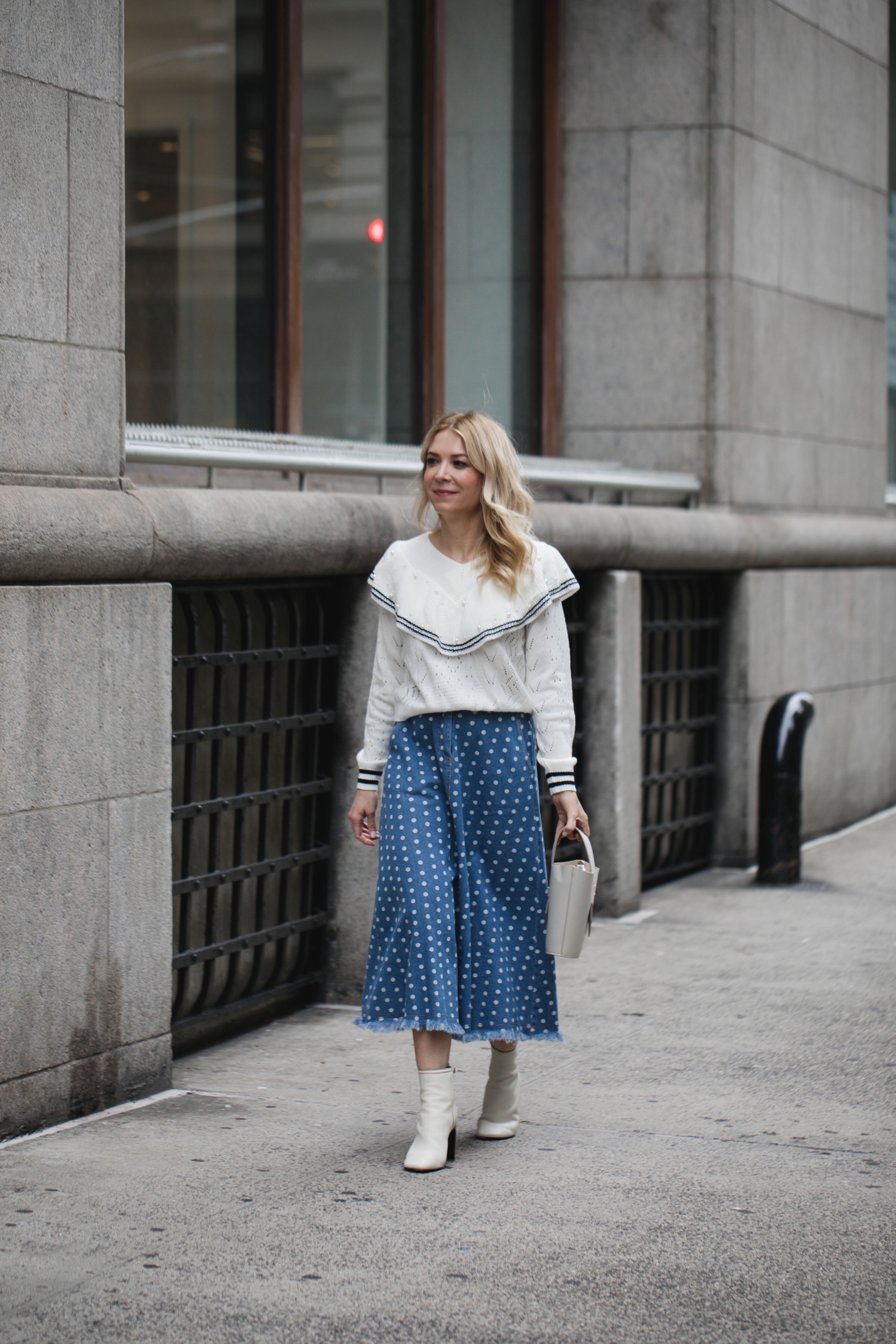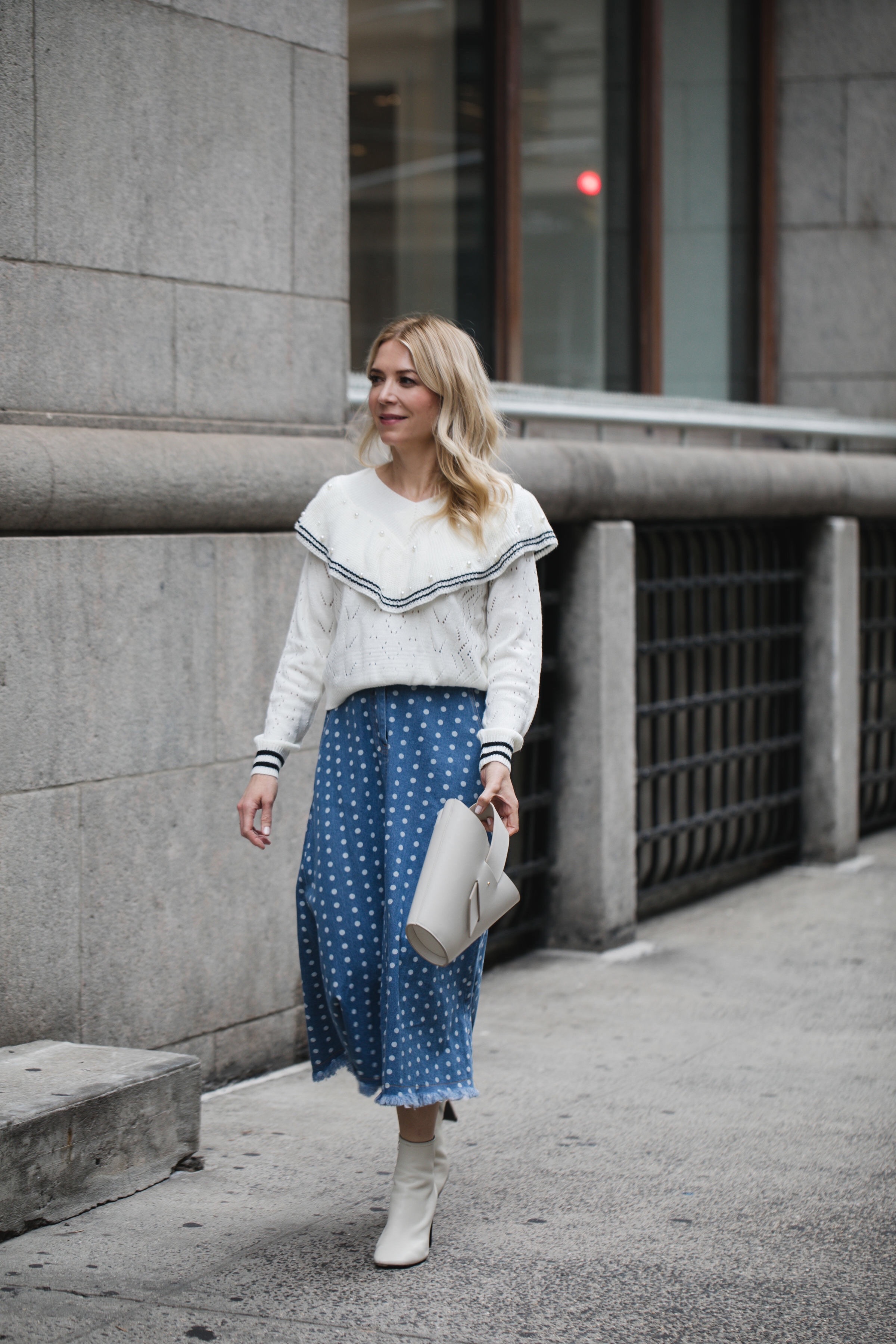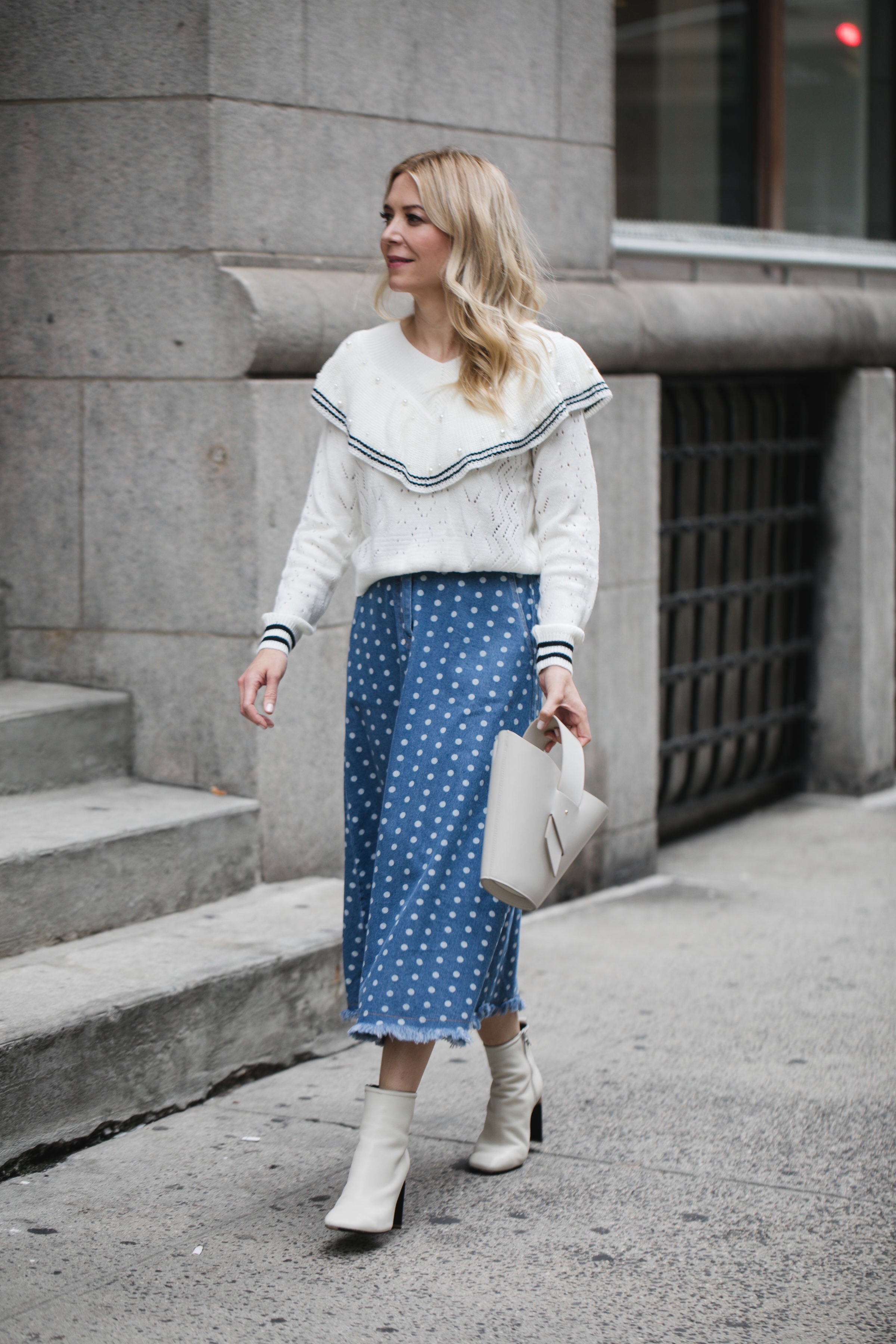 And finally I would like to say a few words about white boots.  Is anyone getting sick of seeing them, or are they here to stay?  This is the third or fourth season they've been around, and they seem still so popular.
I remember I got my first pair in the fall of 2015 (I remember what year it was, because it was when my oldest was starting kindergarten).  At the time, I was taking a bit of a fashion risk. I got them from Zara in November or December and no one was wearing them yet. It was going into winter.   Many people on the East Coast follow traditional fashion rules (no white shoes after Labor Day). Many of the moms in the school in the West Village were probably looking at me strangely for wearing bright white leather ankle boots in winter.  I felt kind of like a weirdo at the time, but I had seen them on the Zara website and on Instagram worn with bare legs and knee length smock dresses and I was just mesmerized. I wasn't that fashion forward or anything, I was just a mom, but for some reason I just loved how white boots looked so fresh!  Especially with side striped pants or long dresses.  I wore my Zara ones all through that winter and they quickly got worn out.  I tried to find a replacement pair for Spring 2016 and it was impossible.
Then all of a sudden Zara came out with another couple of styles, and I got my second pair!  I was glad I snapped them up, because they quickly sold out on the Zara website.  Gradually, over the next couple of years, white boots started trickling into mainstream stores.  Since 2015, I have bought about 7 or 8 (or more) pairs of different white boots, including a pair of the Chloe Susanna boots in white (which are like my all time favorite shoes) and the Chloe Rylee ones in white.  And now they sell white boots at Target, Sam Edelman makes them, Nine West, basically every mainstream brand now carries a version of white boots.
I had thought white boots would definitely be a passing trend, so I am very interested to see all kinds of women of all ages wearing them all the time on the street now.  I wonder how long they will be popular.  Is the trend just peaking now?  Are they like Dad Sneakers?  Probably only here for a couple of seasons and then on to the next shoe silhouette?  Who knows!  Personally I love how white boots and white shoes brighten up any outfit in any season.  I feel very attached to my 7 or 8 (10 or 11) pairs and I do not know if I could live without them!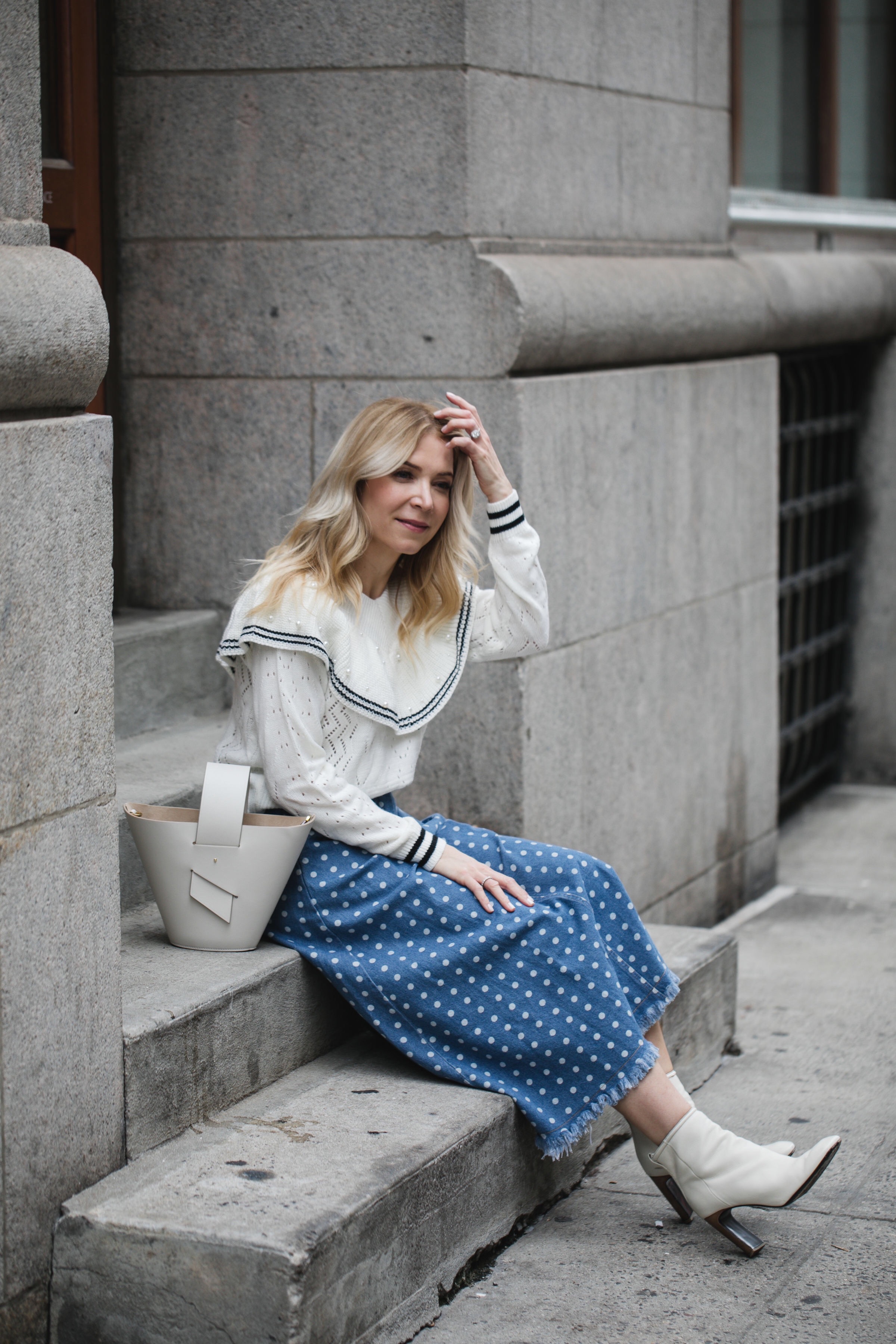 Do you think white boots will be around for much longer?  Do you like them?  I would love to hear your comments below!
xxxxxx
Laura
Photos by Lydia Hudgens