Skirt: J. Crew | Sweatshirt: J. Crew | Earrings: Sachin & Babi (sold out in the pictured blush color, same earrings in light pink here) | Sunglasses: Chloe | Shoes: Ferragamo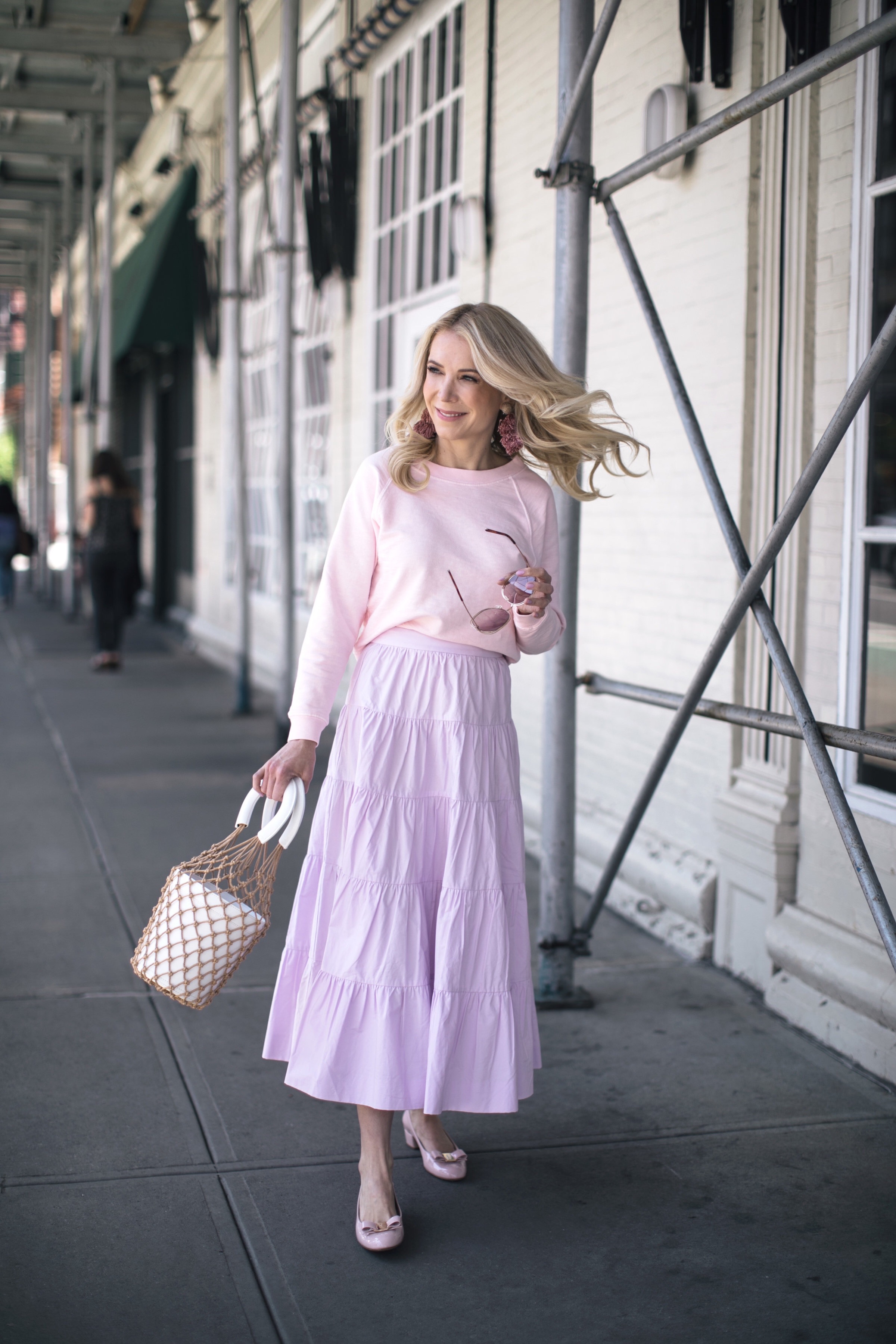 This skirt is one of my favorite things I have ever found at J.Crew, EVER!  It is super floaty and twirly!  I spotted it in the window display of the J.Crew on 16th St. and 5th Ave. recently and went straight in.  It was LOVE AT FIRST SIGHT.  And then the strange thing was, the very next day a new friend of mine on Instagram, Amy Hendy (@amylhendy), wore it in her stories and we exchanged about 15 DMs over how to style it.  It turned out Amy has been asked to be a stylist at her local J.Crew in Boston every Friday.  So she was giving me all kinds of ideas of how to wear it.  I had already bought this light pink sweatshirt to go with it, but Amy was also suggesting a denim button down, and a cute grey t-shirt.  She is so cute and stylish so if you don't already follow her, go to Instagram RIGHT NOW and find her and follow her.  She is also probably one of the nicest people I have met on Instagram.  She is so supportive and kind and is a mom of three little girls.  Oh and she also is an ex-lawyer.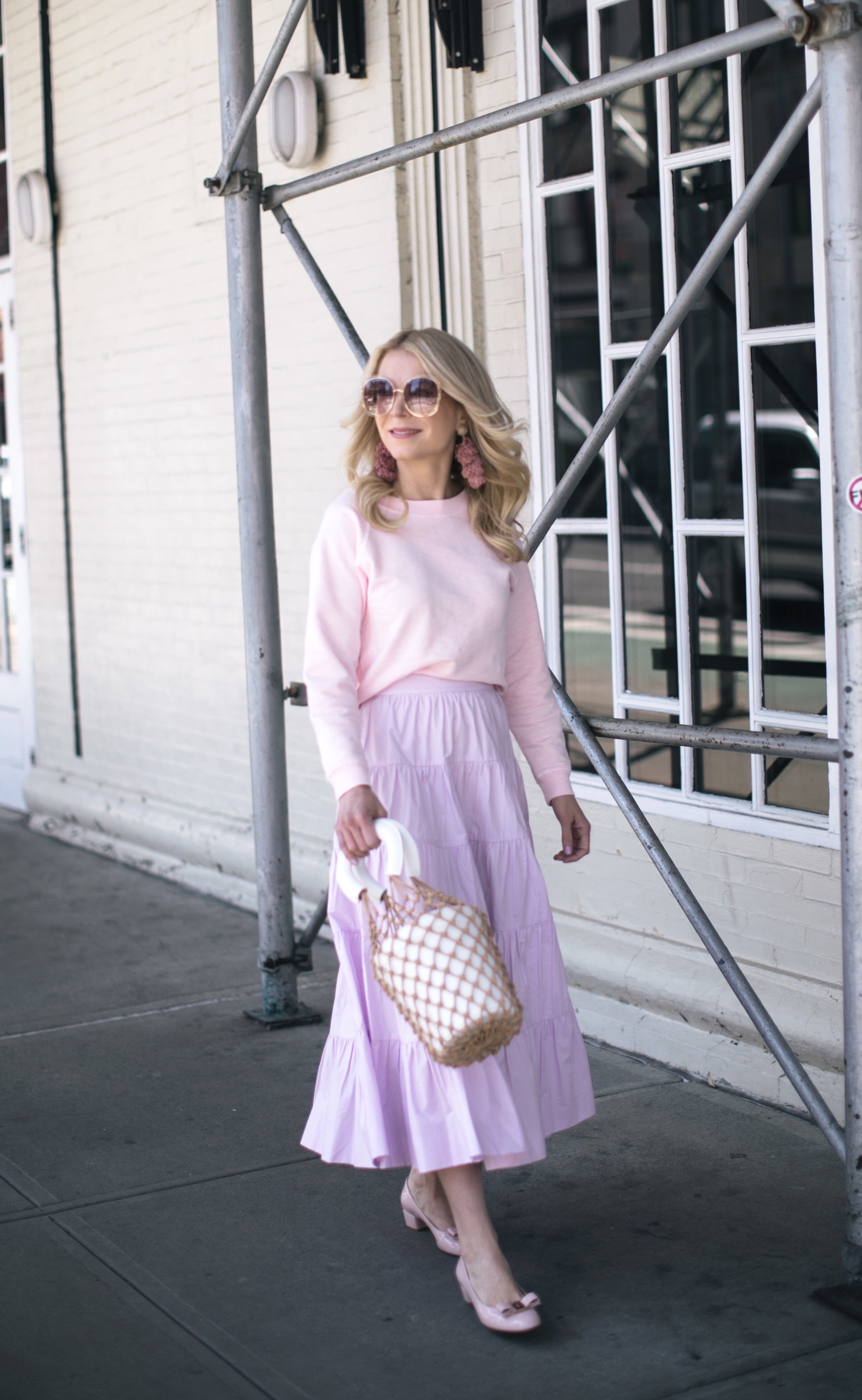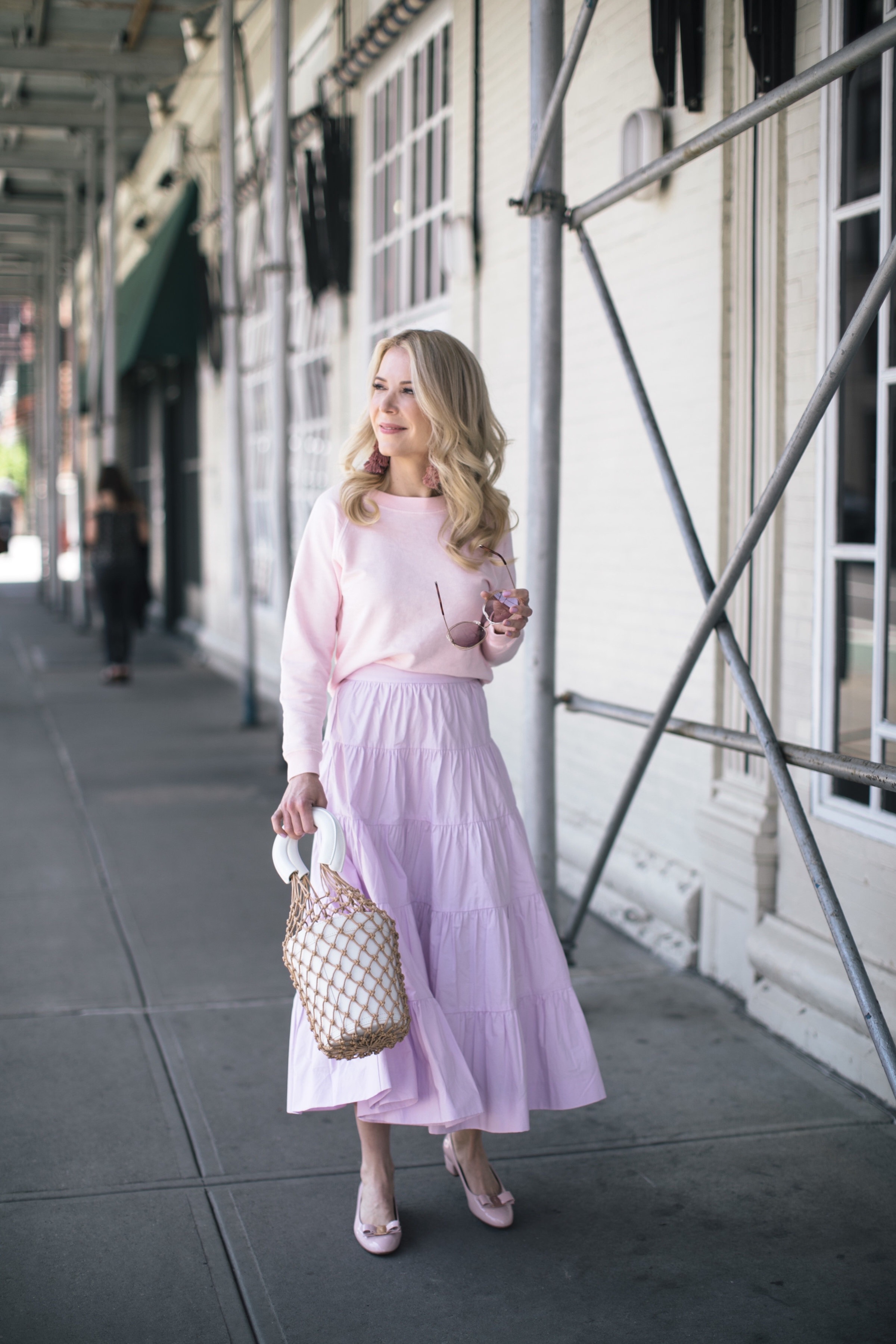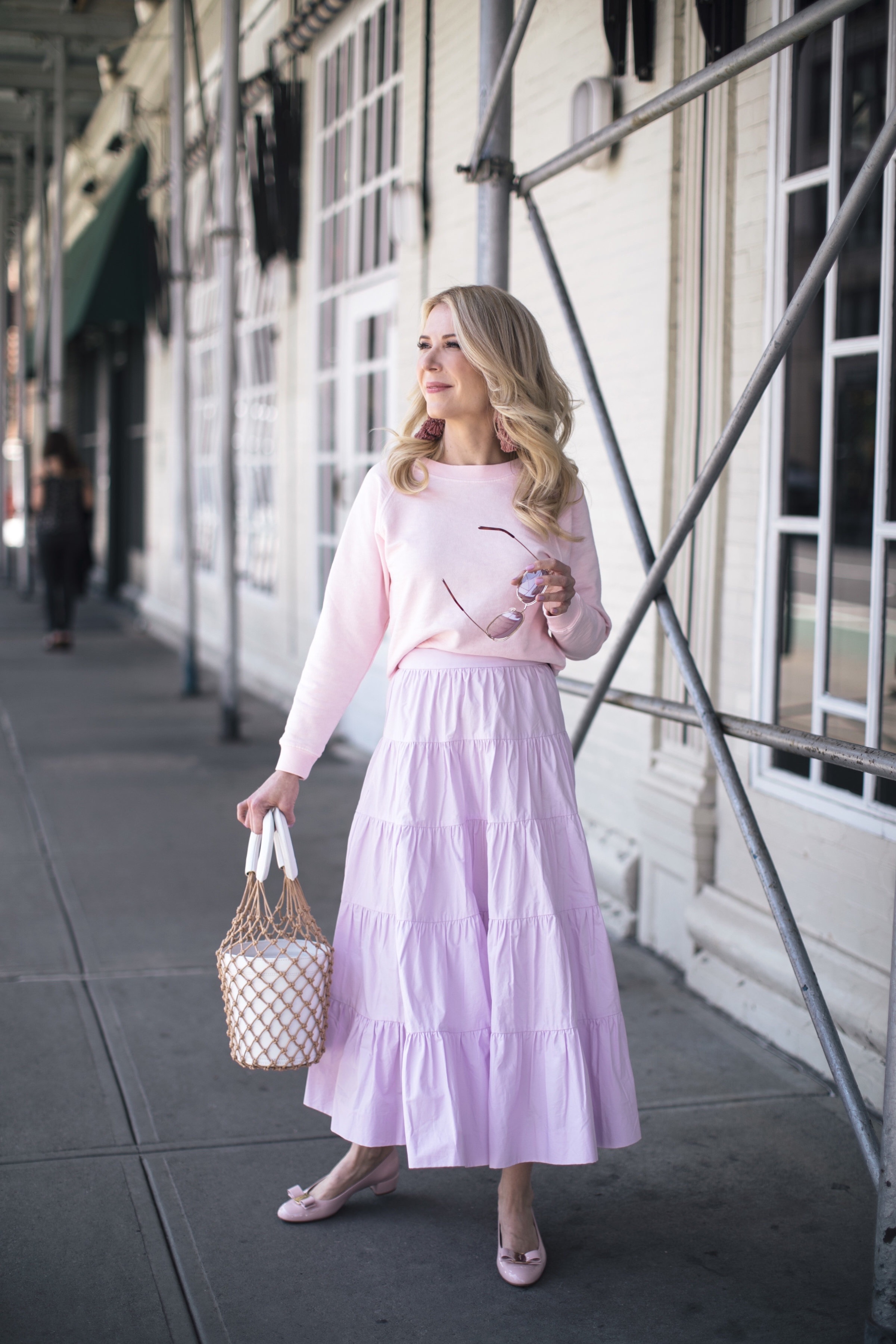 For me, the absolute best thing about starting a blog has been the friendships I have made on Instagram, and Amy is the perfect example.  Before I started blogging and Instagram, I totally scoffed at stories of people met other people online and had whole relationships with them remotely (for example, in the dating world).  I never ever understood how you could meet someone online without ever meeting them in person and just "click" with them.  Well, now I get it.  Granted, I am not dating anyone I meet on Instagram (I am very happily married, I do not want you to get the wrong idea here)!  I am only meeting other moms and women like me who like fashion, but my point is that you forge surprisingly strong bonds over social media!
I never, ever expected to make such nice friends on Instagram when I started this whole thing  A lot of the days it is what keeps me going with it!  I love my new insta-friends and I love seeing what outfits they wear next and what they are up to every day.  Transitioning to being a stay-at-home mom was really hard and there are times during the day when you are kind of lonely because you are home doing housework, or tidying, or doing errands.  It can be a really thankless job.  So this social media thing has given me a whole support system I can tap into day or night and provides a real outlet for creativity!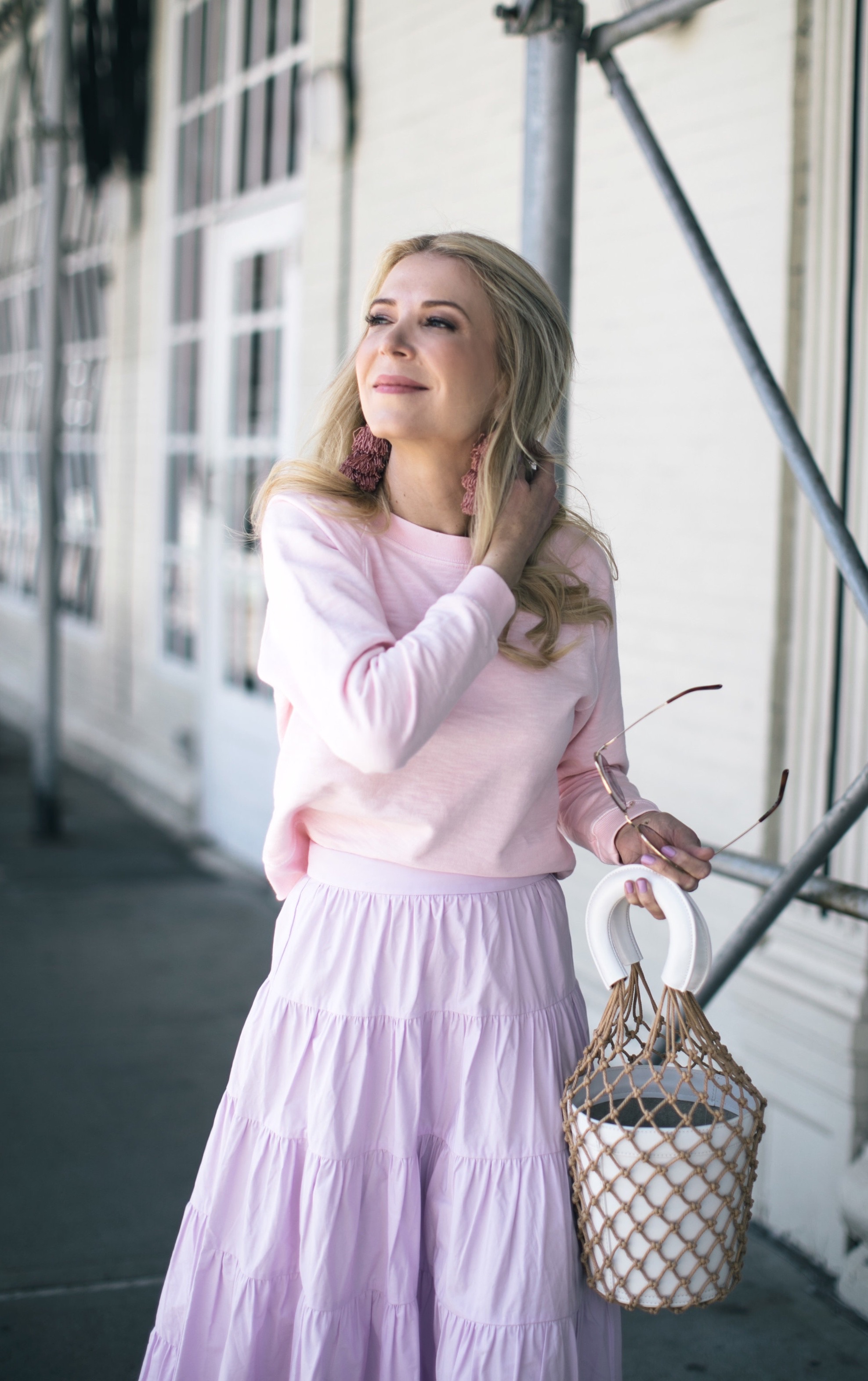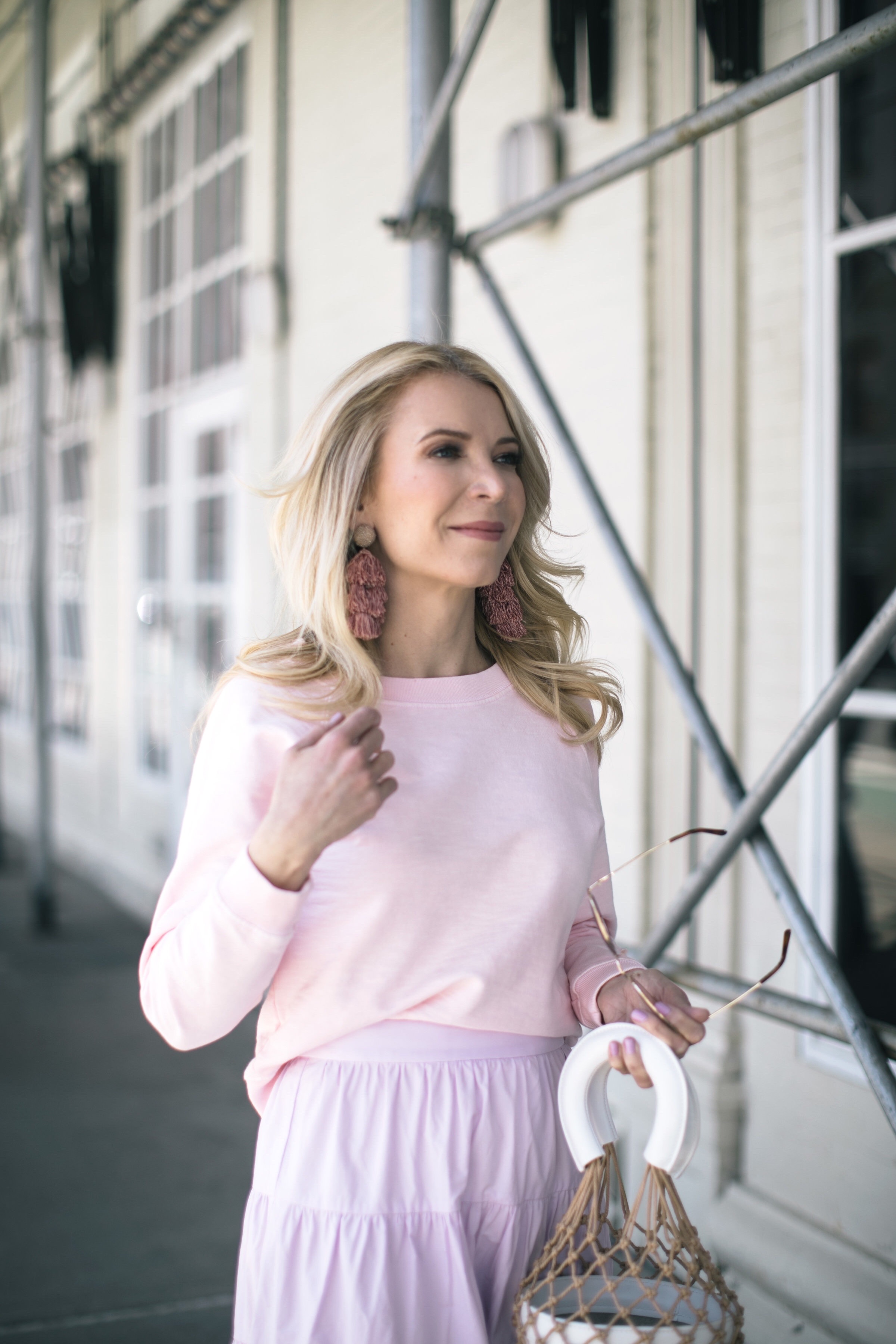 Anyway, if you buy one thing at J.Crew this season, I would go for this skirt.  It also comes in navy blue. And like Amy says, it can be styled with SO MANY THINGS!  Happy Wednesday everyone, thank you for reading!
xxxx
Laura
Photos by Lydia Hudgens