Catwoman Costume for Kids: Chasing Fireflies | Black Cat Costume for Women: Chasing Fireflies | Black Cat Costume for Girls: Chasing Fireflies | Makeup: Glamsquad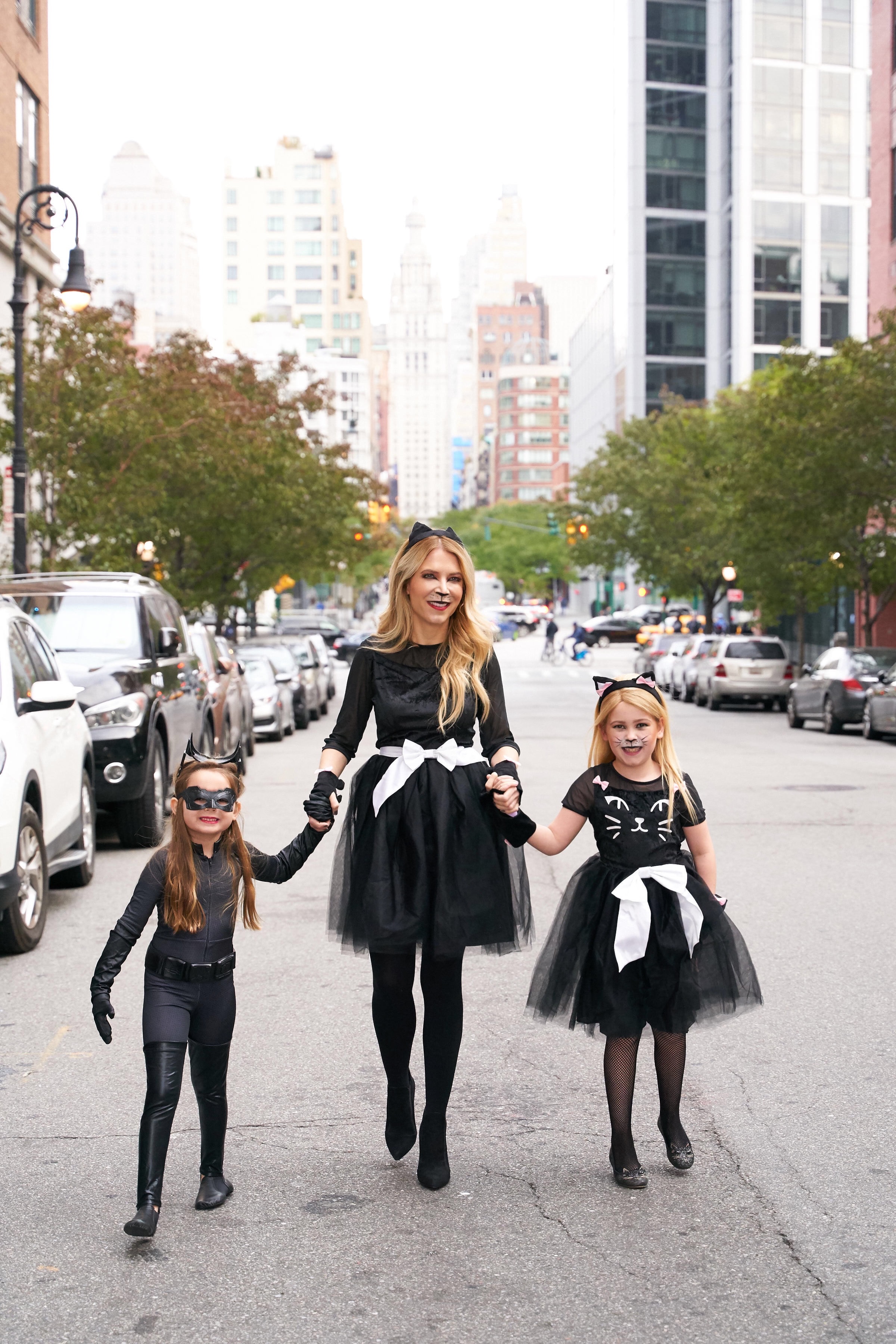 Let me just say this is the first time I have dressed up for Halloween since I was much younger! Although I loved dressing up as a kid, I have always kind of been a scrooge/grump when it came to adult Halloween costumes – I never understood why full grown adults dress up!  I don't know if it is because I lived in London for so long, where people really don't get that into Halloween.  Or if I was always just kind of busy with work and could not be bothered.  But for whatever reason, seeing adults parading around in head to toe elaborate costumes on Halloween always irritated the living daylights out of me especially in the last few years of living in New York City.
Halloween is a very big deal here.  The city closes whole streets to cars to allow trick or treaters.  People put up elaborate decorations on their homes such as fake cobwebs and ghosts and witches.  And even the adults dress up!  And, there is a huge Halloween parade that causes major chaos – traffic snarls, public intoxication, craziness – but everyone here loves it!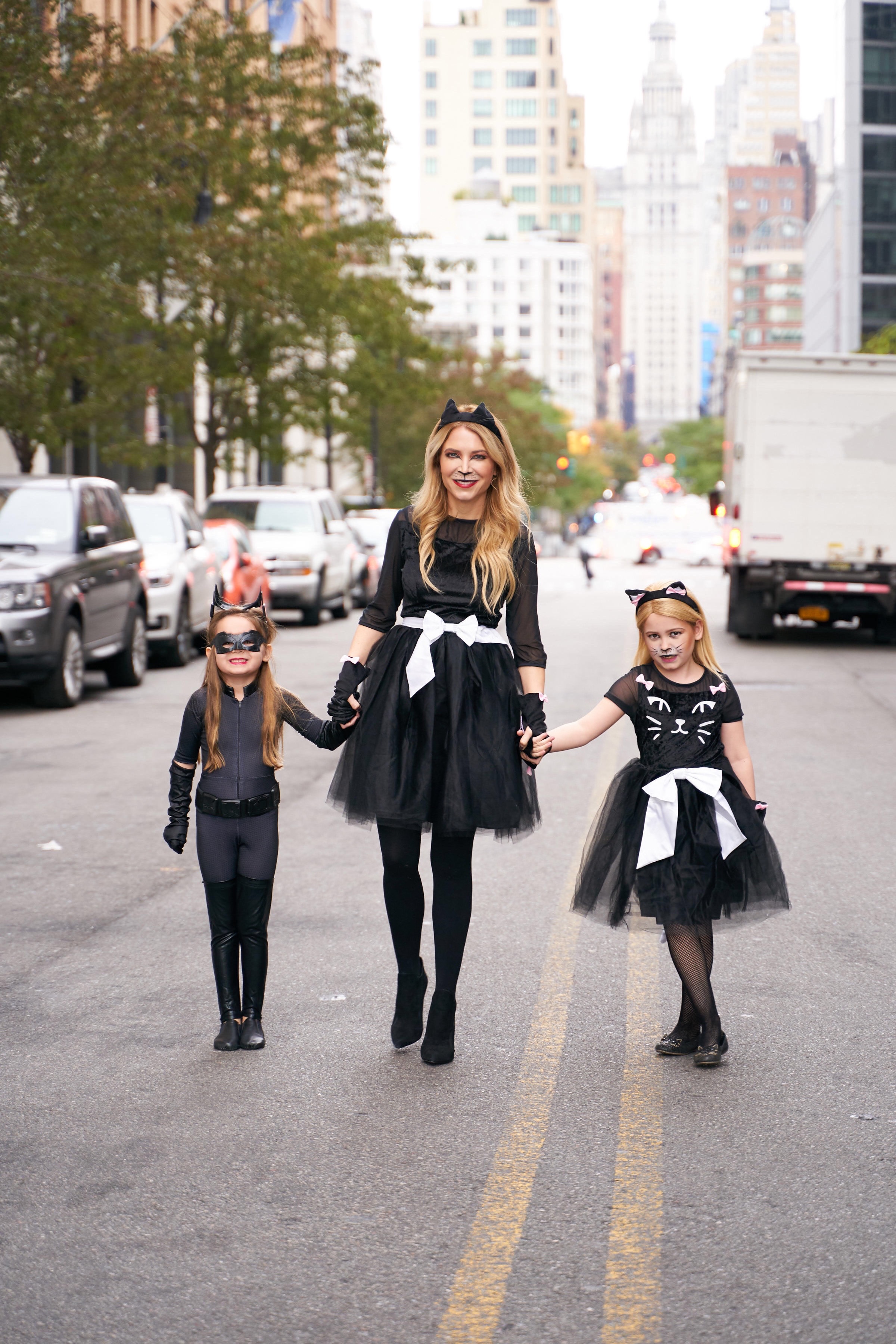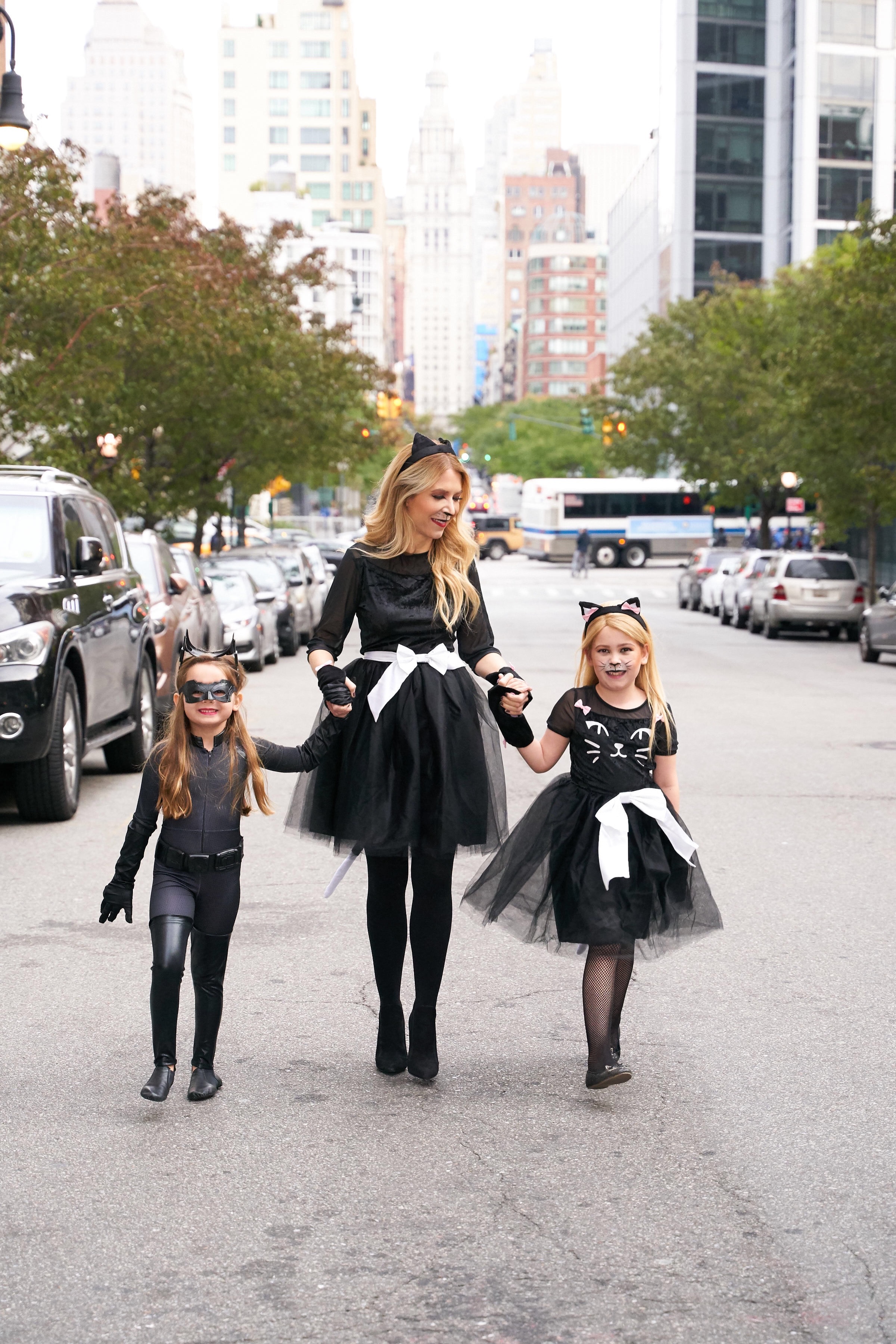 Why I changed my mind about dressing up:
For the last couple of years, my daughters (Chloe, age 8 and Lily, age 5) have begged me to dress up.  So for the first time, this year, I gave in – I decided to join in the Halloween fun!  It hit me that the girls are growing up very fast.  Chloe is 8 now, and pretty soon she will be 10, then 13, then 15, and well…. there is no way she's going to be begging me to dress up in a matching cat costume probably even at age 10.
This is the kind of thing the girls will remember.  So I decided I would no longer be the cranky mom in her sweatpants with her hair tied on top of her head shuffling to the front door to hand out Halloween candy while my husband takes them trick or treating.  This year, I'll be the fun mom who plans out the whole family's Halloween costumes in September and even books out Glamsquad to come and do matching Halloween makeup for me and my daughters!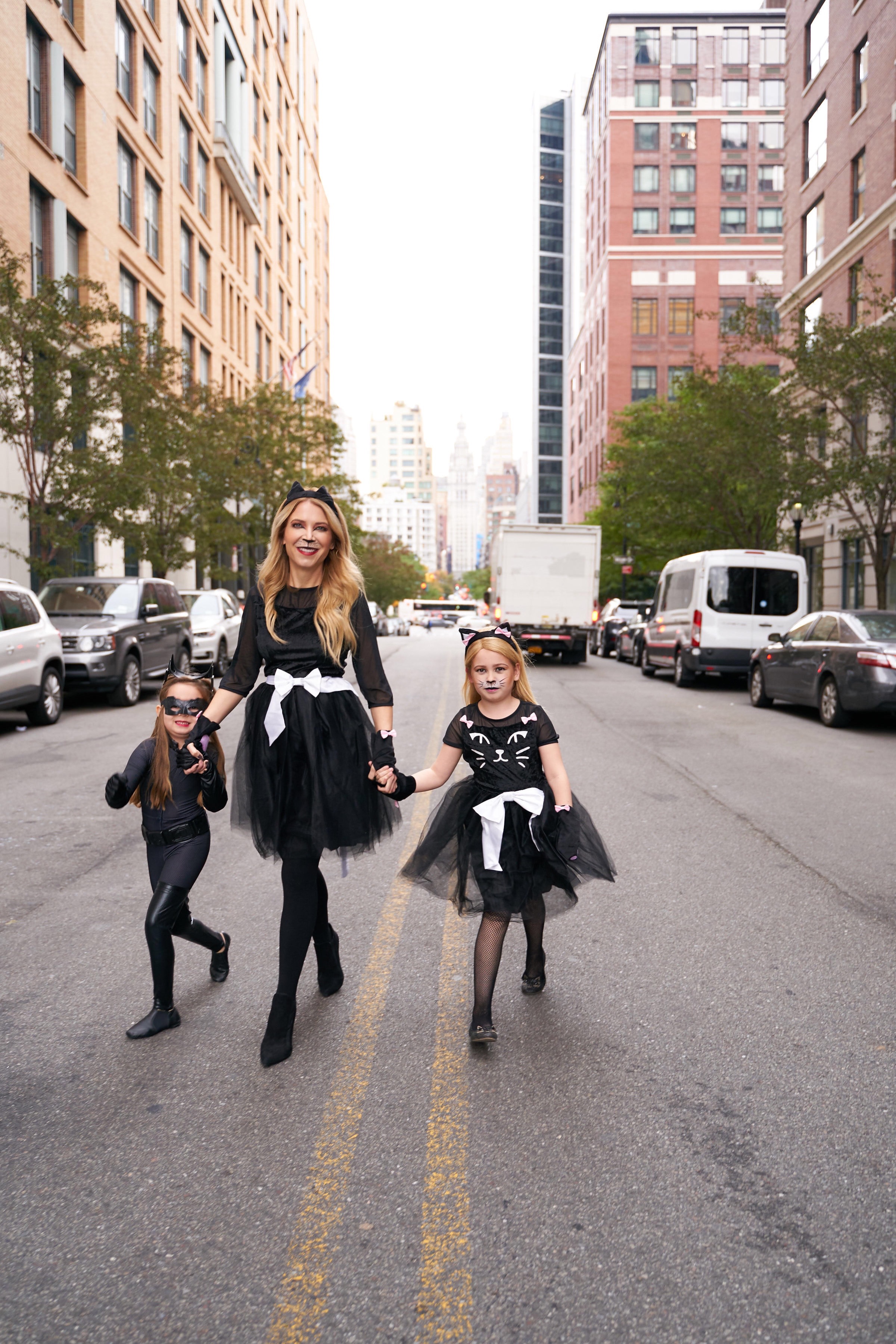 Deciding on the costume:
Initially, all three of us were going to be cats and order three matching black cat costumes from Chasing Fireflies.  But then my littlest one Lily (age 5) decided she wanted to be different!  She wanted to be Catwoman instead of just a plain black cat!  My husband Matt was going to be Batman so he and Lily could be dressing up partners, and Chloe and I would be cat partners.  But he had to have foot surgery last week so dream deferred of the superhero duo.  So it ended up that it is just me as a cat and my matching kitten (Chloe) and my little Catwoman (Lily).
 The makeup:
And now on to the fun part!  The makeup!  I decided to hire Glamsquad this year to do our cat makeup.   I am hopeless at doing my own makeup (I hire Glamsquad to do my makeup for my outfit photo shoots).  I saw that they offer Halloween makeup around Halloween so I booked them to come to our apartment!
Each makeup artist comes to your home with a mini roller suitcase filled with every color and shade of foundation you can imagine as well as a rainbow array of bronzers, highlighters, blush and concealers.  Tons of lipsticks, eyeshadow palettes and brushes.  When the Glamsquad makeup artists arrive to your home, they will ask to seat you in a spot with lots of natural light.  I always set up near our living room window.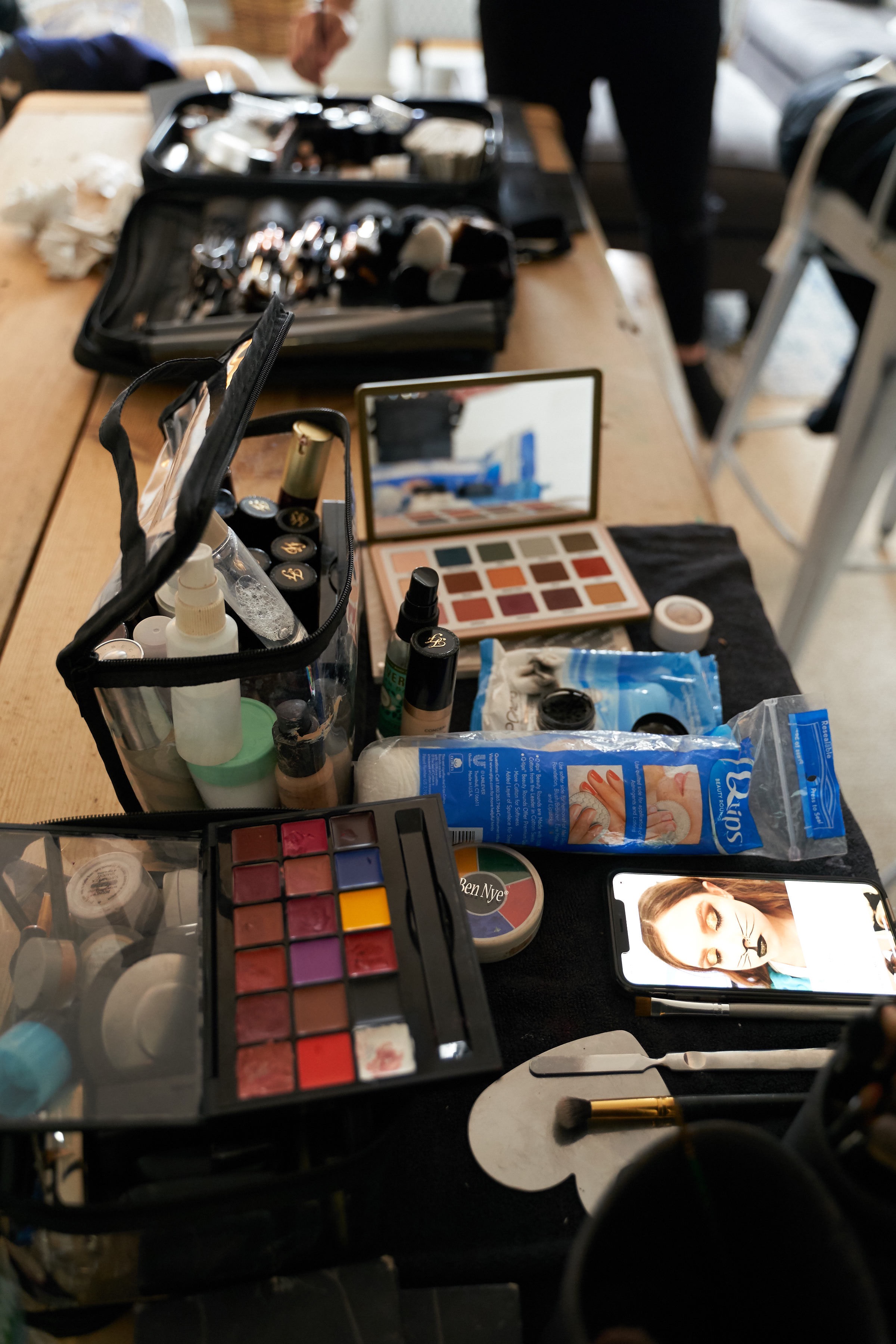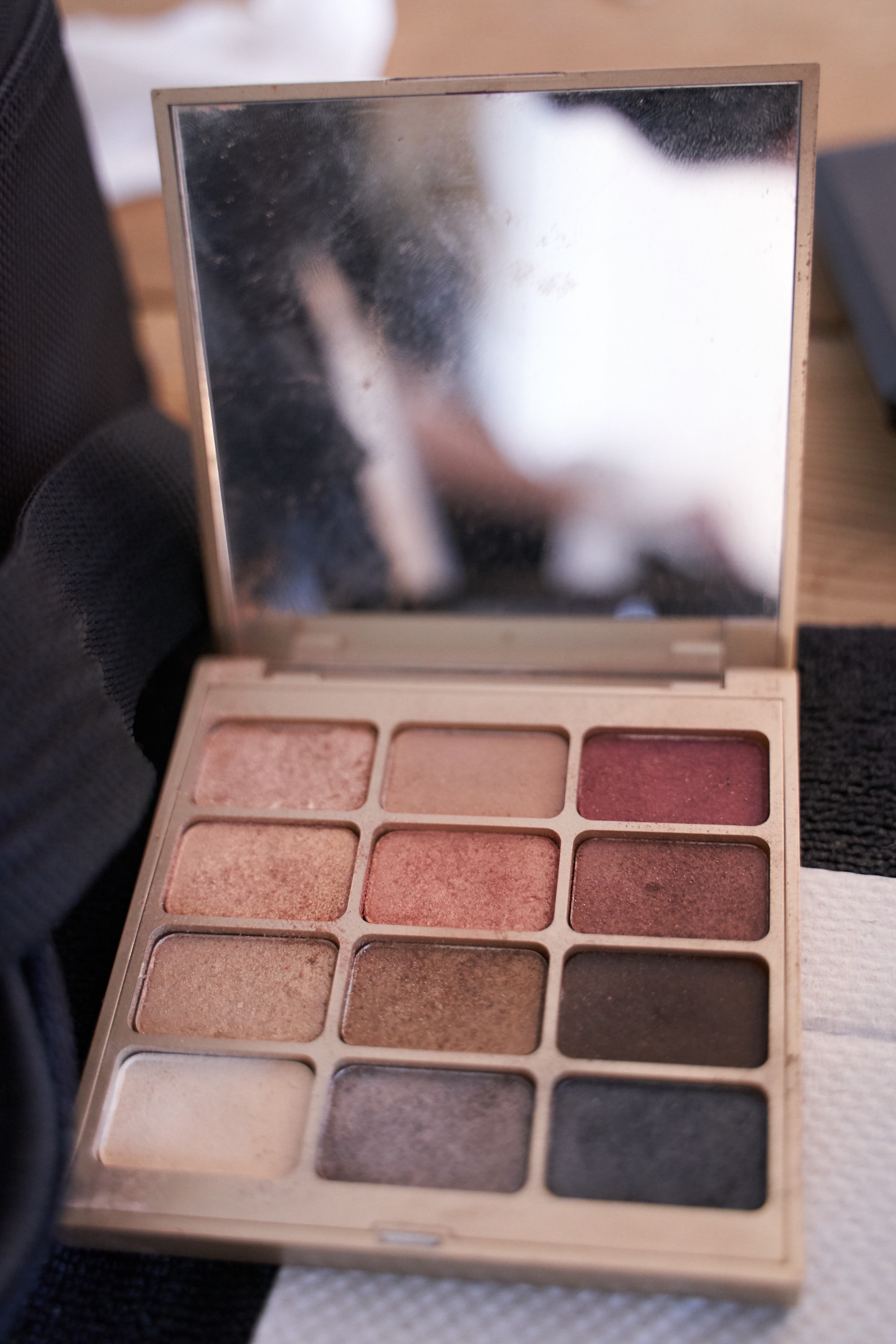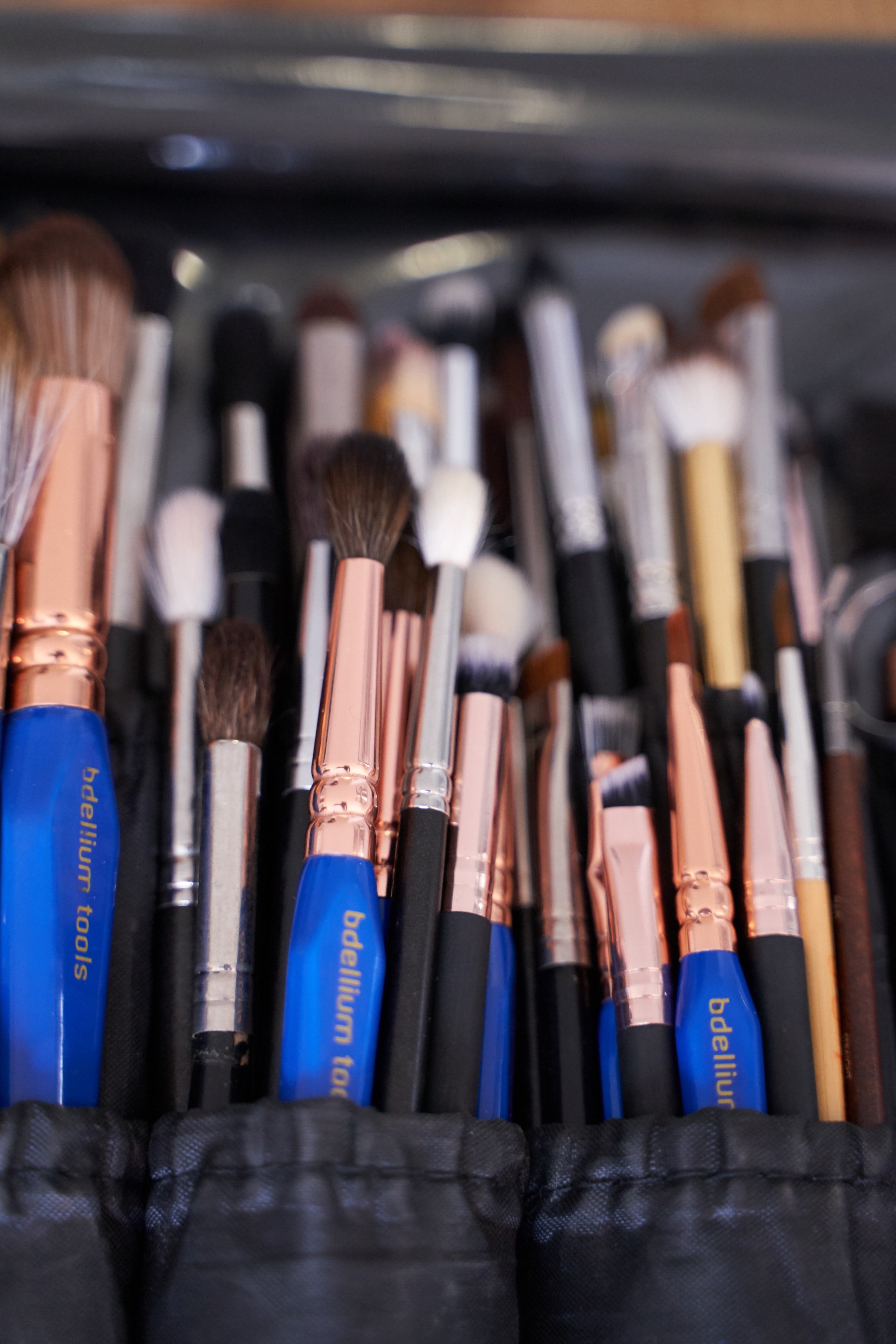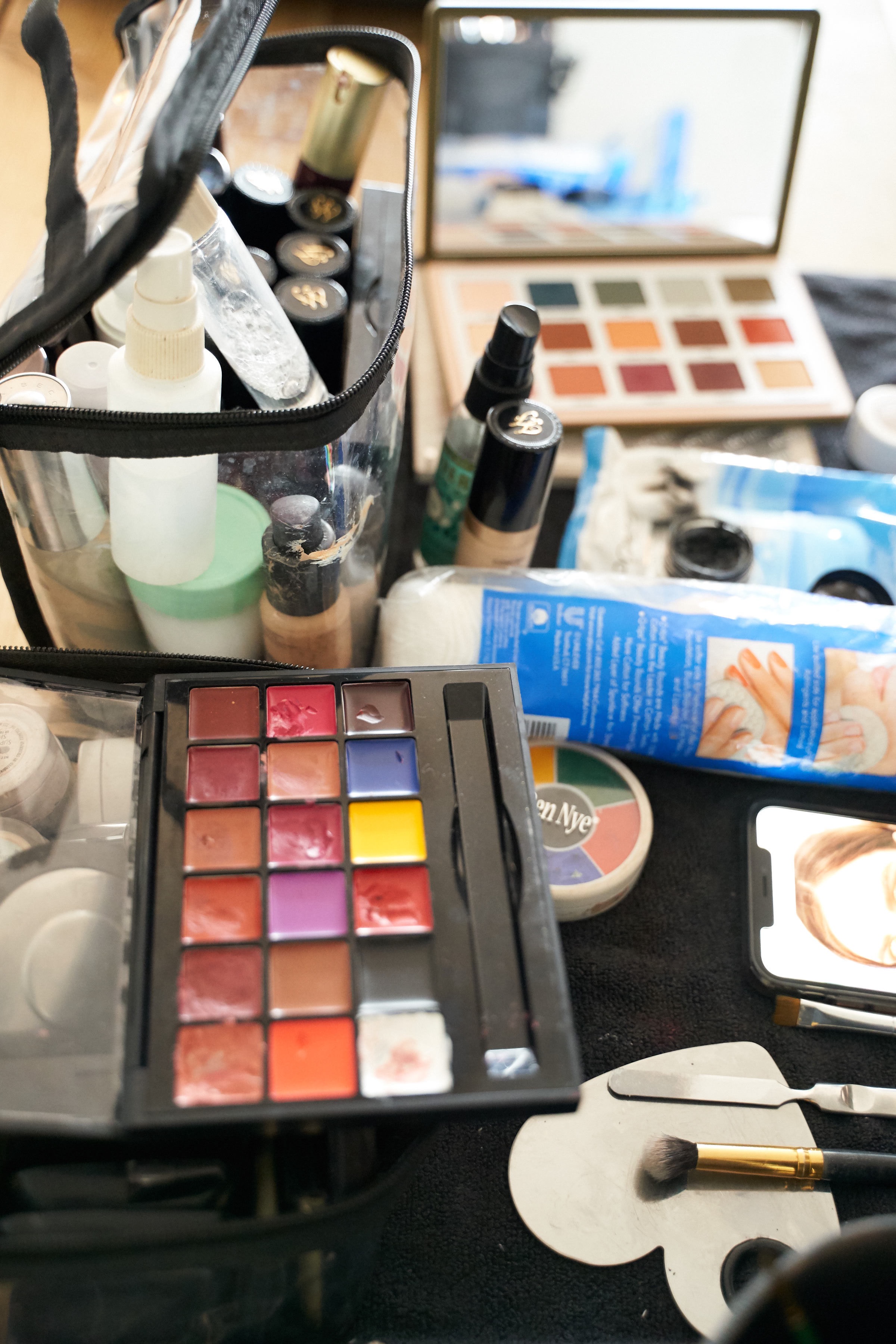 My makeup artist, Philip, started off lining my eyes to give me the perfect cat eye!  He was a true professional and just went to work on cat makeup like he's done it a million times!  He probably has…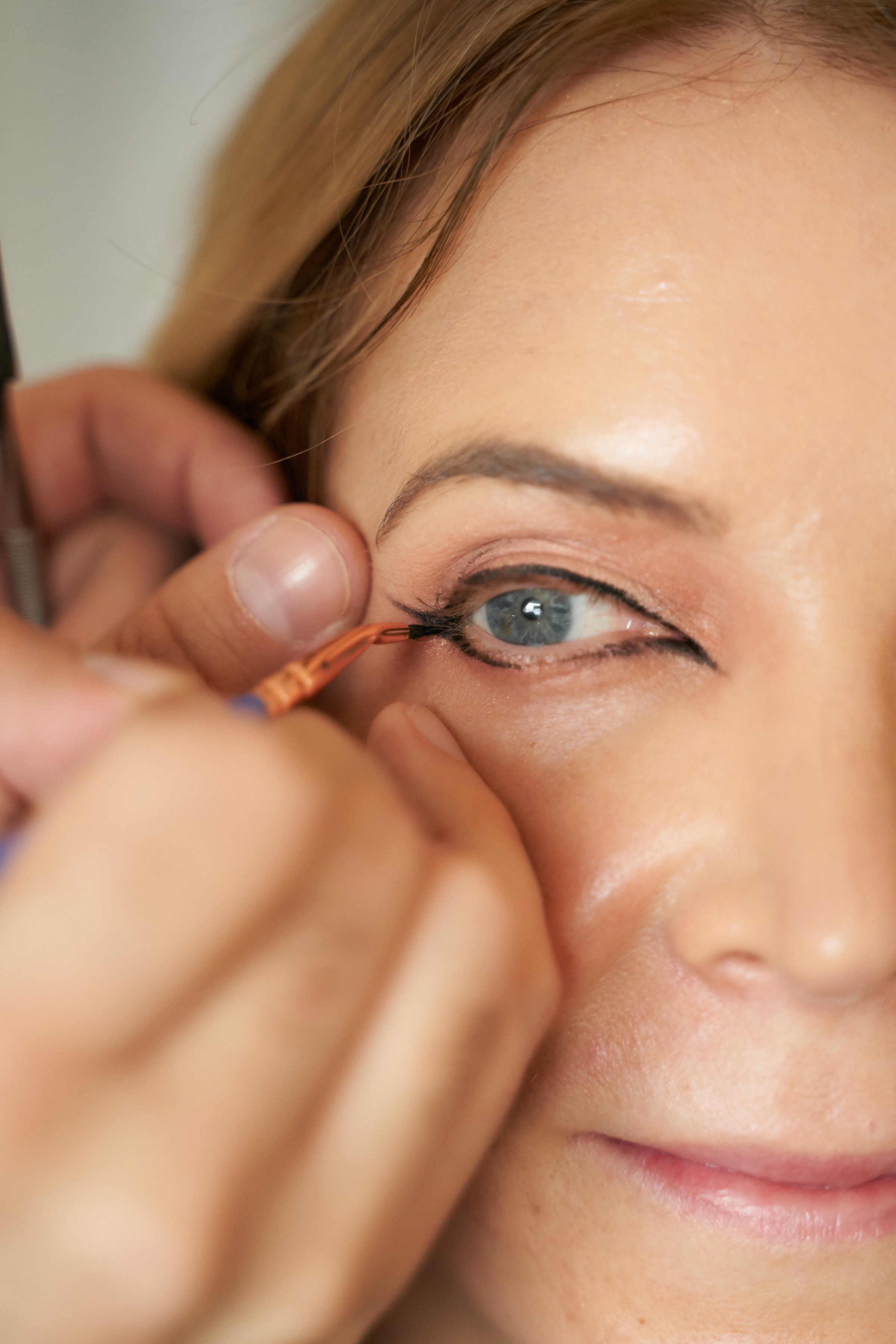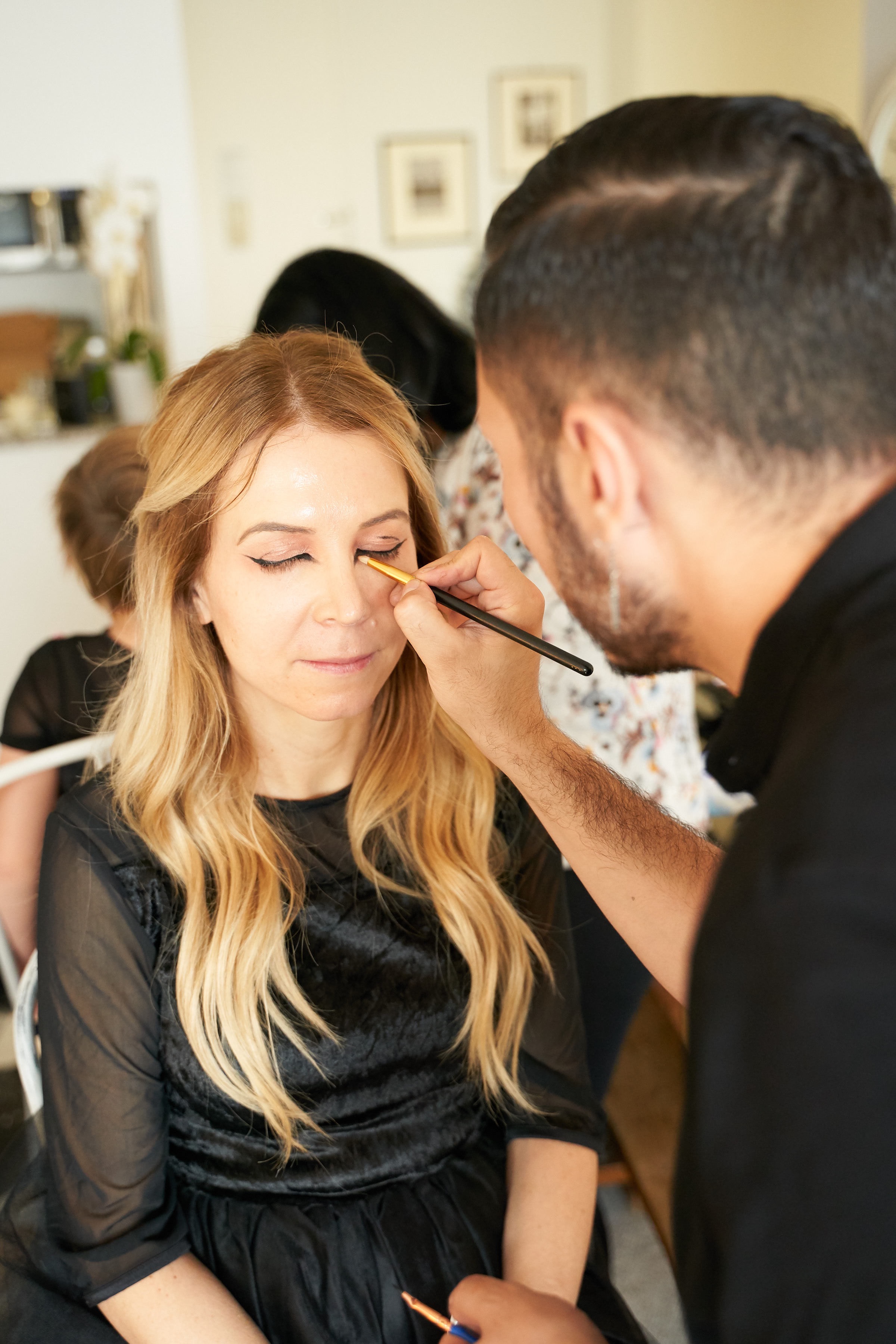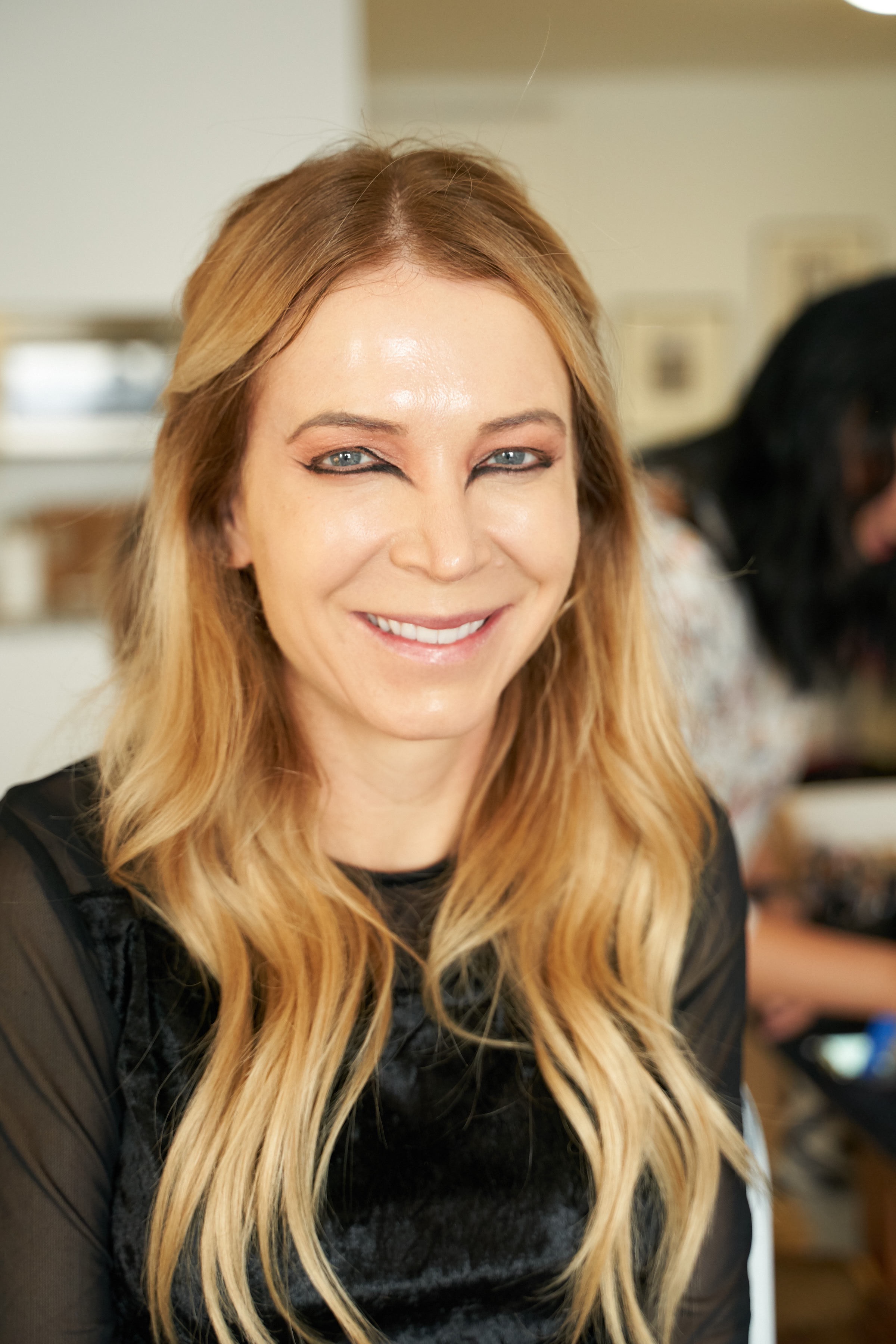 Then Philip colored in the tip of my nose black to give me a cat nose.  He drew a line to connect my nose down to my mouth…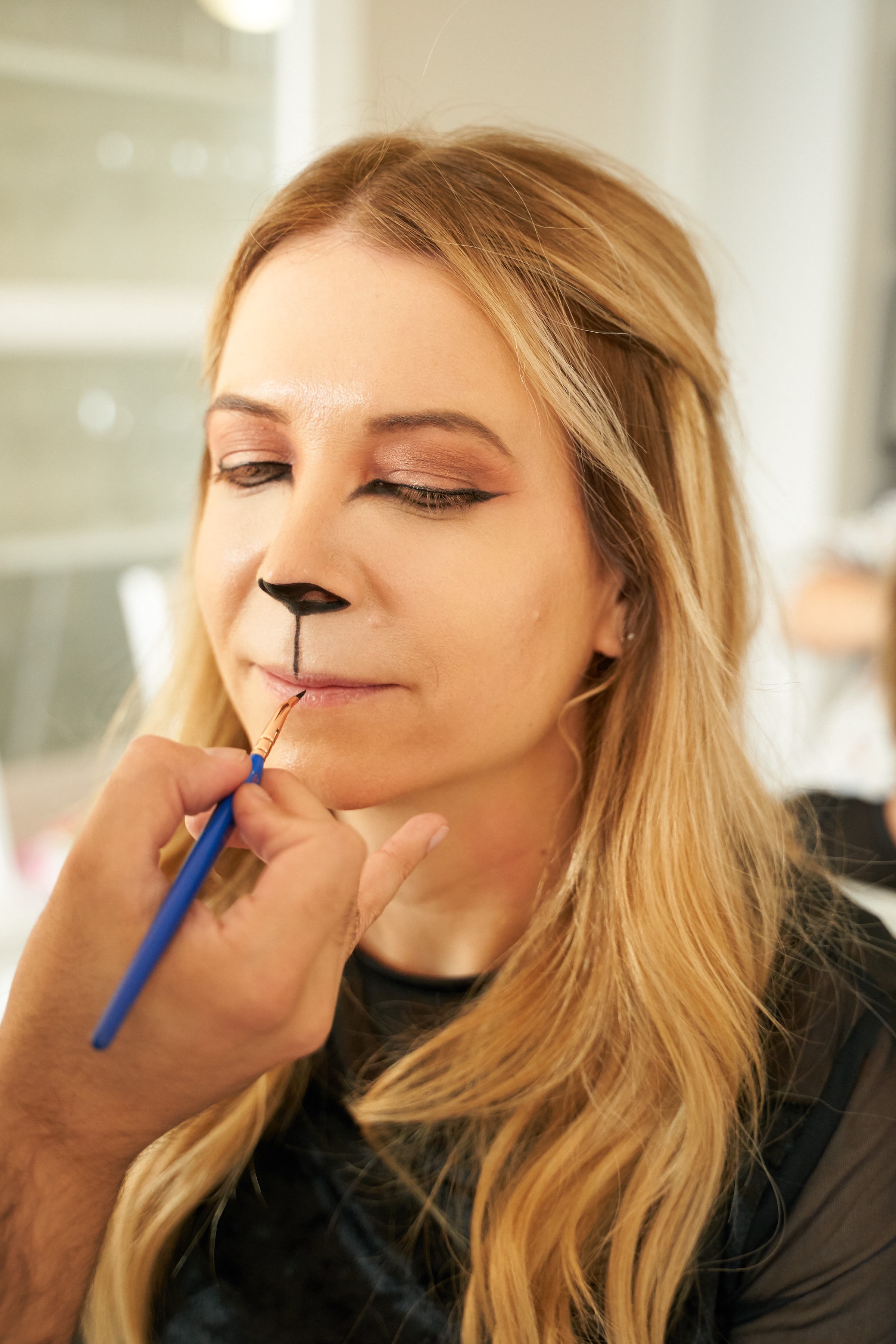 He added some black whiskers and some little black polka dots above my mouth.  He also dusted the area between my top lip and my nose with white powder, and added foundation to smooth out my complexion.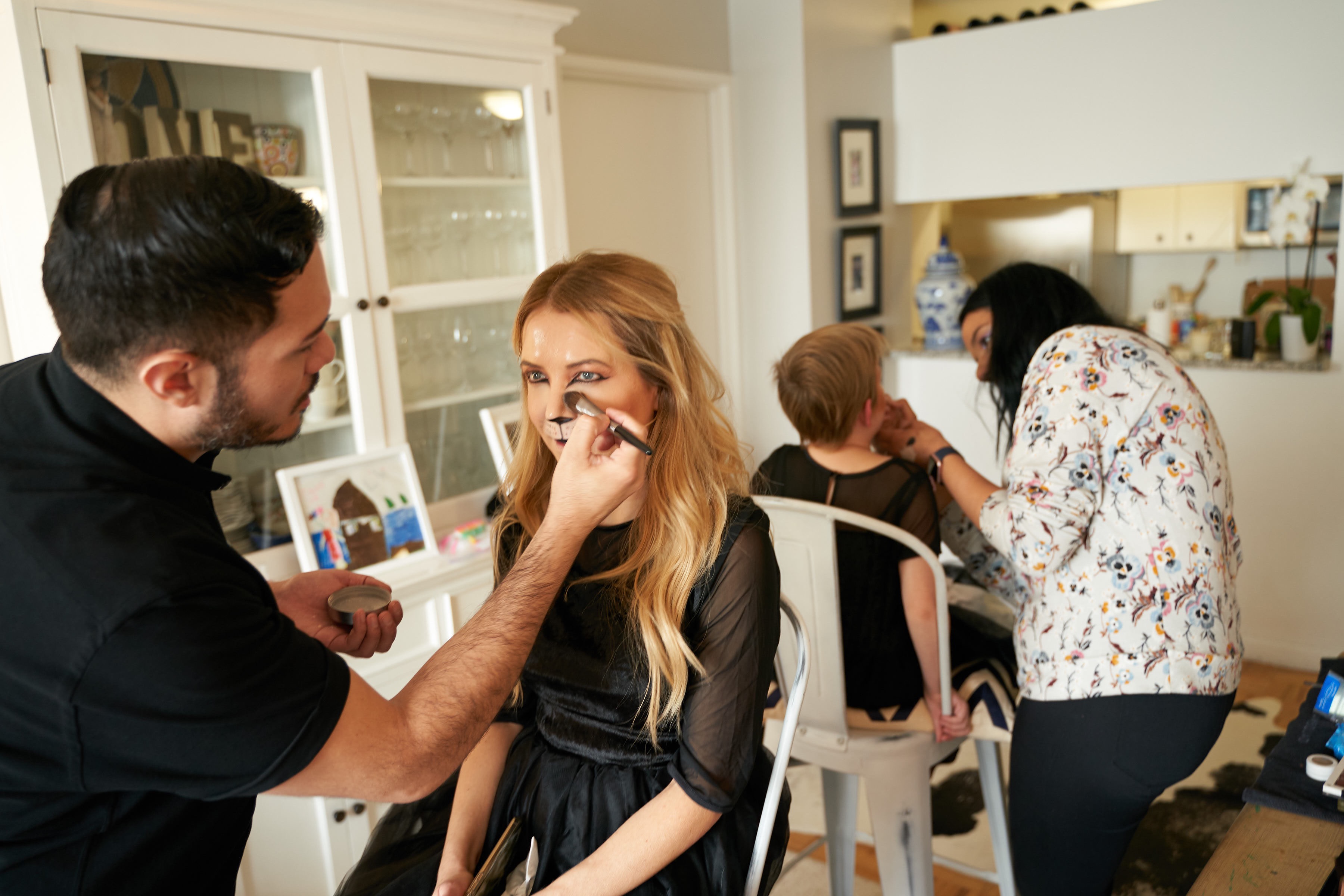 He colored in my top lip black!  The nearly finished look: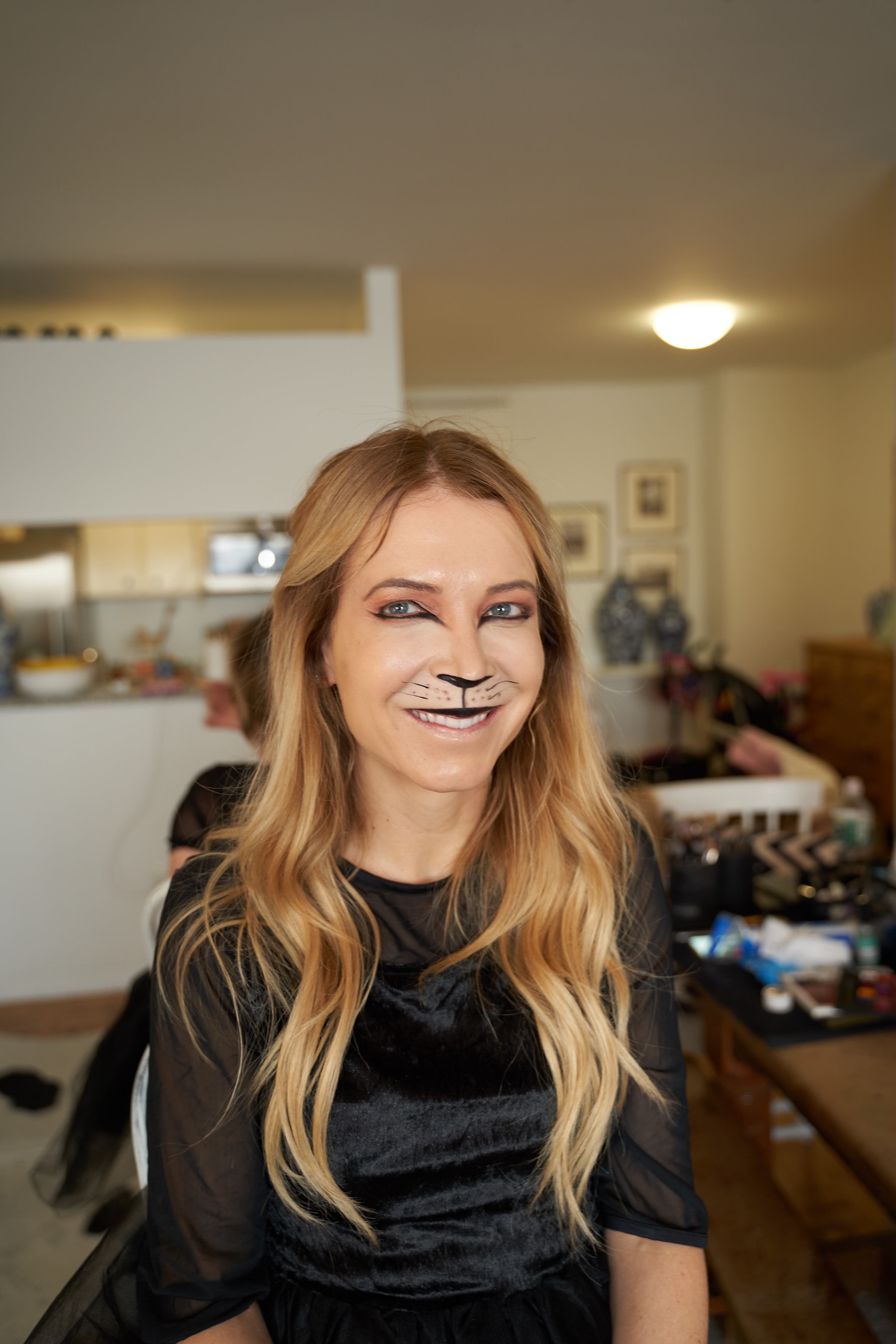 But wait – he was not quite finished!  He got out the red lipstick and gave me a red bottom lip.  He also put on blush and eyeshadow and filled in my brows, and added false lashes.  He made me a glamorous cat!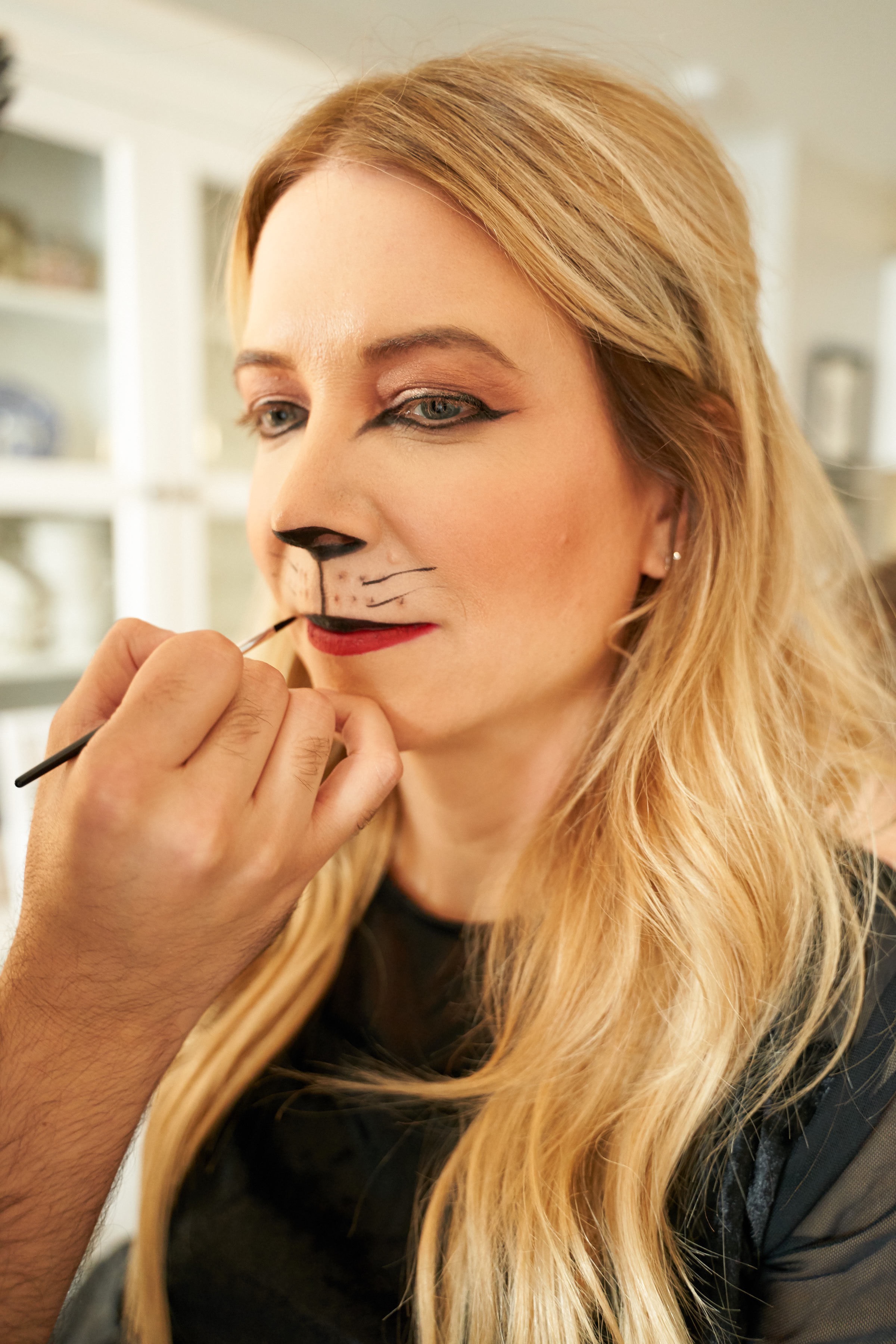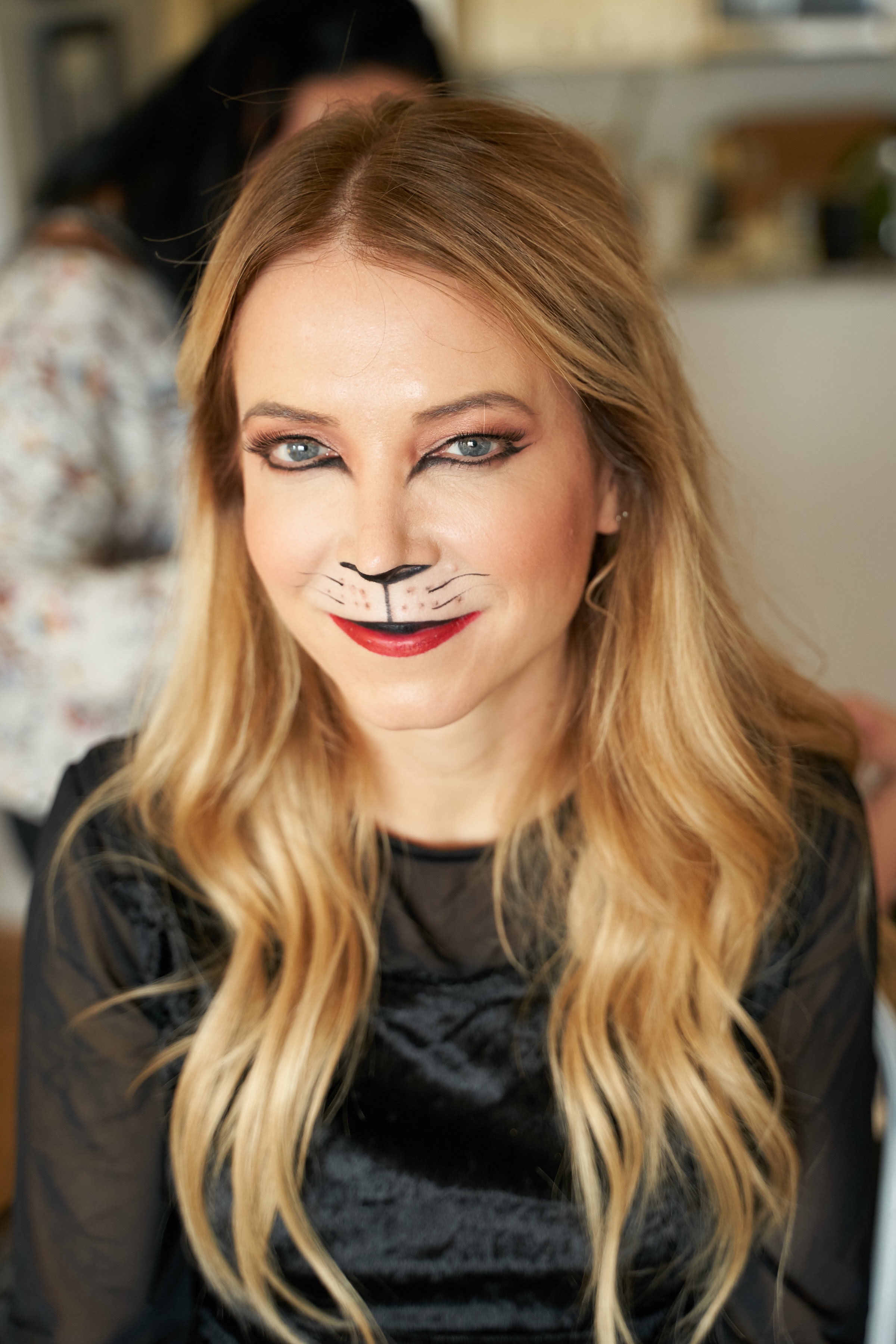 The finished look!  Voila!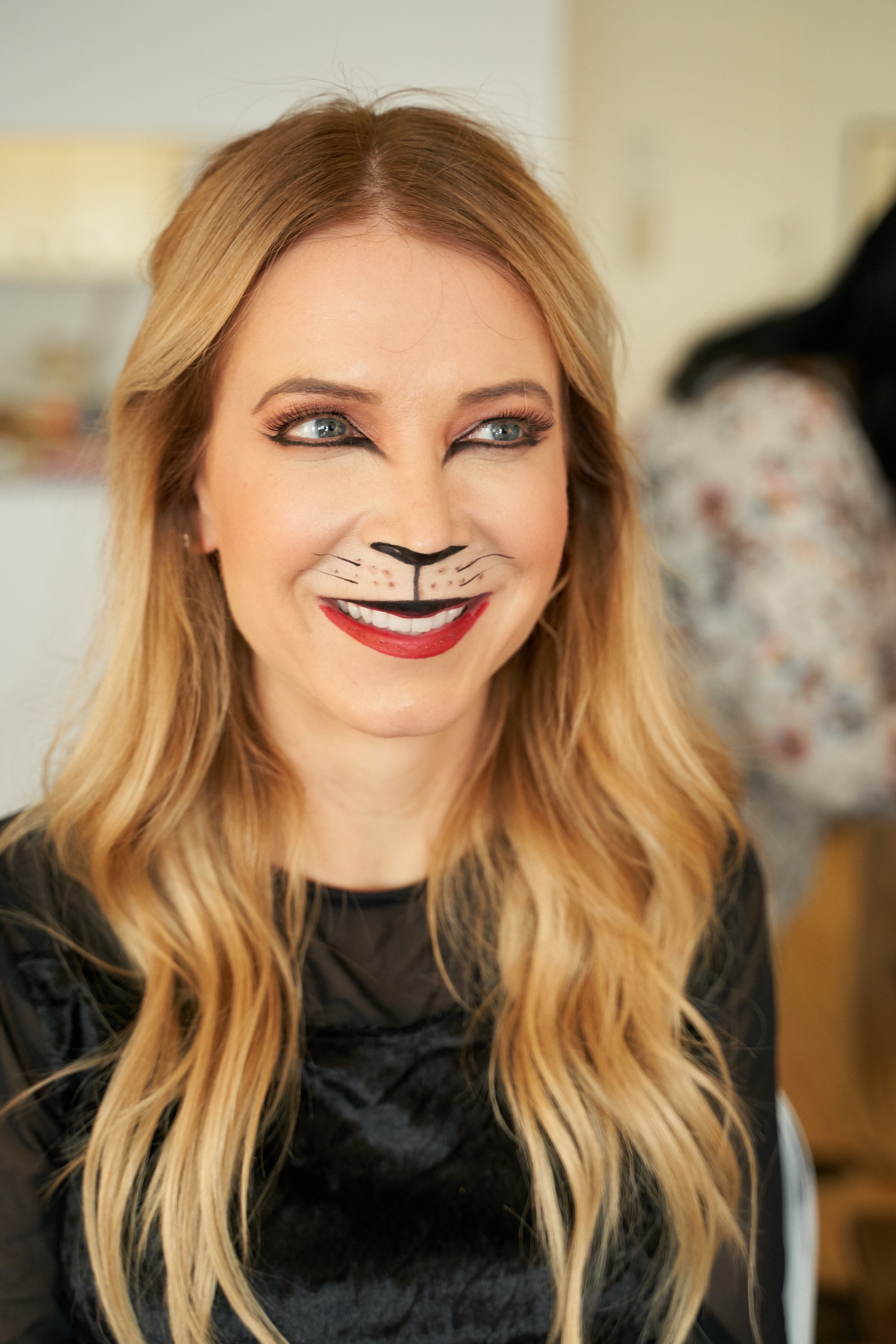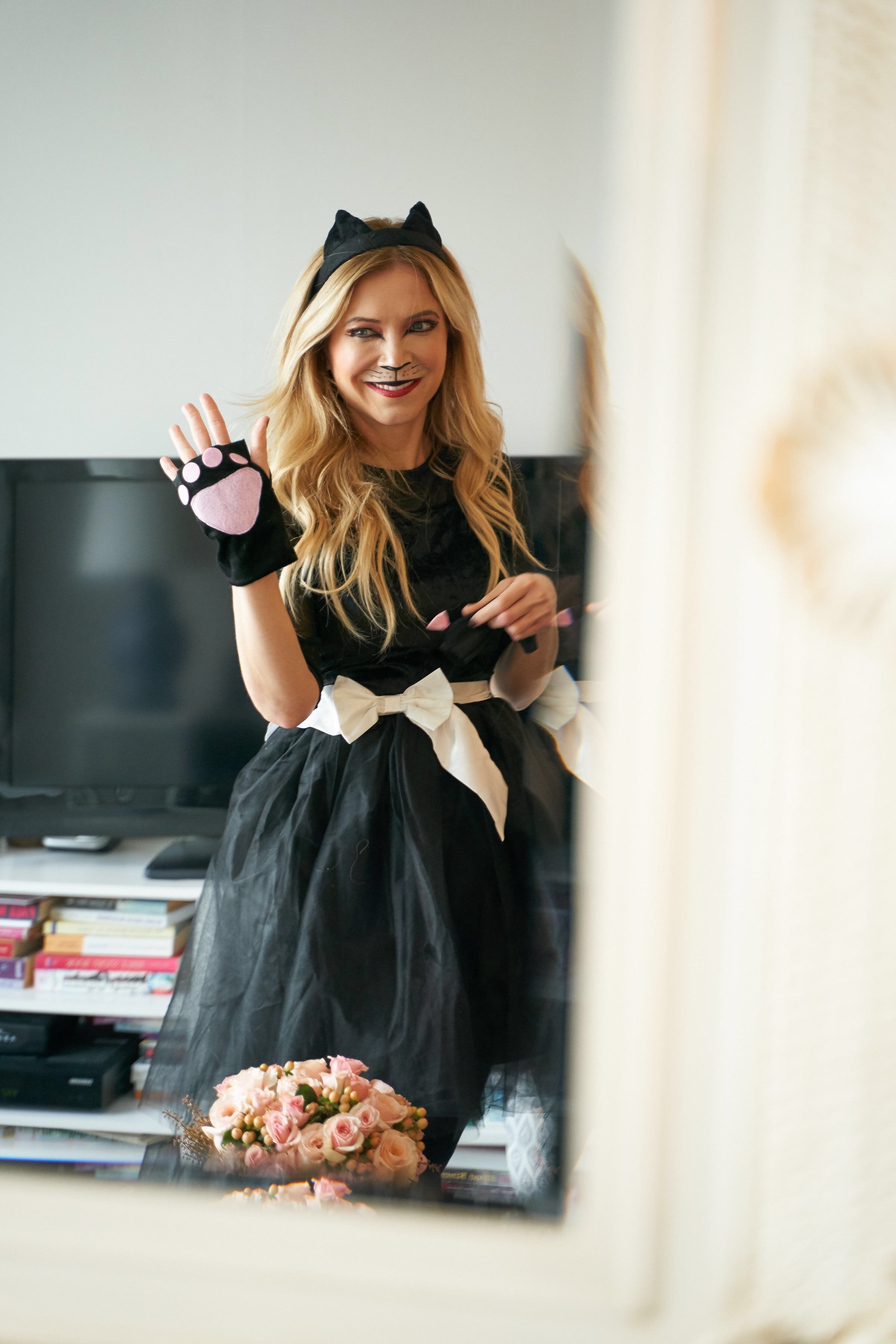 Chloe got basically the same cat makeup as mine from her makeup artist, just lighter on the eye makeup.  This was the first time she's ever had her makeup done.  She did well!  (Is it bad that I am saying this with pride?  What kind of mother am I? LOL).  I was so impressed Cendy, the makeup artist from Glamsquad, she was very gentle and patient with Chloe.  It is a weird sensation I am sure for a little girl to get her makeup done for the first time.  Cendy managed to still give her elaborate makeup without irritating her skin or her eyes – and Cendy was giggling and laughing with her the whole time to put her at ease.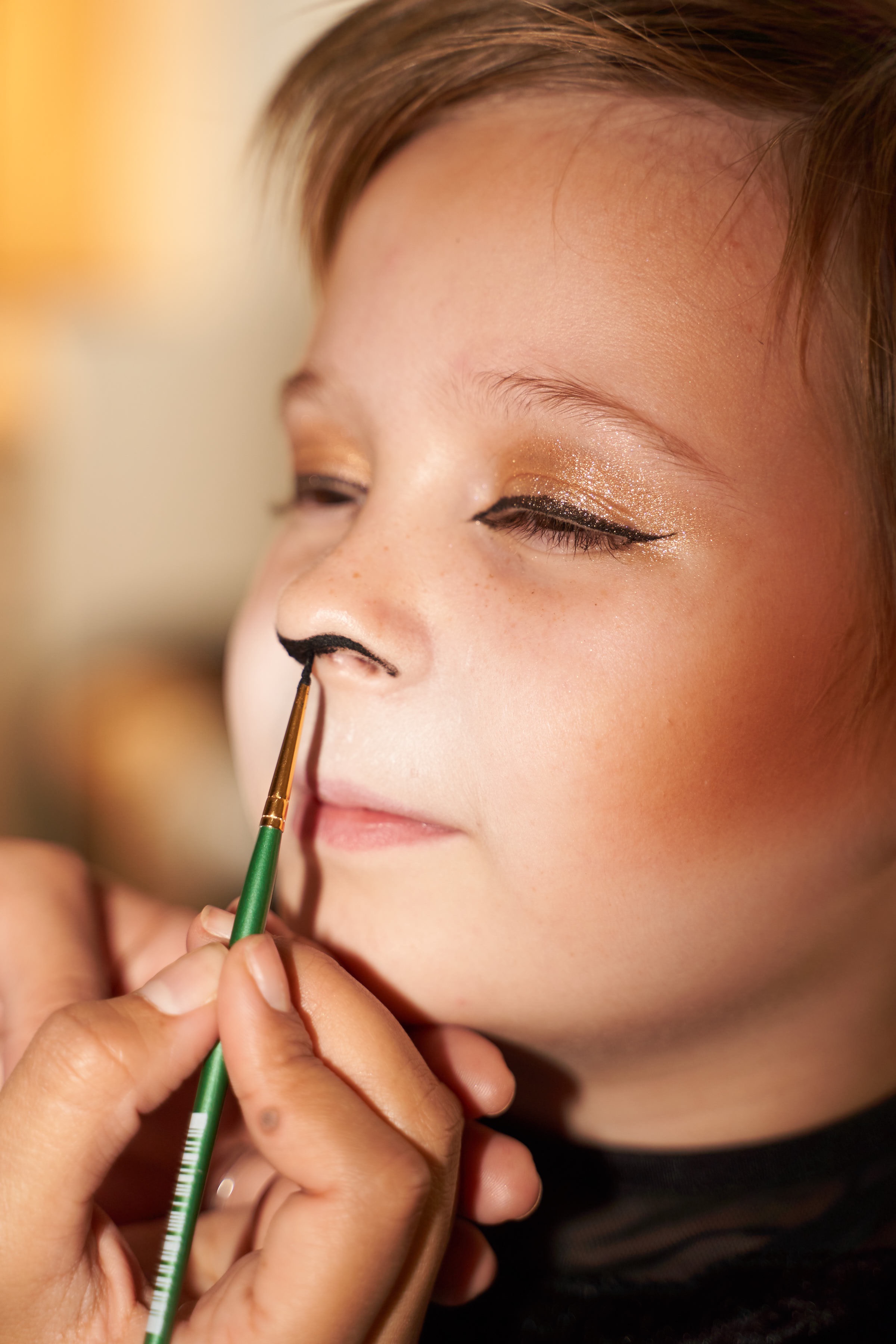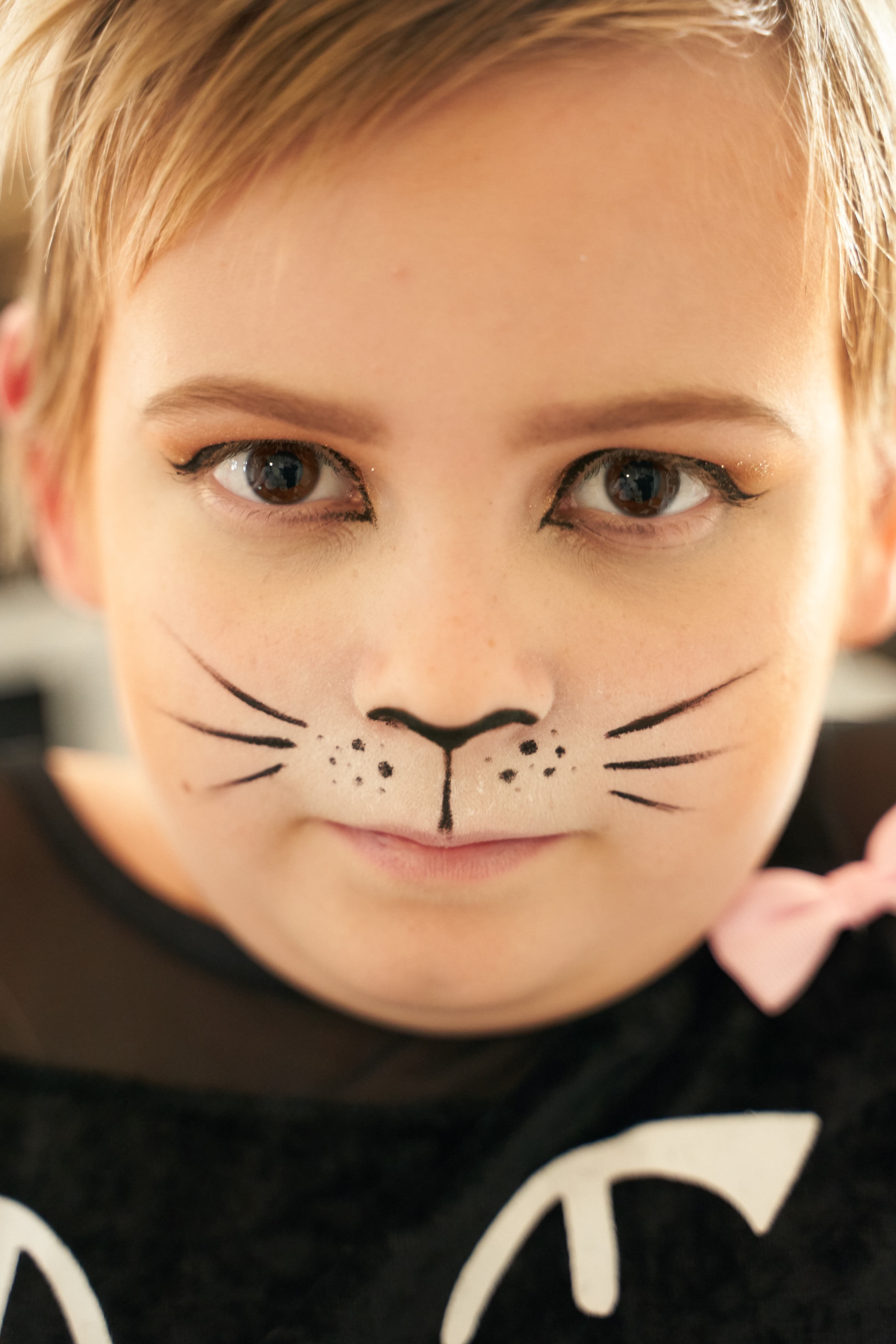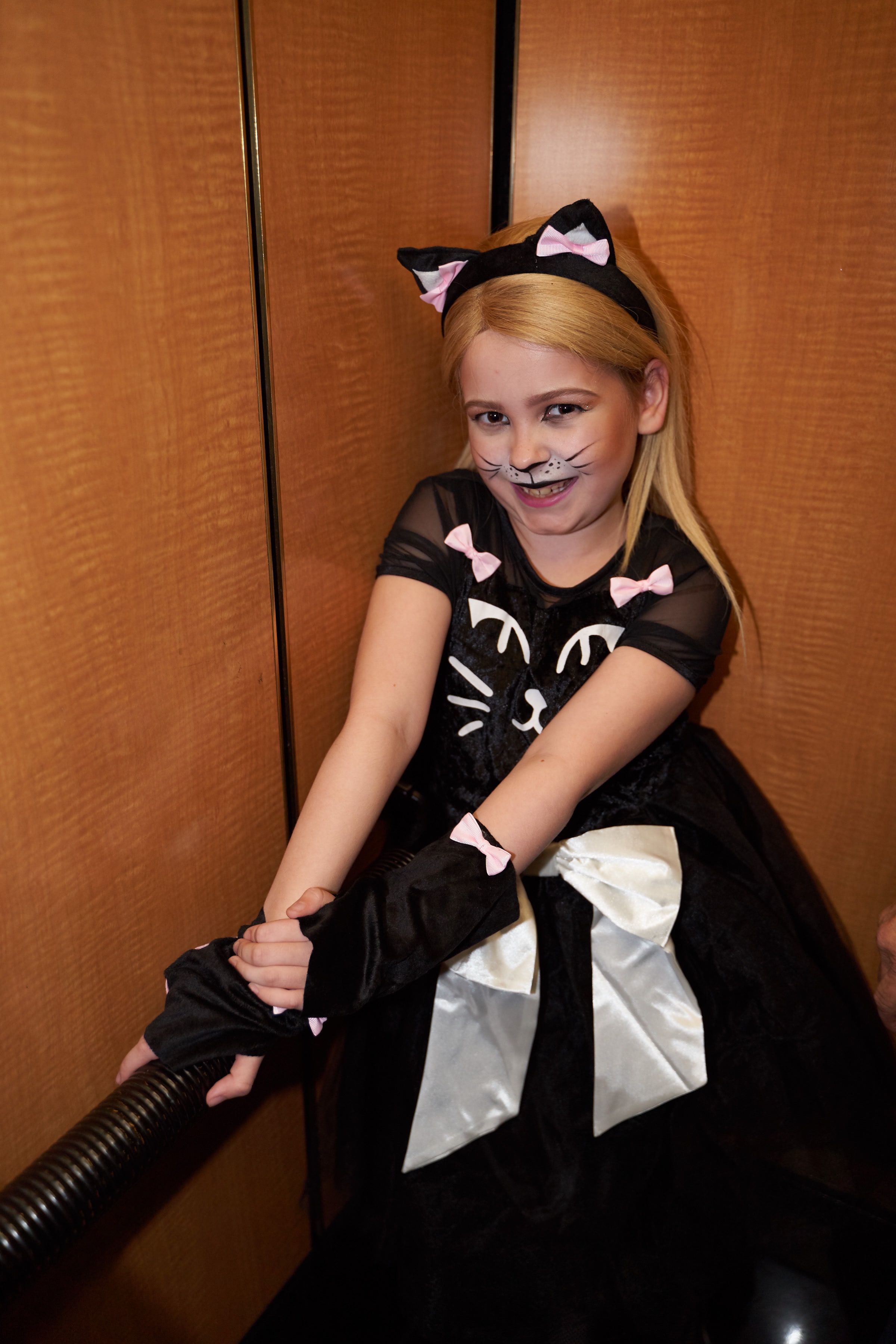 All Lily needed as Catwoman was some red lipstick!  So I did that myself.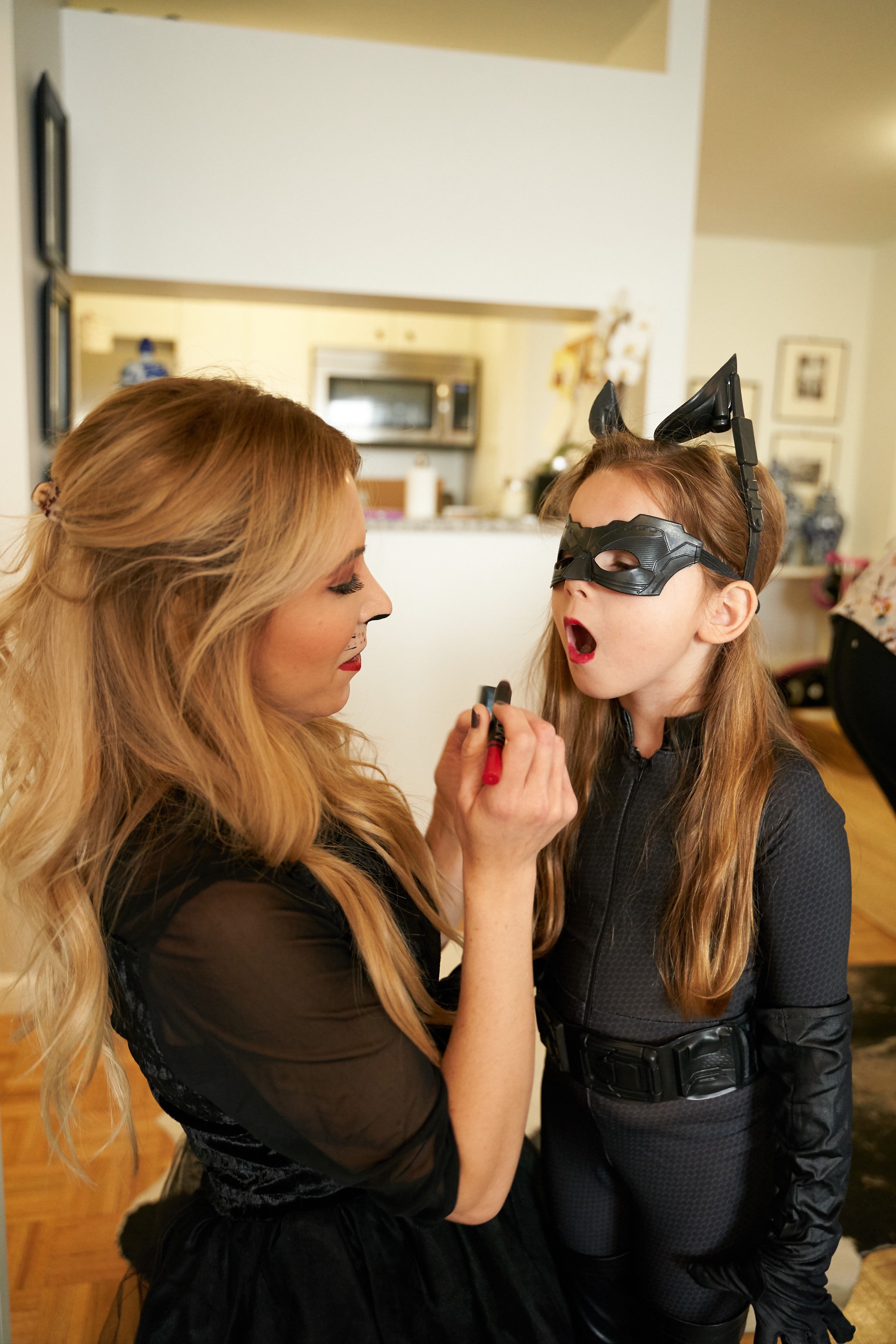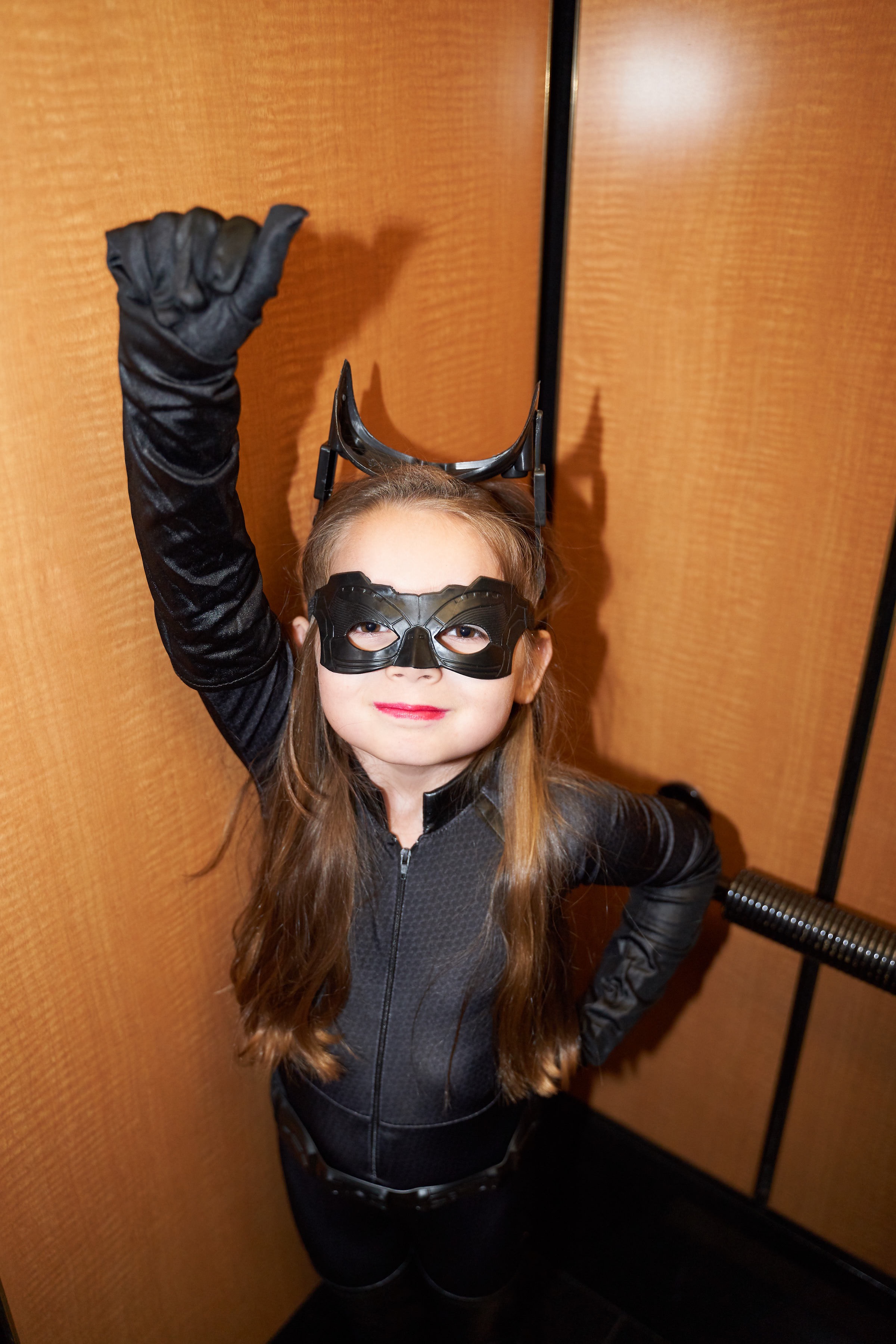 So now we were ready to head out to our Halloween festivities!  After actually coordinating the costumes and the makeup, I can now say I have changed my view on dressing up for Halloween – it was so much fun and you can dress up at any age!  Doing this with the girls was really special and memorable – and I think we will make it a family tradition going forward!  As long as the girls will want us to dress up, we will!  WHY NOT?  Life is short!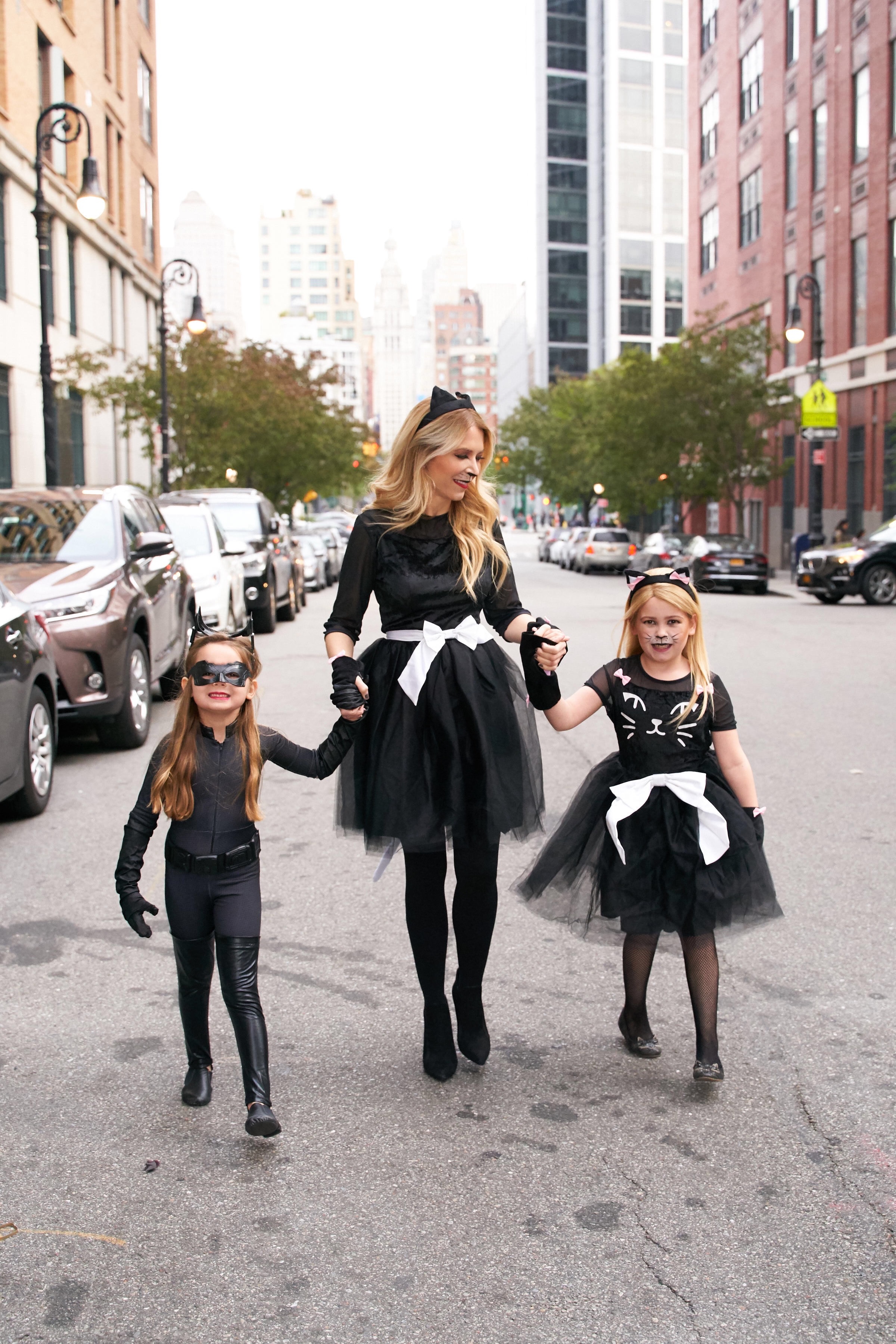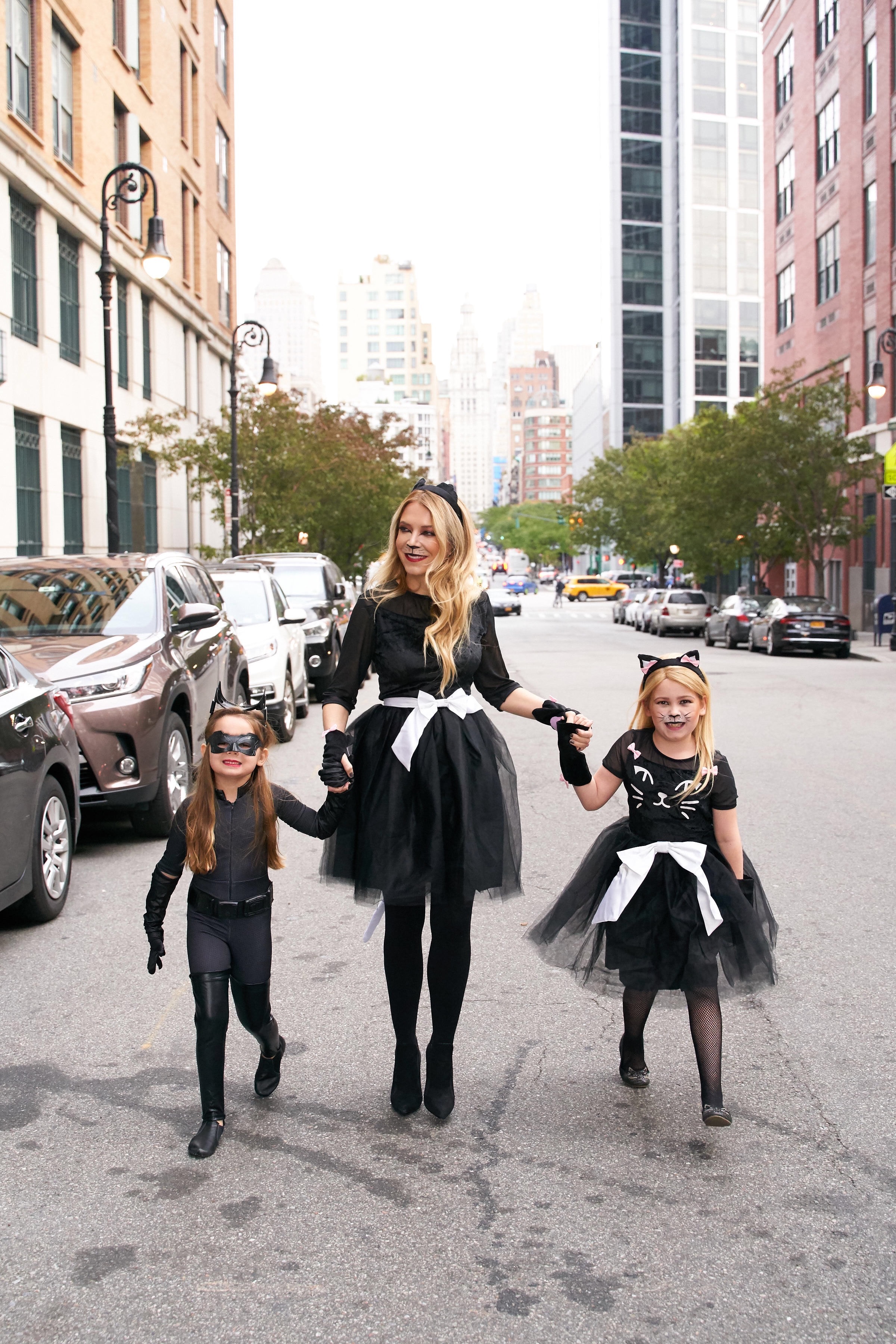 Happy Halloween!  Thanks for reading!
xxxxx
Laura
Photos by Mike Kobal