Blazer: Ganni | T-shirt: Balmain | Denim: Philip Lim, old, similar here and here | Boots: Ganni | Bag: Chloé | Sunglasses: Saint Laurent
 

 

Another day another blazer!
I've decided you can't go wrong with a blazer, a t-shirt and jeans.  For a long time I wasn't that into blazers.  I found them kind of uncomfortable and masculine.  I don't exactly know when the switch came, I think it was when I got the black blazer I wore in this post from H&M this past fall (and by the way, it is still available here in several colors, and is under $50).  I started realizing that blazers are a great way to elevate your look and pull yourself together. In this post I am wearing a new blazer from Ganni over my new Balmain tank top (more on this top below).  I love everything Ganni makes so I thought, let's try their blazer too, and sure enough I am not disappointed, Ganni has come through for me again LOL.   I love the fit, the fabric and the weight (not too heavy).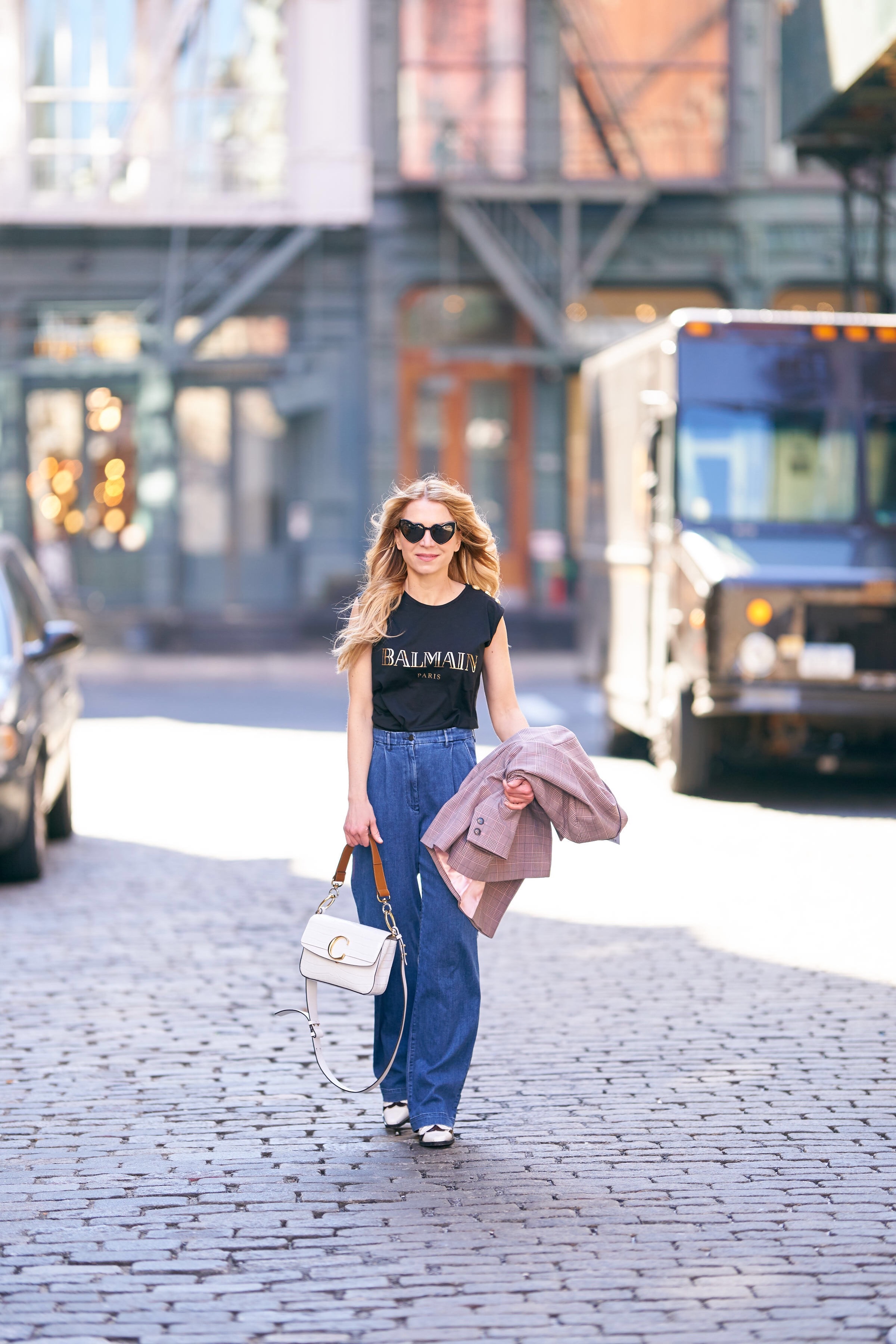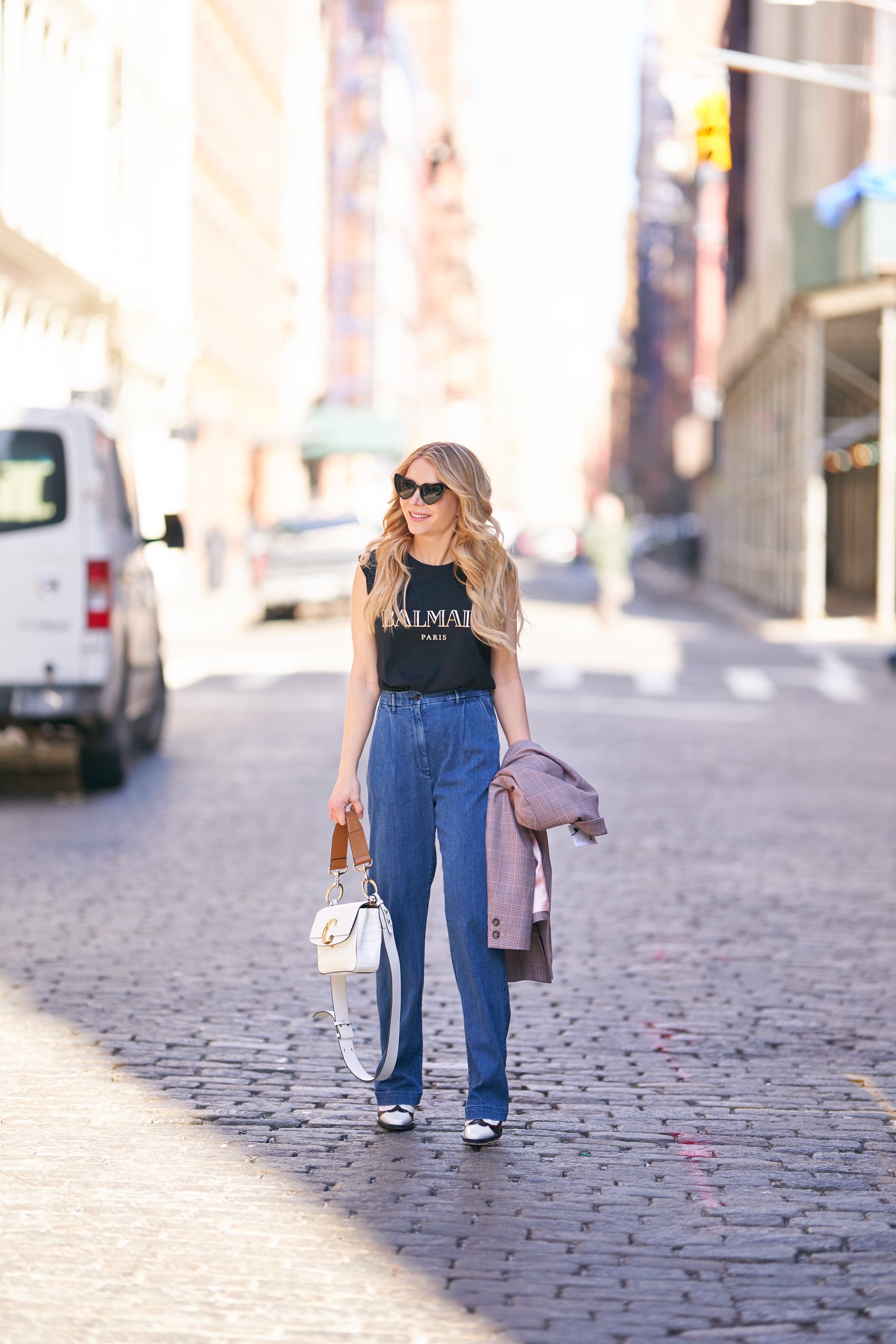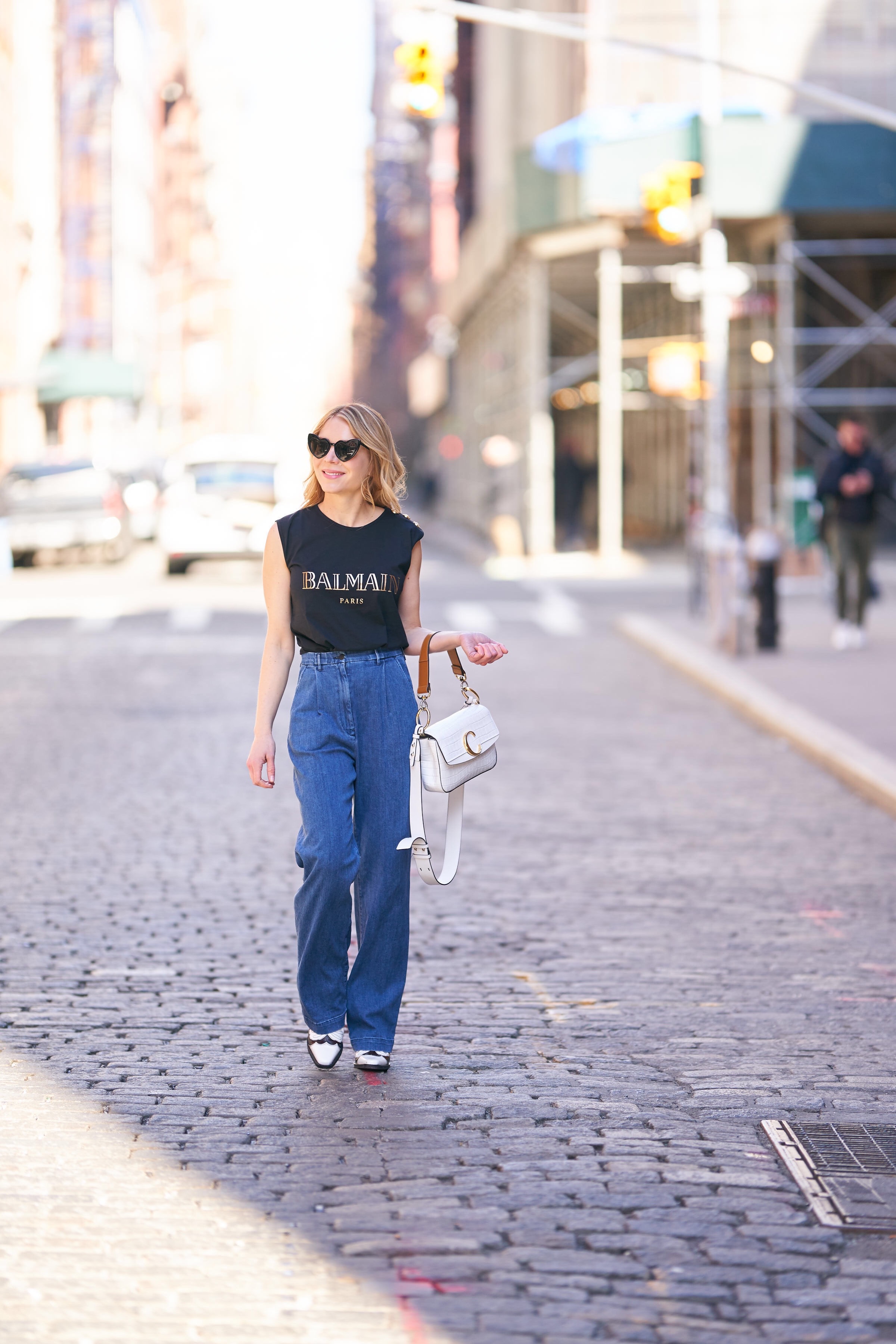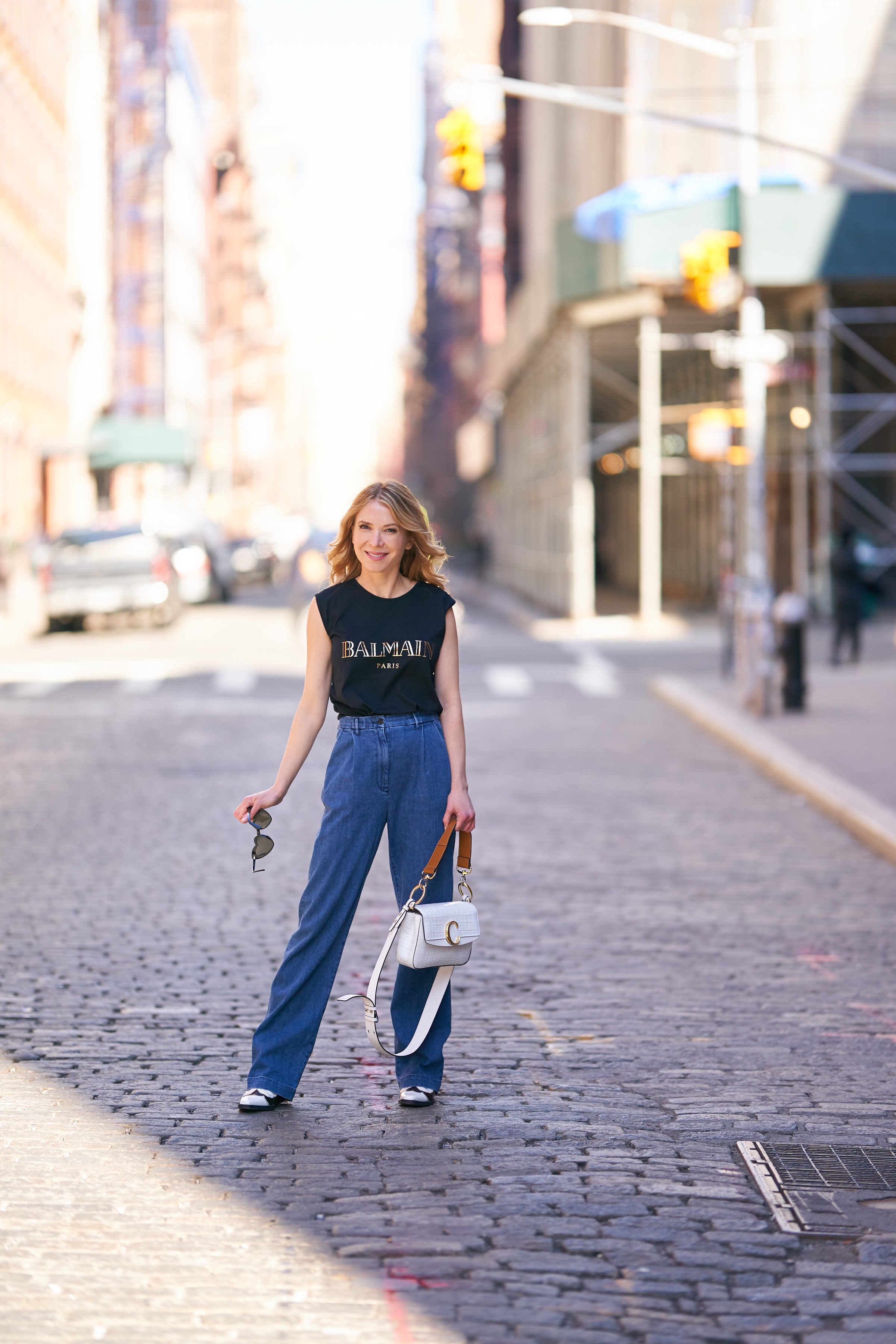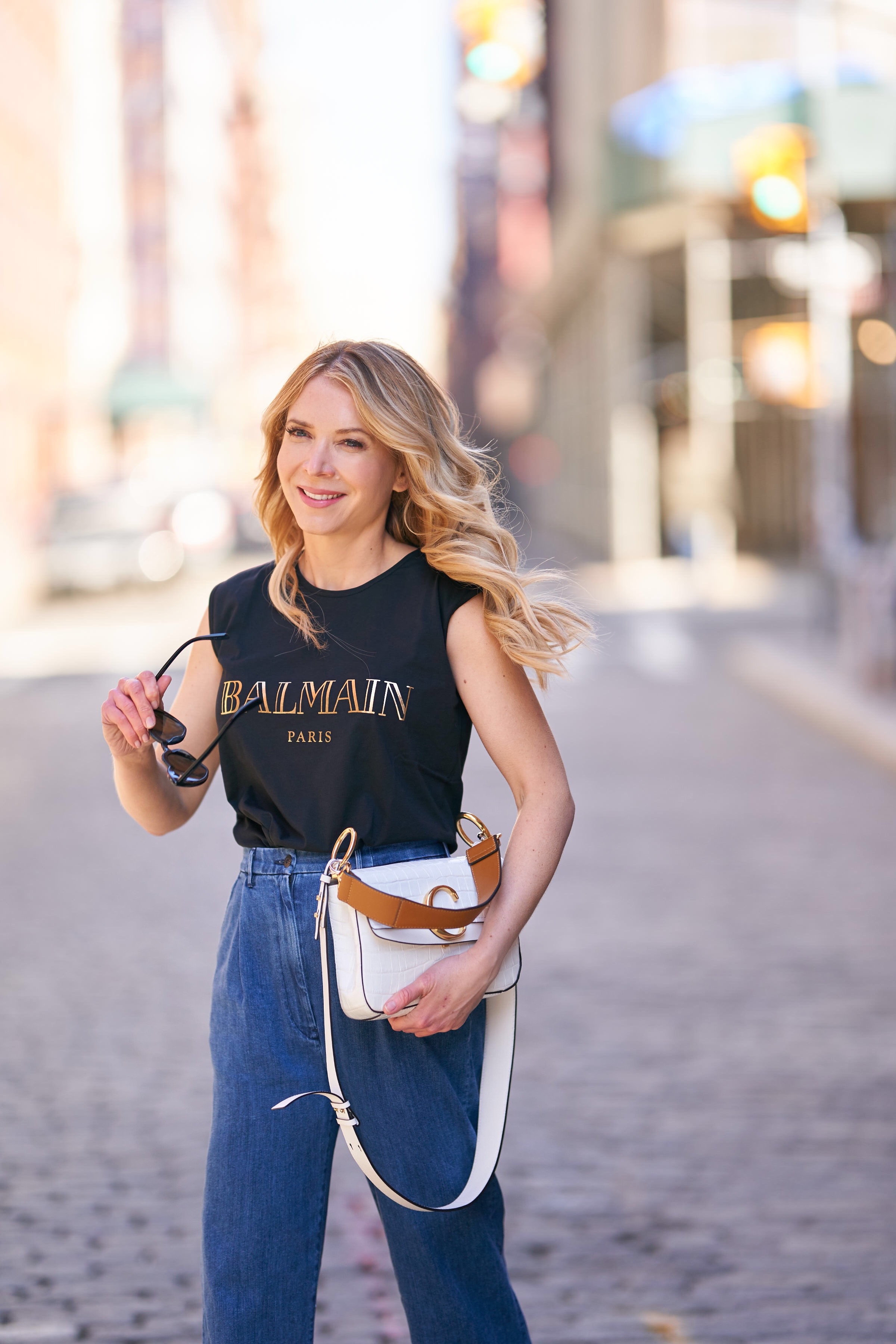 A designer logo t-shirt that's worth the splurge!
I just splurged on this Balmain tank top!  As you may remember from this post, I really have been wanting a Balmain blazer but they are around $2,000 – I just can't justify it.  So when I saw the Balmain tank top I had to get it!  Although it is expensive for a tank top, summer is coming and I will wear it nonstop on its own once the weather warms up (and until then, under blazers!).  It goes so well with jeans, leather pants, and in summer I'll wear it with a denim skirt, shorts, or even a white skirt.  It has these amazing gold buttons on the shoulders.  I know I like logo t-shirts because I've invested in a couple of Gucci ones over the past couple years, and I have never regretted buying them because I end up wearing them so much. I always like to think about cost per wear – I would rather spend money on a t-shirt like this that I will wear a lot, than on a formal dress that I will wear once.
So glad it is Thursday! So looking forward to the weekend and our daughters' spring break is coming next week so we are going to California for the first week, then to Aruba for the second week!  I cannot WAIT for warmer weather!
Thank you for reading!
xxxxx
Laura
Photography by Mike Kobal
SHOP THE POST