T-Shirt: Balmain | Jeans: Madewell | Sneakers: iRi NYC | Sunglasses: Quay | Bag: Chloe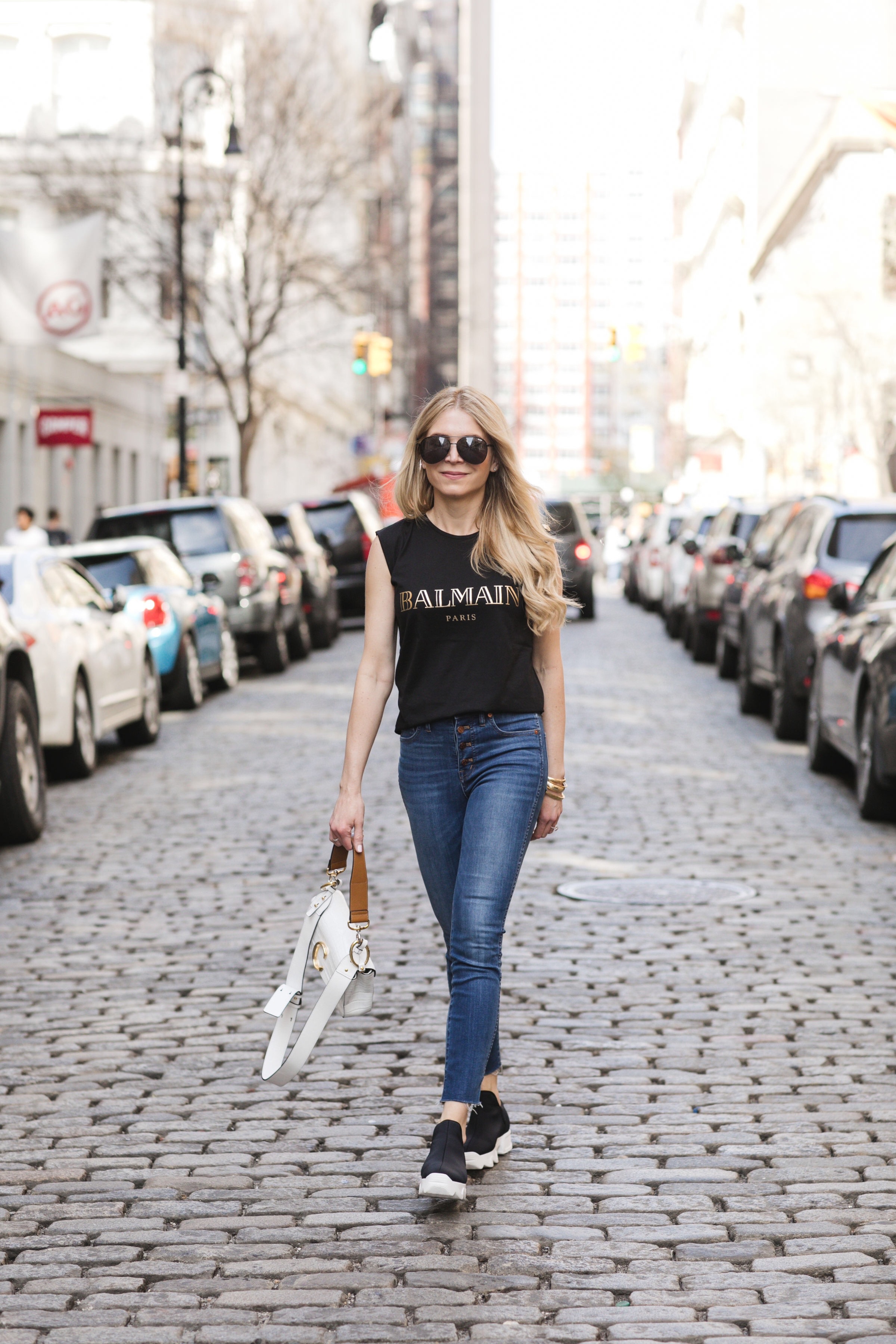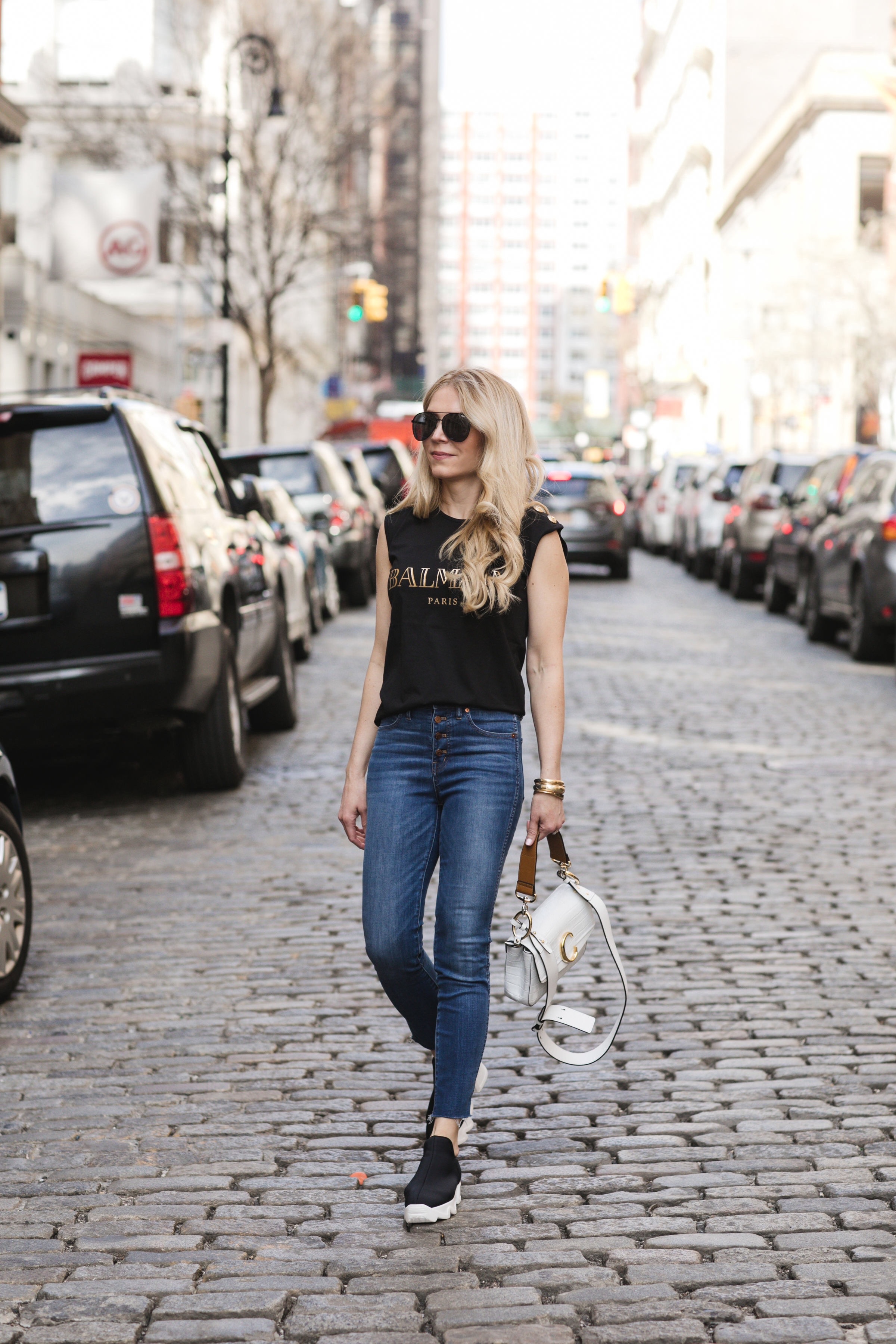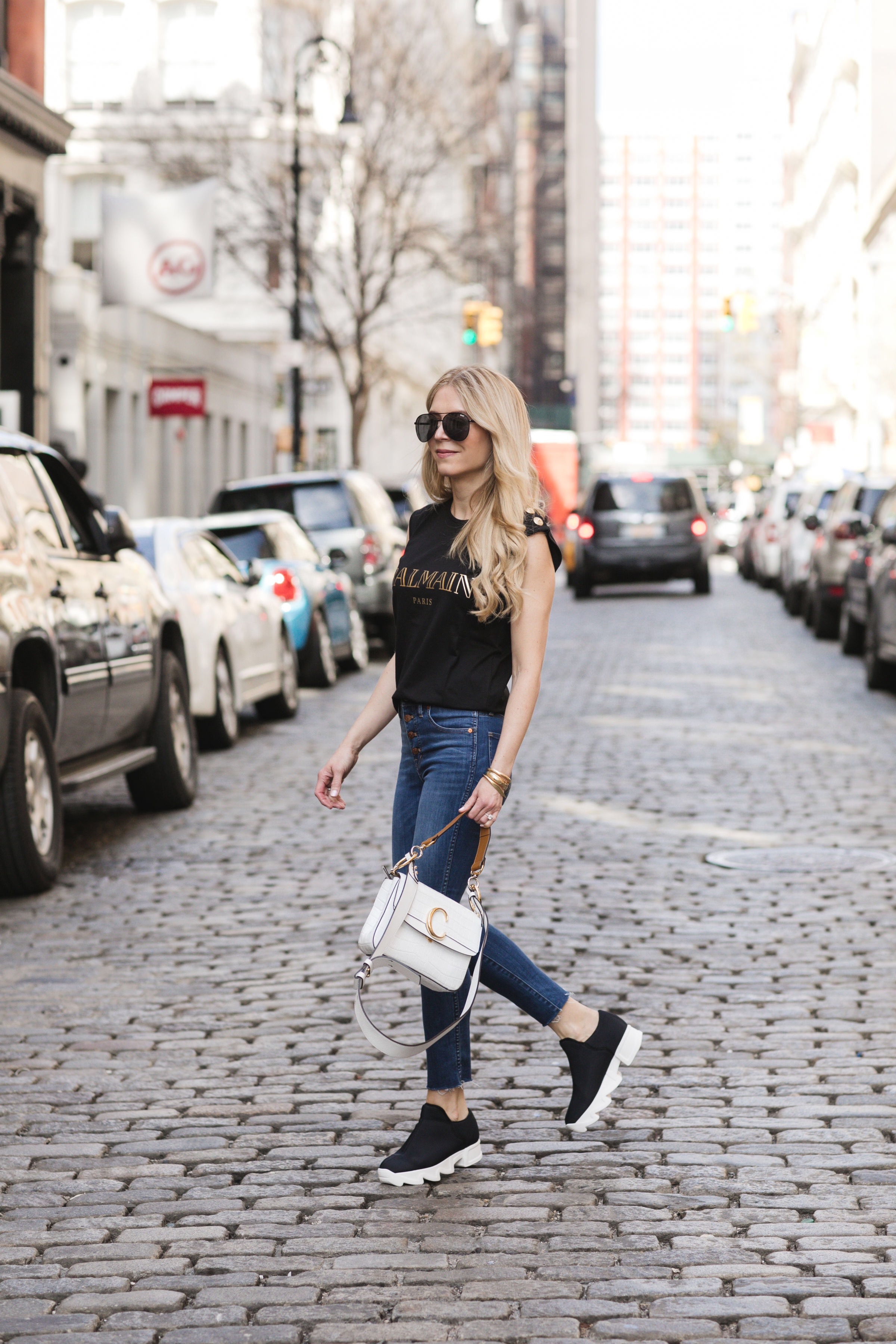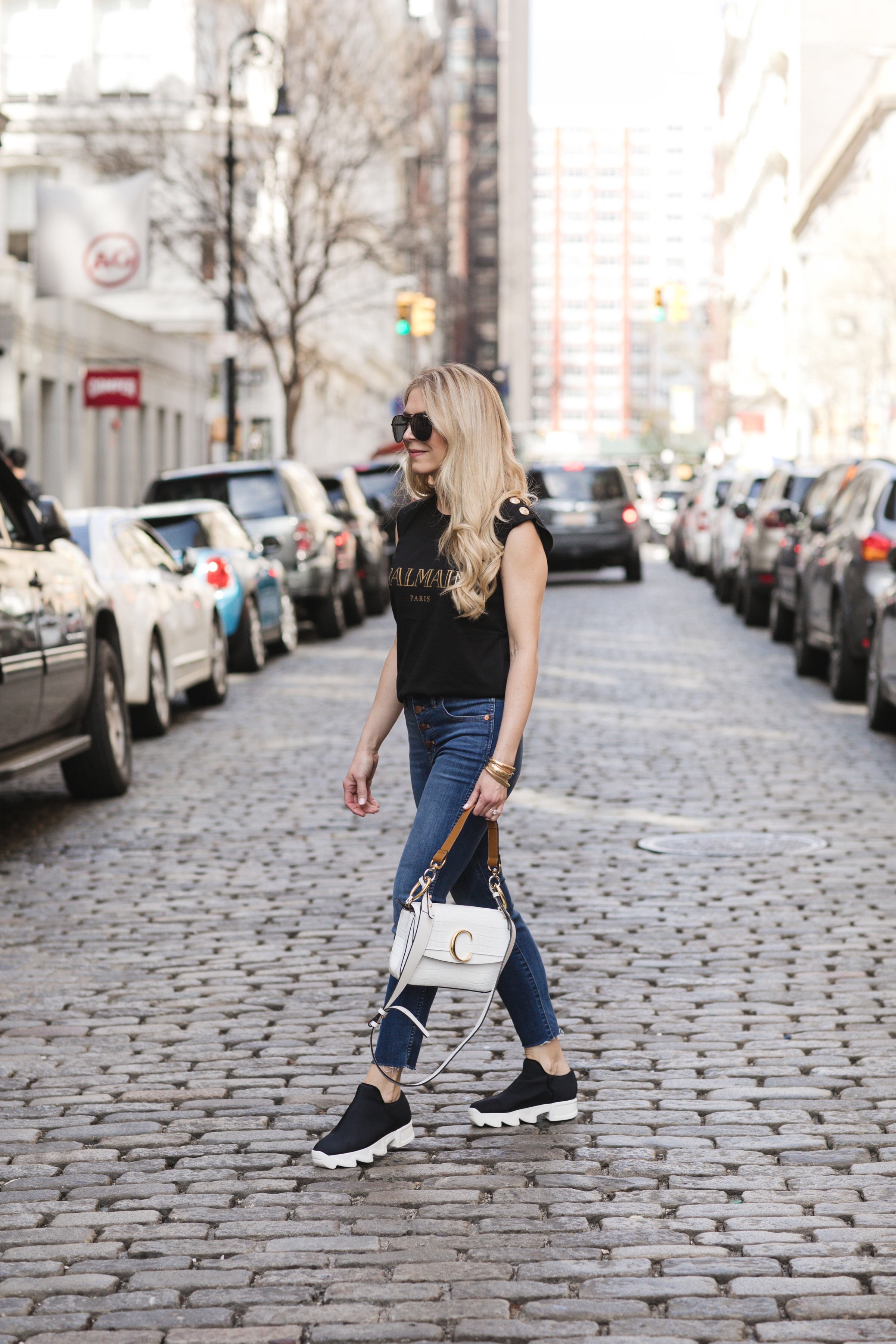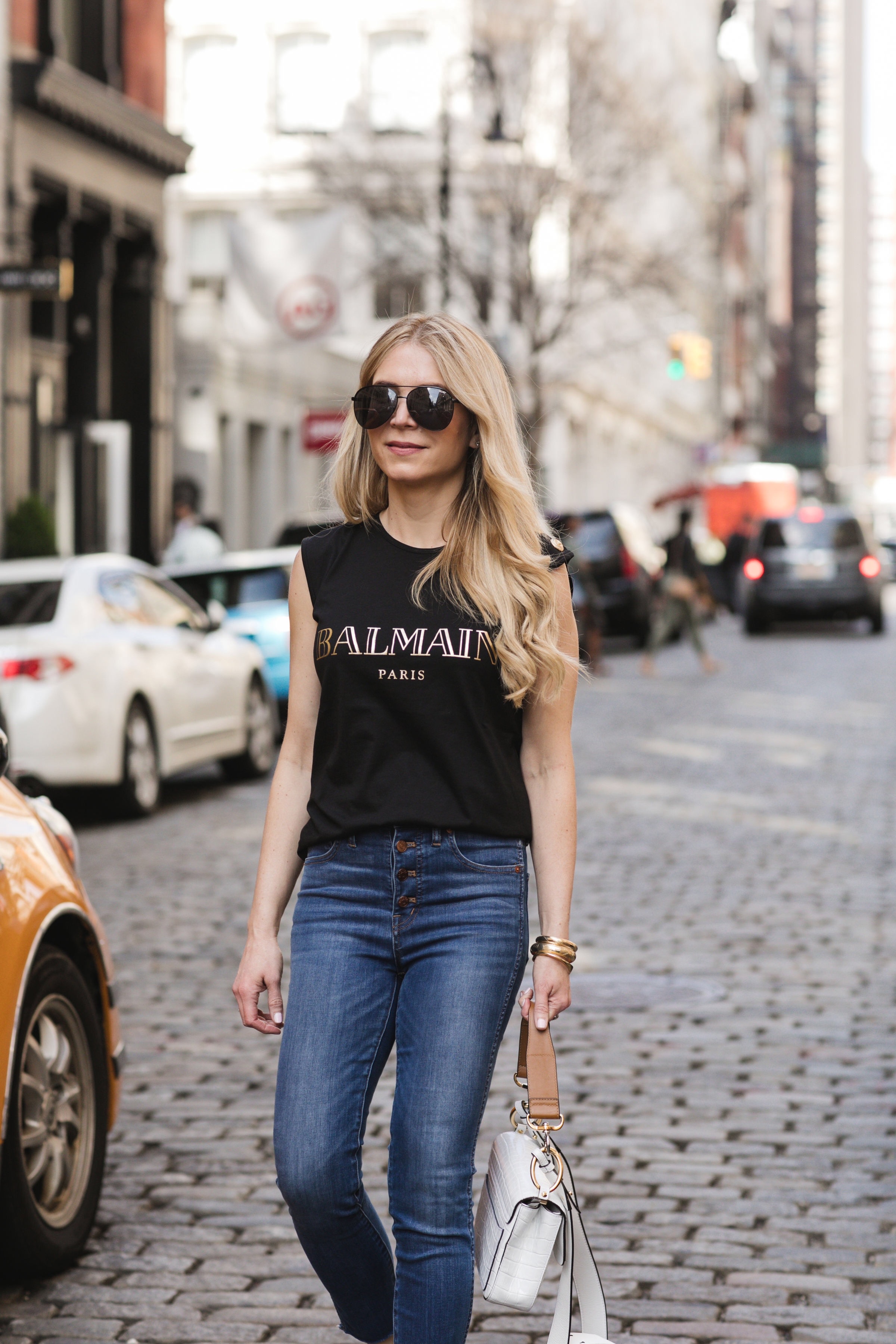 Some days you just need to be comfortable and casual… and that means sneakers.
Especially as a mom in New York City, I wear sneakers like every day!  Every.Day.  Some days I wear mules or ankle boots or loafers, but I would say 5 out of 7 days I am in sneakers.  Therefore, I was so excited to be gifted these cool black and white neoprene sneakers by iRi NYC.  Their sneakers are so cool, and are much loved by Gigi and Bella Hadid.  And, come on – if Gigi and Bella are wearing them, I guess they are cool enough for me!  While I am never going to be a supermodel no matter what I wear, I do love these sneakers.  First of all, you can slip them on and off easily.  In New York, everyone takes their shoes off the minute you get inside your own home anyone else's home.  Not having to do up shoelaces every time saves so much time!  Also, they have a 1-2 inch platform which makes you a bit taller looking (hello, so maybe we can all look a bit more like Gigi!).  And the white sole has a tread so you don't slip – and it can be cleaned using a soft cloth with a bit of water.  So these sneakers are a win win!  And I didn't even mention the coolness factor.  They are very cool.  I encourage everyone to check out this brand – iRi NYC …
And, you can't go wrong with Madewell jeans and a logo tee!
These Madewell high waisted jeans are the perfect stretch and the perfect cropped length.  Even if you are feeling a bit bloated or not yourself, you still feel great when you put them on – they never really feel too tight (because of the stretch I think).  And, I love the trend of a logo tee like this Balmain one.  A logo tee (in other words, a t-shirt with the name of the designer and some graphics and buttons all over it!) is a great way to amp up your basic jeans, t-shirt and sneakers ensemble.  I talked about the logomania trend in detail in this post, and I am a fan of it.  I know some might think it's tacky or OTT, but personally I love it!  Life is short, so go on, wear the logo tee, I say!
I hope everyone has a great day!  And thanks for reading!
xxxx
Laura
Photos by Lydia Hudgens
SHOP THE POST