Blazer: Anine Bing | Belt: Tibi | T-Shirt: Ganni | Denim: Madewell | Boots: Balenciaga | Sunglasses: Gucci |
Bag: Chloé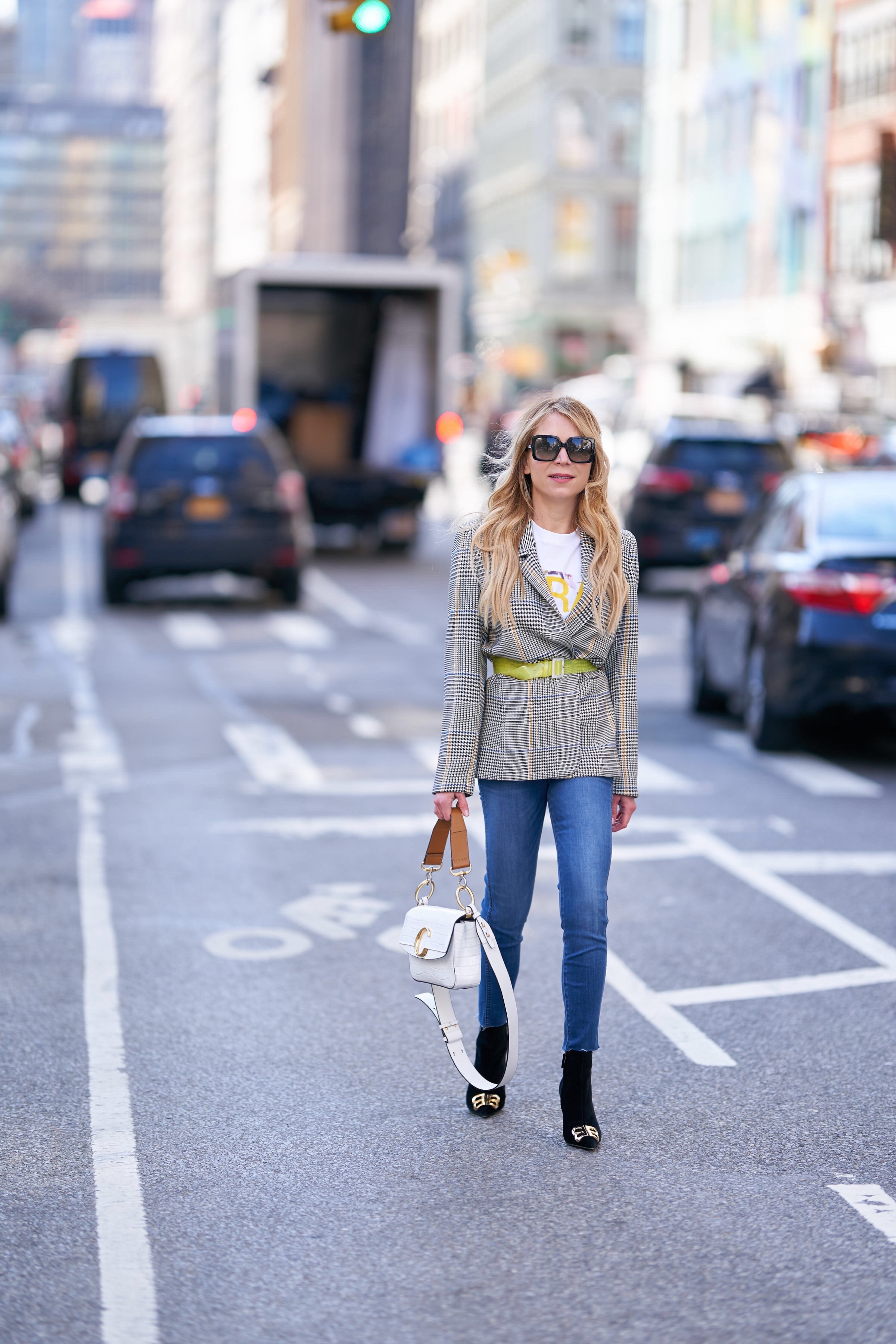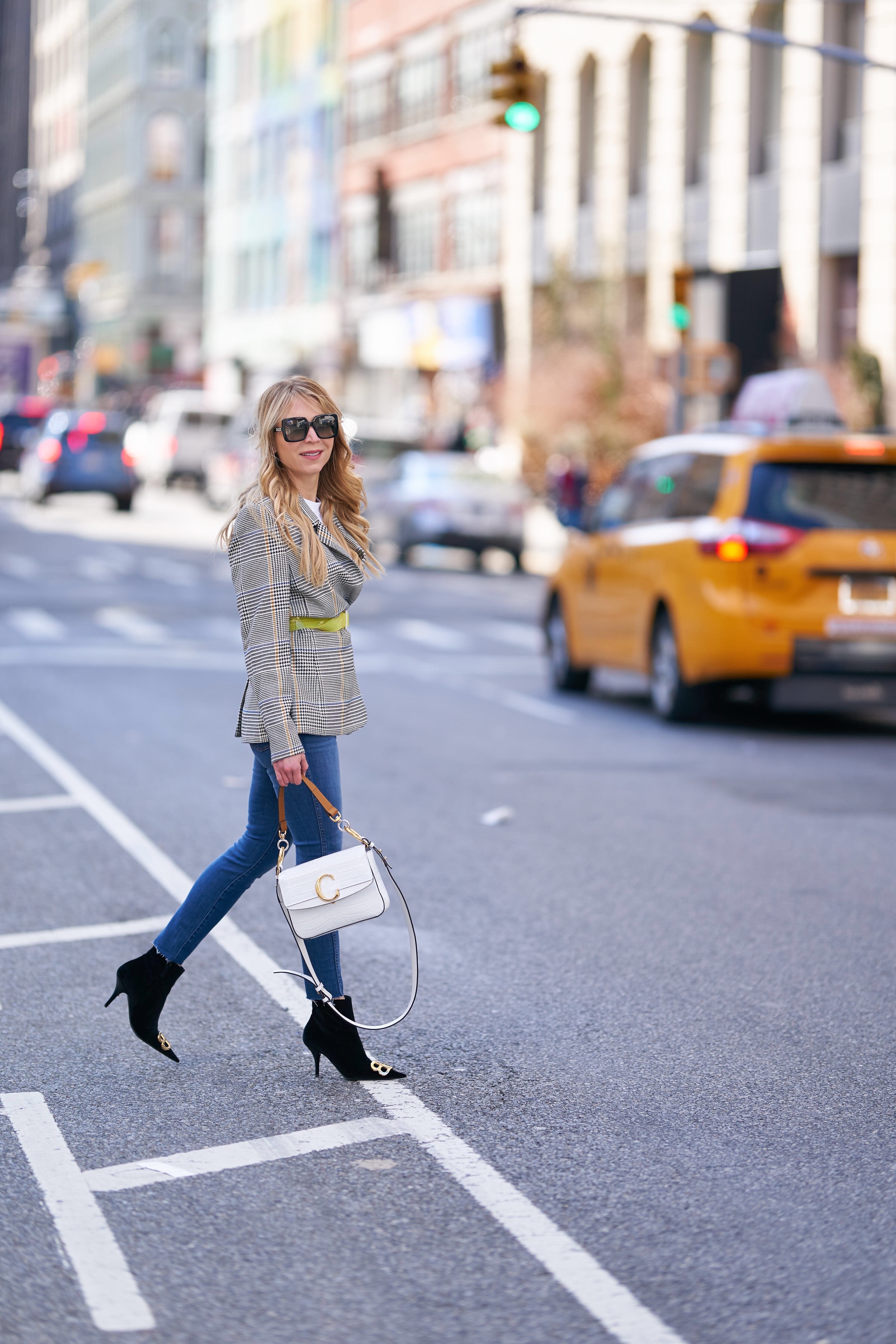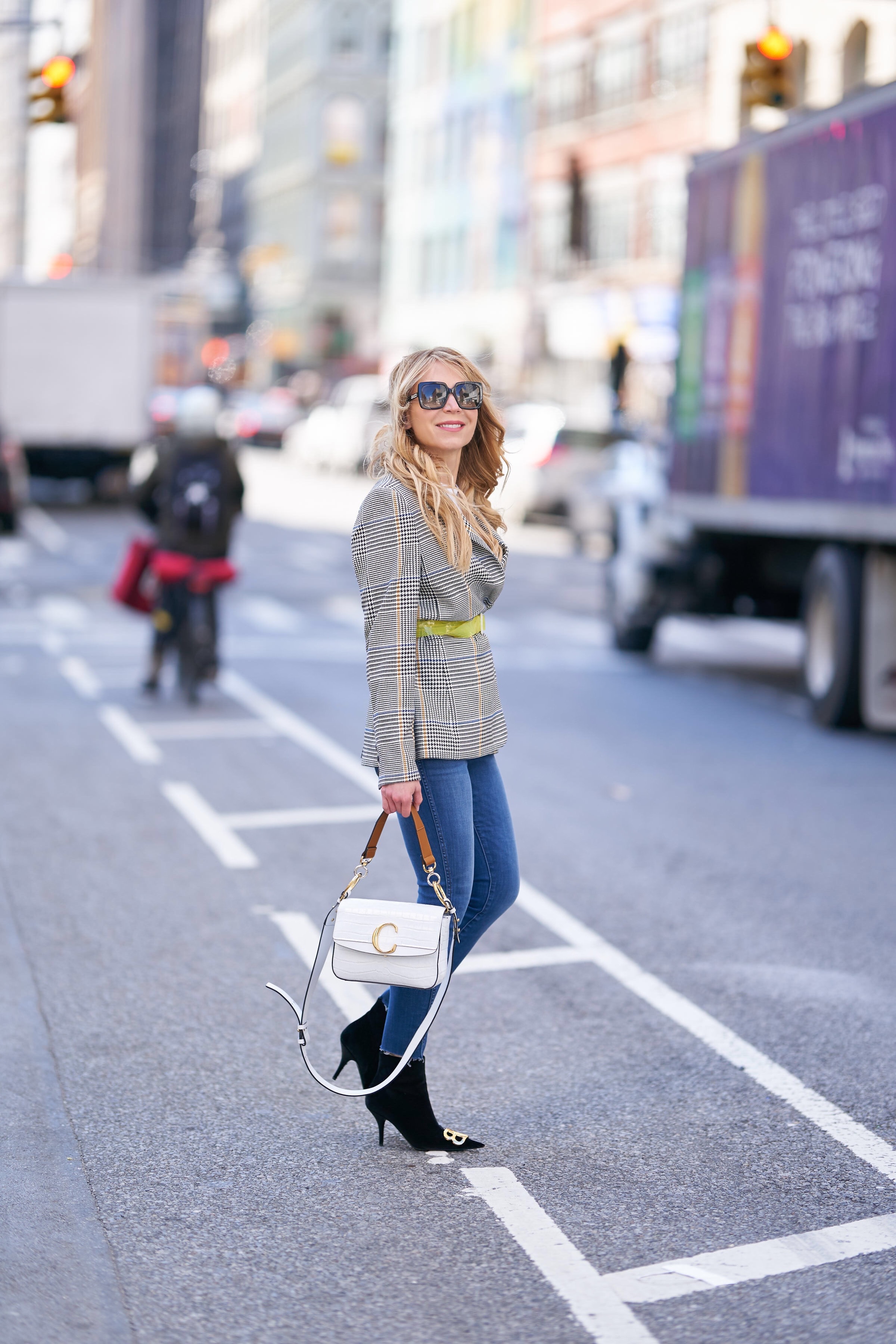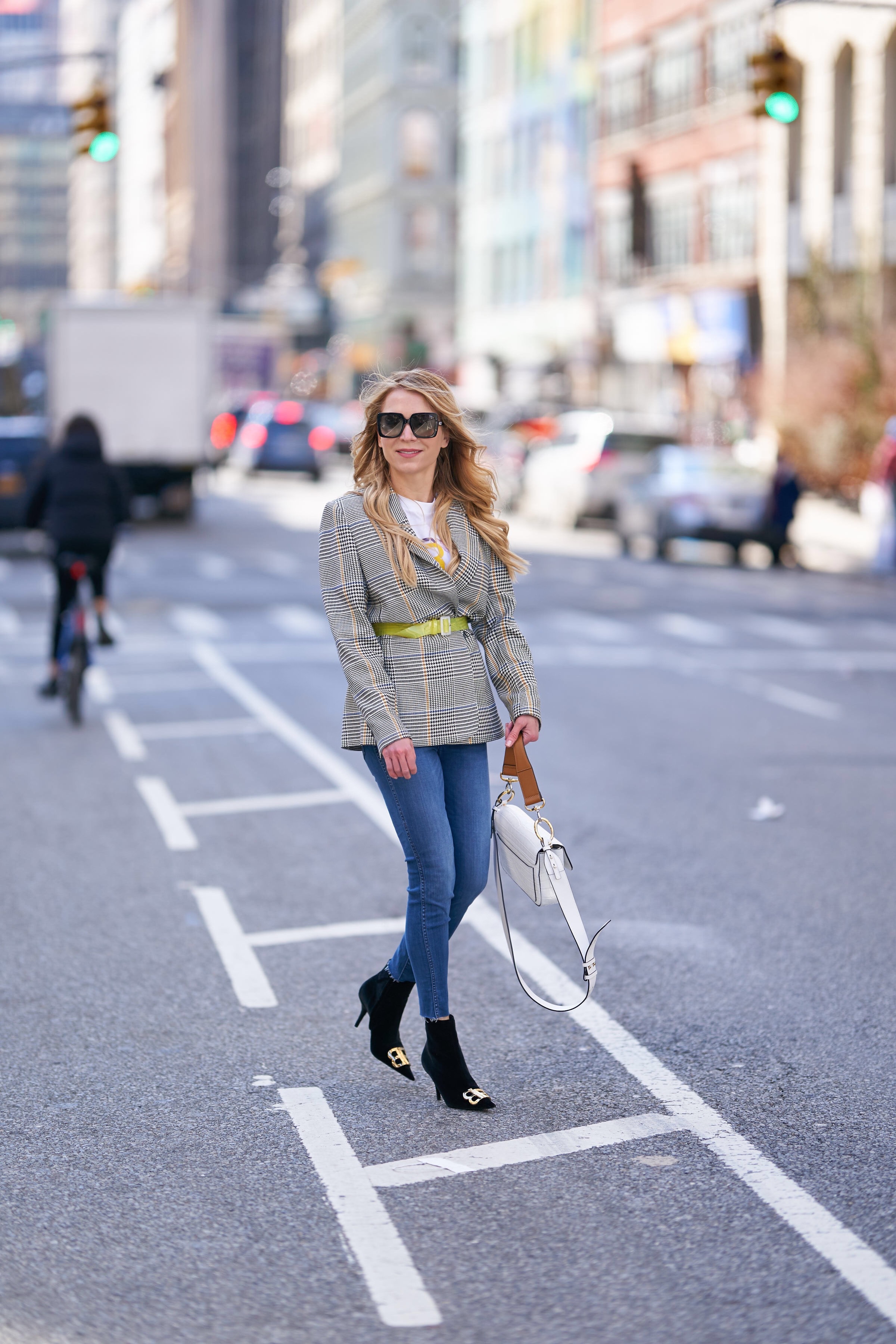 Blazers are my new outfit staple!
Lately, I am so into blazers!  I have been wearing them at least three times a week over graphic tees and jeans, with sneakers or boots.  As a stay at home mom, I have realized that the key to a daily uniform is comfort and jeans and a t-shirt are perfect.  But if you walk out the door with a blazer on, you elevate that basic jeans and t-shirt look immediately!  Since it's been so cold I layer my big winter coat over the blazer and am extra warm.  When spring comes and temps rise a bit, I won't need a coat and the blazer will be just fine.  Perfect!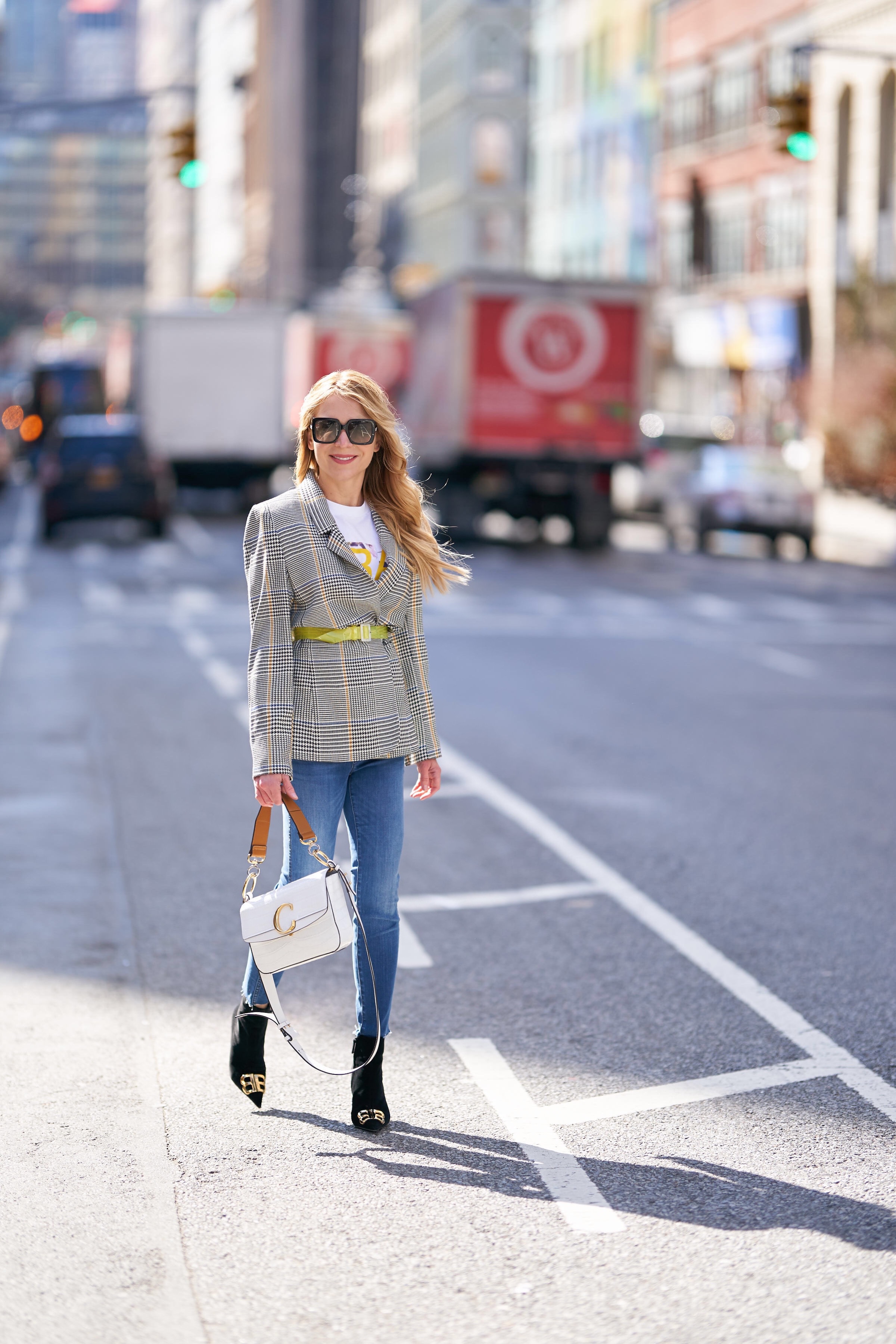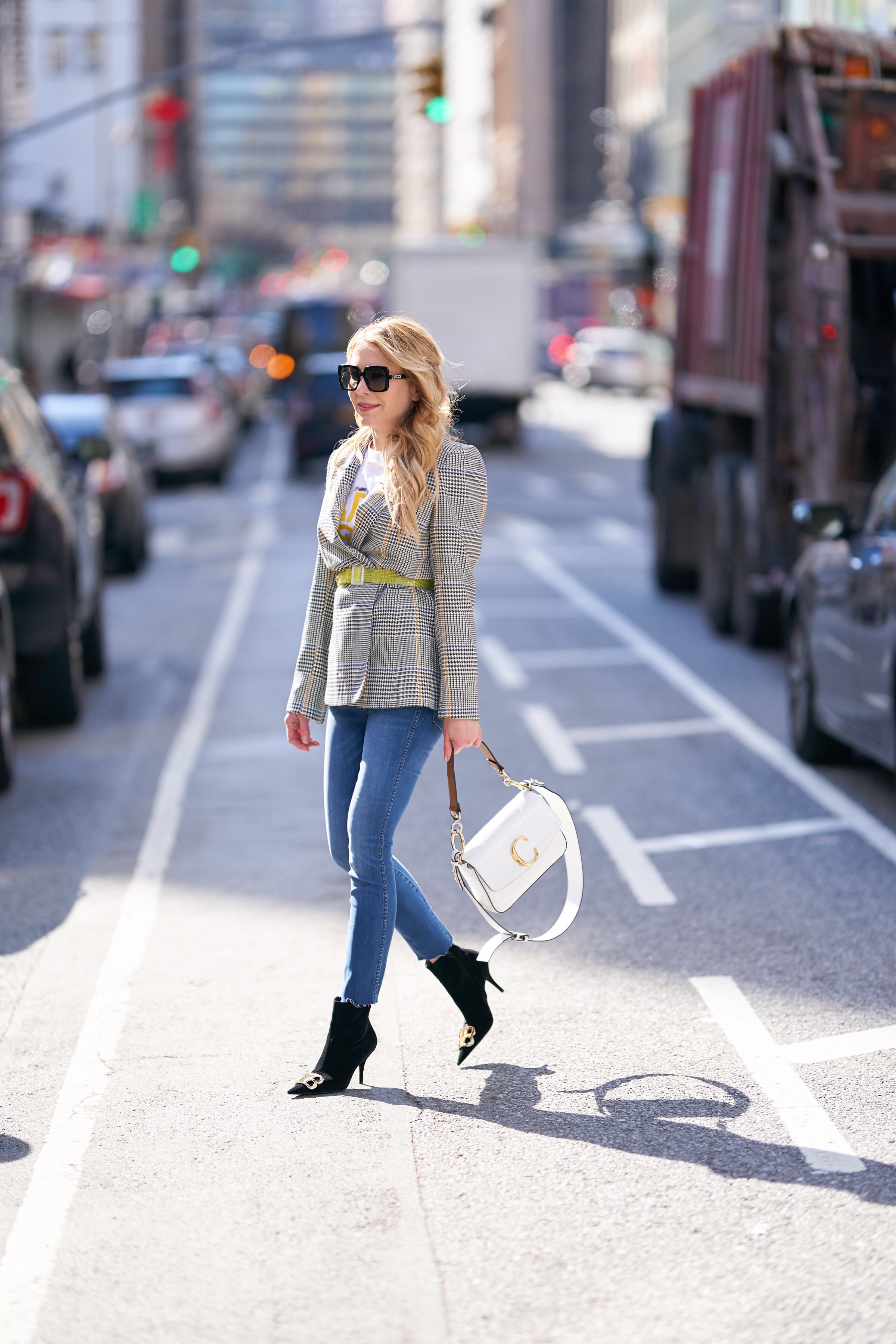 Anine Bing makes great blazers!
In case you are in the market for a blazer, I would suggest one from Anine Bing.  First and foremost the fit of her blazers is amazing and the fabric she uses is great quality.  The price point is just a bit higher than Banana Republic, Zara etc. but the fit and the style of an Anine Bing blazer is worth the investment.  And it is nowhere near the price of a Balmain blazer haha, that I talked about in this post!  I got this Anine Bing blazer in the Shopbop sale and it is almost sold out on Shopbop but is still available on the Anine Bing website. I also love that this blazer (and many of Anine Bing's blazers) can be worn year round.  Maybe not in the height of summer but the colors and fabric are not really seasonal – this blazer looks great in both winter and spring.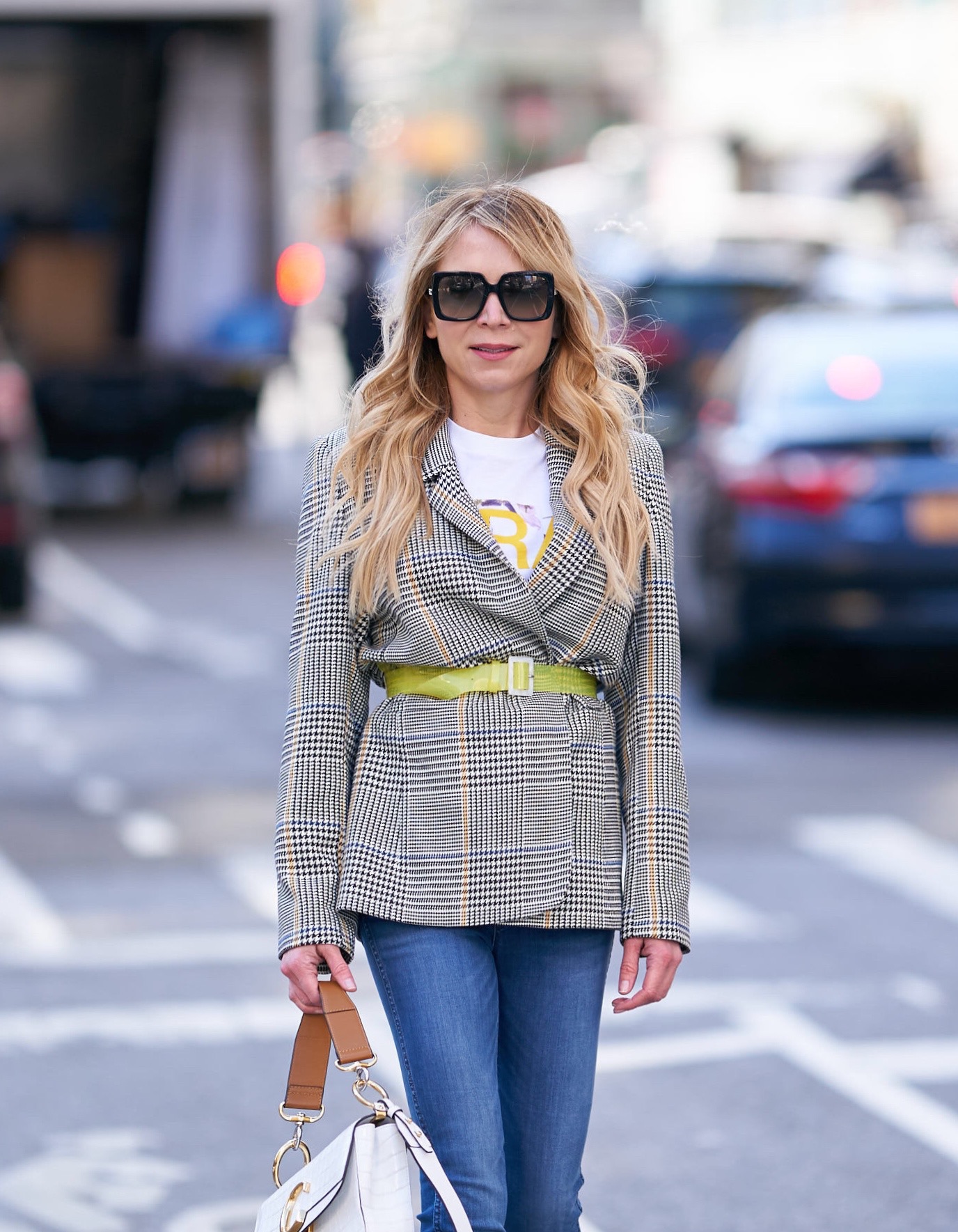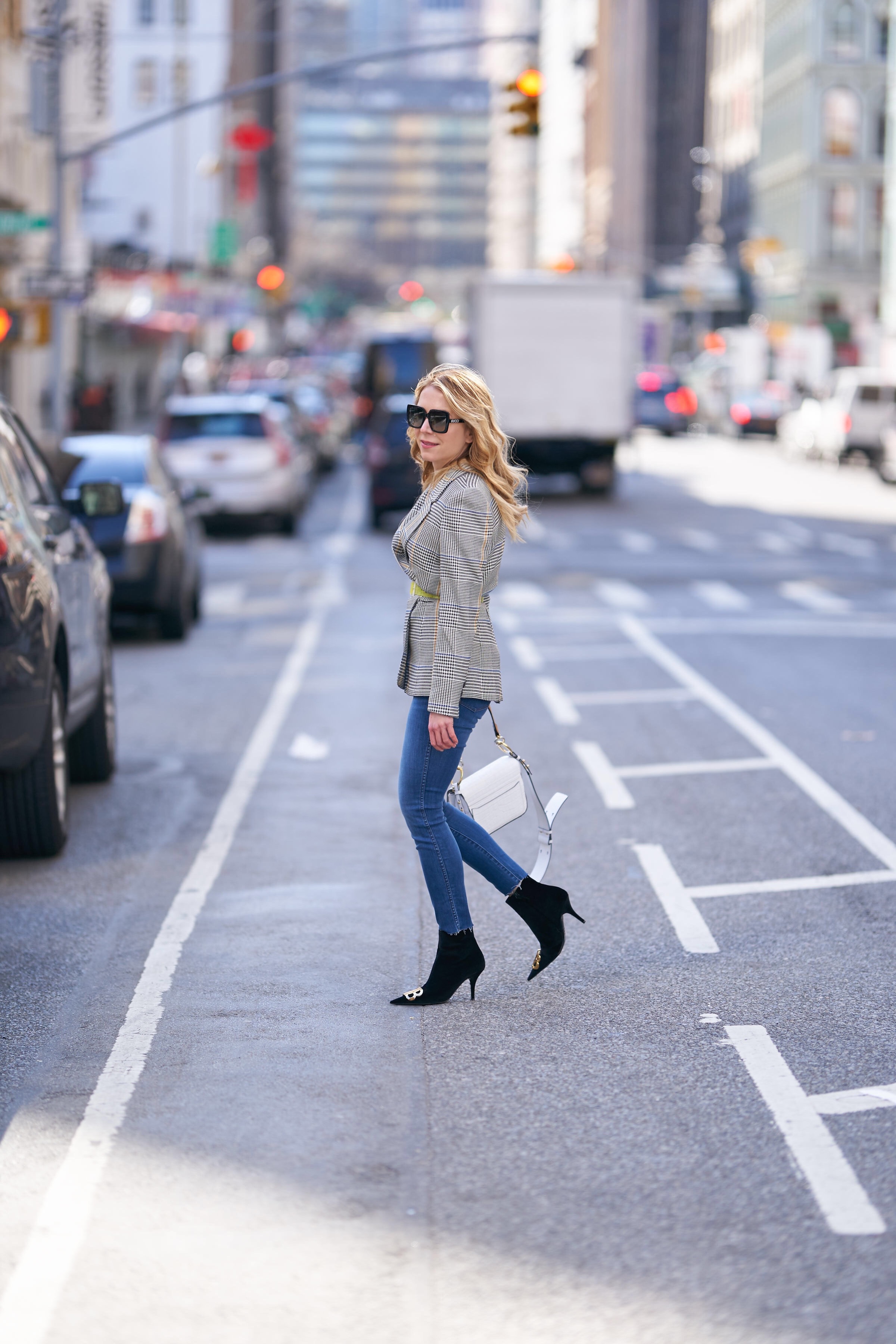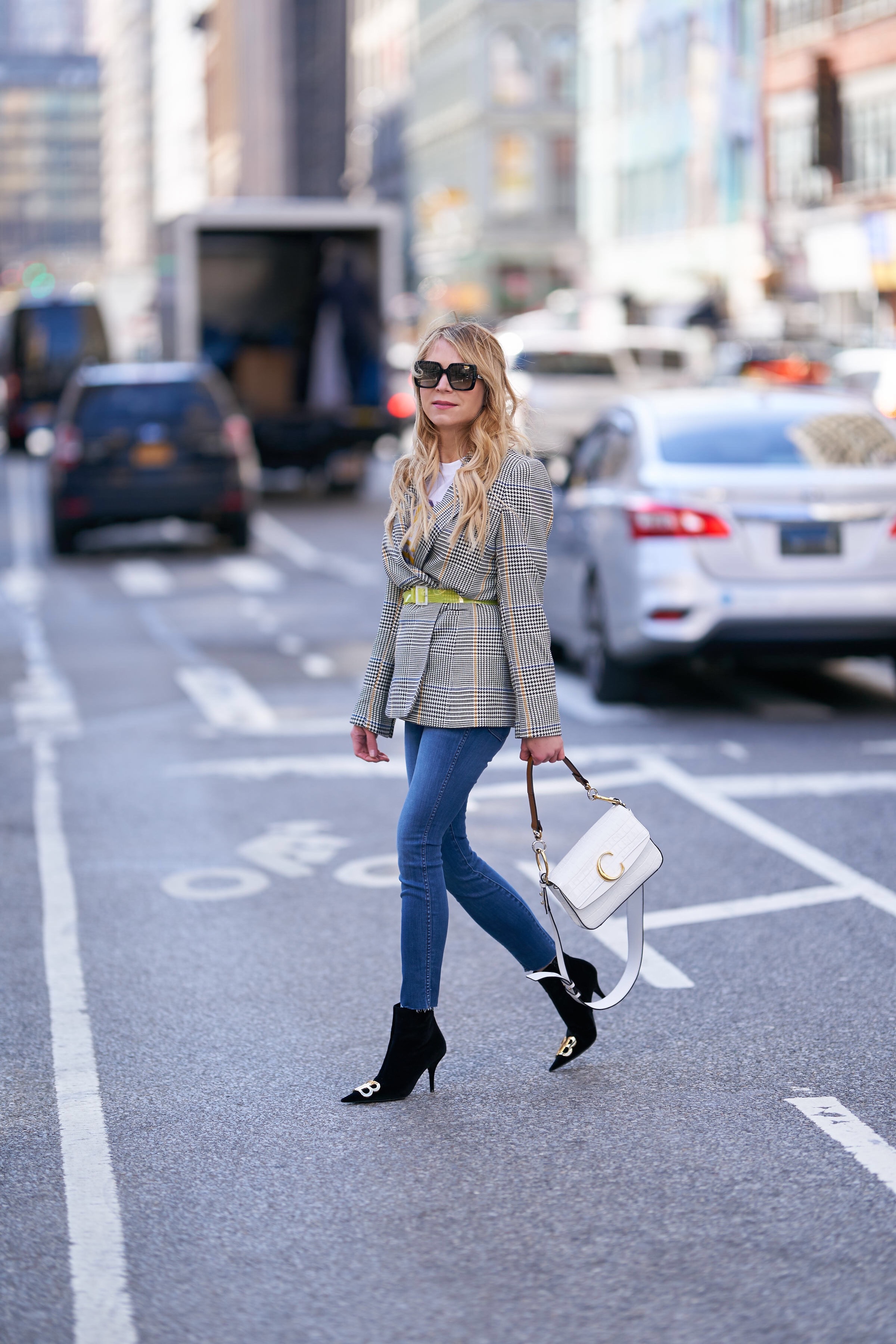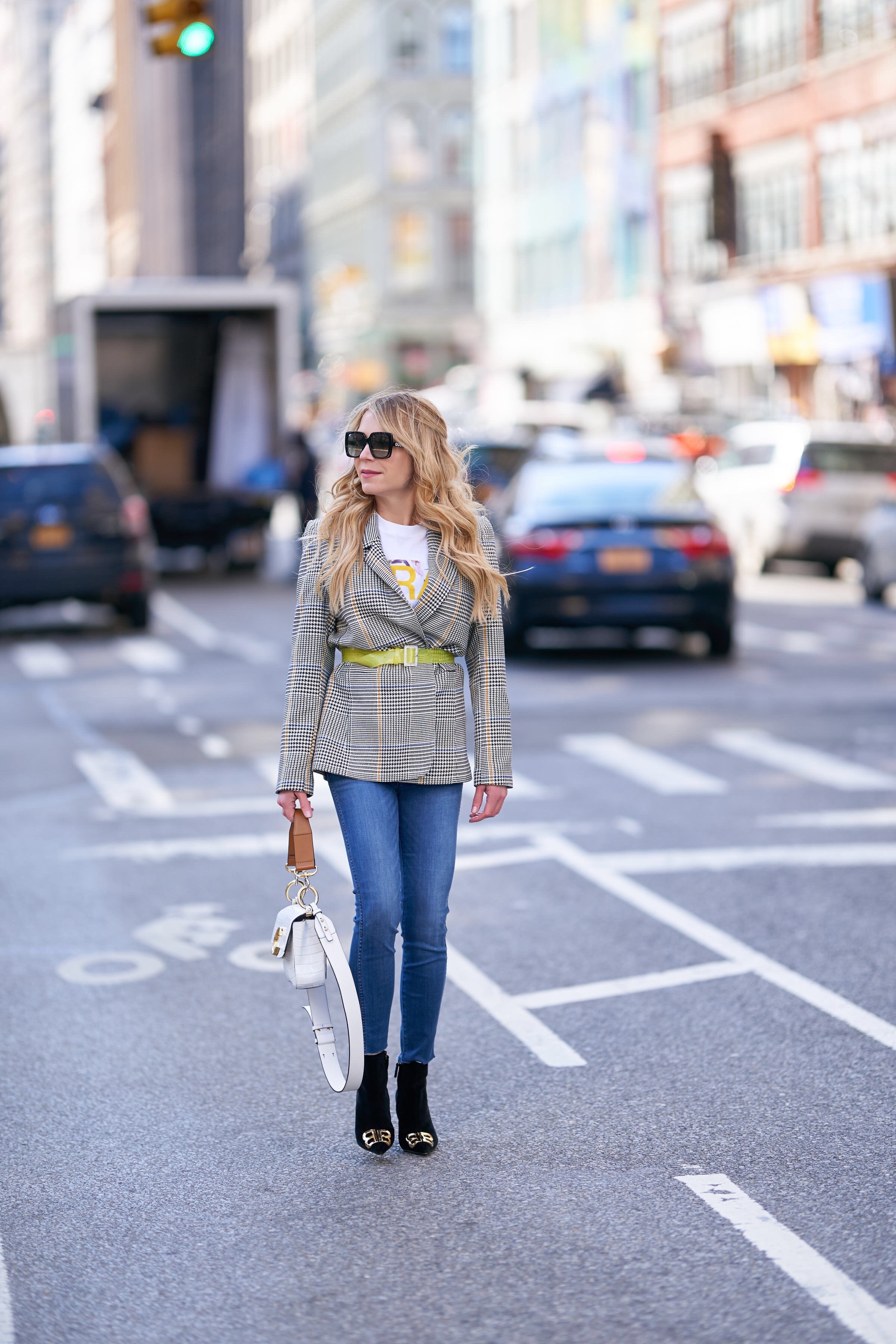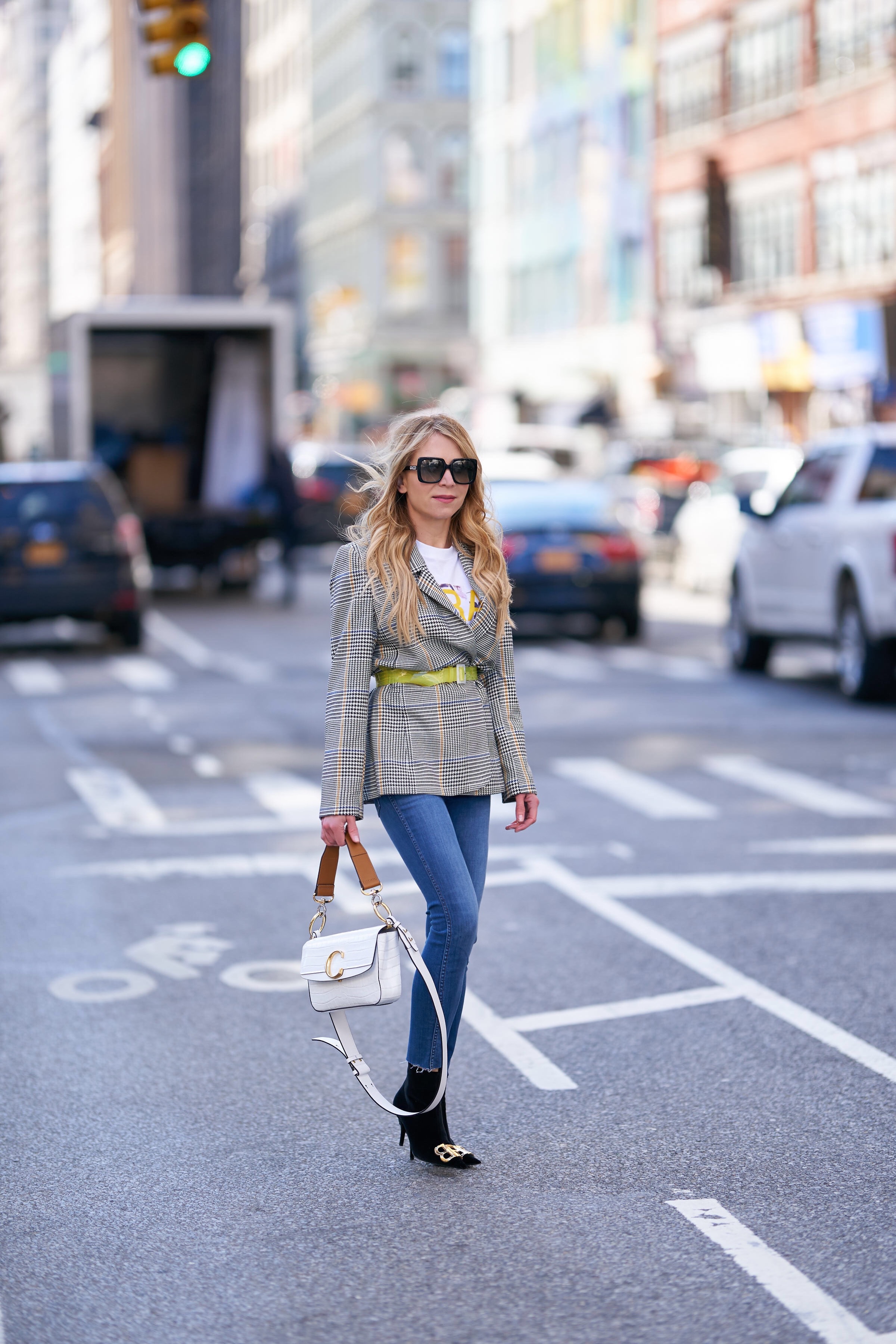 Would you try a neon yellow PVC belt?
The answer for me is…. YES!  This blazer is of course amazing looking on its own, but it is so much fun to play around with accessories and try new trends like this new neon yellow PVC belt by Tibi.  It is incredible to me how a belt can transform the look of a blazer.  Especially when the belt is neon yellow! Since the plaid has a bit of yellow running through it, the neon yellow of the belt brings out the yellow in the blazer, and in the Ganni t-shirt under the blazer. I will be wearing this belt in spring with white jeans, and over dresses.  And of course over blazers.  On the Net-a-Porter website the belt is styled over a tan blazer which also looks amazing.  Tan and yellow is a great combination and I think we will see a lot of it come spring.  What do you think of the belted blazer trend?  And PVC belts?  Leave a comment below!
Thank you for reading!
xxxxxx
Laura
Photography by Mike Kobal
SHOP THE POST