Parka: Acne Studios | Jeans: Re/Done | Socks: Gucci | Sneakers: Balenciaga (blue and white version here, and less pricey version here) | Bag: Saint Laurent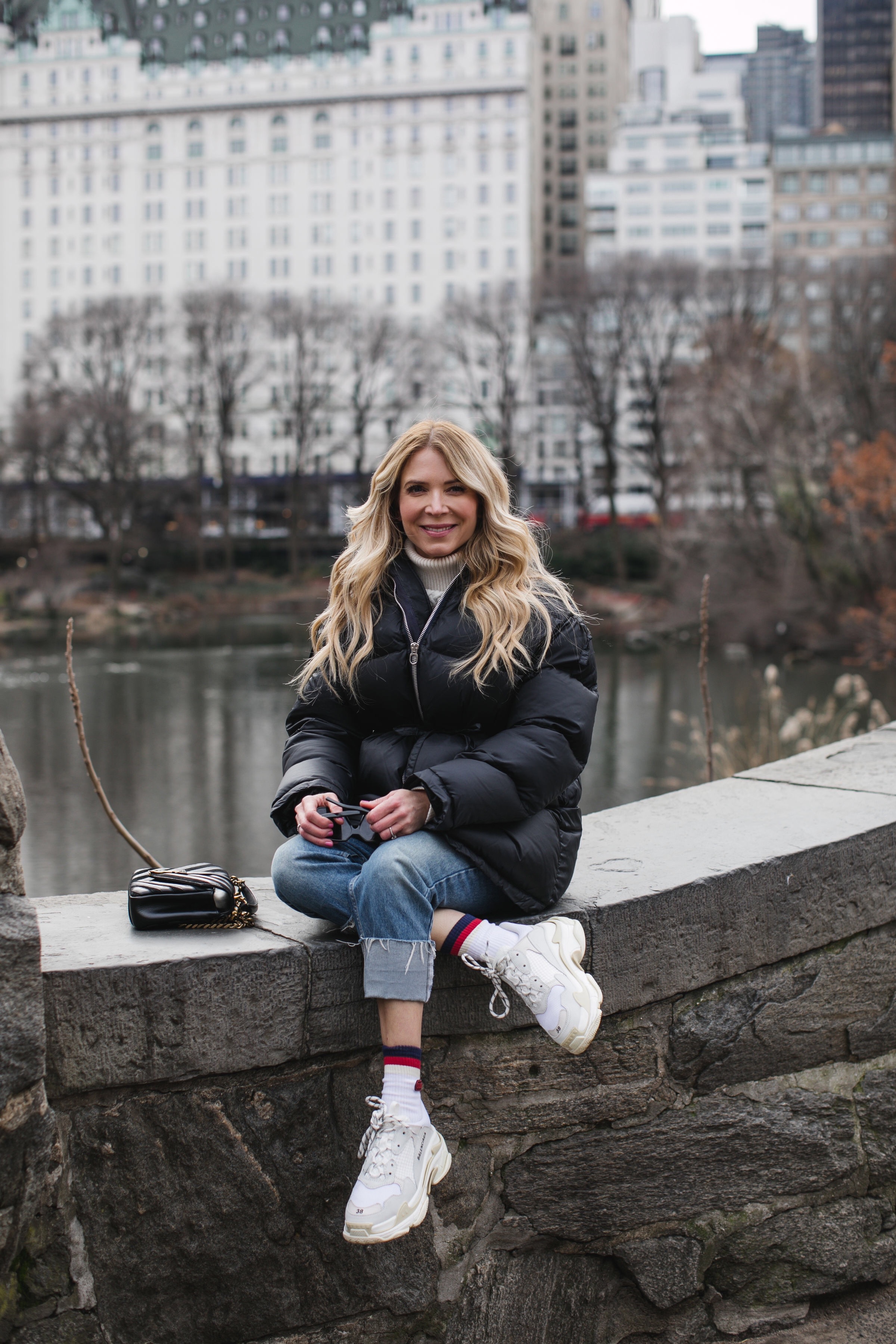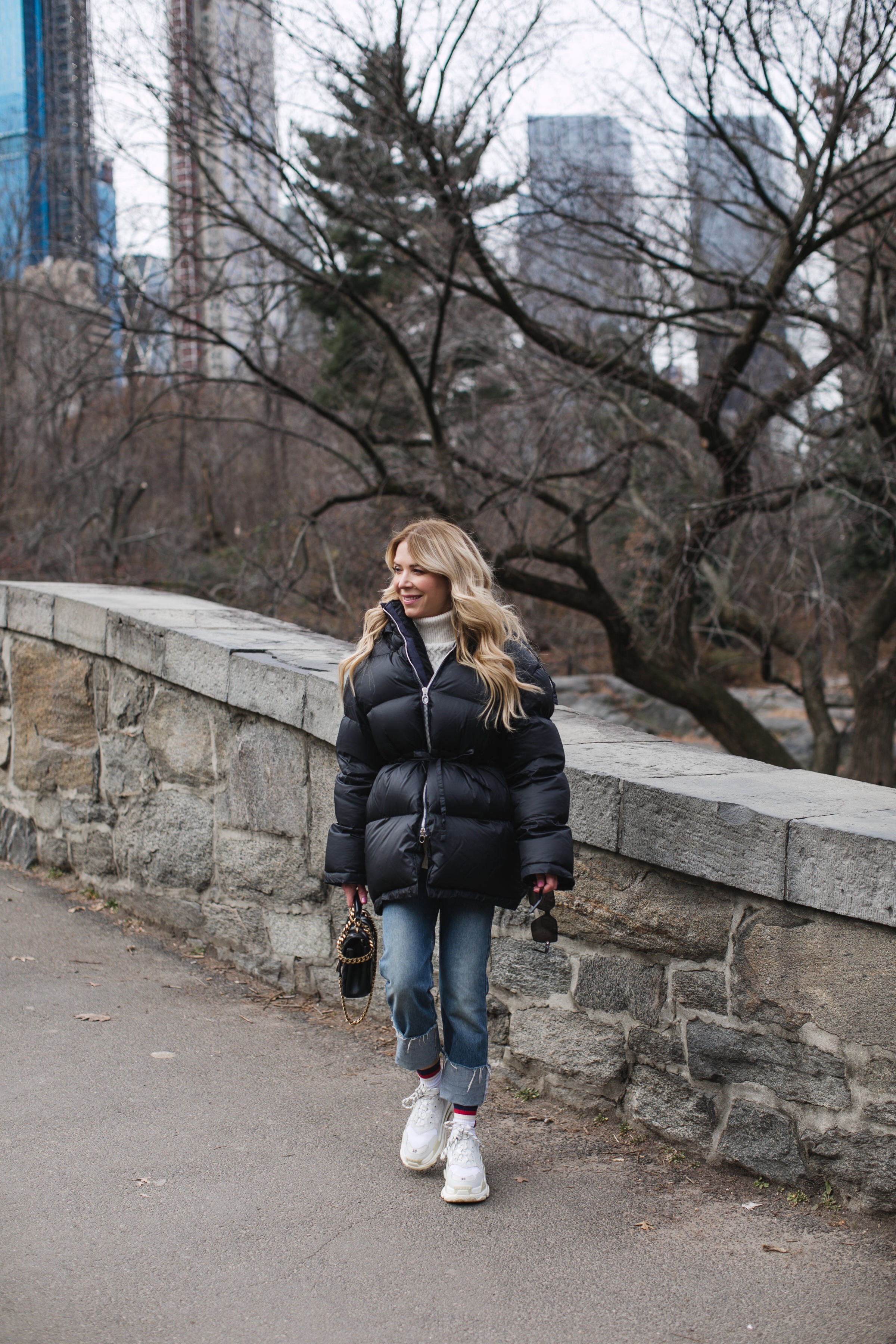 I did it!  I finally got the coveted Balenciaga Triple S dad sneakers!  If you have followed me on Instagram or read my blog for awhile, you know I have a "thing" for dad sneakers, which are the chunky, big white sneakers you are seeing all over the place right now.  They look like sneakers your dad would have worn in the '90s, probably with thick white athletic socks and a pair of Bermuda shorts.  Or even like the big white sneakers that women would wear to commute to work in the '80s (think Melanie Griffith in Working Girl).
Why am I obsessed with "dad sneakers" you ask?  Well, I first laid eyes on them probably just about a year ago on Instagram, worn of course by my all-time favorite fashion influencer Charlotte Groeneveld of The Fashion Guitar – and by Aylin Koenig, who I also admire.  Immediately I was entranced with the look of the "dad sneaker" – they are very eye catching because they are quite big on your feet and they make your legs look very skinny.  If you ask me they make one's legs look like toothpicks sticking out of two white marshmallows (I actually like this look!).  I know many of you find them, dare I say, ugly? I think people have a visceral reaction to these sneakers – either you immediately hate them, or you love them.  But even if you hate them on sight, they have a coolness factor that cannot be denied.  The bottom line: once I saw them I knew I wanted them.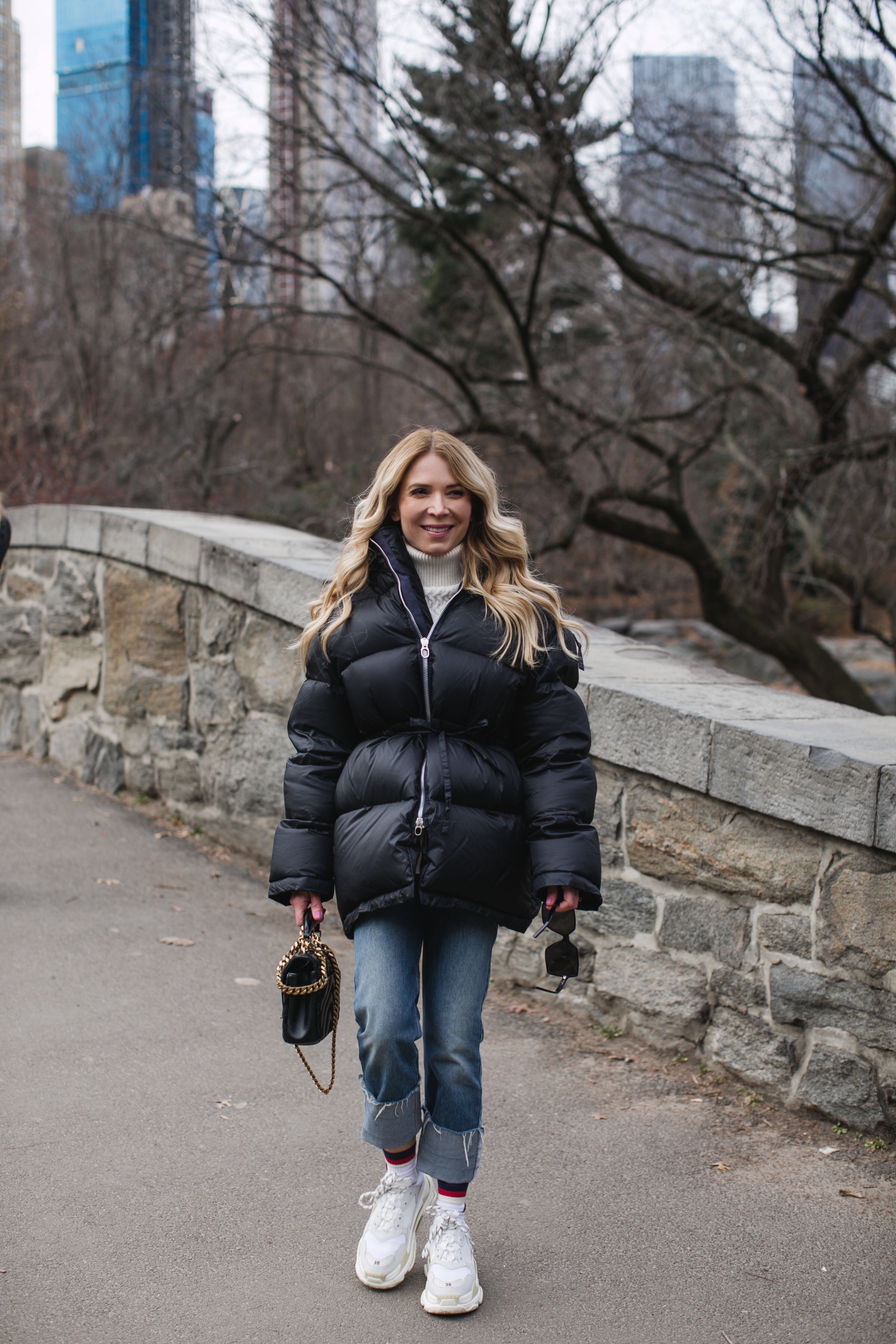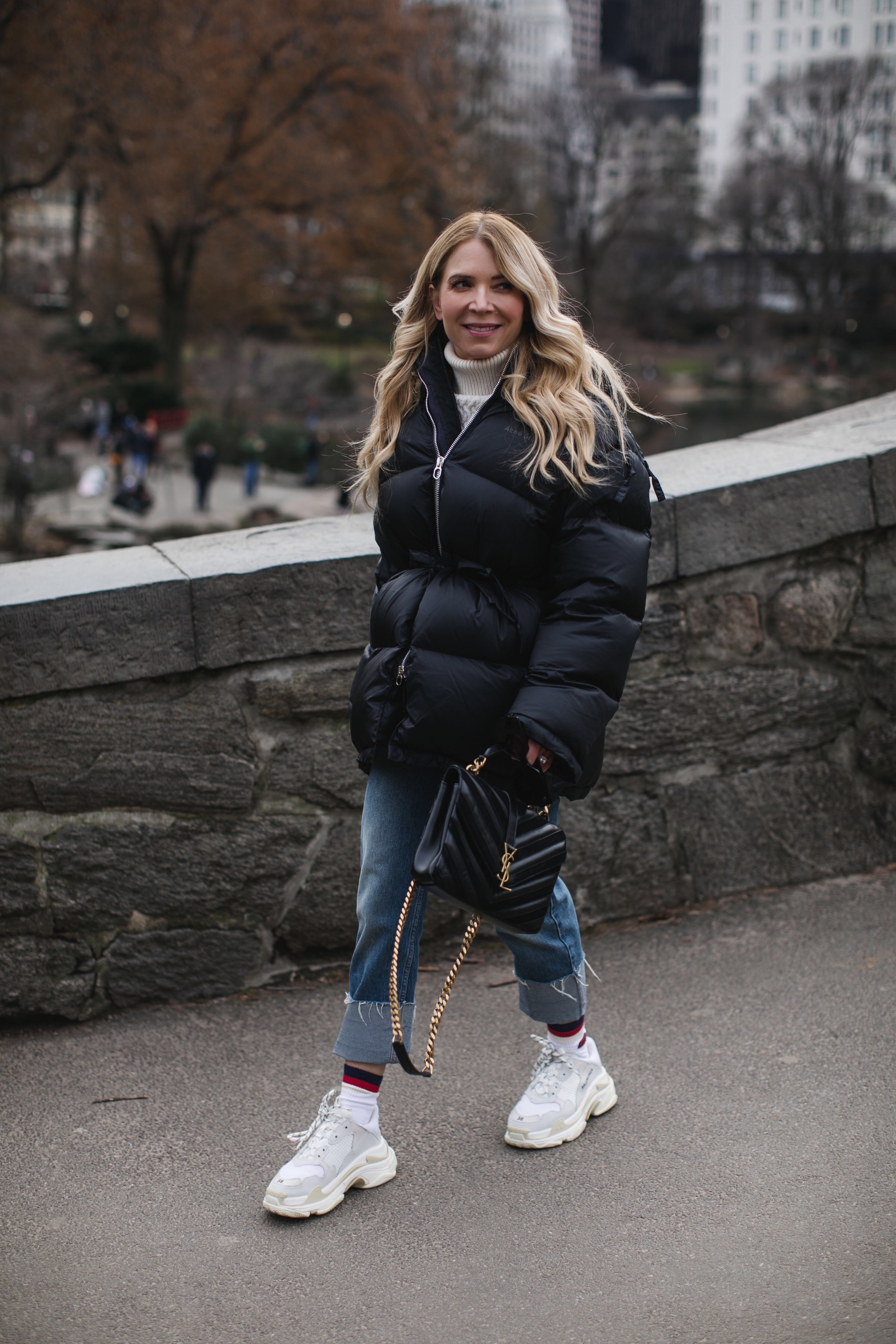 The issue at first was getting hold of a pair.  I tried to find the Balenciaga Triple S ones everywhere in my size but no luck- I had to go on a waiting list.  I was ok with this, actually.  I mean, at $895 they are pretty extremely expensive for sneakers.  So in some ways I was GLAD they were sold out.  And to satisfy my yearning for the white marshmallow look, I found some fun copies of the Balenciagas online: the Jeffrey Campbell Lo-Fi sneaker (under $150) and the Ash Addict trainer (but at around $300 still pricey).   I ended up getting the Jeffrey Campbell ones in both white and silver.  (I wear the silver ones back in May in this post, talking all about dad sneakers and more about the origin of the Balenciaga Triple S.)
Then last summer, I found myself on vacation in California without my trusty Jeffrey Campbell Lo-Fis, so I purchased the Ash Addicts as well. It kind of makes me cringe to think about the fact that I have purchased THREE pairs of nearly identical dad sneakers, because for the amount of money I spent on all three copies combined, I could almost have gotten one pair of the original Balenciaga Triple S.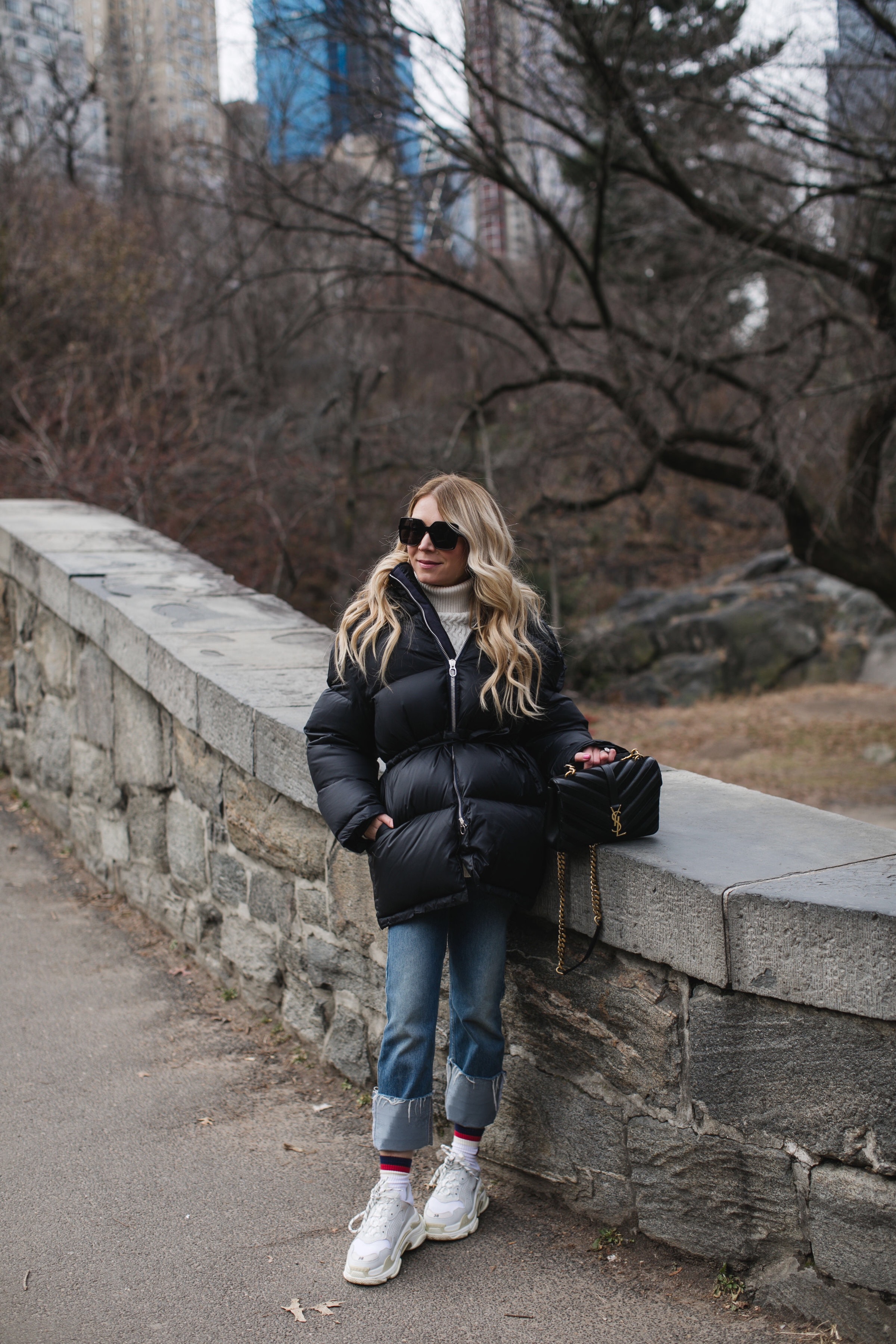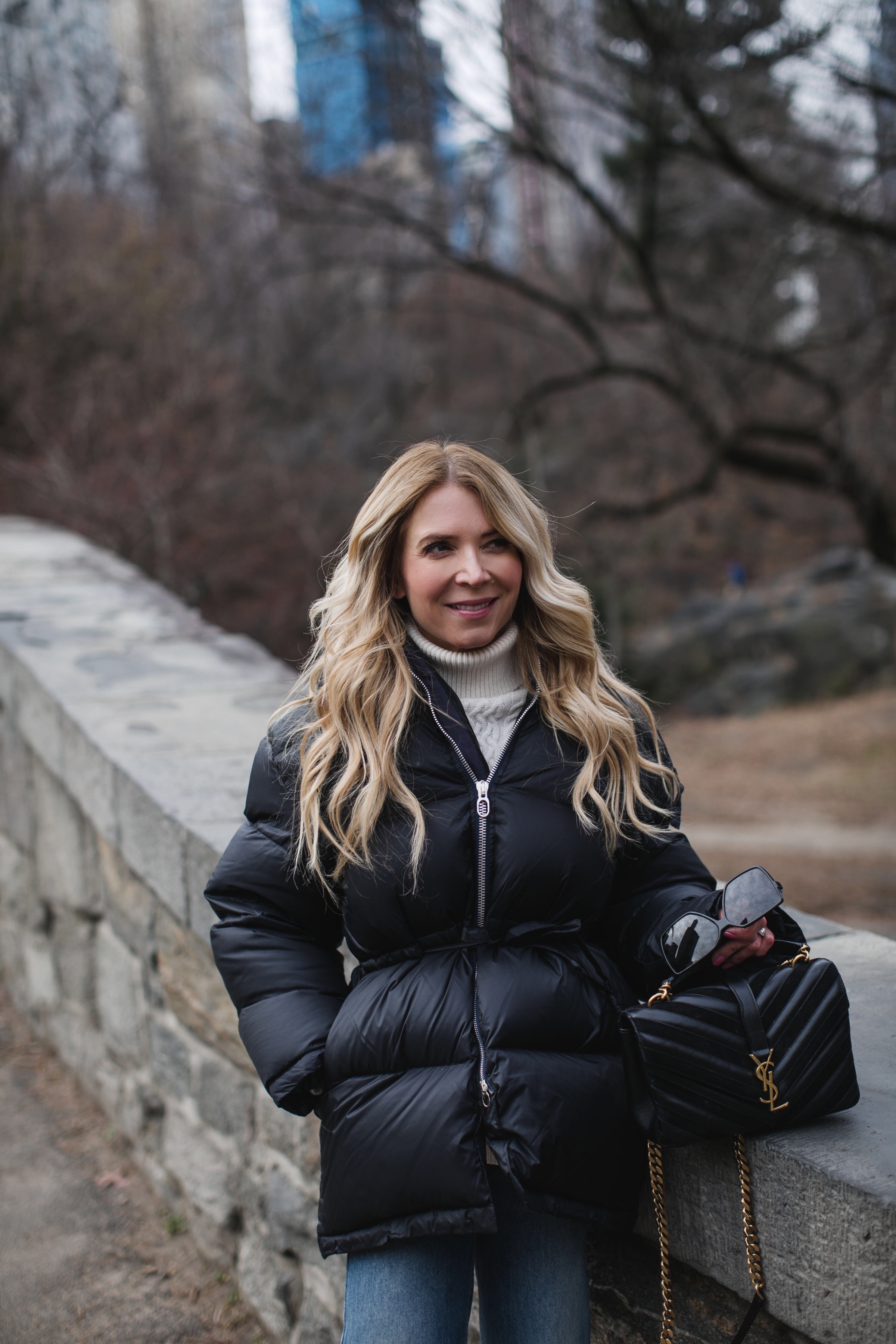 But like I said, I was fine with this.  After purchasing the three copies, I kind of stopped looking for the real ones.  I do really love the Jeffrey Campbell Lo-Fis and the Ash Addicts.  They are great looking sneakers and they look very similar to the Balenciagas.  I highly recommend them if you are looking to buy into this trend without spending serious money.  Even so, as more time passed, and I saw photos on Instagram of girls in the Balenciaga Triple S sneakers, I just kept getting that feeling, even more strongly, that I was missing out.
The turning point came about a month ago.  I got an email from Net-a-Porter notifying me that the Balenciaga Triple S sneakers were BACK IN STOCK in my size 38, in white.  I still did not buy them.  I told myself, no.  You do NOT need these.  Then I waited another two weeks, still thinking about them, went back to Net-a-Porter and they were SOLD OUT in 38.  The smallest size was 40. I was so sad, and annoyed, and then OF COURSE I had to track down a pair.  To make a long story short, I finally found a size 38 in the downtown location of Barneys about a week ago.  So there you have it – that's me and my Triple S sneakers (and my two pairs of Lo-Fis, and my Ash Addicts), living happily ever after!
What do you think of these sneakers?  Love or hate?  Or a bit of both?  Leave a comment below!
Thank you for reading!
xxxx
Laura
Photos by Lydia Hudgens