Blouse: H&M | Shorts: Zimmermann | Shoes: Zara | Headband: Lele Sadoughi and similar here | Bag: Staud (on sale!)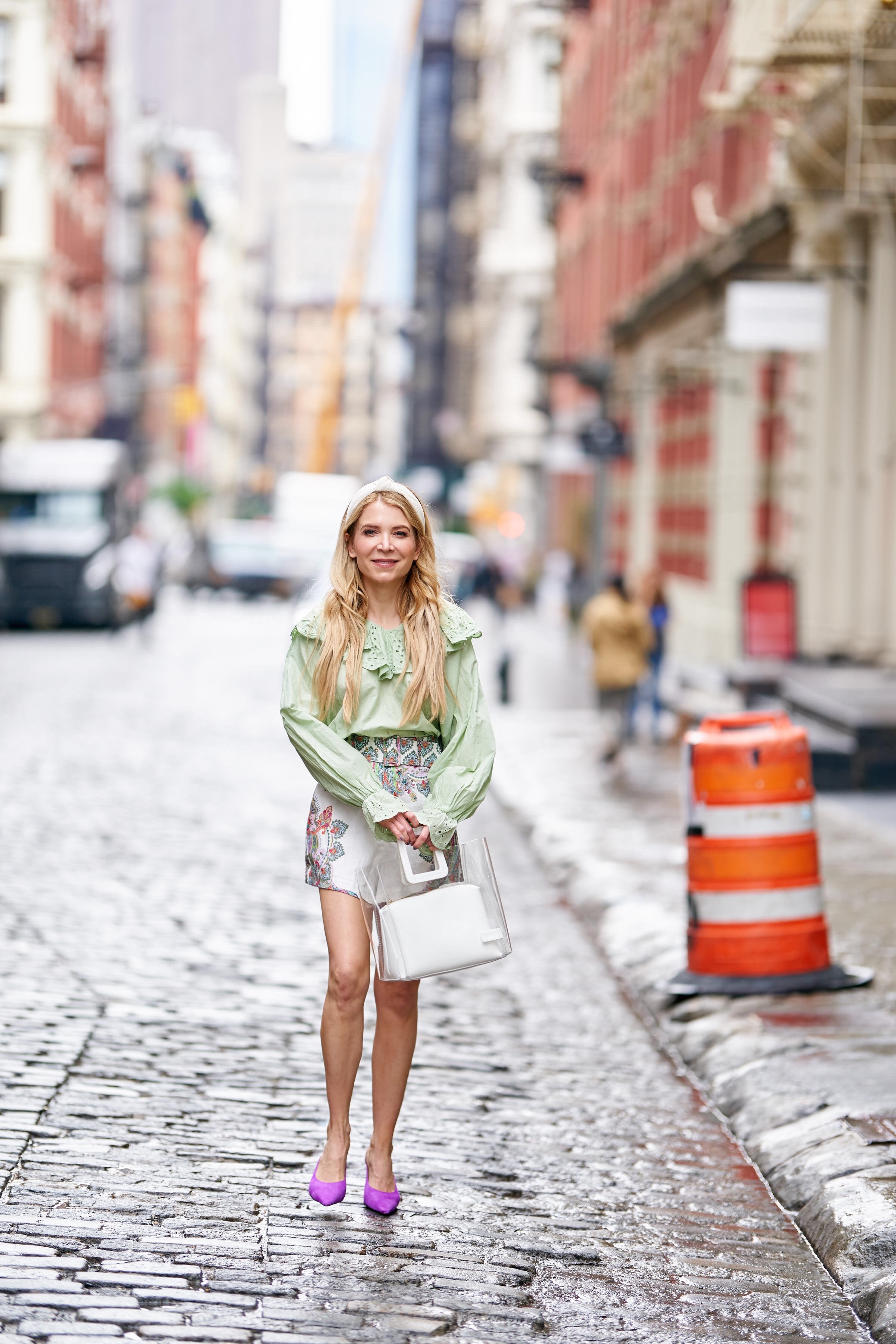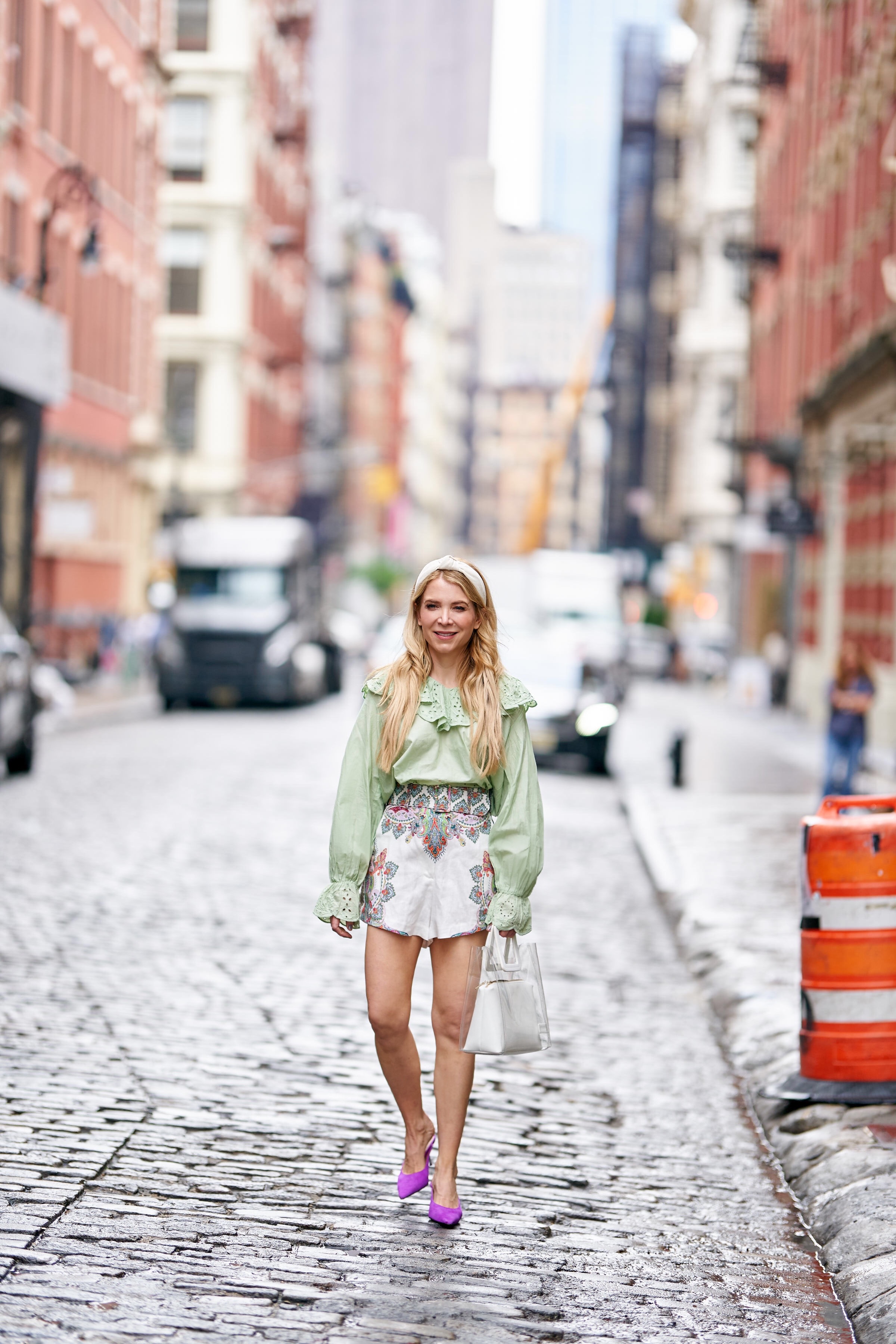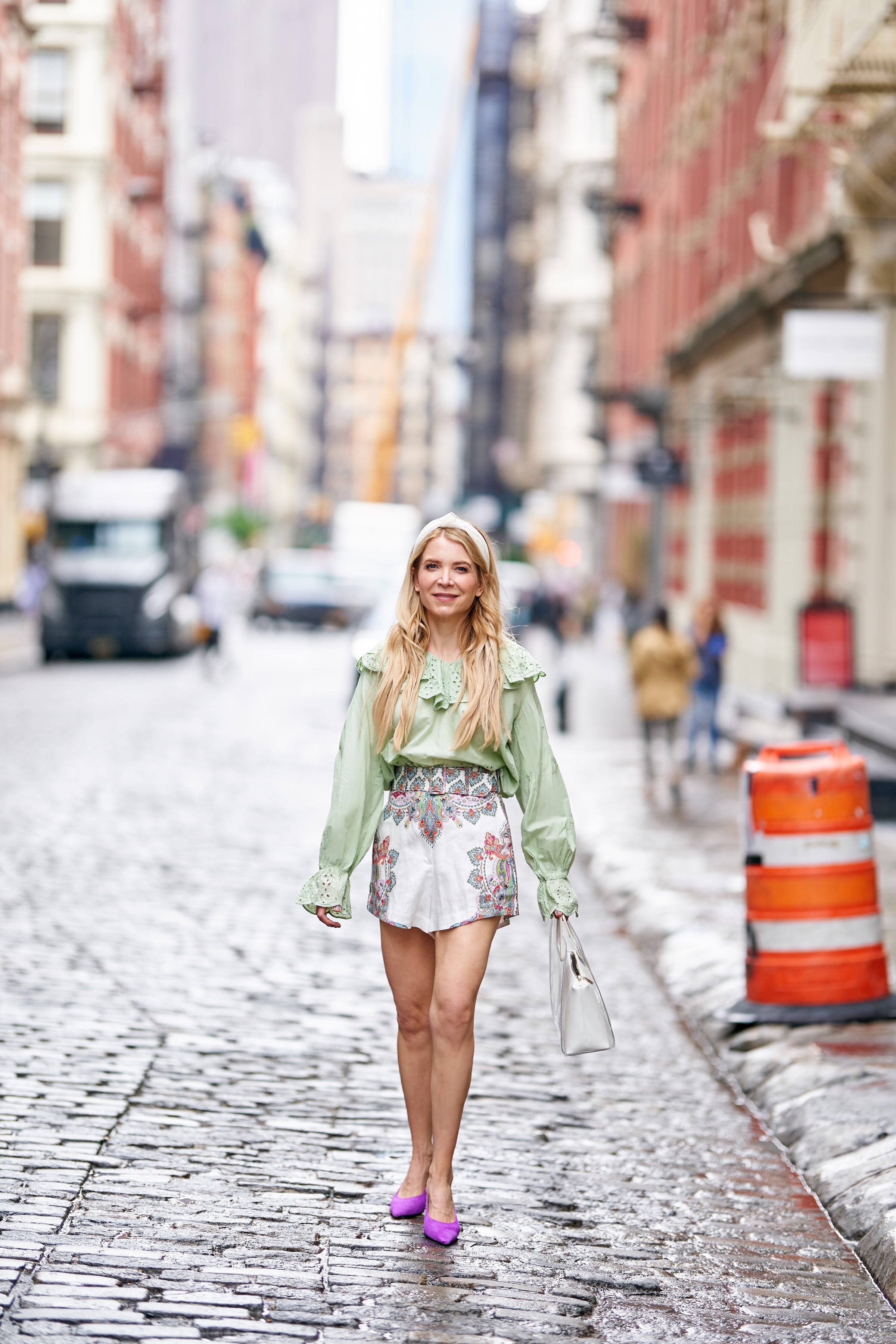 A pair of pop of pink must-have shoes!
A tongue twister but truly these hot pink fuchsia mules from Zara are fabulous!  The heel height is perfect, they are comfortable, and they are made of a really pretty suede.  I got them because I saw them on my friend Sunny (@oldfashionguru).  Sunny is a 67-year-old former fashion designer who founded and ran the clothing brand Sunny Leigh for many years. She has such great style and inspires women of all ages with her Instagram page (including me), because she shows that no matter what your age, you count and you MATTER, you are not invisible, and we all can take pride in our style and wear what we love to wear (just go for it!).  I have now met up with Sunny in person twice in New York City and I feel like I have known her forever!  Anyway, she got "the pink shoes" (as we call them) quite some time ago, and they sold out, but then last week I saw they had restocked them so I scooped up a pair!  You can find them here (I would size up).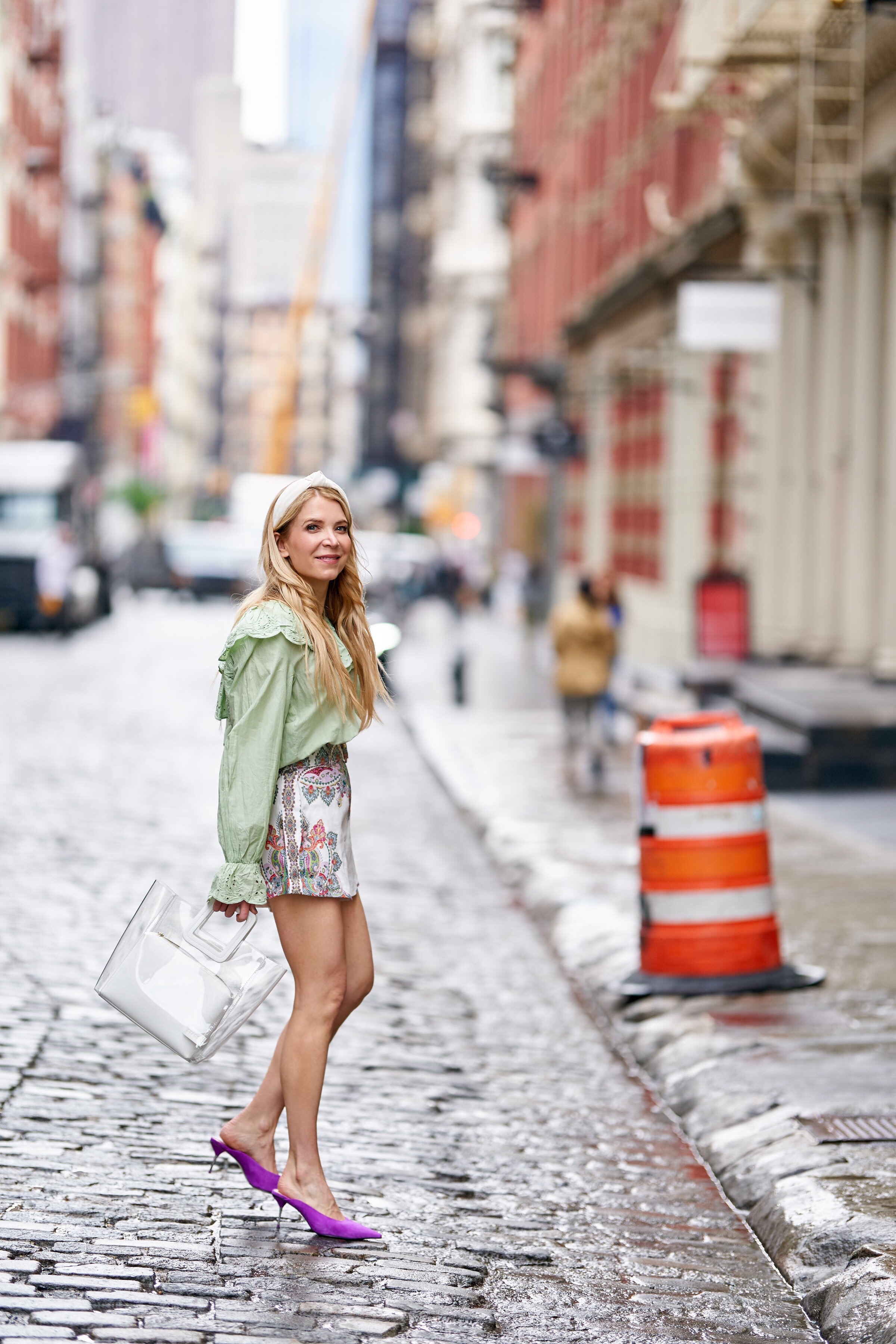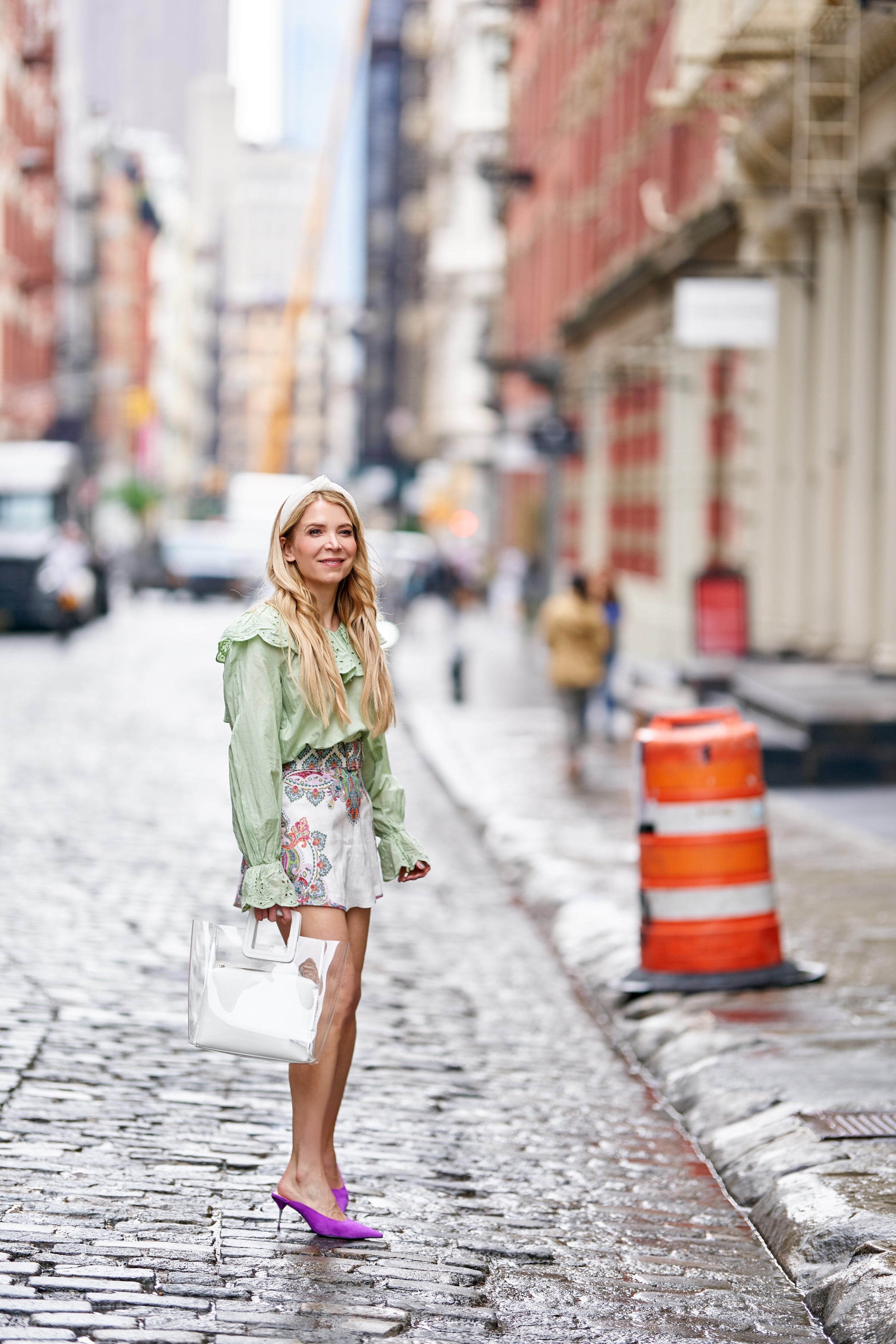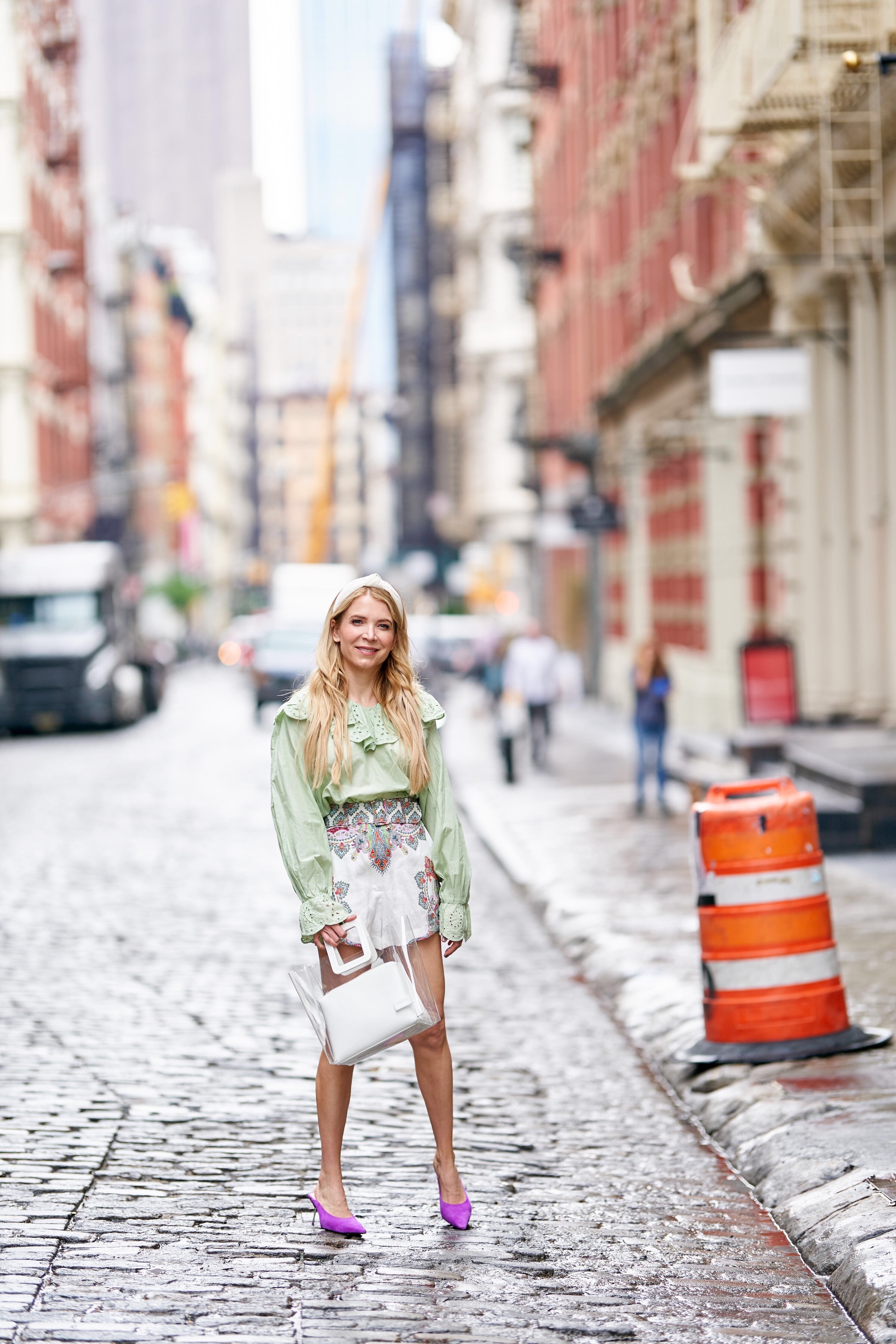 Life is too short not to wear shorts (at least that is what I tell myself)!
I decided to wear my new pink shoes with some Zimmermann shorts I got awhile back in the Shopbop sale.  I always feel a little bit worried that I am too old to wear shorts like these!  My knees are a bit wrinkled, I have some lumps and bumps on my legs…  but, I love the shorts!  And life is short.  Sunny would tell me to just wear them!  So ok, here I go!  I think they are just so pretty and the fabric covered belt and the floaty linen fabric sold me. I decided to put aside my insecurities and just go for it.  Because what else was fake tan invented for…?
I matched up the shorts with a floaty boho blouse from H&M.  It has long sleeves and is blousy so I think it balances out the shorts!  I got it in black first (wearing the black one in this post) and I liked it so much I went back for the light green one.  It really is such a pretty color.  Oh – and the bag.  It is on sale right now at Net-a-Porter.  If you have been thinking of a PVC bag it's a good one! I wear it so much!  Even in the rain, it is great because it is waterproof (see this post)…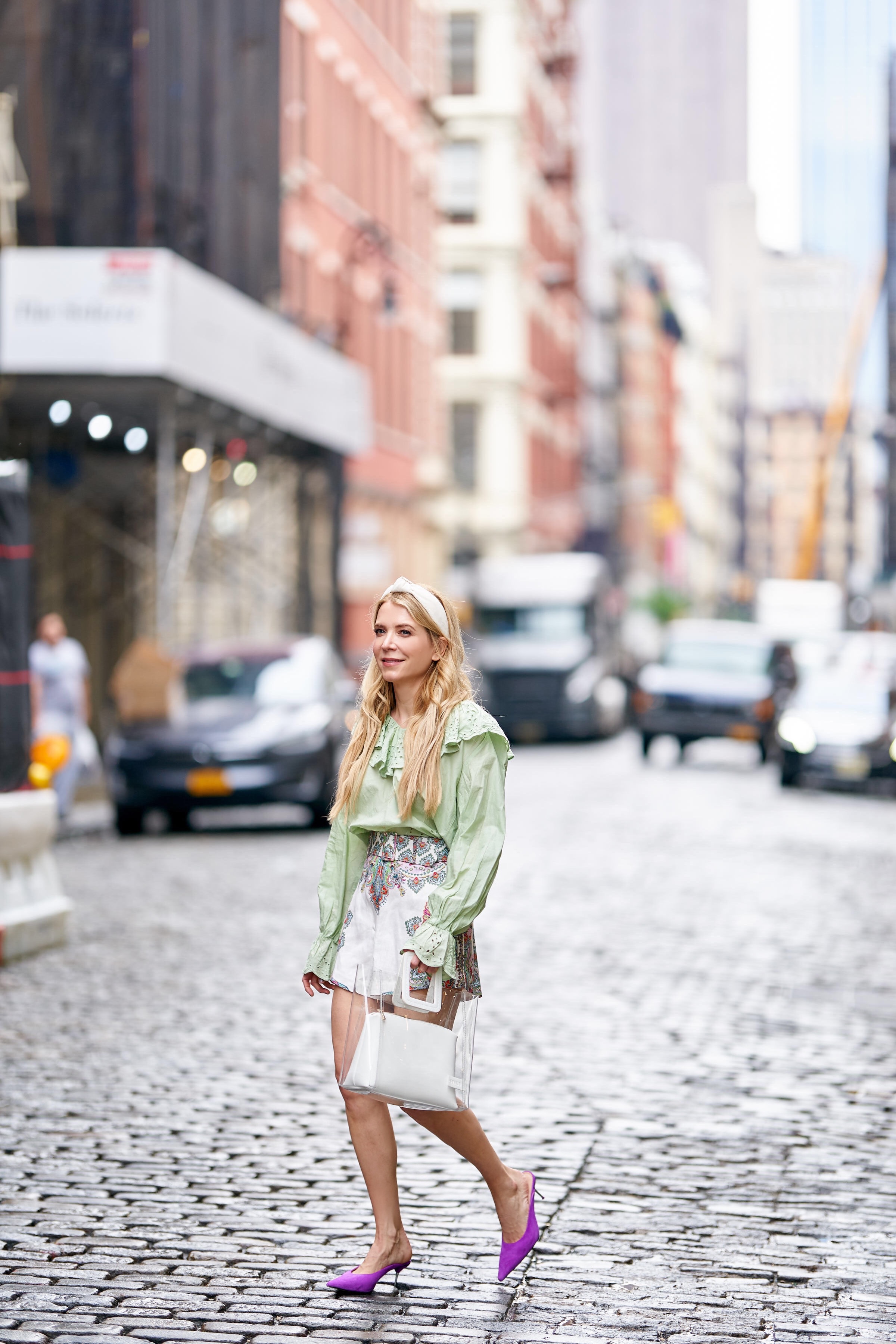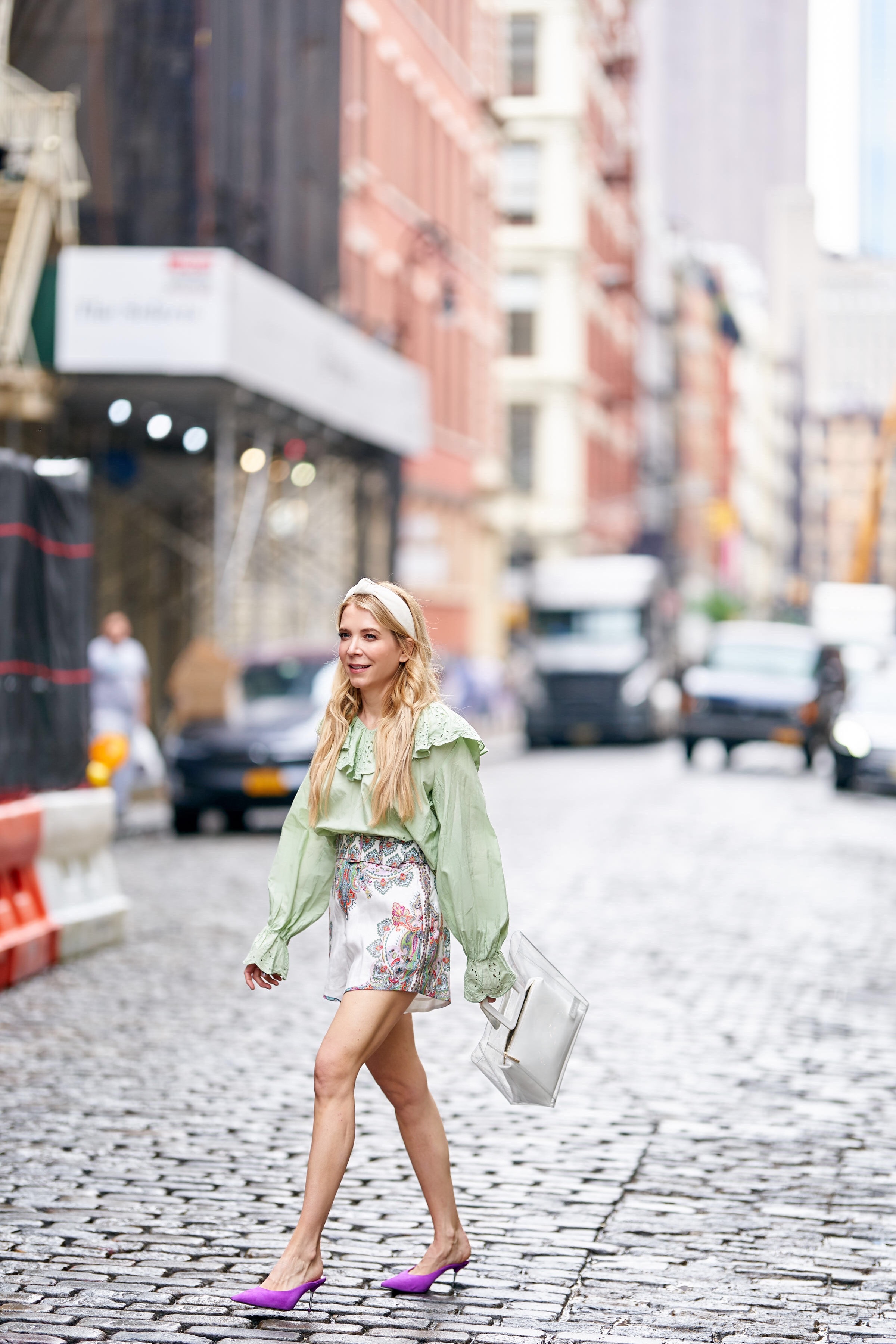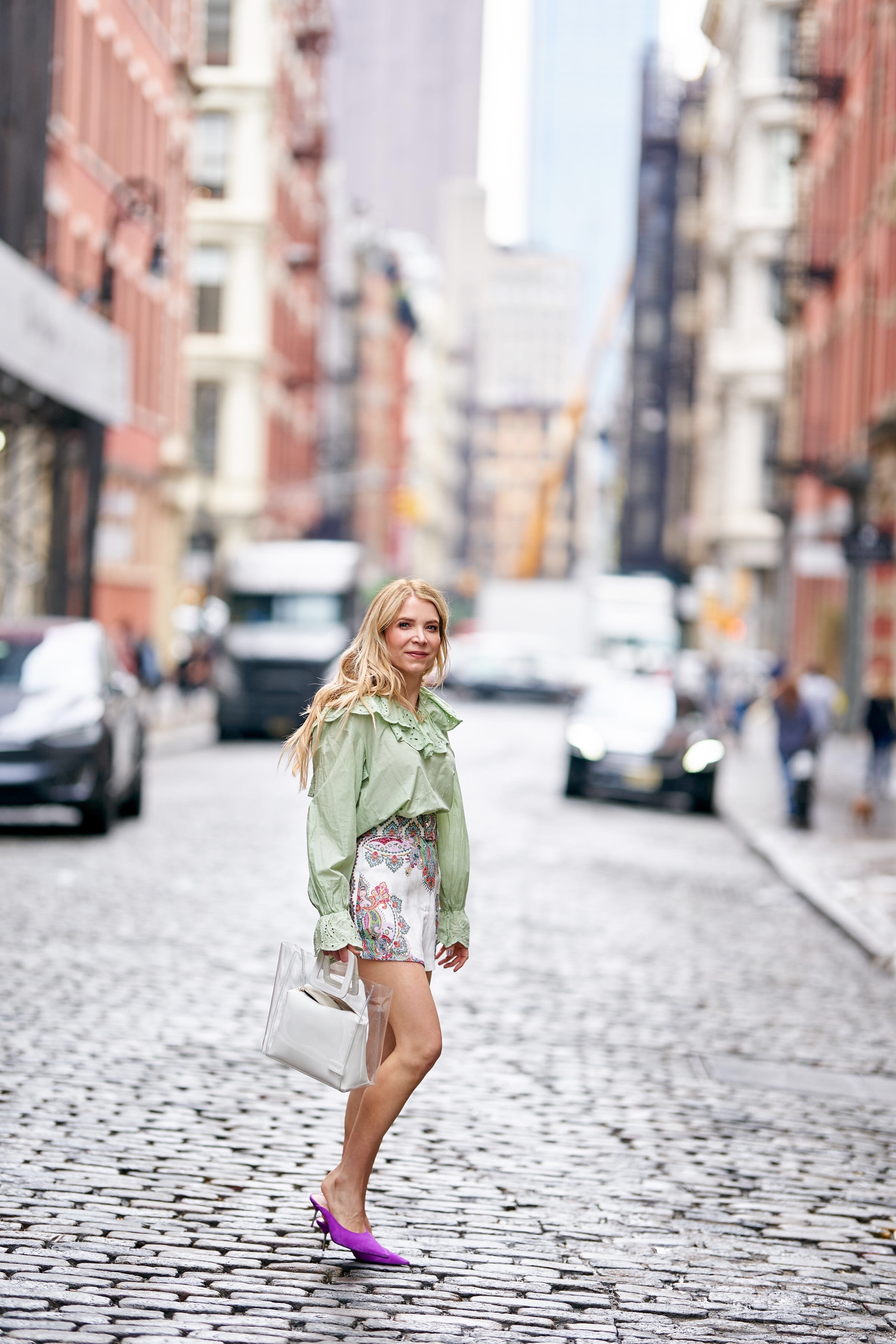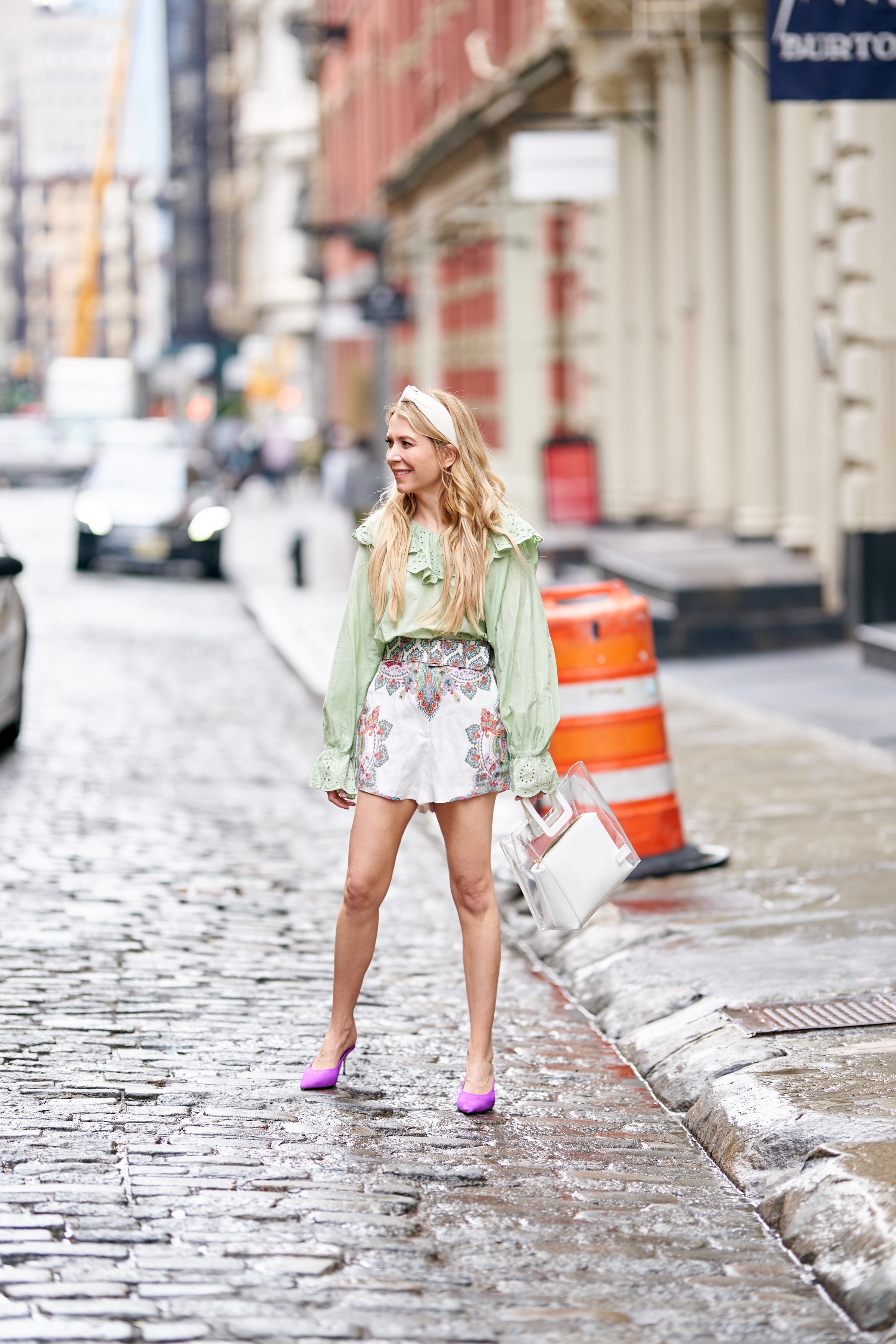 And more on dressing "age appropriately"…
This is a topic I think about quite a lot.  Now in my forties, I know this outfit is probably not what most women my age would wear.  And don't get me wrong:  I would not wear this to school drop-off or pickup or even to the grocery store.  But I definitely would wear it out to dinner on a warm night, or to a summer party or to drinks. This look may not technically be age appropriate, but it is a very "me" outfit and I love it!
I read something once (I believe it was written either by a famous fashion designer or by a French model, I can't remember) that you should never try to look younger, instead, you should always just try to look your best.  I think I gravitate toward younger looking clothing, in that I love color and prints, ruffles, and less severe styles – as I think those types of clothes look the best on me, or at least I feel the best in them.  But I have never in my life, intentionally attempted to look younger with my clothes.  Even in my 20s, I never, ever wore revealing or low cut or tight outfits.  It just isn't my style.  I think if you stay true to yourself you can find things that match your personal style, at any age!  And if from time to time you don't get it quite right, that is ok too!  Fashion should be fun and we all should experiment, and life is too short not to wear clothing you love!
Thank you for reading!
xxxxxx
Laura
Photos by Mike Kobal