Blouse: Ba&sh | Skirt: Rag & Bone and here | Shoes: Tibi Zuri but last season, new season Zo pumps here |
Bag: Chloé
A perfect blouse…
Taking a moment today to showcase my new ticking striped blouse from the Parisian brand ba&sh.  This blouse is such a find:  it the perfect fit (not too tight), it falls to the perfect length at the hip, and is made of the softest cotton.  The stripe print is really vibrant and I love how the shoulder detail has horizontal stripes above the vertical sleeve stripes (see photo above).  The tiny buttons at the neckline with the ruffle detail are right up my alley.  It is perfect for these cooler temps with a long denim skirt or even high waisted wool pants, but will take me right into spring and even summer with white or blue denim.  I only recently discovered this brand but this is my third fashion post featuring ba&sh pieces – so I figured it is about time I talked a bit more about the brand…
About ba&sh
Ba&sh is known for its "rock n roll bohemian" vibe – according to a Glamour UK interview with the brand in 2016.  And it has grown rapidly recently with some capital investment by LVMH – it now has about 200 stores worldwide, just over half of which are in France.
The ba&sh store on Elizabeth Street is right across the street from the other French label Sezane's eponymous boutique (which you may remember I visited in this post).  My first time to the ba&sh location, I pointed across the street to Sézane and asked the salesgirl about the difference between Ba&sh and Sézane (given that two such popular French brands have stores right across from each other in NYC).  She told me (rather indignantly), "we are much more free and bohemian than Sézane – not the same style at all".  And now that I'm better acquainted with ba&sh, I see that's true! The clothing is totally floaty, edgy, and free – while Sézane is more schoolgirl chic.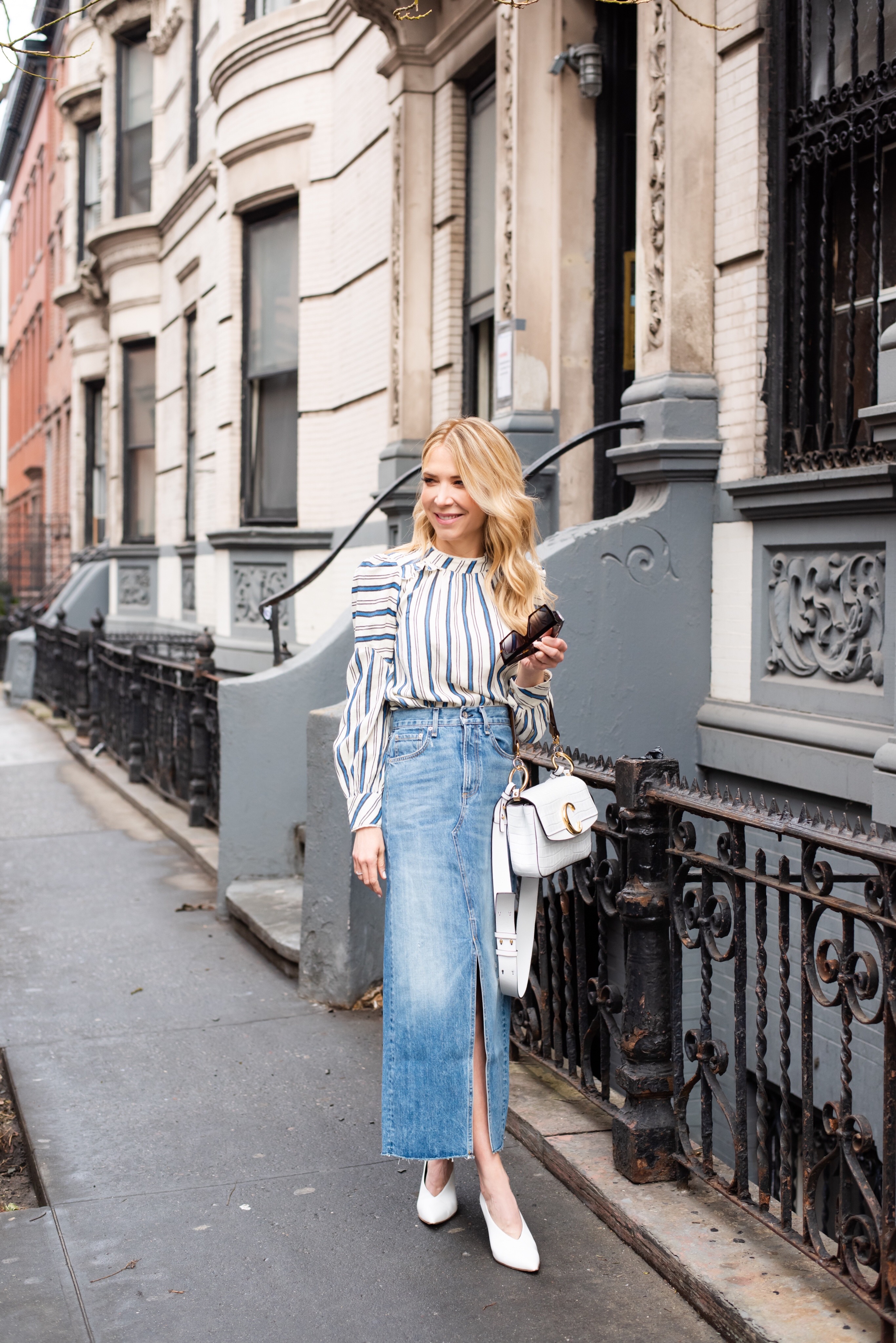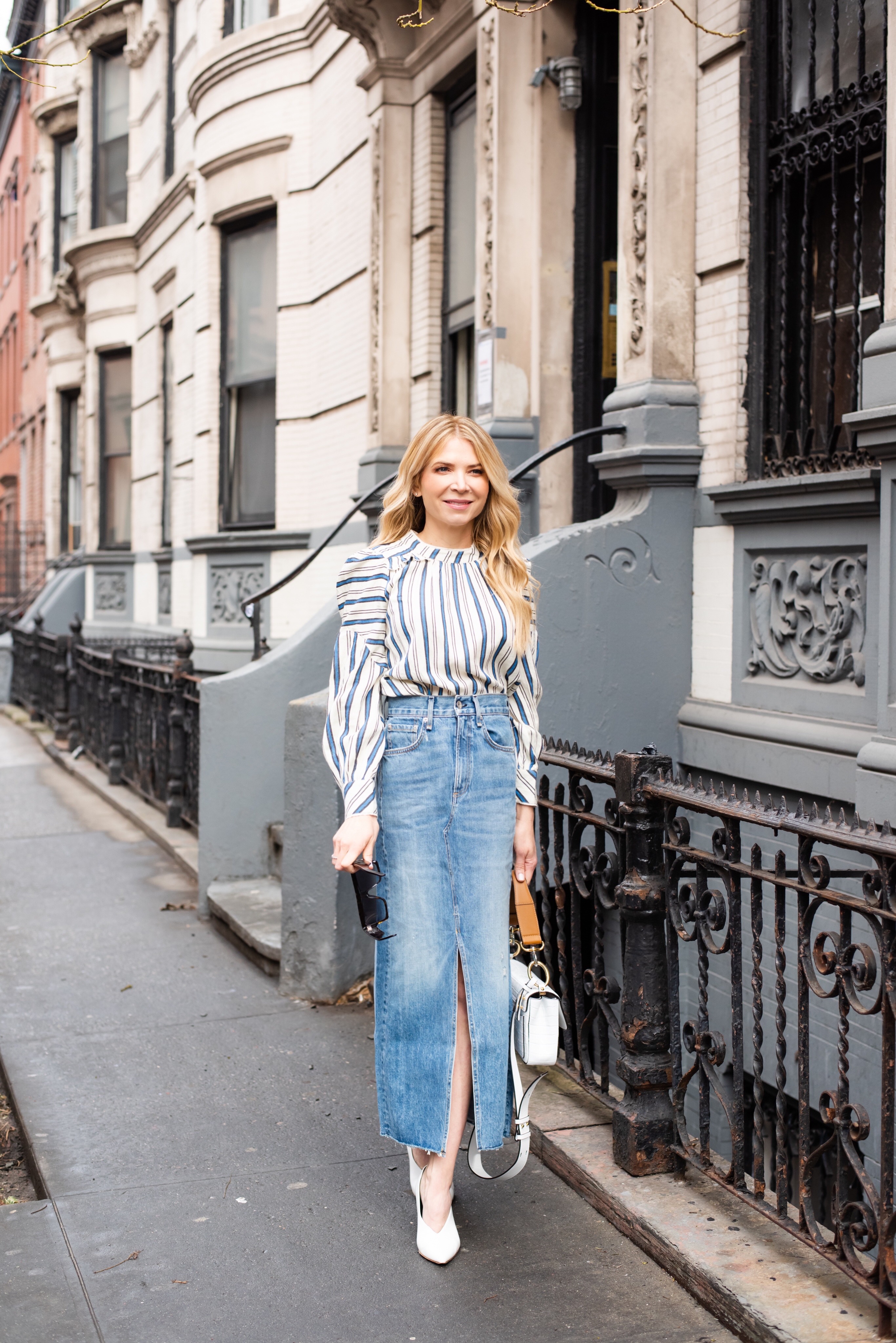 Ba&sh is a more affordable Isabel Marant
I feel like Ba&sh is a great alternative to Isabel Marant – it is not quite as pricey but the clothing has a similar feel.  And I love that like many French labels, it does not buy into every trend – the pieces are more classic and you can wear them season after season, but somehow they always look fresh.  I wore ba&sh outfits recently in this post and this post!  And I've worn those outfits repeatedly ever since.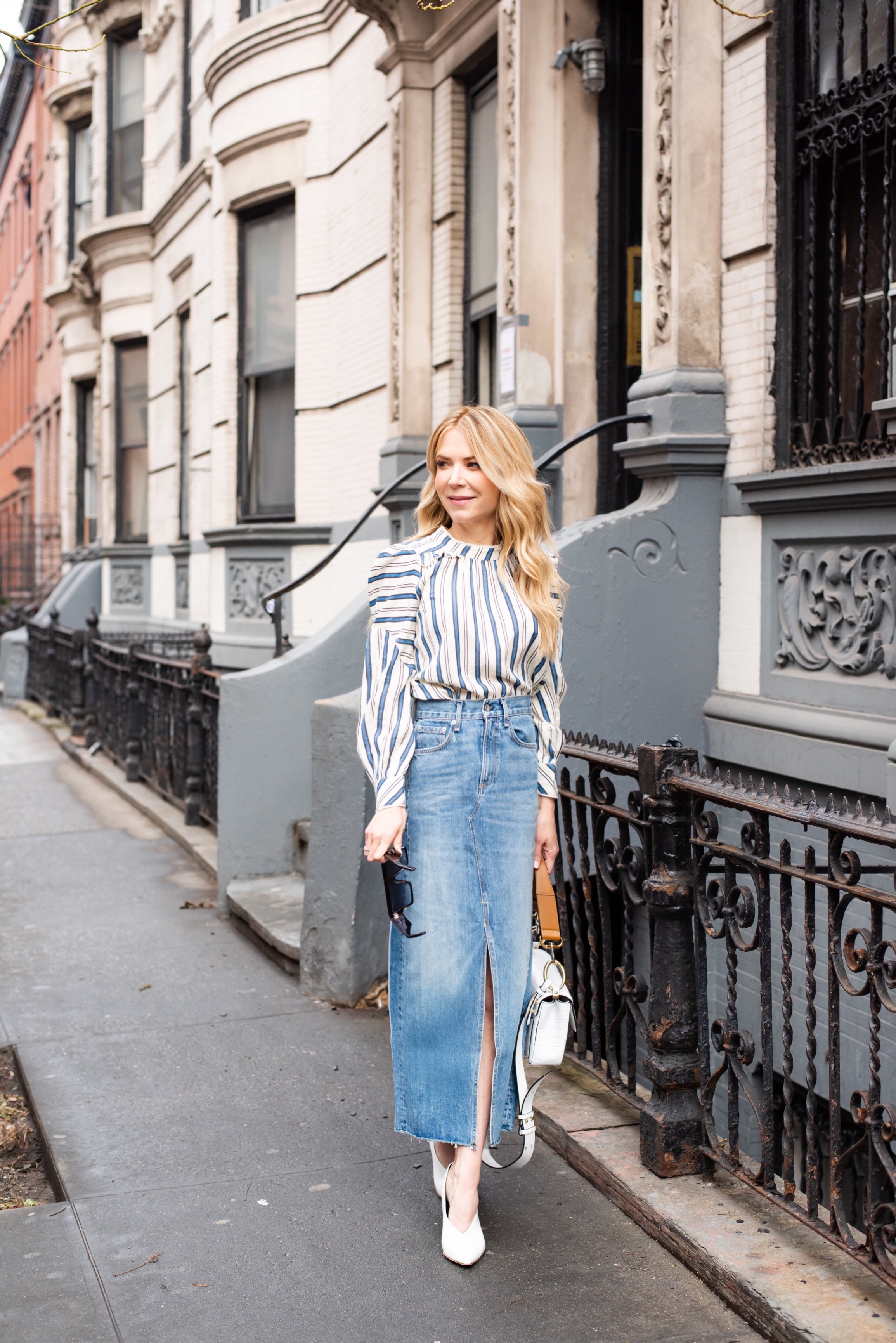 But my favorite thing about ba&sh is the story of the founders…
Ba&sh was started by best friends Barbara Boccara & Sharon Krief over 15 years ago.  Neither woman had any design training but were passionate about fashion.  According to the Glamour interview, their idea was to bring their dream wardrobe to life so that they could share it with other women.  I love the story because neither Barbara or Sharon had worked in fashion – one was a lawyer and one was in PR.  They had both just had their second babies in 2003 and wanted to follow through with their idea of designing clothes for real women.
"We wanted to design for women like us – working women with children, real women," said Sharon. "It's a way of life – a place for women to feel beautiful, feminine and well. The fabrics must never feel itchy and the shapes are never tight – each piece is designed to make women feel beautiful and comfortable."
It is so inspiring to me to read about their success.  Being a lawyer with two kids in my 40's, starting a new chapter in my life with this fashion blog has been a challenge.  I feel like women can lose a bit of confidence once they start to get a bit older, into their late 30s and 40s.  And you become very entrenched in your existing career, in your kids, whatever.  It is extremely hard to think about making a huge change at that point.  You have to be really brave.  For me, it still seems almost like an insurmountable hurdle for me to try to work in fashion, heck – to even talk about fashion – with any kind of authority.  I was trained for years as a lawyer and my first instinct is that for any job you need training.   But in the case of the ba&sh founders – it just goes to show that you never know what you can do unless you try.  And sometimes when you have an idea, you just have to go for it!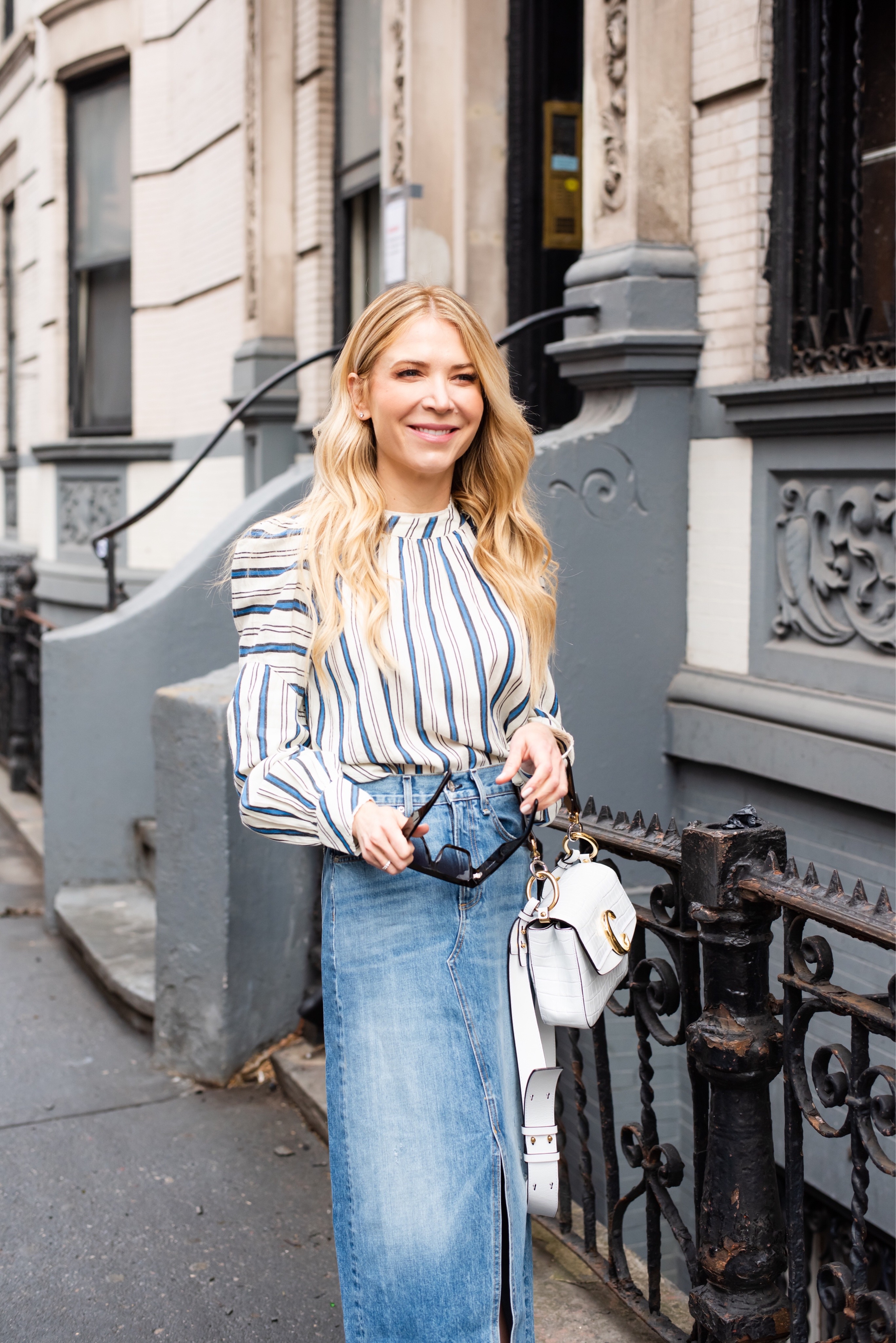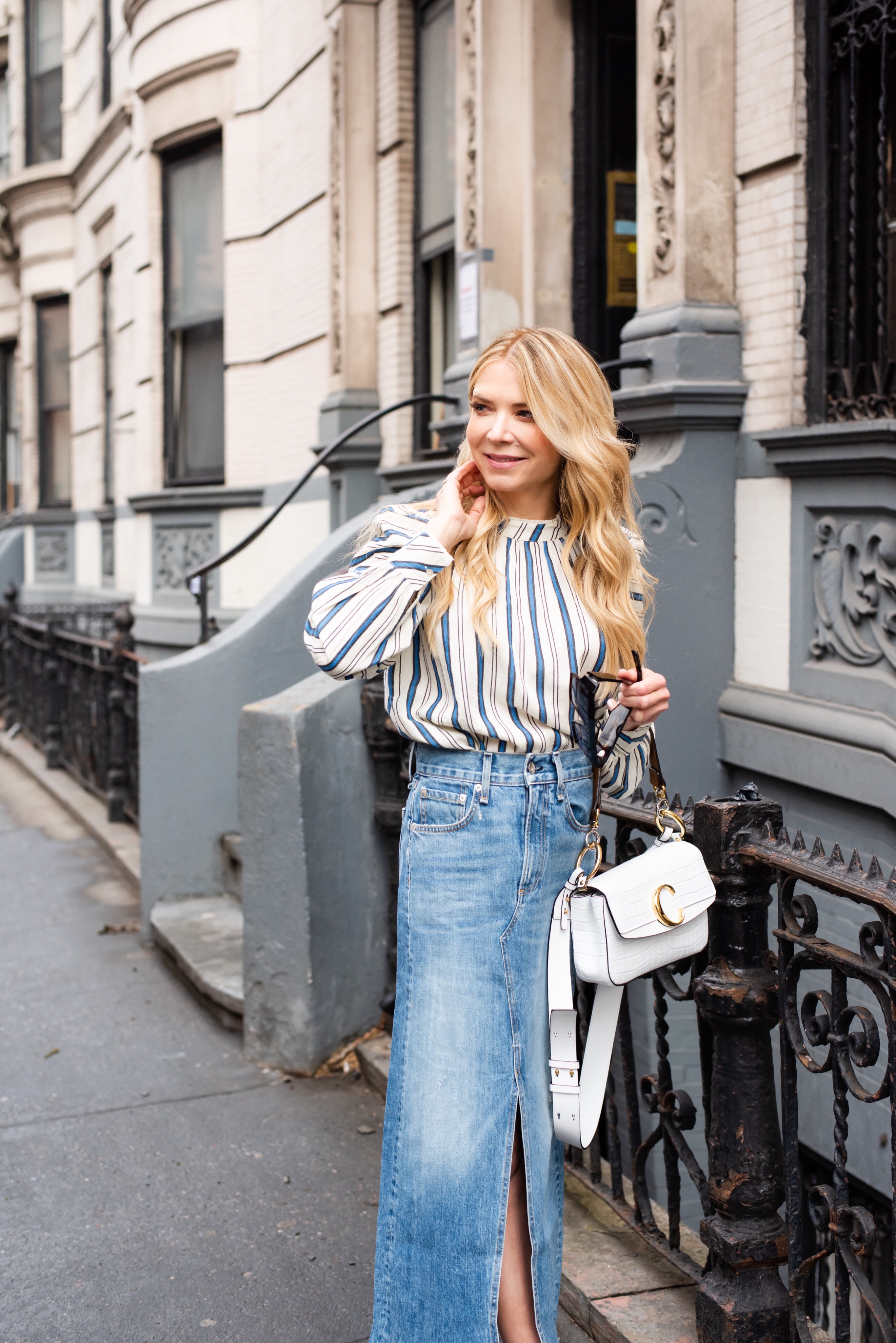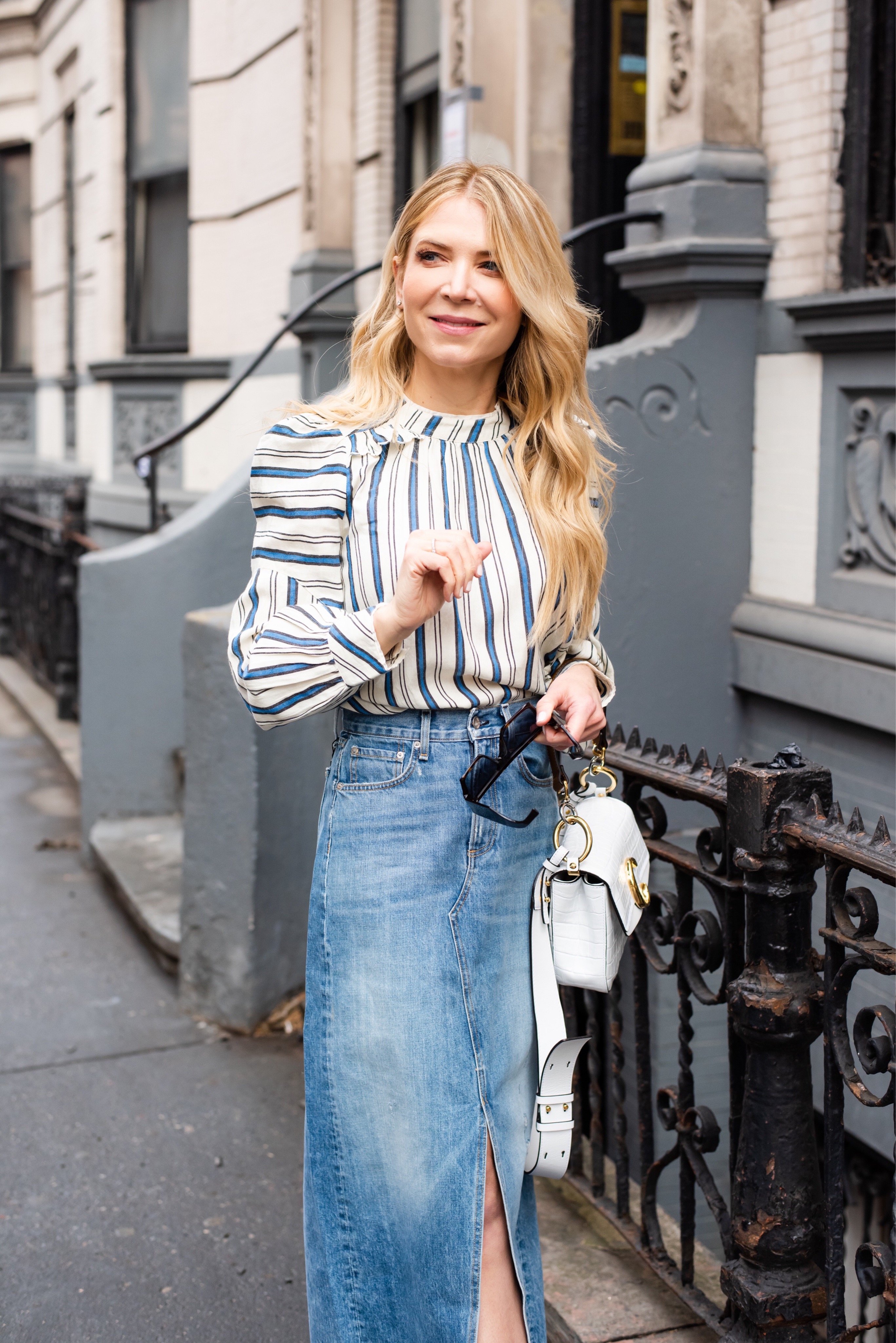 Anyway – I love when I discover a brand that I know I can count on for quality, and that will make me look great but won't go out of style in less than a year. Ba&sh is that brand and I encourage you to check them out.  The pieces are definitely more costly than a high street brand, but the quality, integrity, detailing and the unique styles make the prices worth it to invest in a few pieces every year.  And a brand with such an inspiring story like ba&sh makes it all the better!
Thanks for reading!
xxxxx
Laura
Photography by Alexis El Massih
SHOP THE POST